An average American spends 5 hours and 24 minutes on their phone and checks it 96 times per day (according to research by Zippia). 
People are always on their phones. We can't live without those little devices in our pockets, and we can't fight the urge to check them every time they buzz. 
This shows that SMS marketing has an incredibly high ROI – even higher than almighty email marketing. Depending on the source, open rates for marketing text messages range between 90 to 99%. According to Sender, 90% of text messages are opened within 30 minutes. 
In short, SMS marketing is the practice of sending mass promotional or transactional messages, news, and business updates via text. The benefits of SMS marketing for eCommerce businesses are numerous – from increasing customer reach and engagement to boosting sales. 
SMS marketing is a great way to reach your customers right where they are (on their phones) and leverage the growing potential of mCommerce (mobile commerce). 
To be clear, we're not saying you should break up with email marketing to begin a relationship with SMS marketing. They should go hand in hand. What we're saying is that eCommerce businesses shouldn't underestimate the power of SMS marketing. 
But to make the most out of it, you must choose an SMS marketing platform that best adapts to your needs. For eCommerce businesses, that's Klaviyo. 
In this guide, we'll share everything you need to know about Klaviyo SMS marketing – from features to pricing. 
Why Choose Klaviyo SMS Marketing?
To begin with, Klaviyo isn't just an SMS marketing platform. It's a comprehensive solution that seamlessly connects email marketing with SMS marketing, saving businesses tons of duplicate work. 
Secondly: Klaviyo has been built with eCommerce businesses in mind. Compared to other marketing platforms that cater to a variety of businesses, Klaviyo offers features that have been specifically designed for eCommerce businesses. 
And lastly, since Klaviyo specializes in integrating email and SMS marketing into a functional and efficient all-in-one marketing platform, it offers a wider range of features than other SMS marketing tools.  
So, if you're thinking about growing your eCommerce business with SMS marketing, Klaviyo is the smartest choice.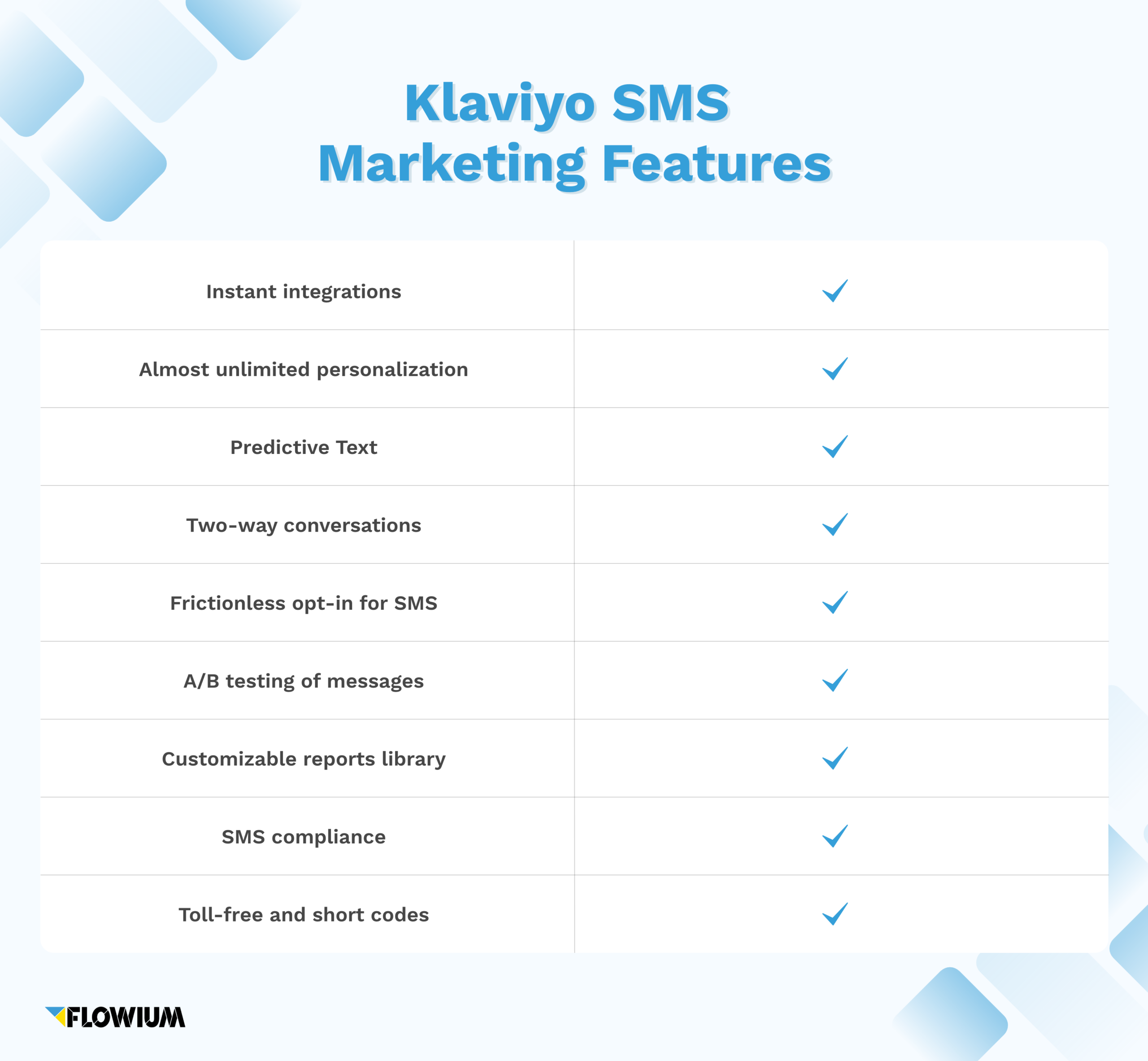 Instant integrations
Since Klaviyo caters specifically to eCommerce businesses, it integrates with almost every popular eCommerce platform – from the big players like Shopify, Magento, and WooCommerce to smaller ones like Salesforce and PrestaShop. 
If you're using a custom tech stack or building a new platform for your client, Klaviyo can integrate with it as well via its APIs. 
Overall, Klaviyo integrates with 300+ apps and platforms: eCommerce platforms, shipping systems, helpdesks, affiliate and loyalty software, survey platforms, and subscription services.
This seamless and almost instant integration allows Klaviyo to pull real-time and historical customer data from your eCommerce platform and tech stack, giving you a comprehensive view of your customers. 
Almost unlimited personalization
With Klaviyo, you can forget about generic text messages that will get easily ignored. Klaviyo's (almost) unlimited personalization options allow you to send SMS campaigns that will resonate with your customers. 
With over 200 built-in integrations and unlimited data importing, Klaviyo's API (Application Programming Interface) makes it possible to create ultra-targeted text messages based on your customer's behavior.
In addition, Klaviyo allows you to create highly segmented flows that target consumers based on their behavior, so you can personalize your text messages even more. 
Predictive Text
Klaviyo utilizes machine learning to generate personalized, human-like text messages that match your customers' buyer's journey. 
By accessing their entire profile, shopping history, and predicted behaviors, Klaviyo anticipates their responses and automatically creates text messages tailored to their specific needs. 
This means you can send highly personalized text messages that sound like they're coming from a real person and turn your SMS marketing campaigns into 1:1 conversations. 
Two-way conversations
With Klaviyo, texting becomes a conversation rather than a monologue in your customer's messages app. That's right: Klaviyo allows you to text your customers back almost instantly. 
Klaviyo lets you hold 1:1 conversations with your customers and answer their questions in real-time. So, rather than sending a stream of incessant SMS campaigns to their inbox, you build stronger relationships with them and provide instant customer support. 
Plus, with built-in contact cards, your text messages will appear as if they're coming from your company, not from some random, unknown, and suspicious-looking number. This way, your customers will know they're talking to you, which will make them more likely to engage with you. 
Frictionless opt-in for SMS
If you want to grow your SMS subscriber list, you must make it easy for your customers to opt in to receive your text messages. 
With Klaviyo, the opt-in experience is simple, quick, and frictionless. The platform allows you to choose from several mobile-optimized opt-in forms across your website and email campaigns, such as: 
Multi-step forms,
Click-to-text web forms,
Click-to-text email banners,
Consent a checkout. 
Plus, Klaviyo offers a custom form builder, so you can create customized forms that match the look and feel of your brand. 
A/B testing of messages
With Klaviyo, you can turn your texting game from a shot in the dark to a well-calibrated targeting missile. How? By A/B testing different message layouts to see which ones get the best responses. 
Klaviyo allows you to test different combinations of text, images, send times, and emojis and figure out what works best for your audience. With that, you'll be able to craft SMS campaigns that resonate with your customers and boost your engagement rates.
Customizable reports library
Klaviyo offers flexible, accurate text attribution and reporting to help you figure out which messages are hitting the mark and which ones need to be reworked. 
Unlike other SMS marketing platforms, Klaviyo integrates SMS and email marketing so that they complement each other. 
The platform lets you monitor the SMS and email campaign metrics with a whole bunch of customizable data sets – from subscriber growth reports to cross-channel performance reports. 
This way, you can easily compare email and SMS marketing results side by side to figure out which channels are bringing you the most revenue and avoid making decisions on double-counted data. 
SMS compliance
Klaviyo takes the headache of our SMS marketing compliance with built-in opt-in consent language – so you can be sure that only those who gave explicit consent will receive text messages from you. 
In addition, with default quiet hours based on regions, Klaviyo will make sure that your recipients don't get text messages during inappropriate hours. Plus, it'll prevent messages from being sent to those who have just received them. 
Toll-free and short codes
Klaviyo lets you scale your SMS marketing efforts thanks to no-cost toll-free numbers and short codes for high-volume senders. As you grow, you can upgrade to a dedicated short code for high-volume sending or vanity short codes for better branding (both with additional fees).
How to Set Up a Klaviyo SMS Marketing Campaign?
Setting up your SMS marketing campaigns in Klaviyo isn't as difficult as you may think. You can do it easily, even if you're an SMS marketing newbie. 
Of course, the more advanced your SMS marketing strategy gets, the more features you'll need to set up. But still, Klaviyo makes the process pretty straightforward and intuitive. 
And if you run into problems or can't figure something out, Klaviyo's Help Center is full of helpful resources with detailed instructions. 
To get you started, here's how to set up your first SMS marketing campaign in Klaviyo in 6 steps.  
1. Getting started
On your Klaviyo dashboard, click the dropdown menu in the top right corner and navigate to Account > Settings > SMS. From there, you can select Set Up SMS and follow the instructions.
You'll need to ensure that your customers have given you permission to send them SMS content, which you can ask them to do when they sign up to receive your marketing messages.
You can now create an SMS workflow for clients who wish to receive your SMS content and set up the parameters around when these messages will be sent according to such things as:
One-time sends
Messages triggered by a customer's actions
Manually scheduled messages with standard content
Automated and ongoing messages
Highly-personalized content and send times.
2. Choose your name, channel, and recipients
Now head on over to the Campaigns tab and click Create Campaign.
In the popup that appears, name your campaign and select the SMS option on the right.
There are a bunch of options here that you can peruse at your leisure and select the combinations that best suit your campaign's objectives.
3. Add an SMS action & draft your content
Klaviyo lets you create a single SMS campaign or integrate an SMS campaign into a flow with the SMS component in the Visual Flow Builder. Simply drag and drop your SMS action, et voilá. Once you've added your SMS action, you'll need to draft its content. 
To do that, hit the Configure Content button, and you'll be taken to a page where you can customize your SMS content. This will include two sections: content (where you can draft the message) and compliance (where you can select compliance options). 
4. Check on your compliance status
In some countries, there are regulations around the types of SMS you can send out.
So check on the handy list that Klaviyo provides to make sure that your SMS campaign doesn't contravene any local laws.
5. Configure your SMS settings
Now you can select other touchpoints for sending further SMS content, such as Dynamic Coupons, and space them out accordingly.
You can space out your SMS-email-SMS combinations over hours and days, depending on how well your customers respond. There are also multiple options for setting the expiry time for the SMS/email campaign.
The Klaviyo SMS flow has a very easy-to-follow layout, and your SMS and email flows are set out side-by-side, so you can see how each element is placed within the flow.
6. Review and schedule
Before you send your SMS campaign, you can preview it and schedule it. You can pick the date and time you want each of your campaigns to be sent. 
To set your campaigns up for the highest engagement and lowest unsubscribe rates, Klaviyo lets you establish different sending schedules based on subscriber engagement using engagement tracks. 
Klaviyo SMS Marketing: What About Pricing?
Before you're ready to get started with Klaviyo SMS marketing, there may be one more question hovering in your mind: how much does it cost to use Klaviyo? 
Well, this question cannot be answered in one paragraph, which is why we have an entire article on our blog that answers this question in detail. 
But to give you an idea, Klaviyo only allows you to choose between two packages: both email and SMS or just email. The email + SMS package pricing depends on two factors: the number of contacts on your email list and the number of SMS/MMS credits you need.
To get you started, Klaviyo offers a free plan with limitations (up to 250 contacts, 500 monthly email sends, and 150 free monthly SMS/MMS credits). 
Growing from that, the more email sends and SMS credits you need per month, the higher the price. The cheapest plan (between 251 and 500 contacts and 150 SMS credits) starts at $20 per month. 
FAQs about Klaviyo SMS marketing
How much does it cost to use Klaviyo SMS marketing?
Klaviyo's pricing is based on the number of contacts on your email list and the number of SMS credits you'll need per month. If you have less than 250 contacts and don't need more than 500 email sends and 150 SMS credits per month, you can use Klaviyo for free. 
Should I limit the length of my SMS marketing with Klaviyo?
Klaviyo recommends limiting the length of your text messages to under 155 characters, although the limit is 160. You can use multi-part messages to exceed the limit, but if you do so, it can easily add up and lead to overspending your SMS credits. 
How many SMS marketing messages can I send using Klaviyo? 
The number of text messages you can send with Klaviyo will depend on the number of SMS credits in your monthly plan. If you need more, you can always buy more credits. So, there's no specific limit to the number of SMS marketing messages you can send using Klaviyo, but it's important to avoid overwhelming (or spamming) your subscribers.