It isn't easy to decide which eCommerce marketing tool to spend your time and resources on. If you're thinking about Klaviyo and want to learn more, you've come to the right place!
Klaviyo is an email marketing platform that was created especially for eCommerce companies.
When testing the Klaviyo pricing options in real-time with the Klaviyo slider, keep in mind that there are other things to pay for.
While most people use Klaviyo solely for email, it is gradually becoming an omnichannel digital network thanks to SMS marketing.
Klaviyo SMS operates on a pay-as-you-go basis. Klaviyo helps organizations offer exclusive and immersive services through email and SMS platforms, from small enterprises to iconic brands.
Furthermore, you don't need more than one platform to accomplish this. You can send both of your communication (SMS and email) from a single site. Plus, to sweeten the bargain even further, the first 50 messages are completely free.
We'll break down Klaviyo SMS pricing in this blog to help you figure out how much this highly focused and customized targeting technique would cost you.
Klaviyo SMS Pricing: Overview
If you've chosen to use Klaviyo to deliver text messages to your subscribers, the next move is to create a plan.
Two factors largely determine the SMS billing structure:
The number of accounts (how many people you've contacted through text messaging in a month)
The monthly number of text messages you sent.
When you set up SMS in Klaviyo, your first number is free, and each plan includes an acceptable sending number.
The only time you'd have to pay for a number is if you were to use a vanity code or a shortcode that wasn't included with your contract.
The Advantages of Klaviyo and Klaviyo SMS marketing
Klaviyo integrates with over 200 e-commerce sites and tools, ensuring that you can access all of your data while writing texts.
You'll be able to deliver direct updates to your customers based on their website experiences. It often just takes a few clicks to get started.
Furthermore, Klaviyo enables you to use your customer data to generate customized communications that translate to sales.
In fact, one brand can set up a multi-channel flow in less than an hour, generating revenue by thousands in just one weekend.
Concerned about consent? Don't be. Klaviyo's form builder manages all approval.
Customers like your emails, so you're off to a good start. SMS is simple to integrate with the current marketing campaigns, and Klaviyo's models and automation are ready to use.
What's more? There is no need to worry about anti-spam enforcement.
So, how much would these features cost?
Klaviyo SMS Pricing
Start for Free
When using Klaviyo for your marketing campaigns, you will pay only for the email connections and SMS messages your business needs, with no monthly contracts or secret payments.
→ You can check the full Klaviyo pricing review here.
Create a free account
Upload and sync files
Personalize templates and emails
Send up to 500 emails to up to 250 contacts at no fee
Send up to 50 SMS to up to 150 contacts at no fee.
However, once you reach 250 contacts for email and 150 contacts for SMS, Klaviyo asks you to pay a monthly fee to update. You would then apply funds to your shopping cart.
This suggests that you can do some a/b testing before sending each campaign. You want to make sure that the money you pay gets customers to your shopping cart.
Klaviyo SMS pricing estimation
Amount of contacts

Up to 50 contacts

Up to 150 contacts

Up to 250 contacts

Up to 500

Up to 750

Amount of SMS and MMS

Up to 150 SMS
or 50 MMS sends

Up to 

450

 SMS
or 

150

 MMS sends
Up to 

1 250

 SMS
or 

417

 MMS sends
Up to 

2 500

 SMS
or 

833

 MMS sends
Up to 

3 750

 SMS
or 

1 250

 MMS sends

Price per month

Free

$5

$10

$20

$30
You can calculate the exact cost for your SMS marketing campaign with the Klaviyo SMS pricing online calculator.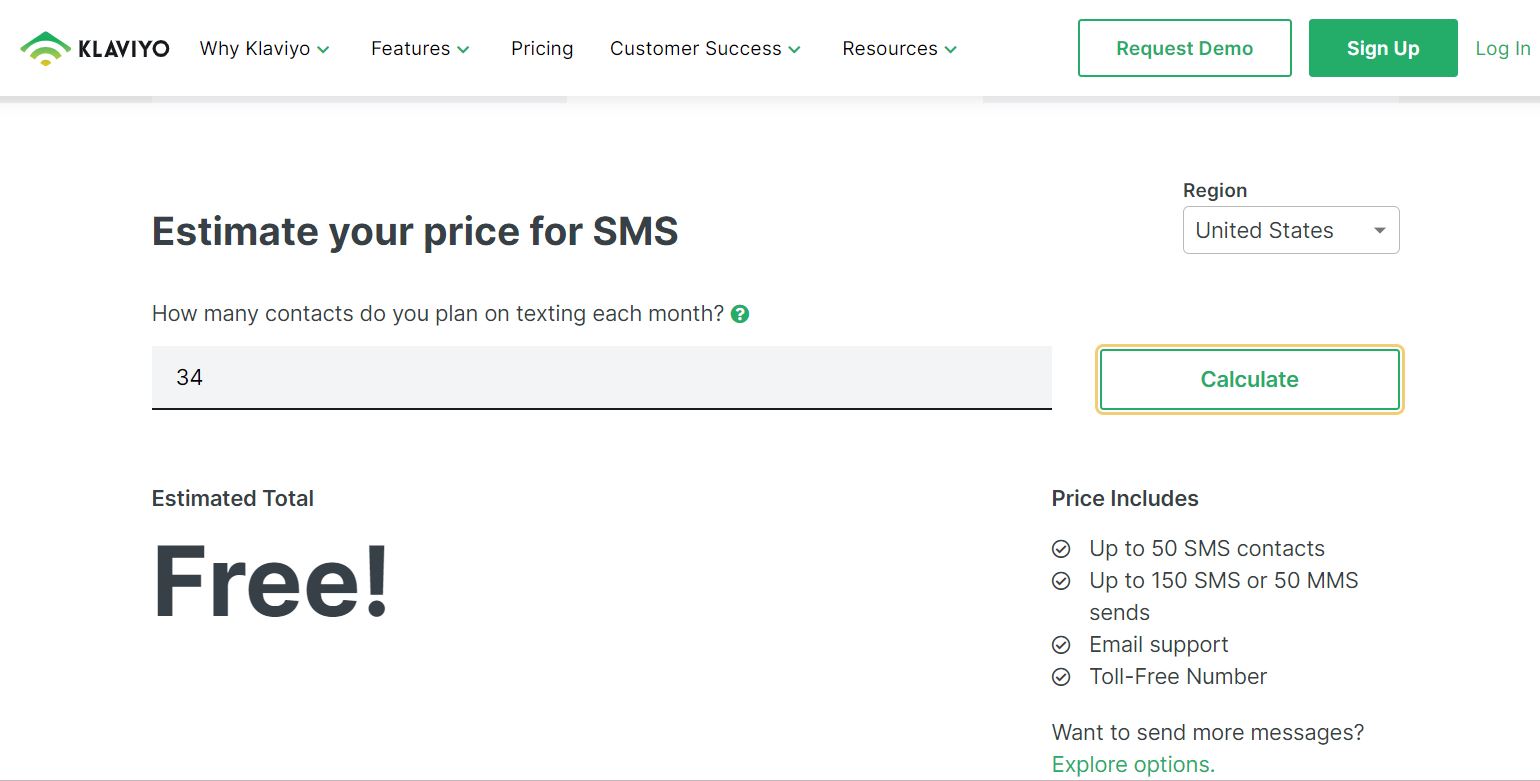 Klaviyo MMS and SMS Cost per Message
When you sign up for Klaviyo SMS marketing, you just pay for the messages you deliver. Initially, per-message cost about 7 cents.
The cost of your campaigns decreases as the catalog becomes larger. You'll need to set up automatic renewals and refills, as well as monthly spending limits to keep your spending under control.
Whether it's an MMS or an SMS, each message costs about 7 cents. Sending an MMS would not cost you anything extra.
Furthermore, if you are concerned about running out of credit at any moment, you can set your credit to "automatically refill."
Useful Features
Klaviyo's SMS billing page modifies how the SMS balance is handled. There is an opportunity to set the refill number and minimum balance in the settings.
Klaviyo's SMS advertisement is a one-of-a-kind and intriguing "bonus." Most firms do not often have this extra solution for omnichannel marketing.
Klaviyo's tools make it easy to maximize any connection with subscribers. This involves a simple set-up, the ability to send up to 50 free messages, and fast, pay-as-you-go pricing.
Klaviyo Pricing for Email and SMS
Klaviyo pricing can also accommodate both email and SMS at the same time if you want to spend money on both.
Using email and SMS in Klaviyo allows you to quickly handle the whole process, saving you:
Money
Time
And dissatisfaction.
Having access to both email and SMS marketing simultaneously is a brilliant way to elevate your customer experience and marketing approach.
Every email and SMS marketing package includes email support, unrestricted email sends, and a plethora of other services.

There are no limitations on how much you can engage with your target customers and bring in new selling prospects because you get tools to handle the whole consumer experience.
Furthermore, Klaviyo's email and SMS marketing packages have invaluable information into how the campaigns are doing.
You can handle all of your messages from a single screen
Learn the ROI of each channel
Connect with customers through all of their favorite platforms.
This means you stand a higher chance of gaining return customers.
You can easily estimate your price for an email and SMS bundle for your eCommerce business by submitting your total number of email contacts and the total number of contacts you plan on texting each month on Klaviyo's website.
Klaviyo Pricing for Emails
| | | | | | |
| --- | --- | --- | --- | --- | --- |
| Number of contacts | Up to 250 contacts | Up to 500 contacts | Up to 1000 contacts | Up to 5000 | Up to 25000 |
| Price per month | Free | $20 | $30 | $100 | $400 |
Email pricing for 300 contacts starts at around $20 per month. This includes access to email and chat assistance, which the free plan does not provide.
Unfortunately, you can only receive assistance for 46,000 contacts and 460,000 emails.
Klaviyo's pricing scales with the number of contacts, as one would anticipate from an email marketing firm. You may purchase a bundle with as many as 150,000 contacts.
However, if you want to go beyond that, you'll need to contact the firm for bespoke pricing.
Your monthly price plan possibilities will be about $700 to $2000 if you have 46,001 to 210,000 profiles.
You may estimate your own cost by entering the number of contacts you have into the Klaviyo website's calculator.
You may unlock unlimited email sends, and you can use features like chat support from the first plan for added peace of mind.
However, it is worth mentioning that the price of Klaviyo might quickly escalate, especially when compared to some of the other tools available.
Pricing for Push Notifications
Self-service push notifications are a quick and easy way to communicate with your consumers; they deliver automatic push tokens to users who opt-in to receive them.
You may use your app to create self-service push alerts that you can incorporate into campaigns and processes.
For example, if you include a push notification in your abandoned cart flow, everyone who begins but does not finish a checkout will be notified.
The vendor gives no pricing for push notifications. However, you need the following three primary prerequisites for using push notifications in Klaviyo:
You must create your own native iOS mobile app
You must obtain an APNs Authentication key from Apple before uploading it to Klaviyo (more details below)
Install the Klaviyo SDK, then configure event monitoring and push alerts in your iOS app.
Summing Up
Klaviyo customers produced over $3.7 billion in sales in the last year and saw a 62x ROI on average.
Klaviyo is recommended for companies of any scale who wish to develop and build personal relationships with their clients.
Klaviyo is a good choice to explore if you are looking for an all-in-one solution that includes an email service provider, SMS service provider, CRM, and landing page builder.
***Some links in this article are affiliated