To access the audio version of our article, please click below:
How Much Does It Cost to Hire an Email Marketing Agency?
This is one of the most popular questions in the industry.
If you want to know how much agencies charge for email marketing, here is your answer: an email marketing agency charges between $250 to $700 per email.
The email marketing agency cost will include:
Email marketing strategy
Copywriting
Design
Implementation
Here are the most popular email marketing agency pricing structures:
Per Hour
Per Project (one time setup)
Revenue Share
Retainer Service
 

 

Переглянути цей допис в Instagram

 
Before we start, we would like to mention that the average cost of an email marketing campaign we will be describing is according to US standards.
If you live in any other country or are shopping worldwide, the prices might be much lower depending on the country.
Also, this post will only focus on full-service email marketing agencies pricing and not freelancers. This means the cost will include the service of an entire team, made of:
A strategist
A project manager (aka account manager)
A technician
A copywriter
A designer.
→ Listen to this episode of our podcast and learn what's the difference between a freelancer and an agency.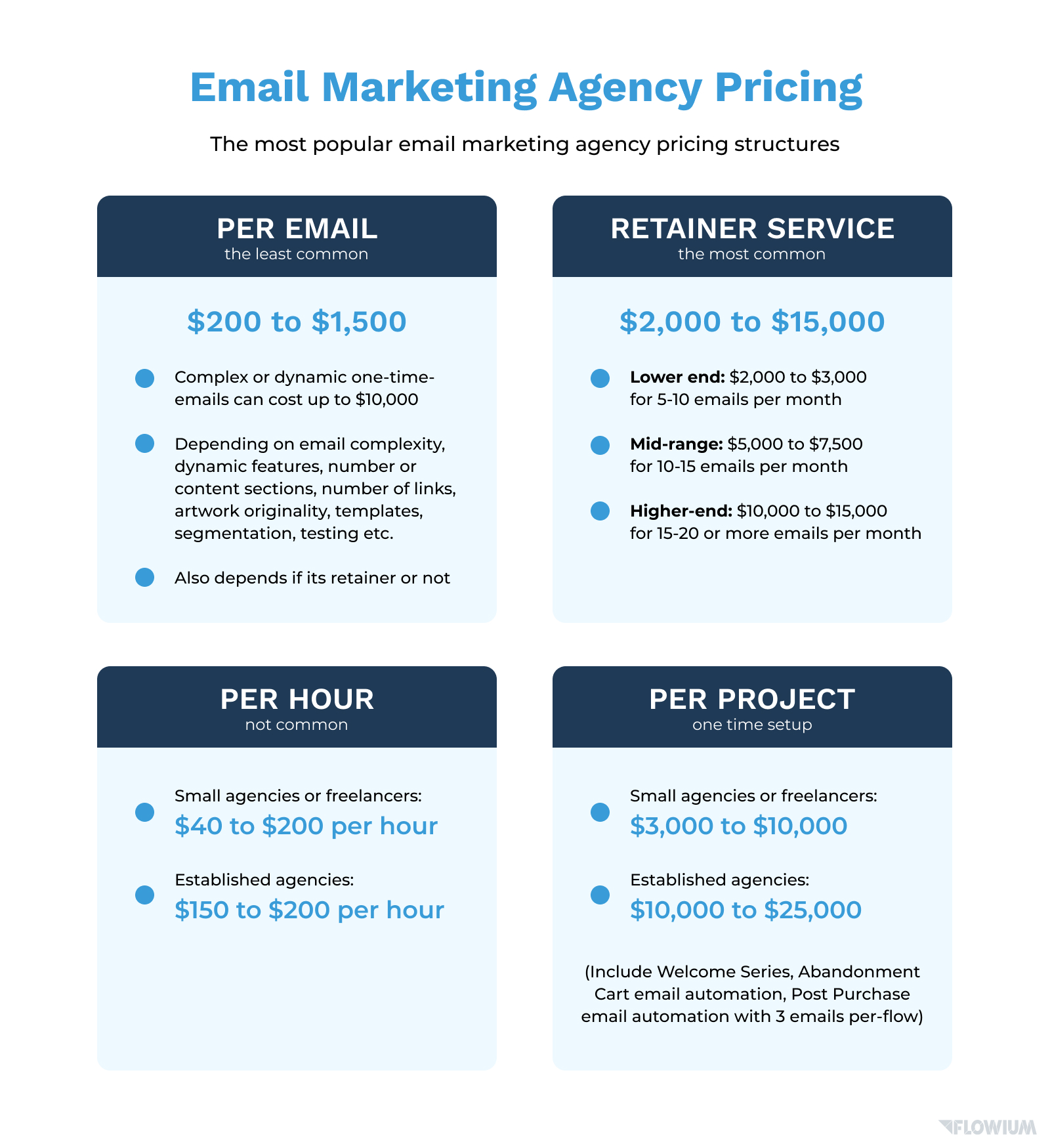 Email Marketing Agency Pricing Myths
When we were doing some additional research for this post on Google, there were top results on the first page of Google with unrealistically low email marketing campaign prices.
For example, a company stated, "If you're a mid-sized business working with an agency, rates start at around $300 to $900 a month". I am not sure what kind of full email marketing service you can provide for $500 per month.
Also, another popular article states, "On average, a mid-size business can expect to spend $9 – $1,000 per month on email marketing if they self-manage their campaigns (depending on the platform and number of subscribers) or $300 – $500 per month if they work with an agency."
According to their statements, it looks like you will pay less when you work with an email marketing agency vs doing it yourself. It does not make sense.
Here is our take on the email marketing agency pricing.
Email Marketing Agency Realistic Cost
Let's look at the email marketing agency's cost realistically. 
Here are three models of email marketing agency pricing: 
Per hour
Per project
As a retainer
Email Campaign Pricing Per Hour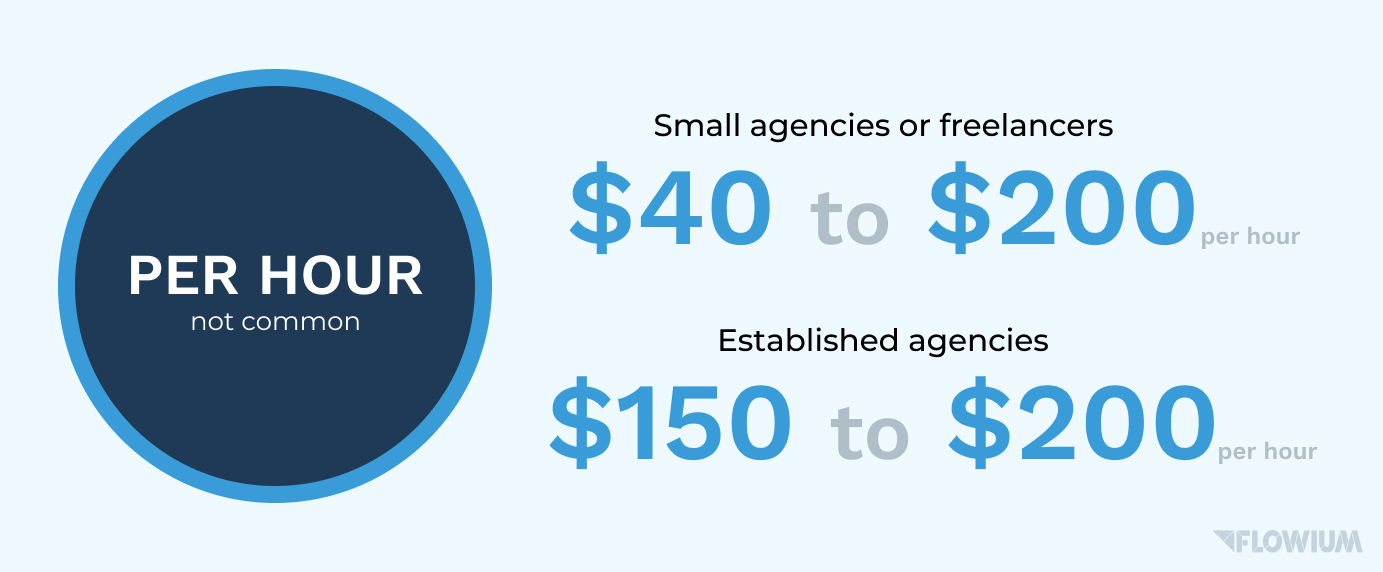 This hourly model is not common for email marketing agencies. Only the agencies who just started their business might charge per hour for their work or consultation.
In this case, the prices might vary from $120 to $250 per hour.
But there is a reason why email marketing agencies do not charge per hour – it would be extremely expensive for the client and would not make sense.
Email Marketing Campaign Prices Per Project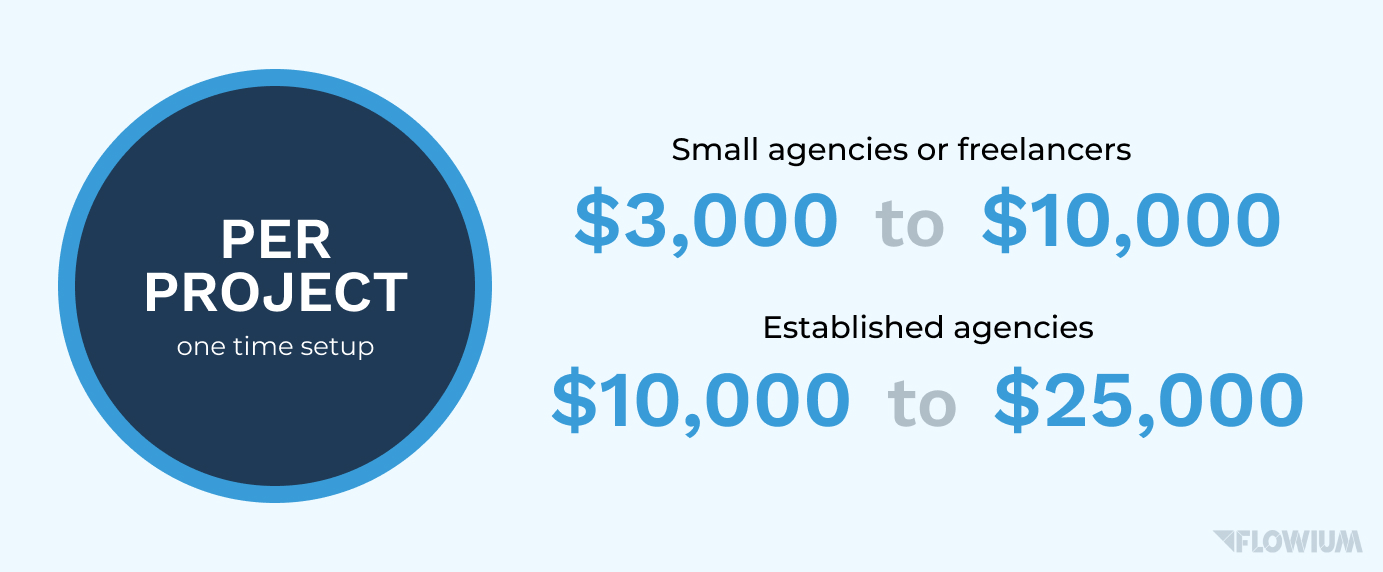 Another common practice is to charge per project. However, this email marketing cost structure works for setting up automatic emails (aka drip campaigns, sequences, flows).
It will not work for campaigns (aka broadcast, newsletter, and promo campaigns).
You can set up your automatic emails once and leave them as long as you are happy with them.
You can't do the same thing for campaigns, since you need to create a new one each time you send it.
The cost of setting up automatic emails varies based on what you want to set up. The most common set of automation are:
These 3 automations will have between 1-3 emails each. 
A setup like that will cost around $3000 on the low side and $6000 on the high side.
Here is what we do in our agency, just so you can see real numbers.
We have a bronze package where we charge $3500 per month. It takes us 2 months to set up the fundamental flows (we include approximately 7-10 different flows and a total of 30-40 emails). In total, our email marketing agency charges $7,000 for this type of setup. 
Email marketing retainer service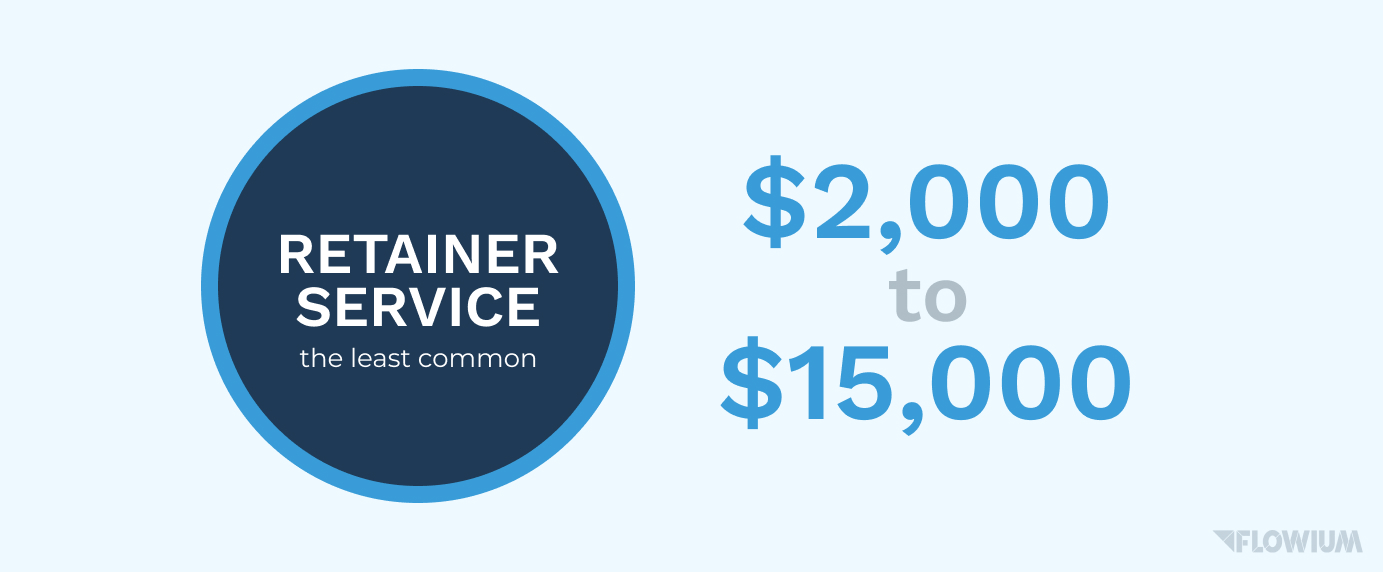 This is the most common way to partner up with email marketing agencies for both parties, the client and the agencies.
Why?
It takes time to get to know your company, your clients, and your products. Also, it takes time to optimize an email marketing strategy for maximum performance. Even the automations that you can "set and forget"- you need to constantly work on them to improve the performance.
The lowest retainer I have heard about so far is $2500, and it included 10 emails per month. On the high side, it is $7500 per month for 10-15 emails.
Some agencies also charge you for the setup fee.
Average Cost of Email Marketing Per Email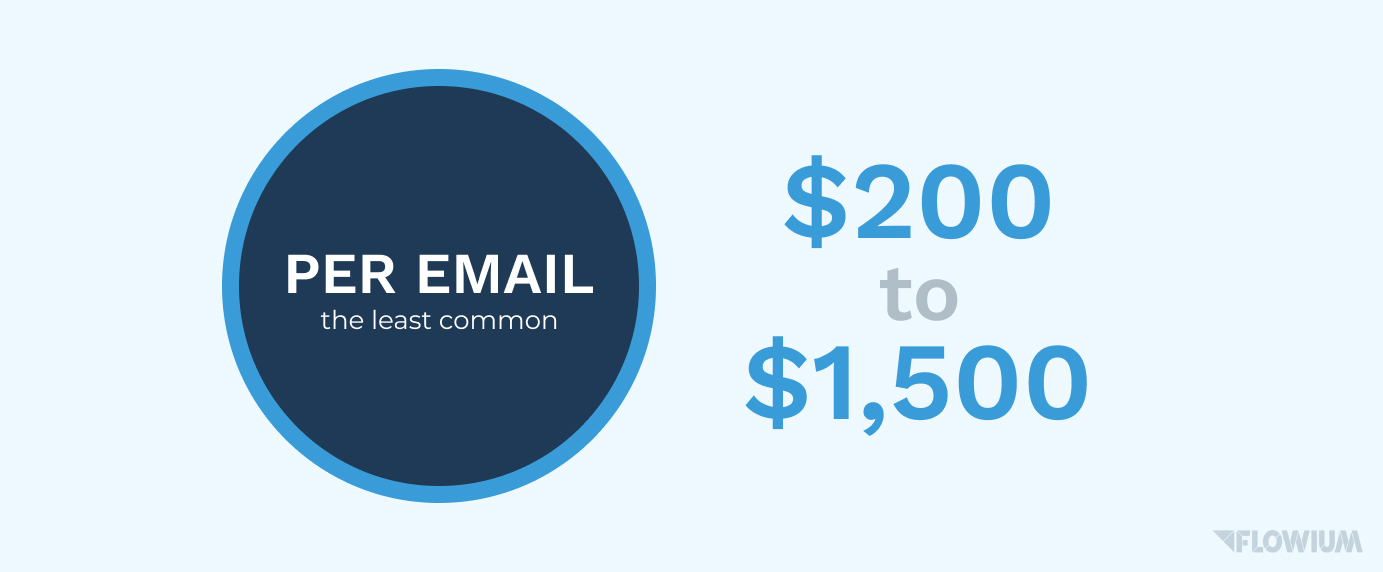 This is one of the essential price factors for production accounts. There are multiple email marketing agency pricing models when it comes to PPC services, ranging from hourly rates to flat rates to a monthly retainer model.
Obviously, the more emails that must be produced, sent, tracked, and assessed, the more expensive it will be.
Individual email production costs can range from $300 to $10,000 or more, depending on:
Email complexity
Dynamic features
Number of content sections
Number of links
Artwork originality
Templates
Segmentation
Testing
And so on.
Email Marketing Cost of Hybrid Models
Finally, combinations of the pricing models mentioned above can be utilized to tailor the relationship between a firm and an agency.
Digital marketing is a constantly changing field. You are free to create a pricing model or package that offers services tailored to your client's unique requirements.
A frequent approach is to combine a value-based email marketing agency pricing model, a popular choice among customers, with one of the other approaches to decrease the agency's risk.
For example, companies frequently combine a project-based approach with a commission-based model.
Based on the models shown above, our ideal email marketing agency pricing model for B2Bs is a hybrid approach in which:
The foundation is a retainer, which allows enough flexibility to alter services to meet the needs of the client
It includes a quarterly plan developed to match objectives and continually monitor the agency's effectiveness.
You might include a performance reward based on KPIs in the quarterly plan in the collaboration.
Minuscule kickbacks are acceptable since you can use them to negotiate reduced agency service prices.
Pros:  
Allows you to evaluate specific clients and customize your offerings to them.
Clients can only pay for the services they require.
Increase the value of your agency by providing more alternatives to clients.
Your services are cost-effective.
Implement hourly rates and recurring income structures to accommodate everyone.
Cons: 
Clients may bargain for numerous services, lowering the profit margin.
Factors Influencing an Email Marketing Agency Pricing
An email marketing agency's pricing is influenced by many internal and external factors. Here are some of the main factors probably impacting how much your email marketing agency charges you.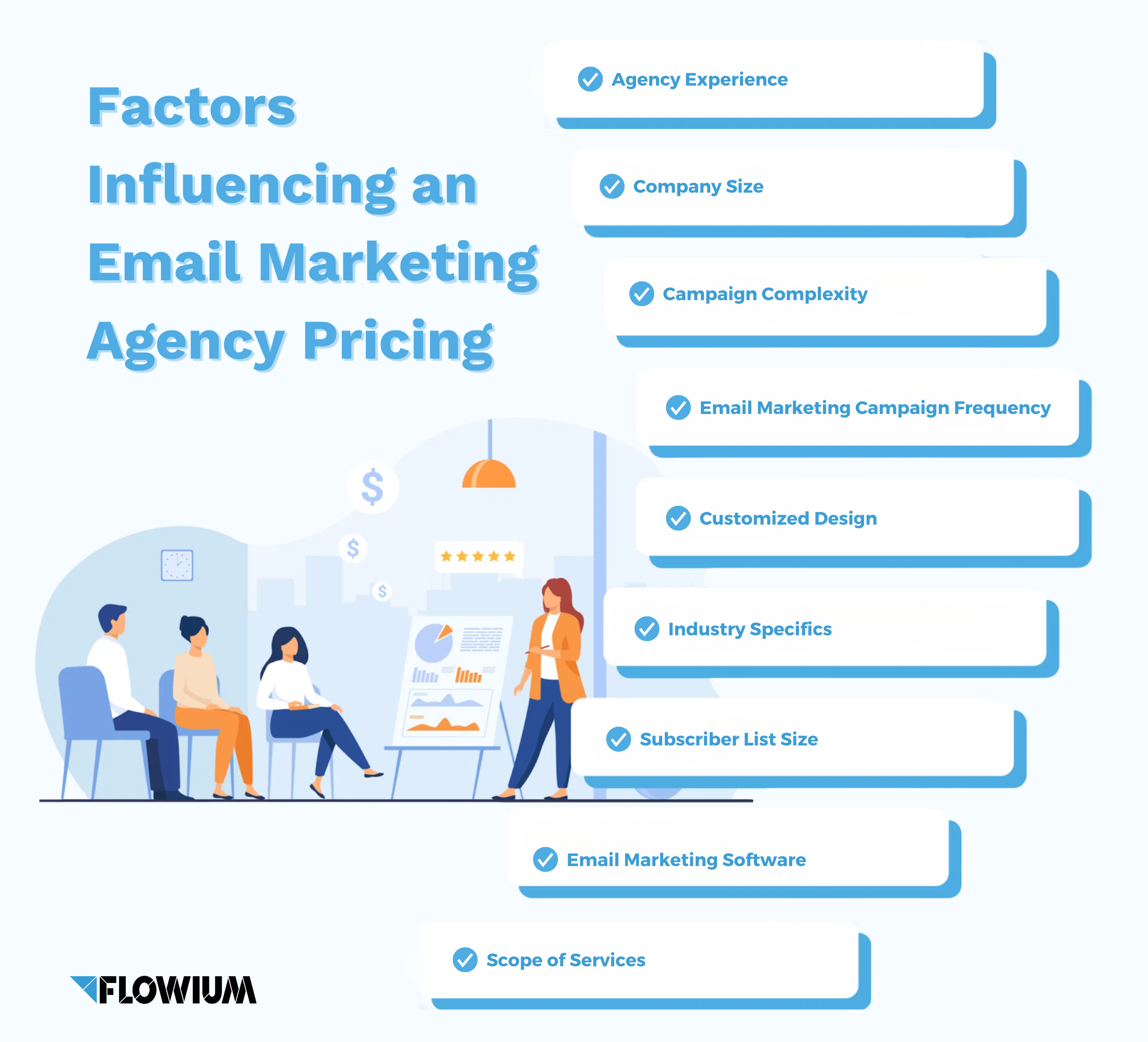 Company Size
A larger agency will charge more than a smaller one, as its team is generally larger and services wider. 
Small email marketing agencies often use the help of contractors and freelancers, which is cheaper than full-time employees. 
It doesn't mean that the quality of their work is worse. On the contrary, small agencies have the advantage of being able to have a more in-depth approach, which is good for highly specialized industries. 
However, internal communication may suffer from the presence of many outside contractors, and turnaround times are often longer for the same reason. 
So, if you are looking for an agency with a strong, consistent team and quick turnaround times, then you have to be ready for higher agency pricing. 
Email Marketing Software 
Another factor that greatly influences an email marketing agency's pricing is the software it uses. 
There are many different email service providers, some better than others. Many agencies will have subscriptions to multiple platforms, but will generally use one or two as their preferred one.

It is best to choose an agency that specializes in one, maximum two email marketing software. This way, you benefit from more expertise. 
Klaviyo is an optimal email marketing software choice, price-wise and quality-wise. You can consult Klaviyo's agency partner directory to find out which email marketing agencies are officially partnering with this email marketing solution.
Here are other email marketing platform options, with their pricing:
| Email Marketing Platform | Pricing starts at | Best first business type |
| --- | --- | --- |
| Klaviyo | $20/month | Ecommerce |
| Omnisend | $16/month | Ecommerce |
| Drip | $19/month | Ecommerce & Digital Business |
| Hubspot | $45/month | B2B |
| ActiveCampaign | $9/month | B2B & Digital Business |
| Convertkit | $29/month | Digital Business |
| Mailchimp | $9.99/month | Ecommerce & Digital Business |
| Infusionsoft | $40/month | B2B & Digital Business |
| ConstantContact | $20/month | B2B & Digital Business |
| Sendinblue | $25/month | B2B & Digital Business |
| Aweber | $16.15/month | B2B & Digital Business |
Agency email marketing services
Every agency provides different email marketing services. To lower your costs, you can always opt-out of some services, or choose the most basic email marketing service packages. 
However, be careful to not badly impact your email marketing efforts. If you have decided to invest in an email marketing strategy, then you should trust your email marketing expert to implement the right campaigns for your business and perform the necessary audits and maintenance. 
Design
Today, customers are more appealed by the visual aspect of a campaign than its written content (but it doesn't mean you have to neglect the written part).
Even the most basic notification email should look good and on-brand. 
As your business grows, you can't use email marketing templates anymore, and you'll have to invest in customized campaigns. This is an extra cost that will impact an email marketing agency service pricing.
Email Marketing Campaign Frequency
The more emails you send, the more expensive it is. That's a simple rule here. 
And every email is a cost for your email marketing agency, which has to pay its copywriters, designers, editors, implementation teams, etc. 
But every email also brings you more conversions and revenue. 
As this is a cost factor you can easily control, it is up to you to decide how much you are ready to invest in your email marketing efforts and how much you would like to scale up your campaigns. 
Email list
When you speak with an email marketing agency, you'll always be asked how many subscribers you have on your email list. 
The reason is simple: your email list size defines the list management efforts required and impacts the email marketing software price. 
The more subscribers you have, the higher the email marketing costs. 
Other expert services
And email marketing agency can go beyond email marketing and offer you other types of digital marketing services, such as:
Social media marketing
Full marketing strategy plans
Sales funnel creation 
Phones services
Web design
Etc.
It may be interesting for some businesses to combine their email marketing efforts with other marketing strategies, for example, SMS marketing. 
Naturally, every extra service will increase your email marketing agency pricing. But for some companies, the ROI will be even higher, so it is worth considering.
Frequently Asked Questions
How much should you spend on email marketing?
It all depends on your company size. If you are under one million dollars of annual revenue, you should spend between 6 and 8% on email marketing. If your company makes around 2 to 4 million per year, then it should be 2-4% of your revenue, and if the total revenue is above 5M$, then 1% is more than enough.
How is email marketing cost calculated?
The cost is based on the number of emails that the agency will set up for you per month. You need to know two numbers: the cost per email (usually $250 to $700, price including the entire process), and the number of emails you need per month. If you need 10 emails and the agency is pricing you $500 per email, your email marketing cost will be $5,000 per month.
How much does email marketing cost for a large company
Email marketing can cost from $5,000 to $10,000 or even $15,000 per month to a large company. However, in the industry, the price usually ranges between $5,000 and $7,500.
Also, we strongly recommend that you read our guide on how to choose an email marketing agency.