Email marketing is one of the most effective marketing channels ever. Not surprisingly, the narrative does not change for B2Bs that launch B2B email campaigns!
Statistics show that approximately 79% of business-to-business marketers report that email newsletters generate the most returns on their content marketing strategy.
Even more, several surveys have revealed that B2B emails see a 23% higher open rate than B2C emails.
So, there is no doubt that B2B email campaigns work. But, do you ensure that you get the best you can out of your email campaign?
In this article, we'll help you highlight a B2B email campaign strategy that works for your business.
Furthermore, we'll also explore the main differences between B2B and B2C email campaigns so you know what to look out for.
Ready to secure the deal? Let's get right into it!
B2B Email Campaigns: What are They?
Business-to-business (or B2B) email campaigns refer to any kind of email marketing strategy where your target is a business.
Therefore, In B2B email marketing, the goal is to introduce your brand to other companies and nurture them into paying customers.
So, even if you have been sending emails to individuals, B2B email marketing is a whole different ball game as you are communicating with other companies.
This means before you can get your email campaign off the ground and running, you need to understand the difference between sending emails to these two audiences and the best ways to maximize your campaigns.
Read on to discover these differences.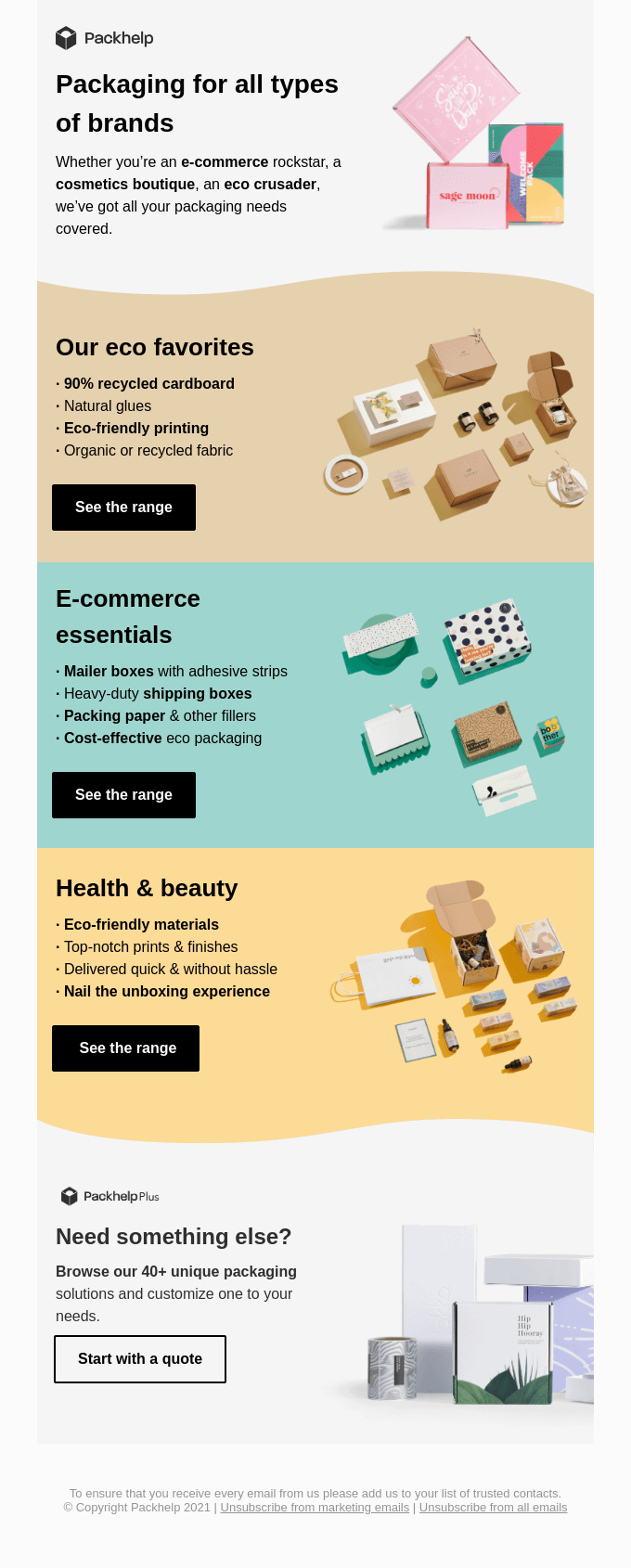 Differences between B2B and B2C Email Marketing
1. Purchase Behavior
An individual and a business have different purchase behavior.
For buyers in a business, they are more value-driven and financially focused. In other words, they make purchases based on logic instead of emotion-based purchases in B2C. 
On the other hand, with B2Bs, more emphasis is given to building a solid relationship and communicating value over time.
2. Different buying cycle
A B2B sales cycle usually takes more time to convert prospects into buying customers. This is because there are generally more decision-makers in the B2B buying process.
So, B2B audiences require multiple workflows designed to nurture them with the best content over a more extended period.
3. Content type
To nurture and build relationships, your content must address the industry's main points and position your brand as the go-to person.
Unlike B2C campaigns where you can employ quick marketing strategies, your B2B email campaign strategy should feature a mixture of content types that communicate value and facts.

4. Frequency of sending
While both email marketing campaigns require that you remain consistent in your sending frequency, there are still some differences.
For B2B email campaigns, your sending frequency must be consistent and meet expectations. This means you must follow up on the agreed content type and timing.
5. Best sending times
There is also a difference in the best times to send emails to your B2B audience.
You must consider their work schedule — usually 9 to 5 for businesses — and their most active times.
For example, if your B2B audience consists primarily of entrepreneurs, then the weekend may be the best time to send your emails.
On the other hand, with 9 to 5 workers, you want to target the weekdays like Tuesdays, Wednesdays, and Thursdays.
Does B2B Really Need Email Marketing?
As a business owner, you need to show expertise to get new customers.
And for B2B, one of the most effective ways of showing value is via emails. So let's explore the advantages of email marketing to B2B.
Emails provide a more personalized way of communication: With email marketing, you can communicate with your audience in a personalized way. For example, you can send tailored messages depending on their specific needs and buying stage.
They allow you to showcase expertise: You need to show expertise and communicate value to convert buyers. With emails, you can send quality content that positions your brand as an expert.
An effective way of nurturing leads: Want to build relationships and nurture leads? With a B2B email campaign, you can effectively deliver relevant messages to businesses that move them through the sales funnel.
Cost-effective: Email marketing is more affordable than other forms of marketing like paid ads and prints. You can email thousands of businesses all at once without paying anything to acquire these emails.
Easy to measure: To get the most out of your marketing, you need to measure the right metrics. Marketers can measure open rates, conversion rates, delivery rates, etc.
What is the Best B2B Email Campaign Strategy?
Getting your audience to convert using email marketing requires following the best campaign strategies used by the most successful B2B marketers.
Here are some B2B email campaign strategies that work:
Focus on lead nurturing
When you first begin to communicate with businesses, most of them aren't ready to purchase yet.
With your emails, you can nurture these leads by communicating the solution you offer.
For example, you can implement an email drip campaign that targets buyers at different sales cycles and nurtures them through each stage.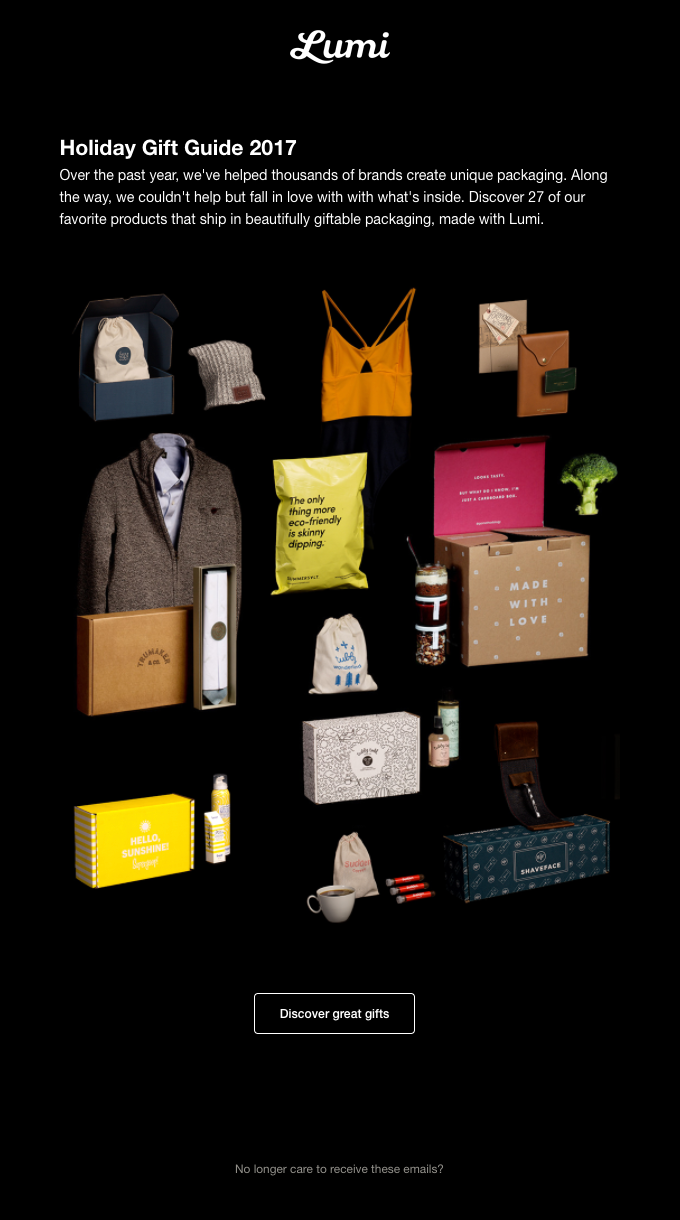 Send personalized emails
A most effective marketing strategy with your email campaigns is sending tailored messages to your audience.
In other words, you must recognize their needs and create quality content that directly addresses them.
This requires understanding your audience and including personalization tips such as their name and company name in your email.
Speak directly to your audience
Tone matters in email marketing, and a B2B email campaign is no different. First, however, you need to know your audience to find the right tone.
For instance, some businesses are more direct and prefer a professional tone. Using a light-hearted tone for such companies will be a big goof.
Start by understanding your audience, their specific needs, and what drives their attention. This way, your messages speak directly to them and push them to want to know more.
Leverage the best email marketing tools for lead generation
To maximize email marketing for B2B, you need a great lead generation tool. You want to invest in the best email marketing tool to deliver your marketing campaigns.
Since your goal is to nurture leads over time, these tools must allow you to set up workflows to send out lead campaigns to your audience easily.
Leverage on the purchase list
You've probably heard that buying email addresses can cripple your email marketing campaign. Well, it's true, and we'll tell you why.
You'd be sending emails to people who don't know and likely have no interest in your offer.
However, if you build a purchase list of people who genuinely need your products or services, you take a more strategic approach that offers better chances of success.
Create B2B Email Campaigns: Tips & Advice
To be successful in your B2B email campaigns, it is vital that you understand the proper strategies and role of email in your marketing strategy.
This way, you can avoid the pitfalls others have experienced and get your desired results faster.
Here are some proven B2B email campaign tips to help you:
Avoid buying email addresses
Create quality and relevant content
Always include an attention-grabbing and clear CTA in your emails
Leverage a great email marketing tool
Pay attention to results from your email marketing campaigns
Wrapping Up
In summary, B2B email campaigns are an effective way of communicating with new and existing prospects. They allow you to nurture leads and convert them into paying customers.
And because they are different from B2C emails, they require a more strategic and professional approach.
Thankfully, now that you understand the best strategies and tips required for B2B email campaigns, you can begin to create campaigns that drive results!
Further Reading
How to Set Up an ActiveCampaign Email Sequence
Engage Your Customer With an Evergreen Email Sequence: Everything You Need to Know
How to Set Up a Hubspot Email Campaign