Saying "Thank You" is one of the best ways to make your customers feel special and show that you appreciate them. For an eCommerce business, an eCommerce thank you email is one of the best ways to do so.
A thank you email not only makes the consumer feel special but also generates goodwill and elevates your business beyond competitors.
Let's look at how to write the finest eCommerce thank you email to keep your customers happy and satisfied.
What is a Thank You Email?
When crafting an eCommerce marketing thank you email, it is important to know what to say and how to say it.
There are many different templates available. When choosing an eCommerce thank you email template, getting the correct message to the right consumer is crucial.
If you want your email to sound unique and different from generic thank you emails that customers receive from other businesses, you could hire the services of a professional.
A thank you email should be a two-way contract, in which you express your gratitude for the customer's interest in your firm. However, remember that the most crucial thing to avoid doing in a thank you note is upselling aggressively.
One or more of the following can all be included in an eCommerce thank you email:
Words of gratitude
A demonstration of gratitude for consumers' interest in the site
The gifting of a voucher for their next purchase
Or, simply a simple thank you with their feedback about their site experience.
Importance of an Ecommerce Thank You Email
A thank you email allows you to communicate with your consumer on a two-way basis.
They express interest in your firm, and you respond by demonstrating that you are a human behind the website while also expressing gratitude for the attention.
It contributes to the reputation and trustworthiness of your company. Besides, customer appreciation is very important since a satisfied consumer is more likely to not only return, but also to tell others about your business.
How a Thank You Ecommerce Email Helps Your Business
Thank you emails can boost income and sales. It's true that the best thank you email templates attract more customers and therefore make a huge difference in how you run your business.
The following are some ways in which these emails make a positive impact.
Increases store credibility
In the digital arena, a polite and precise thank you email template will create your store's trust and reliability.
The greatest eCommerce thank you templates are personalized and sent to customers after they complete their transactions.
Invites customers
Thank you emails are an excellent way to entice clients into your business by inviting them to join your social media sites, loyalty programs, or even provide feedback to help you improve your service.
Customer appreciation
Thank you emails are the most effective approach to show customers that you value their time and interest in your store. It's a token of appreciation for their interest in your shop.
This motivates the buyer to return for additional purchases, boosting the store's quality customer base and revenue.
How to Write an Ecommerce Thank You Email
It is important to ensure that your thank you emails stand out by adding a personal touch. The work can be done with a basic text message or plain-text email, but it's neither thrilling nor imaginative.
Here are a few tips to make your thank you emails effective:
Make use of your company's colors or logo. This ensures that your emails are instantly recognizable and consistent.
Use GIFs or images. These focus the reader's attention to the area of the email where you want them to be. Use a picture or GIF to demonstrate a special deal in your thank-you email.
Make your message succinct and to the point. Because people skim emails, get right to the point. Thank you clearly at the top of the email, and then add a few phrases explaining why you're sending it.
When to Send a Thank You Email
There are certain times and instances where a thank you email if used wisely, could lead to a considerable improvement in business.
Sending emails to customers for signing up
Showing your thanks to a new customer is a great approach to welcome them into your space.
When someone registers on your website or joins a promotional mailing list, they are making a significant commitment to your brand or shop. It must be acknowledged, and the customer's efforts must be respected.
For completing a purchase
The most typical practice in the industry is to send an eCommerce thank you email when a product is purchased.
After-sale thank-you emails have grown so much that customers demand them, and you can't afford to fall behind.
For joining a loyalty program
Customers are made to feel special when they are shown appreciation and thanked for their devotion.
The ideal thank you email for signing up for a loyalty program should show your appreciation for the customer. Make the customer realize how important they are to your company's success.
Say thank you, along with an offer
An unregistered or guest user that purchases your eCommerce store might be converted into a regular user by sending them a thank you email.
Thank you emails from your eCommerce store might help you grow your customer base. Send a customized thank you note email with an irresistible offer that will entice them to sign up.
Examples of Great Ecommerce Thank You Emails
Here are some thank you email examples that you could refer to.
Example of an email from Fitbit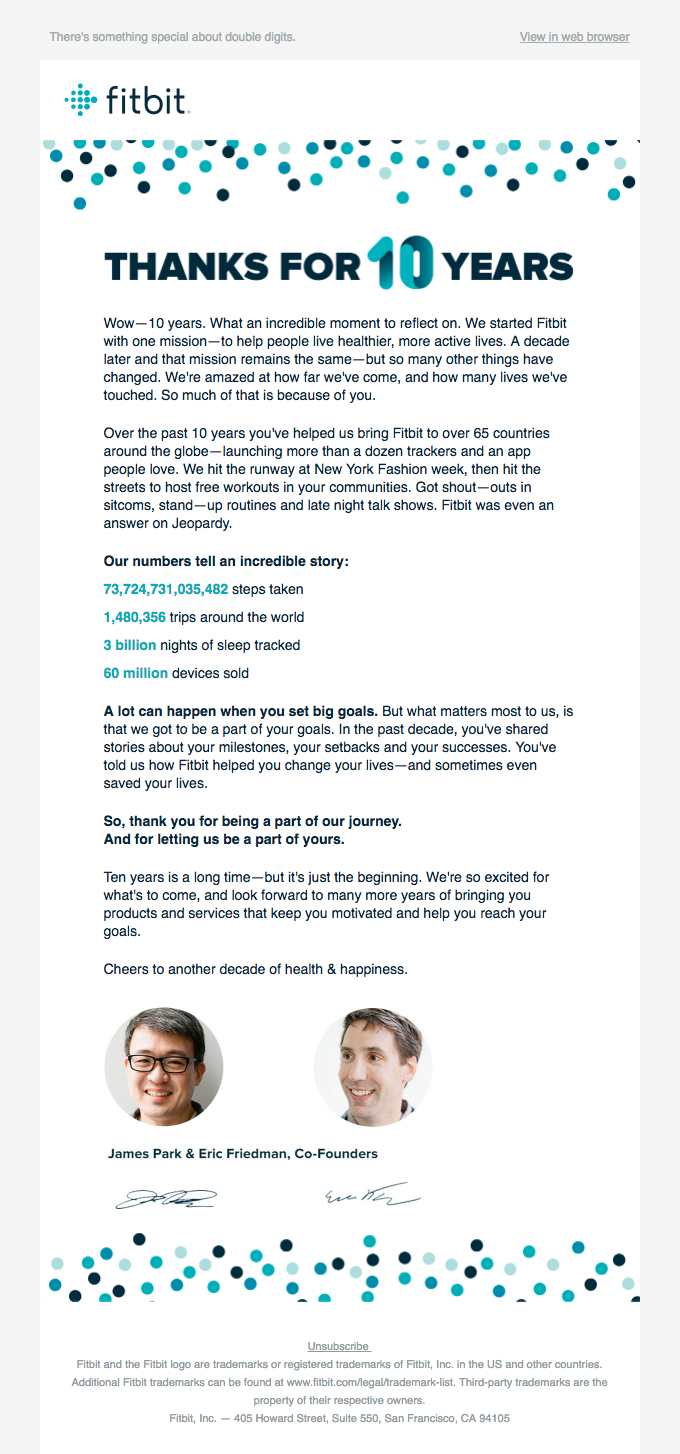 The above example is striking as it thanks customers while at the same time shows that the business has been successful for 10 years, and is still going strong.
The heading is well-structured and mentions both "Thank You" and "10 years".
The email goes on to explain how Fitbit has been used by people in over 65 countries.
Fascinating facts about how many steps were taken, how many nights of sleep were tracked and the number of devices sold is all mentioned, which indicate to the reader that the company is diligent and cares about their customers.
Example of an email from Paravel

This eCommerce thank you email is striking, as it opens with a thank you line.
It is different from other thank you emails because it only uses pictures and no text in the body. This captivates the attention of the reader and it also highlights the good times spent in the customers' adventures.
The pictures are of real situations and customers and this adds personalization and interest to the email. It reminds the customer of their happy moments and keeps them coming back for more.
Example from Classic Specs

The above example is one that shows appreciation to the customer for a purchase. It lets the customer know that they have received the order and are in the process of getting it ready.
Personalization is used as it includes the customer's name, billing information, shipping information, and an email is provided in case the customer wants to contact the company.
More importantly, the images of the items ordered are shown and tips about using the specs are mentioned at the bottom.
The email is concise and simple, yet it gives the customer all the necessary details.
Remember that genuine gratitude derives from a sense that you truly care about your customers.
Ecommerce thank you emails are a simple gesture, yet it means a lot and can drive your sales higher by encouraging loyalty.
Further Reading
eCommerce: The Best Email Marketing Software
Email Marketing: the 10 Components for a Successful Email