Choosing and implementing the right shipping strategies is crucial to the success of any eCommerce business. Why? Because customers expect fast, stress-free, and affordable shipping for every product they buy.
Moreover, since your business growth is mainly dependent on your customer satisfaction, investing in effective eCommerce shipping solutions is crucial. Aside from keeping your customers happy, top-notch eCommerce shipping strategies will also help you improve your profit margins and boost your business productivity.
However, an effective shipping strategy goes beyond free and fast shipping. There are other factors you need to consider when coming up with an effective eCommerce shipping strategy.
This article explores some of the best eCommerce shipping strategies for business owners trying to take their brand to the next level. We'll also provide insights into proven tools to help you stay on top of your shipping logistics and tips on cutting down costs.
The Importance of eCommerce Shipping
In recent times, there has been a boom in the eCommerce industry, especially in the wake of the coronavirus pandemic. No doubt, eCommerce shipping has become the backbone of many companies today.
Before we discuss the importance of eCommerce shipping for your business, let's first explain what it is.
What is eCommerce Shipping?
eCommerce shipping comprises everything that goes into delivering a product from the online store to the destination of its final consumer.  In other words, it encompasses:
Receiving orders
Processing them
Packing the purchased products at a warehouse
Printing labels for these packages
Sending the packages out
Managing returns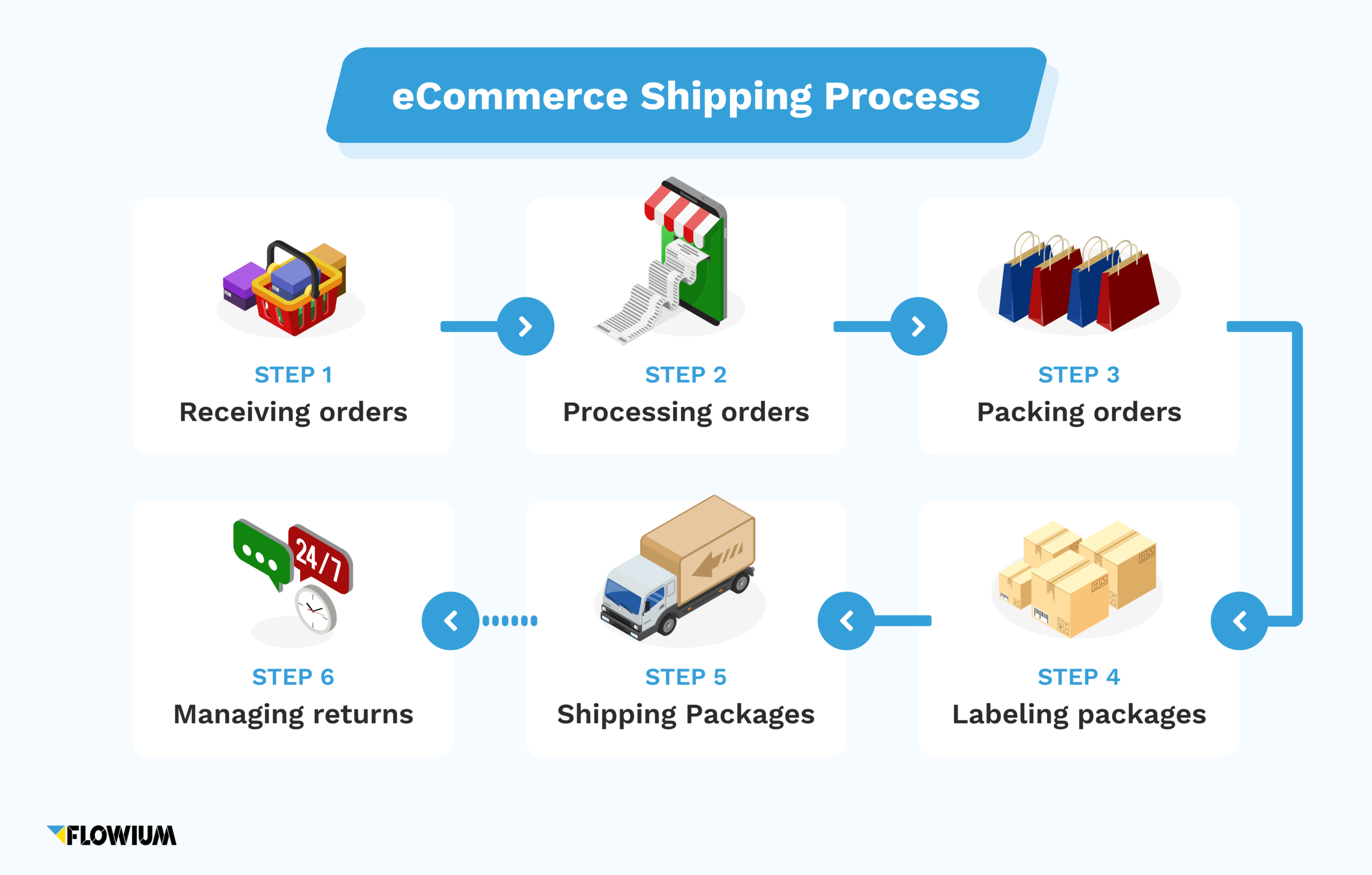 While this may sound relatively simple, several moving pieces create a much more complex system, depending on:
The size of your business
The type of products
The size of products and packages
The delivery destinations
But thankfully, there are many eCommerce shipping strategies and tools to help you provide a more efficient, manageable, fast, and affordable shipping to your customers. What's more, you can also reduce how much shipping eats into your profit margin.
That said, let us explore the importance of eCommerce shipping.
Why is eCommerce Shipping Important?
eCommerce shipping solutions play a significant role in whether a potential customer buys or not. Undoubtedly, providing an excellent shopping experience, competitive prices, and promoting top-quality products are important. But, the shipping experience can ultimately decide if your store visitors go ahead with the purchase.
In other words, eCommerce shipping is the main connection between you and your customers. If you don't take the time to set up a shipping system with effective strategies that can cater to your customers, it'd be extremely challenging for you to grow.
Here are a few reasons why a good eCommerce shipping strategy is important for your business:
Many brands are constantly improving their shipping process. It's important that you do the same if you want to stay ahead of the competition.
A badly structured eCommerce shipping process and high prices may cost you potential customers.
A good shipping strategy will help you avoid potential issues. You can bypass supply chain problems, such as port congestion or labor shortages, by partnering with a trusted logistics company.
More affordable, efficient, and reliable shipping will directly affect your conversion rates and, consequently, your profit margins.
How eCommerce Shipping Works
There are many factors that impact the efficiency of your eCommerce shipping process. Below, we share a quick breakdown of how eCommerce shipping should work in an ideal scenario.
Packing and Shipping Process
Here are the three main stages of eCommerce shipping: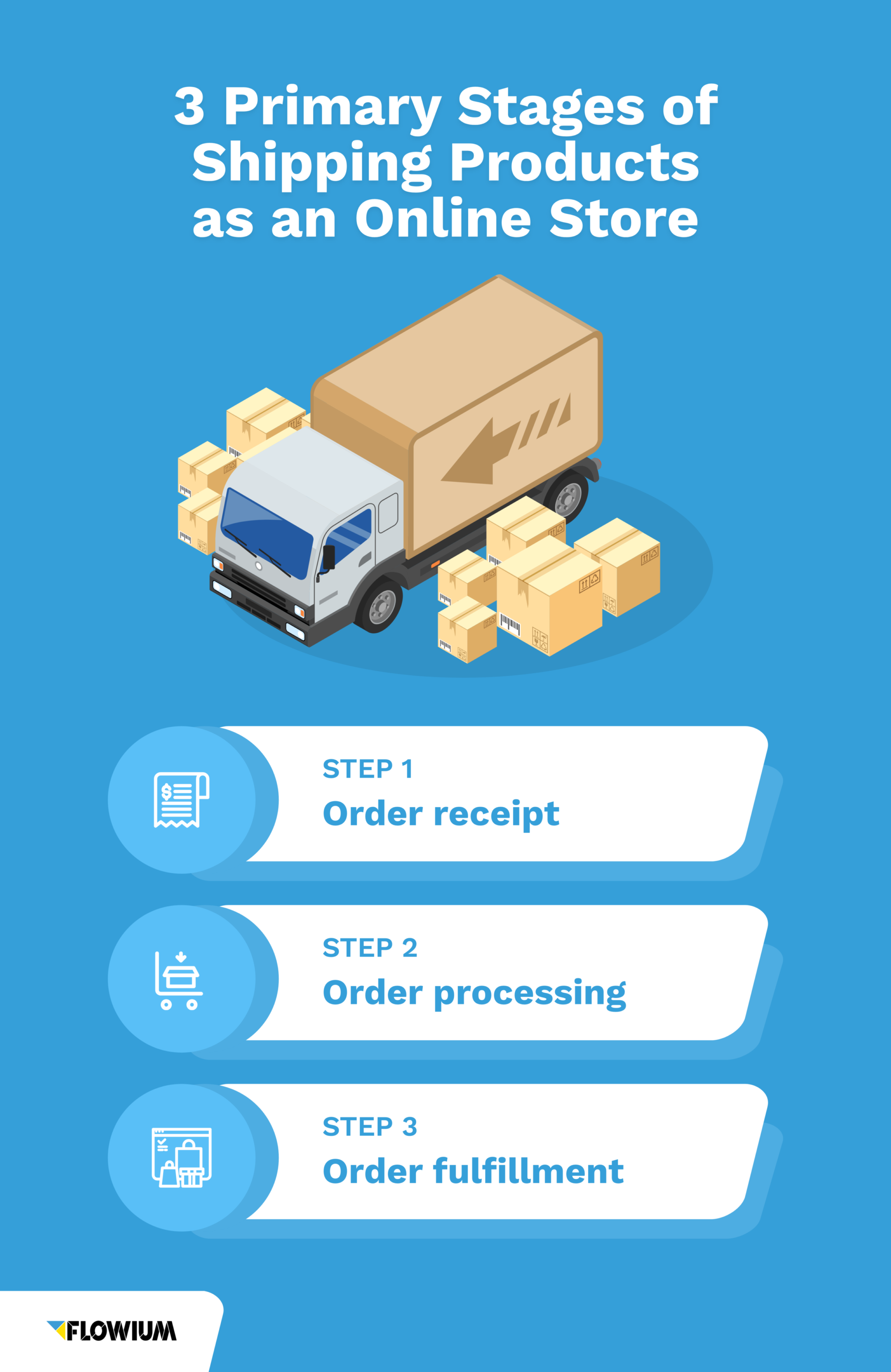 Order Receipt: During this stage, potential customers will go through your website to see if you offer the products they want. If they find what they need and want, they'll add the products to the card and place their order.
To fulfill those orders, you need to ensure that you have full control over your inventory. This means knowing what's in and out of stock at all times and updating that information on your website. Using inventory management software will help you keep track of your inventory.
Order Processing: This means verifying whether the order details are correct, from the products to the customer's shipping address and personal information. This can eliminate issues such as a wrong delivery address or a misspelled customer name. It's recommendable to automate your order processing stage as much as possible to speed up the process and avoid human errors.
Order fulfillment: This stage means preparing the customer's order for shipping. Several order fulfillment options are available to eCommerce businesses. You may either fulfill orders yourself or outsource your order fulfillment to a third-party logistics partner (3PL).
eCommerce Shipping Tracking: How Much Info Should You Give
You probably already offer your customers the opportunity to track their order shipment. But, how do you up the ante?
Providing detailed real-time tracking updates is the next level. Instead of waiting for your customers to go all the way to your tracking portal to find out where their order is, why not send updates to their email (or phone number) every time their package moves from one milestone to the other?
Always provide detailed tracking updates, and ensure that your messaging is personalized. Of course, you should also provide an estimated delivery date to help put your customer's mind at ease and reduce the number of inquiries your customer service team has to answer.
That said, setting up a live chat platform dedicated to shipping queries is another great way to ramp your services up a notch. By troubleshooting and resolving tracking issues in real-time, you improve your customer's experience while shopping with you and boost the chances of repeat patronage.
💡 Pro Tip: Shipping tracking emails are good opportunities to throw in some marketing, such as reward programs or even educational materials on the products you sell.
eCommerce Shipping Methods
Before we get into the trade tricks that can help you improve your eCommerce shipping solutions, let us explore some of the existing methods.
When it comes to shipping products to your customers, you can use various shipping methods. For instance, some companies offer only 2-day shipping, while some brands offer overnight shipping.
Of course, your budget, type of products, profit margins, and other factors will affect the choice of your shipping method.
If you're looking for the best shipping option, here are the most popular types of shipping methods:
Same-day delivery
Statistics show that 61% of online shoppers are willing to pay extra to get their products on the same day they make an order. As a result, many eCommerce brands put systems in place to ensure same-day delivery.
Pros
It improves your competitive advantage
It allows you to capitalize on impulse buying
Cons
It requires more effort
It may get more expensive both for you and your customers
2-day delivery
If you cannot offer same-day deliveries, 2-day deliveries are the next best thing you can offer.
No matter the size of your eCommerce business, making operational changes to your shipping processes can help you bring this offer to your customers without overworking your company.
Pros
It allows you more time to prepare for shipping deliveries
It improves your shoppers' experience
It's less costly than same-day delivery
Cons
Shoppers have to wait a bit more to get their products
Overnight shipping
This shipping method is essentially the middle ground between same-day and 2-day shipping. Overnight shipping guarantees that customers can get their purchases the next business day.
Pros
It helps you keep your customers happy
It encourages impulse buyers to make purchases
Cons
It requires more planning and logistics efforts
It may be expensive, depending on your budget
Expedited shipping
While expedited shipping may not be practical for eCommerce businesses that offer worldwide shipping, it can make a difference if you cater to local customers.
Expedited shipping describes any shipping method that provides faster delivery times than the standard one, ensuring that customers receive their orders as soon as possible – sometimes even in a few hours after placing an order.
Pros
It helps you capitalize on impulse shoppers
It can reduce shopping cart abandonment
It keeps your customers happy
It can help you build customer loyalty
Cons
It requires a lot of operational efforts
It can get costly, depending on your budget
The Best eCommerce Shipping Tools
The shipping process is one of the growth pillars of any eCommerce business. So, how do you stay on top of your shipping operations management without overworking your staff or burning yourself out?
The key is to invest in efficient and reliable eCommerce shipping tools. To help you choose the best eCommerce shipping tool for your business, we've compiled a list of the top options.
Top eCommerce Shipping CMS Platforms
An eCommerce CMS (Content Management System) is a software that allows eCommerce business owners to create, adapt, refine, and publish digital website content without writing code.
In other words, a CMS is an intuitive infrastructure that lets you handle the backend management functions of your online store, such as its product page layout, website sections, and more. In addition, your CMS can also help you manage your shipping operations.
Here are four of the best CMS in eCommerce today:
Shopify

Shopify is easily one of the largest eCommerce platforms today. However, it also doubles as a CMS platform and is quite popular amongst eCommerce owners (over 2.2 million websites).
As a CMS, Shopify Shipping offers easy storefront customization, inventory management, and even a built-in shopping cart for mobile eCommerce.
Pros
Easy to use
Affordable pricing
Variety of appealing features
24/7 customer support
Cons
Charges for third-party gateways
Themes are only partially customizable
No multi-store management
WooCommerce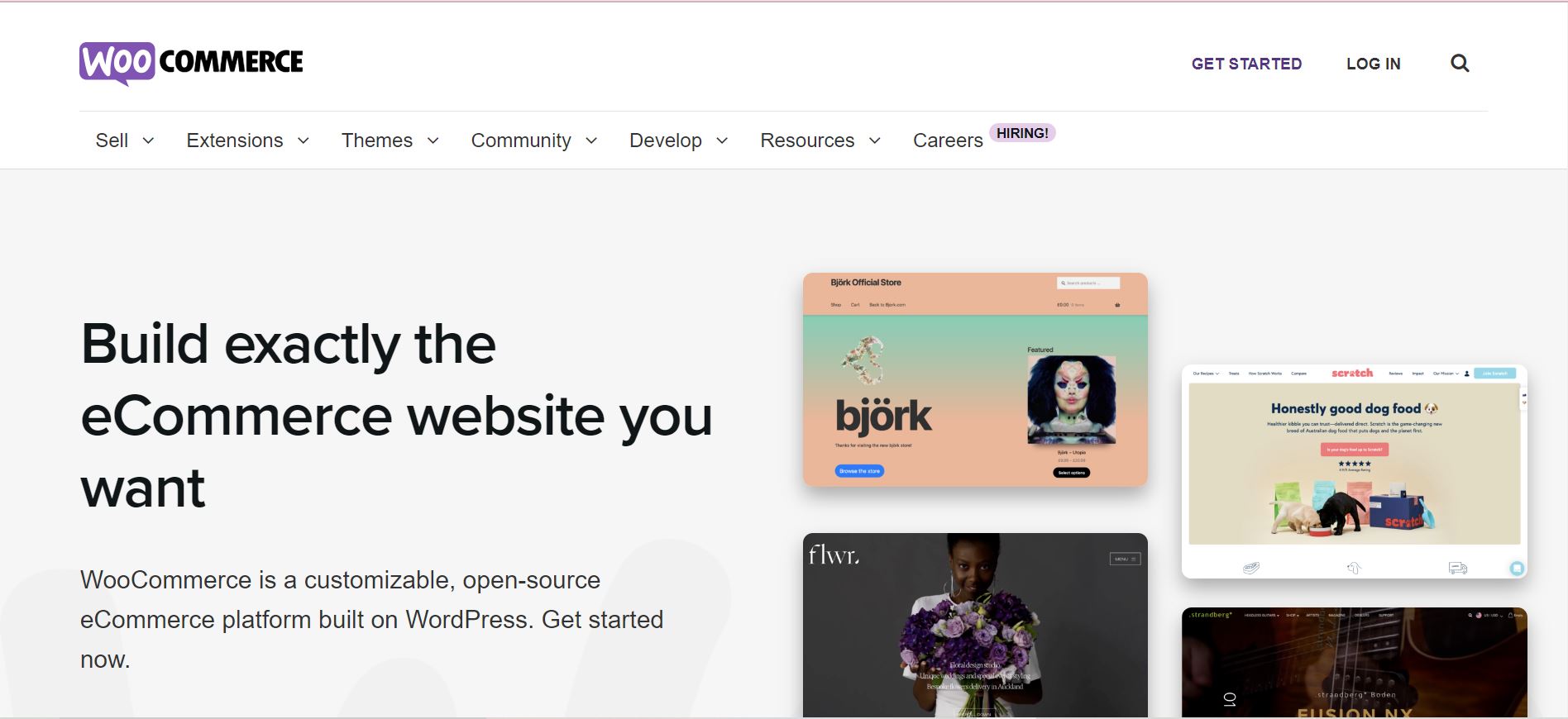 If you're looking to turn a WordPress blog into a full-scale eCommerce store, then WooCommerce is the way to go!
WooCommerce is arguably the most popular CMS platform for eCommerce owners today and caters to the needs of approximately 28% of eCommerce websites globally.
This CMS platform offers a wide variety of extensions and themes for its users. Furthermore, WooCommerce also has a very user-friendly interface and stress-free extension set-up.
Pros
Free integration with WordPress
Wide selection of themes and extension
SEO-friendly
Secure payments
Cons
Requires knowledge of WordPress
Requires separate payments for both domain and hosting
It supports only one storefront with a single account
Wix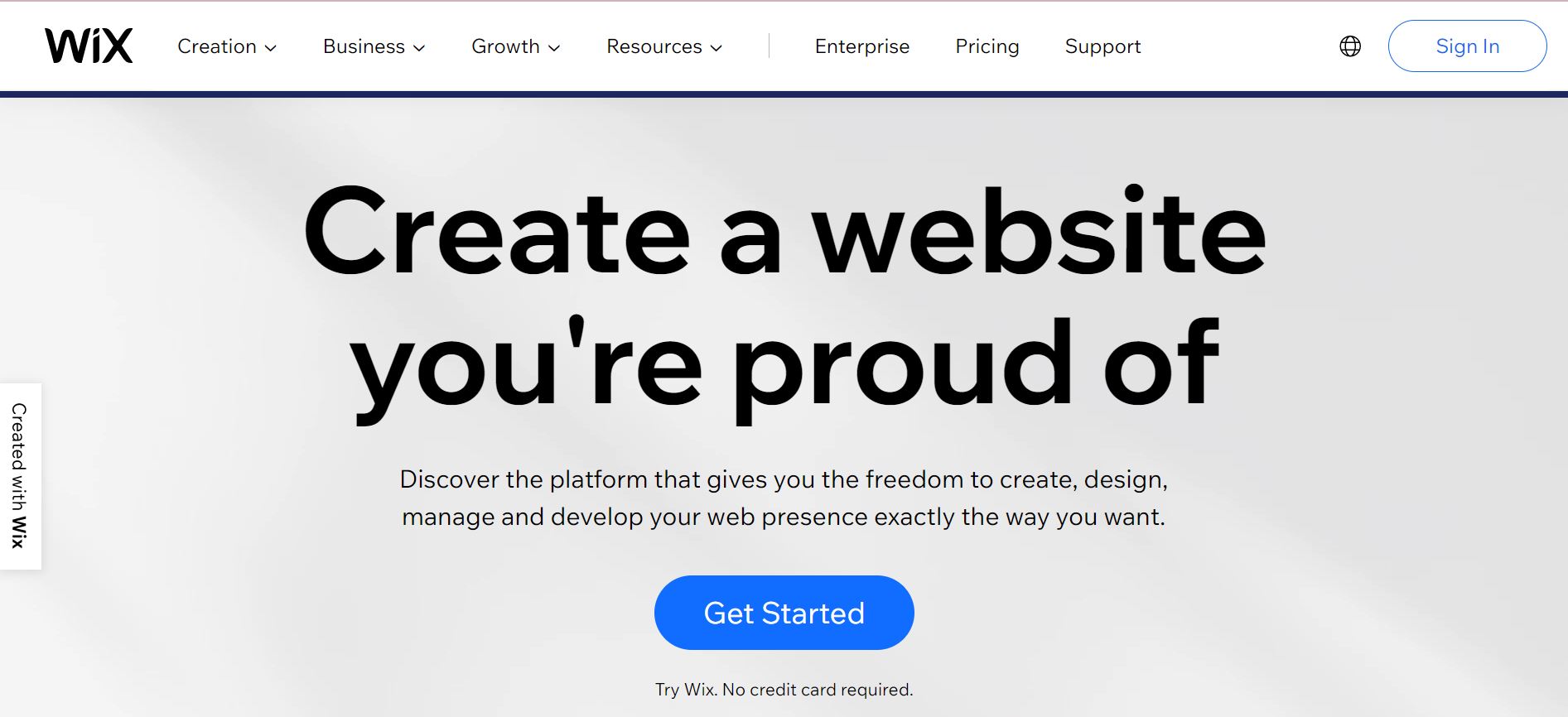 Although Wix is a relatively new addition to the eCommerce shopping CMS platform scene, it has quickly become trendy. Technically, Wix is a platform designed for helping users develop their eCommerce website using intuitive built-in tools. But it also does the job of management pretty well.
With Wix, you can design your website quickly with the platform's selection of aesthetically-pleasing templates and its drag-and-drop functionality.
Pros
No coding knowledge required
Free domain for a year
Affordable
Inventory and catalog-management tools
Allows selling on multiple channels
Cons
Too many ads on unpaid version
Templates are unchangeable once selected
BigCommerce

Another popular name on the eCommerce shipping solutions scene is BigCommerce. This platform contains a wide range of built-in features and customizable tools that cater to the CMS needs.
Furthermore, BigCommerce also uses advanced integration with SEO to boost its marketing results. You can also use BigCommerce for its shopping cart offerings while taking advantage of other CMS platforms.
Pros
Supports selling on multi-channels
Offers B2B functionality
Easy-to-use interface
Advance SEO tools
24/7 support
Supports many payment gateways
Cons
Fewer extensions compared to other CMS platforms
Cannot be easily customized to increase site speed
eCommerce Shipping Software: 5 Options for You
The right software will go a long way in helping you keep your eCommerce shipping operations organized, structure your shipping workflows and satisfy your customers with prompt deliveries, order tracking, and even order returns when needed.
Here's a list of the five best eCommerce shipping software, so you can choose the best one for your business:
ShipStation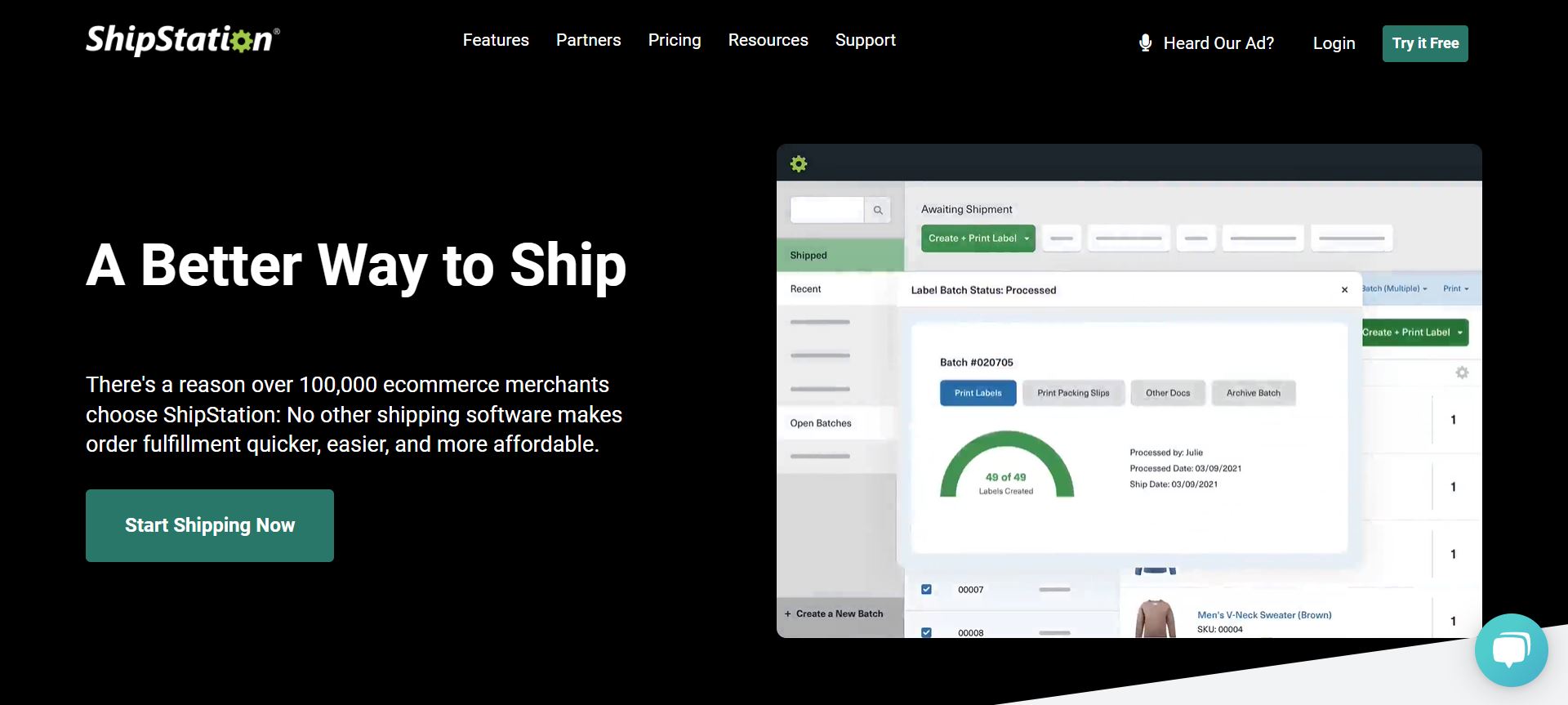 Due to its attractive offerings and advanced features, ShipStation has cemented its place as one of the best shipping software for eCommerce owners.
ShipStation supports integration with several top eCommerce vendors and CMS, including Shopify and BigCommerce. Furthermore, you can also link your ShipStation with several postal carriers.
Pros
Offers users a free trial
Intuitive user interface
Supports more than 350 integrations with eCommerce and shipping vendors
Cons
No free plans
Limited support options depending on your subscription plan
Shippo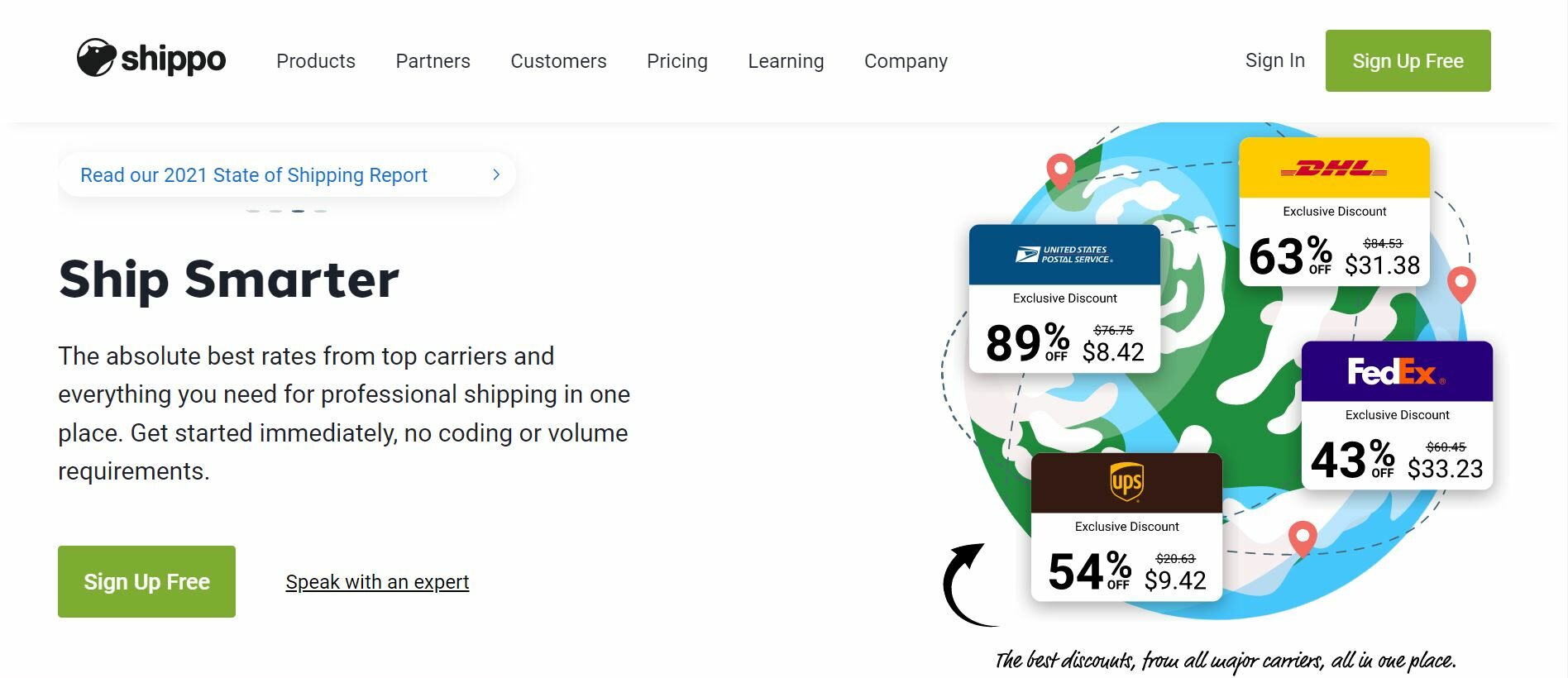 If your eCommerce doesn't handle large order volumes yet, Shippo is an excellent option for you as they offer a free plan that can cater to your needs. On the free plan, you can pay only for the shipping labels you need (five cents per piece). However, shipping labels are included if you opt for a paid plan.
In addition, Shippo partners with a wide range of international shipping carriers and offer impressive discounts.
Pros
Offers a free plan
Offers free trials for its paid plans
Integrates with almost a hundred eCommerce platforms and shipping carriers
Cons
Few paid plan categories
Limited customer support
Easyship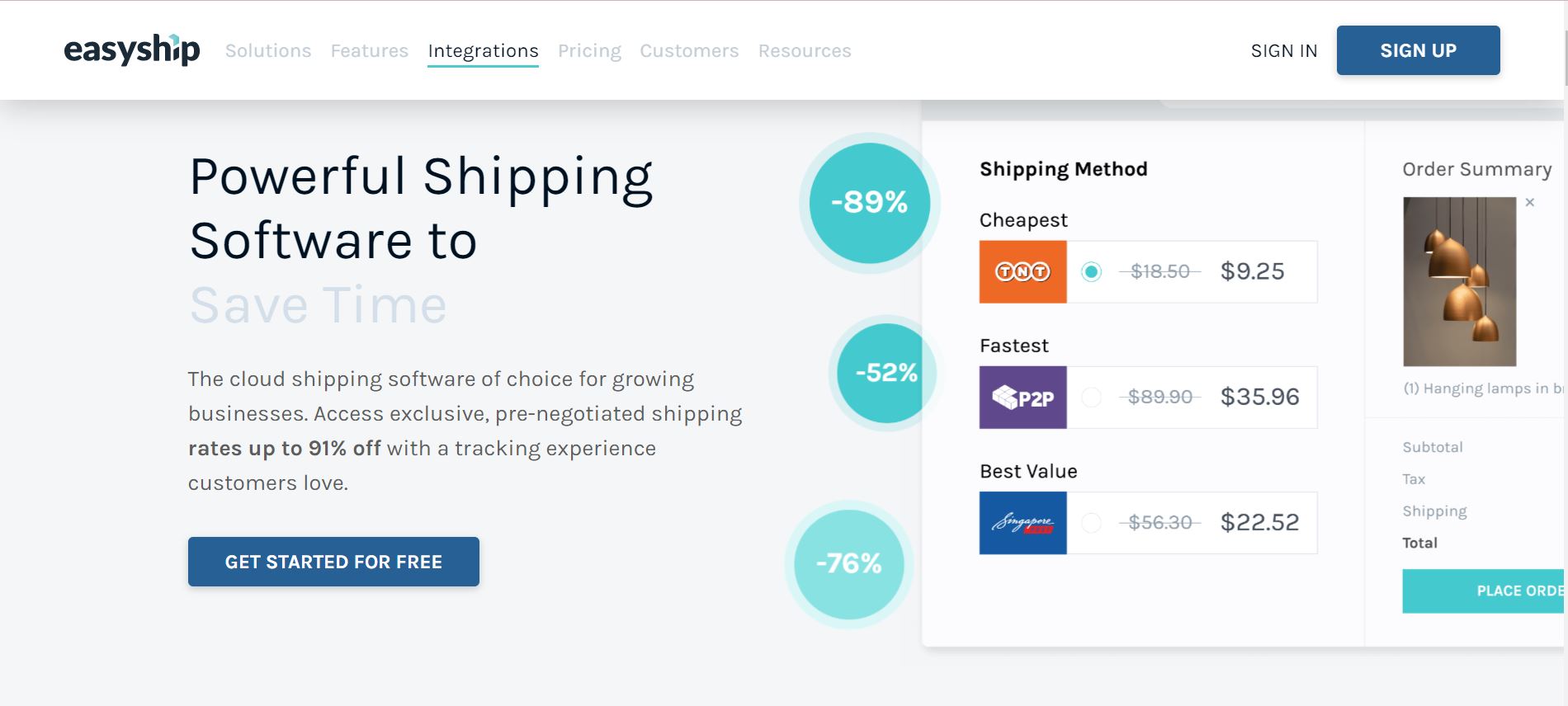 Easyship is another top eCommerce shipping software, especially if international shipping is a significant part of your business.
This software offers juicy discounts on international eCommerce courier services. Furthermore, Easyship allows you to save on shipping costs by providing real-time shipping rates at checkout.
Pros
Offers a free plan
Offers a 30-day trial period for paid packages
Integrates with more than 250 courier services
Draws up tax and customs documents automatically
Cons
Only offers real-time checkout rates to customers with Shopify's annual plan
Limited offerings for small subscription packages
ShipEngine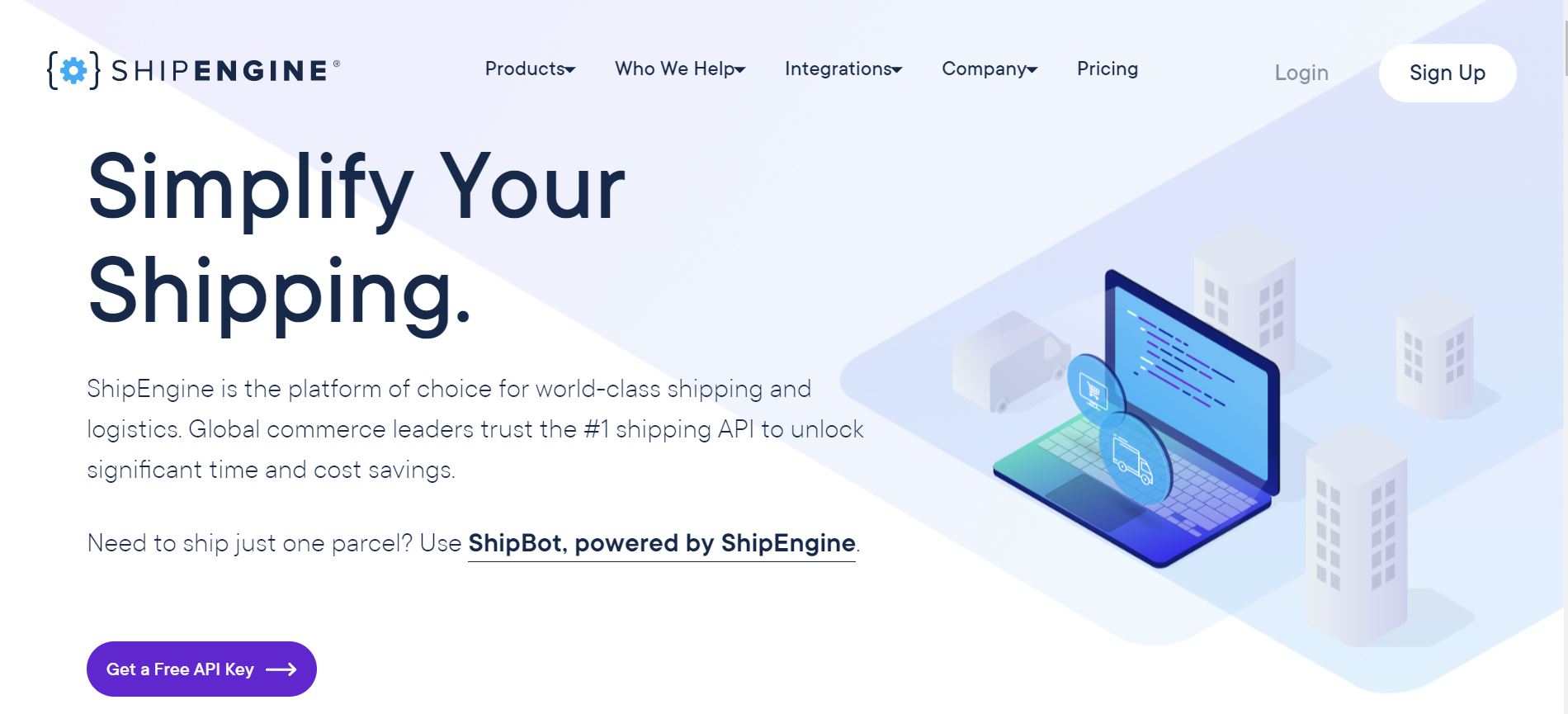 One of the most appealing features of ShipEngine is that it offers an API that lets you streamline your shipping processes and order fulfillment.
Furthermore, ShipEngine's APIs allow you to compare shipping rates across over 30 carriers in real-time. The platform also enables you to track your order delivery across several eCommerce shipping companies at all times.
Pros
Requires no contracts
Offers a free trial
Offers users a free developer account
Cons
Limited integrations compared to other platforms
 eHub (Essential Hub)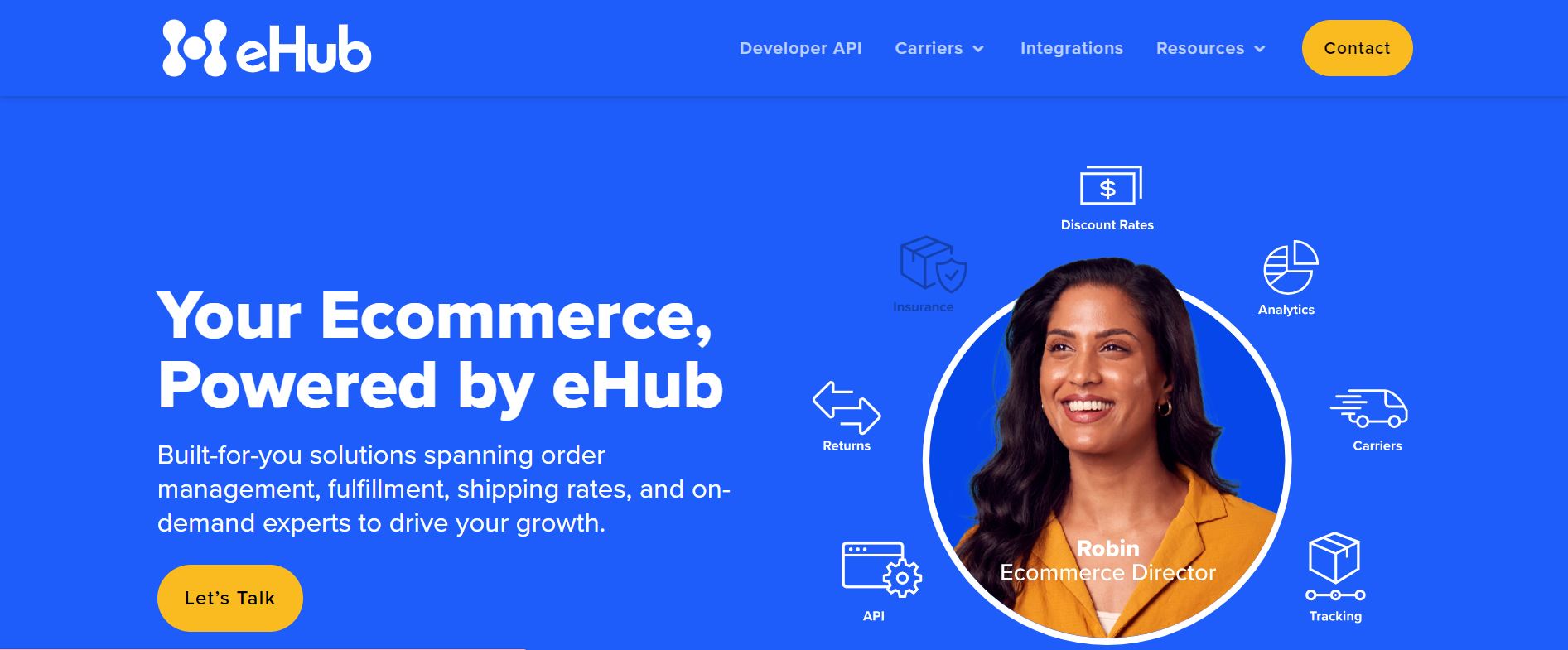 eHub may be the way to go if you're looking for an eCommerce software solution that offers you the lowest shipping rates every time you want to send out orders.
eHub detects and shows you the lowest shipping rates on every order. This way, you can identify the most cost-effective and the best shipping company for your online store per time. Furthermore, it offers access to various integrations to help you improve your shipping efficiency.
Pros
Offers a free version
Offers a free trial period for paid packages
Integrates with numerous platforms and carriers
Cons
Few automation options
Limited international shipping methods
Best 5 eCommerce Shipping Carriers
Getting familiar with top shipping carriers and their services on the eCommerce scene can help you finetune your shipping strategy. That said, here are five top options:
USPS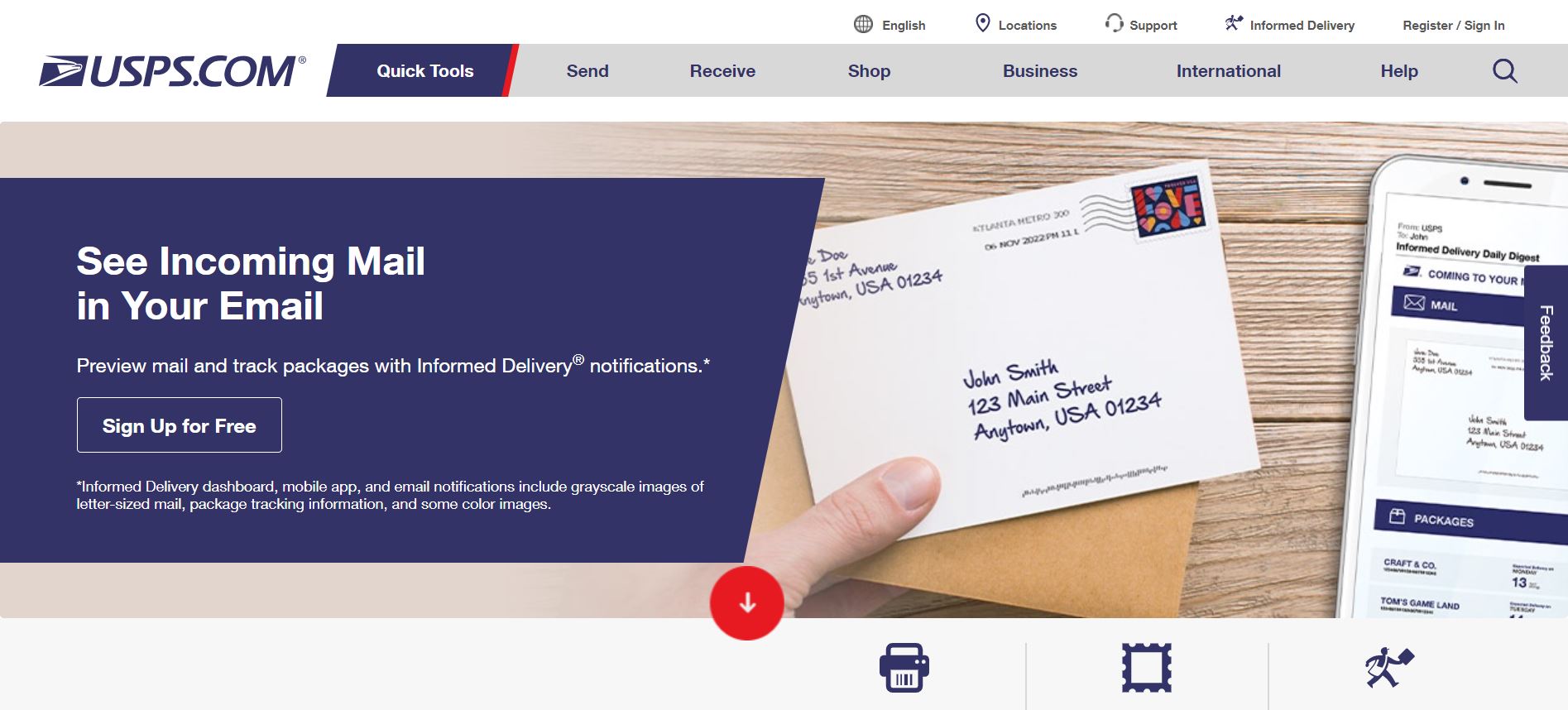 USPS is unbeatable when carrying out deliveries to the very last mile. This is likely because USPS already carries out postal service deliveries daily along local resident routes. Understandably, this also makes them one of the cheapest options for ground shipping.
FedEx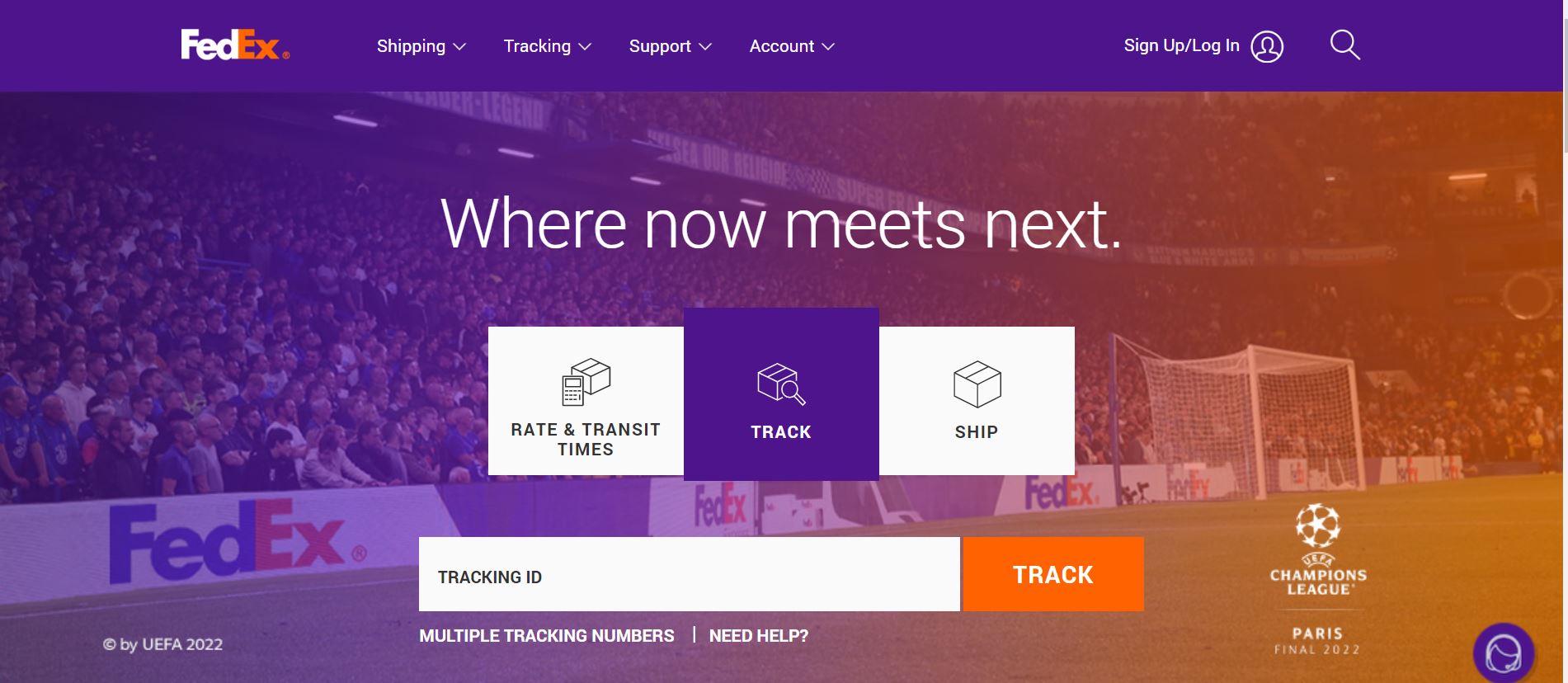 Another top-ranking eCommerce shipping carrier is FedEx. This carrier offers its users several delivery options based on various prices. Furthermore, FedEx also runs FedEx Small Business, which aims to help growing businesses with their shipping needs.
UPS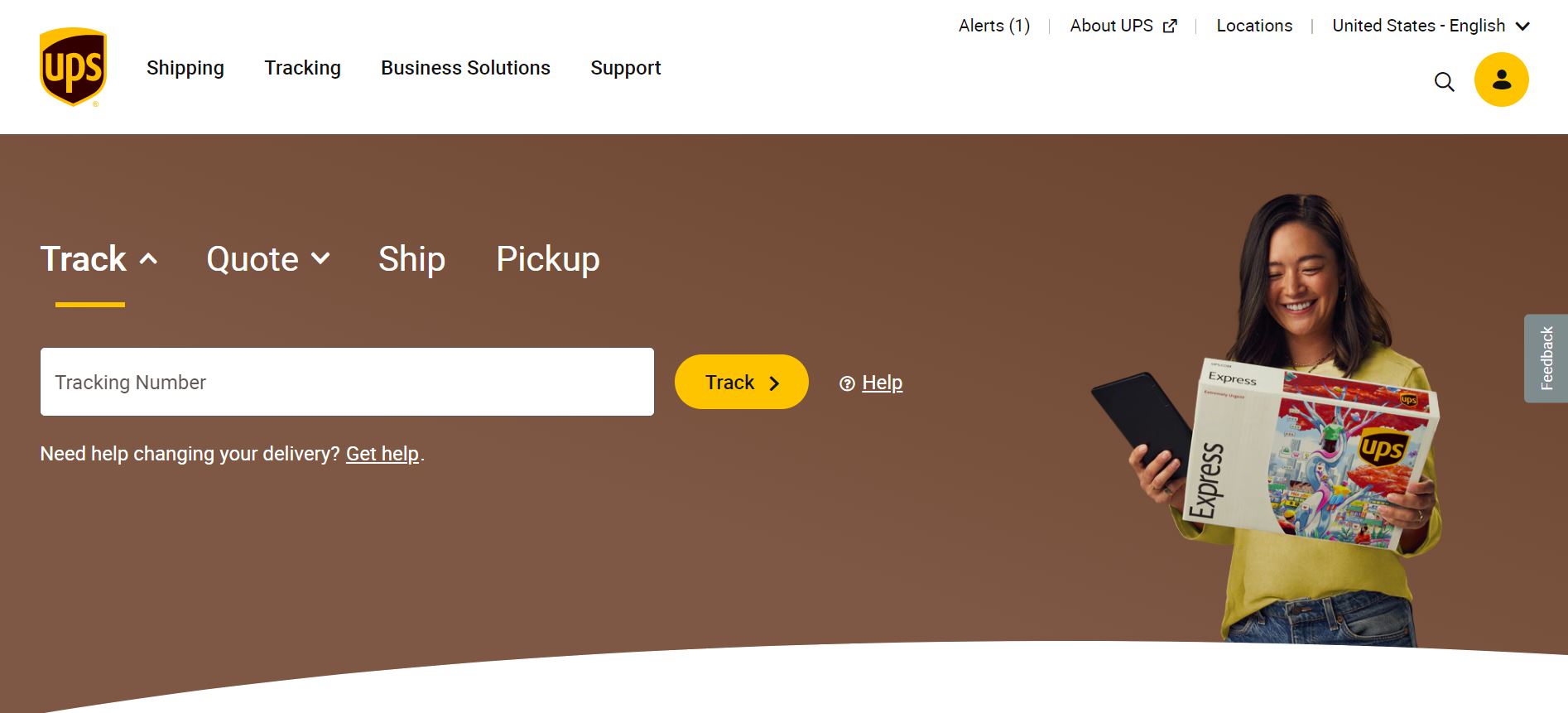 UPS has undoubtedly established itself as one of the top eCommerce shipping carriers. The service covers a wide variety of shipping destinations and transit times. With UPS, you can also schedule customer returns seamlessly.
DHL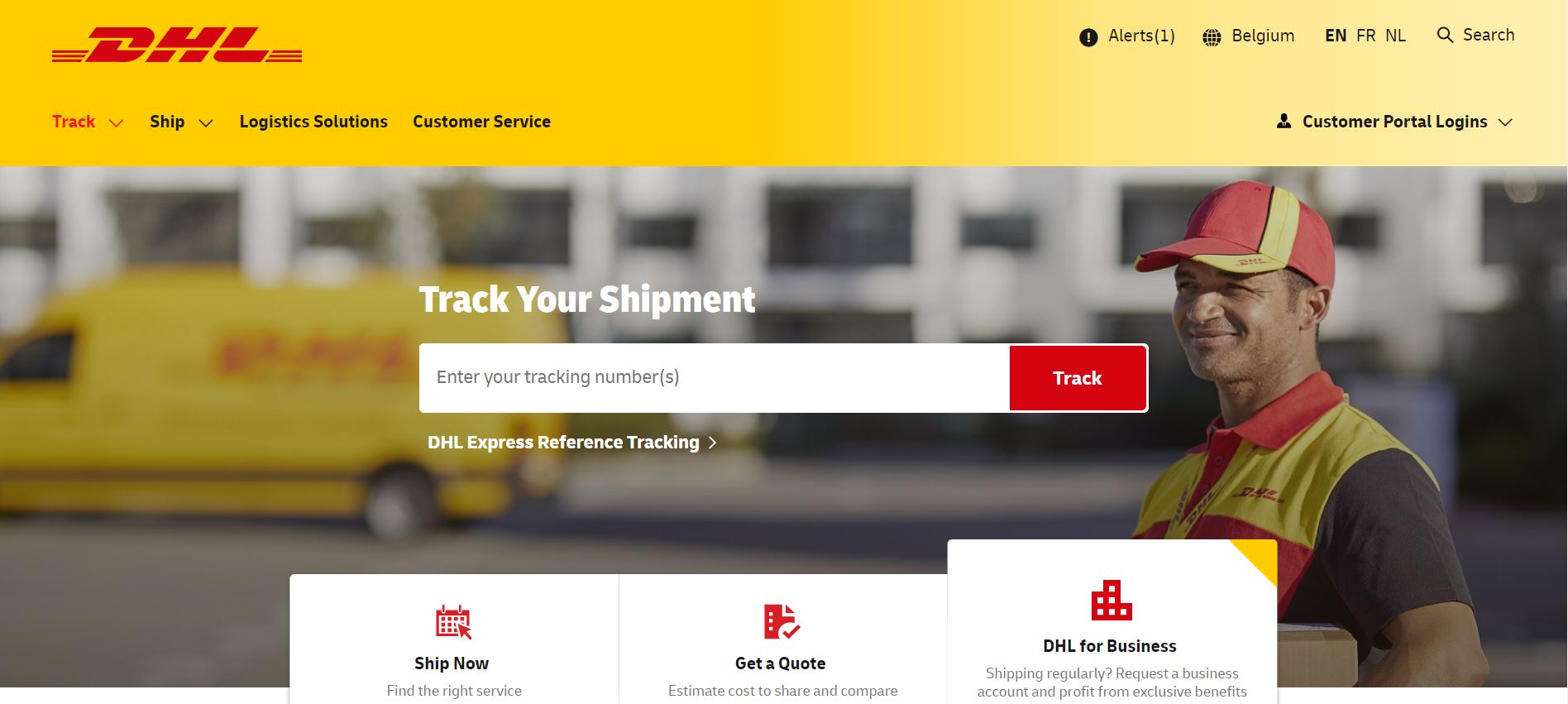 One of the most appealing characteristics of DHL is its global reach and efficient international shipping services. Undoubtedly, it is one of the best shipping partners for eCommerce owners.
Royal Mail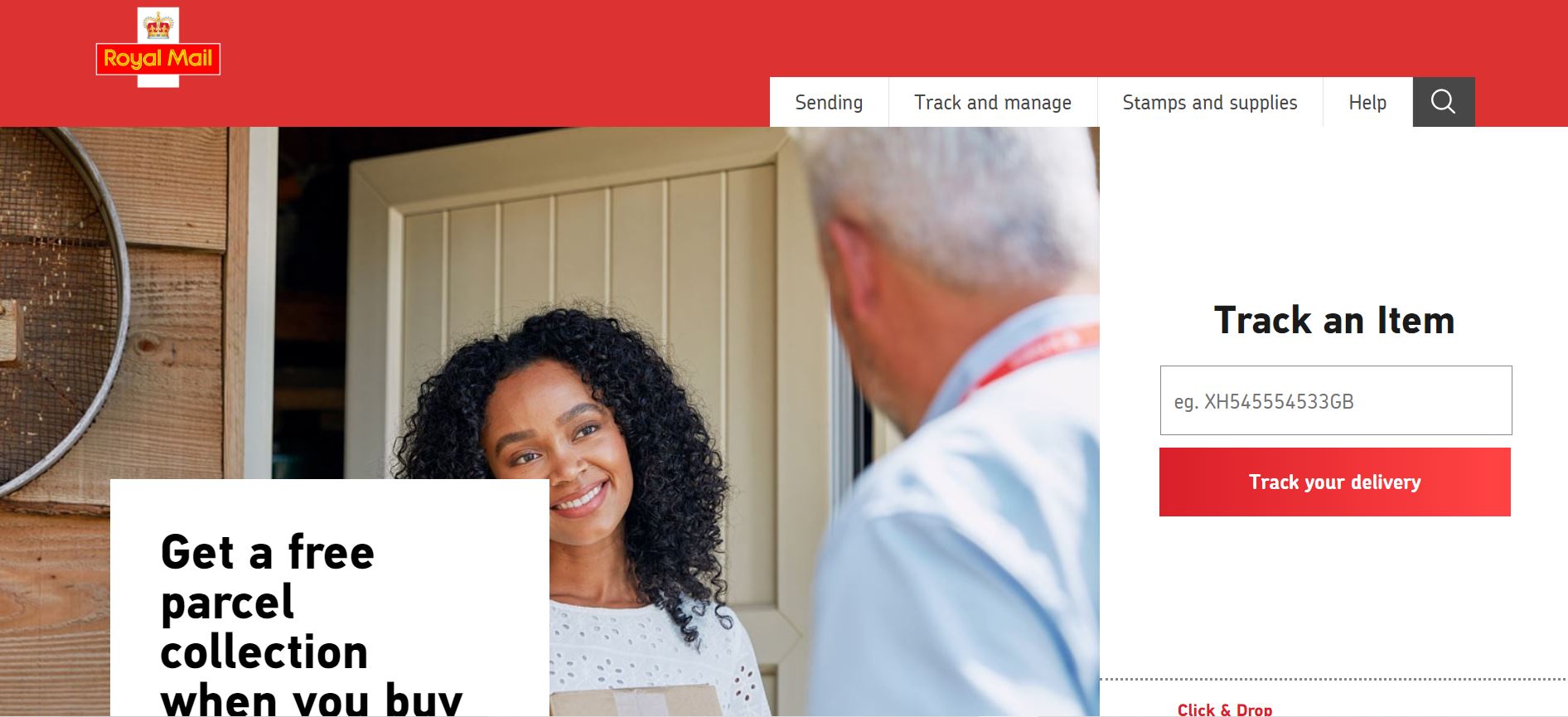 If you're in the UK and you're wondering what eCommerce courier service to use, Royal Mail may be the answer. This service offers efficient and prompt delivery services for orders within the UK and beyond.
eCommerce Shipping Costs
As an eCommerce owner, you probably know how much of a role your eCommerce shipping prices play in determining your profit margin. Therefore, it's only logical that you should do all you can to learn about shipping costs and how you can reduce them.
Types of Shipping Costs
Carrier cost
This is the amount your eCommerce shipping carrier charges to transport your order from the point of origin to its final destination.
Packaging cost
You incur this cost from keeping the item(s) you ship to your customers in a safe and secure package. Such packages may include everything from boxes to tape, poly mailers, dunnage, etc.
Fulfillment cost
This includes expenses for the staff that picks, packs, and ships customer orders.
Overhead costs
This includes expenses that you have to pay regardless of the number or frequency of the orders you send. They include fees for shipping software, warehouse lease, facility machines and equipment, employee salaries, etc.
Other costs
This includes miscellaneous costs that may be more specific to particular orders or unplanned expenses.
How to Calculate Costs for eCommerce Shipping
eCommerce shipping costs are determined by two primary factors:
The weight and dimension of your packages
Shipping origin and destination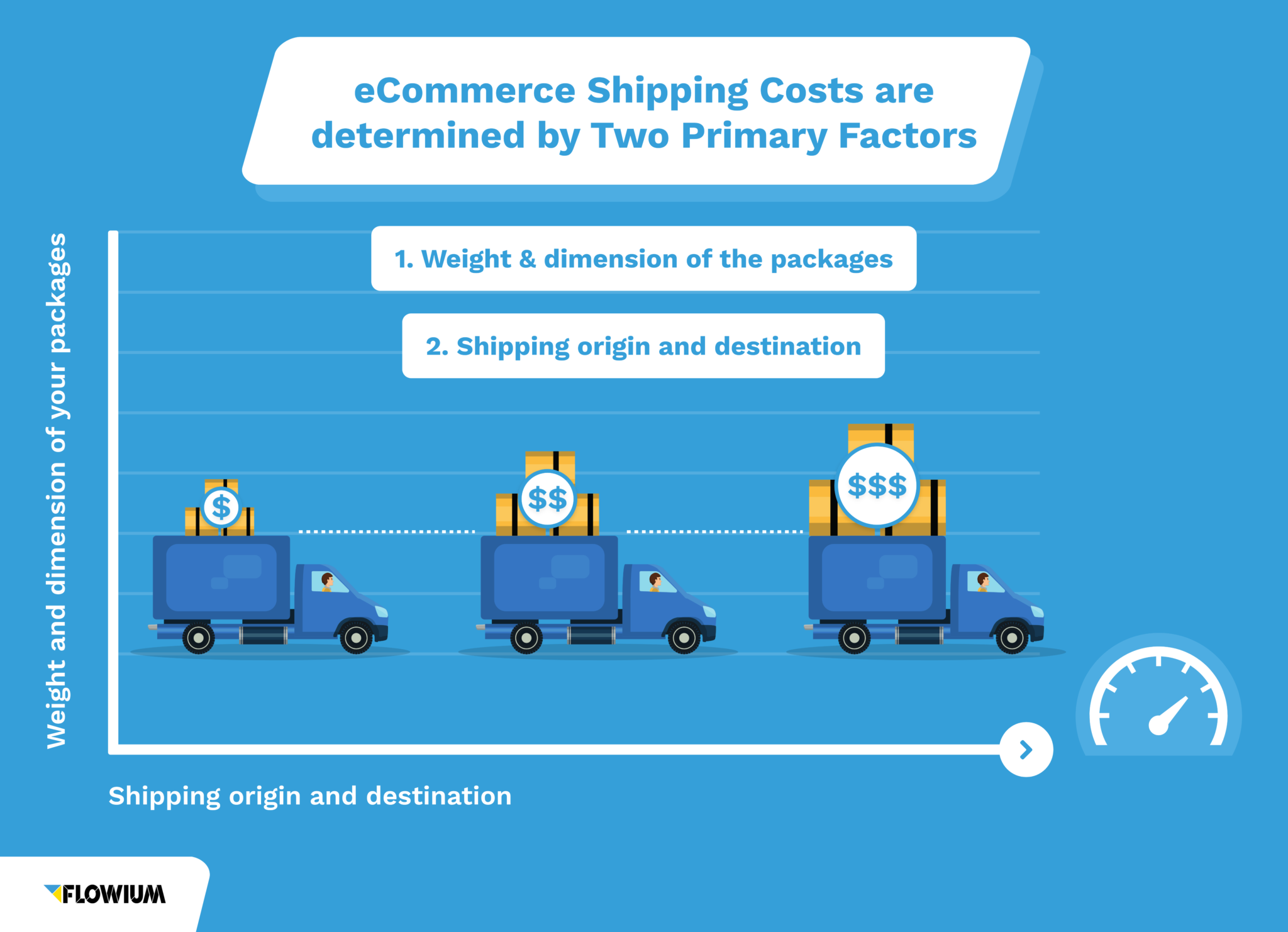 Weight and dimension of your packages
Depending on the weight and size of packages you ship, your shipping cost may vary by a wide margin. However, if your products generally have a uniform size, a per-item price system may be the cheapest way to ship eCommerce packages. This way, only your customer's delivery address affects your shipping price.
Besides, using a per-item approach to your shipping also allows you to offer your customers promotions such as a fixed price for every order or related discounts.
💡 Regardless of your approach to delivery prices, ensuring your products have accurate weights and dimensions is crucial. This way, your eCommerce shipping calculator will always come up with accurate results, and you'll avoid possible errors.
Shipping origin and destination
The origin and destination of your packages play a significant role in determining your shipping costs and strategy.
Do you deliver to customers in Australia? What about Canada and, perhaps, the UK? If yes, do you have warehouses in those locations? Or will you send out all your packages from the US?
Depending on your situation, you may want to use a flat-rate system or set rates based on the locations of your customers' delivery addresses. Your shipping carrier will play a more prominent role in determining your eCommerce shipping charges if you're shipping internationally.
How to Balance Your eCommerce Shipping Costs
Here are some tips to help you balance and potentially reduce the cost of shipping your customer's orders:
Optimize your packaging sizes
Many shipping carriers consider dimensions (and weight) when calculating shipping costs. However, while you can't reduce the weight of the product you're shipping, packaging it snugly will earn you lower shipping costs, especially for lightweight boxes.
Research shipping rates from different carriers
Every shipping company offers its unique rate and discounts to its customers based on their shipping volume. So, research carriers to find the one that provides the best deal. Make sure that the lower costs don't affect the quality of the delivery service.
Find discounted packaging supplies
Buying packaging supplies for your shipments in bulk may save you some money and reduce your average per-shipment cost. Besides, some shipping companies, including FedEx, UPS, and USPS, also offer clients free or discounted boxes and envelopes.
Go prepaid on your shipping
Did you know that using a prepaid shipping plan can knock up to 20% off your shipping costs with several shipping carriers, including FedEx and UPS? When you purchase your shipping labels upfront, you get discounted rates.
💡 Pro Tip? Prepaid shipping is ideal when most of your orders have uniform dimensions and weight.
Make a switch from cardboard boxes to poly mailers
If your eCommerce business sells small and unbreakable products, such as clothes, using poly mailers instead of boxes may be a more cost-effective option. Poly mailers are smaller and generally take up less space. Therefore, you'd typically experience lower shipping costs when you use them.
Besides, mailer envelopes and polybags also require fewer packaging supplies, which can also reduce your general shipping costs.
Consider hybrid shipping services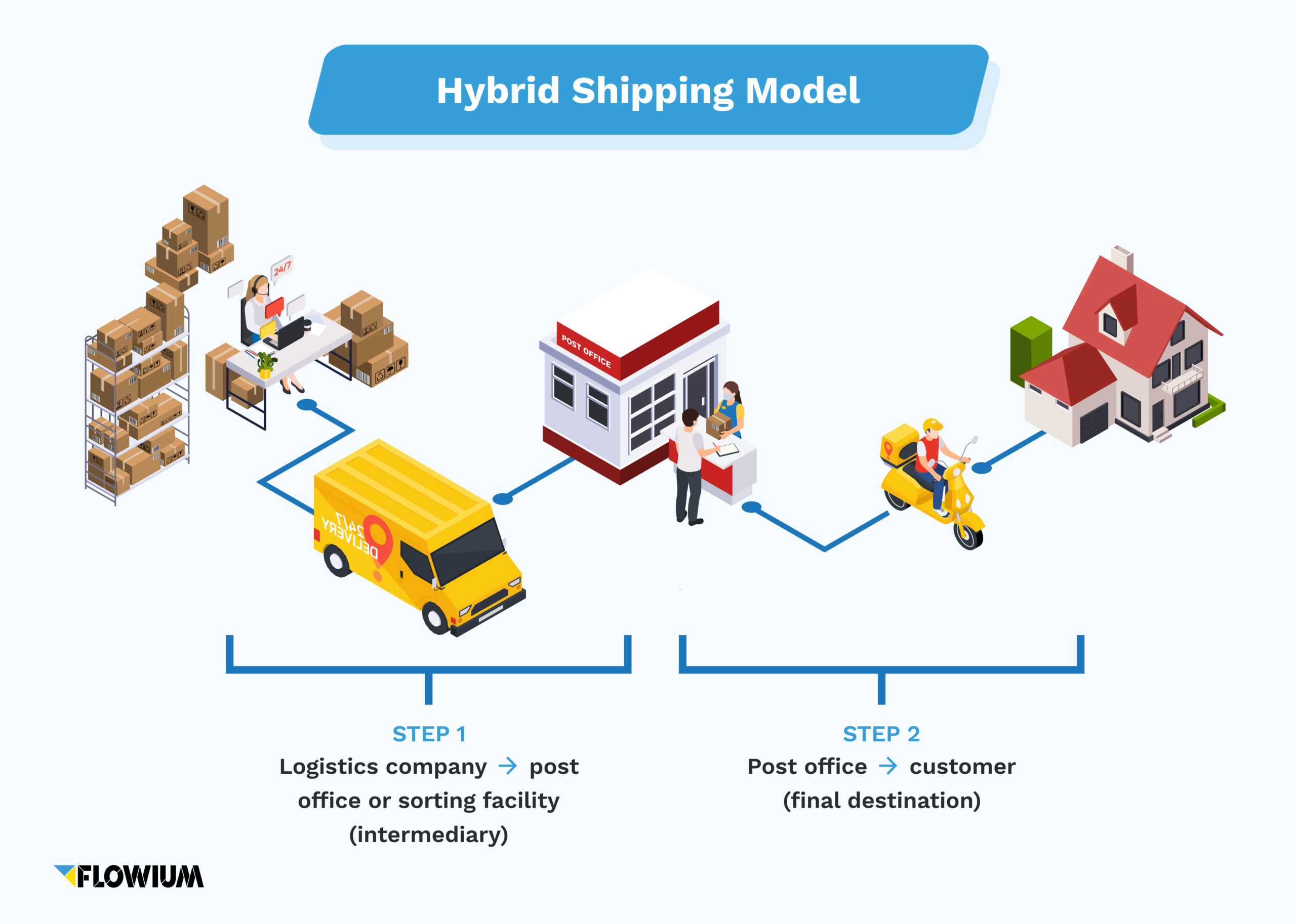 Hybrid shipping services can cut your shipping costs by half in many cases. For instance, you can use a hybrid shipping service (like FedEx SmartPost) to pick up your customer orders and then get to carriers (like USPS) to transport the packages to a post office or a sorting facility. From there, a last-mile delivery service handles the package's trip to its delivery address.
That said, while hybrid shipping services usually cost less, they may often result in slower delivery times.
eCommerce Shipping Rates
Your eCommerce shipping rates can influence your customer's final purchase. Every customer wants the best deal on shipping rates to have their package delivered to them. Therefore, it is always a good idea to carefully consider your approach to setting your shipping rates before deciding on the system to use.
Thankfully, several rate structures are available to eCommerce owners when charging their customers for shipping their products. Here are three of the most effective eCommerce shipping rates: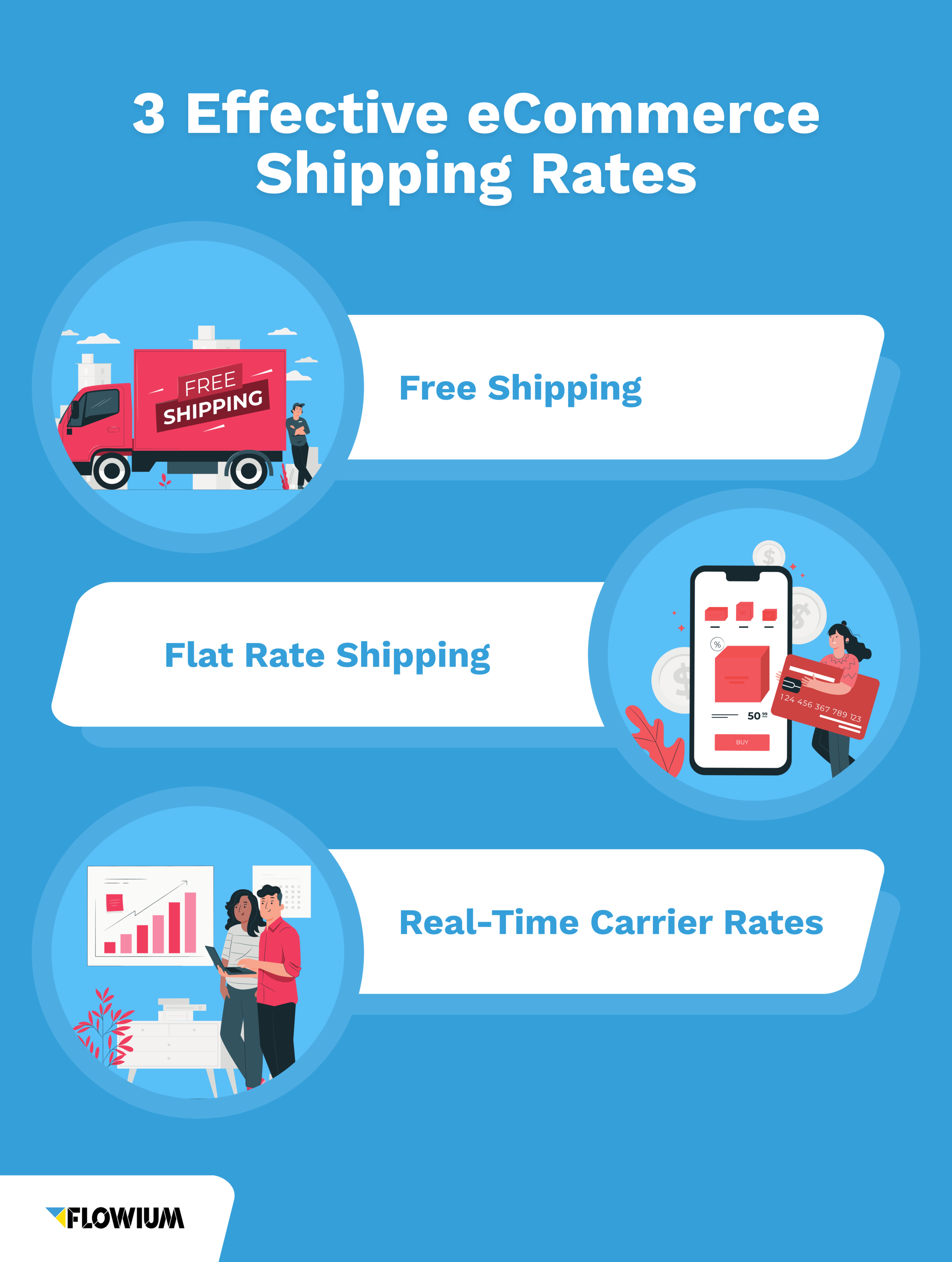 Free shipping
Many eCommerce companies now offer free shipping to improve conversions, boost customer loyalty, and decrease cart abandonment rates. However, this strategy may not be sustainable for businesses in the startup or growth phase.
Nonetheless, if you think free shipping is the way to go, here are some tips to help you stay profitable:
Increase your product prices to account for part of the shipping costs
Require a spending threshold to qualify for free shipping
Create a loyalty program where customers have to pay to be eligible for free shipping.
Real-Time carrier rates
If your eCommerce integrates with shipping services, you can detect and offer real-time carrier rates to your customers during checkout. When using a real-time shipping rate strategy, you can put an exact number on the cost of each order based on the receiver's location and delivery details.
Flat-Rate shipping
A flat-rate shipping system means you'd be charging all of your customers the same rate for shipping, regardless of what they buy and where it needs to be delivered. Some eCommerce brands tweak this a little and offer multiple flat-rate prices for orders at a specific price or weight range.
If offering unlimited flat-rate delivery is not sustainable for you, you may use it only during promotional periods.
💡 Pro Tip: If you're going to use the flat-rate system for your shipping, ensure you charge an average shipping rate that allows you to break even and improve your profit margin.
eCommerce Packaging and Shipping
Your packaging can also affect your shipping costs, so it's important to choose it wisely.
How to choose your packaging
Here are some tips on picking the proper packaging for your eCommerce business:
Choose a packaging that fits the size of your products
The size of the product will determine the type and size of its packaging. For instance, forcing a product into a packaging that's too small may damage both the packaging and the product. On the other hand, an oversized shipping box may cause damage to its contents during transportation. To avoid this, choose the packaging that fits your product.
Consider the fragility of your product
If you're shipping fragile products, it is usually a good idea to pad and cushion the product within the box to reduce the chances of damage during transportation. Sturdier products will require less padding.
Consider the weight of your product
Packing heavier products in a lightweight box may put the box at the risk of damage. Solid, corrugated boxes are a better option for heavier products, while larger products may fare better in wooden crates.
Consider the packaging from the manufacturer
If your products arrive from the manufacturer in good quality packaging, you may even be able to get away with shipping some orders without repackaging. However, if the manufacturer's original packaging is flimsy, you'll need to repackage it into a more solid packaging before shipping.
Decide whether to use branded packaging
eCommerce businesses looking to increase their visibility can also use their shipping packaging as a form of publicity. This means that you can create customized shipping boxes with your brand name or logo to build brand awareness. This will, of course, cost you more.
Consider more sustainable packaging options
Eco-friendly packaging has become a global movement as more people and businesses are gearing toward ensuring a greener world. Therefore, it's important to invest in more sustainable packaging options, especially if you're trying to appeal to an eco-friendly customer base.
Make your packaging return-friendly
While every eCommerce owner hopes they never have to deal with return packages, it's a possibility you must prepare to face. Make the process less stressful for your customers by providing order packages that can stand up to the rigors of a return trip.
Common eCommerce shipping packaging mistakes to avoid
Purchases that arrive on time and in good conditions are essential for ensuring a great customer shipping experience. To help you ensure smooth delivery, here are some common pitfalls to avoid when packaging your eCommerce products for shipping.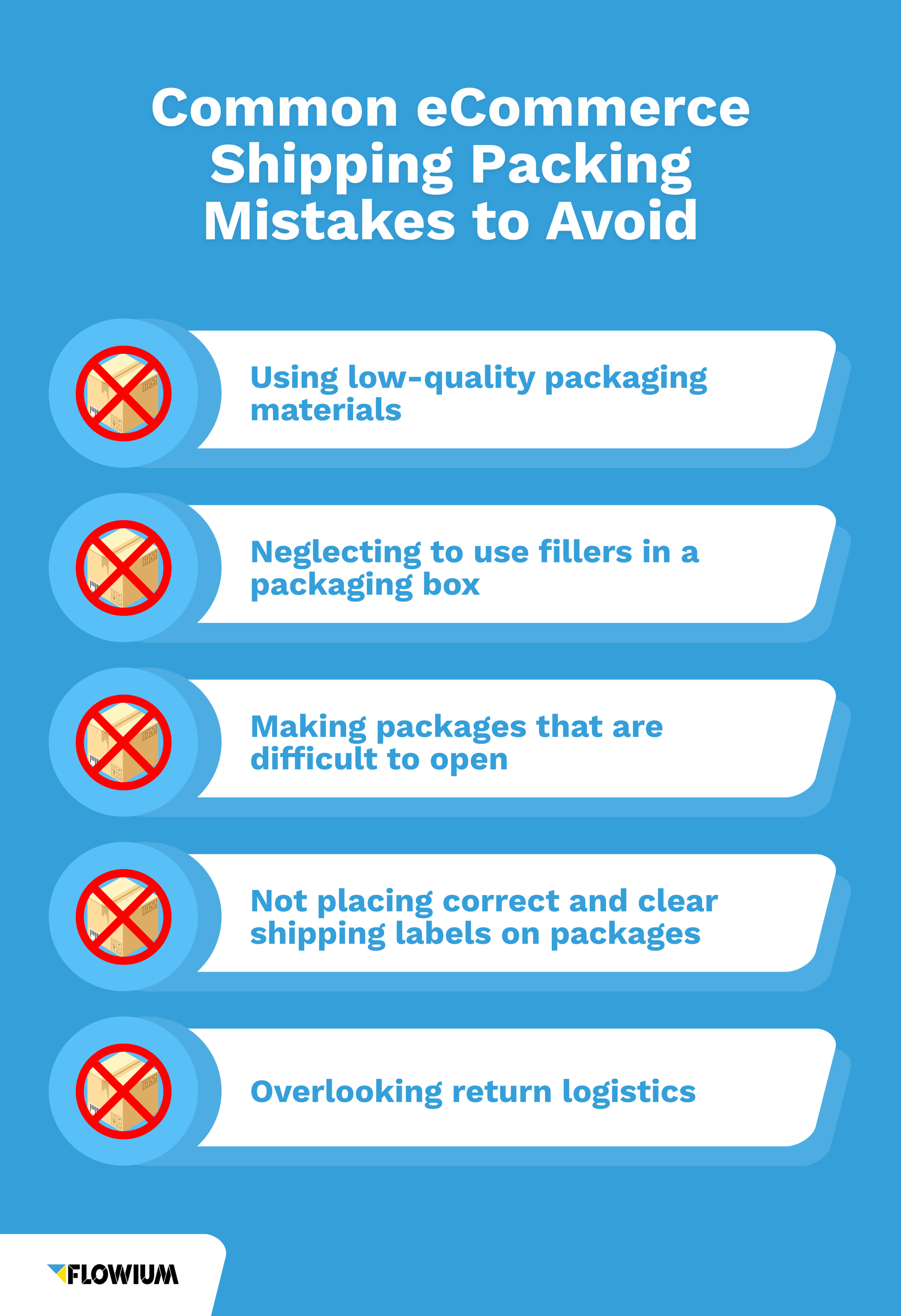 Using low-quality packaging materials
Your eCommerce packaging can only be as good as your materials. Therefore, if you see inferior materials (such as cheap cardboard), you may be setting yourself up for failure, as anything can go wrong with such boxes. This may put your shipments at a greater risk of damage or loss.
Also, make sure secondary packaging items such as tape are also of good enough quality. For instance, using tape with poor adhesive will likely lead to your shipping boxes opening during transit, which may cause lost or damaged orders.
Neglecting to use fillers to take up the excess space in a packaging box
Understandably, it may be impossible (or at least impractical) to find a box that's the perfect size for each order you want to ship. Therefore, there's the probability of having excess space in each box, which can cause potential damage as the products bounce around during transit. But, by using fillers (such as bubble wrap, airbags, and styrofoam), you can quickly solve this problem.
💡 Pro Tip: Keep your packaging fillers as light as possible, so they don't increase your shipping costs due to added weight.
Making packages that are difficult to open
Many customers look forward to unboxing their orders upon receipt. However, if they find the packaging difficult to open, they risk destroying their purchases while struggling to open its packaging. Therefore, finding the middle ground between securing customer orders and overdoing the sealing process is essential.
Not placing correct and clear shipping labels on packages
Your shipping carrier can only deliver your orders to the correct address if they can read the details on the box. Therefore, no matter how great your packaging is, the order won't get delivered if the shipping label is not clear. So, securely affix your shipping labels to your packages and ensure that the details (bar codes, addresses, etc.) are visible and legible.
Overlooking return logistics
Returns are inevitable in the eCommerce business. Therefore, it is usually best to package your customer orders to allow for easy returns. For instance, shipping envelopes will likely be torn open, which means they won't be reusable in the event of a return. On the other hand, resealable shipping bags or shopping boxes typically fare better during return scenarios.
eCommerce Shipping and Customs Charges
If your eCommerce business ships internationally, it's essential for you to understand customs duties and taxes as they affect your shipping costs, shipping method, and even your customer's experience.
However, note that duties and taxes are legalities that you must settle before your carrier can deliver your packages to their recipients.
Trade tariffs: taxes and duties
Import duties are a type of tax that a government imposes on goods arriving in or leaving a country. Taxes refer to sales tax (such as GST or VAT) placed on purchased products, including imported goods.
That said, who pays for the taxes and duties on eCommerce shipping?
You, the eCommerce owner, get to decide who (between you and your customer) pays the taxes and duties on any shipment. However, once you do, it is important you communicate your decision to your customers (especially if they're paying).
You can do this by choosing your preferred International Commercial Terms (Incoterms®) and communicating them on your payment invoice.
Generally, there are two primary options available to you when it comes to paying for taxes and duties on eCommerce shipments:
DDP Incoterms®: Seller pays duties and taxes
With DDP (Delivered Duty Paid) Incoterms®, you (the seller) are responsible for paying all customs taxes and duties associated with getting your products into another country. However, you may choose to pay out of your pocket or charge your customers for it such that they pay when at checkout. Then, you can forward the payments to customs, or let your shipping carrier do it.
DAP Incoterms®: Customer pays duties and taxes
The DAP (Delivered At Place) Incoterms® implies that the shipment receivers (your customers) pay the customs taxes and duties at the point of package receipt. Therefore, if you use this system, it is crucial that you communicate this to your shoppers upfront (usually with a disclaimer).
If the package receiver declines to pay, customs will usually notify the sender (your eCommerce) to cover the costs. If neither party agrees to pay, the package may be returned to you at your expense. However, sometimes, customs may destroy the package.
💡 Pro Tip? When it comes to Incoterms®, there's no right or wrong answer. But, it is generally to choose depending on what works best for you and your customers. But, remember, upfront communication is key.
Customs declaration information
This refers to essential documentation that you'll need to include with your package when shipping internationally.
Typical information that goes into your customs declaration consists of the content of your package, the nature of the content, its cost, and whether it is a gift item or merchandise.
However, your shipping carrier may require more details in their unique customs declaration form.
How do custom charges affect e-commerce shipping?
Knowing how custom charges affect your eCommerce shipping improves your shipping efficiency and reduces the chances of you having to deal with angry customers.
So, what are the various ways custom charges can affect your eCommerce shipping?
More often than not, customs charges will affect the cost of your eCommerce shipping. However, depending on your marketing strategy, you may not have to bear all the costs of these tariffs as your customer may front part (or all) of it.
However, if you're paying for custom charges, these extra expenses can eat into your profit margin. But, if you're not, then buying your products becomes a more expensive venture for your customers, which may slow down conversion rates.
Custom charges means your products are entering a country different from where the shipment originated. This opens you up to several logistics issues — from delayed packages to lost and damaged packages — as your control over the shipping process has significantly reduced.
Furthermore, if you don't sort out customs duties and taxes on your products on time, chances are they will be delayed due to customs legalities, which can increase your delivery time.
No one wants to pay extra, even if it's for custom charges. However, if your eCommerce business is not upfront about these costs, it can negatively impact your customer experience as they'll feel like you pulled a fast one on them.
So, it is an excellent idea to be as clear as possible about customs taxes and more when you ship internationally.
💡 Pro Tip? Clearly communicate customs charges on your eCommerce website and at payment checkout if your customers are paying.
Are there Import Tax Exemptions?
Yes, there are some instances where the products you ship may be exempted from any import tax. However, you must check import conditions in the destination country to find out if your package meets the specific requirements.
That said, here are two of the most common conditions for import tax exemptions on eCommerce shipments:
Shipments under the de minimus
The de minimus is a price threshold for duties and taxes. In other words, if the total value a shipment has (the product value plus insurance and shipping costs) is below the de minimus, then no customs taxes and duties will apply to it.
However, an increasing number of countries are dropping their de minimus rule, which means import taxes and duties will always apply in such countries.
Shipments with tax exemptions
Depending on the specific country, some shipping packages may qualify for import tax exemptions. But, this is primarily dependent on the specific product and its origin country.
For instance, the UK charges 0% custom charges and VAT for books coming from Australia.
Keep Your eCommerce Shipping Policy Updated
Your eCommerce shipping policy is a big deal, and you should treat it as such. After all, it informs your potential and existing customers about the scope of your eCommerce shipping and what they can expect from you.
As a rule of thumb, the more detailed your eCommerce shipping policy is, the better. Also, keeping your shipping policy up-to-date is a crucial piece you don't want to miss in eCommerce.
If you do it right, your shipping policy may be one of the keys to building stronger relationships with your customers, as they have detailed and upfront information about how your business works. More importantly, it also protects your eCommerce store from potential disputes and conflicts.
💡 Pro Tip: Every time you make changes to your shipping policy, update it online so that your customers are aware of the changes.
eCommerce shipping policy checklist
Ideally, your shipping policy should be a short and straight-to-the-point document or website page that contains essential details regarding how your company ships orders to its customers and what it entails.
But, what exactly are the details that go into a good shipping policy?
Here's a checklist of critical information to include when writing your eCommerce shipping policy:
Order processing times
Shipping rates and costs
Shipping delivery times and methods
Shipping restrictions
International and local shipping options
Return and exchange information
Possible shipping interruptions
That said, your eCommerce shipping terms should be concise, accurate, and easily understandable. This way, customers can find out everything they need to know before purchasing.
Why does your eCommerce need a shipping policy?
Here are the top reasons you need to a create a good shipping policy for your eCommerce:
It informs customers about shipping costs upfront
It provides customers with information about the options they have regarding the shipping and delivery of their packages
It informs shoppers about the delivery schedule for their purchases
It tells your customers about the additional services you provide, such as returns and exchanges (if applicable)
It protects your company when there is a disagreement for which you are not liable
6 eCommerce Shipping Best Practices
Over the previous paragraphs, we've covered everything from how eCommerce shipping works to shipping software solutions and rates.
Now, let us examine some of the best practices that can help you get the best from all the information you now know.
Here are some proven shipping practices that help eCommerce businesses grow: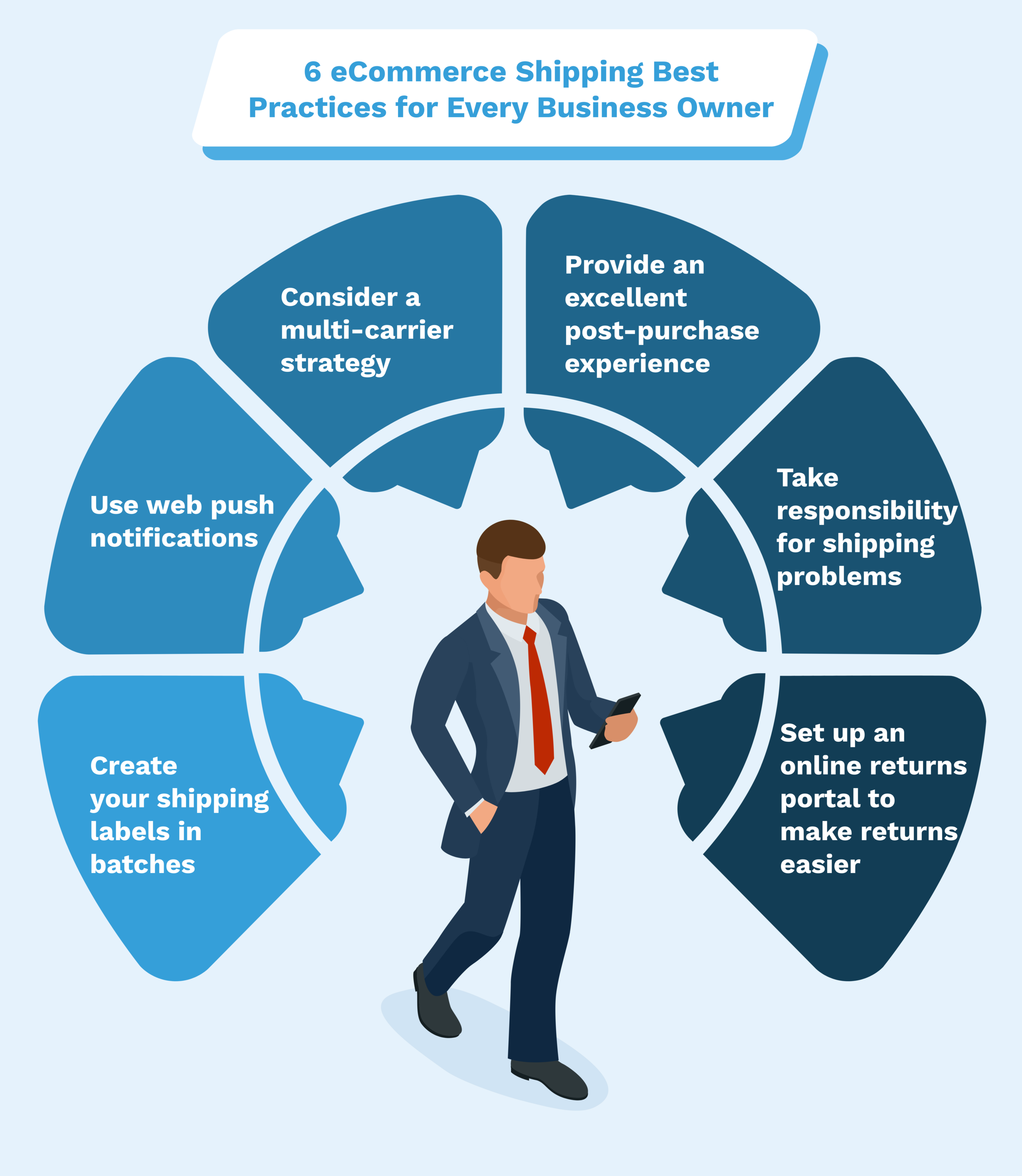 Create your shipping labels in batches
Printing your shipping labels in bulk can save you a lot of time, not to mention the cost. However, you can only print in larger batches if you have already created the shipping labels. You should print the invoice for every new order immediately after you get it before picking and packaging it.
But, as you prepare the packages for shipping, you can bulk-print your shipping labels in the chronological order in which you received your orders. This way, you can label boxes faster and cut down on potential mistakes.
Using shipping label software for your label creation lets you print in batches of hundreds or more. You may even be able to batch labels for different shipping carriers and locations, depending on the functionalities of the software you use.
Use web push notifications
When it comes to eCommerce shipping, knowledge is power for you and your customers. Thankfully, web push notifications can help you keep your customers up-to-date on their order status without them having to do anything.
Web push notifications are those messages you see in the lower right corner of your phone (or PC) when your browser is open.
By sending web push notifications about shipping updates, customers can click on the message, which directs them to a webpage where they'll find tracking information about their products.
💡 Pro Tip: You should always seek your customer's permission before sending them push notifications. But, once they grant permission, you can provide them with updates without them having to check their emails or text messages continuously.
Consider a multi-carrier strategy
Many eCommerce owners opt to work with only one shipping carrier and negotiate a rate that works in the long run.
However, while the single-carrier approach simplifies some aspects of eCommerce shipping since it allows for faster shipping processes and less research, it has some drawbacks. For one, you're essentially placing yourself and your business at the mercy of that carrier.
On the other hand, you can enjoy benefits such as increased negotiation power and disappointment risk mitigation by using a multi-carrier strategy.
In addition, when you have multiple carriers on call, you can choose the carrier that gives you a better deal based on specific packages or destinations.
Provide an excellent post-purchase experience
Undoubtedly, getting customers to make a purchase is crucial to the success of any eCommerce store. However, what happens after is just as important, as it plays a significant role in determining whether your customers will buy from you again.
Creating a delightful customer post-purchase experience is crucial to building customer loyalty. Even after they receive their orders, you can reach out to them to find out if they are satisfied with their purchase and invite them to leave a review.
Take responsibility for shipping problems
Several things can go wrong with a shipping order once it's out of your hands. It may experience shipping delays, go to the wrong address, arrive damaged, or be lost in transit. While none of these issues is your fault, your customers will look to you to make things right, and you should.
Here are some guidelines to follow as soon as you receive a report of shipping problems:
Apologize to your customers and promise to look into the issues quickly
Check the tracking details of the shipment online
Confirm that the receiver's address and contact information were accurately entered (for misdelivered orders)
Check with your shipping carrier to inquire about the status of the order
Follow up with your carrier until the issue is resolved
Offer your customer a discount on their next purchase (or similar incentive) in cases of delayed deliveries
Ship a replacement order to your customer as soon as you can, in cases of lost or damaged products. Your shipping carrier may eventually locate the original package or compensate you for the loss or damage
Set up an online returns portal to make returns easier
You already know that dealing with order returns is an ever-present possibility in eCommerce. But do you have provisions to make the process as smooth as possible and less stressful for both you and your customers?
An online returns portal is the answer.
Customers can quickly initiate returns from your online returns portal and even print out return labels for the package. This takes some workload off your customer service team and saves you a lot of time.
Furthermore, it also improves your customer return experience, making them more likely to buy from you again.
It's a win-win for everyone.
eCommerce Shipping FAQs
What is a hybrid shipping service?
This is an eCommerce shipping method where you work with multiple carriers or logistics services to deliver orders to your customer's address. For instance, your logistic company may first deliver the package to a post office or sorting facility, from where a shipping carrier will move it to its final destination.
Is shipping the same thing as fulfillment?
No, they are not the same. Shipping is one of the processes involved in order fulfillment. Conversely, order fulfillment encompasses all the processes that occur from when a customer pays for a purchase until their order reaches them.
What are the top 3 shipping considerations?
Answers may vary. But, arguably, shipping costs, packaging options, and shipment schedule should be at the top of your list when creating an eCommerce shipping strategy for your business.