Shipping is an important process to get right in any eCommerce business. Customers who shop at your store expect to receive their orders quickly, efficiently, and in good shape. So, if you don't have a proper shipping system and your products arrive damaged, late, or get lost on their way to your customer's home, you might lose customers and damage your reputation.
When it comes to selling products online, shipping is one of the most daunting challenges for a new eCommerce business owner. If you are an existing Shopify store owner looking to take advantage of the Shopify shipping options, you've come to the right place.
This article delves into the pros, cons, and how to use Shopify shipping to manage all aspects of your business' shipping needs.
What is Shopify Shipping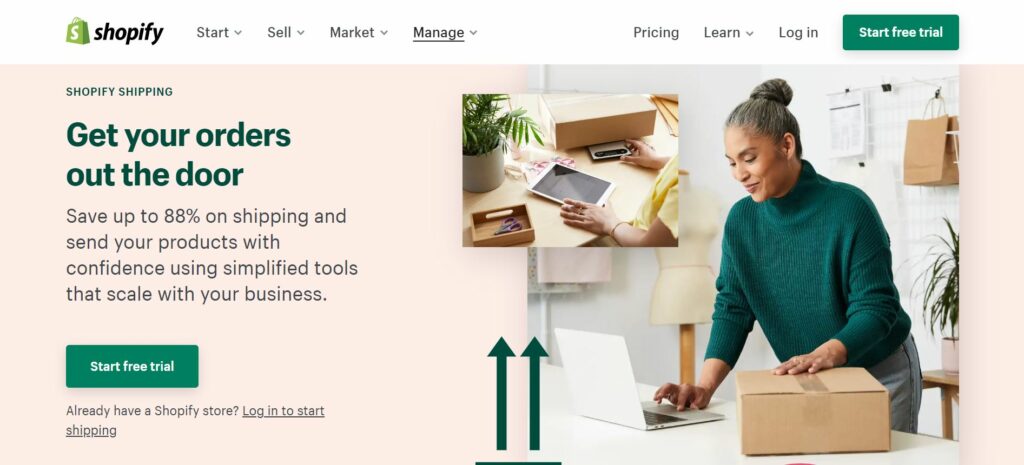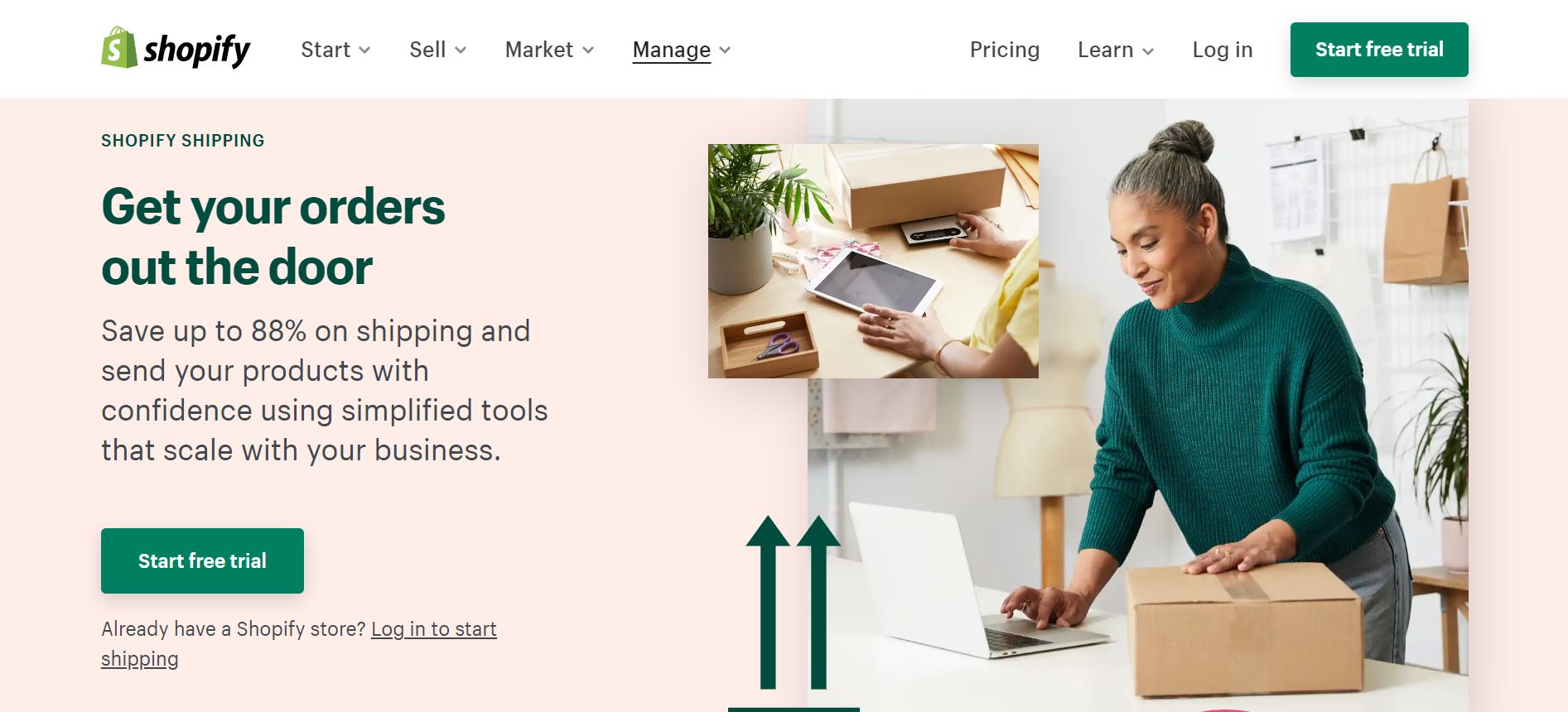 Shopify Shipping is exactly what the name suggests – an integrated suite of shipping tools that allows each Shopify store owner to offer shipping options with their orders.
In other words, Shopify Shipping allows you to manage your store and shipping processes in one place without having to spend extra money, time, and effort on third-party shipping solutions.
Shopify Shipping is a powerful and flexible way to handle shipping for your Shopify store.
It gives you access to a wide variety of shipping features, such as:
Order tracking
Label printing
And the ability to track shipping rates from various carriers in real-time.
With that said, Shopify partners with the major carriers, such as:
USPS
UPS
DHL Express
Canada Post.
It also offers discounted shipping rates from these providers that enable you and your customer to save up to 50% on shipping.
💡 You can take advantage of all the features that come with Shopify Shipping for free by upgrading your account to any of their paid plans (and if you're already running your Shopify store, then you surely are on a paid plan).
How Does Shopify Shipping Work
Using Shopify Shipping with your Shopify store is an easy way to start selling online. It offers all the critical shipping features that you might need – whether shipping locally or internationally – at an affordable cost.
In addition, it's built into the Shopify platform, so you don't need to install or configure any software.
To help you better understand how this service works, let's take a closer look at the key features of Shopify shipping and its costs.
Key Features of Shopify Shipping
Shopify Shipping has all the features you need to run a successful eCommerce business. Here are some of its main features: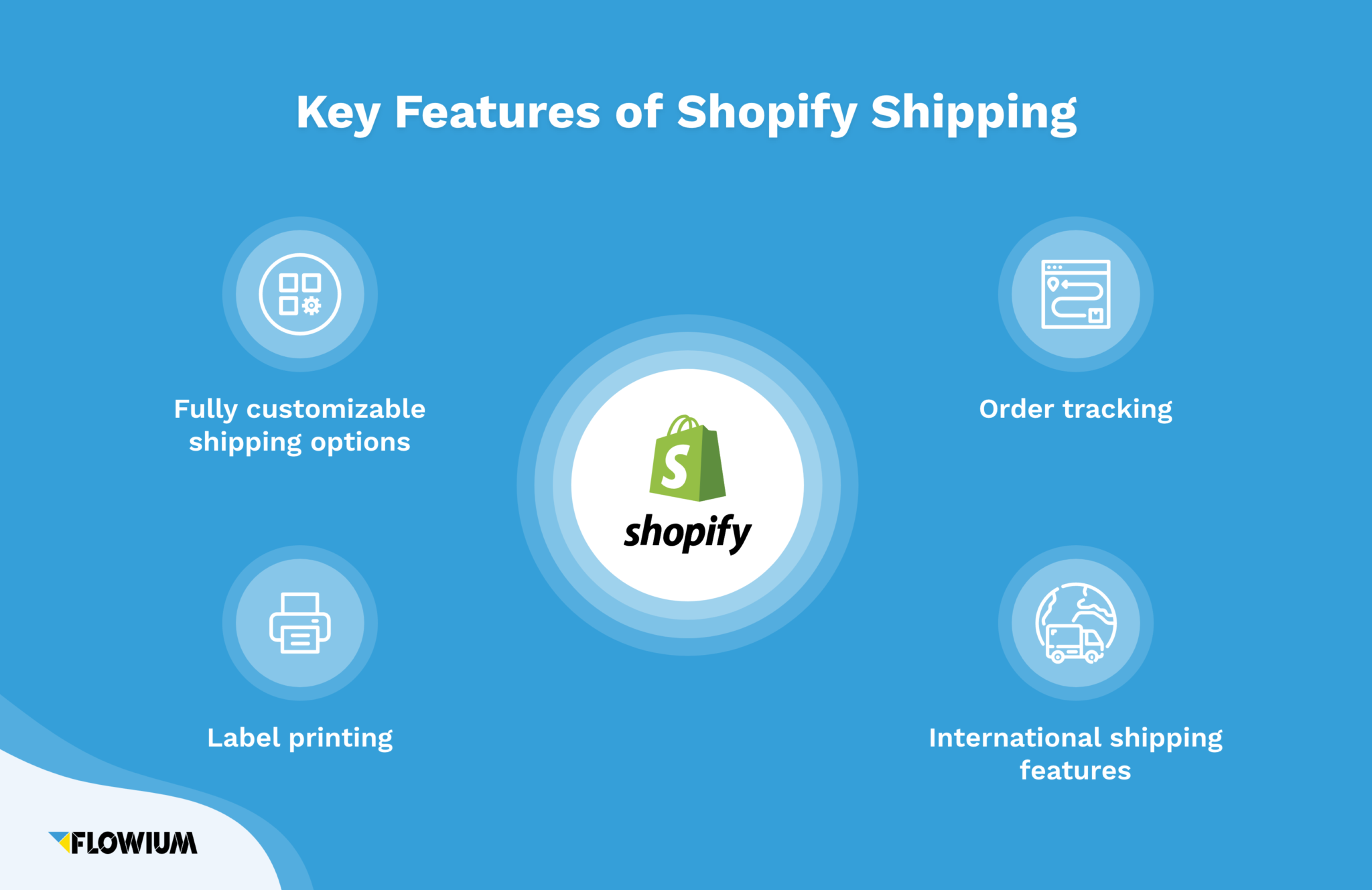 Fully customizable shipping options
Shopify Shipping offers a number of customizable features to meet your specific business needs. You can choose from different shipping carriers (UPS, USPS, DHL), set up shipping rates, and select your desired shipping speed and packaging options.
Order tracking
Shopify Shipping includes real-time order tracking. This means that when you ship an order with Shopify, you'll be able to track it from your Shopify dashboard, no matter which carrier you choose to send it with. This way, you'll always know where your package is and have more control over lost packages if needed.
Label printing
To ensure that you never miss an order due to lack of proper shipping labels, Shopify Shipping makes it easy for you to print out labels whenever needed! You can print your shipping labels in bulk directly from your Shopify dashboard.
💡 This means you don't have to pay expensive monthly fees for third-party label printing services and can save time on repetitive tasks.
International shipping features 
With Shopify shipping, you don't need to worry about international shipping! Shopify allows you to ship your products to customers around the world with discounted international shipping rates. It also provides you with built-in customs forms for your international orders.
Cost of Shopify Shipping
The great thing about Shopify shipping is that it's free to all Shopify merchants. You can access the shipping features for free if you're on one of Shopify's subscription plans. In case you're not on a paid plan with Shopify yet, you can find information about their pricing here.
However, it doesn't mean that you won't need to pay for the shipping fees, the cost of printing labels, or any additional costs you might incur due to your shipping processes.
These costs will be added to your monthly subscription fee, so you don't need to worry about them throughout the month. But, be prepared to cover them when the day comes to pay your Shopify subscription fee.
Pros and Cons of Shopify Shipping
Shopify Shipping comes with a variety of advantages, but there are also some drawbacks that you should be aware of before using this service. Here are some pros and cons of Shopify shipping.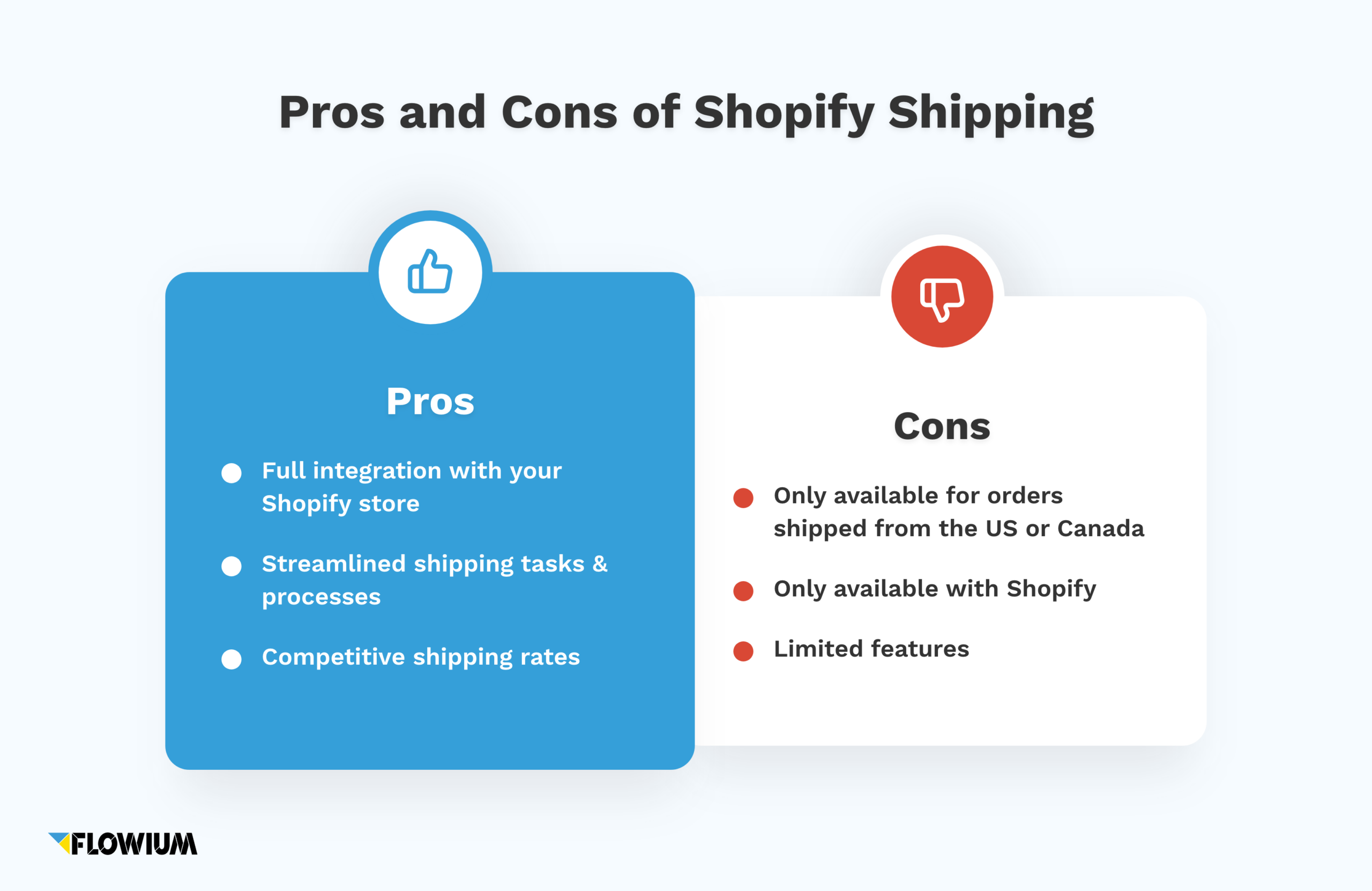 Pros
Full integration with your Shopify store 
The main benefit of using Shopify Shipping is that it's fully integrated into your existing Shopify store. You'll be able to start shipping immediately, with easy-to-use shipping features that are built into your Shopify account.
Streamlined shipping tasks & processes 
With Shopify Shipping, all orders placed in your store will automatically be added to your shipping dashboard, allowing you to fulfill them quickly and easily. This means no need for third-party platforms, which can help you save time and money.
Competitive shipping rates 
In addition to the fact that Shopify allows you to track shipping rates in real-time, it also offers crazy discounts. You can save up to 88% on shipping with the major carriers, such as USPS, UPS, and DHL! If you were planning on wowing your customers with the most affordable shipping rates, using the Shopify shipping service will help you do that.
Cons
The main drawback of Shopify Shipping is that it's only available for orders shipped from the US or Canada. So, if your store is based somewhere else – or you're shipping your orders from somewhere else – you'll still need to set up another shipping service. ShipStation, OrderCup, and ShipBob are all great alternatives to Shopify Shipping.
Only available with Shopify 
It doesn't come as a surprise that Shopify Shipping integrates only with Shopify. This won't be an issue for you if the only store you're managing is set up with Shopify. But, if you have other eCommerce stores set up on platforms such as Amazon, eBay, or Etsy, you won't be able to use Shopify's shipping services.
Shopify Shipping also has some limits on its key features. For example, the number of shipping labels you can print in bulk and the discounts on shipping rates will vary significantly depending on your Shopify subscription plan.
So, sometimes, it may be more beneficial for you to print your labels with a third party or negotiate your shipping rates directly with the carrier.
How to Set Up Shipping on Shopify
If you're new to Shopify, it may seem daunting to set everything up the first time you look at your shiny new shipping dashboard!
Are you wondering how to adjust shipping rates on Shopify or how to print shipping labels on Shopify? Or maybe you're wondering if you can set up Shopify international shipping for those orders you need to ship abroad? If so, don't worry – we've got all the info you need to get started.
Let's walk you through the process of setting up Shopify Shipping in 6 simple steps.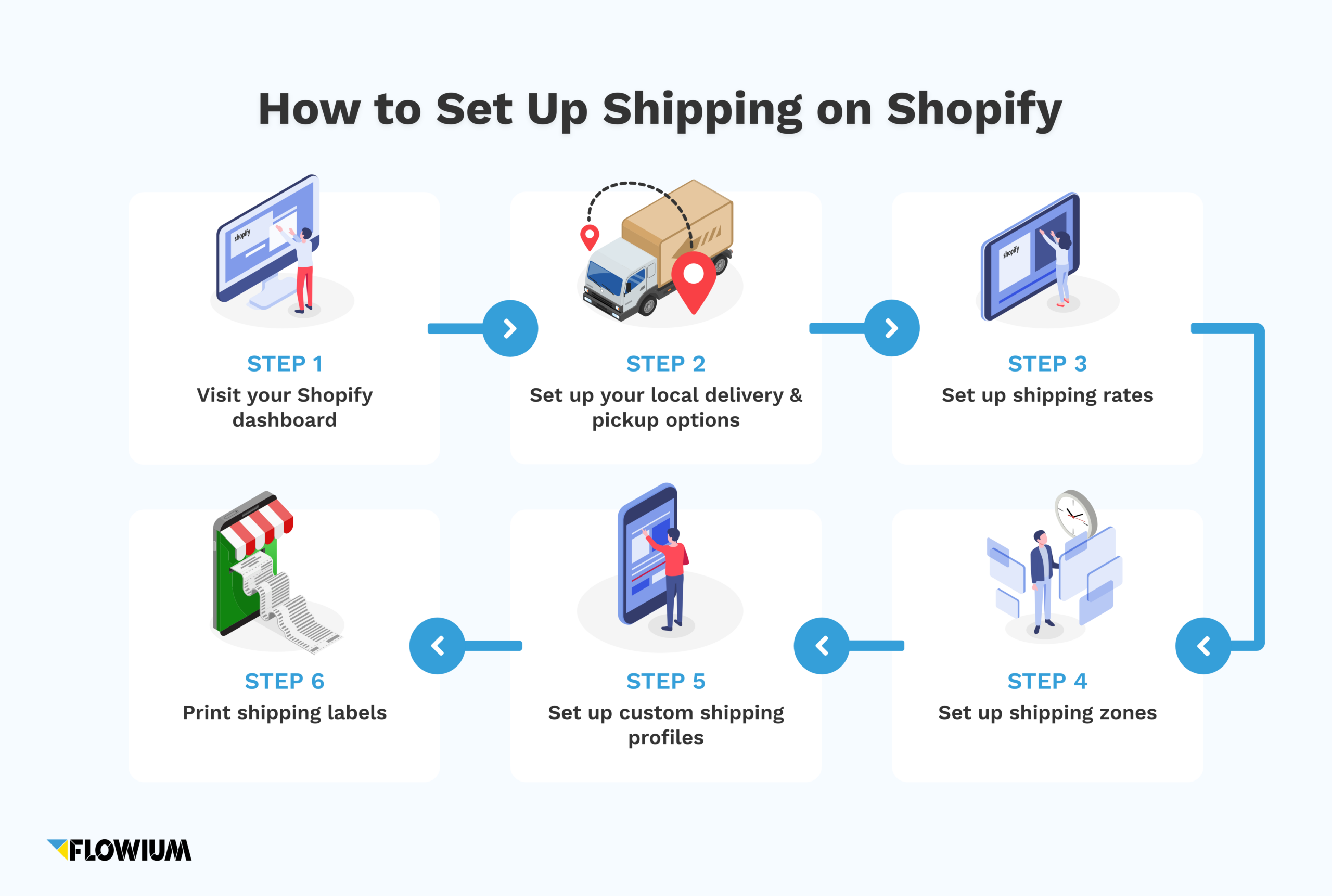 Step 1: Visit your Shopify dashboard
Since Shopify Shipping is fully integrated with your Shopify store, you can access it directly from your dashboard.
To access your shipping dashboard, log into your Shopify account and go to Shipping and Delivery settings. From here, you can set up multiple shipping options, your Shopify handling time, Shopify free shipping, and other essential settings.
In other words, the Shopify Shipping dashboard allows you to efficiently manage everything from delivery and pickup option to shipping rates and packaging.
Step 2: Set up your local delivery & pickup options
If your store or warehouse is close to your customers, you can offer them a faster shopping experience with special local pickup and delivery options for their purchases.
With the local pickup, your customers can pick up their packages from your physical store or other locations of your choice. You can add specific instructions within the local pickup options that your customers will be able to see when they choose local pickup as their delivery option.
With local delivery, you can select a delivery area within a specific radius from your store or warehouse location and set up a special delivery price and other relevant information for that area.
💡 Pro Tip: Setting up unique delivery options for customers close to you will help you make their shopping experience with you more efficient and enjoyable. It's an excellent way to build customer loyalty and trust!
Step 3: Set up shipping rates
With Shopify Shipping, all new products added to your store will automatically go to the general shipping rates section.
To set up your shipping rates, go to Manage Rates. Then, you'll be able to set up your own shipping rates or use your chosen carrier's rates for each shipping zone you've created.
You'll also be able to set specific shipping rates for different shipping speeds. For example, you can set up specific shipping rates for express shipping (1-2 business days) and standard shipping (3 to 4 business days) or choose a custom flat rate (no delivery time specified).
When choosing your shipping rates, you'll need to consider multiple factors. ​​The standard shipping rate for any online store is based on the weight and dimensions of each package, but many other factors go into determining how much it will cost for someone to receive their package.
Some of these factors include:
Location
Carrier service
Type of product being shipped
And even time of year and day of the week.
That's why, if you decide to set up your own shipping rates, do enough research to find the price that feels comfortable for your business.
Setting up your shipping rates within Shopify Shipping settings can be overwhelming, as there are many different options to choose from. However, once you understand the process, it'll become easy!
To summarize, you'll be able to set up your shipping rates based on: 
Package weight and dimensions
Shipping zones
Shipping carrier
Shipping speed
Shipping packaging
Order price
Delivery or pickup area
Step 4: Set up shipping zones
After you set up your shipping rates for your country of residence, you can repeat this process for different countries and create shipping zones. This is where you tell Shopify what areas need to be charged different rates for shipping.
Shipping zones are a way to group countries in your Shopify store into groups that can be used when setting up shipping rates. This is useful if you want to charge different prices for shipping to different countries.
💡 Pro Tip: If you're selling locally, you'll only have one zone. If you're selling internationally, creating a separate zone for each country or region that needs its own shipping rate is a good idea.
Step 5: Set up custom shipping profiles
Within the Shopify Shipping settings, you can create custom shipping profiles for specific products. You should create custom shipping profiles for each product that requires different shipping conditions from your general products.
This includes factors like weight and dimensions, as well as what carriers these products will use and which rate applies to them. You can create multiple profiles for different types of products or even offer free shipping on certain products or categories.
💡 Pro Tip: If you sell fragile or oversized products, setting custom shipping profiles will help you avoid the hassle of changing your shipping settings every time you need to ship one of these products.
Step 6: Print shipping labels
With Shopify Shipping, you can create and print shipping labels directly from your store. Once you've set up your shipping rates, added your products, and assigned them to a shipping zone or customer shipping profile, you can print out shipping labels. You can set up multiple shipping methods and print labels for each one.
Label printing is included in your monthly subscription fee, but the number of labels you can print will depend on your Shopify plan.
Shopify Shipping FAQs
Does Shopify ship for you?
Shopify allows you to easily manage your shipping process on its platform. Essentially, Shopify is an intermediary between you – the store owner – and the shipping carriers, such as USPS, UPS, or DHL. This means that you'll be able to set up pickup and delivery options for each order and choose the shipping carrier from your Shopify dashboard.
Do customers pay for shipping on Shopify?
Yes, your customers will pay for shipping on Shopify – unless you choose to offer them free shipping! However, you're the one in control of how much your customers will pay for shipping. You can set up shipping rates based on different factors within the Shopify Shipping settings.
How to add free shipping on Shopify?
You can set up free shipping within your Shopify Shipping dashboard. Go to Manage Rates and choose the product you'd like to offer free shipping with. You can then change the shipping rate to 0.