With email marketing being one of the most effective forms of marketing out there, more and more email marketing tools are appearing on the market. Choosing the best email marketing software for your eCommerce is essential to increasing revenue and keeping your customers engaged. 
As an eCommerce business, you likely have a more complex email marketing strategy than smaller businesses. That said, you need an efficient email marketing software that includes features such as split testing, audience segmentation, and UX-optimized email design templates. 
But how do you find the best email marketing software to fit your needs? In this article, we'll share how to choose the right email marketing software for you and go over a few of the most popular email marketing tools on the market. 
What is an Email Marketing Software
Ecommerce email software is used by businesses to improve the efficiency of their email marketing operations, manage mailing lists, and track the success of their marketing initiatives.
Email marketing software can also help with the:
Frequent creation of customer-focused newsletters
The maintenance of email templates for numerous campaigns or market segments
Continuing customer relationship management.
In simple words, eCommerce email marketing software aids in increasing user engagement, customer loyalty, sharing relevant information, announcing the best discounts, and increasing sales.
How to Choose an Email Marketing Software
Choosing the right email marketing software for your eCommerce business can be overwhelming – and justifiably so. There are so many options on the market – each with its own set of features and benefits – that it can be easy to get lost in the nitty gritty. 
And diving into all of the technical details of each platform may seem like a waste of time when all you want is to start sending those email campaigns that have been piling up on your marketing calendar. 
But the process of choosing the best email marketing software for your business doesn't have to be complicated. To make it simple, analyze these key factors before making a decision.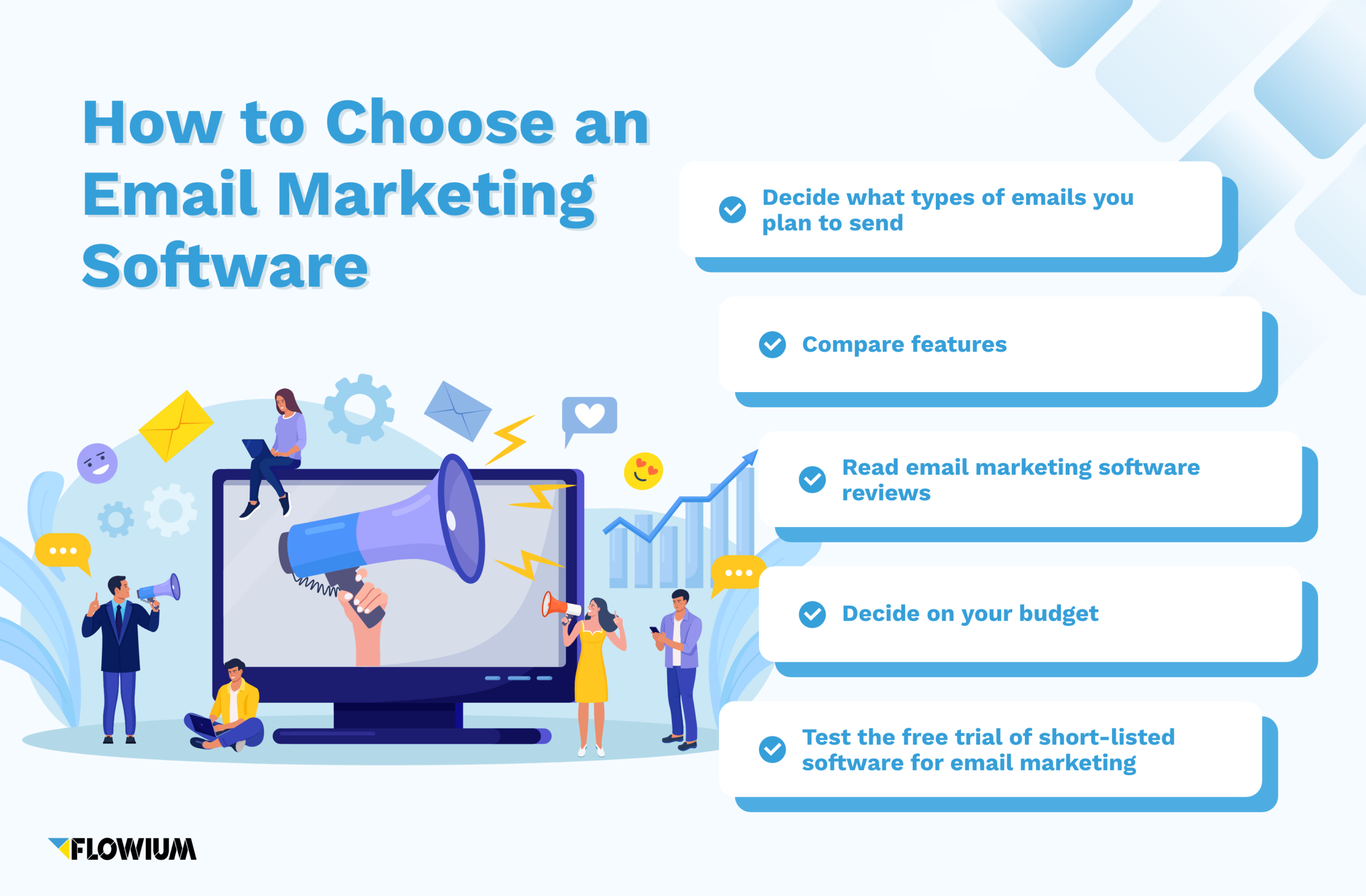 Decide what types of emails you plan to send
To choose the right email marketing software for your business, you need to consider the types of emails you plan to send. 
Every software specializes in a specific type of emails, such as newsletters, drip campaigns, or transactional emails. For example, Zapier is an excellent choice for transactional emails, while Active Campaign is the best email marketing software for drip campaigns. 
If you're planning on incorporating various types of emails into your email marketing efforts, choose a software that can cover them all. For example, a newsletter-focused platform may not have the necessary features to create drip campaigns. 
Compare features
A good email marketing software will help you create a high-quality email campaign, manage subscribers, and optimize your emails for maximum engagement. To do all that, it needs to have all the features you require to run your email marketing campaigns effectively. 
Some key features to look for in an email marketing software are:
List segmentation: Segmentation allows you to send different messages to different groups of people based on their interests and preferences. 
Campaign tracking: This feature helps you determine which messages get opened and clicked on most often so that you can optimize future campaigns accordingly.
A/B testing: Split testing allows you to experiment with different subject lines, email content, or send times to see what works best for your audience.
Automation based on triggers or events: This feature allows you to automatically send out emails based on various triggers, like when a subscriber signs up or when they open an email.
UX-optimized email design templates: Email marketing tools should come with a variety of pre-built templates that are easy to customize. These templates should be responsive and mobile-friendly to look good on all devices.
Integration with other tools such as social media and analytics software: An email marketing software typically needs integration with other tools in order to provide a comprehensive solution for managing and optimizing your email campaigns.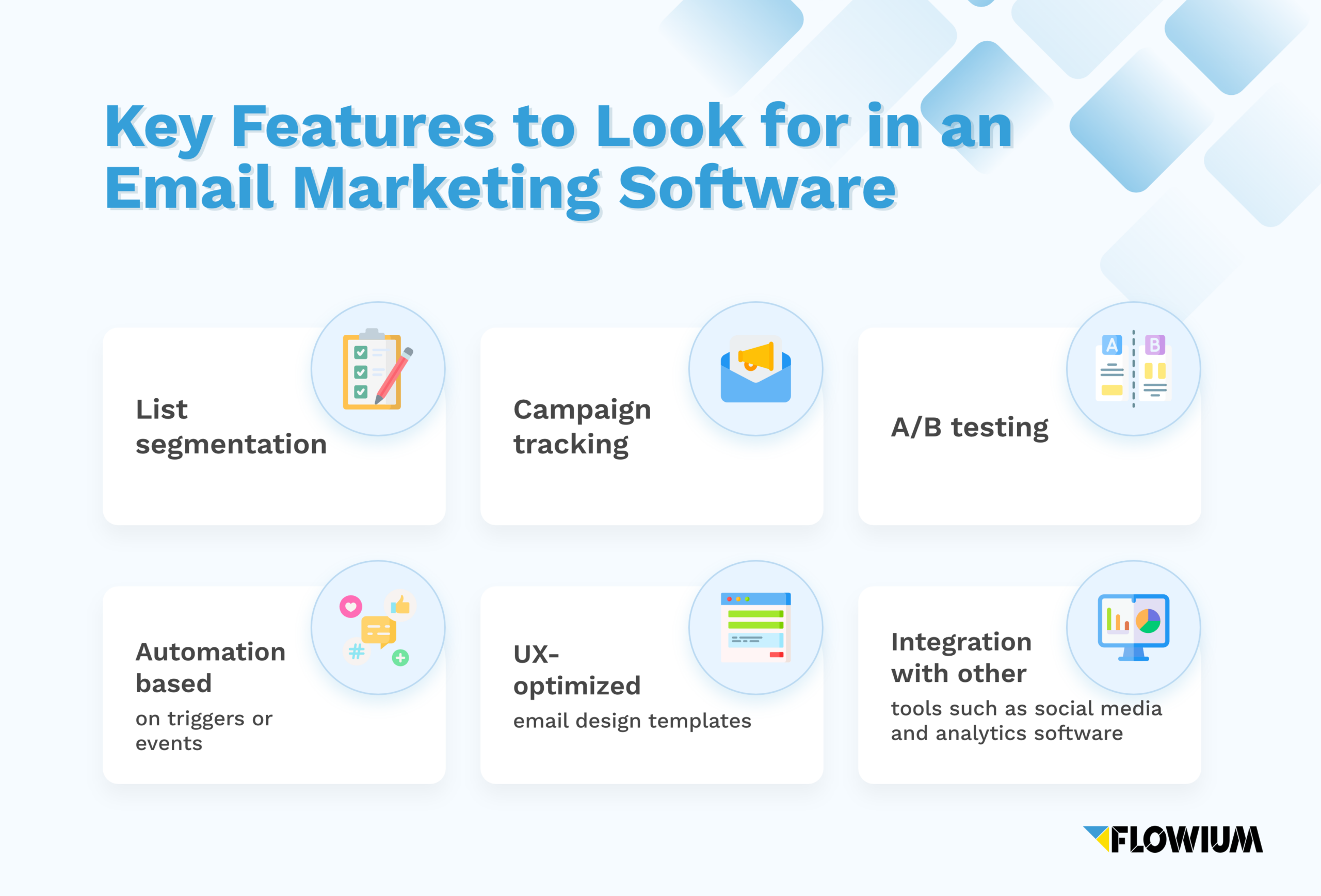 Read email marketing software reviews
Before choosing your email marketing software, it's a good idea to read reviews from its users – especially from businesses similar to yours. Reading reviews is an essential part of everything we buy online – why should it be any different when it comes to selecting your email marketing tool? 
This way, you can gain valuable insights from people who have used the software before. 
You can learn about the platform's strengths and weaknesses from unbiased sources rather than the company's website or promotional campaigns. If most of the users are satisfied with the software's performance and aren't reporting too many issues, then the platform is likely the right choice for you.  
Decide on your budget
Another factor to consider when choosing the right email marketing software for your business is your budget. 
The pricing of email marketing tools ranges considerably, depending on the array of features and the complexity you're looking for. 
Later in the article, we have a detailed price comparison of the most popular email marketing software on the market. 
Test the free trial of short-listed software for email marketing 
Many email marketing platforms offer a free trial to give future users a taste of what they can offer. Don't be afraid to take advantage of this opportunity and test a few platforms before making the final decision. 
Doing this will give you time to see which platform best fulfills your needs. 
Additionally, it will help you avoid the trouble of migrating your entire email list to another platform should you realize that the one you chose isn't performing up to your expectations. 
Best Email Marketing Software for eCommerce
Email marketing is a powerful way to reach customers, but it can be difficult to choose the right email marketing software. 
There are many options available, but we've found that some are better suited to eCommerce businesses than others. Here they are. 
Klaviyo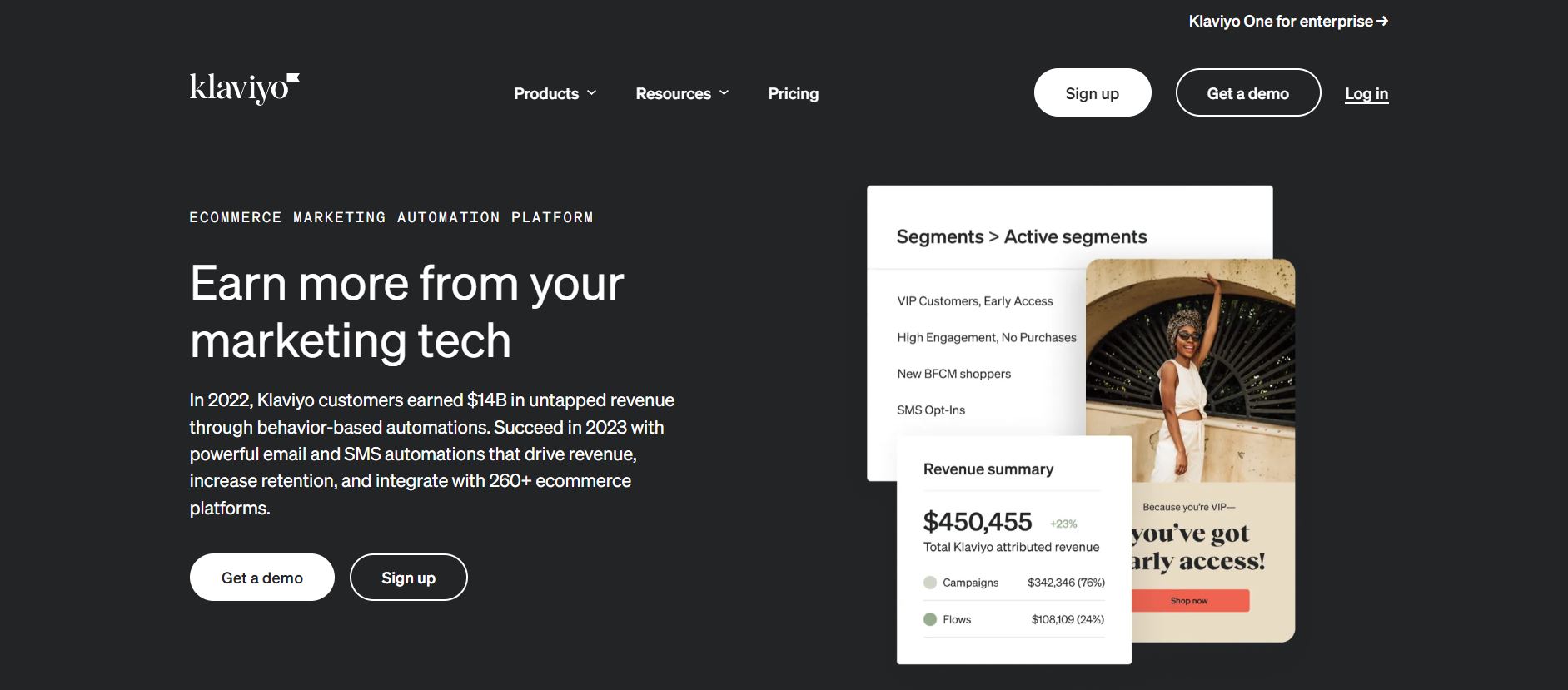 Klaviyo is one of the most popular eCommerce email software and the most popular Shopify platform, with over 50,000 businesses utilizing it to deliver tailored emails, SMS messages, sign-up forms, and more.
It enables sponsored social advertising as an eCommerce-first email service. To identify more suitable consumers for your business, you may easily sync data to create Lookalike Audiences for Facebook and Instagram advertisements.
Some of the features that it offers are:
Email personalizations
Product recommendations
Customer activity fields
Drag-and-drop email design
Responsive email templates
Website tracking
Pre-built autoresponders
Automation
Pre-built forms.
Other interesting things you can do with Klaviyo as your email marketing software:
Sending tailored product suggestions and dynamic content based on previous encounters with your business is possible.
A/B test dynamic forms to enhance lead form conversions
Use reporting that focuses on growth, including email and SMS performance metrics that can be seen at a glance.
Take advantage of over 100 pre-built connections with technologies like Facebook, ShipStation, and Smile.
Hubspot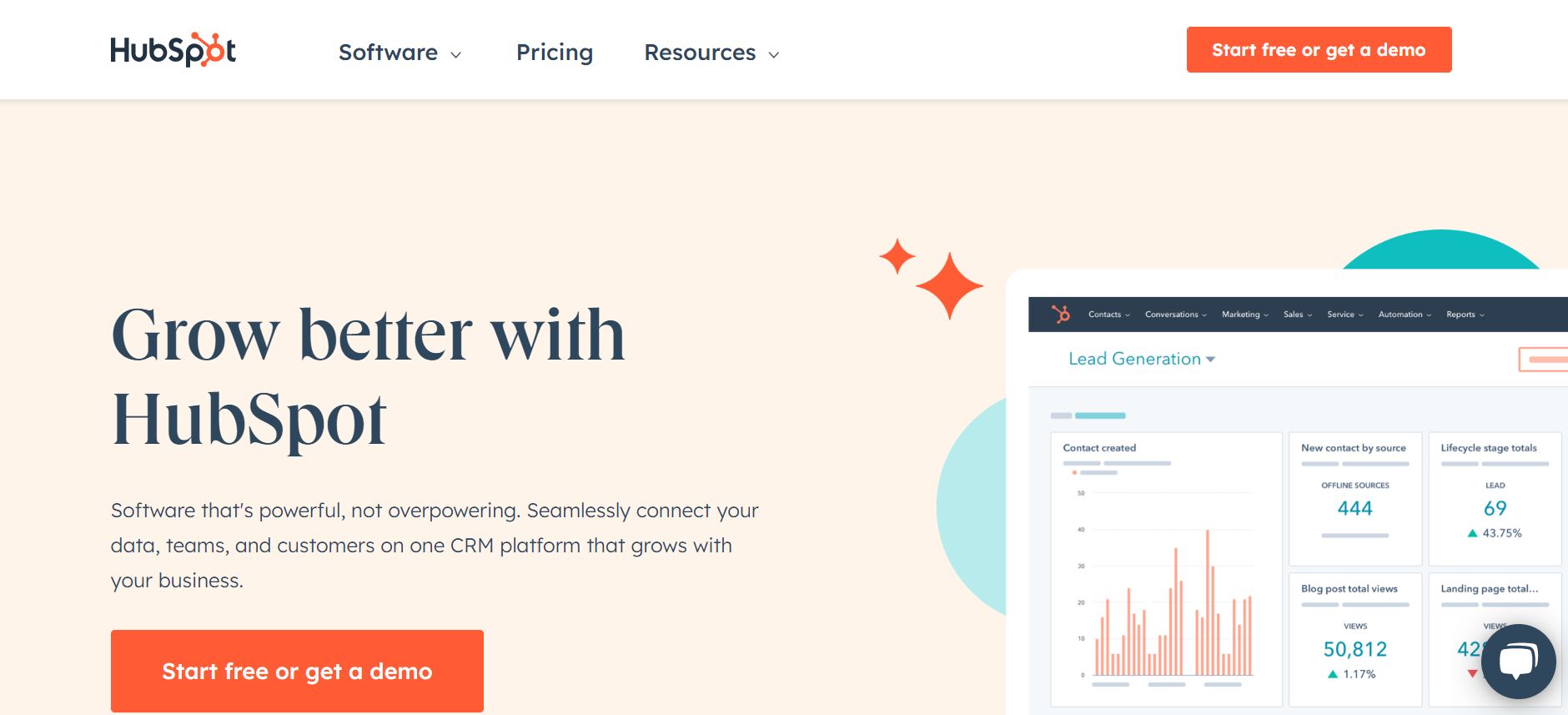 HubSpot is great for small and medium B2B companies. 
It offers a range of features and capabilities that can help B2B businesses manage and optimize their email marketing efforts, including the ability to create and send email campaigns, manage and segment email lists, track campaign performance, and integrate with other tools such as CRM and analytics software. 
Some of its features are: 
Emailing
Reporting 
Publishing landing pages and forms
Managing social media
Publishing blog articles
Lead scoring
Running automated email marketing campaigns
While HubSpot is a great tool to use for creating email campaigns, landing pages, and even managing social media, it can be complex and overwhelming for users who are new to email marketing.
In addition, HubSpot has fewer pre-built integrations compared to Klaviyo. These integrations come with a fee of approximately $200 per month and include popular eCommerce platforms, such as Magento, BigCommerce, Shopify, and WooCommerce.
Mailchimp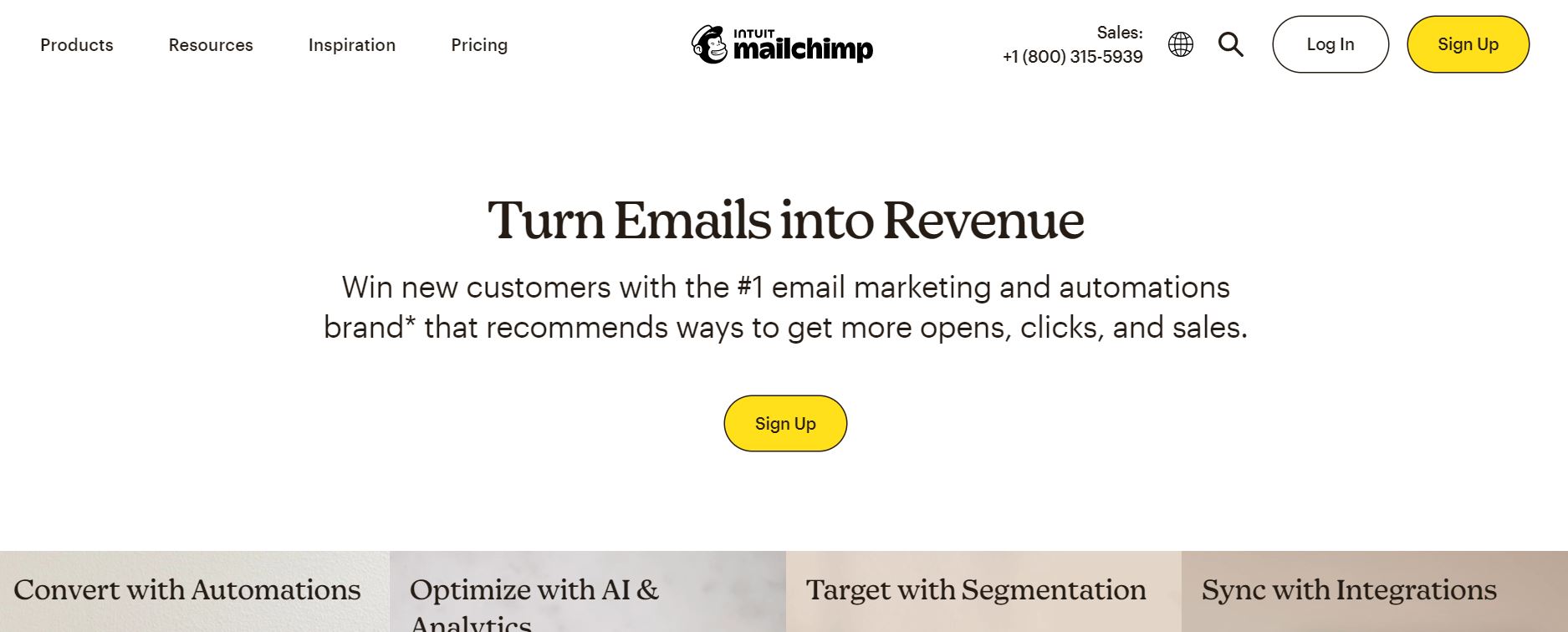 MailChimp is one of the most popular email marketing platforms for small businesses, entrepreneurs, and email marketing beginners. That's because it provides all the necessary features to get started with email marketing while being easy to use and affordable. 
While MailChimp focuses on email marketing, it also offers a variety of other products, such as website design, online store design, and ad services. 
When it comes to email marketing, some of the key features MailChimp offers are:
Campaign analytics 
List segmentation
Custom-coded and pre-built email templates
A/B testing 
Integration with other tools 
Customer support available 24/7
One of MailChimp's core strengths is its reputation for reliability and deliverability, which can help ensure that your emails reach your audience every time. 
However, this platform isn't for you if you're looking for advanced automation and segmentation capabilities. 
MailChimp offers these features, but they're pretty limited, which can make it more difficult to create targeted and highly personalized email campaigns.
ActiveCampaign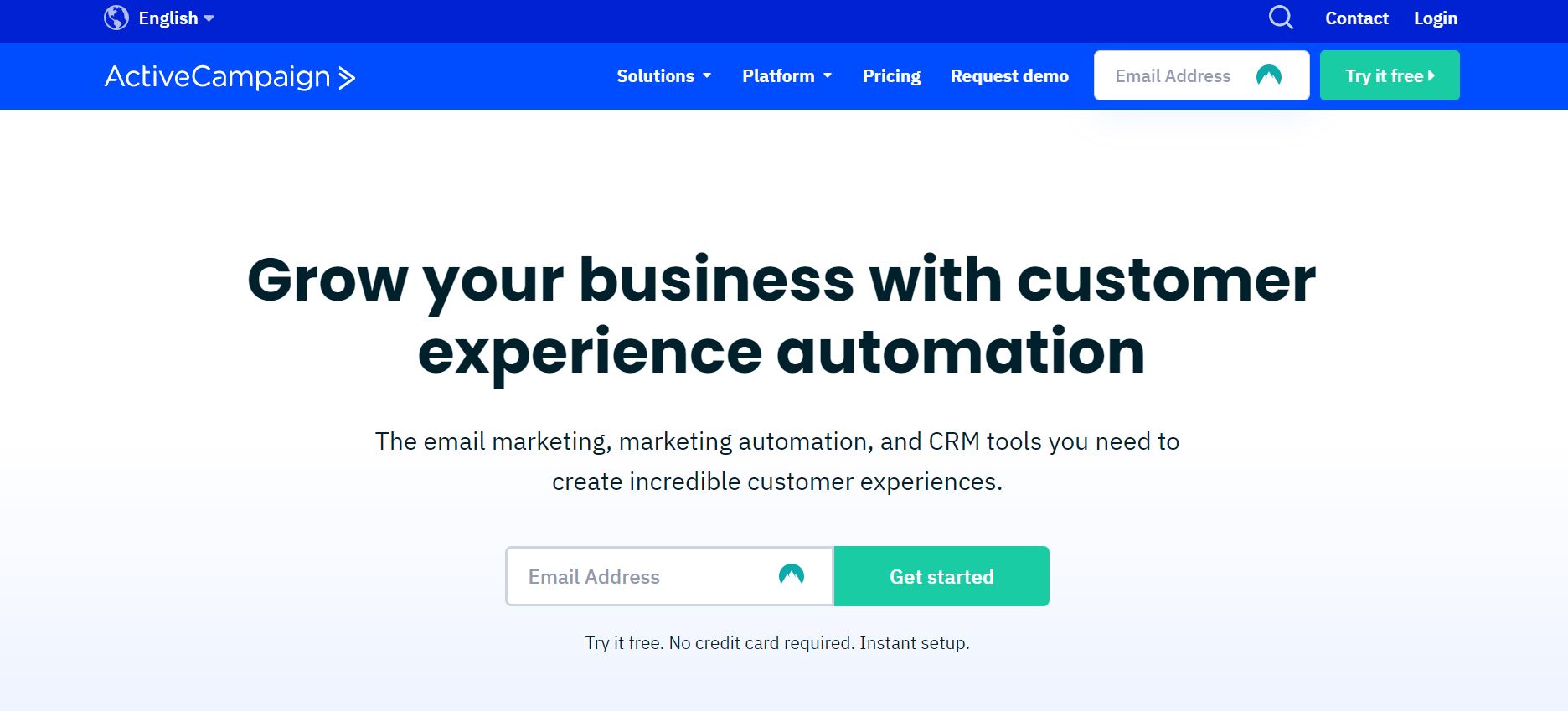 ActiveCampaign is a good email marketing software whether you're a well-established company or just getting started.
You can use ActiveCampaign with Shopify to start campaigns, such as abandoned cart emails or a welcome series, or create a landing page in minutes, thanks to a library of 500+ pre-built automation.
ActiveCampaign focuses more on acquisition rather than conversion, but its simple platform has plenty of self-learning guides and resources.
The features that this email marketing platform offers are:
Drip SMS messaging
Email marketing
Contact lead scoring
Website and event tracking.
Other interesting things you can do with ActiveCampaign as your email marketing software:
Link all of your business tools using ActiveCampaign's over 850 pre-built connectors.
Deliver 1:1 communications to consumers based on previous experiences with your brand using one of ActiveCampaign's 125 email templates.
Use its SMS marketing features, as well as Google Analytics and Facebook Audiences connections.
Drip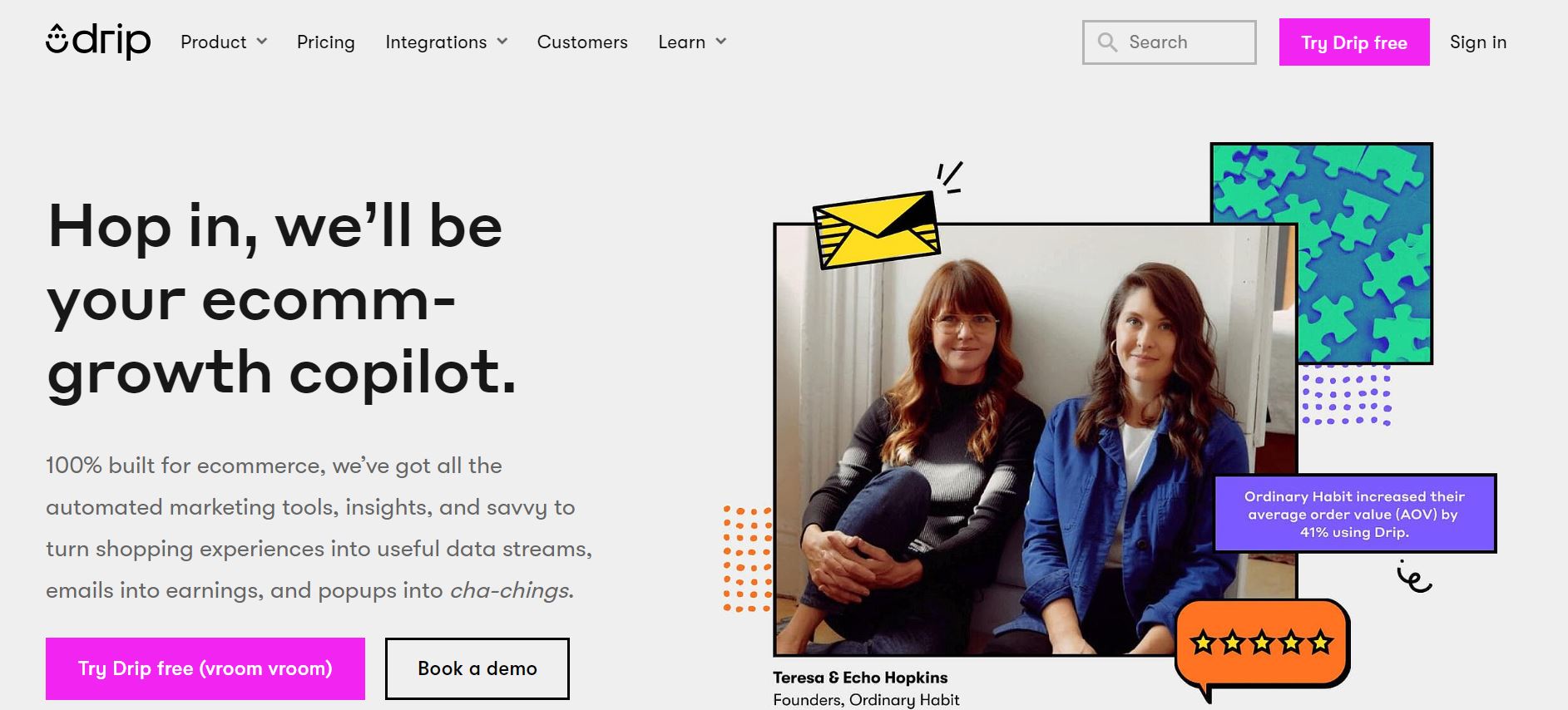 Drip gives you access to a world-class email and SMS marketing platform that allows you to create efficient drip campaigns with simple A/B testing, smart segmentation capabilities, and strong reporting.
Drip is one of the most powerful email automation tools, and they focus on B2C e-commerce completely.
They have a visual email workflow builder which lets you build automation based on what your customers purchase.
Drag-and-drop design tools, pre-made mobile-responsive email templates, autoresponders, and a one-click interface with Shopify are just a few of the highlights.
Drips workflow allows you to build a whole lifecycle marketing funnel by going beyond pre-and post-purchase sequences.
Drip offers customized marketing recommendations for your shop.
Drip also has a lead-scoring feature that assigns positive or negative points based on the activities of your subscribers.
Privy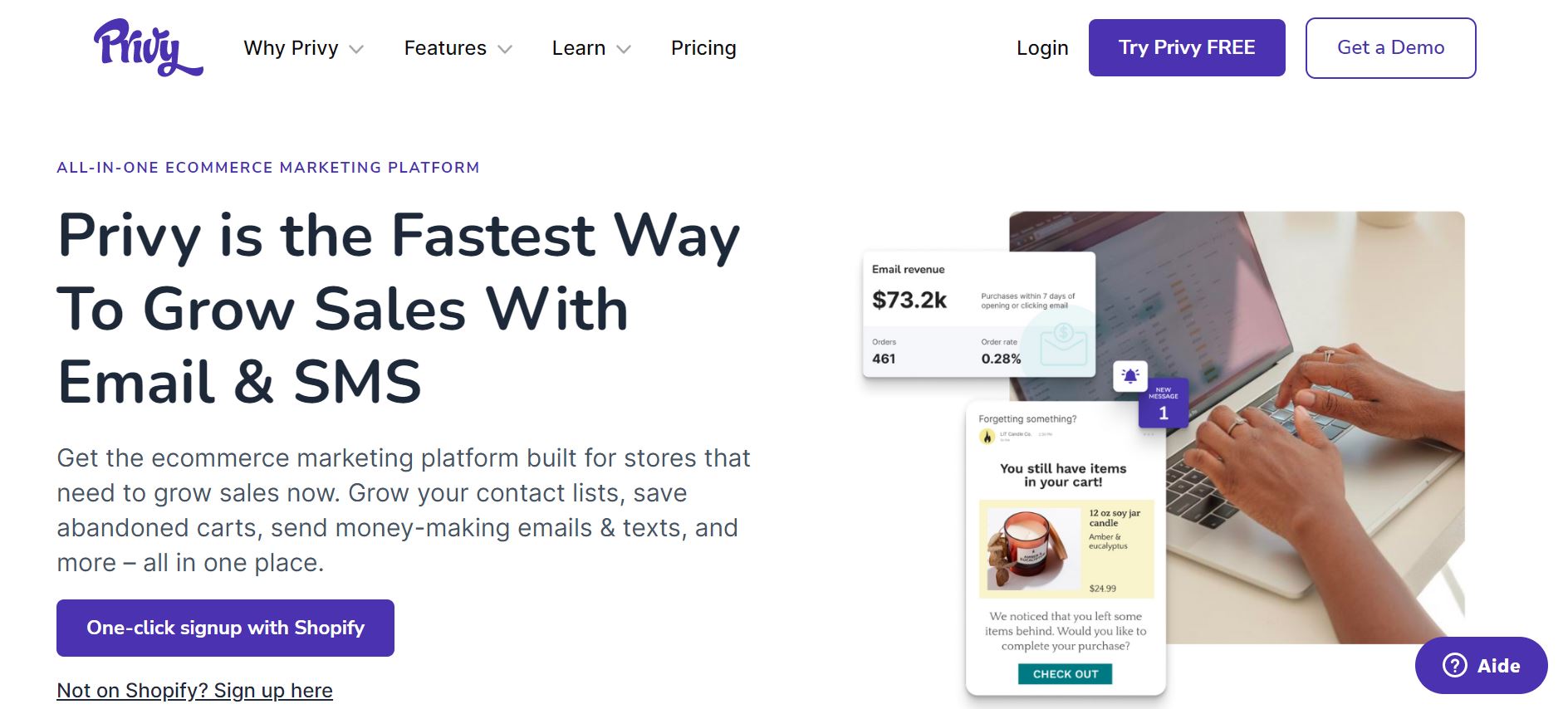 Privy is an email marketing and customer engagement platform that helps eCommerce businesses capture and convert more leads. 
It offers email marketing, SMS marketing, and campaign growth tools that can help businesses grow their email lists and convert more website visitors into customers.
Over 400,000 merchants in 180 countries utilize Privy, which has generated over $4 billion in sales.
Privy's range of solutions includes email marketing automation tools, as well as conversion and SMS technologies.
Exit intent, cart abandonment, cart value, and website behavior are all used to create automated campaigns.
Other available features:
Automated A/B testing to see how conversion rates are impacted.
Cross-sell emails with Add to Cart buttons are possible.
Custom storefronts are supported.
Best Email Marketing Software Pricing Comparison
Looking for the best email marketing software to fit your budget? We've got you covered! Take a look at the table below to compare the pricing of the most popular email marketing software for eCommerce.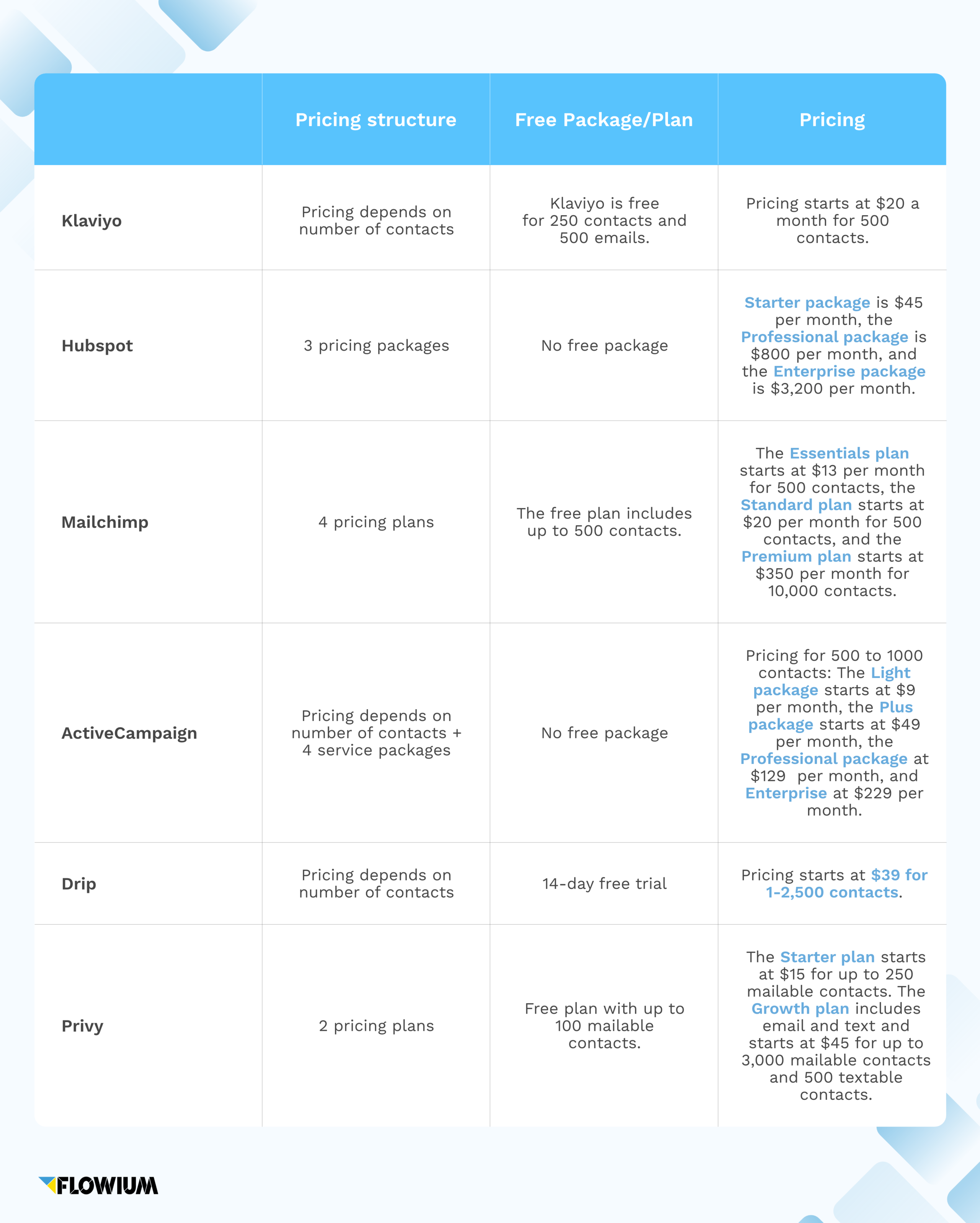 FAQs about Email Marketing Software 
Why do you need email marketing software?
In short, you need an email marketing software to save time and get the most out of your email campaigns. Email marketing is a complex process. If you don't use email marketing software, you'll have to manage everything manually. Email marketing software makes it much easier to organize email campaigns, automate tasks, and track results.
How does email marketing software work?
When you sign up for an email marketing platform, you'll typically get a dashboard where you can manage subscribers, design emails, schedule sending times, and track engagement metrics.
What is the best email marketing software?
The best email marketing software is one that works best for you and your business. It will depend on the type of campaigns you want to send, the size of your email list, and the features you need.