ActiveCampaign vs Klaviyo. Which one is better? Which one is the right choice for you? Is it ActiveCampaign or Klaviyo? It depends. It depends what kind of business you have, it depends what kind of budget you have, and it depends how many products/services you have. 
In this article, I will help you make the decision. In the second paragraph, I will provide you a rule of thumb which can help you quickly decide which software to use and if you need a more in-depth comparison, you can continue reading the article, and I will provide you an in-depth comparison of both softwares.

My rule of thumb for picking the right email marketing platform for you (ActiveCampaign or Klaviyo): If you own an ecommerce business where you sell physical products online, you should go with Klaviyo. If you have non-ecommerce business  (which means you do not sell physical products online), you should use ActiveCampaign. Why? Read my deep dive below.
When it comes to email marketing software, we strongly recommend Klaviyo. As an ESP specifically designed for online stores, Klaviyo offers robust features to help you sell, not just send emails. In case you're also looking to connect with your customers through SMS, Klaviyo provides an SMS platform that works in sync with your emails, for even better results.
By the way, I am a certified consultant and partner for both softwares. I do work on both platforms. So there is no subjective opinions, only facts from personal experiences over hundreds of projects on both platforms.
Also, in this article I will compare ActiveCampaign vs Klaviyo for online stores (ecommerce businesses who sell physical products online).
I will divide this article in to 12 parts. If you are specifically interested in one part in particular,  just scroll down. Also, if you have more questions or I missed something, please leave a comment below and I will respond to each and every one:
Part 1: Dashboard
ActiveCampaign has limited dashboard features for ecommerce customers. It has contact trends, contract growth, active contacts and a few more. Those are important metrics. However, they are not enough for ecommerce. It would be nice to see the overall picture on the dashboard to see how much money you're making from your email marketing efforts.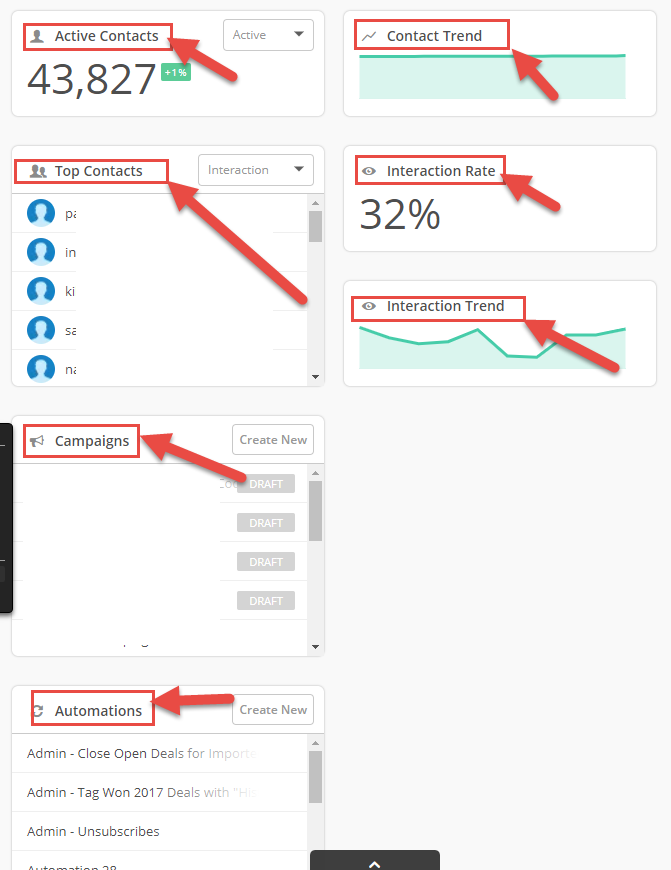 On the other hand, Klaviyo has an extremely cool and useful dashboard for ecommerce business owners. It show you a big picture overview of your email marketing efforts where you can tell right away if you are making money or not. It shows you your store revenue, how much you make from automated emails and how much you make from campaigns.


In addition to the general revenue, you can break down per automation (flow) and per campaign on Klaviyo's dashboard. From this you can spot which automation makes you money and which one does not. Also, one of the most important metrics on the dashboard is how much you make per recipient in specific automations (flows).


Part 2: Campaigns
Both Klaviyo and ActiveCampaign have similar campaign builders. They are both drag and drop. It is easy to use. I would say we have a tie there but there is one feature which is very powerful that's available only in Klaviyo. It is the dynamic product feed. Basically, you set up a feed from your store based on your desires (could be based on category, tags, collection or just popular products) and you add this feed (block) to your email. You do not need to worry to update your email every time you update your stock since this campaign block is dynamic and it takes all of the information from your store.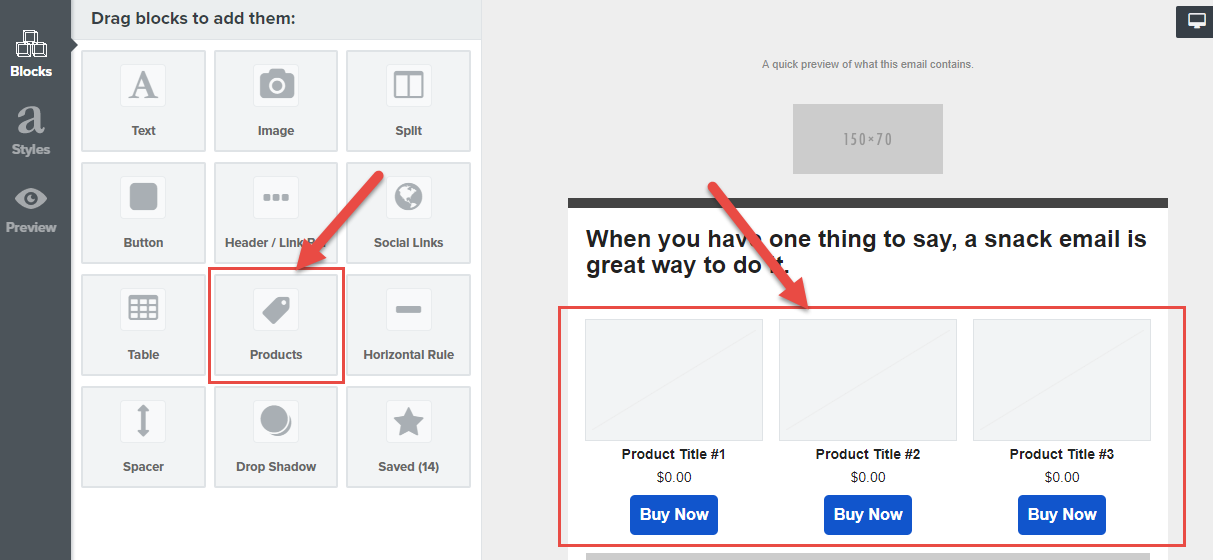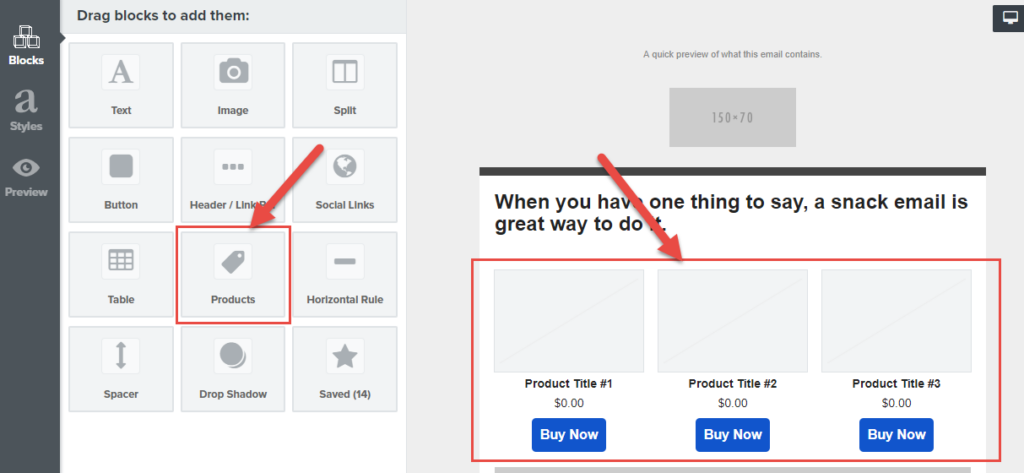 Part 4: For Ecommerce Platforms
Klaviyo and ActiveCampaign both integrate with major ecommerce platforms such as Shopify, bigcommerce, woocommerce and others. However, it does not mean the integration is the same.
Klaviyo shows all subscribers activity as a feed. It includes site visits, purchases, checkouts started, checkouts completed and more. You can use this information to create segmenst and build automations.
ActiveCampaign shows website visits as a feed as well. However, the checkout sstarted, products viewed and products purchased are fields. Those fields update with the latest activities and they do not store data from the past. That is great for generating personalized emails based on the latest activities, but you can not do the same for the past activities. Also, it negatively impacts segmentation in ActiveCampaign.
Part 5: Opt-In Forms
We have a tie here between both softwares. Each platform has an opt-in feature. They have drag and drop features and are very easy to set up.
Part 6: Analytics vs. Reports
Klaviyo Analytics is a relatively new feature on the platform, but it is very powerful. You basically can build your own dashboard with different tiles that each show different things, such as popular products by revenue, number of subscribers, number of unsubscribers and more. You can also create different page views so everything is organized. By default, they provide you the following views: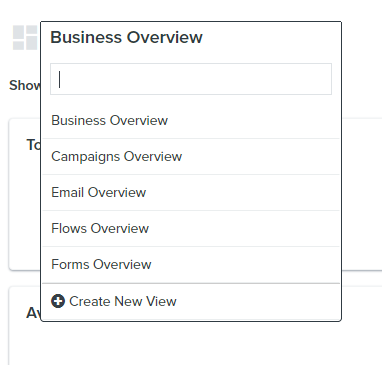 All tiles are dynamic and live. If you have somebody unsubscribe, you can see how the number changes live.
ActiveCampaign on the other hand has limited reporting features. Their reporting features are great for non-ecommerce businesses since they include open rate, click through rate, goals, deals and some conversion reporting. However, there is no clarity for you to see where you are making money with your email marketing efforts and where you are not.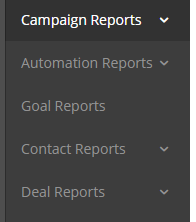 Part 7: Coupons
ActiveCampaign does not have a dynamic coupons feature. You can use a Revenue Conduit service to generate dynamic codes, but this is extra software and an extra subscription.
Klaviyo has dynamic coupons only for Shopify and Magento ecommerce platforms. It is easy to create Shopify coupons via Klaviyo, since you do everything within the Klaviyo platform. It is a little bit harder to create Magento coupons. First, you have to create the coupon on Magento platform and link it with Klaviyo. However, both coupons are dynamic and you do not have to worry about people sharing your coupon codes on public sites.
This is example of coupon setting view in Klaviyo for Shopify: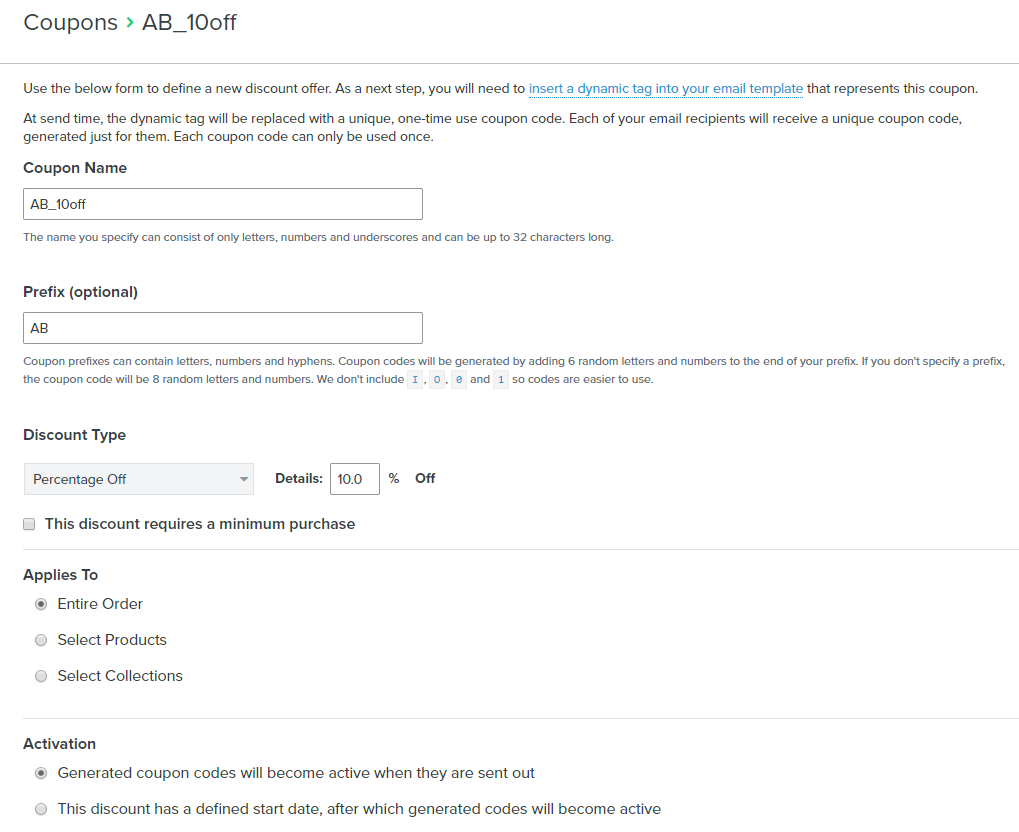 Part 8: Flows vs. Automation
Both platforms have amazing visual flow/automation builders. It is easy to build a flow or automation on both platforms.
ActiveCampaign has more triggers which provides you more options to create automation. Also, it has more features when you build automations like "add this automation" or start another one. I wish Klaviyo flow builder had that option. In addition, ActiveCampaign has options like end other automation if subscriber is in this automation. It is a great feature because it provides you peace of mind that a subscriber is not in two automations at the same time. In addition, they added a new feature recently called "Automations Map". This provides an overall picture of your automations and how they connected to each other.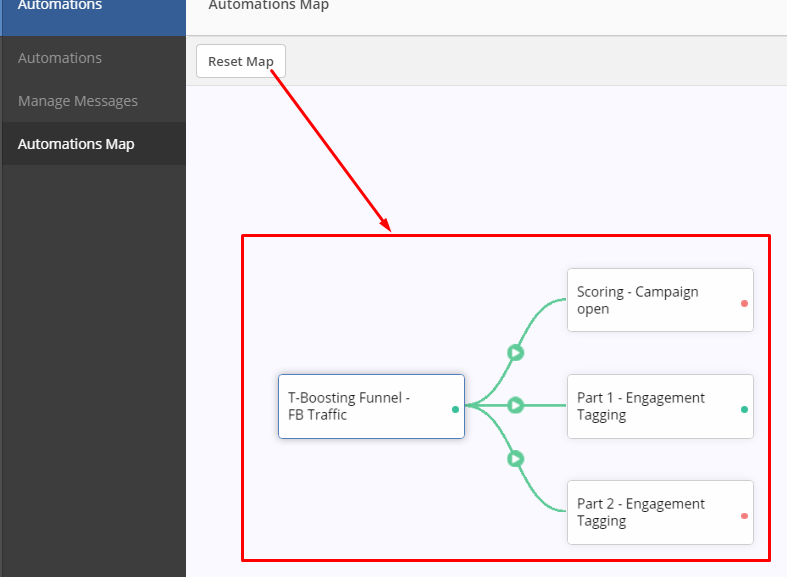 Klaviyo uses different terms for automated emails, called flows. Klaviyo has only four triggers for flows: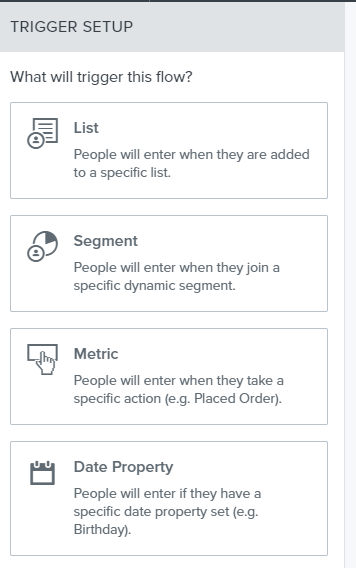 To be honest, you do not need any more for ecommerce, those four triggers can do everything you need to automate the email marketing for you store.
Everything else is very similar to ActiveCampaign. However, they do not have two feature which would be nice to have. I mentioned them above when I was talking about ActiveCampaign. Feature #1 is the ability to start/stop other automations. Feature #2 is the ability to have an overall map of your flows and see how subscribers move from one to another.
Part 9: Tags
I had one client who always told me "I wish Klaviyo had a tags feature." Honestly, I disagree completely. Klaviyo provides such variety of information that you do not need tags since you have all of the information in each user's profile. So Klaviyo does not have tags like ActiveCampaign.
Part 10: Subscribers Profile
Klaviyo and ActiveCampaign subscribers/contacts profile are built differently. As I said many times, Klaviyo is oriented around ecommerce businesses so all of the information you see in subscribers profile is around conversions, revenue and activities.
Here is a Klaviyo profile example: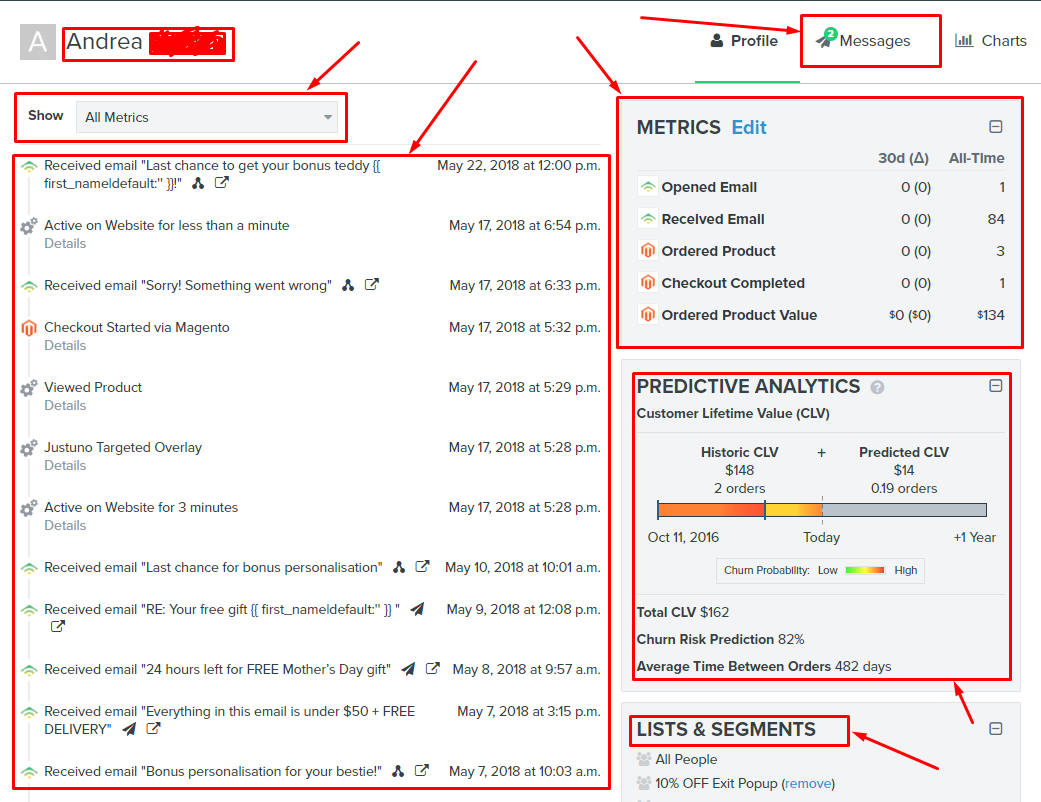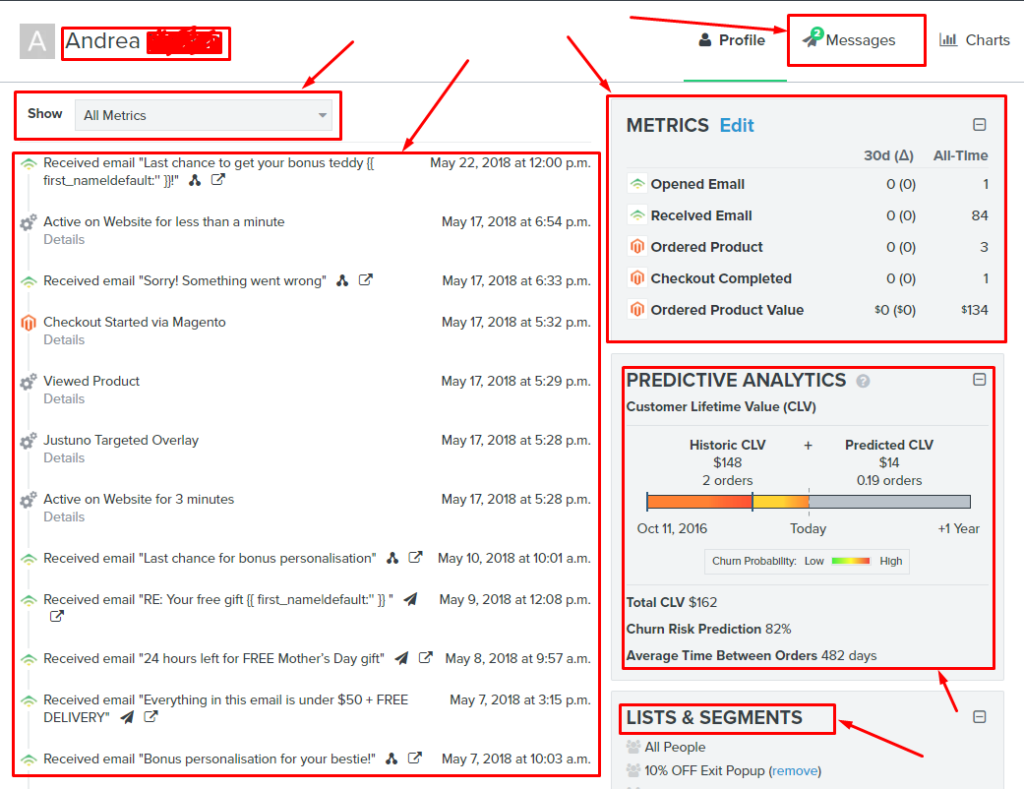 ActiveCampaign acts like CRM so their contact profile is built a little bit differently and they are as not as dynamic as Klaviyo profiles. Yes, you have the similar activity feed on the right side as Klaviyo has on left side, but those activities are limited only to ActiveCampaign activities, it does not show you integrated services activities. Also, you are not able to see if the contact part of any particular segment.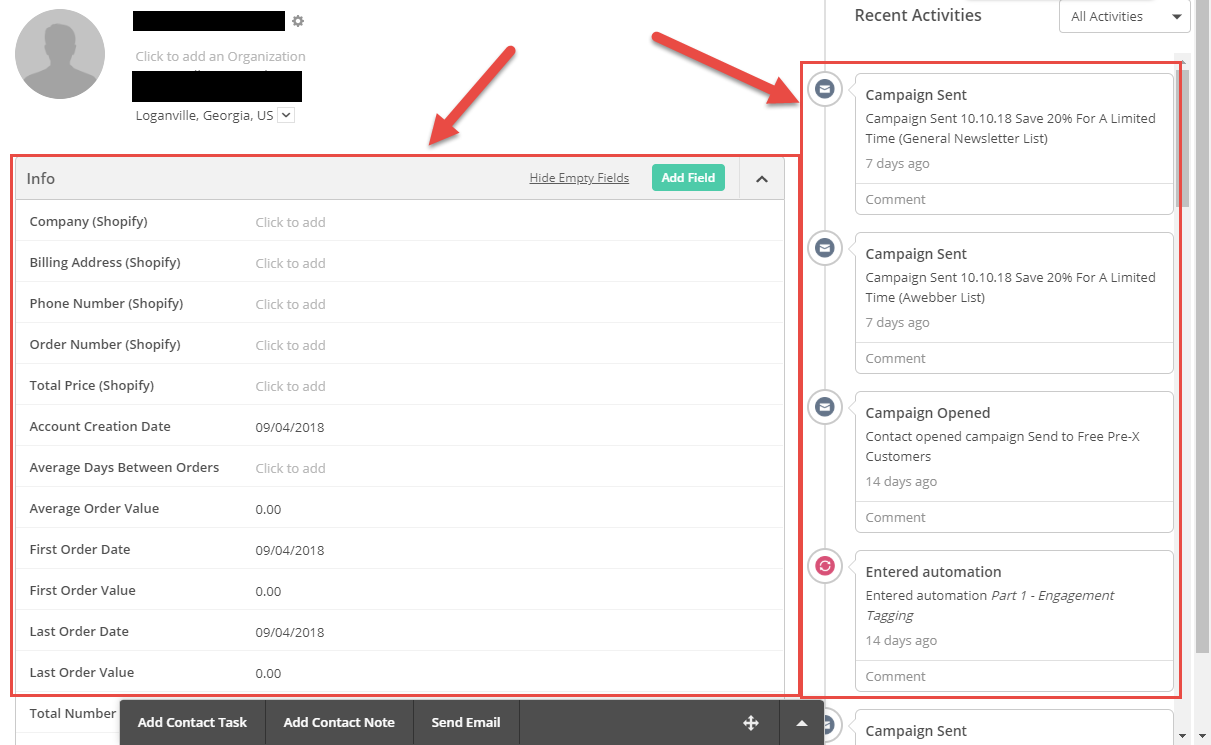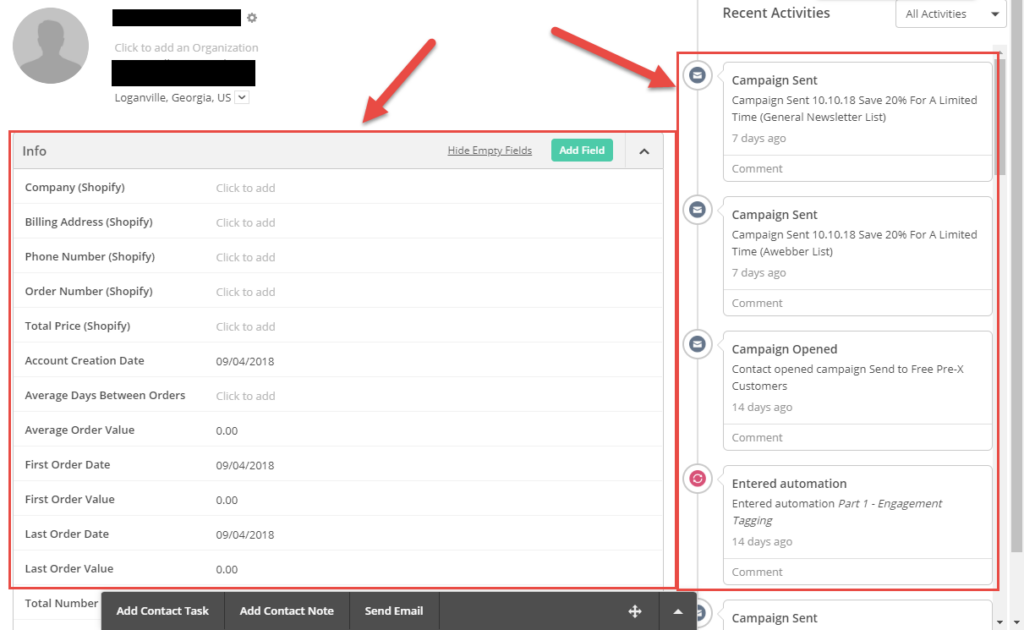 Part 11: Segments
Klaviyo and ActiveCampaign both have list options which are typical for email marketing software. A list is a static directory of contacts, and you can manually add or remove subscribers from the list. A segment is dynamic directory of contacts, the software adds or remove contacts automatically from the segment based on the contacts' characteristics.
Since Klaviyo profiles have more data, the segmentation is more powerful than in ActiveCampaign. Klaviyo segmentation is limited only by your imagination. You can create specific segments like "somebody who purchased red tshirts between 10/17 and 10/29 and lives in CA and their email does not end at Yahoo.com and they opened email at least three times."
Klaviyo VS ActiveCampaign Pricing
| # of Subscribers | Klaviyo | ActiveCampaig (Plus) |
| --- | --- | --- |
| 0-500 | $25 | $70 |
| 501-2,500 | $50-$125 | $125 |
| 2,501-5,000 | $125-$200 | $169 |
| 5,000-10,000 | $200-$325 | $249 |
| 10,001-25,000 | $325-$450 | $399 |
Conclusion
After reading this comparison, you can make your own decision. However, I will tell you my strong opinion. If you own an online store which sells physical products online, I would recommend only Klaviyo. If you do not have an online store which sells physicall products, I would recommend to pick ActiveCampaign.
If you want to try Klaviyo or ActiveCampaign software, you can do so for free.
If you have any additional questions, please leave them below in the comments section and I will respond to them.
***Some links in this article are affiliated
If you are interested to learn more about comparing these two platforms, I highly recommend to read comparison 
Klaviyo Vs ActiveCampaign – Which Is A Better Email Marketing Solution?
by our friend Lucas Chevillard from EmailTech.
Comments