When I talk about Klaviyo, I often compare it to a luxury car. However, the problem with luxury cars is that few people can afford them. Luckily, it's not the same for Klaviyo.
Klaviyo is like a high-quality, fully-equipped luxury car that comes with a price tag of an economy vehicle. 
In other words, it comes loaded with all the advanced email & SMS marketing features your business might need at an affordable price. Their plans start at just $20 per month.
This shows how powerful of a platform Klaviyo is and how valuable it can be for businesses of all sizes.
And yet, from experience, I know that most Klaviyo users don't use this fantastic platform to its fullest potential. In fact, most people use less than half of Klaviyo's capabilities.
I want to help you see whether you're using Klaviyo to its fullest potential. So, in this article, I've provided a checklist that will show you how you can audit your Klaviyo account to see where you stand.
We also provide the full, in-depth email marketing audit for free, but I wanted to give you a free checklist you can use to audit your Klaviyo account on your own.
What is a Klaviyo Audit and Why You May Need One
So, what is a Klaviyo audit?
If you've been using Klaviyo for a while, you're certainly familiar with some features this platform offers. However, as mentioned above, many Klaviyo users don't use this platform to its fullest potential.
Conducting a Klaviyo audit will allow you to maximize the benefits of this fantastic platform and get the best possible results from your email and SMS marketing efforts.
💡 A Klaviyo audit is simply a thorough analysis of how your business is using Klaviyo. The purpose of this audit is to optimize your Klaviyo usage and enhance the effectiveness of your email marketing campaigns. It can also help you stay up to date with the platform's newest features and stay ahead of your competition in the email marketing game.
You should consider conducting a Klaviyo audit if you're experiencing one of these situations:
You've recently noticed a decline in the results of your email marketing campaigns,

You haven't yet seen significant results from your email campaigns after signing up with the platform,

You haven't evaluated your Klaviyo usage in a while and don't know if you're taking full advantage of its potential.
So, how often should you conduct a Klaviyo audit? 
It depends on your email marketing goals and strategy, but a good rule of thumb is to do it at least once a year. 
This will allow you to keep up with the platform's updates and make sure your email marketing strategy is fully optimized. 
The 5 Steps of a Successful Klaviyo Audit
Conducting a Klaviyo audit is essential for businesses looking to maximize the potential of their email marketing strategy.
So, how do you conduct a Klaviyo audit?
We'll break it down into 5 steps. Let's dive in.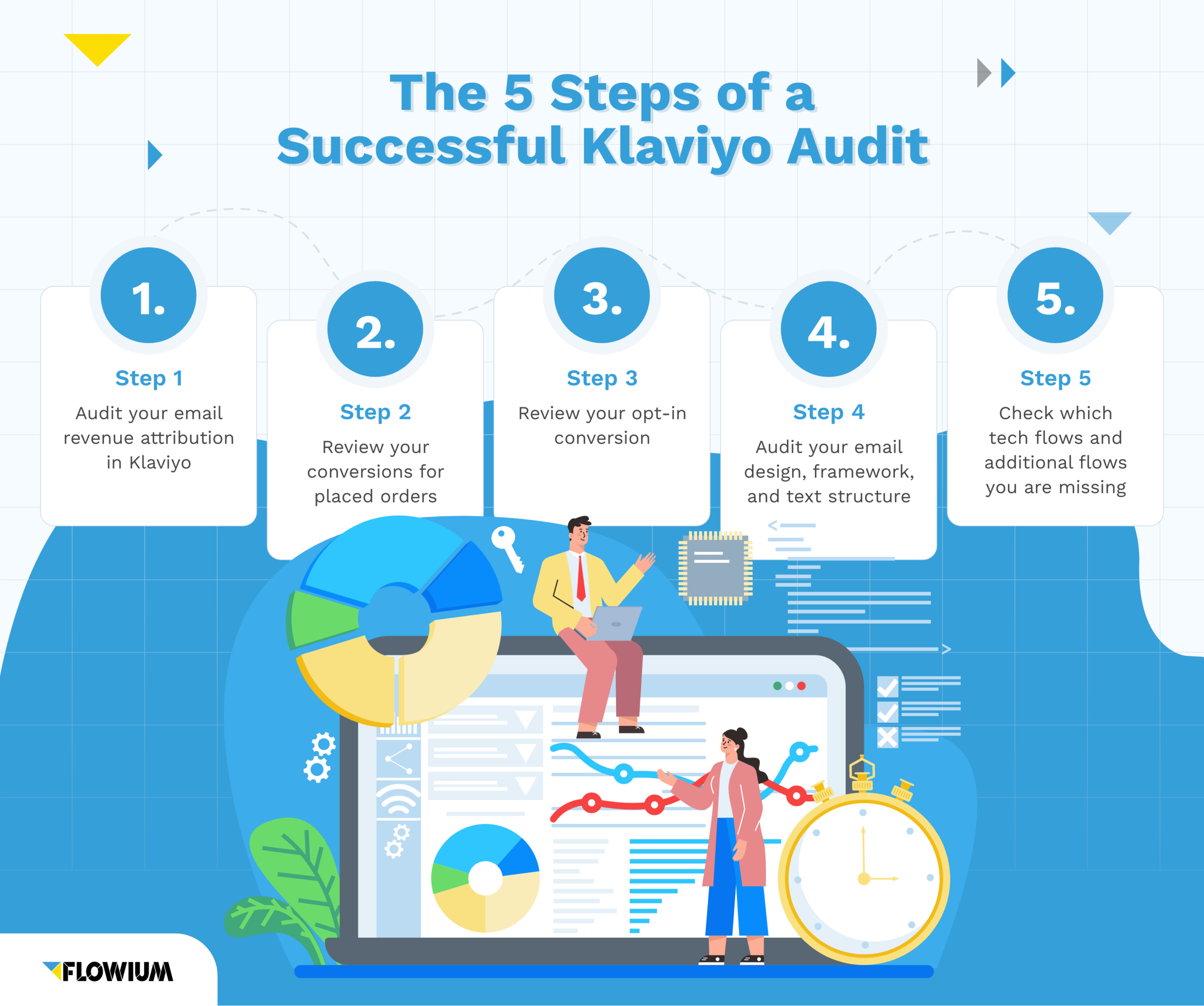 Step 1. Audit your email revenue attribution in Klaviyo
Start your Klaviyo audit by checking what percentage of your revenue comes from email marketing.
The rule of thumb is that 30% of your store's overall revenue should come from email marketing. That revenue should be split equally between Klaviyo flows and Klaviyo campaigns.
For example, if your email marketing brings in 40% of revenue, but only 10% of that revenue comes from flows, you can increase your revenue by an additional 5% by optimizing your flows. 
In short, flows should generate at least 15% of your total revenue, and campaigns should also generate at least 15%.
👉 To audit your email revenue attribution in Klaviyo, go to the metric Revenue from Klaviyo, which you'll find under Performance. From there, drill down into the revenue generated by flows and campaigns separately to determine if they are meeting the baseline of 15% each. 

Step 2. Review your conversions for placed orders
The second thing you want to check is the place order rate for campaigns and flows.
Simply choose Benchmarks on the left side of your Klaviyo dashboard. You'll find it under Analytics.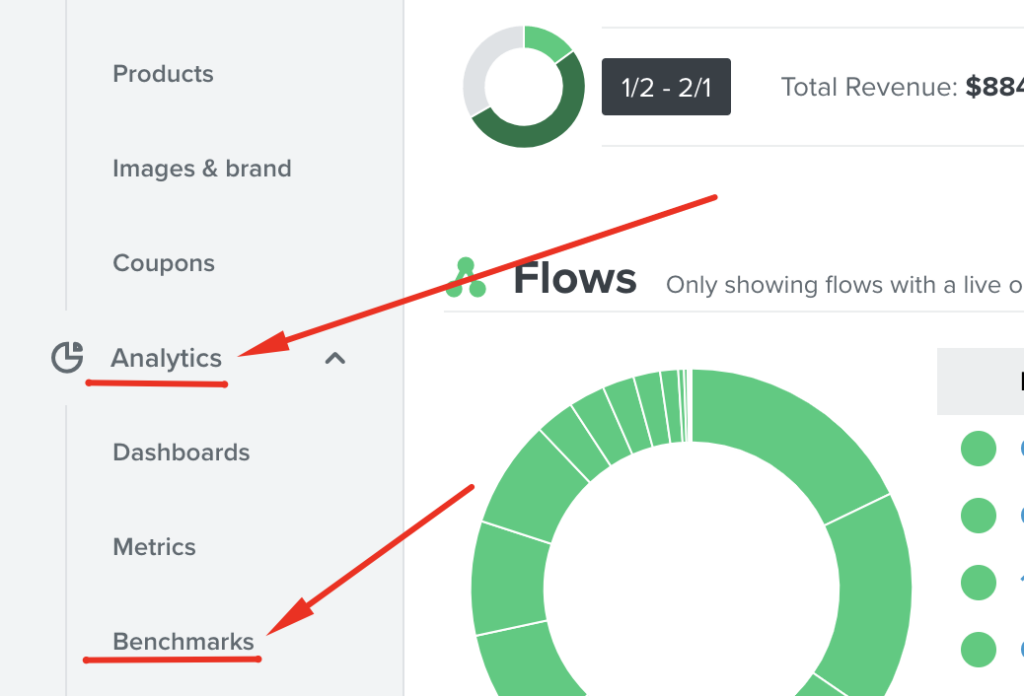 Then, select Campaigns. I strongly recommend switching the timeline to the last quarter.
See how you're doing in comparison to your peers in the industry. The goal is to have a "good" to "great" rating.
You should do the same with flows. However, instead of checking all the flows, you should check the place order rate for the 4 flow groups: Welcome, Thank You, Browser, and Abandoned Cart.

Step 3. Review your opt-in conversion
Your opt-in forms are a crucial part of your email marketing strategy – if they aren't performing well, you'll struggle to grow your email list.
Checking how well your opt-in forms are performing during your Klaviyo audit will help you determine what improvements can be made to increase signups.
👉 To review your opt-in conversion rates in Klaviyo, simply click on the "Forms" tab in your account dashboard and see the conversion rates. Then, like in step 2, compare your opt-in conversion rate to your industry peers to get a sense of where you stand.
For reference, a good opt-in conversion rate is between 1-5%. However, this can vary depending on your industry, audience, and the type of opt-in form you're using.
Step 4. Audit your email design, framework, and text structure
In this step, I'll only discuss the email structure and some technical aspects. These are the 8 elements of the perfect email structure every email campaign should contain:
Your company's logo

The tagline

The hero image

The body of your email & CTAs

The product carousel

The store category

The social CTA

Footer
And here are the 5 most common email design mistakes you should avoid:
Mistake #1 – Not making your emails responsive

Mistake #2 – Adding menu style to a header

Mistake #3 – Creating single-image emails

Mistake #4 – Using custom fonts

Mistake #5 – Making your emails look cluttered
From a tech perspective, here are 3 things you should pay attention to:
Step 5. Check which tech flows and additional flows you are missing
After doing hundreds of audits, we've noticed that 80% of the Klaviyo accounts have only fundamental flows set up and lack the extra flows Klaviyo offers.  
So, here's the list of some flows you should add to your email marketing strategy. We divided the list based on technology flows and advanced flows.
Technology flows:
Loyalty Program flows

Referral Program flows 

Logistics flows

Reviews flows

Giveaway flows

Direct Mail flows
Advanced flows:
SMS flows

Price Drop flow

Back in Stock

Add to Cart flow

Predictive Date of Next Order flow
How to Get a Free Professional Klaviyo Audit 
Back in October 2022, we started offering a complimentary email marketing audit for any DTC brand. 
In the past, we were charging $1,500-$2,500 for this kind of audit. Now, it's 100% free. 
Yes, this is part of our marketing strategy to get clients. However, 50% to 80% of the audits we do are for brands that don't turn into our clients.
Is the Klaviyo Audit really free for everyone?
As I mentioned above, our Klaviyo audit is completely free for everyone.
We're not the only ones who offer free audits. But we're the only ones who offer free audits to businesses of all sizes – regardless of the size of your email list or how much revenue you're bringing.
Other agencies only offer free audits to big brands that make over $1M in revenue and have a huge email list of over 100,000 subscribers. But if you're a smaller brand, they will charge you for an audit.
We believe that any brand should have access to a free audit, no matter how big or small. 
How long does it take to get a Klaviyo Audit?
We'll audit your account in 1 business day after receiving Analyst access to your Klaviyo account. 
We'll give your audit our full attention for a day so that you can get the fastest turnaround time in the industry.
What should you do after receiving your Klaviyo Audit?
When conducting a Klaviyo audit, it's important to have a clear structure. That's why we've developed a 4-step process. 
Here are the steps: 
Step 1. Schedule a 15-minute call with us where you provide us access to your Klaviyo account. 

Step 2. We conduct the audit in 1 business day. 

Step 3. We present the audit to you. After the presentation, we send you a report with relevant resources and the next steps. 

Step 4. This step is optional. Many brands don't have the bandwidth to implement the suggestions from the audit we did for them, so they hire Flowium to do it for them. Also,

hiring an email marketing agency

is much cheaper than building an in-house email marketing team.
After you conduct your audit or receive one from us, it's time to take action. 
The audit will show you which areas of your email marketing strategy need work. By implementing the suggestions, you'll be able to optimize your strategy and leverage Klaviyo to its fullest potential.
So, after reading this article, you now have two options to conduct a Klaviyo audit: using this checklist to do so yourself or requesting a free one from us. If you choose the latter, our team will be pleased to help.  
Frequently Asked Questions about Klaviyo Audits
Can I do my Klaviyo Audit myself?
Yes, you can use this checklist to conduct your Klaviyo audit yourself. However, you can also get a free audit from us, which will save you a lot of time and effort. 
Why should I conduct a Klaviyo Audit?
Conducting a Klaviyo audit is for your email marketing strategy like getting an oil change for your car. It will help you identify areas for improvement, find hidden opportunities, and fix any issues in your strategy. The goal of a Klaviyo audit is to optimize your strategy for better performance and revenue.
How often should I audit my Klaviyo account?
You should audit your Klaviyo account as frequently as necessary for your business. You can do so once a year, once a quarter, or even once a month. The most important thing is that you do it regularly.