As a business owner, you know that email marketing is one of the most effective ways to drive traffic and sales. 
In fact, according to a report by Hubspot, 77% of marketers have seen a spike in email engagement in the last year. This statistic alone proves that email marketing is an important part of any digital marketing strategy – and if you're not using it, you're leaving money on the table. 
Since more and more companies are using email marketing as part of their strategy, there are many professional email marketing agencies specializing in building email campaigns. Because of this, it may be challenging to find the right agency for your business. 
So, in this article, we'll explain what is an email marketing agency, why hiring one is beneficial for your business, where to find the right email marketing agency for your business and how to work with one efficiently.  
What is an Email Marketing Agency
If you're planning on implementing email marketing into your digital marketing strategy, you might be wondering what an email marketing agency is. 
Simply put, an email marketing agency is a group of email marketing experts who help businesses across various niches build and manage an effective email marketing strategy. 
An email marketing agency provides you with a team of experts with a wide array of skills in email marketing to help you build and manage your email marketing strategy. 
An email marketing agency takes care of all aspects of your email campaigns, including:
Campaign strategy & planning,
List management & segmentation,
Creative design & copywriting,
Automated email campaigns.
A good email marketing agency uses email marketing tools, such as Klaviyo, to create unique email campaigns that get high open and conversion rates. Many agencies also offer strategic planning services as well as ongoing support for your email campaigns after they're up and running.
Project-based email marketing agencies vs. retainers
There are two types of services agencies offer – project-based and retainer services. In a project-based service, agencies come in, do a project with a clearly defined scope of work and leave. 
When it comes to retainers, agencies like ourselves work on a monthly basis. Every month, the team does whatever is needed to increase engagement and drive revenue for your business. 
The difference between the two is that project-based work is like building a bicycle and not teaching the person how to ride it. In contrast, a retainer service is like building the bike, teaching the person how to ride it, and supporting them as they learn.
In our industry, there are a lot of stigmas. We have to deal with a lot of skepticism, as many new clients directly tell us they hate working with agencies because they'd been disappointed by many. 
To this, I always say that there are bad companies in all types of businesses – no matter if you hire an email marketing agency or a plumber to fix your kitchen sink. 
What does a full-service email marketing agency do?
Full-service email marketing agencies help businesses develop and execute an email strategy that delivers results for their business while meeting the specific needs of their customers. They handle everything from strategy and design to deliverability and analytics for your campaigns.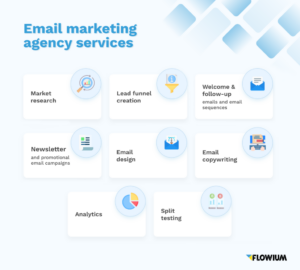 These agencies provide you with a full array of email marketing services, including: 
Market research
Landing page creation
Lead funnel creation
Welcome and follow-up emails and email sequences
Newsletter and promotional email campaigns 
Email copywriting 
Analytics 
Split testing   
Email marketing agencies are not only skilled at creating campaigns, but also in the art of bringing them to life. Their expertise lies in not only creating an effective campaign, but also in making it look beautiful and professional while they do so.
Who Needs to Hire an Email Marketing Agency?
Email marketing is one of the most effective ways to reach your customers, but it may be challenging to do it on your own. Several factors go into determining whether you need to hire an email marketing agency, but there are some clear indications that you may be ready to outsource this aspect of your business.
If you're considering hiring an email marketing agency, here are some signs it's time.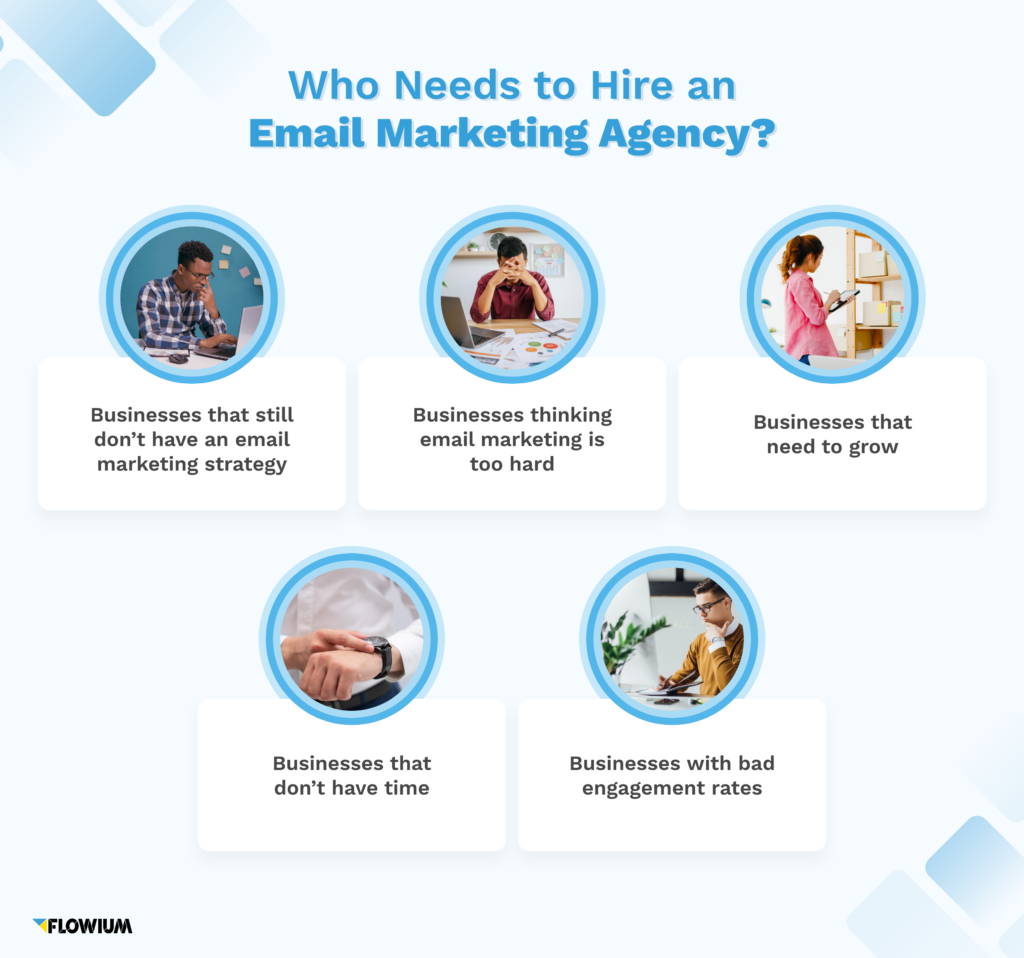 Businesses that still don't have an email marketing strategy
If you want to start leveraging the power of email marketing to help grow your business, but you don't yet have an email marketing strategy in place, then hiring an agency might be right for you. 
A well-defined email marketing strategy will become the foundation of all your email marketing efforts. If it isn't done well, you may end up putting a lot of time, energy, and resources into implementing it without seeing any results. 
That's why it's better to start with a good foundation, and a good email marketing agency can save you time on making mistakes that can be avoided. 
Businesses thinking email marketing is too hard
Many business owners are hesitant to try email marketing because they believe it's too hard or time-consuming. And for a good reason! Sometimes, you just have to admit that email marketing may be too complex to handle on your own – especially if there's a steep learning curve involved. 
But the good news is that there are people who dedicated their entire careers to email marketing so that you don't have to go through the pain and stress of learning all the aspects of it.
So, if an email marketing agency can handle all the aspects of email marketing for you, why not trust them instead of losing time and energy on learning it yourself? 
Businesses that need to grow
Email marketing is one of the most effective digital marketing strategies to boost your business growth. It can help you increase brand awareness, boost engagement, and build solid relationships with your existing and future customers. 
If you're looking to scale, hiring an email marketing agency can help you do just that. This way, you'll be able to entrust your entire email marketing strategy and its execution to a team of dedicated experts while you focus on growing other aspects of your business. 
Businesses that don't have time
Email marketing is a powerful way to connect with your audience and drive sales. But, it can be time-consuming and difficult to manage on your own. 
If email marketing isn't your specialty, there's no point in spending your time doing it. Businesses should spend their time doing the things they're the best at! That's why outsourcing is sometimes the best possible way to optimize your operations. 
Businesses with bad engagement rates
Is your business experiencing low open, conversion, and engagement rates? This may be a sign that your existing strategy isn't working as it should. 
An email marketing agency can thoroughly evaluate your email marketing strategy, analyzing your subject lines, email content, sending times, and other relevant parameters. They can identify the issues that are causing you to experience low rates and help you fix them. 
Email Marketing Agency vs. Freelancer vs. Employee
Wondering whether hiring an email marketing agency is the right choice for you? If you're unsure, there are other options you can explore – and then decide which one is best for your business. 
There are three ways to outsource your email marketing: hiring an agency, a freelancer, or an in-house employee. Let's analyze the pros and cons of each.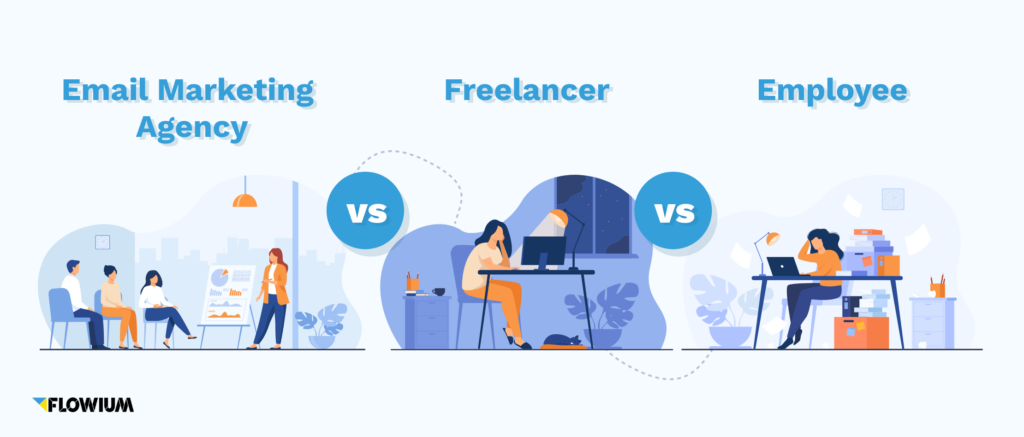 Hiring an email marketing freelancer: pros and cons
In the past few years, and especially in 2020, many people who used to work in the office have become freelancers. As a result, hiring freelancers naturally became a quick and cost-effective option for many businesses. 
If you're wondering whether hiring a freelancer to build and implement your email marketing strategy is the right option for your business, here are the pros and cons. 
Of all the options discussed in this article, hiring a freelancer might seem like the most inexpensive one. On Upwork, you can find and hire an email marketing professional at a rate as low as $20 per hour. 
But when you look at the entire scope of work, you'll realize that – depending on the size of your business – one freelancer may not be enough to cover all of your email marketing needs. You'll either need to find a freelancer with a different, often conflicting, set of skills (for example, both technical and creative skills) or hire more than one.
I worked as a freelancer between early 2017 and late 2019. I was able to do email marketing strategy, review the analytics, and take care of the technical part of email marketing all by myself. 
However, what I couldn't do was write copy or create email design. So, while my clients hired me for the strategy and the technical setup, they also needed to look for other freelancers to take care of their copy and design. 
Here are the most relevant email marketing specialists you'd need to hire if you're serious about your email marketing:
Email marketing technician. The cost is between $6-$20 for freelancers outside the US. I recommend looking for a technician outside the US because the quality of work is the same, but the US rates might run around $40 per hour.
Strategist/Marketer/Project manager. You can (and should) find one person with all those skills. The market rate for a decent freelancer starts at $30 per hour on the very low end and ranges from $50 to $90 per hour on average.
A native speaker copywriter. A junior copywriter's rates range from $25 to $50 per hour. More experienced copywriters – especially those specializing in only one type of copywriting – may charge even more than that. 
Designer. Designers typically charge between $25 to $50 per hour, depending on their level of experience. You can, of course, find freelancers who charge more. 
Freelancers can start working on your project as soon as you pay them. This is an excellent benefit for those who need their project done yesterday. 
Also, freelancers usually have no set processes that may have a longer turnaround, so they do things on the fly, and you can request things as they come up. 
You can easily find the right copywriter, designer, and email marketing technician. But they'll most likely be generalists, which means they won't be specialized in eCommerce email marketing. Only a few dozen people have that kind of niche specialization, and those specialists are expensive. 
For the strategist and marketer position, you need someone with prior experience in email marketing. There aren't many people on the market with such a narrow focus, so the cost of hiring one is high. 
Besides, you don't want to be their first eCommerce client, so there are even fewer specialists with that kind of experience.  
Unstable dedication/interest
Although freelancers are in it for flexibility, they're most likely looking for financial stability. Since you'll probably give them only around 5 to 20 hours of work per week, they'll need to find other clients. 
You need to know exactly what you want
If you only have a general understanding of the scope of work, a freelancer's services might not be the right fit for you. You have to know exactly what you need to be done to find the right freelancers and assign them tasks. 
Even if freelancers can give you consultations and build a strategy for your business, they don't have the power of an entire team nor the time of an in-house employee to manage all your email marketing. 
You put all your eggs in one basket
The risk is limited since you can end the relationship with a freelancer anytime you want. But on the flip side, if the freelancer is good and successful in their freelancing career, they may raise the price at any point or leave without notice. 
What's more, they're just one person – not an entire teal. Trusting one person with all your email marketing may put you in a challenging situation if they decide to leave – which they might do at any time. 
In-house email marketing: pros and cons
If you prefer to have someone dedicated to email marketing in your team, you can always hire a specialist full-time. Let's see all the pros and cons of such a scenario. 
Higher dedication/interest
When someone works for you in-house, their dedication and interest in the company is naturally higher than if they were freelancers. 
The good thing about having an email marketing employee is that you can set their deadlines and decide when the work needs to be done. You'll always know they'll deliver on time and won't leave you hanging. 
If you find the right people, the risk is minimal.
Here are the average rates for email marketing specialists:
Project manager/strategist/account manager – $65k ($32 per hour)
Copywriter – $65
Designer – $65
Tech pro – $30k
Hiring a full-time employee is always a cost.
Hiring someone in-house is more difficult than hiring a freelancer. It takes much longer since the stakes are much higher. 
You're committing to working with them long-term, so it makes sense that you would want to ensure a good screening process. 
According to the Society of Human Resource Management, it takes an average of 42 days to make a full-time hire. For early-stage startups, hiring an email marketer can take even longer – think three to six months.
One person instead of a team
As with freelancers, if you hire someone in-house, it's still one person. 
In our agency, for example, we assign a team of 6 people to work with each client – a senior account manager who oversees the project, an account manager who leads the project and communicates with the client, a copywriter, a designer, a tech pro, and an assistant. 
Distributing our workload this way allows us to achieve good results without compromising the timeline. 
When you look for employees, I recommend you look for specialists in each field who can work together to produce the results you hope to get with your email marketing. 
Email marketing agency: pros and cons
Now, instead of looking for one expert person to rely on, why not benefit from the expertise of an entire dedicated team? 
Let's examine the pros and cons of hiring an email marketing agency.
Most agencies work on a retainer basis. A monthly budget for email marketing services ranges anywhere from $2,500 to $10,000+. 
So, if your business makes less than $500,000 or even $1M a year, hiring an agency is not the right fit for you simply because the return on investment won't be positive. In this case, finding a freelancer on Upwork or Indeed is a better option. 
One important thing worth mentioning is most agencies work with quotes and custom pricing. That means you'll get quoted based on your monthly revenue. 
As an agency, we strive to be as transparent as possible about pricing. In fact, we don't do custom pricing, and you can find all our prices on our website. So, regardless of whether you make $1M or $5M a year, you'll pay the same fee for our services, which means your ROI can grow exponentially. 
With that said, when it comes to pricing, the decisive factor should be how many campaigns, in addition to email automation, you're planning to send per month. 
If you send 20 campaigns, which is more or less three campaigns per week, it's one price. If you want to send daily campaigns or, say, four emails per day (which amounts to 120 emails per month), it's a different price.  
All that is to say that the fee you'll pay will depend on the scope of work you want the agency to execute for you.
With a reliable agency, you are set for success
We often hear from our new clients that they were disappointed by agencies before. 
Notably – in our clients' words – the bigger the agency, the more careless treatment its clients receive. 
This is why it is essential to choose your agency wisely. You should choose an agency with a dedicated team keeping tabs on deadlines and the quality of outcomes.
With a reliable agency, you're set for success. It's simple: your success brings them a good reputation and more clients, which is in their best interest.
You have the power of an entire team of experts
Instead of counting on one person to create a good email marketing strategy, you have a whole team of experts and proven processes to work on your project. 
With a typical turnaround of around three weeks, you can have more done in a shorter amount of time.
The problem with agencies in the email marketing space is that the industry is relatively new, so not many specialize solely in email marketing. 
If you can find someone who focuses on email marketing, they'll charge a lot more than general digital marketing agencies. The reason is simple: the demand is high, and the supply is low. 
But if you want real results, you need to hire someone who knows the industry well because generalists won't bring you the results you may be looking for. 
Communication can be more challenging
When you hire a freelancer or an employee, you discuss the details of your project with one person who then executes the plan. With an agency, especially if it's large, there can be gaps in communication between different departments and team members. 
In other words, what the salesperson tells you on the first call might not be what the team can actually deliver. 
How to outsource your email marketing: final comparison
At the end of the day, the best choice between freelancers, employees, and agencies for email marketing depends on your company and its needs. 
Here is a structured comparison to help you decide which email marketing outsourcing option is right for you: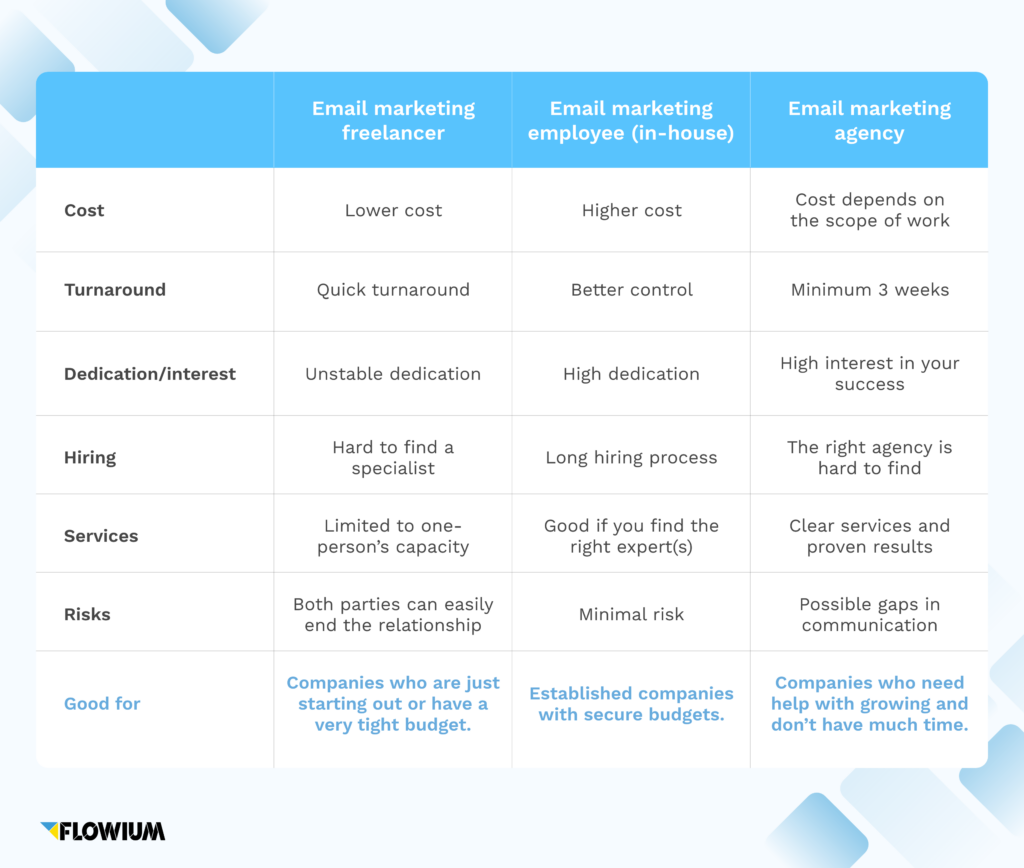 Where to Find a Good Email Marketing Agency 
Finding a good email marketing agency is a daunting task, and you might not know where to look. So, here's a list of marketplaces where you can find a good email marketing agency. 
Upwork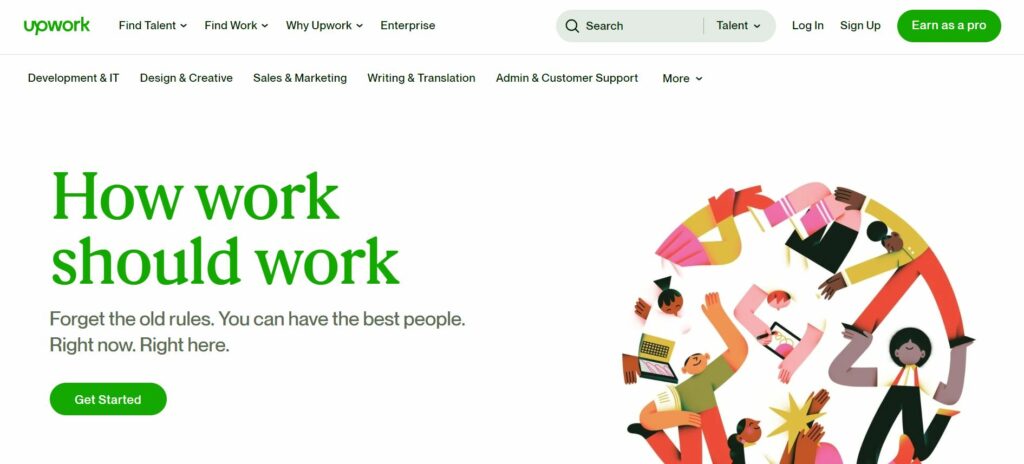 UpWork is one of the biggest freelancing marketplaces on the internet today. As for 2022, the platform has approximately 12 million registered freelancers and 5 million clients. This is definitely the right place to look for an email marketing agency. 
Here are the steps to do that: 
Register your account on UpWork as a client. 
Go to the search bar, type "email marketing," and select "Talent." 
On the right-hand panel, go to "Talent type" and select "agencies" instead of "freelancers."
Filter through the results.
Fiverr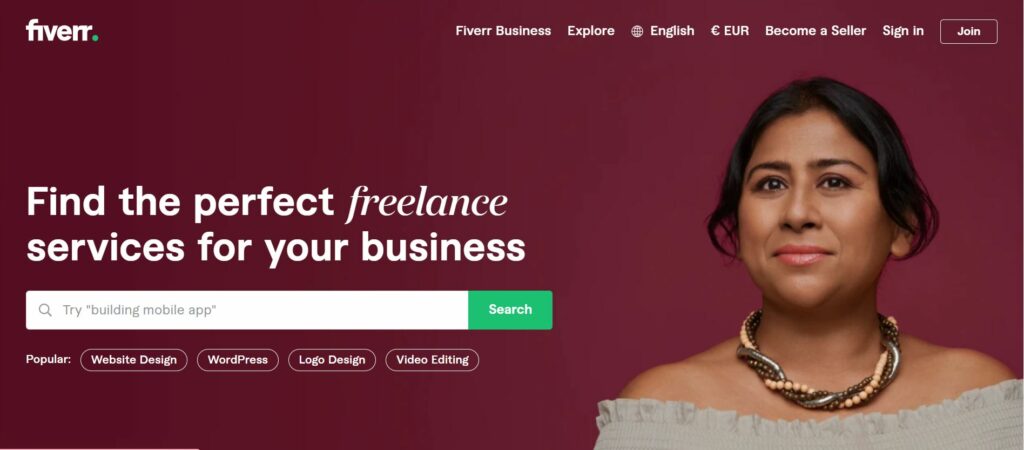 Another one of the biggest marketplaces on the internet is Fiverr. You can find many email marketing specialists on this platform, and – similarly to UpWork – you can filter by freelancer or agency. 
When looking for the right freelancer or agency for your business on Fiverr, turn on the "Pro services" toggle. Then, it will show you only the best quality sellers vetted and verified by Fiverr.  
LinkedIn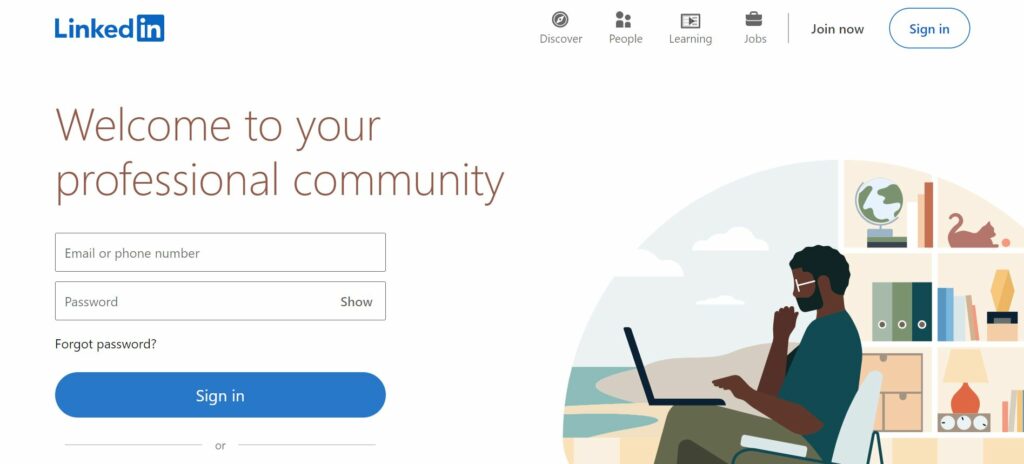 While LinkedIn is a social media platform, it's also a great place to build your business network. It's filled with millions of people, including freelancers and agencies growing their brands, promoting their services, and looking for new clients to work with.
To find the right email marketing agency on LinkedIn, go to the search bar and type "email marketing." Then, select "Companies." You'll then be able to filter them by location, industry, and size. If you want to find the right agency for your business, go through all the results while reading their profiles and reviews. 
YouTube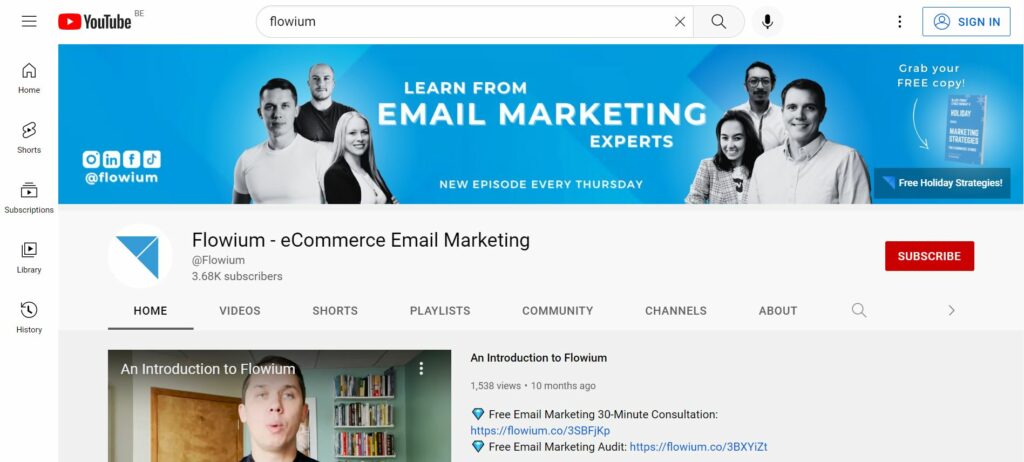 As a YouTuber, I constantly create new content on the platform. Like myself, many business owners on YouTube promote their businesses through video content on the platform. 
To give you an example, I personally hired a few agencies I found through YouTube to outsource various aspects of my business to. I hired them because they delivered value to me, and I liked how they ran their business. 
This shows that, although it may seem far-fetched, YouTube is a great place to find and hire an email marketing agency for your business. 
Partner Directory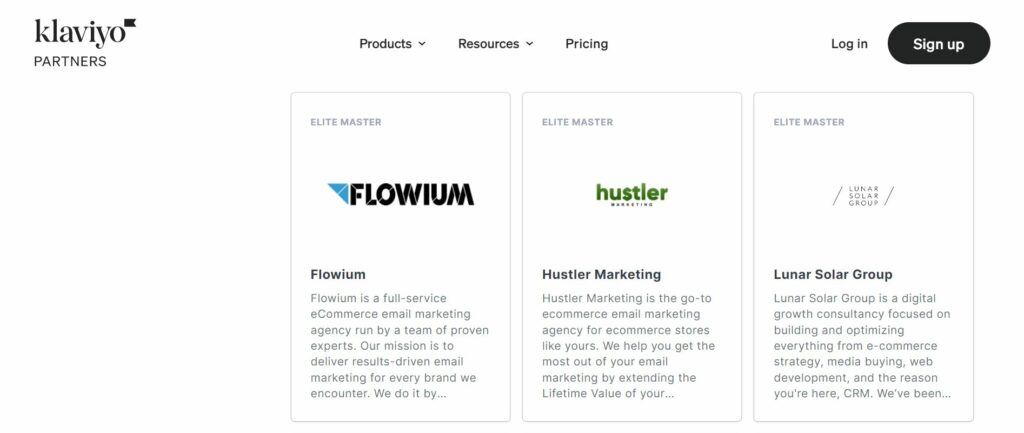 Another excellent method to find the right email marketing agency is through the partner directory of an email service provider. For example, we work with Klaviyo. As Klaviyo's partner, we show up in the partner directory. The same goes for any other platform. If you scroll through their partner directory, you'll find lots of agencies for hire. 
So, a viable to find an email marketing agency would be to choose an email marketing tool first and then look at their partner directory. This will ensure a quality search, as only good agencies are featured as partners.
DesignRush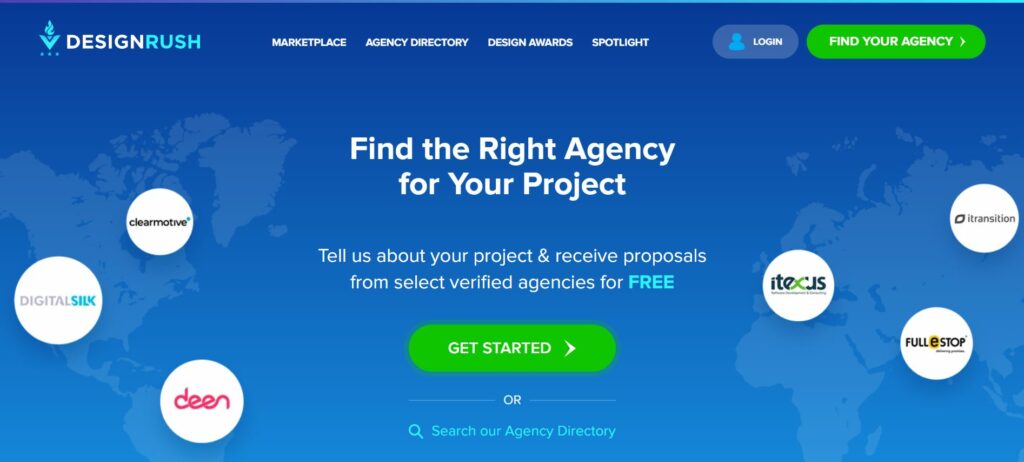 DesignRush is a B2B marketplace connecting businesses with agencies. Since it's a new platform, I cannot vouch for how good they are. However, I know they have a long list of agencies you can work with. 
Through peers you trust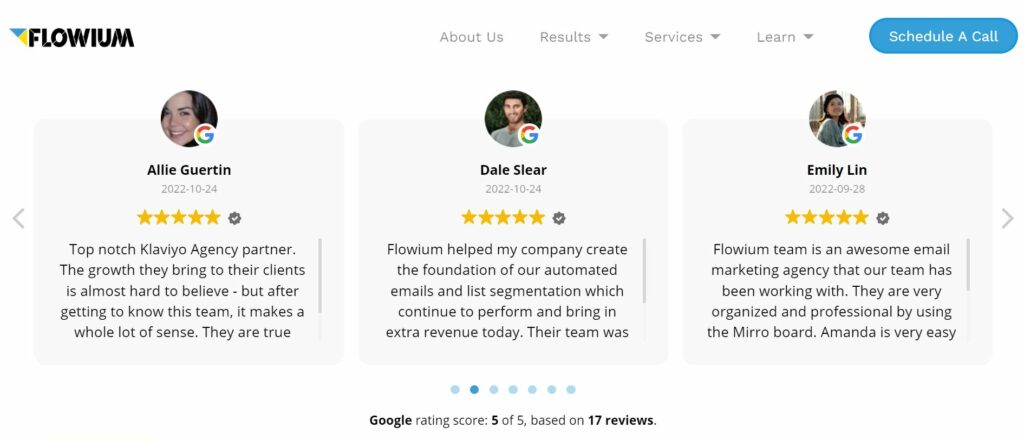 Another way to find the right agency is through word of mouth. Referrals from friends, business partners, or colleagues are always a great choice because you already have a testimonial from someone who has worked with them before.
And if you don't know anyone who can recommend a good email marketing agency, you can browse through the testimonials that other people/companies leave on the agency's websites. You can even contact them to ask about their experience first-hand. 
How to Choose an Email Marketing Agency
Now that you know what an email marketing agency is and where to find one, the question remains: how do you choose the right email marketing agency for your business? 
There are many things you need to take into account to select the agency that aligns with your goals and needs. Let's go through the process step by step. 

Start by knowing your own goals
Before outsourcing any part of your business to a third party, you need to be crystal clear about your goals. Marketing only works when there's clarity. A lack of it may make you choose a completely misaligned strategy and hinder your results. 
If you don't know what exactly you want from email marketing, it will be hard for you to find the right agency. So, before embarking on your search for the right email marketing agency, think about what you want to achieve with email marketing. You may have multiple goals, such as to: 
Grow an email list
Improve your engagement rates 
Increase open and click-through rates on your email campaigns  
Reduce your cart abandonment rates 
Increase your passive income via automated email sequences 
Look at the email marketing agency's portfolio
Another step to take when choosing the right email agency for your business is to look at their portfolio to see what they have done in the past.
This is to determine how much experience the agency has in email marketing and whether what they do aligns with what you're looking for. 
Ask the right questions
Asking the right questions when you're shopping for an email marketing agency is crucial to your business's success. Select your questions carefully to ensure that the agency you're planning on hiring is the right choice. 
Here are some relevant questions you might want to ask during your search: 
How does the billing work? 
Do you create lead funnels? 
How do you avoid spam?
What security measures do you take to protect my domain? 
Who's going to work on my projects?
What are the average deadlines? 
Ask about their tools
Before hiring an email marketing agency, you should verify what tools they work with. Typically, a good agency should be an expert on one tool rather than work with hundreds of different tools. 
Another thing that indicates that the agency you're about to work with is a good quality agency is whether they have partner status with the email marketing platform they work with. If they do, it means they have been vetted and verified by the email marketing provider, which adds to their credibility. 
Check their reviews
It's always a good idea to check out reviews before hiring a company. It helps you understand what others have experienced with them and whether they're up to your standards. You can even go as far as contacting their previous clients to find out what their experience was first-hand.
Research their team
Before you entrust an important aspect of your business to someone outside of your team, you want to know who you will be working with. You can do so by researching the agency's team. 
Nowadays, almost every business owner and professional is on LinkedIn. When you find the agency you're looking to hire on LinkedIn, you can see the profiles of all the people who work there. 
Learn about their values and their work ethic
You don't want to work with an agency whose values and vision are misaligned with yours. You want a partner who truly gets you and wants to help you achieve your goals – not just take your money. 
If you want your collaboration with an email marketing agency to work, you need to choose an agency that cares about its clients and is driven by similar values and work ethic principles as you are. 
How to Hire an Email Marketing Agency: Red Flags to Avoid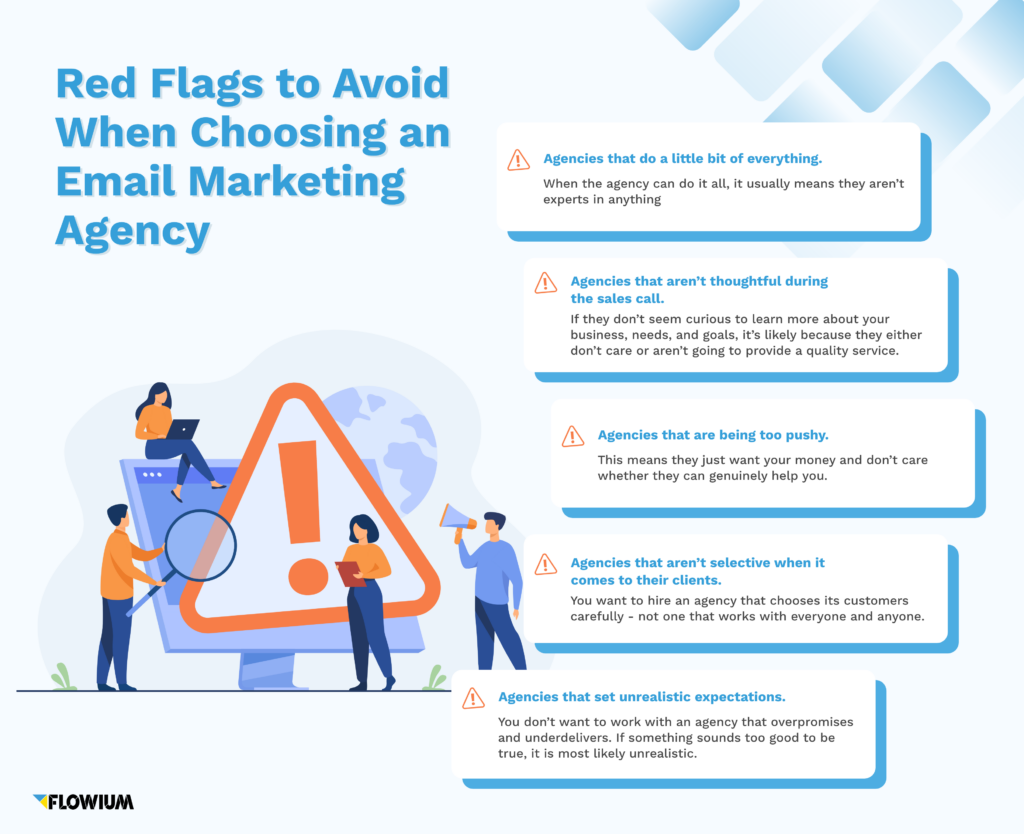 Choosing a company to help you with your email marketing can be one of the most important decisions you'll make for your business.
The right agency can help you grow your subscriber base, increase sales and build customer loyalty. But the wrong agency can waste your time and money, or even worse, damage your reputation.
To help you avoid making a wrong choice, here's a list of red flags to watch out for when choosing which email marketing agency to work with. 
They do a little bit of everything. When the agency can do it all, it usually means they aren't experts in anything. 
They aren't thoughtful during the sales call. If they don't seem curious to learn more about your business, needs, and goals, it's likely because they either don't care or aren't going to provide a quality service. 
They're being too pushy. This means they just want your money and don't care whether they can genuinely help you. 
They aren't selective when it comes to their clients. You want to hire an agency that chooses its customers carefully – not one that works with everyone and anyone.
They set unrealistic expectations. You don't want to work with an agency that overpromises and underdelivers. If something sounds too good to be true, it is most likely unrealistic.
How to Work With an Email Marketing Agency
When you work with an email marketing agency, you might be tempted to think that they will handle everything and that all you have to do is sit back and relax.
However, this is only partially true. You still need to know what it takes to work with an email marketing agency and how it can benefit your business.
Here are some tips on how to work with an email marketing agency.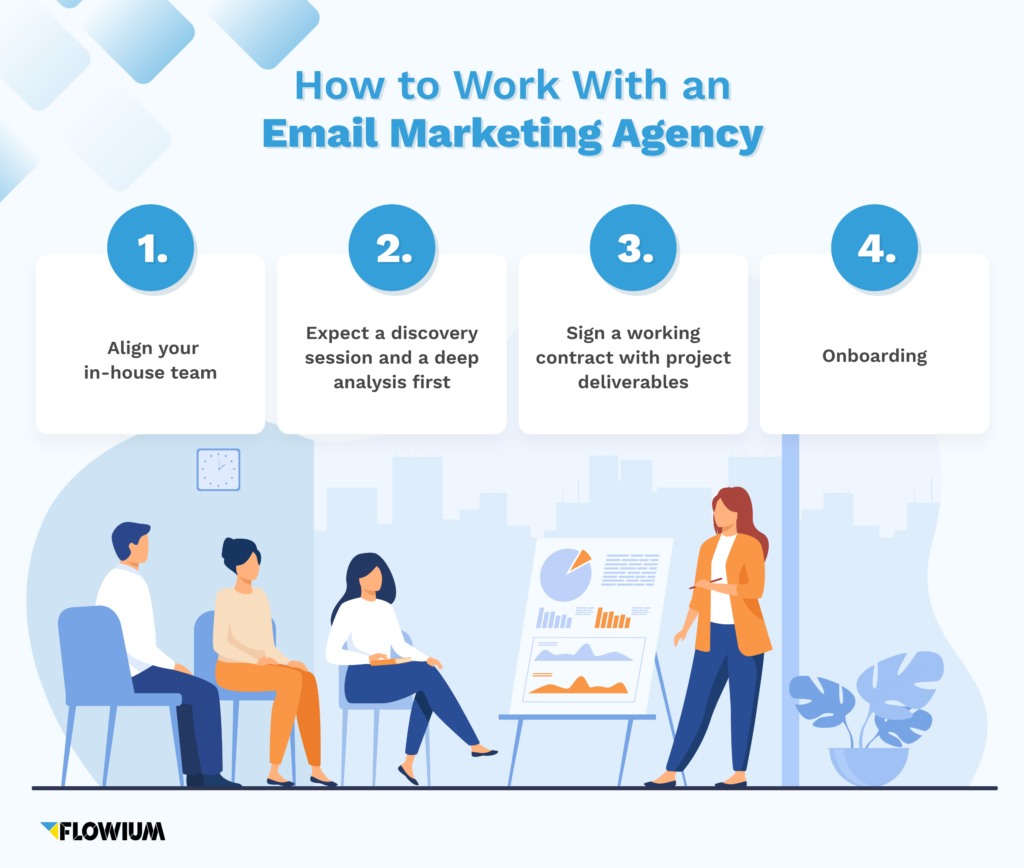 1. Align your in-house team
To get the most out of your agency relationship, make sure to get ready for the collaboration. You can start by scheduling a meeting with your team to explain the necessity of the collaboration, set expectations, and assign some of your team members to work with the agency. 
The agency, on its part, should take the time to explain what they expect from you and your team, as well as set clear expectations for what the collaboration will look like. 
2. Expect a discovery session and a deep analysis first
Before you start working together, the agency should set up a discovery session with you and your team. This session is needed to make sure everyone is on the same page. 
A good agency will also thoroughly analyze your business challenges, needs, and goals. They can do it in many forms – during a discovery call, via an inquiry form, or something else. After the agency's team determines they know your business well enough, they'll develop a strategic approach.
 If you've already been doing email marketing, they will look at your sign-up processes, current campaigns, email marketing flows, landing pages, and other aspects and make detailed recommendations. 
And if you've never done email marketing before, the agency will determine the best email marketing strategy based on your business analysis. 
3. Sign a working contract with project deliverables
Signing a contract with your email marketing agency is a crucial step in establishing a successful collaboration. 
To ensure the work is trackable and your money isn't going to waste, you have to make sure everything is written down in a contract and signed by both parties. What's more, make sure to establish fixed deadlines for project deliverables.
4. Onboarding
Before the agency can start working on your project deliverables, you must undergo an onboarding process. This usually involves having a meeting with someone from the agency where they'll explain to you their processes and tools. 
You'll also be expected to send all your internal documents and tool access to your dedicated account manager. When doing so, make sure to send every document you have related to your email marketing efforts. The more info they have, the better results they'll be able to provide. 
Once everything is ready, the agency will start working on your project deliverables. Expect to have regular check-in calls during the process to see how the process is going and make any necessary adjustments along the way. 
Frequently Asked Questions about Email Marketing Agencies
What do email marketing agencies do?
An email marketing agency provides clients with all the tools needed to create an effective email strategy that drives business growth. The agency develops an overall plan based on research and analysis, then coordinates all aspects of the campaign – from the design to technology to content creation – to deliver the best possible results to its client.
Why do businesses need an email marketing agency?
Businesses need email marketing agencies to help them craft an effective email strategy and create email marketing campaigns that convert. The main reason businesses need an email marketing agency is that an agency has extensive email marketing expertise that many businesses lack.
Which company is best in email marketing?
While there are many excellent email marketing agencies on the market, the best one for you might not be the best for someone else. Ultimately, choosing the best email marketing agency for your business will depend on your business needs, goals, and overall circumstances.