As an eCommerce business, you know how important it is to make a great first impression. Whenever someone signs up for your email list, it's a perfect opportunity for you to introduce your brand, products, and offers in a way that'll motivate them to make a purchase from your store. 
That's exactly what a welcome email series does. In fact, welcome email campaigns have been shown to have some of the highest open and click-through rates of any email campaign, making them a powerful tool for increasing brand awareness and driving sales right from the start of a new subscriber relationship. 
An email welcome series is crucial to any eCommerce email marketing strategy. So, in this article, we'll explain what a welcome email flow is, why it's so important, and how to create one that will knock your subscribers' socks off.
What Is a Welcome Email Series
As soon as someone signs up for your email list, they're looking to learn more about your brand, exclusive offers, and new products in your store. 
But if you tried manually sending emails to each and every new subscriber, you'd quickly find yourself in over your head. Luckily for all eCommerce store owners, there's an easier solution! You can automate this process thanks to a welcome series email flow. 
That's why a welcome email flow is an absolute must-have in your email marketing strategy. So, let's explain what it is and why it's so important. 
Welcome email series: definition
A welcome email flow is a series of automated emails spaced out over a period of time that gets triggered when someone signs up for your email list. 
This automated sequence is designed to help you introduce your brand to new subscribers, build a relationship with them, and ultimately drive sales to your store.
When it comes to creating an eCommerce welcome email series, there's no one-size-fits-all solution. The length of your series will depend on your business and strategy, but most welcome email flows consist of 3 to 5 email campaigns. 
The same goes for the intervals between emails. Some companies like to send one email per day, while others prefer to space them out over a few days. 
Welcome email sequence and onboarding email sequence: are they the same?
If you've ever implemented, or planned on implementing, an email marketing strategy for your business, you've surely heard the terms "welcome email series" and "onboarding email sequences." These terms are often confused or used interchangeably.
But there's actually a distinct difference between the two that has to do with the goal of each sequence and the nature of its content.
A welcome email sequence aims to introduce subscribers to your brand and provide them with valuable product information. As a result, its content is usually more general and surface-level, designed to give your new subscriber a broad overview of your brand.
On the other hand, an onboarding email series is designed to guide an existing subscriber through a specific process or the how-to of using a particular product.
For example, if you're a software company, your onboarding email series might walk the subscriber through the steps of setting up their account and using the platform. That's why the content of an onboarding email series is quite specific and action-oriented.
What are the benefits of welcome email series for eCommerce?
The goal of a welcome email flow is to make a great first impression and start building a strong relationship with your new audience. But the benefits of a welcome email sequence go beyond just making a great first impression on new subscribers. 
A well-designed welcome email flow can help you drive more sales to your store. By emphasizing the personality and values of your brand, showcasing your best-selling products, and offering special discounts or promotions, you can incentivize subscribers to make their first-time purchase from your store. 
So, ultimately, by creating a killer welcome series, you'll make a great impression on your subscribers while setting yourself up for success in the long run. 
Why sending only one welcome email is not always enough?
At this point, you might be asking yourself whether sending a series of welcome emails is better than sending a single welcome campaign. 
Both has pros and cons. But given the amount of emails we get on a daily basis, a single campaign is likely to get lost in the tide of new emails landing in your subscriber's inbox. Chances are, it'll end up being completely overlooked or forgotten. Unlike a series of welcome emails, a single campaign doesn't provide much room for you to build enough trust with your subscriber. 
⚠️ This doesn't mean that a well-crafted single welcome email cannot be effective. But sending more than one campaign will simply increase your chances of leading the subscriber toward a successful conversion. 
When deciding on the number of emails to include in your welcome email flow, the key is to strike the perfect balance between providing enough value to build trust without overwhelming the subscriber. 3-5 emails spaced out over a couple of days are a good rule of thumb. 
Before diving into the nitty gritty of crafting a successful welcome email flow, let's first explore how to write a single welcome email. 
How to Write a Welcome Email & What to Include in it
Welcome emails are the perfect occasion to spread your brand by engaging with new subscribers.
They just joined your newsletter and are at the pick of their interest, so they're more likely to open your email and appreciate your efforts to establish a connection.
It is also the perfect opportunity to let them know you have new products or promotions, or ask them to respond to a survey or any other request.
But welcome emails will only be effective if you do them right and include all the following elements.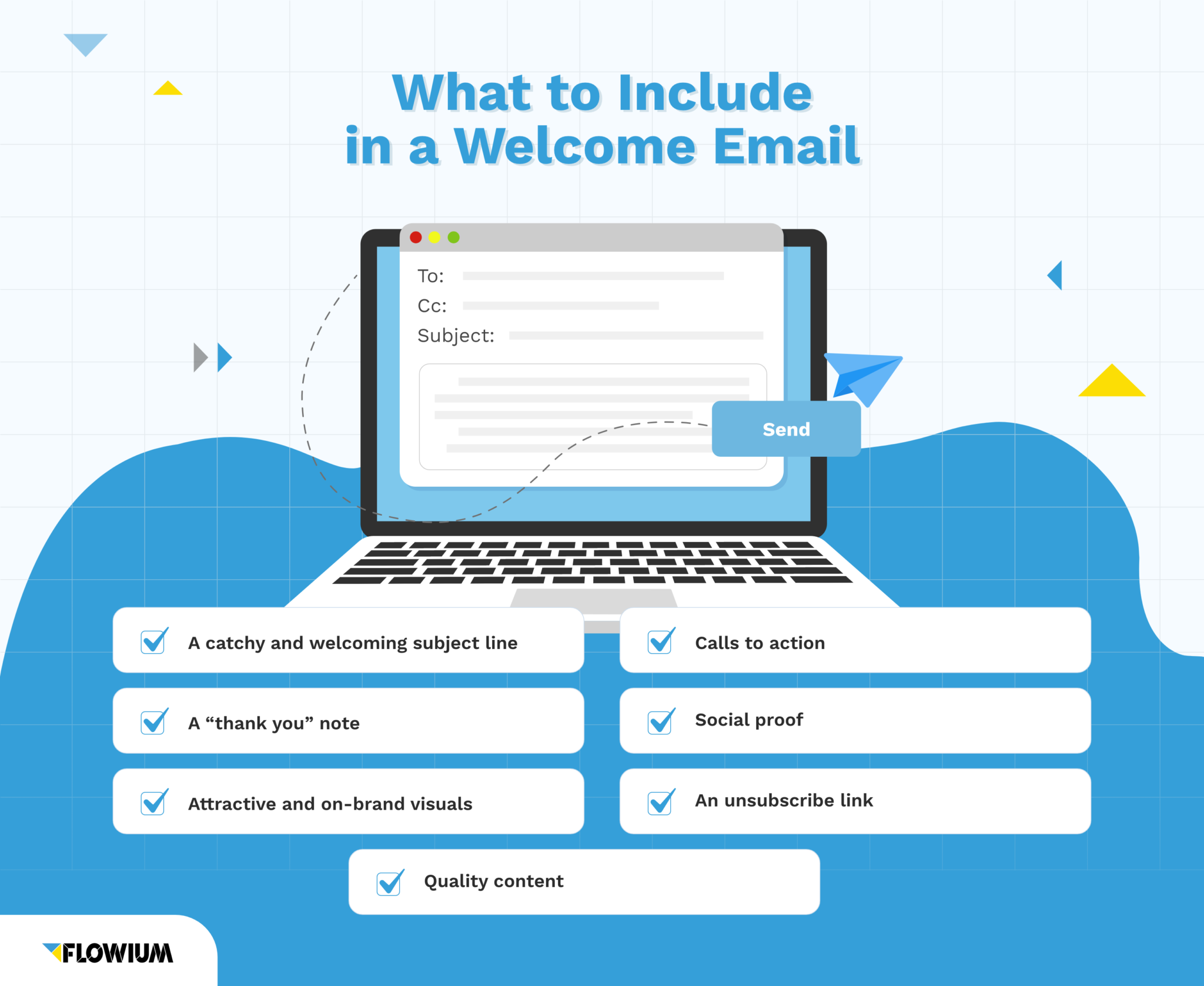 A catchy and welcoming subject line
The success of any email campaign starts with the subject line. That first line makes a difference between an opened email and one that goes straight into the trash.
That's why your welcome email subject line needs to be catchy enough to grab your subscribers' attention and stand out from 42 other emails that landed in their inbox that day (or any day). 
So, what's a good subject line that will make an impact on your subscriber? 
First of all, it has to be intriguing. It needs to open a curiosity loop in your subscriber's mind that they can't help but close. And to close it, they have no option but to open your email. 
Another key element of an effective subject line is using words and phrases that inspire a sense of belonging to an exclusive community. We all want to be part of something. So when someone subscribes to your list, welcome them to the community with open arms. 
Here are some examples of catchy and welcoming email subject lines: 
You're in! There's a welcome surprise waiting for you inside. 
Welcome! Get 10% off THIS best-selling product.
Welcome to the never-wear-uncomfortable-shoes-again club! Glad to have you.
A "thank you" note to show your gratitude
When someone subscribes to your email list, they don't want to be another number on your list – they want to feel valued and like they're part of something bigger. 
Including a quick note to thank your new subscribers for joining your community and expressing your gratitude can go a long way in building a positive relationship from the start. 
But don't stop there! Highlight the shared values, ideas, or passions that unite you and your subscribers. This will create a sense of belonging and make your new subscribers feel part of something special.
Here are a few examples of how you can show your appreciation in your welcome email:
Welcome to our community of like-minded individuals! We're thrilled to have you on board and can't wait to share our passion with you.
Welcome to the family! We're grateful for your support and excited to keep you in the loop on all our latest products and news.
Thanks for joining us! We appreciate your interest in our brand and look forward to bringing you valuable insights and exclusive offers.
Attractive visuals aligned with your brand's image
The visual aspect of your welcome email campaigns is a powerful tool to grab your subscriber's attention and make your brand more memorable. 
The role of the visuals in your email campaigns is to reinforce your brand image in their minds. So, the design of your emails should be aligned with your brand's colors, fonts, and style. 
As visual creatures, we're often drawn to things simply because we like how they look. So, including eye-catching product photographs and images that express your brand's message in your welcome email campaigns will make them more visually appealing and increase the chances of your new subscribers remembering your brand.
Quality content
The content of your welcome email campaigns is just as important as the design, if not more. The welcome flow is the first more intimate point of contact between you and your new subscriber, so it's essential to create top-quality content that will establish the foundation for your relationship. 
Your welcome email campaigns are the perfect opportunity to write about your brand values and goals, as well as to share your brand story with your subscriber. 
But remember not to make your welcome emails only about yourself! If you do, you might end up losing your subscriber's interest. Instead, make the content of your campaigns relevant to them by talking about how your brand and products can help them improve their life. 
In this video, we walk you through the essential elements of what we consider to be a perfect welcome email – both in terms of design and messaging. Tune in to learn about the best practices!
Calls to action
Think about the goal of your welcome email series. What do you want your subscribers to do after receiving your emails? Do you want them to fill out a survey, visit your website, or follow you on social media? 
If you don't tell your subscriber what to do next, they won't take action. That's why including calls-to-action in your welcome email campaigns is crucial to guide your subscriber further in their journey with your brand. 
⚠️ But don't be too aggressive! Strong CTAs like "Buy now" or "Act fast" can turn your subscriber off as they're probably not yet ready to buy from you. 
Instead, make sure your CTAs are clear, gentle, and easy to follow. Longer phrases like "Discover our latest products" or "Follow us on Instagram" are great CTAs for the welcome email campaigns. 
Social proof
The welcome email series is a great opportunity to introduce your subscriber to your brand – and there's no better way to do that than by sharing social proof. 
We're psychologically wired to follow the "wisdom of the crowd." So, by including client reviews, testimonials, or examples of successful use cases of your products, you can quickly build credibility and trust with your new subscriber. They'll think, "If it worked for them, it'll work for me!"
An unsubscribe link
When you send email campaigns to your subscribers, you must adhere to data processing agreements, such as GDPR. 
One extremely important requirement you cannot overlook is including an unsubscribe link in your email campaigns. Doing this will give subscribers a way out of your email list whenever they decide to take it. 
It's equally important to make sure your subscribers get your email campaigns in the first place. Sometimes, your emails may end up in your subscribers' spam inboxes. Your welcome email flow is the perfect opportunity to invite subscribers to add your email address to their "safe senders" list, so your emails can avoid getting flagged as spam. 
Examples of the Best Welcome Emails
There's no better way to explain how to craft a killer email welcome series than to illustrate it. So, we've compiled some of the best welcome email examples we've come across. 
Each example comes with an explanation that sheds a brighter light on what makes each of these emails exceptional. 
Let's dive in. 
Welcome email example 1: Glossier

This is an excellent example of a successful welcome email. Here's what we like about it:
It's really colorful, visually attractive, and pleasing to the eye.
There are a lot of women faces, which means the email is more human. We get a sense of community here, which also serves as social proof of the brand's success and quality.
The images correlate with the textual content. The email talks about how the brand creates products inspired by people and simultaneously shows a variety of women enjoying the products.
There is an invitation to come to the physical showroom and contact the team, which makes the email even more welcoming.
There are calls to action: a link to the brand's Instagram account, a request to "show me more," an invitation to "learn more," "meet them," etc.
The email introduces popular products.
The email mentions free returns and exchanges. This builds trust and prevents post-purchase anxiety.
The last call to action is very appealing: "Fun stuff. And it's free! Take me there." This strategy is very likely to increase click-through rates.
Welcome email example 2: KonMari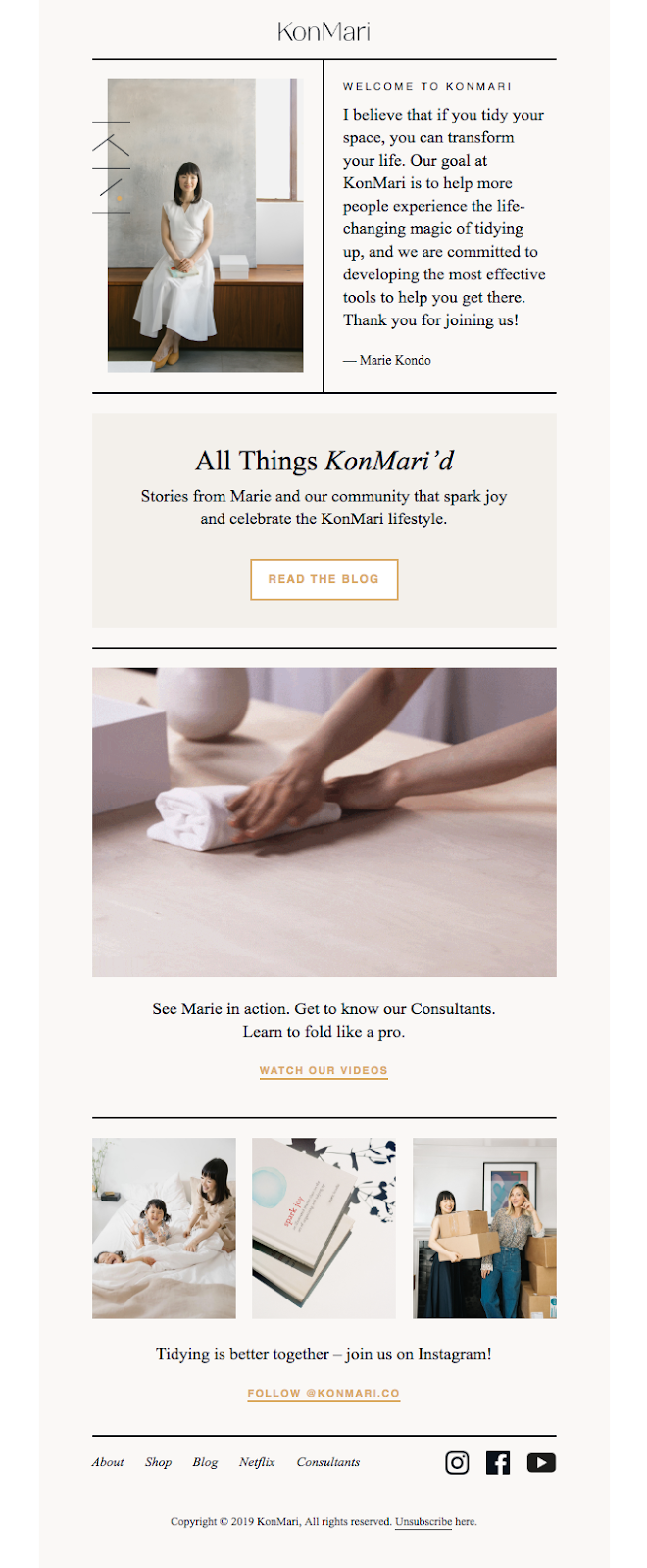 What we like about it:
The email design suits the brand image and goals well. It is very minimalistic and clean, perfect for a company that offers consulting services for people who want to learn the magic of tidying up.
The thank-you note is a signed personal message from the company's creator. It also presents the company's concept and goals.
There is a picture of the company's creator, which makes the email even more personal and welcoming.
There are three calls to action: "Read our blog," "watch our videos," and an invitation to follow the Instagram account.
Welcome email example 3: Chipotle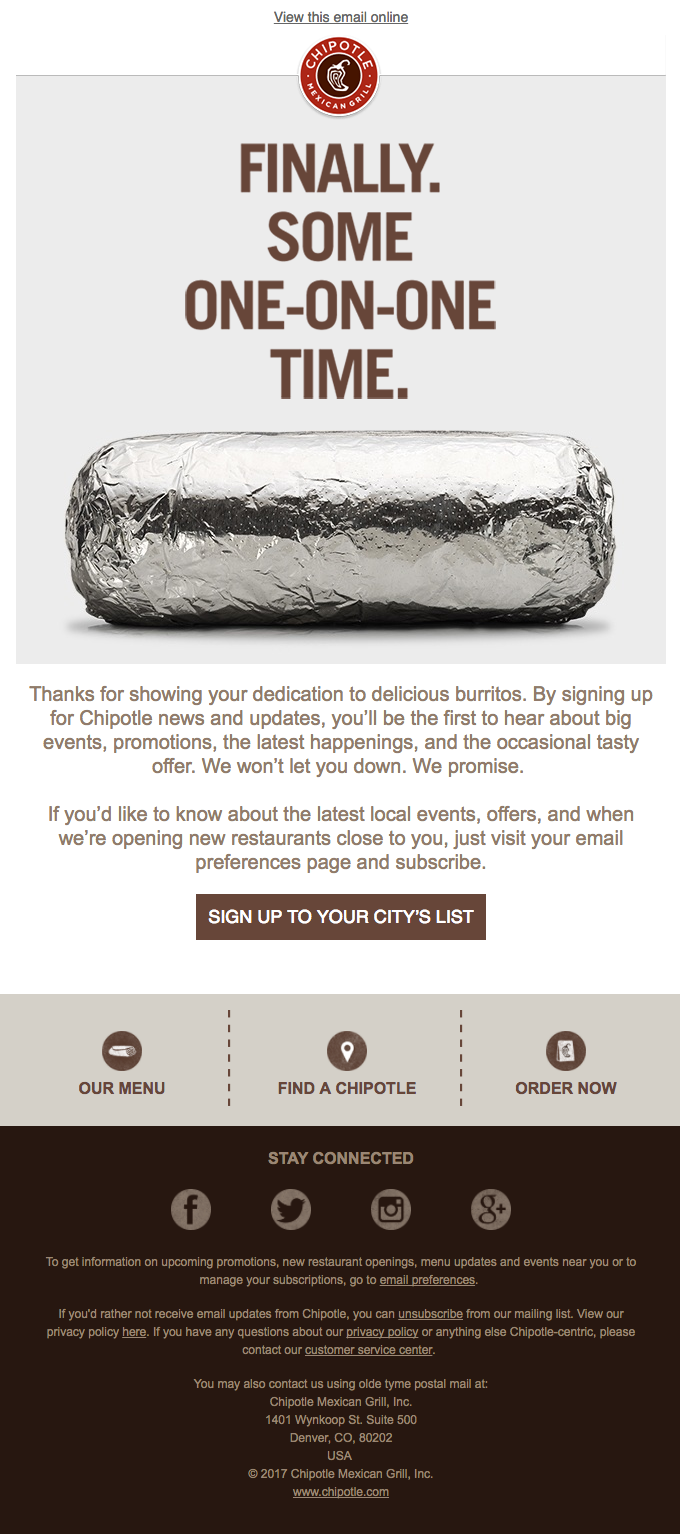 What we like about it:
The first sentence is very catchy and original: "Finally. Some one-on-one time." Truly creative.
The design is simple but uses one of the logo's colors: brown. This makes the template easy to associate with the brand.
There is only one image, but it stands out. First, it takes up a lot of space. Second, it's fun and straightforward. It's simply a burrito in its aluminum packaging. There is no yummy-looking menu, just a ready-to-go burrito that matches the straightforward slogan.
The textual message says thank you to the subscriber and tells them what they can expect from the company.
There is only one call to action: "Sign up to your city's list."
Everything a customer may want to access is linked in the email footer: the menu, the address, where to order, and social media accounts.
Discover other welcome series email examples
If you want to learn more about the art of setting up a successful welcome email series, you can watch our YouTube video on the subject.
In this video, we walk you through four more welcome emails and share what brands did right and what they could improve. You can use those examples to create your perfect welcome email series.
Set Up an Effective Welcome Email Series
Creating a welcome email series requires careful planning and strategy. Before you start writing the welcome emails in the flow, you need to decide on a few key elements, such as the number of emails, the content, the timing, and the goal of the series. 
In this section, we'll walk you through the three main steps of setting up a compelling welcome email series so you can avoid diving headfirst into the deep waters of email marketing.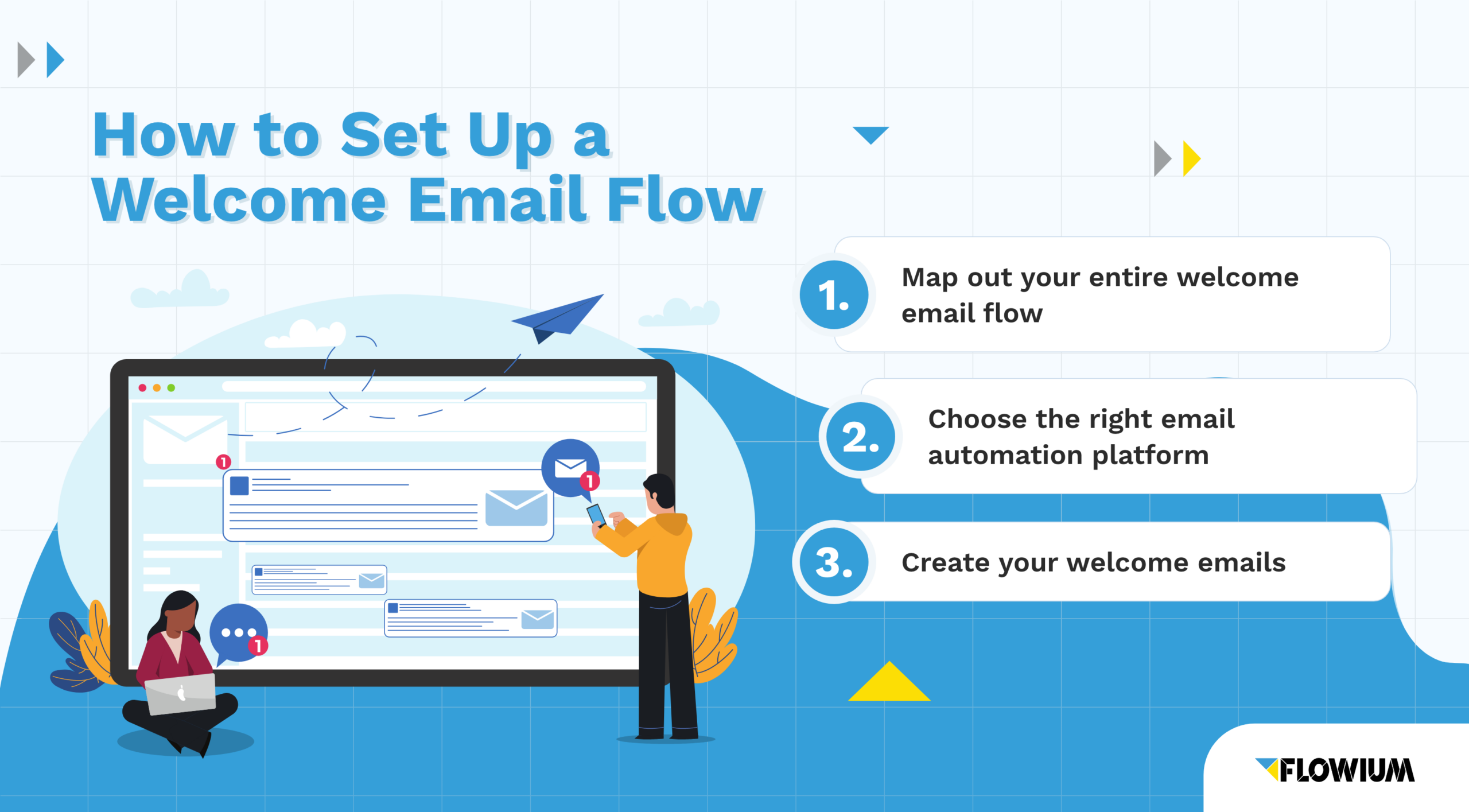 Map out the entire welcome email flow
The most important thing to do when crafting your welcome email series is to map it out. Everything needs to be carefully planned out – from the end goal of your flow to the content you'll write in each campaign. 
Once you've established the end goal of the series, you'll need to determine how many emails you want to include in the flow and the goal of each campaign. This will help you plan out the content of each email, which will depend on your target audience, their stage of awareness, and your messaging strategy. 
Another thing to consider is the timing of your emails. If you have no data to guide your decision, test a few options to see what works best for your audience. A good rule of thumb is to send your campaigns every other day. 
To determine the ideal timing and length of your welcome email flow, consider the nature of your products. The more complex the product, the more welcome emails it'll require. 
Choose the right email automation platform
Imagine having to map out your entire welcome email series and then send each campaign to every new subscriber manually. You'd quickly drown! That's why using an email automation platform is crucial to the success of your welcome email series. 
It'll save you a ton of time, effort, and money. It'll make the entire process – from mapping out to sending out the campaigns – way more efficient. 
With an email automation platform, you'll only have to set up your welcome email flow once. Then, it'll get automatically triggered and sent out according to the predetermined schedule. 
Here, choosing the right email automation platform for your business is crucial. Consider the platform's pricing model, ease of use, and whether its features meet the needs of your business.
Create your welcome emails
Once you've chosen your email automation platform and mapped out your welcome email series, the fun begins: it's time to write and design your emails. 
Having mapped out the series and knowing the goal of each campaign will give you a clear idea of what to write in each email. You might need the help of a professional email copywriter to help you craft engaging and powerful email copy for each campaign. 
Then, you'll also need to include the visual aspect of the emails. Each campaign must be aligned with your company branding. Most email marketing platforms offer customizable email templates you can use to design your campaigns. Or, you can ask a professional graphic designer for help. 
What's important is that each email in the sequence is cohesive with your brand image and voice and carefully thought-out to lead the subscriber towards the end goal. 
Example of a Successful 6-step Welcome Email Flow
There's no one-size-fits-all recipe to create a perfect welcome email flow. Instead, there's a myriad of different ways to do it – and all of them can be successful. 
The perfect welcome email sequence for your business will depend on your target audience, their initial stage of awareness, the end goal of your series, and other things. It's like cooking the perfect meal. You can experiment with different ingredients, adjust the cooking time, and try different techniques until you find the perfect recipe.
But to help you grasp the idea of how to create a successful welcome email flow, we've gathered some examples of fantastic campaigns within a welcome series – each of these emails with a different goal.  
Let's dive in.
Email 1: Welcome your new subscriber and thank him for subscribing
The first email in your welcome sequence should introduce your brand and offer a sincere thank you for subscribing. This email gives you the opportunity to share what type of content the subscriber can expect from you.
For example, this email from Capiche expresses a short and sweet thank-you to the subscribers and invites them to explore more about the brand by providing links to its best pieces of content.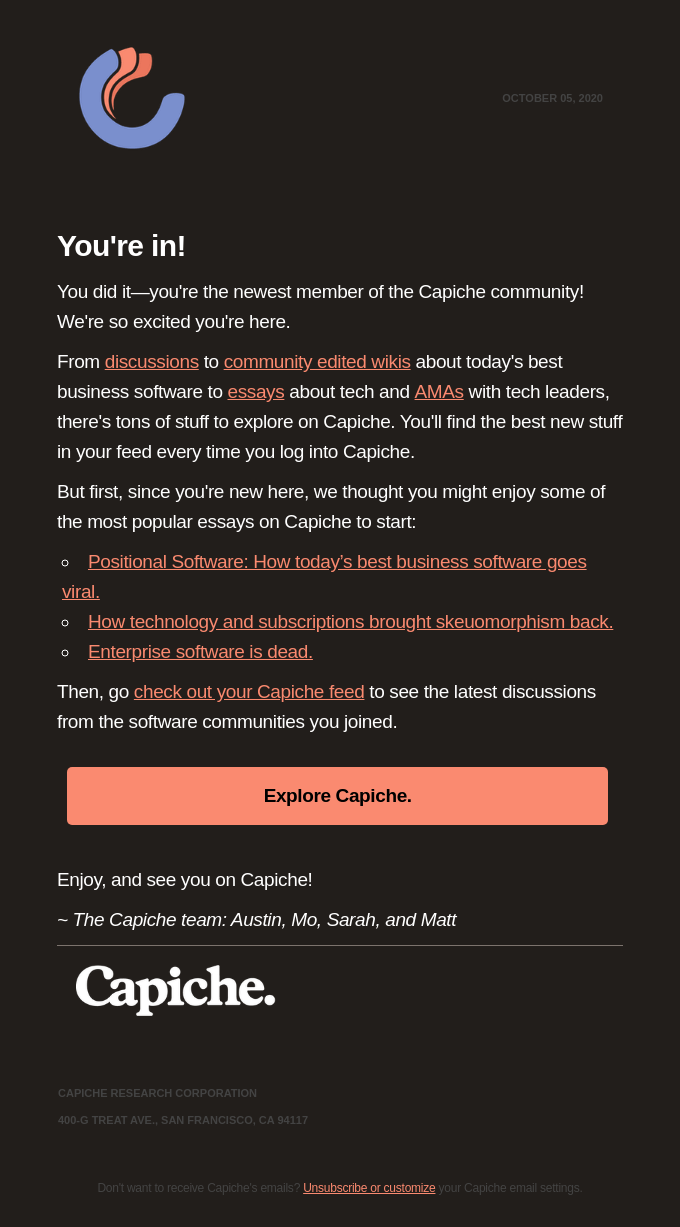 Email 2: Introduce your product or service
The second email in the welcome sequence is a perfect opportunity to give your subscriber a short introduction to your brand's world.
You can explain who you are and what you do. You can also introduce your team. It makes the approach more human and helps you connect with your subscribers and build trust.
It can provide them with a glimpse of the benefits of your product or service and how it will improve their lives. It can be a quick walkthrough of your website, platform, or shop.
For example, this email from Zapier gives its new subscribers a short tutorial on how to get started with their platform. An email with helpful resources like this one will make subscribers feel welcome, supported, and taken care of.

Email 3: Share your brand values or testimonials
Now that your subscribers are aware of what your product or service can do for them, it's time to build their trust.
You can do that by creating an email focused on your brand values or story, which is something your target customers will be able to relate to.
Or, you can do what Everlane did in the email below. You can share a few amazing testimonials of your services or products. Nothing builds trust better than social proof!

Email 4: Inspire to take action
This email in the welcome email flow is a perfect opportunity to invite your new subscribers to take action. You need to tell the subscriber what you need from them. For example, their trust, their honest opinion, etc.
You can:
Have them sign up for a free trial of your service,
Offer them a discount code,
Offer them a gift,
Etc.
This email from Open Spaces does this very well! It is structured around a short and sweet call to action and discount that inspire the subscribers to start their first purchase and explore the online shop.

Email 5: Ask for a review on Google Reviews or directly on your website
Your welcome email series is an excellent opportunity to ask your subscriber for a review – especially after they've already purchased from your store. 
This campaign asks the customer to leave a review in a specific place, whether on Google Reviews, a review site like Yelp, or directly on your website.
Asking your subscriber for reviews can help your business in two ways. Firstly, it'll help you gather social proof that will later translate into more sales. And secondly, it'll provide feedback to help you adjust your products and overall buying experience to what your customers want.
Email 6: Ask for feedback
Another campaign you can include in your welcome email flow is an email that asks your subscribers for feedback. 
This campaign is similar to the one we discussed above. The only difference is that instead of asking your customers to leave a review in a specific place, you'll be asking them to provide their feedback by replying to your email or filling out a questionnaire. 
The goal of this feedback campaign is to help you better understand what your customers really think about their buying experience with you – everything from your products through your site's browsing experience to the checkout process. 
By doing this, you'll gain valuable insights from your customers and figure out what you can do to create an even better buying experience for your future customers. 
FAQs about Welcome Email Series
What is the best time to send a welcome email series?
Send the first welcome email immediately after someone subscribes to your list to capture their attention while you still have it. Delaying your welcome email carries the risk of losing your new subscriber's interest or having them completely forget about your brand by the time they receive your welcome emails.
What is the best template for welcome emails?
The best email template for a welcome series is the one that resembles your brand the most. Since it is the moment to introduce your brand, products, and team, the email template should 100% reflect the spirit of your company.
Can I just send one welcome email, or do I have to set up a campaign?
Some eCommerce owners choose to send only one welcome email, and it works well. But since it's a perfect time to contact your subscriber and convert them into a customer, limiting yourself to just one email can be a disadvantage. A campaign can multiply chances and success numbers. The only rule is not to overdo it and spam someone's mailbox.