Customers. They are the lifeblood of any business. And while running a business involves a lot of things, building a relationship with your customers is probably one of the most important factors contributing to your business's success. 
Every new customer acquired is a customer with the potential to stay with your business for a long time. But how do you ensure they stick around for longer? 
The answer is: by mapping and analyzing their customer lifecycle. 
Doing this allows you to gain valuable insights into your customer's experience and interactions with you so you can build better marketing campaigns and turn one-time buyers into long-term customers.  
In this guide, we'll share everything you need to know about customer lifecycle, from its stages to how to use it in your eCommerce business. 
Let's dive in. 
What is Customer Lifecycle in Marketing?
The customer lifecycle is a process your customer goes through from the first point of contact with your brand to becoming a repeat buyer. 
This process includes becoming aware of your brand, making a purchase, and becoming a long-term customer who advocates for your brand. It usually consists of five stages: 
Awareness (customer becomes aware of your brand)
Consideration (customer is considering the purchase)
Action (customer makes a purchase)
Retention (customer becomes a repeat buyer)
Advocacy (customer recommends your brand to others)
Understanding your customer lifecycle shows you how to communicate with your customers better and what actions to take at each stage. 
What's more, it can help you understand how to market and sell to your customers, which means you can use it to make better decisions about how to allocate resources and improve conversion rates.
Customer Lifecycle vs. Customer Journey
Customer lifecycle and customer journey are two marketing terms used to describe your customer's experience with your brand. What's more, the stages of the customer lifecycle partly align with the stages of the customer journey, making these two terms extremely confusing. 
But while they may be similar in many ways, the main difference between the two is the perspective. 
The customer lifecycle involves the actions a business takes to lead their customer through the five stages, from awareness to advocacy. The customer journey, however, involves the processes the customer goes through while interacting with your brand, from awareness to purchase. 
As a marketer, you need to ensure that you take the right actions to lead the customer toward the next stage of their customer journey. 
eCommerce Customer Lifecycle Stages
As an eCommerce business, your customer goes through various stages before they decide to make a purchase from your store. 
Analyzing your customer lifecycle allows you to determine which actions to take to help your customer move through the process from the first time they come into contact with your brand to the moment they become its advocates.
The stages of the customer lifecycle for eCommerce are awareness, consideration, conversion, retention, and advocacy. Let's take a closer look at each of them.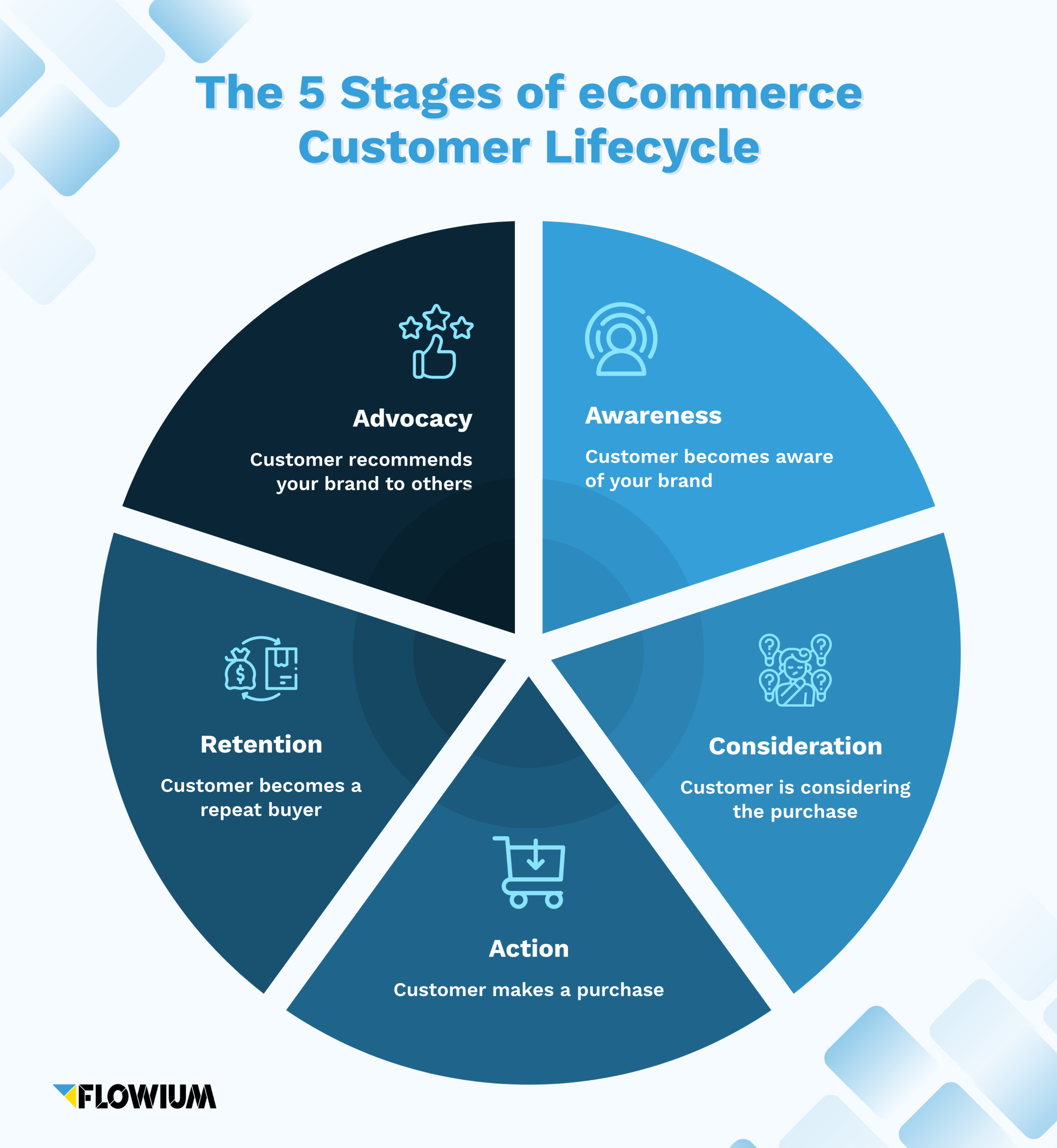 Awareness
The awareness or discovery stage is when your customer makes their first contact with your brand. Here, your brand is on their radar. But you don't want it to end there. Instead, you want to capitalize on this discovery and show your value.
The objective of the awareness stage is to help your potential customers learn more about your brand and what sets you apart from the competition. This way, they become more interested in your business, and you can move them along to the next stage in the cycle.
Effective channels for increasing customer awareness include:
Website content
Blog posts
Landing pages
Podcasts
Videos
Social media content.
🎯 Goal: To boost your eCommerce visibility, provide some value to your prospects and start building their trust.
Consideration
Most customers will compare several businesses that offer the products or services they need before choosing. Therefore, you need to give your potential customers a reason to remember your brand in their time of need.
One way to do this is to put yourself in your customers' faces while providing them with some free value. Remember, you need to show them you can solve their problems.
However, during this stage, a good rule of thumb is to provide more detailed and specific content. Why? Customer's in the consideration stage are already aware of their needs and are looking for possible solutions.
For instance, a customer searching for the most popular bass guitars is likely to be further along in the sales funnel than someone searching for types of guitars.
Here are some tips to get your prospects through the consideration stage:
Use blog posts
Update your website contents
Implement email journeys
Use lead magnets
🎯 Goal: The aim is to engage your customers and build trust here.
Conversion
A conversion campaign tries to trigger a purchase from potential customers. However, customers in this stage usually have some final questions before crossing the threshold. Other times, they are looking for some incentive to convince them to make the purchase.
Some of the answers these customers are looking for include:
Price comparison between alternatives you offer
Feature comparisons between alternative products or services
Testimonials or reviews from previous buyers.
You can also throw some first-time purchase discounts or special offers into the mix to sweeten the pot and improve your conversion rate.
Aside from that, you can also collect surveys from your previous buyers to find out what made them make their first purchase. Then, you can include this information in your customer lifecycle campaigns.
🎯 Goal: Help your leads to convert.
Retention
The customer lifecycle does not end when visitors make their first purchase. Instead, you want to keep them coming back for more.
Thankfully, customer retention campaign planning focuses on improving customer engagement with your brand. But, of course, you also want to provide more value such that the relationship is mutually beneficial.
An excellent way to do this is to send out how-to guides on your products or FAQs for the services you offer. Also, you can provide more discounts and perhaps coupons to make repeat purchases even more appealing.
Besides, sharing details and updates about your brand that are not available to non-customers is another surefire way to make your customers feel valued!
🎯 Goal: To inspire repeat purchases.
Advocacy
Giving pleased consumers the nudge they need to share your business with others is the key to turning them into advocates.
For instance,
Inquire about customer feedback on Google, Facebook, and other relevant third-party sites.
Create a referral program in which consumers are rewarded for referring friends and family to your business.
Building a community is also a great method to attract a legion of brand ambassadors who can help you grow your reach and deepen your brand love. Start by forming a social media community around a brand-related hashtag and highlighting user-generated material on a regular basis.
You may also create a client loyalty program and communicate with them on a regular basis. Creating a loyalty program is one of the most popular ways to do so! This is how it works: customers share links or some coupons with their friends and receive benefits and discounts themselves for doing it.
You can build better experiences if you understand how your clients' views and interactions change as they grow more familiar with your brand.
🎯 Goal: You want your current customers to be marketers and salespeople.
Customer Lifecycle & Email Marketing
As a marketer, your job is to take actions that help your customer move through their lifecycle – and email marketing is an excellent tool to help you do that. 
Sending email campaigns tailored to every stage of the customer lifecycle can help you:
Build awareness of your brand and products
Build trust with your customers
Encourage your customer to make the first purchase
Increase your sales by offering discounts, promotions, or coupon codes
Nurture the relationship you've built with your customers 
So, what types of email campaigns should you send at each stage of the customer lifecycle? 
Awareness Stage 
The awareness stage is when the customer becomes aware of your brand, usually due to your marketing and advertising efforts. After they come into contact with your business a few times, they might be ready to sign up for your email list.
Once you have your customer's email address, you can send them a welcome campaign. This will help make them feel appreciated and will be a great start toward forming a long-term relationship. 
Consideration Stage 
When it comes to the customer lifecycle, the consideration stage is probably the most important one. This is where your customer starts to consider making a purchase from your store – and you can use email marketing to encourage them to do that. 
At this stage, you can send your customers different email campaigns for specific purposes, such as promotional emails with discounts or coupon codes to encourage first-time purchases or nurturing emails to build trust. 
Conversion Stage 
Yoohoo! You've arrived at the stage where your customer made their first-time purchase with you. It's time to thank them! Once your customer has made their first purchase from your store, nurture your relationship with a thank-you email campaign. 
A customer who has already purchased something with you is more likely to purchase again. That's why, at this stage, sending highly personalized up-sell and cross-sell email campaigns can help you turn them into a repeat buyer more easily. 
Retention Stage
Your customer's journey with your brand doesn't end after their first purchase. Now, you want to make an extra effort to keep them as a customer for a long time – and email marketing can help you do this. 
Typically, there are three email marketing campaigns you can send to your customer at this stage, depending on their situation: 
Nurturing emails: The aim of these campaigns is to continue nurturing the relationship you've built with your customer so far. Here, you can send them newsletters with new products, news about your business, or resources they may find useful. 
Promotional emails: The goal behind promotional emails is to get your customer to repeat-buy from your store. This will not only help you increase sales and turn your customers into loyal fans of your brand. 
Win-back emails: Sometimes, you may notice that your customer has gone silent. They haven't purchased in a while, and they're no longer opening your emails. If that's the case, you can send them a win-back email campaign to encourage them to re-engage with you. 
Advocacy Stage 
The advocacy stage is when your customers are ready to advocate for your business and become your best brand ambassadors. The best way to get customers to advocate for your business is by encouraging them to share their positive experiences with others.
To do this, you can send emails that ask customers for referrals. You can even offer them an incentive for every person they refer to your business. This is also an excellent time to thank customers for their loyalty and express gratitude. 
Online Customer Lifecycle Journey Mapping
Each customer goes through a series of steps when buying something online. To understand exactly where your customers are coming from (e.g., organic search, paid ads) and where they're going next (e.g., product page, checkout page), you need to map out their customer journey.
Customer lifecycle journey mapping is the process of identifying each step the customer takes when they move through your website or app. The purpose of mapping out your customer lifecycle journey is to help you determine what you can do to increase conversion rates at each stage of the customer lifecycle. 
Knowing exactly where your customers are dropping off, and the steps they take can help you identify what actions to take to help them move to the next stage. 
When you understand how customers interact with your business, it becomes easier to identify opportunities for improvement.
The infographic below is an example of what the customer journey may look like for an eCommerce business.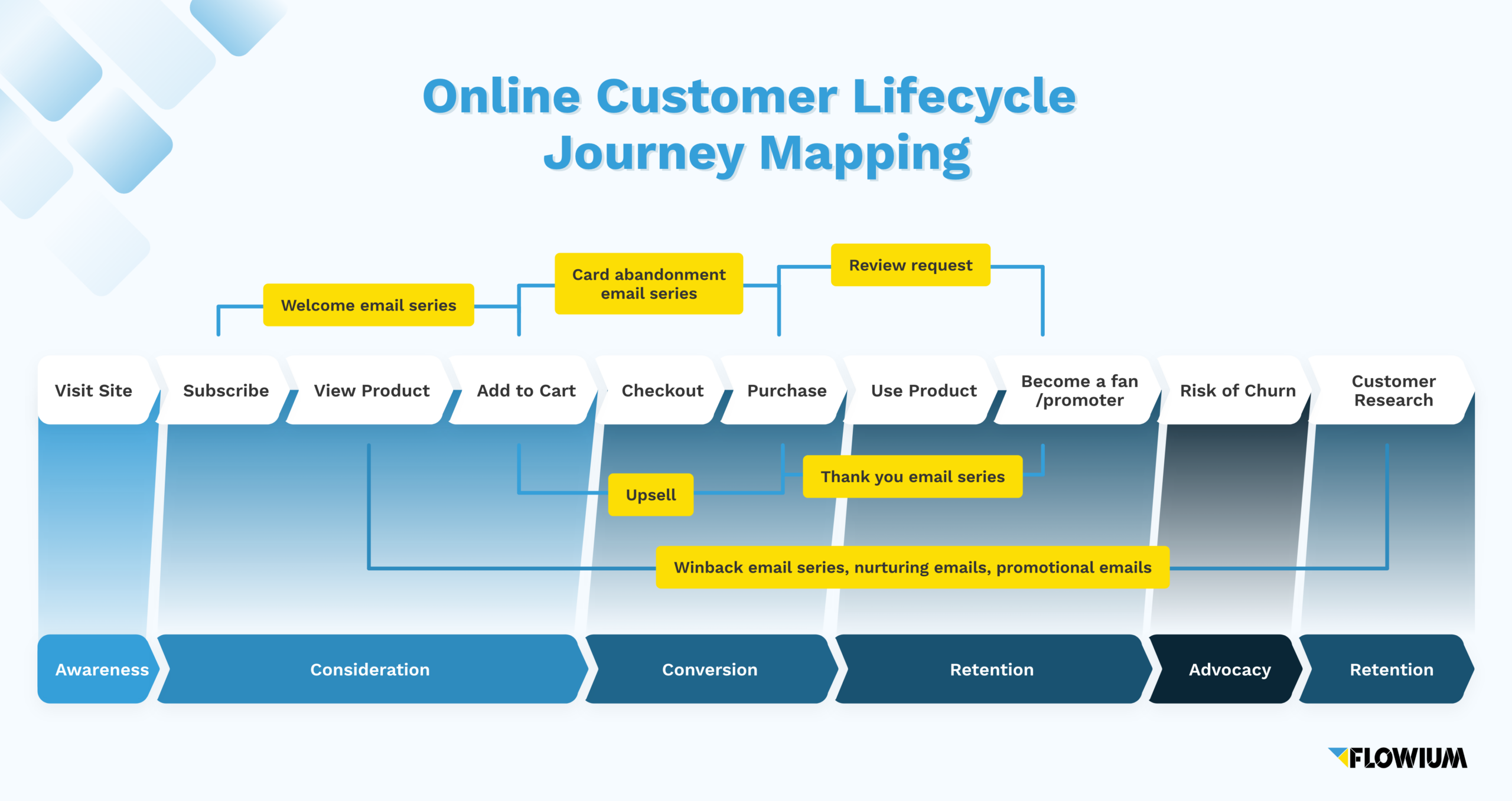 Customer Lifecycle Marketing Strategy
The customer lifecycle differs for every business and product. Since the customer lifecycle is a very dynamic process, the way you'll market to a customer in the awareness stage will differ from how you'll market to a customer in the retention stage.
But how can you know which marketing actions to take at each stage of the customer lifecycle?
That's where the customer lifecycle marketing strategy comes in. A customer lifecycle marketing strategy can help you effectively identify and understand how your customers move from one stage of their relationship with your brand to another, and what actions to take to help them do that.
A customer lifecycle marketing strategy helps you:
Understand your business
Understand your customers
Identify what a successful customer journey looks like
Calculate the length of your average customer lifecycle
In other words, implementing an effective customer lifecycle marketing strategy can help you understand the customer's needs at each stage of this process and to use that information to create relevant marketing campaigns. 
Essential Customer Lifecycle Metrics For eCommerce 
The following are the essential customer lifecycle metrics that eCommerce businesses should focus on:

Open and click-through rates
Open and click-through rates can help determine whether a potential customer has moved up from awareness to the acquisition stage.
As a rule of thumb, a customer that opens your ads or visits your website already knows about your business. But, unless they click on an action button, they've probably not discovered your point of value.
New Customers Acquired
While this customer lifecycle metric focuses on the effectiveness of your promotional efforts by checking the number of new customers that patronize your business, it also gives you insight into how effective your customer acquisition and conversion are.
If the number of new customers you gain is relatively low compared to your marketing efforts, you may need to switch some things up in your customer lifecycle management.
Renewals
The renewal metric is designed to measure how many customers come back to make more purchases — customer retention.
The likeliness of customers returning to patronize your business depends primarily on the first-time experience with you and the relationship you've formed with them.
Upsell Rate
When you run an eCommerce store, it's one thing to sell a product to a customer and another thing to get them to upgrade their purchase.
So the upsell rate focuses on how many customers upgrade their assets and the number of options they have.
Upsell rate also highlights the effectiveness of your customer retention strategy.
Churn Rate
The churn rate is a customer lifestyle metric that highlights the number of people who turn down your product or don't return for another purchase.
If you experience high churn rates, they may be problems with your customer acquisition and conversion strategy. Otherwise, you may need to change your products and services.
Customer Retention
The customer retention metric helps you measure your retention efforts. For example, are your existing customers willing to buy from you again? Do they reach out to you for your products or services?
These questions help you understand how productive your customer retention efforts are.
Customer Loyalty
Customer Loyalty is defined as the willingness of the customer to put their reputation on the line to tell someone else about your business.
This metric measures how many people refer your brand to others or are interested in becoming advocates. Customers who fall under this category have grown from regular buyers to advocates for your brand.
Your Customer Lifecycle Analytics with a CLM Software
The question that you may be asking yourself at this point is how to collect and analyze data about your customers' lifecycle journey. Well, you'll need a customer lifecycle marketing (CLM) software to do that. 
So, let's define what a CLM software is. 
What is a CLM software 
A CLM software is essentially an analytics tool that allows businesses to analyze the customers' lifecycle journey throughout all the stages and touchpoints. 
More specifically, a CLM system helps you gain a deeper understanding of your customer lifecycle so that you can improve the marketing actions you take on each step of their journey. 
It will help you collect information about your customers throughout the entire lifecycle, including:
How they found out about you (via search engine optimization, referral, social media, etc.)
What they bought (product name or category)
How often they buy from you (repeat or first-time buyer)
CLM vs. CRM Software
Now, you may be asking yourself what's the difference between a customer lifecycle management system (CLM) and a customer relationship management system (CRM). 
Yes, both a CLM and a CRM upload, track, and handle customer data across multiple touchpoints. And yes, some of the functions of a CLM and a CRM may overlap. But, in essence, these two management systems differ in the way they help businesses grow. 
The main difference between a CLM and a CRM is their primary focus. While a CRM focuses on monitoring and measuring how customer interactions are handled within your organization, a CLM focuses on collecting and analyzing data about each customer lifecycle stage. 
A CLM helps you improve your marketing efforts at every stage of your customer lifecycle, while a CRM enables you to improve your customer relationships. 
Top 5 Customer Lifecycle Management Software
Customer lifecycle management can be a lot of work. From having to follow up on customers to creating valuable content while maintaining communication via email marketing, it can become overwhelming quickly.
The good news is investing in the right tools and management software can significantly reduce your workload.
Here are our five best recommendations for customer lifecycle management software:
This software offers tools for marketing automation, analysis, and customer reporting.
With this tool, you can manage content, engage in customer communication using several channels and manage customer data for personalized engagement.
Pros
Offers multiple tools for effective customer lifecycle management
Intuitive platform with an easy onboarding process
Allows for extensive client database management.
Cons
Can be expensive
Poor technical support.
Pricing
For lifecycle marketing plans, it starts at $400.
HubSpot is a cloud-based CRM platform that offers efficient tools for keeping up with your sales, marketing, and content management.
Additionally, the platform offers a customizable CRM for collecting, storing, and analyzing customer data.
Pros
Allows for easy integration with third-party tools
An effective email marketing system
Provides users with great support and training materials.
Cons
Its free plan has limited features
Paid plans can be expensive for a small business
Pricing
Paid plans start at $45 per month.
This is a web-based automation platform for enterprise-level customer lifecycle management. It has a case-based platform to help manage and automate tasks and workflow for customer lifecycle campaigns.
Pros
Provides omnichannel client communication
Mobile friendly
Has customizable templates.
Cons
It can be complex to use by non-developers
Has poor integration with non-Pega apps.
Pricing
30-day free trial with Enterprise pricing starting at $90 per feature.
This is a cloud-focused online customer lifecycle software that offers businesses a platform for email marketing, social media management, lead generation, marketing automation, etc.
You can manage your existing customers and generate reports on your best-performing marketing content with this tool.
Pros
Affordable
An interactive customer onboarding process
Offer a free plan with premium features.
Cons
Limited email template builder
It can be hard to navigate without proper online support.
Pricing
It starts at $8.99 per user
This real-time customer success platform helps businesses understand how their customers use their products and personalize customer engagement.
With this tool, you can manage valuable insights regarding your customer lifecycle management strategy, such as your customer churn rate, customer health score, and other customer success indicators.
Pros
Easy onboarding process
Effective customer communication
Intuitive platform with automated CSM plays
Integration with FreshDesk and Saas.
Cons
Churn Score updates only once a day
No email template builder.
Pricing
ChurnZero offers custom pricing for their software based on your business needs.
Frequently Asked Questions about Customer Lifecycle
What are the 5 stages of the customer lifecycle in eCommerce?
The five stages of the customer lifecycle are Awareness, Consideration, Action, Retention, Advocacy. Knowing these stages and their meaning will help you understand your customers, their thoughts, hesitations, and needs.
Why are the 5 stages of the customer lifecycle important to know?
If you are aware of the stages of the customer lifecycle, you can predict the changes in your customers' needs and send the right emails at the right moment. Your email marketing campaigns will get more precise and customer-oriented, which will eventually drive to better sales and engagement.
What to do if a subscriber doesn't show interest anymore during its customer lifecycle?
The best solution is, after a few win-back emails, to delete the subscriber from your email list. This way, you will clean your list and improve your rates. However, before deleting someone's email address, send them a last email to give them one more chance to stay.