As a business owner or marketing professional, you understand the importance of staying in touch with your customers and building relationships with them. 
Even though it may seem the best way to do it is through social media, email marketing is still the king of customer retention. Email campaigns are an effective way to reach your existing and potential customers in a more personable way. 
However, creating successful email campaigns is not as simple as writing an email and clicking "send." It involves creating a message that will appeal to your target audience, designing an eye-catching email template, and selecting the right email marketing software to manage your campaigns.
There are many best practices to keep in mind when designing your email marketing campaign. This guide will cover all the steps involved in setting up a successful email campaign and the best practices for creating a successful email campaign. 
What Is an Email Campaign?
Email campaign: definition
Before we go any further, let's make sure we're on the same page by defining what an email campaign is. 
An email campaign is usually a promotional email that aims to promote a product or a service. However, aside from promoting something, it can have different goals, such as: 
Encouraging your subscribers to take a specific action, such as taking part in a giveaway
Send new buyers a coupon code as a thank you
Welcome new subscribers to your email list
Introduce new products or services
Announce a sale 
You can send a single email campaign (for example, promoting a specific product) or a series of emails – in which case, it is called an "email sequence" or an "email flow." 
Email campaign vs. email sequence: what is the difference?
An email campaign is a single email sent out to your email list. It can be sent out as a stand-alone email or using triggers. For instance, if your subscribers click on a link in an email, it'll trigger another email campaign to be delivered to their inbox at a specific time. 
On the other hand, an email sequence is a series of multiple email campaigns sent to your subscribers over a specific time period. They are usually automated and based on specific triggers. 
For example, you can set up a 5-day welcome email sequence that gets triggered when someone subscribes to your email list. Once the welcome sequence is activated, your new subscriber will receive one email from you every day for 5 days. 
The difference between an email campaign and an email sequence also lies in their purpose. 
Email campaigns are typically used to announce something new, such as a product launch or company event, to promote a sale, or encourage a subscriber to do something specific.
Email sequences are used in more long-term marketing strategies, such as nurturing leads through the sales funnel, encouraging repeat purchases, and increasing customer loyalty.
Both types of emails can be automated so that they're sent out automatically by the platform you're using. With single email campaigns, you send them manually whenever you want.
The Different Types of Email Campaigns + Examples
Email marketing is one of the most effective ways to reach your target audience. It can help you build brand awareness, increase engagement and sales, and improve customer loyalty.
However, email campaigns can fall short if they're not designed properly or are sent to the wrong people at the wrong time. That's why it's important to know what type of email campaigns and sequences you can send and the purpose of each. 
Let's take a look at some of the most common types of email campaigns.
1. Welcome emails
Welcome emails are a must-have email campaign for every eCommerce business. They are essential to start your relationship with new subscribers on the right foot and introduce them to the magical world of your brand.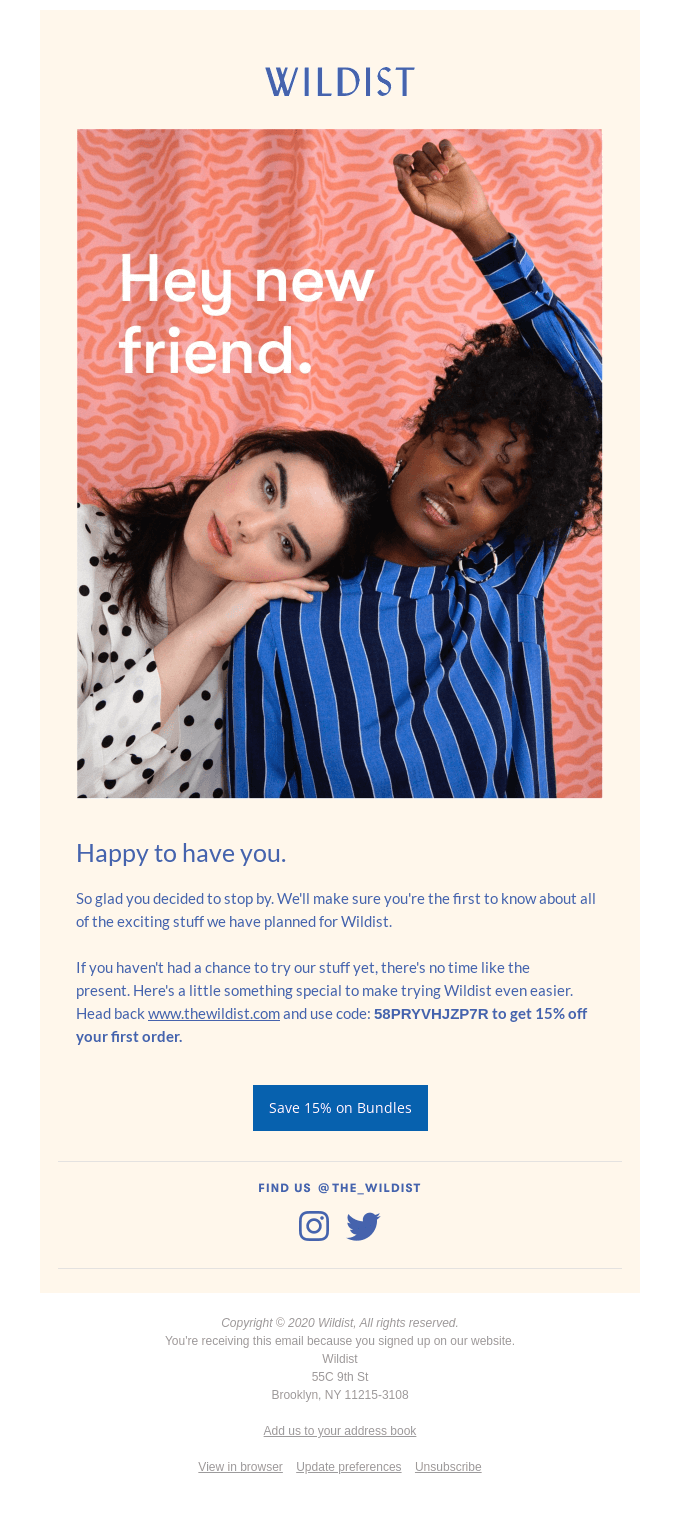 The welcome email campaign or sequence is typically triggered when someone subscribes to your email list. The purpose of these campaigns is to welcome them to your list, thank them for subscribing, and show them what they can expect from your future emails. 
💡 Your welcome emails are the first impressions your new subscribers have of you – and we all know that first impressions are very hard to change, so it's important that you make a great one. 
In addition, your welcome email campaigns are also an excellent opportunity to encourage new subscribers to make their first purchase with you. 
Research shows that only approximately 25% of subscribers are ready to purchase immediately, while 50% are qualified but not ready. To entice your subscribers to make a purchase, you can include a first-time purchase coupon code or similar incentive in your welcome email. 
📌 Here are some tips for creating an outstanding welcome email campaign:
Make an exceptional first impression
Be original
Focus on building a relationship rather than trying to sell
Design for simplicity.
2. Newsletters
Another common type of email campaign in eCommerce is a newsletter. We all receive tons of newsletters from our favorite brands every day. Your inbox gets flooded with them on a daily basis – and that's because they're an excellent way for brands to keep themselves on their customers' minds. 

Newsletters are great for building relationships with prospects and potential customers and maintaining existing relationships with current customers. They're also effective in establishing credibility and trust among customers.
Newsletters can be used to promote the following:
News: Keep your customers up-to-date on industry news, trends, and events.
Special offers: Offer discounts on products or services for a limited time.
Contests: Promote customer loyalty by offering prizes for completing specific tasks, such as filling out a survey.
Product information: Keep informed about new products and services your company offers.
This type of email campaign should only be sent out to regular subscribers – you do not want to overwhelm new subscribers before you've had a chance to build a relationship with them. 
📌 Here are some tips on how to create effective newsletters: 
Diversify your content
Try not to overwhelm your subscribers with overly frequent newsletters
Keep your design simple and easy to read.
3. Promotional emails
Are you organizing a sale? Do you have special discounts for your clients? Perhaps it's the holiday season, and you're offering your subscribers special deals. 
Sending promotional emails is an effective way to let your customers know about an upcoming sale or special deals!
Promotional emails are the most common type of email. Your inbox gets flooded with them for every holiday or event, such as Christmas or Black Friday.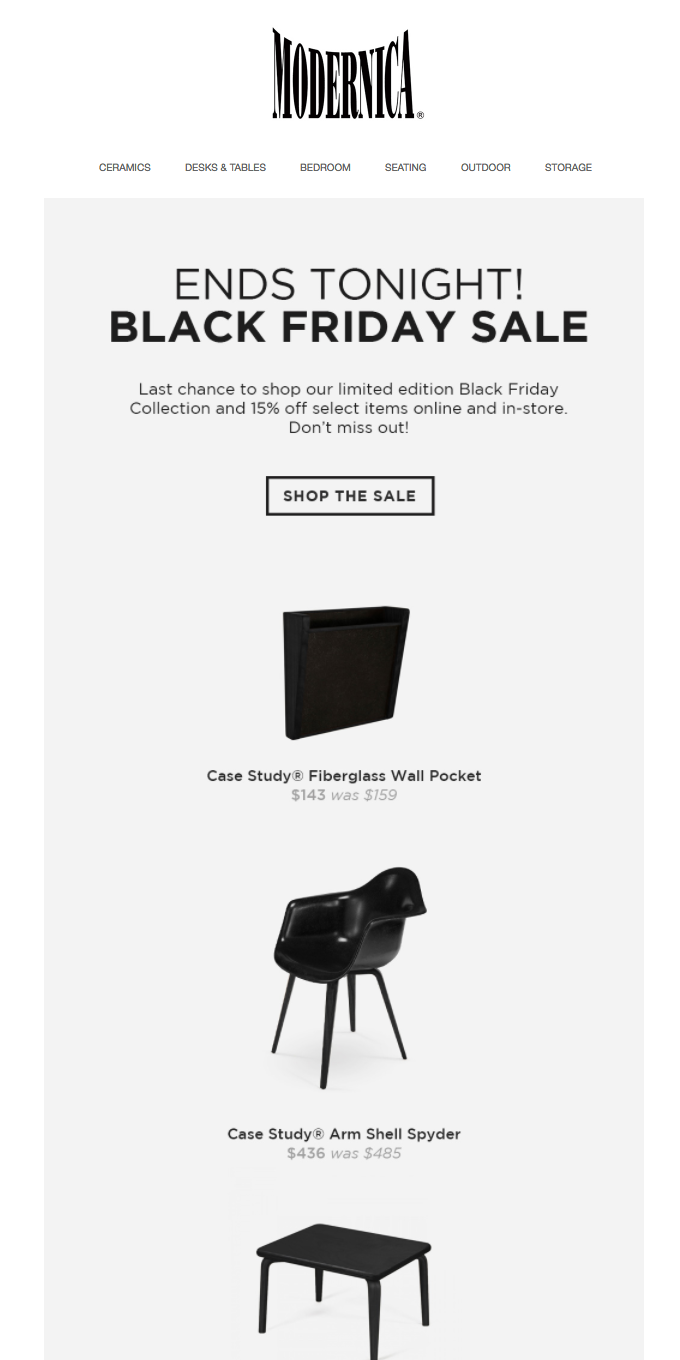 The purpose of these email campaigns is to encourage customers to purchase by offering them special deals, coupon codes, or discounted products.
The most effective way to persuade customers to buy is by personalizing your promotional email campaigns. You can do so by analyzing their behavior and previous interactions with your brand.
However, it's important not to send promotional emails too often. If people start seeing promotional emails as spam, they'll unsubscribe from your list.
📌 Here are some tips for creating better promotional email campaigns: 
Always make your offerings crystal clear
Segment your subscribers and send more personalized offers
Strike a balance between offering discounts and thriving as a business.
4. Abandoned shopping cart emails
Another common type of email campaign for eCommerce businesses are abandoned cart emails. 
These campaigns are sent out automatically when someone adds an item or multiple items to their cart but doesn't complete the purchase. The goal is to remind the customer about the items they left in the cart and encourage them to complete the transaction.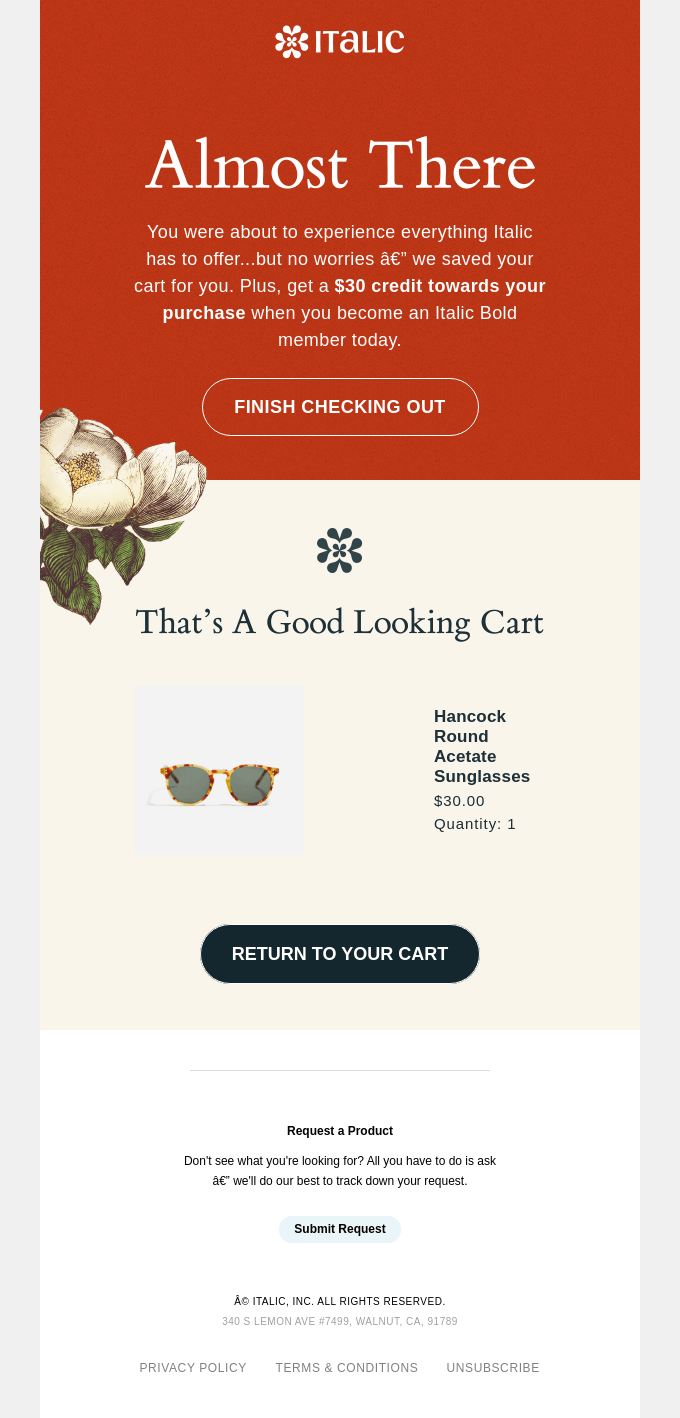 Cart abandonment emails are a highly effective way to recover lost sales. In fact, abandoned cart emails have a high open rate and are highly effective. Statistics say that 45% of abandoned cart emails are opened, and 21% are clicked on. Furthermore, 50% of users who clicked ended up completing their purchase.
📌 Here are some tips for creating effective abandoned cart email campaigns: 
Personalize each email campaign
Make it easy for them to come back and finish their purchase
Create a sense of urgency
Include social proof and links to reviews and testimonials.
5. Re-engagement emails
The next type of email campaign every eCommerce business needs to implement in their email marketing strategy are re-engagement emails. This email campaign can be critical in helping you win back subscribers that may have been drifting away.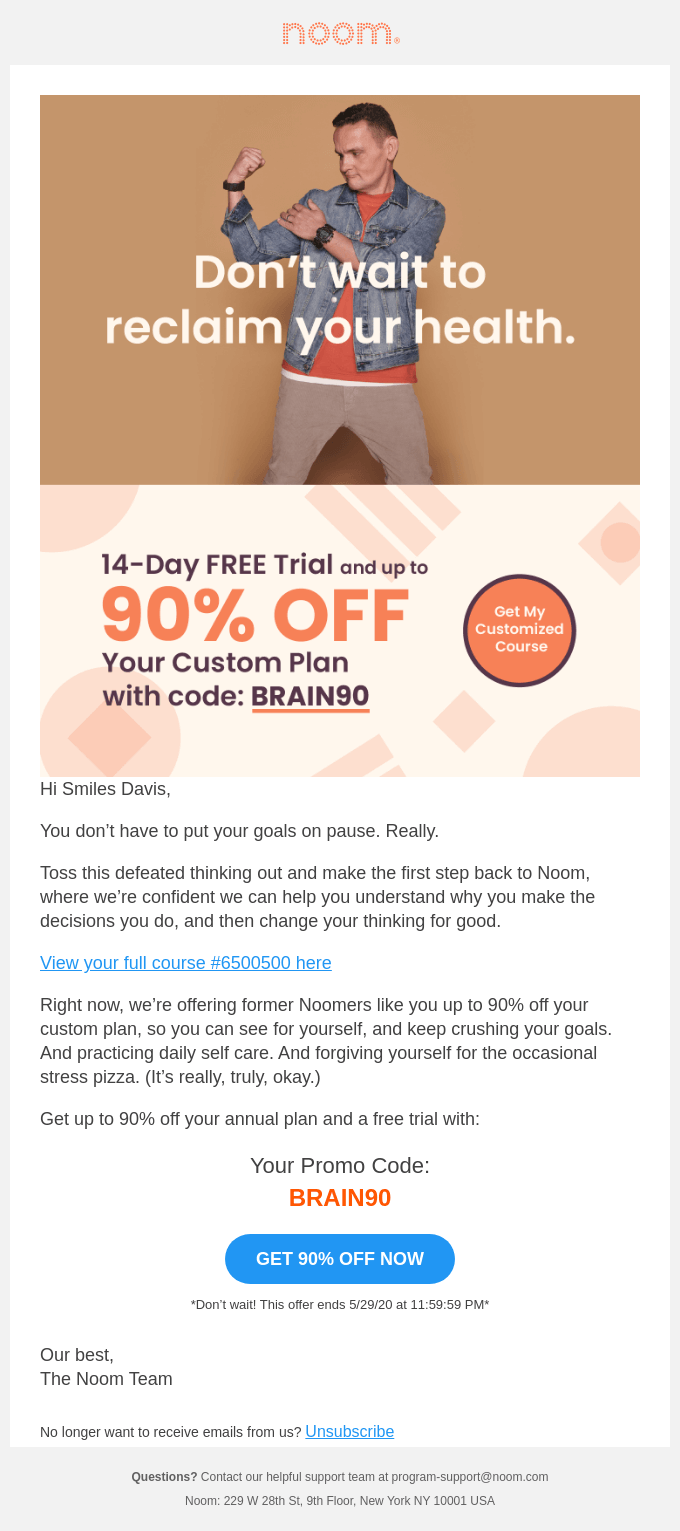 Re-engagement email campaigns are emails sent out to subscribers who have been inactive for a certain period of time. Their goal is to reignite their interest in the brand and renew the relationship. 
These campaigns will often include an incentive to encourage customers to come back. It can be anything from a discount coupon code to sharing new products you think they might like but have missed. 
Another excellent strategy to reignite your customers' engagement is asking them for feedback. This way, you remind them that you value their opinion. It's a great way to win the back!
📌 Here are some tips to improve your re-engagement email campaigns: 
Keep your engagement emails straight to the point
Don't pester. As they say – if they love you, they'll come back
Include an incentive your customers will appreciate. 
6. Lead nurturing emails
If there's one type of email campaign that an eCommerce business must have, it's a lead nurturing campaign. 
Why? Because these campaigns are the most effective way to address a lead who's not yet ready to purchase and move them through various stages toward becoming a paying customer.
In other words, lead nurturing email campaigns target subscribers who are yet to buy something from you. Through this campaign, you inspire and guide potential customers to make a purchase decision.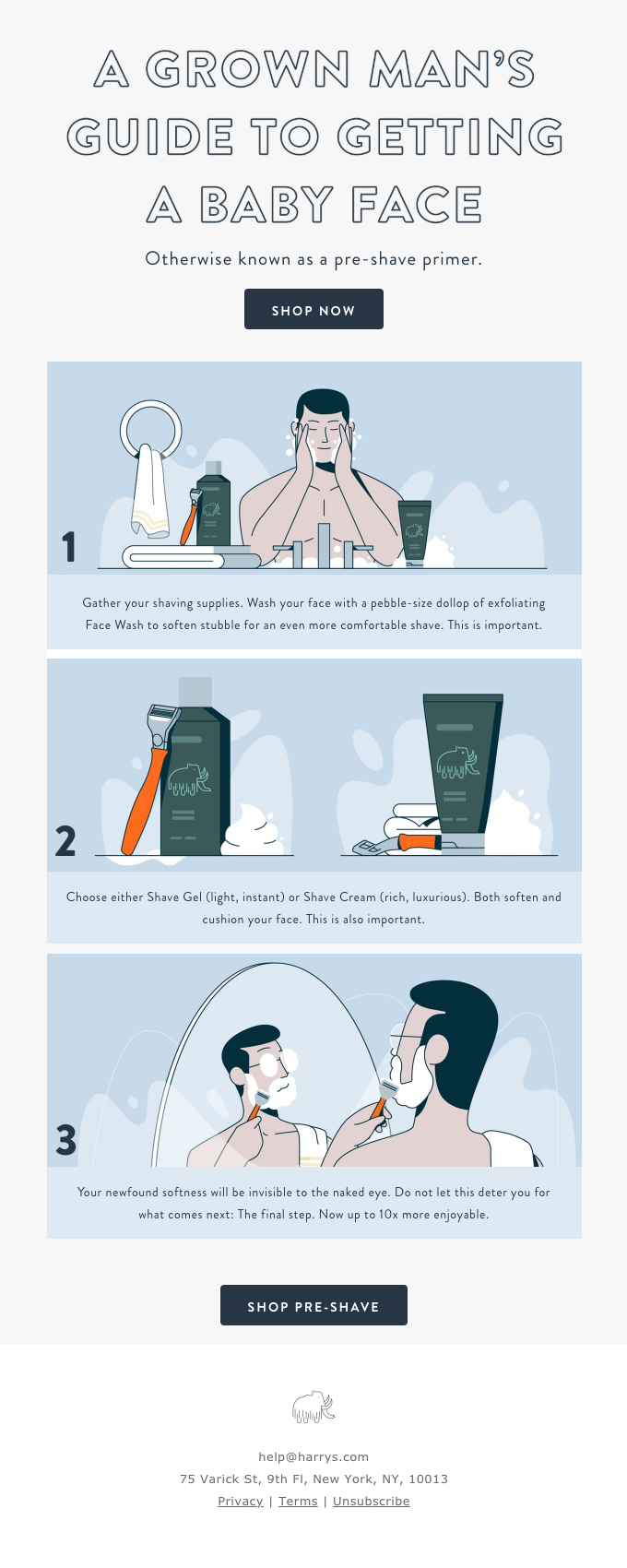 Lead nurturing emails are usually sent to prospective customers who have expressed interest in a product or service but haven't purchased anything yet. These campaigns can be used to educate people about a product, build interest and excitement, and ultimately drive conversions.
These emails are extremely important because they can help you boost sales and increase your ROI directly. 
📌 So, here are some tips on how to write effective lead nurturing campaigns:
Understand your customer's pain points or needs.
Create highly personalized content for your subscribers.
Don't wait to nurture leads — do it right from the start of your relationship!
7. Announcement emails
Announcement emails are another common type of email campaign for eCommerce businesses. An announcement email is exactly what it sounds like – an email sent to announce something new. 

This could be a product release, a new feature, a software update, or any other kind of newsworthy event. Announcement emails are effective because they give your customers an opportunity to learn about the latest news from your brand without having to hunt through social media or other sources for updates.
Announcement campaigns are an ideal way to keep customers up to date with the latest news from your business. 
📌 Here are some tips for writing successful announcement email campaigns:
Keep it short and sweet. There's no need to write a press release!
Make sure the information is relevant to your customers. 
Write as if you were writing to a friend. This will make your customers feel special. 
8. Cross-selling and upselling emails
Cross-selling and upselling emails are an excellent way to increase sales by introducing new products and services to your customers.
If you want to cross-sell, send an email to your subscribers with links to complementary or related products or services. If you want to upsell, send emails with offers for higher-priced items.

In both cases, use the same strategy: offer something related to what people have already purchased from you. If someone buys a book about vegetarian recipes, include an offer for another book about healthy eating or a plant-based diet. If someone buys a summer dress, offer a few clothing items that go with it. You get the idea!
Cross-selling and upselling campaigns are usually sent as a standalone email triggered by a completed transaction. 
📌 Here are some tips for creating successful cross-selling and upselling emails: 
Promote products or services that are closely related to the customer's purchase 
Personalize your emails to your customer's individual preferences
Don't push for the sale. 
8 Benefits of an Email Campaign
Here are some of the benefits you can gain from launching an email marketing campaign for your business.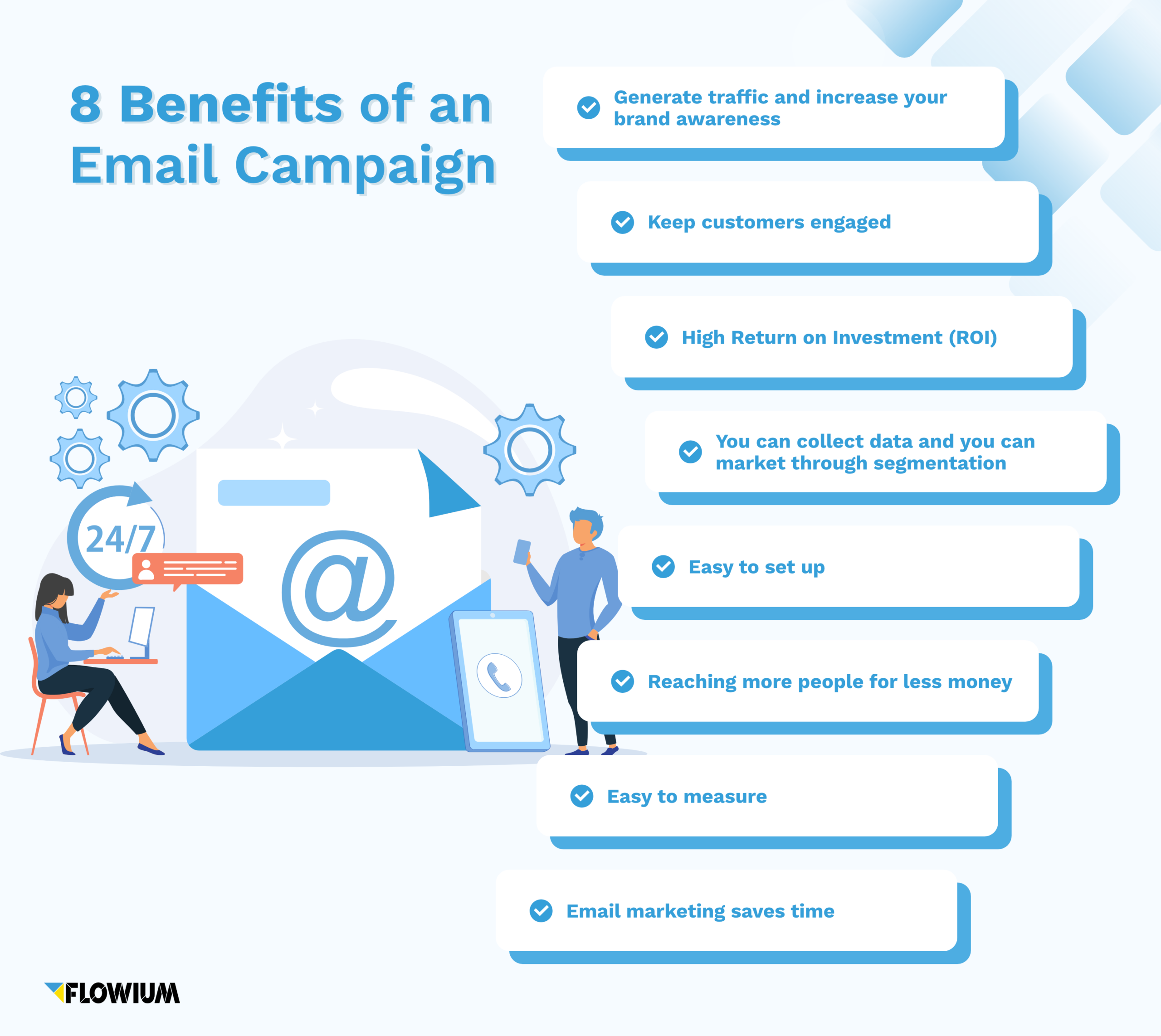 1. Generate traffic and increase your brand awareness
Email marketing is one of the most effective ways to increase brand awareness and drive traffic to your eCommerce store.
With an email campaign, you can reach a targeted audience and deliver information in a way that's easy to digest, which can help encourage your subscribers to purchase – and, in turn, increase sales.
In addition, email campaigns give you the opportunity to connect with people on a personal level, which can lead to greater customer loyalty and satisfaction.
They also allow you to build relationships with potential clients before they purchase from you, which can significantly increase sales conversions.
2. Keep customers engaged
Whether you're sending out birthday wishes, announcing a new product or service, or sharing discounts and offers, email campaigns can help you stay in touch with your audience and keep them engaged. 
Studies show that a customer needs to interact with a brand at least 8 times before they are ready to make a purchase. Sending out regular email campaigns can help you speed up this process and stay top of mind for your customers. 
3. High Return on Investment (ROI)
An email marketing campaign is one of the best ways to get high returns on your marketing investment. On average, you're more likely to get a better marketing ROI with emails than any other medium.
Let's use numbers to show you how effective email marketing campaigns are.
According to statistics, for every 1 dollar you spend on email marketing, you're likely to get a return of at least 36 dollars. While this may not seem impressive now, imagine you invest hundreds of dollars into your email marketing campaign, the numbers on your returns will certainly rack up faster!
4. You can collect data and market through segmentation
There's no doubt about it: if you want to increase sales, you need to send highly targeted email campaigns – and segmenting your list can help you do that. 
💡 A good email marketing tool will allow you to segment your audience and send out personalized emails, which are more likely to convert. 
Most email marketing tools allow you to collect relevant data about your email subscribers that you can use to effectively segment your audience – and tailor your email campaigns to each segment. This will guarantee higher open and click-through rates, as well as better customer engagement and satisfaction. 
Segmentation is one of the biggest advantages of email campaigns, as it allows you to reach the right audience with the right message at the right time. 
5. Easy to set up
The ease of setup and execution is another one of many email campaign benefits.
You don't need exceptional and advanced skills to execute email marketing campaigns. You don't even need a large team to carry out an email campaign successfully.
All you need to do is choose an email marketing platform and create your segmented lists. Then, you can start building automated processes that will send emails to your recipients based on their position in the sales funnel and their actions on your website.
Of course, you have to throw in some flair with your email designs, content, and offers.
That said, hiring an email marketing expert is usually a wise investment.
6. Reaching more people for less money
One of the benefits of email marketing campaigns is how cost-effective it is. With your email marketing campaign, you can tell thousands of people about your product and services without breaking the bank.
Admittedly, if you invest in a specialized email marketing platform, you may have to pay a premium for sending hundreds of emails at once and more efficient email management.
But, these costs are considerably lower than what you'd get with other marketing options.
7. Easy to measure
An essential benefit of the email marketing campaign is that you can measure your progress easily.
Email marketing has several metrics (such as open rate, click-through rate, etc.) that you can use to decide how well you're doing or where you need to improve.
Since email campaigns are easy to track, you can always ensure you're focusing your resources most productively.
The best part?
You can effect changes to your email marketing campaign almost immediately!
8. Email marketing saves time
Another one of email marketing benefits is that it helps you save time.
Time is a currency that every business, including your eCommerce business, spends. But, unfortunately, it never seems to be enough. Therefore, you should find ways to maximize your time as a business.
One such way is by choosing to use email campaigns for your marketing efforts. Emails are one of the fastest ways to get information and offers from your eCommerce business straight to your potential customers and existing clients.
Design Your Email Campaigns vs. Use Email Campaign Templates
Email design is one of the key factors to your email campaign's success. An email campaign design directly impacts how your audience will receive it, no matter what your email is about and how engaging its content is. 
People are visual creatures – we're attracted to visuals more than text. Well-designed emails will help you stand out in your customers' inboxes. This is why, if you want your email campaigns to succeed, you need to pay attention to your email design. 
The design of your email includes things such as the colors, fonts, images, and even the formatting of the text.
With that said, there are two options you have when it comes to creating an email campaign:
Option 1: Designing your own campaign.
Option 2: Using an email template.
Let's dive into the pros and cons of each one. 
When to use an email campaign template?
Luckily for business owners who don't have the skills, resources, or time to design their email campaigns, there are many email design templates available online. Most quality email marketing tools offer a vast library of email design templates as part of their service. 
Moreover, you can purchase high-quality templates on sites like Creative Market. Once you have found a template that meets your needs, you can download it and use it in your own campaigns.
This option is easier because all the work has been done for you. While using pre-designed email templates is an excellent option as a starting point for your email campaigns, it is important to customize the design to fit your brand and its personality. 
When to design your own email campaign?
If you're looking to send a one-off email or you're just experimenting with email marketing, then using an email template can be great. 
But if your goal is to implement an advanced email marketing strategy into your business to increase sales and customer retention, then designing your own campaigns may be the best option. 
This option is more time consuming and requires more skill and effort than using a template. However, it allows you to create a unique design that fits the needs of your brand and its audience. 
In addition, designing your own campaigns will help you create a personalized experience for your subscribers. 
The pros & cons of designing your email campaigns vs. using email campaign templates 
To help you decide which option is best for you, here are the pros and cons of each. 
 

PROS

CONS

Designing your own campaigns

Unique designs fully customized to your brand
Personalized experience for your customers 
Design optimized for the user experience of your audience 

Costly, especially if you need to hire a professional designer
Time-consuming 

Using pre-designed email templates

Quick option to implement at the beginning of your email marketing experience 
Cost-effective, as they usually come for free with the email marketing tool

Limited customization options
You may need to redesign them once your business grows, which incurs an extra cost 
How to Create an Email Campaign: Simple Step-by-Step Guide
Creating an email campaign is easy if you follow a few simple steps. Here are a few email campaign best practices.
1. Set Your Goals
Before you start an email campaign, decide what you want to accomplish by setting a goal. Defining your goals will determine the more specific details of your campaign — from the content of the emails to their frequency and CTAs.
Some typical email campaign goals include:
Drive more traffic to your website
Increase sales
Increasing customer engagement
Welcoming new subscribers and familiarizing them with your business so that you make an excellent first impression and build a relationship
Give out important information
Maximizing ROI
Promote your products and services
Improving click-through and open rates
Raising loyalty
Building a good relationship with your customers.
Boosting engagement with your content, products, or services
Nurturing your existing subscribers by giving them value for their time and loyalty
Re-engagement campaigns for subscribers who haven't been very active.
By defining and setting your email campaign goals, you can concentrate more effort on achieving that goal.
2. Choose an email campaign software
There are different email campaign software platforms widely available. Depending on your goals and brand, you need to find one that will fit your needs.
With an intuitive user interface, good email marketing software should allow you to build engaging email newsletters.
Your email marketing software should make managing your contact list, segmenting consumers into groups, and tracking the success of your email marketing campaigns simple.
Most significantly, good software also keeps your email campaigns out of the spam folder. The following are four of the most popular email campaign software:
3. Build a list of your target audience
The most successful email campaigns have one thing in common — they have a list of relevant leads interested in the products or services. Therefore, instead of blasting out your emails to random recipients, take the time to build a list of potential customers.
An excellent way to build a list of targeted receivers is to convert visitors to your website to subscribers on your email list.
No matter what your products or services are, you should have a clear image of who your customers are. These are the people you want to target with your email campaign.
💡 Creating your email list is time-consuming but necessary. An email list is important because it will form your target audience.
You can choose to buy an email list, but you should grow it organically, as this is a good way to reach people who genuinely want to receive your emails.
Build your email list by:
Obtaining people's email accounts
Using CRM software
Requesting new emails on social media and your website
Contact management systems
E-commerce systems.
Part of your email marketing strategy should be able to send emails to those who did not want them in the first place. Before you send an email to someone, always get their permission to do so.
If a subscriber does not confirm their email subscription, it may mean that they do not want to receive your emails. Don't send emails to disinterested people.
Personalization goes a long way in creating successful email marketing strategies. In most instances, you should use customer data to personalize emails for your subscribers.
Personalization could be using a customer's first name or showcasing products and services that they may be interested in. The email should be tailor-made as much as possible.
4. Segment your audience
Segmentation is important because you need to send the right emails to the right people. Segmentation can be done easily using the right tools and CRM software.
You can segment your subscribers by:
Industry
Demographics
Age
Buyer behavior
Sales cycle
Past purchases
Geography
Email management
Expressed interest.
5. Design your emails
The next step in how to create your email campaign is to design your email.
The key to the best email designs is focusing on the message you want to pass across while keeping your design simple.
A good rule of thumb is to establish a hierarchy with the vital elements of your email. In other words, you place crucial information you don't want your subscribers to miss closer to the top and other details lower.
This way, even when your readers only scan through the email, they are less likely to miss out on critical points.
📌 Here are some of the tips you should always follow to create a good email campaign:
Formatting and structuring your email campaign is an important part of a good design. Avoid heavy text and use images that are eye-catching.
Use personalization and catchy subject lines along with good CTAs.
Create good content to engage the reader. It would be helpful to hire the services of a professional who can create your email marketing campaign for your brand.
Don't forget to highlight your brand by using your brand colors, logo, and slogans.
Optimize your email campaigns for all devices, including mobiles and tablets, other than desktops.
Email campaigns are relatively simple to set up, and it provides complete control and allows you to communicate directly with your customers.
Note that it is possible to use software to design emails. Indeed, a provider of an email marketing platform will guide you through each step. As an example, most email providers offer templates and guidance as to where you should place your CTAs and headers.
It's critical to realize that your email campaign success is determined by the email marketing software you use, your budget, your email campaign strategy, overall design, targeting your subscribers well, and using the right campaigns at the right time.
6. Test your emails and make sure that you provide value
When it comes to email marketing, it is important to test your emails before you send them. Make sure that there are no mistakes in the text, subject line, or links. Also, ensure that the email is readable on mobile and tablets other than desktops.
💡 An email campaign strategy that is well-planned will go a long way in increasing ROI and in creating brand loyalty among customers.
Remember to monitor your benchmarks and keep a track of how your campaign is performing. Email campaigns are constantly evolving, and you may need to tweak them accordingly!
Ask yourself what value you are providing to your subscribers and why they should read your email.
Try providing more information rather than pushing sales right at the beginning of your email campaigns, and this will not set your email apart.
7. Enable autoresponders
An autoresponder is used to automatically send emails. These are triggered by specific actions or can be based on time.
An autoresponder is used to:
Build trust
Nurture leads
Convey important information about services, promotions, or products, and
Provide confirmation that data was received.
8. Enable tracking
Email tracking is used to increase email conversions and improve engagement.
With tracking, you can optimize your email campaigns and find out how your email campaign is being received by your subscribers.
A few metrics you can track are the:
Open rate
Click-through rate
Unsubscribe rate, and
Bounce rates.
Once you have created your email campaign, choose the best time to send your email campaign and keep track of how they are running.
Don't be disappointed if they do not run well at first. Look for areas where you can improve, and you will soon understand how email campaign management works.
How to Measure the Success of Your Email Campaign Strategy?
To know whether your email campaign strategy is successful or not, there are a few important metrics to monitor.
You should be keeping a close eye on these metrics each week for a period of time to know how they are performing. Let's take a look at some of these metrics.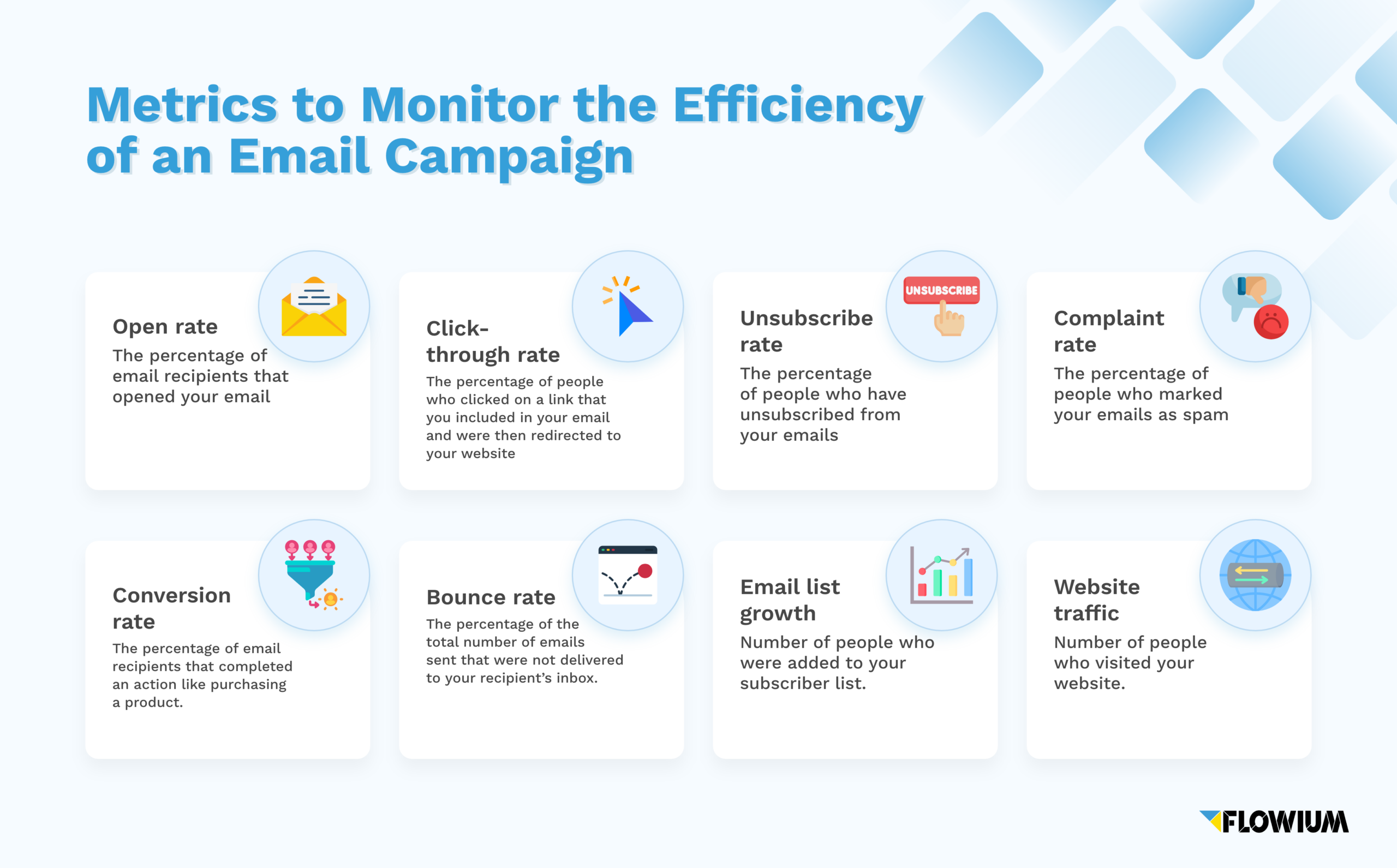 Open rate
A good email marketing campaign should ensure that you have a good open rate. The open rate is the percentage of email recipients that opened your email. This is one of the most important metrics to measure, as you need to know how your recipients are reacting to your email.
If your open rate is low, it means that not many people are opening your emails, and your campaign is not doing well.
💡 Your open rate will vary depending on your list size, your target audience, and your industry. An open rate between 20 and 40% is good, and anything above that is excellent.
An easy formula to calculate the email open rate is to divide the number of emails opened by the number of emails sent minus the bounced emails.
Click-through rate
The click-through rate is measured by how many people clicked on a link that you included in your email and were then redirected to your website. The average click-through rate is around 15%.
To improve your click-through rate, you should link not only the products for sale but also create links for interesting content and blog posts that could increase sales.
The click-through rate can be calculated by dividing the number of click-throughs by the number of messages delivered.
Unsubscribe rate
The unsubscribe rate can be calculated by dividing the number of unsubscribes by the number of messages delivered.
It is used to determine how many people have unsubscribed from your emails.
Complaint rate
The complaint rate is important as well and should be tracked every week it is used to calculate how many people marked your emails as spam.
Conversion rate
The conversion rate is the percentage of email recipients that completed an action like purchasing a product.
The formula for conversion rate is the number of conversions or those who completed the action by the number of emails delivered multiplied by a hundred.
Bounce rate
The bounce rate is the percentage of the total number of emails sent that were not delivered to your recipient's inbox.
Email bounces happen when an email is not delivered to the recipient due to a certain reason. Email bounces are of two types: hard bounces and soft bounces.
The former occurs when you cannot deliver your email message in cases such as when an email address does not exist anymore. Soft bounces happen due to a temporary problem like the recipient's inbox being full. Always delete email addresses for hard bounces.
Email list growth
Another metric is your email list growth or how many people were added to your subscriber list. If there are more people on your list, you can reach out to a larger audience and get more sales eventually.
An email marketing report will show your subscribe and unsubscribe rates in the past month. Always opt for a positive growth rate, and if you had a bad month, you can always improve your strategy.
Website traffic
You should always be aware of how your emails are doing from other channels like social media, SEO, and marketing channels, as all of these are interdependent.
The goal of a good email marketing campaign is to increase website traffic and conversion rates. Thus, you should track how your email campaigns are doing with the web traffic as well.
Frequently Asked Questions About Email Campaign Best Practices
What is an email drip campaign?
An email drip campaign is a series of automated emails you send to your subscribers at specific intervals. Drips campaigns are often used to nurture leads and drive conversions.
What is a good open rate for an email campaign?
While the average open rate for an email campaign that is considered good is between 17 to 28%, it varies depending on your industry. To find out what open rate you should aim for, check out relevant email marketing statistics for your industry.
What is the best time to send an email campaign?
The best time to send an email campaign is when your audience is most likely to be engaged. That may be in the morning, at lunchtime, or at the end of the working day. It will depend on your audience's behavior and habits, which can vary considerably for every business.
How effective are email marketing campaigns?
Undoubtedly, email marketing can help you convert prospects to subscribers and eventual customers. Emails remain the most effective way to reach the bulk of the world's population because at least 4 billion people use email! Moreover, a study has shown that emails can make a purchase happen three times faster than social media.