When you think about the biggest sale of the year, the first thing that pops into your mind is Black Friday. Without a doubt, Black Friday is the most widely embraced retail phenomenon around the world. 
During the Black Friday and Cyber Monday weekend, manufacturers and retailers heavily promote Black Friday via all their marketing channels, including sending Black Friday emails to consumers to maximize sales during this period.
Whether you're looking to stay ahead of the curve and get your email campaign ready for Black Friday or Cyber Monday, in this article, we'll cover everything you need to know about Black Friday emails. 
Why Black Friday Emails Are Important
On Black Friday and Cyber Monday, slashing your pricing ensures that you make a load of money.
According to the National Retail Federation's recent report, in 2021, Americans spent $886 billion during Black Friday sales. Surprisingly, the same report found that over 62% of shoppers believe that Black Friday is a marketing scam that intends to get them to spend more money. However, 80% of shoppers buy on Black Friday and Cyber Monday anyway.
This only proves that Black Friday and Cyber Monday are the two most important shopping days of the year – and sending your Black Friday email campaigns can be a huge opportunity to increase your bottom line. 
Here are a few reasons why Black Friday emails are important.  
Boost open and click-through rates
Black Friday and Cyber Monday are fantastic times to boost open and click-through rates because more consumers are likely to buy at that time.
According to the Adobe Holiday Shopping Report, in 2019, Black Friday email campaign open rates increased by 6% and click-through rates by 4% as compared to the rest of the year. 
Moreover, Omnisend found that out of all Black Friday email campaigns, welcome emails and cart abandonment emails have the highest conversion rates, averaging 3.6% and 2.8%, respectively.  
Emails offer the greatest ROI of any marketing channel
In contrast to other methods of reaching out to people, email marketing allows you to send targeted offers straight to the inboxes of your current and future customers.
November and December are high-volume months for online shopping, so it's the perfect time for eCommerce businesses to use email marketing campaigns to grow their business.
Emails offer the greatest ROI of any marketing channel at $38 for every dollar spent. With such high ROI, it's no wonder why businesses use email marketing more than other marketing campaigns during Black Friday.
Here are some stats that shed light on Black Friday marketing campaigns: 
69% of people shop online during Black Friday, and only 32% shop in person.
42% of Black Friday purchases come from smartphones. 
Over 74% of all online traffic on Black Friday comes from mobile devices. 
The email engagement rates increase during Black Friday compared to the rest of the year. 
20% of consumers have bought a product during Black Friday based on a recommendation from an influencer. 
In 2019, 73% more people used Instagram to find deals.
Get Ready for Your Black Friday Campaign in Advance
The Black Friday campaign is one of the most important events in the retail calendar. It is a crucial period for businesses to attract new customers and increase sales. A good Black Friday strategy can greatly impact your performance during this critical event.
Before you start your Black Friday campaign, make sure that you have a plan in place for how you will proceed and what your goals are. Take time to research the best practices for running an effective Black Friday campaign and think about how they apply to your business.
You should consider the following elements to implement a successful Black Friday email campaign.

Optimize your website for speed
The first thing you need to do to make sure that your Black Friday campaign is successful is to optimize your website for speed. Why? Because your website speed is a deciding factor when it comes to your customers' buying decisions. 
Let me explain this further: according to website builder experts, 9% of people will leave your website if it takes more than two seconds to load. This means that out of 100 visitors, 9 will abandon the website because it's simply too slow. 
However, if your website takes 5 seconds to load, the bounce rate will go from 9% to 38%. 
💡 If your website loads too slowly, it doesn't matter how good your Black Friday email campaign is – people will leave your site before it even finishes loading without buying a single thing. 
Assess and evaluate your checkout experience
The next important thing to prepare before sending out your Black Friday campaigns is to assess and evaluate the checkout experience you offer your customers. 
According to one study, between 47% and 72% of eCommerce customers experience some sort of checkout issue. This can be anything from the checkout page loading too slowly, the website not accepting their favorite payment method, or having to go through too many steps before they can make the order. 
What's more, in 2019, online stores lost $8.6 billion because of abandoned carts. That's a huge load of money! But you can avoid leaving money on the table by optimizing your checkout experience for your customers. 
Offer easy and hassle-free returns during the Black Friday period
Another element to consider before launching your Black Friday email campaigns is your returns policy and management. 
Did you know that 75% of shoppers check the return policy before making an order through your eCommerce site? And if your return policy is bad, 22% of shoppers will abandon their purchase. 
💡 Unless you are prepared to lose at least 22% of customers during the Black Friday period, coming up with an easy, transparent, and hassle-free way for customers to return or exchange their products is essential.  
Offer prompt support and add live chat
Customer support is crucial to building a successful eCommerce business. According to a report by Khoros, 65% of customers claim they have switched brands due to poor customer experience. 
And think about it this way: Black Friday and Cyber Monday are the two busiest shopping days of the year. This means that you'll experience lots of customer support requests. If you can't provide these customers with a seamless customer support experience, they'll likely abandon their purchase and never return to your store. 
💡 A live chat is the best customer support channel for prompt responses. Adding this feature to your store – even if it's just for November and December – will help you increase your chances of getting more customers to purchase from your store. 
Make sure you have enough stock to sell
Another thing you want to be absolutely prepared for during Black Friday and Cyber Monday sales is your ability to fulfill customer orders on time. 
To provide a seamless sales experience for your customers and avoid possible issues, make sure you have: 
Enough stock
Enough personnel to fulfill the orders on time 
A reliable shipping provider 
Good customer support who can reply to customer requests promptly 
A plan you can implement in case some items get sold out (such as a gift card).
Having these elements under control is crucial due to the sales volume during those days.
Segment your list for your Black Friday email campaign
Countless companies are going to send Black Friday emails. You can cut through the noise by speaking directly to your subscribers. That's easy when you segment your lists.
You can create segments for:
Previous Black Friday shoppers
Leads collected via a Black Friday signup form
Product categories
Engaged leads that have yet to buy a product
Seasonal shoppers
Top customers
Tailor your emails to speak directly to each segment. For instance, you can send Black Friday deals related to the holidays for seasonal shoppers.
💡 When emailing your top customers, consider offering a special VIP offer. This shows that you reward loyalty and gives them another season to shop with you on Black Friday.
Review your Black Friday email campaign calendar
When you're planning out your Black Friday email campaign, start by reviewing your campaign calendar, which you have previously prepared. You'll want to make sure that you give yourself enough time to plan and execute each of your campaigns so that everything runs smoothly and on time.
💡 If you haven't already planned for your November and December campaigns, do it now! Create an editorial calendar that includes key campaigns so everyone in the organization can be prepared for them as they come up.
Set up your Black Friday and Cyber Monday email campaigns
Before you send out your Black Friday email campaigns, you need to set them up. This means you'll have to: 
Come up with the content for each campaign 
Create an email design 
Set up your email flow using your email marketing tool
Segment your audience 
Schedule your campaigns when they're ready to go. 
This is super important to prepare in advance since you won't only need one single email. You'll need an entire campaign, which should have at least three emails and start at least one week before Black Friday. 
And here the question arises: how do you create the best Black Friday email campaigns? Let's go over this in the next section. 
How to Create the Best Black Friday Email Content 
Content is king when it comes to your Black Friday email marketing campaign. You could have the most exquisitely designed and perfectly scheduled blasts. But, if the content is all wrong, you're unlikely to get anywhere.
Keep your Black Friday email content straight to the point
The information you provide is crucial. As such, your content must be the right length. Go overboard with details, and you risk boring people.
Provide too few, however, and your target audience won't get an adequate insight into what your offers are and how to access them.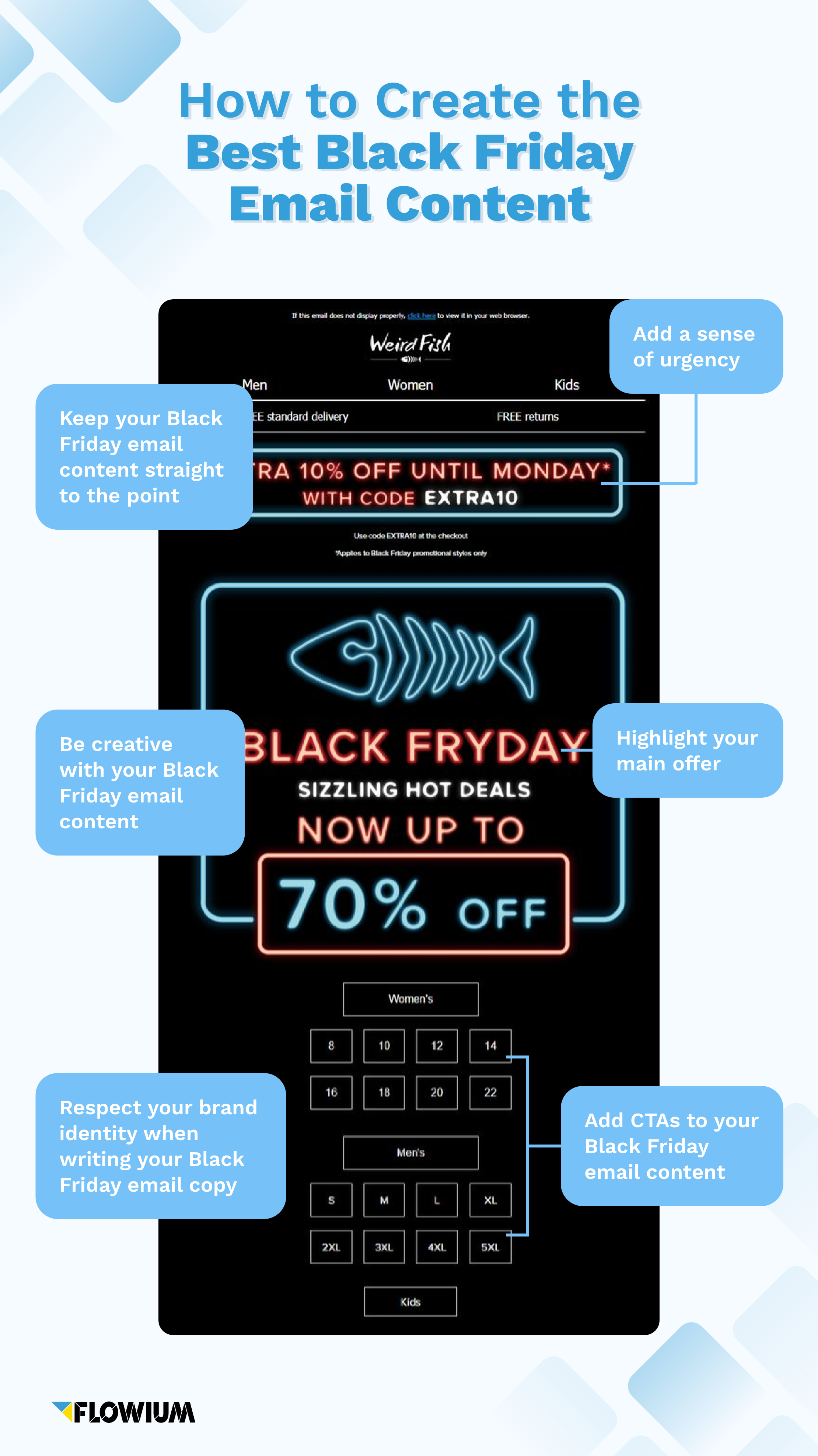 Be creative with your Black Friday email content
Be clear, be catchy, and be a little bit different with your Black Friday email content. Your customers will likely be getting bombarded in their inboxes. 
So, stand out with a strong brand voice and killer offers, all packaged in an eye-catching, easy-to-understand email.
Add a sense of urgency
Then, as the big day rolls on, you can start to up the sense of urgency with sharper, snappier content. Let your customers know when "the sale is over!" or "time is running out!"
You can set up flows to ensure those emails reach people at the exact right times, which will help to keep your sales consistent throughout the day.
Highlight your main offer
Start by highlighting your main offer with a bold, branded banner, and include a couple of brief columns of attention-grabbing offers.
Add CTAs to your Black Friday email content
Always make sure there are CTAs strategically positioned throughout your email, too. 
This will give your readers plenty of opportunities to jump straight to the offers on your site that appeal most to them.
Respect your brand identity when writing your Black Friday email copy
The style of your Black Friday email content should be driven by your brand's image. So, use the colors that customers have come to identify you with, speak in a tone of voice they're sure to recognize, and include the artwork and imagery that best represents your products.
In addition, you can express your brand identity through things like font choice, original subject lines, and unique design elements.
Best Black Friday Email Subject Lines
The top-performing Black Friday subject lines speak directly to the customer. This is easy to accomplish when you segment your email marketing list and then write separate subject lines for each segment.
Once you segment your list, think about what each group is looking for on Black Friday. Then, create subject lines that will seem like they were written directly to each person in that group.
Be persuasive
Remember, you are competing with lots of other brands during Black Friday. Creating persuasive subject lines can help you beat your competition.
In email marketing, persuasion is the art of compelling people to open messages. Tease your deal or outline your offer in the subject line, so your readers take action.
Don't give everything away, though. Instead, just persuade people enough to open the email.
Split test your Black Friday subject lines
Split testing should be part of your email marketing strategy, even during Black Friday. It's true that you don't have long to figure out which subject line is best. However, you can still run a short split test to improve your results.
Change a word or two in your subject line. Send two versions of the same subject line to a portion of your list. Review the results and then choose the subject line with the highest open rate.
Send that subject line to the rest of your list. Continue this practice with each email in the sequence. 
Put the most important info at the beginning of the subject line
A large number of email recipients open messages on mobile devices. The screens are smaller, so long subject lines can be lost on recipients.
Remedy this problem by putting the most important information at the beginning of the subject line. Use the first 20-30 characters wisely to ensure your open rates are high on mobile and desktop devices.
Examples of Black Friday email subject lines
Some brands are in a league of their own when it comes to Black Friday email marketing. That starts by creating the best Black Friday email subject lines.
Dell sent an email to customers 28 days before Black Friday with this subject line:
You were chosen for our early Black Friday flyer!
This subject line has an air of exclusivity that attracts customers. That makes people more likely to open the email and take action.
Dr. Axe is also known for its killer Black Friday emails. One of its most well-received subject lines stated:
$10, $20, $30. Which will you pick?
This subject line shows people that there's a special deal inside the email. It also empowers them by making them feel they have a choice regarding how much money they'll save.
Ulta Beauty also understands the power of email marketing. This brand created a campaign with the subject line:
Best. Black. Friday. Ever. Just got even better!
You can't help but open up the email to find out what's inside. It piques your interest and makes you want to find out more.
The best Black Friday email subject lines also include:
"Don't stress: 25% off for Black Friday" – Madewell
"Be ready, the Black Friday Sale is Coming…" – Diesel
"3 Words: 1 Black. 2 Friday. 3 Deals. More Coupons Enclosed" – Bed Bath & Beyond
"Time is Running Out//Black Friday Early Access" – Ray-Ban
While these Black Friday email subject lines convey different messages, they have one thing in common. They compel people to click to open the email.
Black Friday Email Examples 
Black Friday is a big deal for retailers and a huge opportunity for email marketers. It's the second biggest shopping day of the year and one of the most important days for getting people to buy from your business. 
As such, it's important to get your Black Friday email marketing campaign right. Here are some examples of how you can achieve that. 
Black Friday emails using memes
f you want to get people excited about your Black Friday offers, consider using memes in your emails! It's a unique way to bring some fun into your email campaigns and make the more engaging.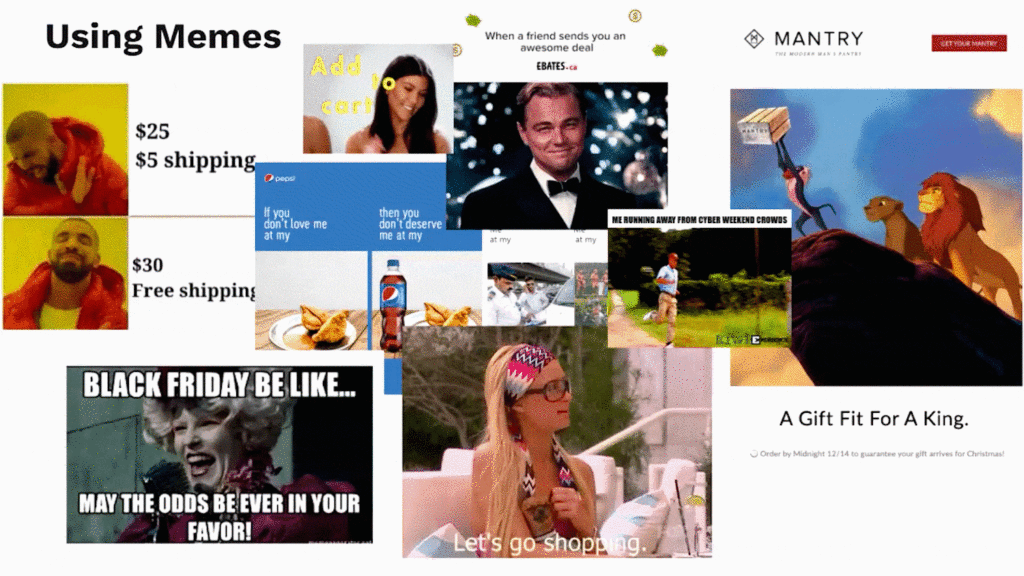 We think it's a great strategy that not many people use, so it can help your campaigns stand out from the competition. 
Gift guides in Black Friday emails
Another great idea for Black Friday campaigns are gift guides, like the ones below. These cute gift guides showcase the products on a single-colored background that makes the products pop. You can make these gift guides in design programs, such as Adobe Photoshop or Adobe Illustrator.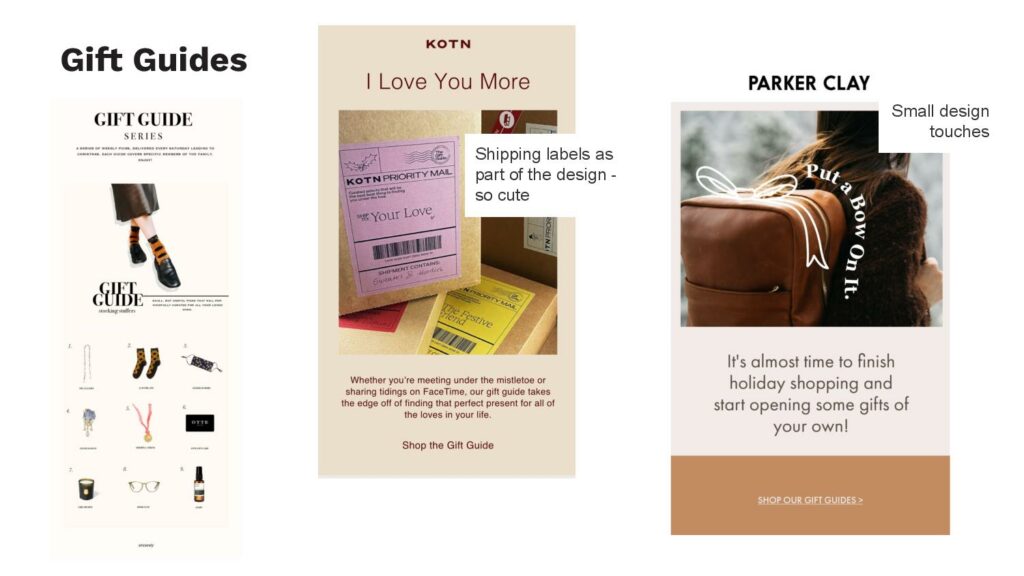 The reason why these work well is that they introduce a visual element into your email campaigns that is likely to catch your subscribers' attention and ignite their curiosity.
Live sales in Black Friday emails
You can spice up your Black Friday marketing campaigns with live sales. These are live events that happen on social media where the customers can buy discounted products directly during the event. Unless the customer joins the live event, they cannot get the discount, which makes these live sales really fun and engaging for the customers.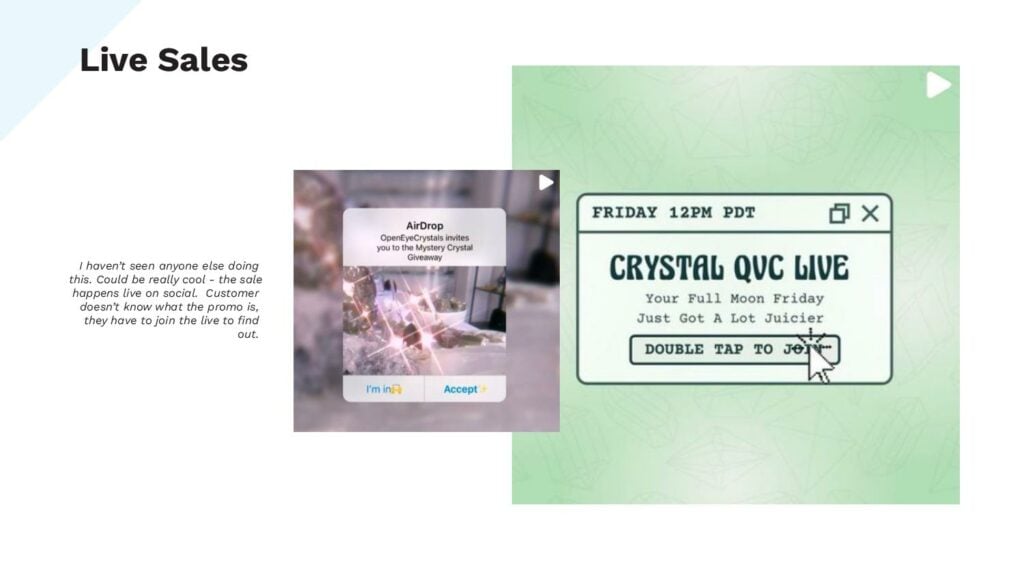 If you decide to host an event like this on your social media channel, you should, of course, promote it via an email marketing campaign. 
Gift cards in Black Friday and Cyber Monday emails
Gift cards are probably the most popular type of Black Friday and Cyber Monday email campaign. Every retailer on the planet is sending out gift cards for Black Friday – and your customers will expect you to send them out as well. 
But here are a few examples of gift card campaigns that we thought were interesting. What we liked about them is that these campaigns mainly rely on GIFs, which are more interactive and attention-grabbing than static images. 
Anti-Black Friday emails
Anti-Black Friday email campaigns is a really cool trend more brands should try. Here's an example of such a campaign by a skincare company that we really liked. In this case, they made it more educational in nature to give their customers the time to learn more about their products.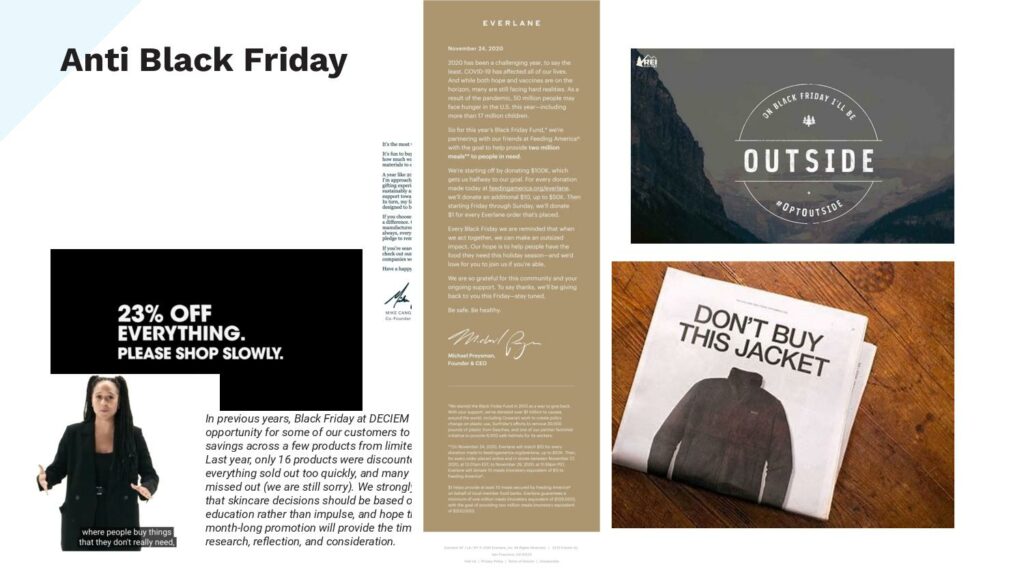 So, instead of offering one-day discounts on Black Friday, they decided to offer discounts throughout the whole season to encourage their customers to think their purchases through instead of doing impulse buys they might then regret. 
As you can see, these brand still promoted their products, but they didn't offer huge discounts nor screamed from the rooftops about their entire store sale at 50% off. In their campaigns, they encouraged customers to buy their products because they wanted to rather than because of the discounts. 
Giving back emails for Black Friday
Here's another example of an atypical Black Friday campaign that more and more brands are implementing into their marketing strategy. This is a sort of inverted Black Friday promotion – instead of creating a sale for their products, these brands have decided to give back part of their profits towards charitable movements.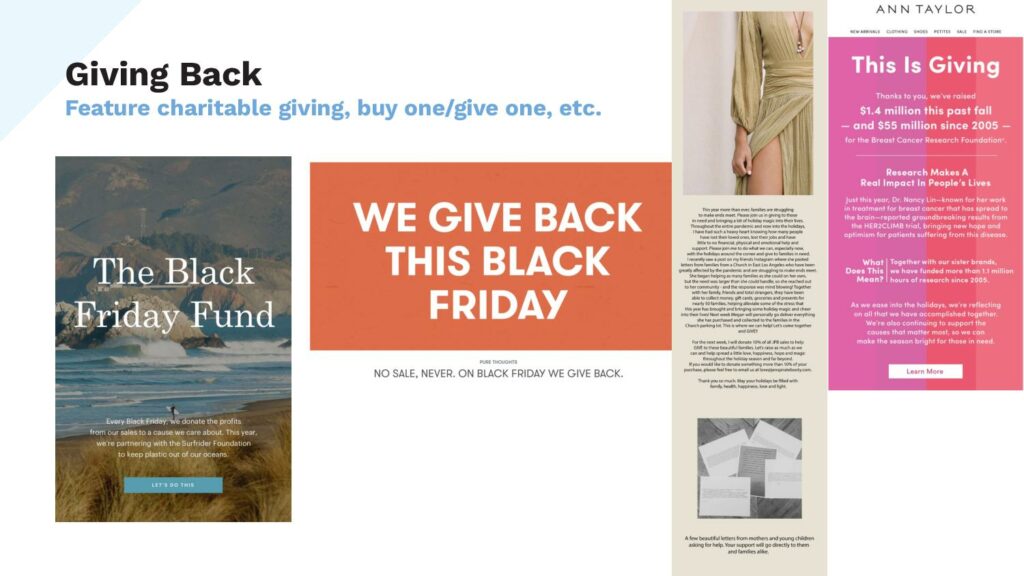 Black Friday is a great time to share your charitable giving efforts with the community. You can come up with a donation strategy, like this apparel brand below. 
Oops! Emails for Black Friday
This "Oops! Here's 50% off" Black Friday email campaign idea seemed really interesting to me. The campaigns in the examples below look very similar, so it's probably the same brand behind them all.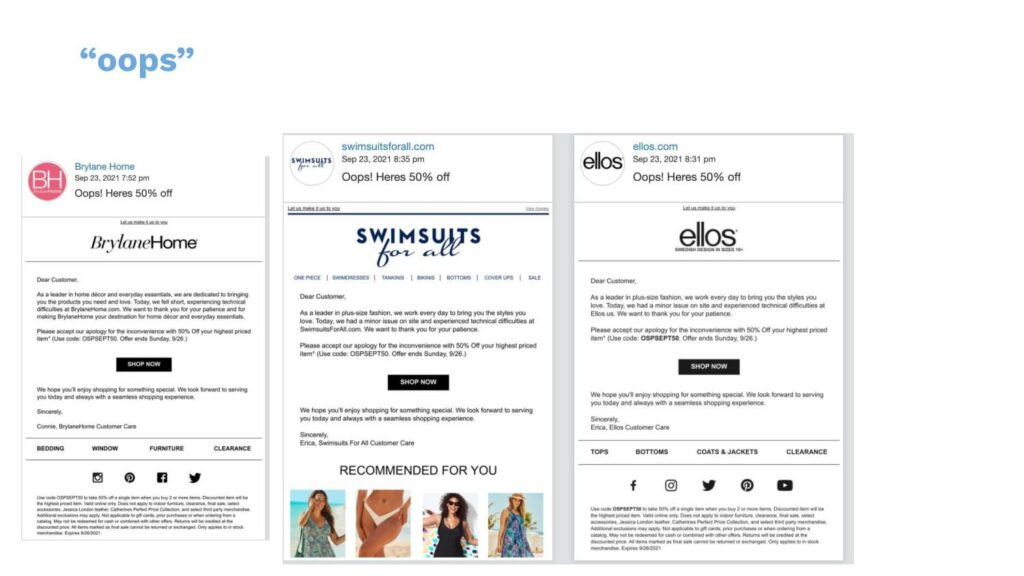 This is just a text-based email that intends to catch the subscriber by surprise. The text of the email apologizes to the subscriber that the site was down, and because of that, the subscriber couldn't make a purchase. So, as an apology, the brand is now offering 50% off. 
In most cases, the customer receiving this email didn't even try to shop, but now their curiosity is peaked – plus, they now have a coupon for 50% off. So, they're thinking, "well, I haven't even tried to shop, but why not? Let me take advantage of this coupon." 
Mystery Black Friday offers
And then, there are the typical Black Friday campaigns that many brands are using. This is a "mystery offer" where they send an email with a GIF hiding the discount number. 
To find out how many percent off they can get, the customer needs to go to the site and make it through to the checkout page. Then, they input the coupon code received in the email and finally find out the discount amount.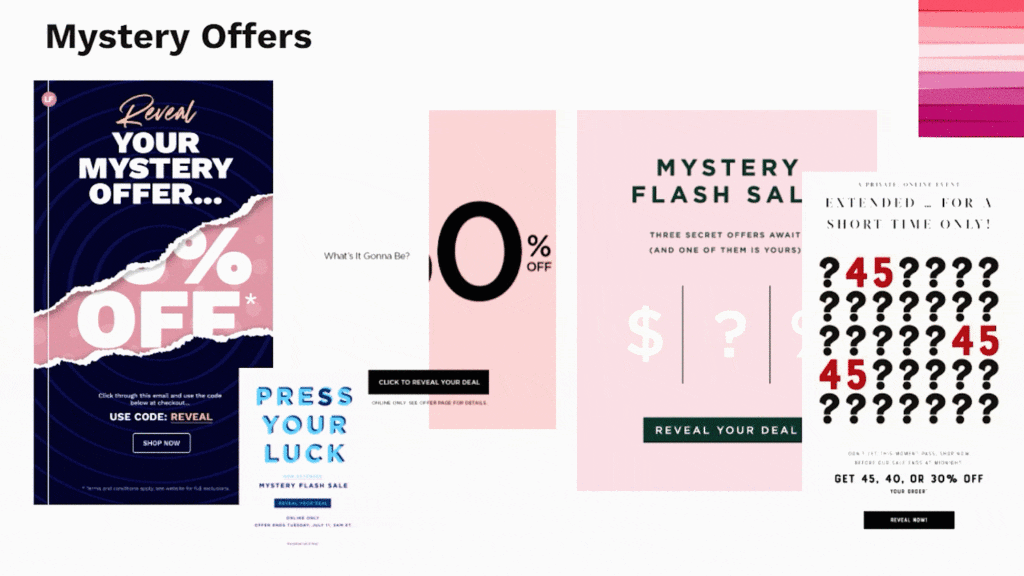 Black Friday secret sales email
Here's another Black Friday email campaign trend that's very similar to the "mystery offer" one. This used to be a compelling trend, but we feel like it's close to being over now.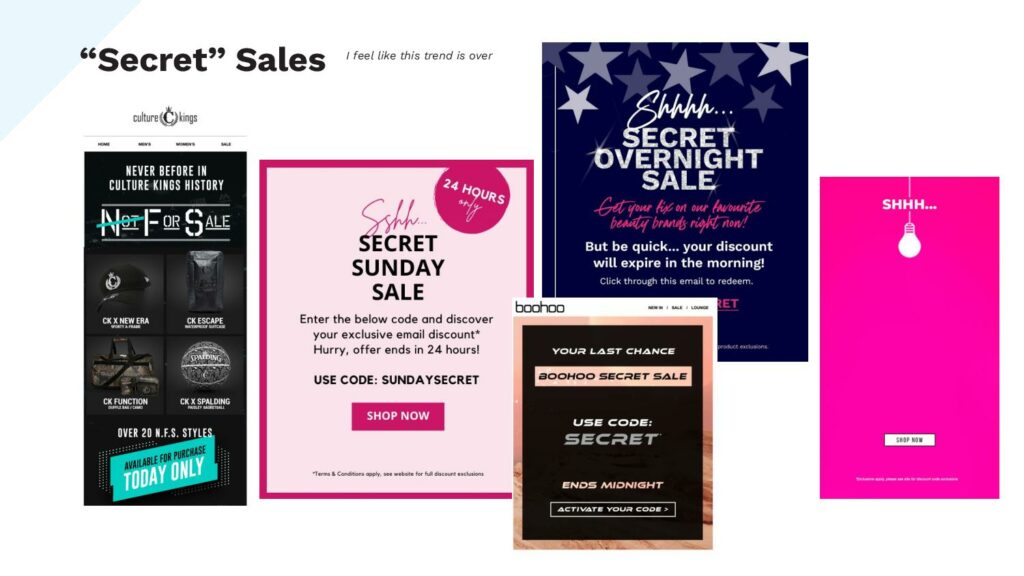 In this case, the customer will receive an email campaign promoting a "secret sale." Just like with the "mystery offer," they receive a coupon code they need to use on the website to find out the discount amount. 
VIP emails for Black Friday
Another Black Friday email campaign trend is the "VIP campaign." This one is not so popular yet, so we couldn't find many examples. However, we really like the one below, as it feels like an exclusive invitation to a special deal.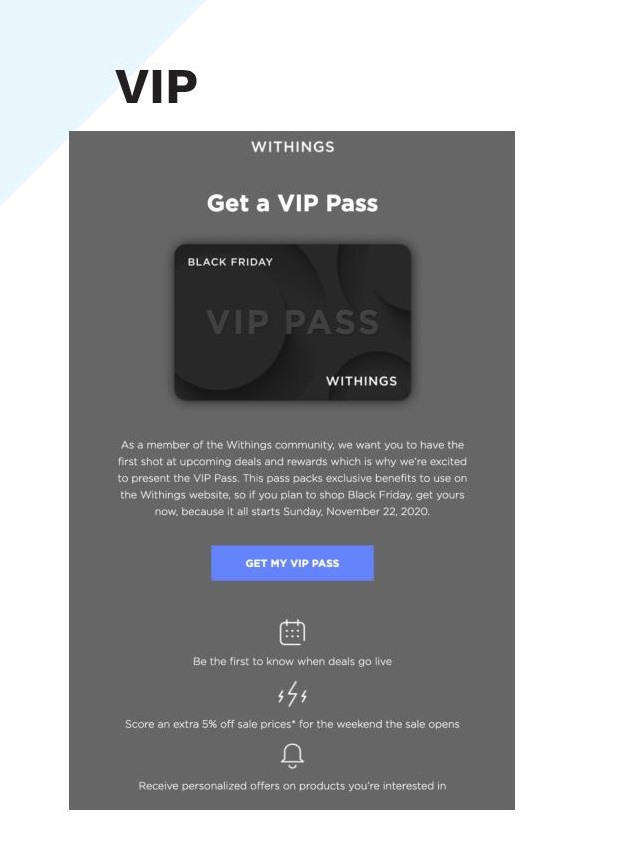 The goal of this campaign is to encourage the subscriber to join an exclusive email (or SMS) list before Black Friday, where they'll be the VIPs receiving the best discounts, deals, and gift cards.  
Great Examples of Black Friday Email Designs
To help you get inspired to design your Black Friday email campaigns, we've included some examples of email designs we liked. 
For instance, we like this email campaign from Simmi London (on the right side of the image). It's a Black Friday email, although it doesn't seem so. This dynamic email campaign uses a GIF and an email countdown timer, which are the two elements we really liked about it. What's more, the brand laid out its products below in a really clean way. 
The second campaign – the one from Getaway Shop (in the middle) – focuses on the theme of holiday travel, which is very relevant for Thanksgiving. This is a great email campaign that intends to help subscribers transition into the holiday season.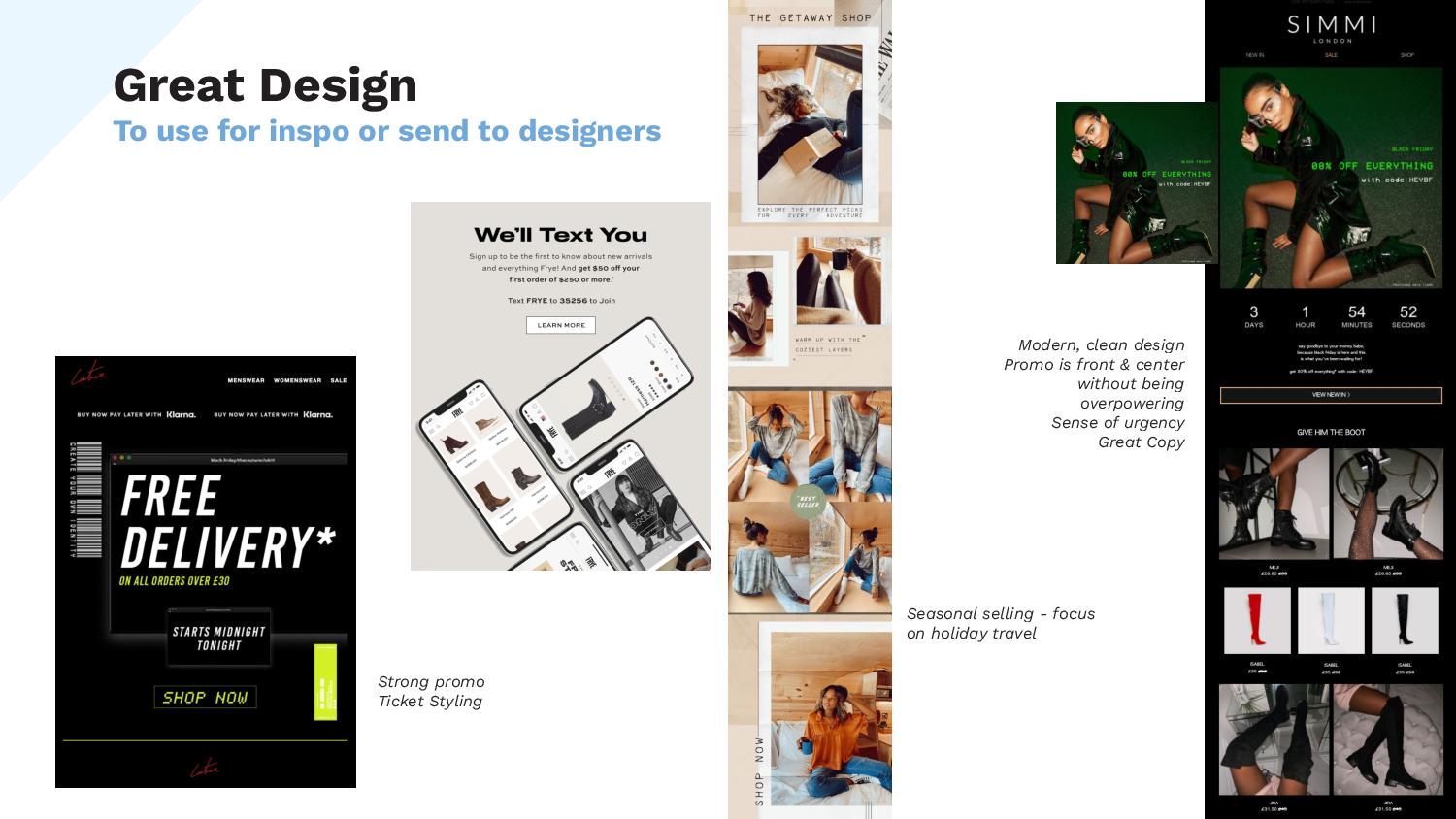 Here are more examples of email campaigns we liked: a VIP email campaign that invites the customer to be part of something special and two campaigns with simple yet eye-catching graphics. 
The huge GIF on the left works well, despite its size. And the Huffer campaign, although its colors are really loud, is also really eye-catching and attention-grabbing.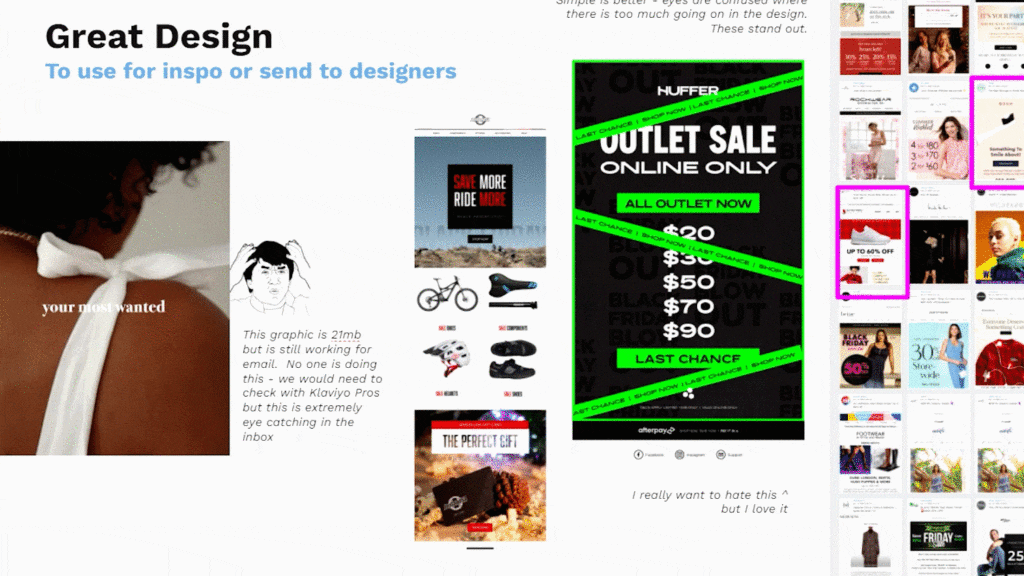 Here are more examples of great Black Friday designs.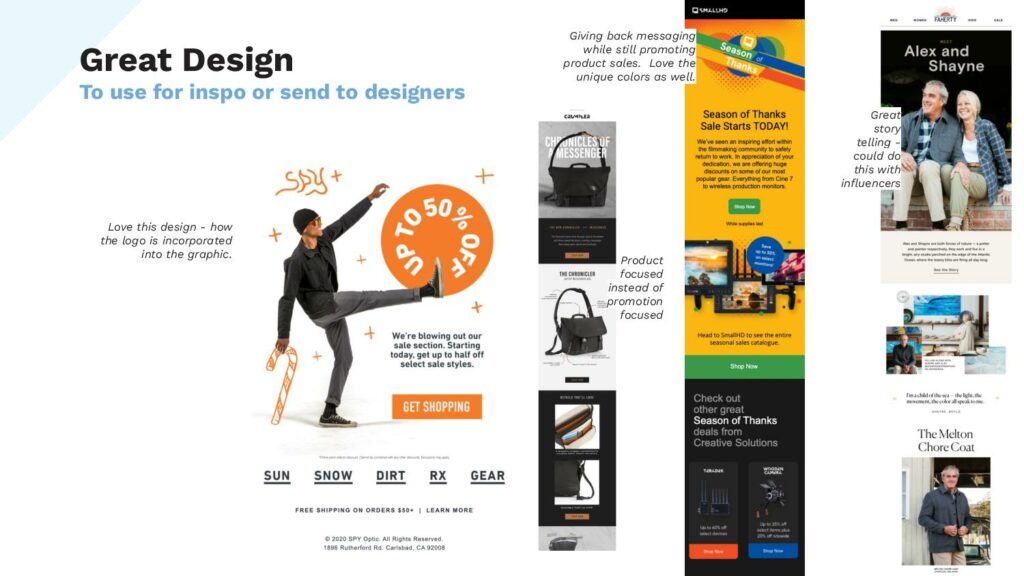 For example, we like how the email design from Spy is in line with the company's branding, cute, and holiday-themed.
In the email from Crumpler, there are no discounts, but we like how they took one product and broke it down into every detail to make it more appealing to the customers.
The third example is a great email design from SmallHD. We like how this email campaign combines the giving-back and the promotional component, integrating a message about the community and an offer for 50% off in a brilliant way. Another thing we like about it is that this email uses non-traditional holiday colors that look great in the inbox.
If you want more Black Friday email design examples and inspiration, check this video from our YouTube channel below:
Best Time to Send a Black Friday Email
You should aim to send your first Black Friday email at least one week before the shopping event. If possible, send the first email two weeks ahead of time so people will have ample time to plan to pick up your offer.
You can even send your first email at the end of October. People start planning for Black Friday earlier and earlier. There's so much competition that you need to get on the radar quickly.
What is the best day of the week for sending Black Friday emails?
| | |
| --- | --- |
| Sunday, Monday | Days with the lowest unsubscribe and bounce tendencies. |
| Tuesday | Highest click-through rates. |
| Thursday | Best open rates. People are more likely to read your email. |
| Saturday | Highest click-to-open rates. |
What is the best time of the day to send a Black Friday email?
Timing matters when sending this email. Remember that people get up early to shop on Black Friday. Send your email between 4 a.m. to 8 a.m. to get the best results.
If your sale is going live at a different time, you might need to tweak the time a bit. For instance, if your sale is beginning right at midnight, you can send your last Black Friday email at 11 p.m. the night before to get people ready for the big deal.
It's important that you analyze your specific offer and timeline when choosing when to send Black Friday emails. Your time will differ if you're starting a sale at 10 a.m. on Black Friday as opposed to midnight.
FAQs about Black Friday Emails
When should I send Black Friday emails?
Black Friday is a crazy shopping day, and if you're planning to send an email campaign, it's essential to start early. You should start sending your Black Friday email campaign at least one week in advance, or even two.
How many emails should I send on Black Friday?
Sending out just one email on Black Friday is not enough – you need an entire email campaign. Send at least three to five emails starting a week before Black Friday.
Should I send emails on Black Friday?
Of course! Black Friday is the biggest shopping day of the year, and sending an email campaign to promote your products during this day – and the week before it) is a great way to increase your sales.