Black Friday is just around the corner – one month left till the big sales! Do you have all your email campaigns set and ready to rake in revenue? If you're looking for more ideas to turn your November campaigns into conversion powerhouses, this video is for you.
Black Friday is the single most important sale for any eCommerce brand. Check out our Black Friday checklist to make sure you have everything ready for the big day.
In this video, we walk you through the November holiday calendar and share specific examples of campaigns that you can send. Use these tips to create emails that build excitement and prepare your customers to tap that "Buy" button on Black Friday.
We've got another holiday and events eCommerce calendar for you ready to go in November. We are really quite frankly to say extremely excited for this upcoming month.
There's a lot coming on. eCommerce is supposed to smash some serious records this month with Black Friday, Small Business Saturday, Cyber Monday, and then leading into the holiday. It's a crazy, crazy time to be alive in the e-commerce industry, so strap your seatbelts and get ready.
I'm gonna go through what isn't quite the most extensive or detailed calendar that we've had yet, primarily because there's so much that's happening at the end of the mstrategy in place for the crazy holiday seasononth, so we kinda dotted some stuff throughout, but before I go ahead and get through to that, make sure that you like and subscribe this channel.
We release a new video every Thursday. They are super informative.
If I do say so myself, I actually listen to them from the other people on our team on a regular basis, and they're really helpful when it comes to email marketing, eCommerce email strategy, and just general content when it comes to email. So make sure you like and subscribe.
But without further ado, let's get started with November.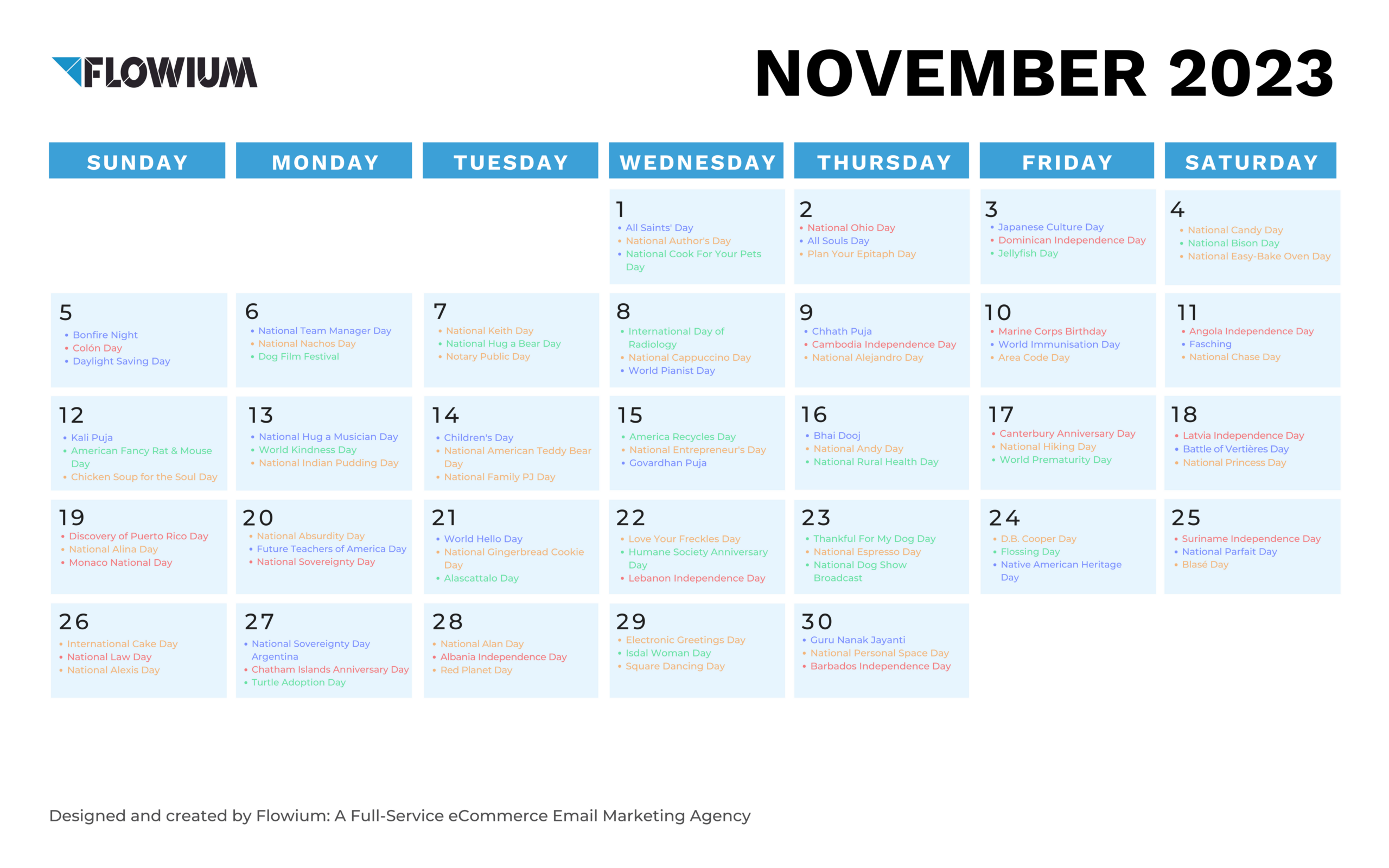 You can make up to 70% of your total revenue during the BFCM sales – that is if you do it right. We created a BFCM guide for eCommerce businesses to get ready for the busiest and most important days on every online store's calendar.
Listen to the Email Marketing Ideas on our Podcast
November 7st – Daylight Savings Time ends
I had no idea until I started creating this calendar is Sunday, November 7, we gain an hour, at least here where I'm at in Florida. There are some states that don't do that anymore.
And I think Florida is one of those states that may not in the future, that's a different story, but Daylight Savings Time ends Sunday, November 7st.
So for those moms out there and those dads who have young kids, I'm so sorry, 'cause I don't mess this up with our schedule. For those who are young professionals that don't quite have kids yet, enjoy your extra hour of sleep.
I am sure that your email subscribers will not be upset about receiving a reminder email regarding Daylight Savings Time ending. So that is always a campaign option for you.
November 11th – Veterans Day and Remembrance Day
Moving on to the following week, we do have Veterans Day here in the US. And then in Canada and the UK and Australia, we do have Remembrance Day. So these are some pretty important federal holidays across the board.
If this is something that ties in with your brand or you have a tendency to kind of recognize these holidays, definitely not a bad idea to include a campaign like this.
World Kindness Day on November 13, and then November 14th is Diwali
And then later on in the week, we have some kind of more fun holiday. So we have World Kindness Day on November 13, and then actually November 14th is Diwali, which I believe is an Indian holiday.
So again, if that's relating to your brand, definitely worthwhile to send out a campaign about that.
Other holidays in November
Following week, we have America Recycles Day, really good green holiday. We have National Hiking Day. You have National Entrepreneurs Day, which is a cool day to kind of recognize all those small business owners.
November 26th – Black Friday
And then the following week, we have the craziness that starts. You have Thanksgiving Day here in the US on Thursday, November 25th. Friday, November 26th, the infamous Black Friday, which seems to primarily be taking place in the digital space.
So if you are an e-commerce brand and you still haven't prepped for Black Friday, get with it 'cause you have almost no time left to prep and you gotta get some campaigns out. Make sure that you have a strategy in place for the crazy holiday season that's about to ensue.
Email campaign creation is a long and complicated process. The key is to streamline it – so you know exactly what you need to do at each stage. We have a Campaign checklist, where we share step-by-step instructions on how to create your campaigns in a more efficient way.
November 27th –  Small Business Saturday
November 27th, Saturday is Small Business Saturday, great time for people to be recognizing small businesses, which make up a huge chunk of the economy here in the US. So if you are a small business, definitely harp on that.
If you're a consumer that's watching this, make sure that you support your small businesses across the country.
Sunday, November 28th is the continuation of Black Friday weekend. Usually, brands will have a promotion that goes from Thursday night over to Tuesday morning.
November the 29th – Cyber Monday
And then of course, Monday, November the 29th is the infamous Cyber Monday. It's important this year, obviously, because everything we do is in the cyber world. But it's kind of just, again, a continuation of Black Friday.
So Cyber Monday almost feels like it's four days this year, instead of just one, so make sure that you take advantage.
This is your holidays and events calendar for November, not the most exciting calendar we've had, but it is the most exciting calendar that we've had because Black Friday is hitting hard. So make sure that you get ready, get your teams ready.
We do have some videos that are talking about how to prep for Black Friday this year and just the general holiday season, so make sure you watch those. People, prepare, we cannot say this enough.
Thank you guys so much for watching. Make sure that you click on this link so then that way you can get this calendar sent to you directly via email and all the calendars moving forward and have a great week.