Marketing is one of the most important parts of running an eCommerce store. Without proper marketing, you won't be able to make as many sales as you'd like to grow your store – regardless of how amazing your products are. 
Out of the many marketing strategies you should be implementing to help you build brand awareness and attract more customers to your store, email marketing is the most important one. 
Why? Because email marketing has been around for decades, and it's still one of the best ways to build a relationship with your customers. Plus, it's also one of the most cost-effective ways to drive traffic to your store. 
If done right, email marketing can help you create trust with customers, turn them into loyal buyers, and increase your sales without much effort. 
In this article, we'll discuss everything you need to know to leverage the power of email marketing for your eCommerce store.
What Is eCommerce Email Marketing?
eCommerce email marketing is one of the most effective ways to reach your customers. It's also one of the most overlooked marketing strategies.
So what exactly is email marketing? And how can you use it to grow your eCommerce business?
eCommerce email marketing is simply sending marketing messages to prospective and current customers via email to sell, educate, or build customer loyalty. 
💡 Emails are a great way to communicate with your customers regularly and stay on top of their minds. They're also an efficient tool to guide customers through the buying process and promote the products from your online store, encouraging them to make purchases. 
There are multiple ways to leverage emails for your eCommerce business. It can be as simple as sending a thank you email to each customer after purchase or as complex as creating multiple automated email sequences that work simultaneously to increase your chances of getting sales. 
And while email marketing is extremely powerful if done right, many companies are failing at it and aren't getting a good ROI from their email campaigns. This is mostly due to poor planning and not understanding how email marketing works.
The most important thing to remember is that email marketing is more about building relationships with your customers than it is about pushing a sale. It's about building strategic communication with customers who have already opted-in to receive emails from you. 
Once they're on your email list, you can send them personalized, relevant emails that will grab their attention, encourage them to purchase your products, and turn them into loyal buyers. 
eCommerce Email Marketing Examples
As an eCommerce business, email marketing is one of the most important strategies to build customer relationships and increase sales. However, it's a lot more complex than just sending out a few newsletters.
There are different types of emails that can be used as part of your eCommerce email marketing strategy, such as: 
Promotional emails,
Transactional emails,
Lifecycle emails.
Let's dive into each of these email marketing campaigns. 
Promotional emails
One of the main types of email campaigns for eCommerce are promotional emails. These pre-planned campaigns aim to promote your store by offering a special deal,  announcing new products, or emphasizing special items.  
There are a few types of promotional campaigns, including: 
Seasonal campaigns, 
Limited-time offers,
Sales promotions, 
New arrivals, 
Giveaways.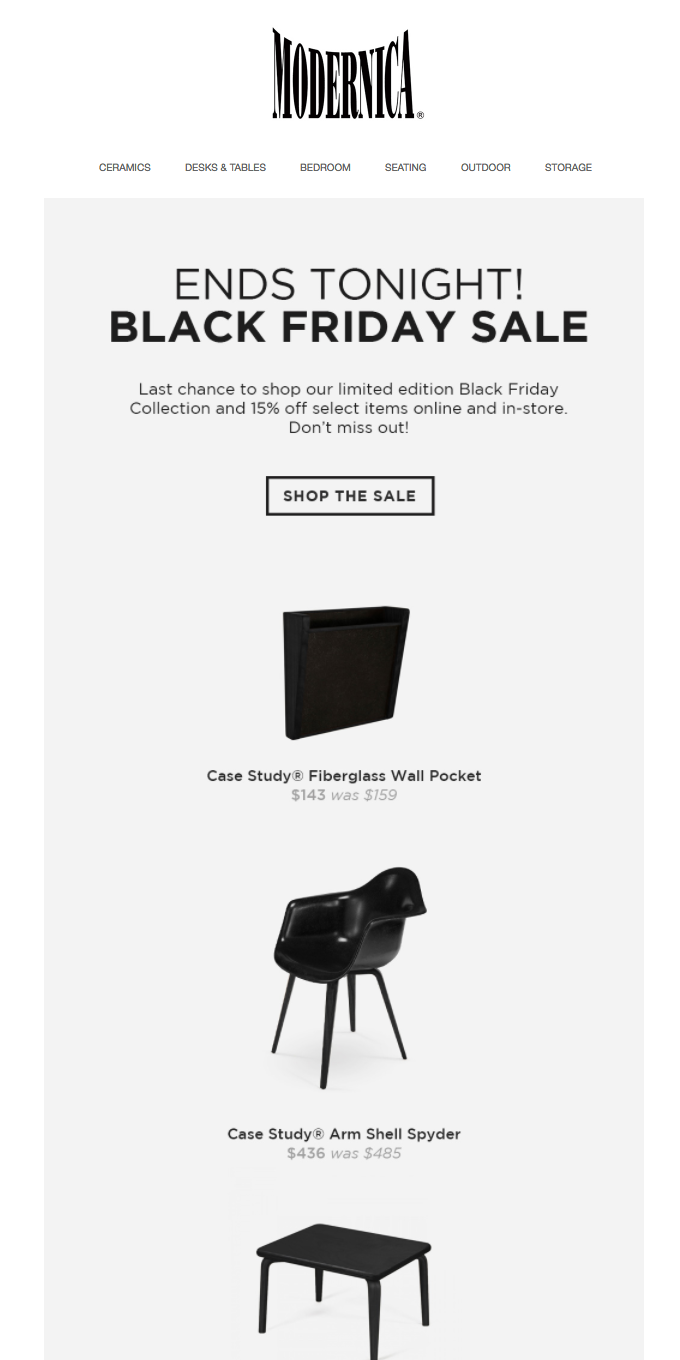 Promotional emails can be sent any time of the year, but they are most effective when timed to coincide with events or seasons that lend themselves well to online promotion, such as Christmas or Black Friday. 
While promotional emails aim, quite simply, to promote your products, it's important to remember that they shouldn't sound overly salesy and pushy. 
Before sending a promotional email, you should establish a positive relationship with your subscribers by offering value. 
An effective promotional email campaign should: 
Capture your customer's attention, 
Target the right people based on their interests and purchase history, 
Be short, punchy, and to the point without over-promoting the items. 
Lifecycle emails
Lifecycle emails are the emails you send to customers at every stage of their journey with your brand, from awareness to purchase and beyond. 
They can be as simple as a welcome email after someone makes a purchase, or they can be complex and include product recommendations or cross-sells. 
These email campaigns are highly targeted, as they are sent based on where the shopper is in their customer lifecycle with your brand. As a result, customers will receive emails that are relevant to their situation, which can ultimately increase conversions.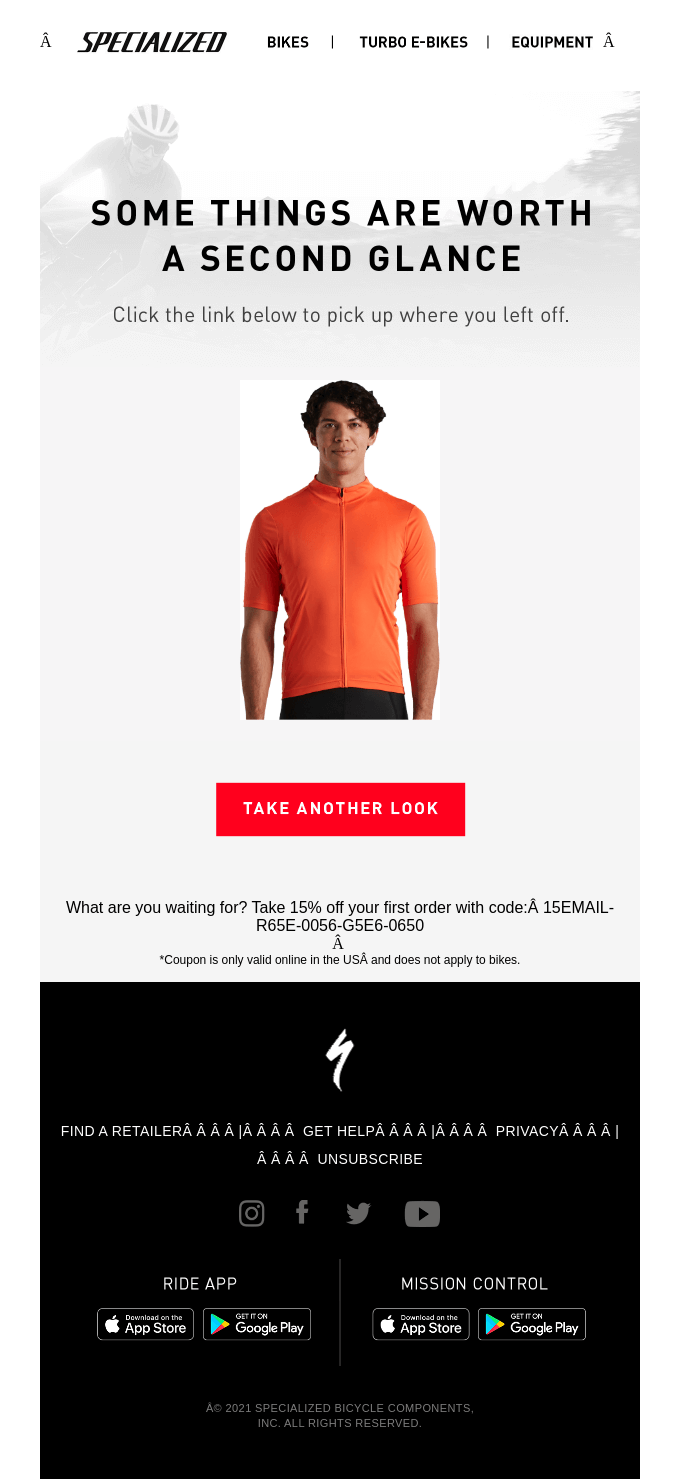 The goal of lifecycle emails is to keep customers engaged with your brand and encourage them to buy again and again. In other words, lifecycle emails help you retain customers for longer, improve engagement, and increase revenue. 
The most common types of lifecycle emails include welcome emails, abandoned cart recovery emails, and feedback emails.
Transactional emails
Transactional emails are another common type of lifecycle emails. As the name suggests, these emails are strictly related to performed transactions or account activity, such as:
Purchase order confirmation emails,
Payment invoice requests,
Password reset emails,
Account creation emails,
Etc. 
Because of their highly personalized nature, these emails are sent to only one person at a time, mainly during checkout or after purchase. 
The goal of transactional emails is to help customers with their journey throughout the buying process by providing helpful information on how to track orders or access customer service.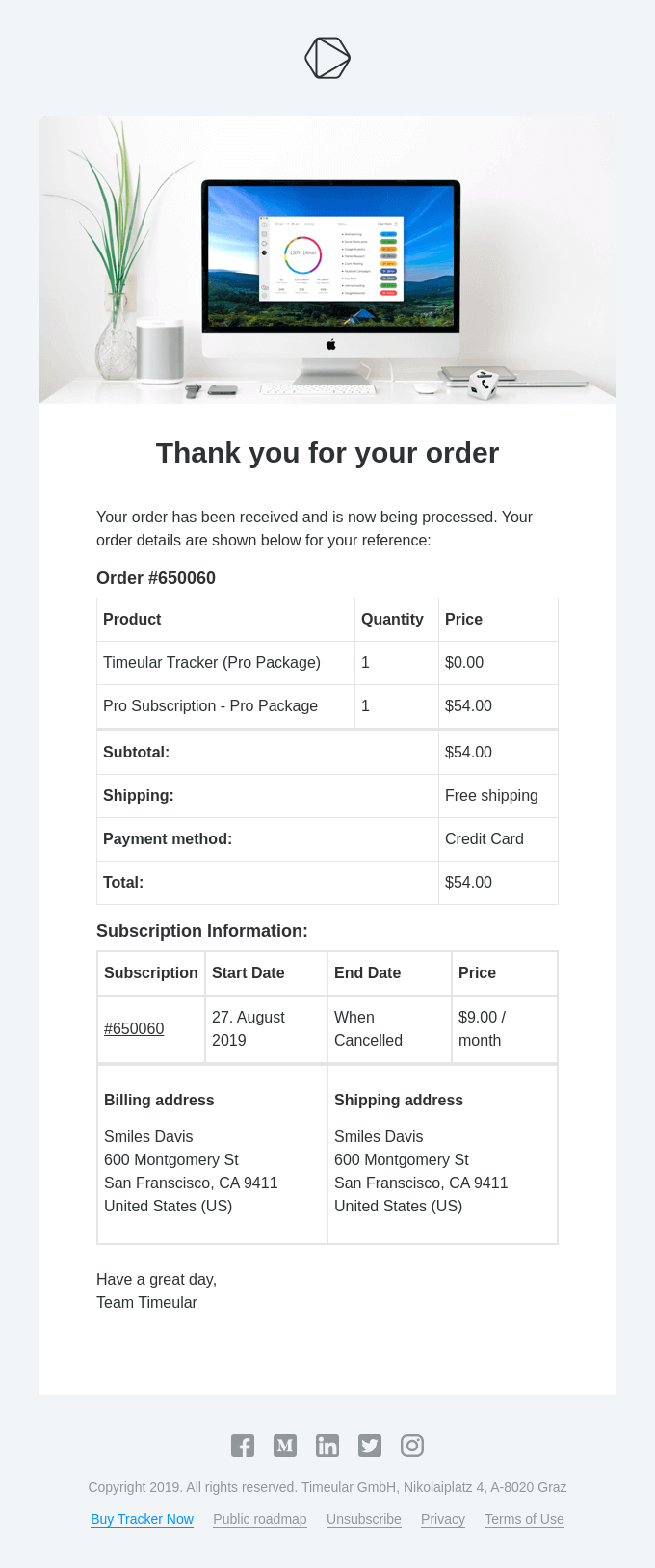 How to Build an eCommerce Email Marketing Strategy?
Many eCommerce businesses fail at their email marketing efforts for one simple reason: they don't spend enough time and effort planning their email marketing strategy before implementing it. 
Instead of diving head first into the execution, it's essential to build a strong email marketing strategy for your eCommerce store based on customer behavior data, sales patterns, and relevant metrics. 
Here are a few steps to help you build a successful email marketing strategy for your eCommerce business.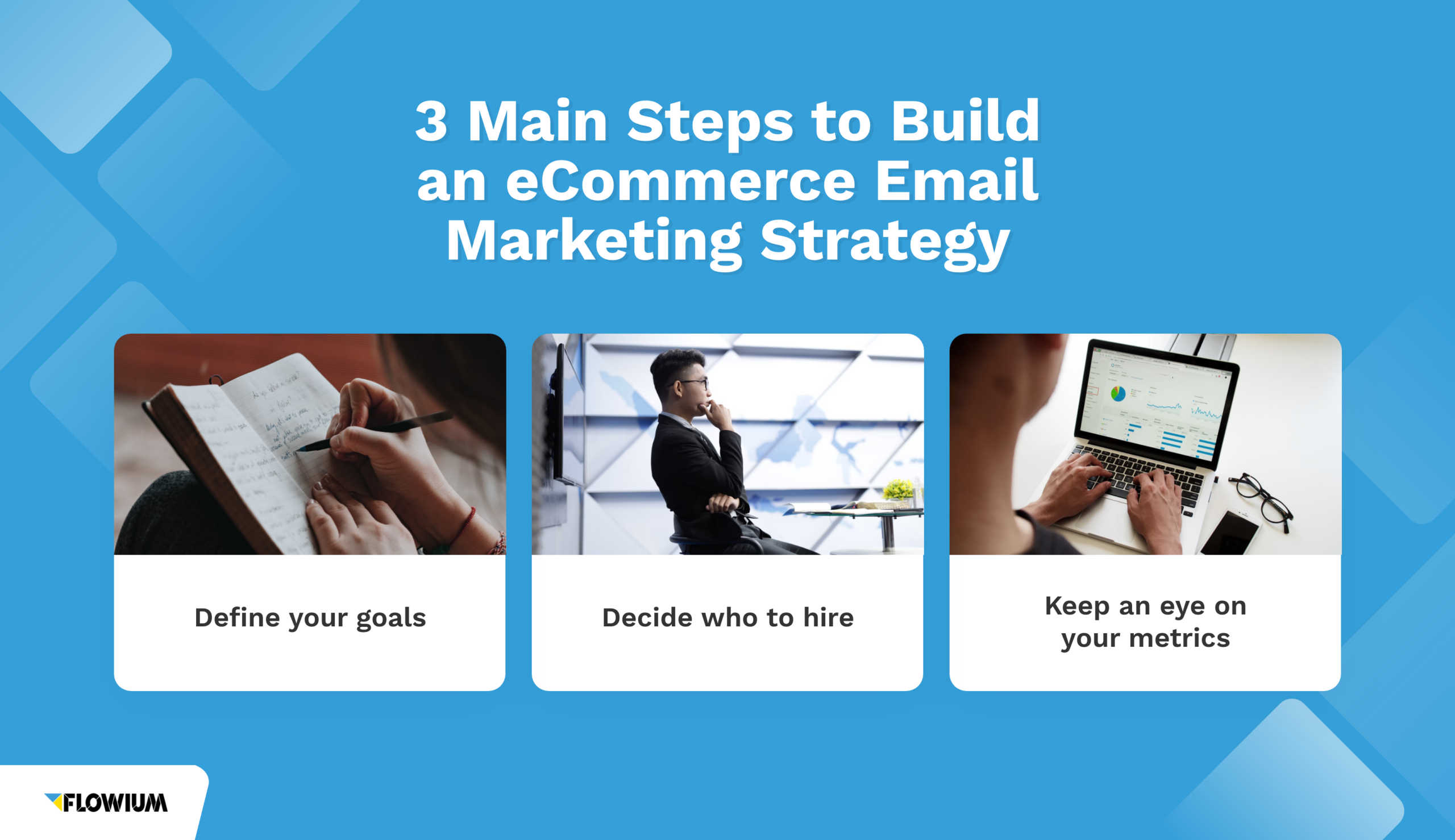 Define your goals
Before planning out your email marketing strategy, it's important to define your goals. 
What are you aiming to achieve with your email campaigns? Some of your goals may include driving more traffic to your store, increasing brand awareness, and making more sales.
Whatever it is, it'll become the foundation of your entire email marketing strategy. It will determine what email campaigns you'll be sending as well as who your recipients will be.   
Aside from your goals, you must also determine the budget you want to allocate to your email marketing strategy. Your strategy will change depending on how much money you're able and willing to pour into your email marketing efforts. 
Decide who to hire
Another thing to consider when building your email marketing strategy is who will implement it. Will it be your in-house marketing team, or will you outsource it? And if you're outsourcing, are you planning to hire a freelancer or an email marketing agency? 
There are multiple options to choose from, but your final choice will likely depend on your existing resources, your in-house team, your budget, and the amount of time you can dedicate to your email marketing efforts.  
So, ultimately, it doesn't matter which option you choose. As long as you choose the right one for you, they can all yield great results.
Keep an eye on your metrics
One of the most important things to ensure the success of your email campaigns is to monitor your metrics.
Keeping an eye on your metrics and measuring your results compared to how much time and resources you're pouring into your email marketing efforts will help you determine whether your campaigns bring a good enough ROI. 
Some of the important metrics to track in your email campaigns are:
Delivery rate,
Open rate,
Click-through rate,
Bounce rate,
Subscribe rate,
Unsubscribe rate,
Website traffic,
Direct conversions
CTA follow-throughs
Promotional code use rates.
6 Benefits of Having an Email Marketing Strategy for eCommerce
As an eCommerce business owner, you must understand the importance of email marketing and the benefits it can bring to your business.
Email marketing is one of the most effective ways to engage with customers. It's a reliable and cost-effective strategy to reach your audience, increase customer loyalty and get more sales.
In fact, according to a report by the DMA, the average ROI of email marketing is $40 for every $1 spent, which is significantly higher than for other marketing methods.
With that said, you can see that an effective email marketing strategy is a must for eCommerce businesses looking to grow. We can confidently say that email marketing is one of the most important components of an eCommerce business's success. 
Here are six benefits of having a powerful email marketing strategy for eCommerce.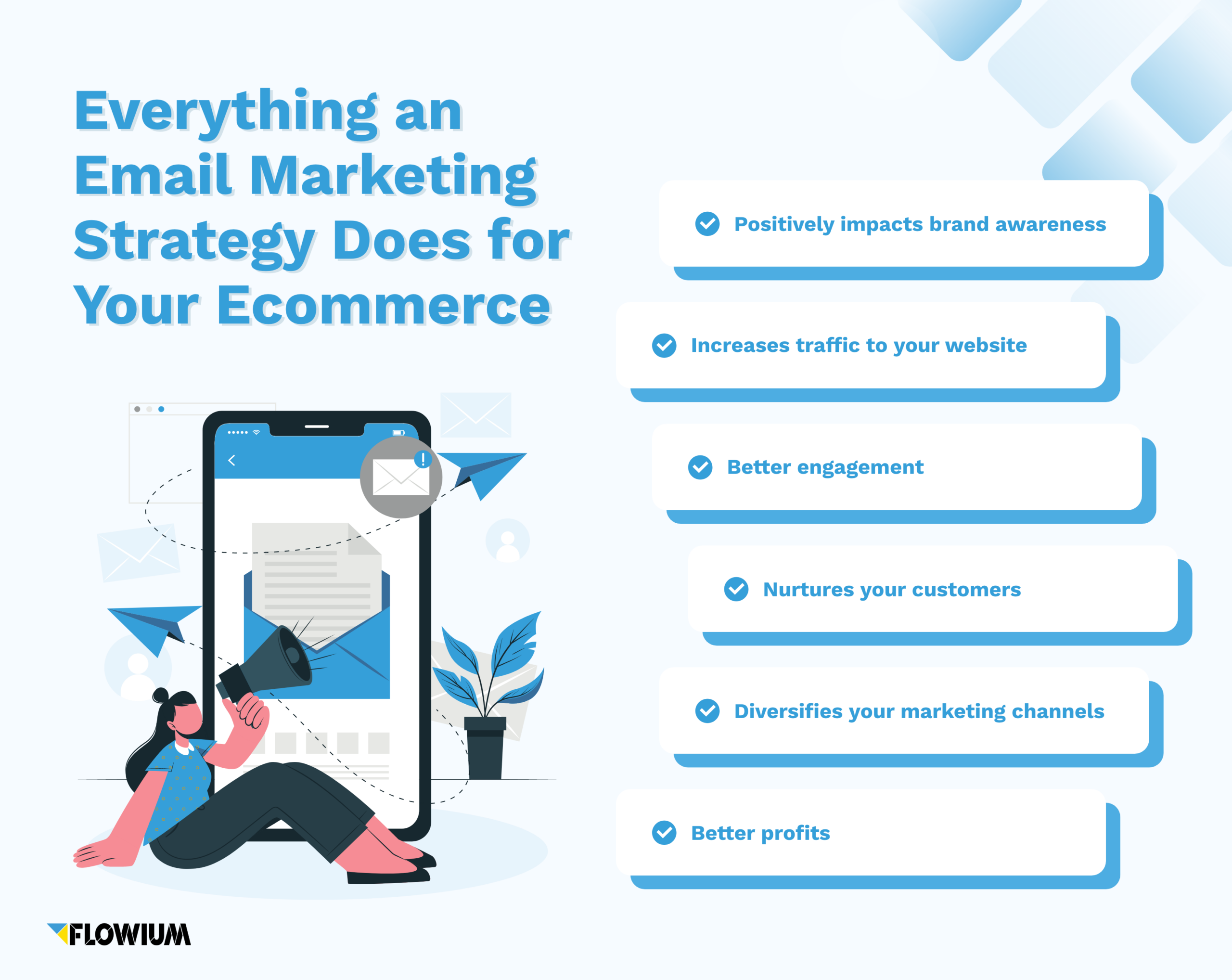 Positively impacts brand awareness
Email marketing is one of the most efficient ways to help you increase brand awareness, brand recognition, and credibility. 
There are millions of eCommerce stores in the market today, but many of them fail because they lack credibility among their target audience. 
💡 The eCommerce brands that experience great success are those that were able to establish themselves as credible and reliable companies due to their constant efforts to build a strong brand image. 
By communicating with your audience on a regular basis, you'll be able to stay on the top of their minds and build a stronger relationship with them that will eventually increase their trust in your brand and turn them into loyal customers. 
Increases traffic to your website
Contrary to what you may think, email marketing is still one of the most efficient ways to drive traffic to your store. It can help you reach out to thousands of potential customers through a series of automated messages sent to your email subscribers. 
By regularly sending out newsletters or promotional emails to your email list, you can let your subscribers know about new products, promotions, and sales. This can encourage them to visit your store and buy something from you, which leads to more traffic and, thus, more sales. 
💡 What's more, thanks to A/B testing, you can determine which subject lines, copy, and images work best for different segments of your audience. As a result, you'll be able to drive even more people to your store. 
Increases customer engagement
Email marketing can be a powerful tool for engaging with subscribers and keeping them interested and invested in your brand. By sending regular updates to your customers and analyzing their behavior by monitoring relevant metrics, you'll be able to get to know them better. 
This will allow you to craft email campaigns that are more personalized and relevant to what your subscribers want to hear from you – and, thus, increase engagement and sales. 
Nurtures your customers
Email marketing can help you stay in touch with your customers and keep them informed about new products, important milestones, and their order information.
By sending regular updates, you'll be able to stay top-of-mind with your customers and drive repeat business. What's more, it'll help you build trust with your customers by providing valuable information, keeping track of their orders, and demonstrating an interest in their needs and opinions. 
💡 In the long run, email marketing will help you build strong relationships with customers and establish a positive brand reputation that will help you drive more sales and stand out from your competitors. 
Diversifies your marketing channels
Implementing an email marketing strategy into your marketing efforts can help you diversify your marketing channels and drive traffic from different sources. 
Leveraging various marketing channels to drive traffic to your eCommerce store is an excellent way to maximize your reach and brand awareness across the internet. Plus, it will help you avoid fluctuations and volatility as your customers come from multiple sources. 
💡 Diversifying your marketing channels will also help you gain more customer behavior data, allowing you to optimize your email campaigns, social media ads, and more.  
Increase your overall profits
The biggest benefit of email marketing for your eCommerce business is that it will help you generate more leads, which will result in more sales. So, ultimately, email marketing will help you increase the revenue from your store. 
Throughout years of experience, we've noticed that employing an effective email marketing strategy generates, on average, an additional 10 to 30% of revenue.
This is a powerful reason to implement email marketing into your marketing efforts!  
4 Best Practices to Make Your eCommerce Email Marketing Work
Without a doubt, email marketing is an important part of your eCommerce marketing strategy, with the ability to convert prospects into customers.
But a question remains: what is a successful email marketing strategy for eCommerce, and how do you build one? 
Here are the four best practices to implement to help you create an effective eCommerce email marketing strategy and avoid common mistakes that can hinder your results.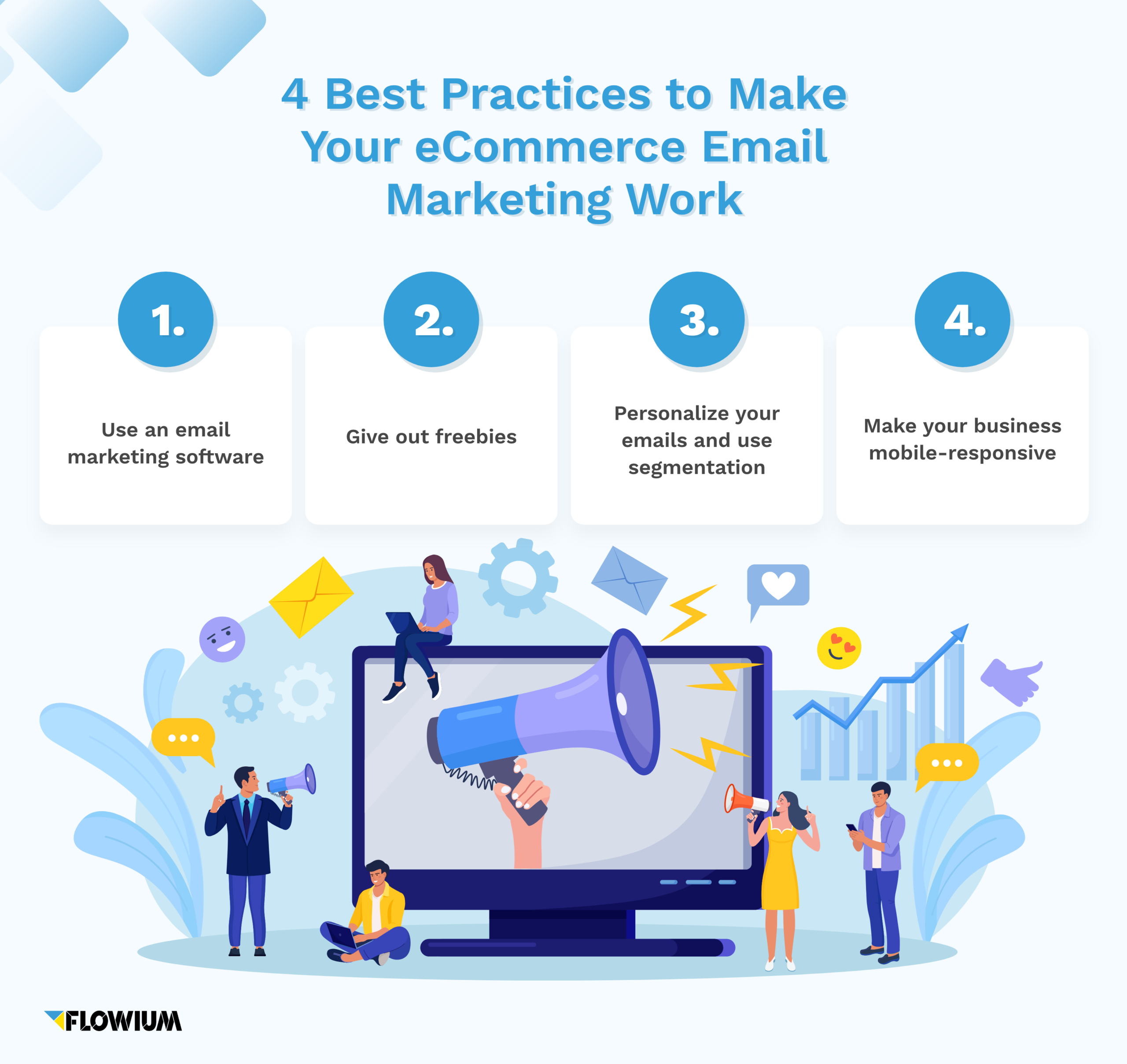 Use an email marketing software
Email marketing software can help you manage your contact lists, develop and deliver attractive emails, and measure how many people opened and read them.
The good news is that getting started isn't expensive, and it's also not a difficult task. Many email marketing software include low-cost starting plans, and some even provide new client onboarding services.
Give out freebies
Your open rates will surge if clients realize you offer away prizes or freebies.
Every time someone reads your email advertising a product, there's a possibility they'll notice something else they want to buy.
Discount vouchers or free delivery might work just as well as giving away your stuff and cost less.
It would also be beneficial if you disseminated information. Free information, like tips, insights, and news, can assist clients in resolving problems and directing them to your products.
The more helpful the information you supply, the more likely your contacts are to read your emails since they have learned to anticipate it.
Personalize your emails and use segmentation
Readers expect a lot more than their name to be the sole thing in an email that is relevant to them. Communicate with your contacts with attention and provide value to everything you give.
Send them more information about a product if they engage with it. You'll get more clients who are devoted to your business if you can demonstrate to your audience that you care about giving them personalized content.
💡 The best way to personalize your emails is to use list segmentation. This will allow you to write emails that are highly relevant and tailored to the specific segments of your list. 
As a result, you'll be able to improve your open rates and get more clicks on your email links. It'll also help you increase engagement while reducing the bounce rate, the number of unsubscriptions, and spam reports.  
Make your business mobile-responsive
With mobile devices accounting for over 70 percent of email openings, if your emails are not mobile-responsive, you're missing out on a major opportunity.
Because some companies utilize the wrong tools or because they aren't aware of how to optimize them, many businesses commit minor formatting blunders.
Adapting your email design to all screen sizes, making it simple to add to a cart on a smartphone, and developing an app for a better mobile-user experience are high priorities.
Frequently Asked Questions
Why do I need an email marketing strategy?
It is always important to have a plan, a smooth workflow. It helps to increase the click-through and conversion rate, but also to save your time. With a well-thought strategy, you don't need to interfere too often. Your system works for you.
What is the difference between a post-purchase and a second purchase email?
While you need to thank your customer in both cases, you can emphasize your gratitude in the email destined to a second-time purchaser. The person returned to your store and trusted your brand again – this is something you should value and be thankful for. This is the start of a lasting relationship.
When should I implement an email marketing strategy for my e-commerce?
As soon as traffic starts to come to your e-commerce website, as soon as users start to navigate through your online business, you need to capture their email addresses. You can't lose the opportunity to create a bond between you and these people that already shown an interest in your brand.