What did come first – the chicken or the egg?
The same question I ask my clients when it comes to their online stores. And sometimes, they ask me before I ask them:
Should we build the email marketing automation for eCommerce first or start driving the traffic?
My answer is always the same – you need to have basic email marketing automation for eCommerce before you start driving the traffic.
Why Do You Need to Set Email Marketing Automation for eCommerce From the Start?
There is a very low chance that the traffic you drive to your site will actually be financially productive from the first visit.
However, it is more likely that customers will make a purchase after they were opt-in to the mailing list, and through an effective series of emails, you will nurture them and convince them to buy.
There are four types of eCommerce email marketing automation, which are fundamental for your eCommerce business.
However, I will start with the first two, which are the highest priority and will generate most of your money. In other words, as cool marketers say, you will get the highest ROI (return on investments). 🙂
4 Types of eCommerce Email Marketing Automation You Need
Listed below, the 4 types of eCommerce email marketing automation that you need to set up as soon as possible:
Abandonment Cart email marketing automation

Exit Intent email marketing automation

Pre-Purchase email marketing automation

Post Purchase [New Customer] email marketing automation.
Let's go deeper into each one of them.
Abandonment Cart Email Marketing Automation
Abandonment cart email marketing automation will help you to follow up with the subscriber who started the checkout process but never finished it.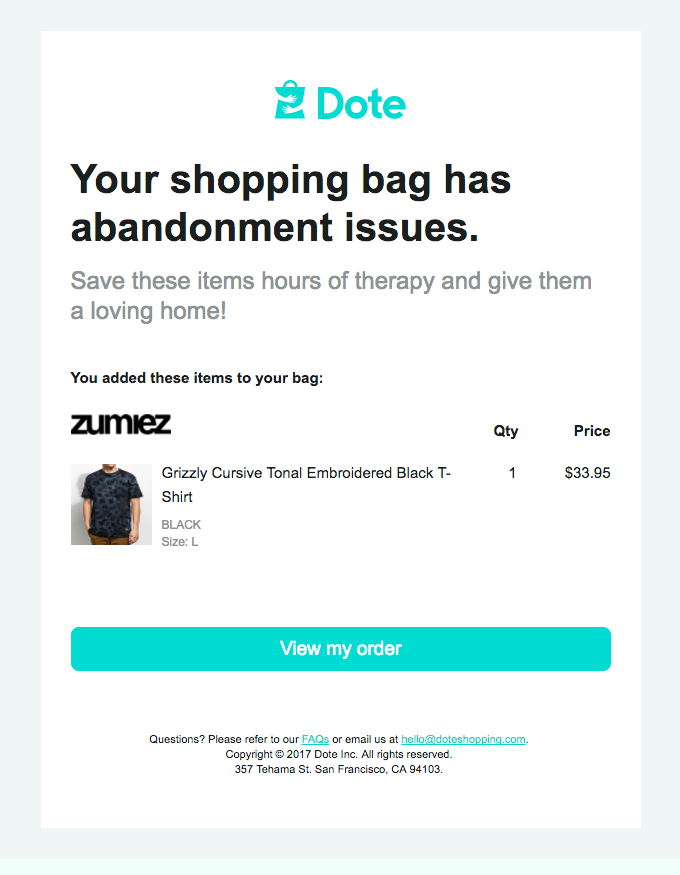 An abandoned cart is the perfect opportunity to send an email because the shopper already took nearly every step on the sales funnel and is probably very interested in the item.
There was just a little something that prevented him from buying – maybe the price, maybe delivery cost, or maybe he just forgot.
In any case, you have a high chance to convert to sales if you don't miss out on the opportunity and send a well-targeted email or even an abandoned cart email campaign.
You can achieve that with eCommerce email marketing automation. Especially if it includes:
A reminder
A note saying that you will hold the item for the customer
Recommendations for similar products
Social proof or reviews
And much more.
→ Learn How to Create Abandoned Cart Flow in Klaviyo 
→ Discover the Best Abandoned Cart Email Strategy And Optimization
Exit Intent Email Marketing Automation for eCommerce
This is the secret weapon of automation, which I learned about from Ezra Firestone.
What is exit intent automation?
Somebody visits your site, and they check your product page, your product category page, or cart page, and they try to exit the site after they checked any of those pages.
The pop-up form will show up with a 10% +/- offer for their first purchase.
Here is an example of a pop-up form: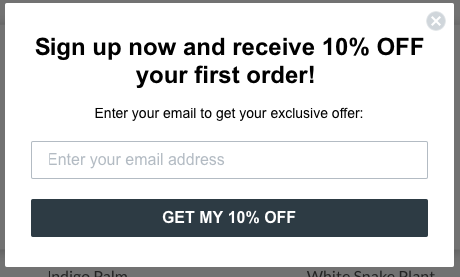 After they were opt-in, you deliver them the code. I highly recommend for the code to be unique and have some kind of expiration time.
Pre-Purchase or Welcome Email Marketing Automation
This pre-purchase automation is also known as welcome automation or lead nurturing automation.
This automation is only for subscribers, who opted in to your mailing list but made zero purchases in your store so far.
The goal of the entire automation is to convert a subscriber into a customer. In fact, welcome emails tend to have a higher open rate as well as a higher click-through rate than other types of emails.
This is why it is the perfect opportunity to:
Introduce your brand, company, and team
Give a good impression
Connect with your new subscriber and potential customer
Set the expectations that your subscribers will have for the following emails.
That being said, I do not recommend being pushy in this automation. I would gradually introduce the brand and the product to the subscribers.
After a certain number of emails, if they still do not buy, you can incentivize them with some kind of "first-time buyer" discount.

Post Purchase [New Customer] Email Marketing Automation
This is a series of automatic emails after customers make their first purchase in your store.
It can be as simple as a "Thank You email" after they buy.
I would recommend adding extra work here and create a few emails, which will benefit you long term.
You don't want to sell them once. You want this customer to be a true fan of your brand. You want them to come back and buy a 2nd, 3rd and 4th time.
In the post-purchase email marketing automation for eCommerce, in addition to the "Thank You email", you should include the following:
How they can contact you if there is a question or an issue

What they should know before using your product

Survey your customer and get feedback from them

Ask them to join you on social media

Ask them to leave you feedback about the product.
Those are just a few ideas. You do not need to use all of them but I highly encourage you to think about it and create an automated communication with your customer.
By the way, please do not confuse marketing email and transactional email.
I do know that your eCommerce system sends them a transactional email, which says something like "THANK YOU FOR THE PURCHASE".
But in addition to transactional email, you need to have marketing emails as well.
Email Marketing Automation for eCommerce: Conclusion
Those four types of email marketing automation are crucial for your online store before you start driving the traffic.
You can disregard the campaigns (newsletters), which you need to send on a weekly or monthly basis, but email marketing automation is a must.
As I always say to my customers, you need to invest your time and resources, and the system will work for you over and over with no extra involvement.
It does not have to be perfect, you can improve it later.
But it is a must because then, it gives you the power to focus on driving the traffic to your store.
Also, I do recommend you to read a similar article to this but with more examples on how other businesses do it: 
Frequently Asked Questions
What is the best timing for an abandoned cart email automation?
You should send the first abandoned cart email one hour after the cart was abandoned. This way, you have given enough time to the customer to come back to its shopping cart by himself without you reminding him of it, and not enough time for him to find an alternative elsewhere or to forget about the product.
Should I always add discounts in my automated email workflows?
No, you should approach discounts strategically. If you offer too many discounts, especially on abandoned carts, your customers may stop buying your products at their original price.
Do I need to send more than one welcome email in my welcome emails automation?
Since welcome emails have high open rates (customer's interest is at its peak), many companies prefer sending 2 to 4 welcome emails to maximize the outcome of this opportunity. You can use the second, third, or fourth email to introduce your team, brand, story, values, etc.