As an eCommerce business owner, you've already sent countless transactional emails to your customers. In fact, you do it pretty often without realizing it.
While transactional emails are as exciting as a bowl of plain oatmeal, they are the unsung heroes of your eCommerce business. They make sure your customers get the information they need whenever they create an account on your site, place an order, or forget their password. 
In other words, transactional emails ensure that your business runs smoothly.
But what are they exactly? And how do you set them up? In this article, we'll discuss everything you need to know about transactional emails – from their definition to examples of successful transactional emails.
Let's dive in. 
What is a Transactional Email?
Before we dive into the nitty gritty of transactional emails, let's make sure we're on the same page by explaining what they are in more detail. 
Transactional email: definition
Transactional emails are the messages you send to your customer after they take a specific action on your site. These are automated emails that get triggered by the customer's action – directly or indirectly – and contain data specific to that customer. That action can be anything from requesting a forgotten password to placing an order at your store.
Some common types of transactional emails are:
Account creation emails
Order confirmation emails
Shipping and delivery notifications
Password reset emails
Account update emails
Receipts and invoices
Payment failure notifications 
For example, when a customer makes a purchase from your eCommerce store, you'll automatically send them an email that confirms their purchase and provides details such as order number, items ordered, and shipping information – all data that is pertinent to this specific customer. 
Transactional email vs. marketing email
Many business owners and marketers find it challenging to tell transactional emails and marketing emails apart. 
The main differentiating factor between transactional and marketing emails is that transactional emails are triggered by a user's action, such as making a purchase or resetting a password, and provide user-specific information related to that action.
Marketing emails, on the other hand, promote a product or service and encourage the recipient to take a specific action, such as making a purchase or signing up for a newsletter. Marketing emails can be anything from newsletters to special offers, such as discount codes or giveaways.
Another difference is that transactional emails are sent to one person only – to the person who performed the action – while marketing emails are sent in bulk.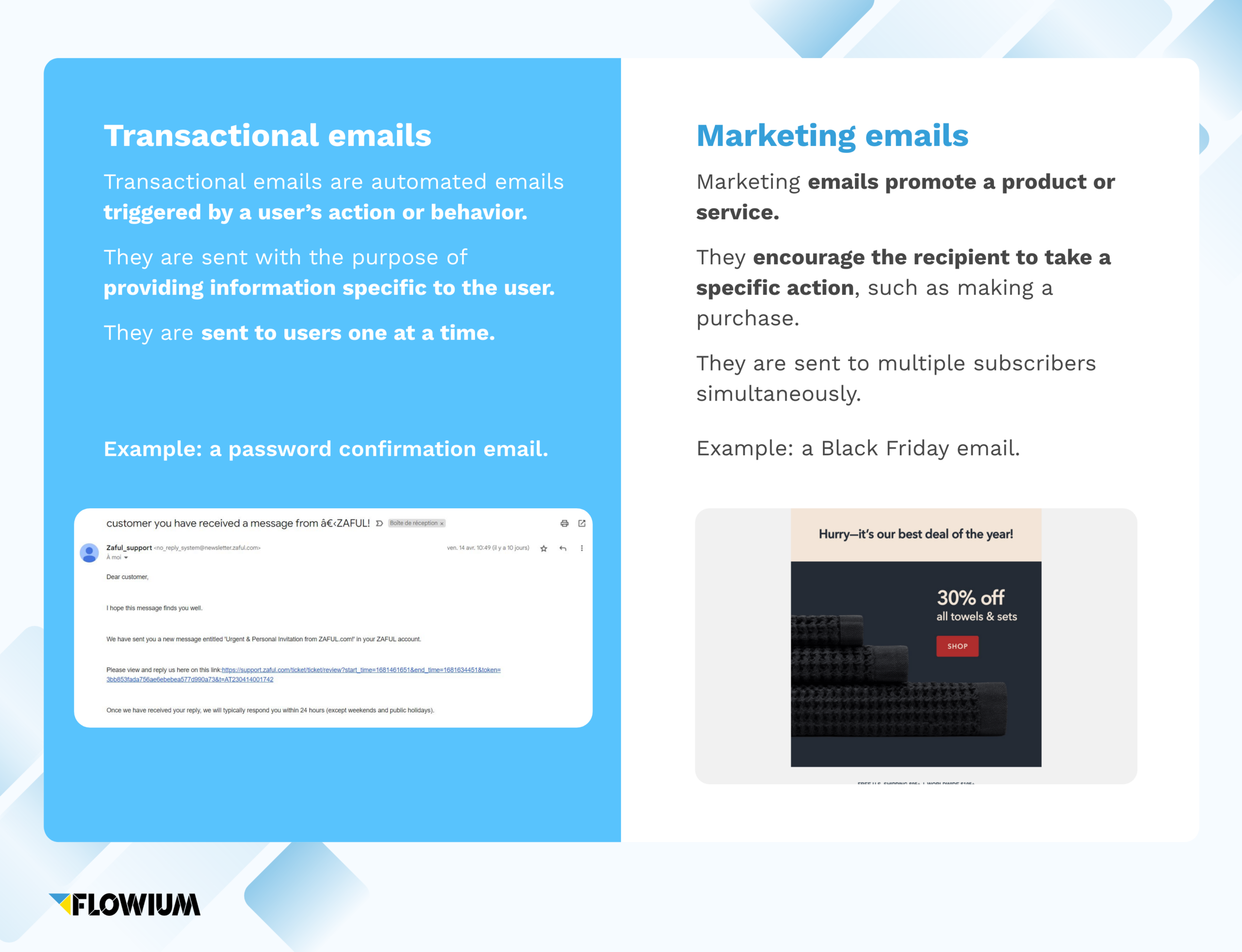 However, in the case of some campaigns, the lines between a transactional and a marketing email can be blurred. For example, welcome and abandoned cart emails can be considered either transactional or marketing. How do you tell the difference?
Well, the main distinction between transactional and marketing emails depends on the email's primary goal. 
If the welcome or abandoned cart email provides information specific to a particular user's account, it's transactional. But if it promotes the brand or service and encourages a specific action, it's a marketing email.
How to Make Sure Your Transactional Emails don't End up in Spam
Since transactional emails contain information about the customer's account or order, they're usually requested or expected by the recipients. Because of this nature, transactional emails don't need to comply with GDPR and other regulations. 
However, this doesn't mean that they won't end up in your customers' spam inboxes. And there's nothing worse than waiting for a password reset link that never lands in your inbox! 
Here are some recommendations to avoid getting your transactional emails flagged as spam.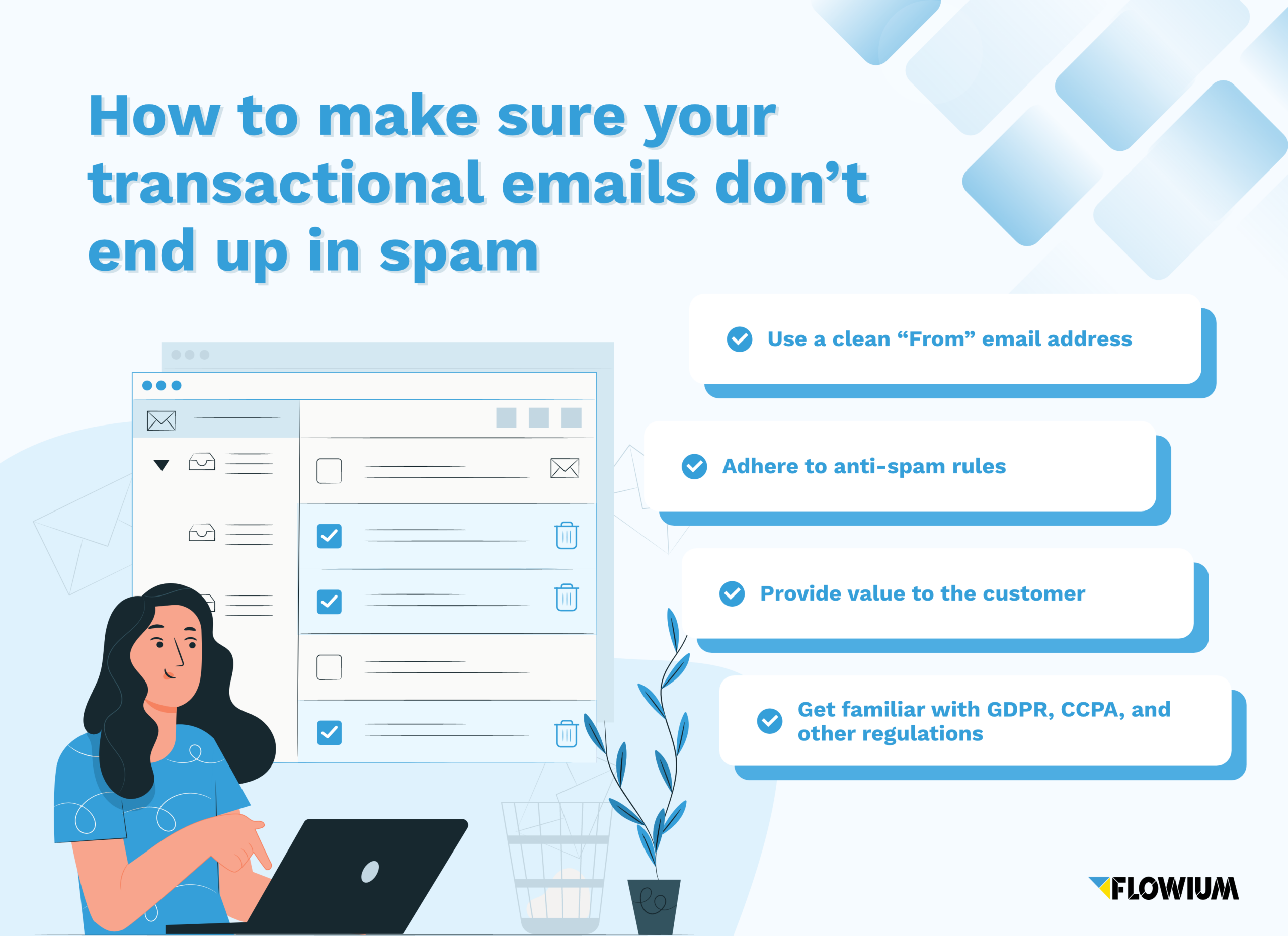 Include clear opt-out information 
Even though transactional emails don't need to include an unsubscribe link – unless they contain information of promotional nature – you still need to include clear instructions on how the customer can opt out from receiving future communication from you. 
Use a clean "From" email address 
Your "from" name should clearly state the name of your business and should come from a trusted email address. 
If your emails come from a messy and unrecognizable "from" address, your customers might think it's spam. 
Adhere to anti-spam rules 
Avoid spammy elements in your emails, such as writing in all caps, overusing emojis, or using pushy language and flashy calls to action. 
Make sure the content of your emails is clear, concise, and straightforward. 
Provide value to the customer 
The nature of transactional emails means that the information they contain is already relevant to the customer. 
But, regardless of that, always make sure that your emails provide value to the recipient. This also means avoiding sending transactional emails without a clear reason. 
Get familiar with GDPR, CCPA, and other regulations 
Even though your transactional emails don't have to comply with these regulations, it doesn't hurt to know them and follow them. 
You can get familiar with these policies on the official GDPR, CCPA, and EDPB websites. 
Types of Transactional Emails + Examples
There are different types of transactional emails you need to have to make sure your eCommerce business works properly. 
You need to be prepared for every scenario. Whenever a customer creates a new account, forgets their password, or makes a purchase, they'll be expecting a notification from you. 
So, you need to set up various types of automated emails that land in their inbox whenever they perform a triggering action. You need a password reset email, account confirmation email, order confirmation email, etc.  
Let's go over a few most common types of transactional emails. We'll also provide specific examples and explain what we like about them. 
Account confirmation/registration
Whenever someone new creates an account on your site, you'll want to send them an email that does two things: 
Confirm their email address so you can verify that they're a real person (and not a bot), and 
Provide them with a confirmation that their account has been successfully set up. 
Account confirmation emails don't need to be longer than that. In fact, the more concise and to the point, the better. 
Take a look at this email from Depop. It informs the user that there's one more thing left to do to open their account. And it does so in a super straightforward way. One bold headline and a simple sentence are enough to communicate the message.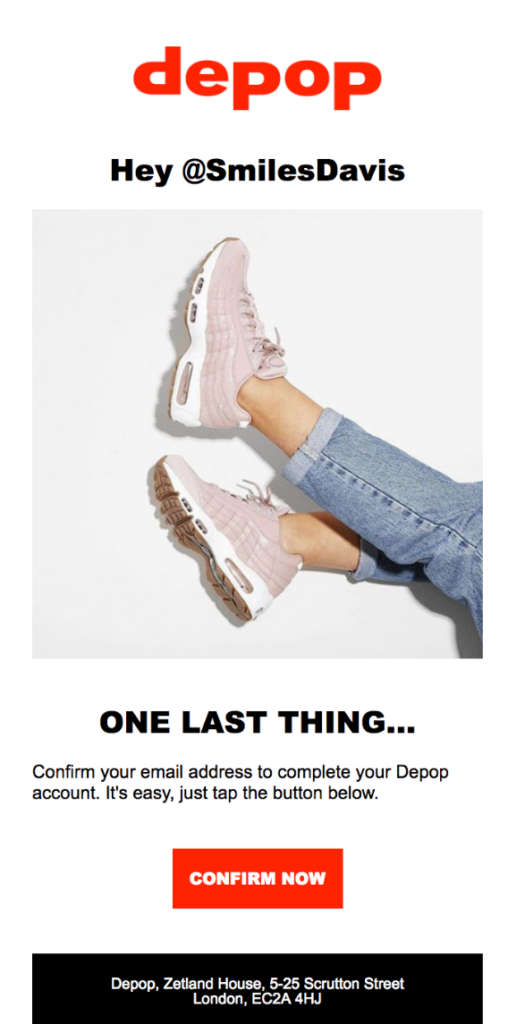 Order confirmation 
Sending an order confirmation email is a must for every order you receive. Whenever a customer places an order at your eCommerce store, they expect to see an email confirming that you have received their order. 
A standard order confirmation email should contain information specific to the customer's order, such as a summary of the items they bought and their order number.

This order confirmation email from Crocs does two things very well: 
It opens up with a visual timeline that shows the customer that their order has been confirmed.
It sets the expectation by saying, "You'll receive another email once your order has shipped."  
Notification emails
A notification email is an update the user needs to know about. It can be anything from "You have received a new comment on your latest post" to "Your order has been shipped." 
These emails have one goal: to communicate a specific message to the customer.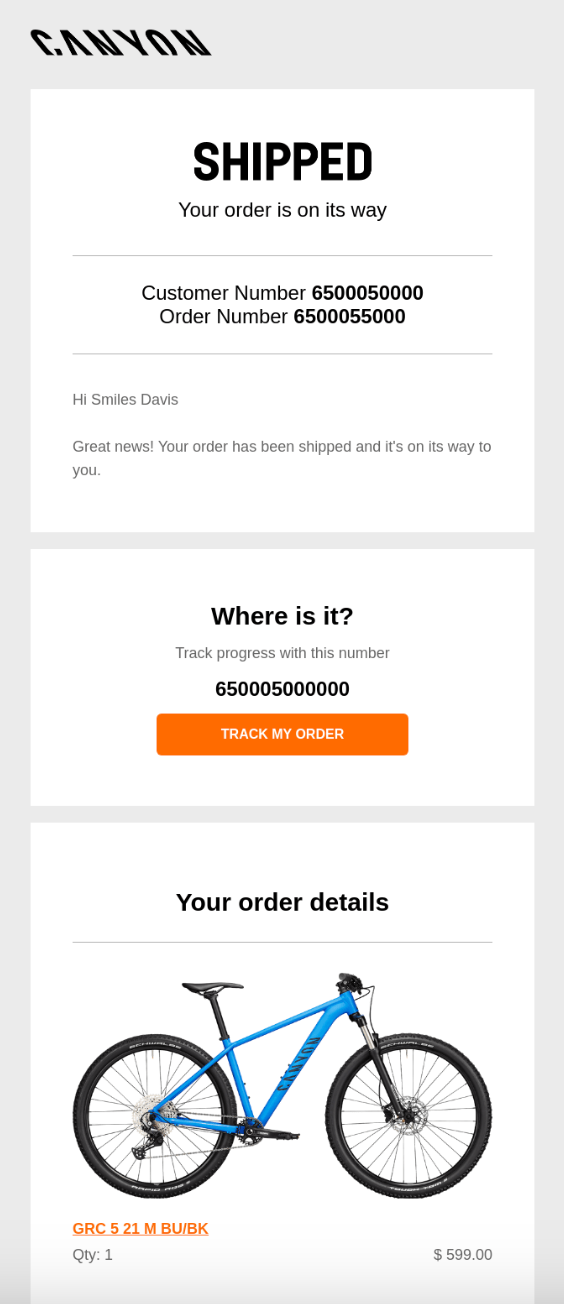 For example, this notification email from Canyon Bicycles does it well. It says it all in one word: Shipped. 
It also includes relevant information about the customer's order, such as the tracking number and link, as well as their order summary. 
Account access email (password reset) 
How many times have you forgotten your password? It happens to us all the time! Whenever your customer forgets their password, they'll request an account access email with their password reset link.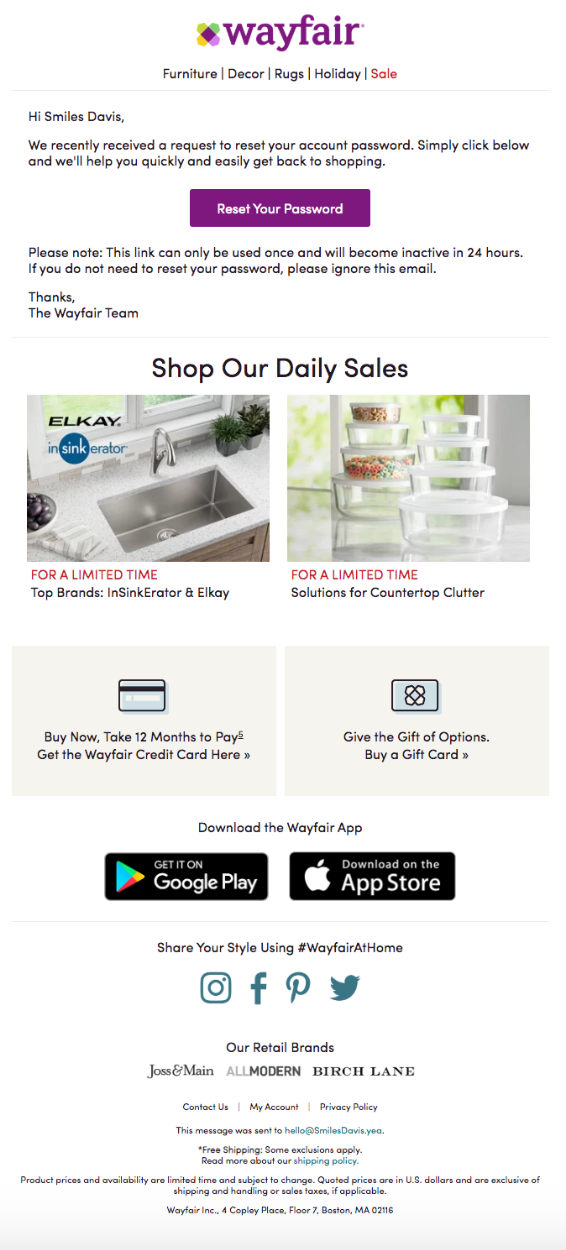 Take a look at this account access email from Wayfair. It goes straight to the point but takes the opportunity to show the customer the latest sales deals. Good trick!
Invoices and receipts
Invoices and receipts are another type of transactional email. For eCommerce, payment receipts are usually sent together with order confirmation emails. But sometimes, they can be sent separately. 
Here's an example of a payment receipt and order confirmation email from Roark: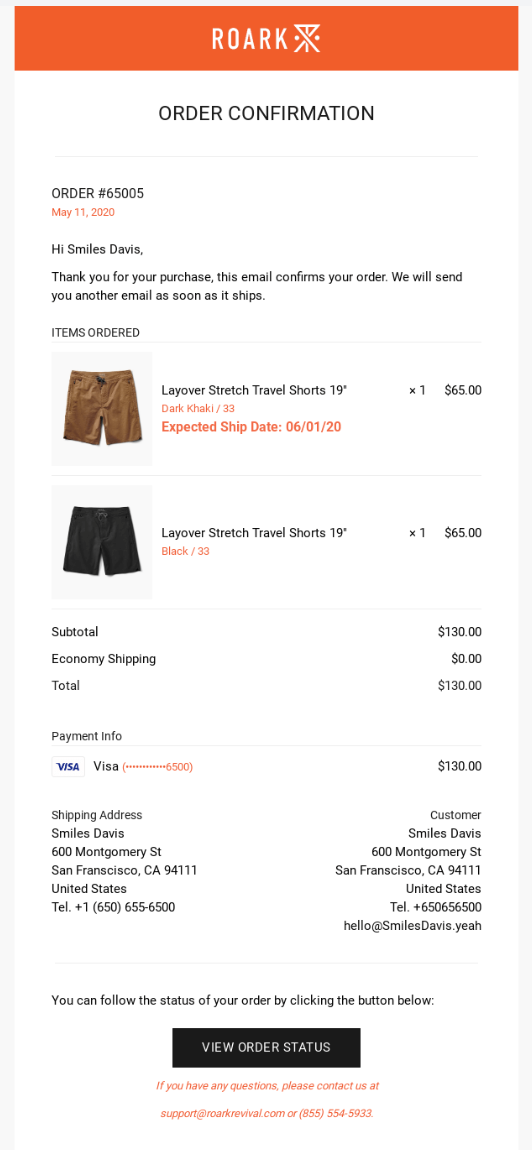 Transactional Emails: Best Practices
With transactional emails, you send information important to your customers. This could be a receipt, order confirmation, shipping notification, or any other update you must communicate to the customer.
But how do you create transactional emails?
Let's go over some best transactional email practices.
Use the transactional email service of your email marketing software
You may think that you need a separate software to set up and send transactional emails. That's actually not necessary! Most email marketing providers offer an integrated transactional email service within their features.
But if your email marketing software doesn't provide a transactional email service, you can use external solutions like Postmark (owned by ActiveCampaign, but exists as a standalone software), Sendinblue, or Messagebird (previously SparkPost).
And in case you aren't yet working with an email marketing software, we've gathered our best tips to help you choose the best one for your eCommerce business in this article. 
Automate your transactional emails
Imagine having to send an email manually every time one of your customers forgets their password, places an order, or creates a new account. You'd quickly bury yourself in a pile of emails that you'd never get to send on time. 
It's impossible to send transactional emails manually. That's why automating your transactional emails is a must. Most email marketing tools offer email automation and will allow you to do this fairly easily. All you'll need to do is to set up the triggers. 
These triggers can be: 
A user opening a new account, 
A customer placing an order,
Someone requesting a password reset link. 
Mind your transactional emails' timing
Most transactional emails need to be sent immediately after the customer performs a specific action on your site. 
While some transactional emails require a delay (for example, an abandoned cart notification can be sent the next day), you wouldn't want your customer to wait hours for a password reset email. 
So, make sure your transactional campaigns are triggered immediately after the customer takes action and, if necessary, set up a reasonable delay for some.  
Spare your customers from boring transactional emails
Just because transactional emails communicate important information, it doesn't mean they have to be boring. You can spice up the messages by infusing your transactional email copy with your brand personality. 
Come up with catchy subject lines and headlines. Use dynamic, visual, and energetic language to make the messages more engaging. 
Also, pay attention to the visual aspect of your emails. You can use pre-made templates or create a visually interesting email design that evokes positive emotions. 

Make your transaction emails helpful
Transactional emails have one goal: to provide useful information for the customer. They'll contain order summaries, delivery dates, tracking links, payment receipts, and other critical information about the customer's order or account. 
But they're also a perfect opportunity to recommend products the customer might like or include helpful resources such as blog articles, provided they comply with regulations and anti-spam filters. 
After all, your transactional emails show your customers how much you care about them – and whether you are truly ready to help. 
Focus on the most important information
The goal of transactional emails is to communicate an update. They don't need to be long or overly complex. They're supposed to be straightforward, concise, and quick emails that deliver important information. That's it! 
So, make the subject lines and copy of your transactional emails as clear and concise as possible. Also, make sure the user sees the important information, such as the button to reset the password or view the order, as soon as they open the email. 
Using Shopify? Avoid sending double transactional emails
If your eCommerce store is set up in Shopify and you're using a separate email marketing software, you may unwittingly send double transactional emails to your customers. That's because Shopify sends its own notification emails by default. 
To prevent this from happening, you need to go to Shopify settings and turn off Shopify's built-in notification emails. Then, integrate your email marketing software with your Shopify store and set up your transactional emails there. 
FAQs about Transactional Emails
Are abandoned cart emails considered transactional?
Abandoned cart emails are generally considered transactional because they're triggered when a customer abandons their cart and contain information specific to that customer. However, they may also be classified as promotional if they offer incentives such as discounts to encourage the customer to complete their purchase.
Can spam rules apply to transactional emails?
Yes, transactional emails still need to adhere to anti-spam regulations. Although they are exempt from certain requirements, such as having an unsubscribe link, they must still comply with sender identification and content regulations.
Do transactional emails need an unsubscribe link?
No, they don't. Their transactional nature means that the customer requests and expects these emails, so including an unsubscribe link isn't necessary. It wouldn't make sense! But transactional emails still need to provide clear information about how the customer can opt out from receiving future communication from the brand.