When comparing Klaviyo vs Mailchimp, we need to keep in mind that Klaviyo is fairly new on the market in comparison to Mailchimp. That could partly explain why Mailchimp has more users and popularity than Klaviyo.
Still, Klaviyo has made a big impact within their niche.
Difference Between Mailchimp and Klaviyo
Klaviyo is an email marketing platform built for eCommerce, while Mailchimp is an email marketing platform made for any kind of business.
When it comes to email marketing software, we strongly recommend Klaviyo. As an ESP specifically designed for online stores, Klaviyo offers robust features to help you sell, not just send emails.
In case you're also looking to connect with your customers through SMS, Klaviyo provides an SMS platform that works in sync with your emails, for even better results.
Klaviyo vs Mailchimp for eCommerce: 12 Points of Comparison
If we compare Klaviyo and Mailchimp for non-eCommerce businesses (businesses that don't sell physical products online), Mailchimp wins, no questions asked.
However, when we compare Klaviyo and Mailchimp for eCommerce businesses, it takes a closer look to define the winner. And it would be up to you to make the decision.
Spoiler alert: I love Klaviyo.
But I'll do my best to be as objective as possible.
Comparison structure:
1. Dashboard
The Klaviyo and Mailchimp dashboards are similar and you can easily see your profits from your email marketing efforts on both platforms.
The main difference –– which might seem small, but for me personally is impactful, is the percentage.
Klaviyo shows how much percentage of your total revenue you make from email, automated email, and campaigns.
This helps me because when I talk with a potential client and they tell me their revenue from email marketing is less than 30% of their total revenue, I know for sure I can help them.
Here's a Mailchimp dashboard snapshot:
Here is a Klaviyo dashboard snapshot: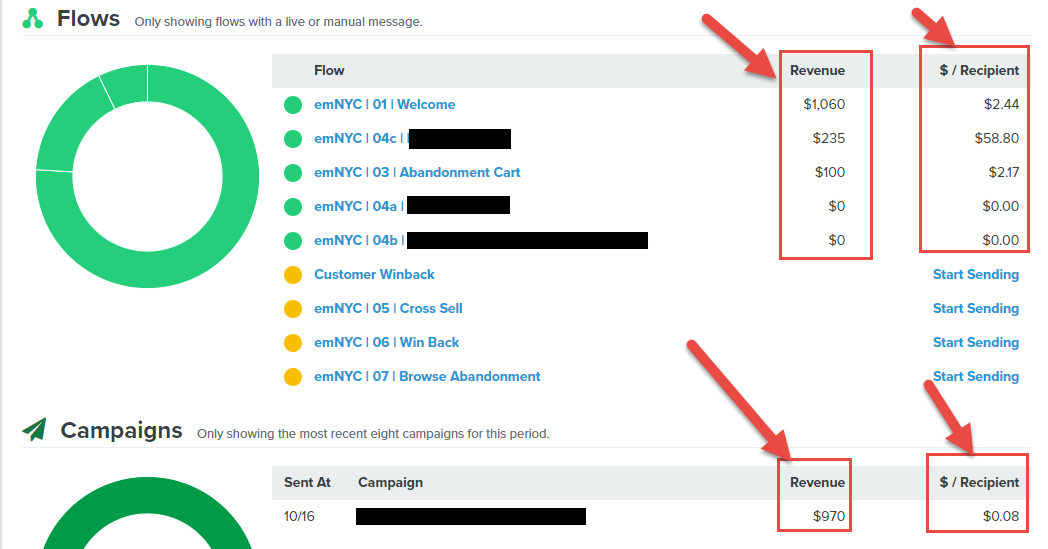 Another cool feature of Klaviyo's dashboard which is not available in Mailchimp is the breakdown of revenue by automated emails (flows) and campaigns.

2. Campaigns
Klaviyo and Mailchimp campaign builders are very similar and have a lot of the same features. Both campaign builders are visual.
The campaign builder consists of blocks that you can drag and drop.
A unique feature of both platforms is the product block. However, the way product block works differ between the platforms.
On the Klaviyo platform, you can either use the product feed or pick a product from your store.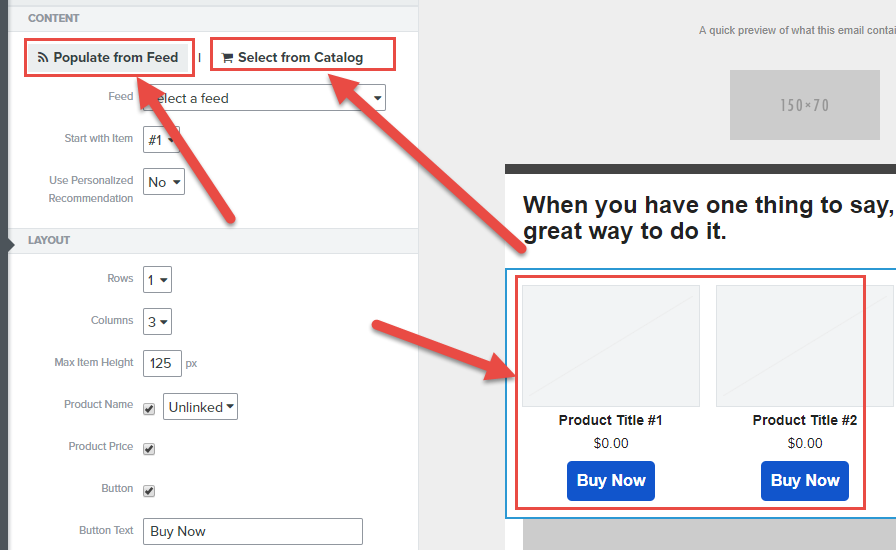 The "select from a catalog" is the same option as in Mailchimp. However, the ability to populate from your feed is different and more robust.
You basically create a product feed from your store where you specify which product category or collection to show and then it dynamically populates that block within the email.
In Mailchimp, this option is limited – you only show popular products and not specific categories, collections, and/or tags.
How can it impact your business? Let's say you have man and woman products. It does not make sense to show man products to women, and vice versa. In Klaviyo, you can create woman product blocks and man product blocks and show them to the right segment.
3. Integrations
Klaviyo and Mailchimp have access to two types of integrations:
Their own direct or native integrations
Third-party tool integrations, such as Zapier's library.
4. Analytics vs. Reports
In general, both platforms have user-friendly reports. However, you need to upgrade to a PRO Mailchimp account to see an in-depth comparison report between automated emails and campaigns.
In Klaviyo, it is a standard feature that doesn't require additional payment.
In addition, in Klaviyo you can customize your report views and save as many views as you want. Each view consists of cards. Each card can be customized to show the information you want.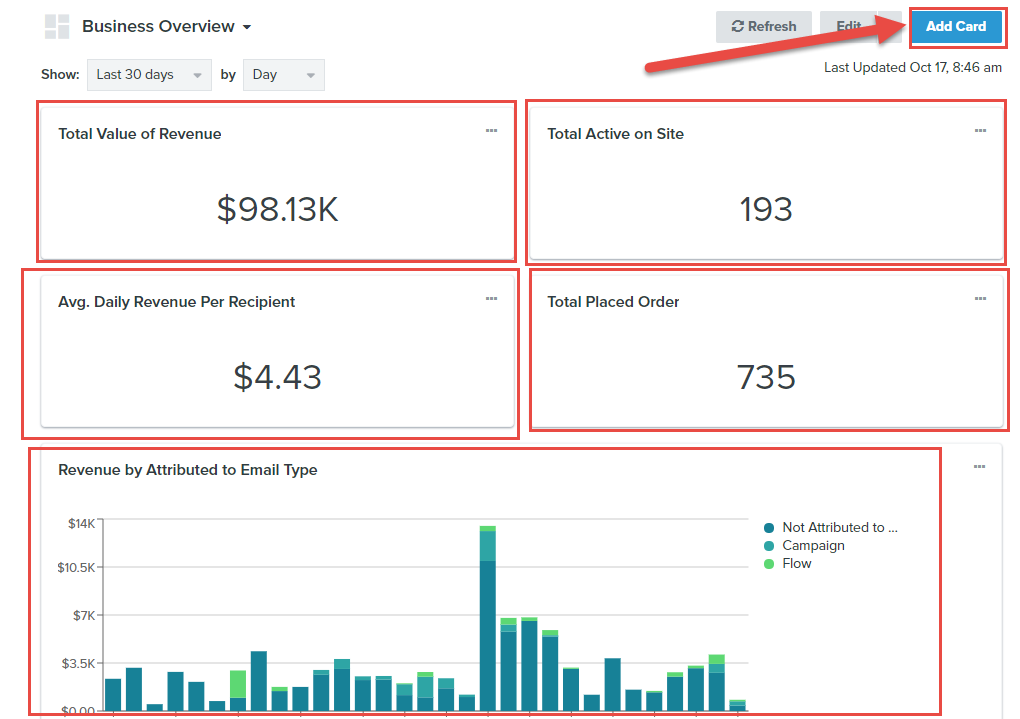 5. Flows vs. Automation
Klaviyo has a simple and powerful flow (automation) builder. You drag and drop actions and filters into the flow builder and it's visually clear how the automation will work.
Basically, you have triggers that define how this automation should start. Then you have time delays (if any) and email at the end.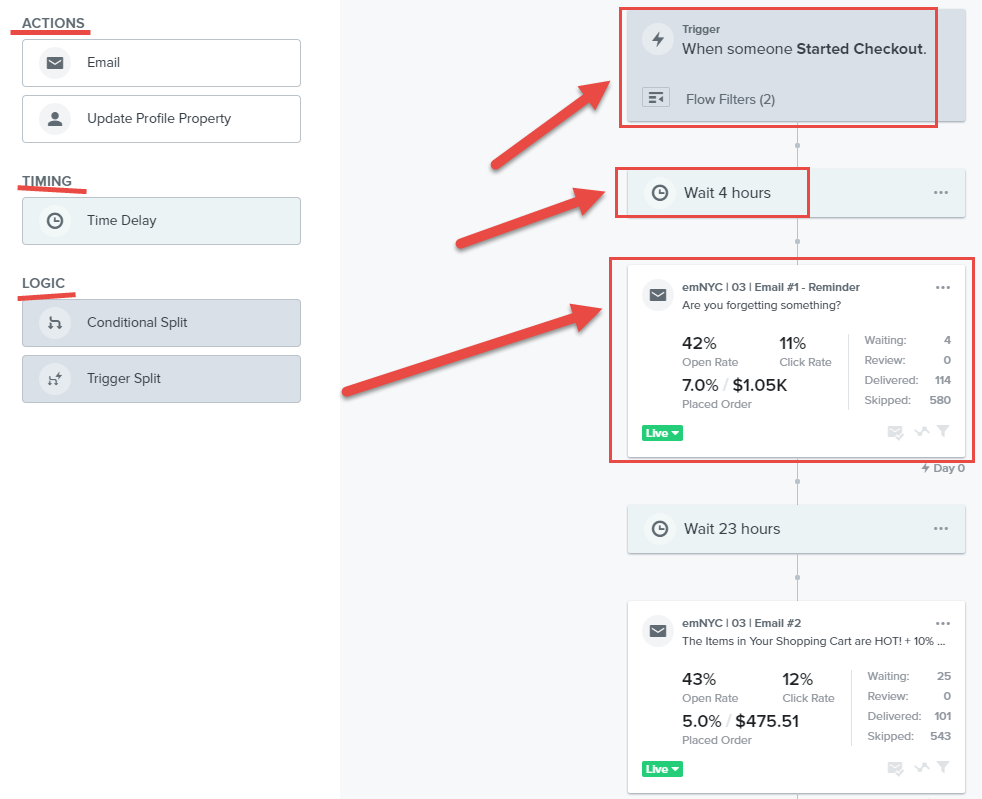 On Mailchimp, you do not have a visual builder, but instead a more logic-based automation builder. You add emails.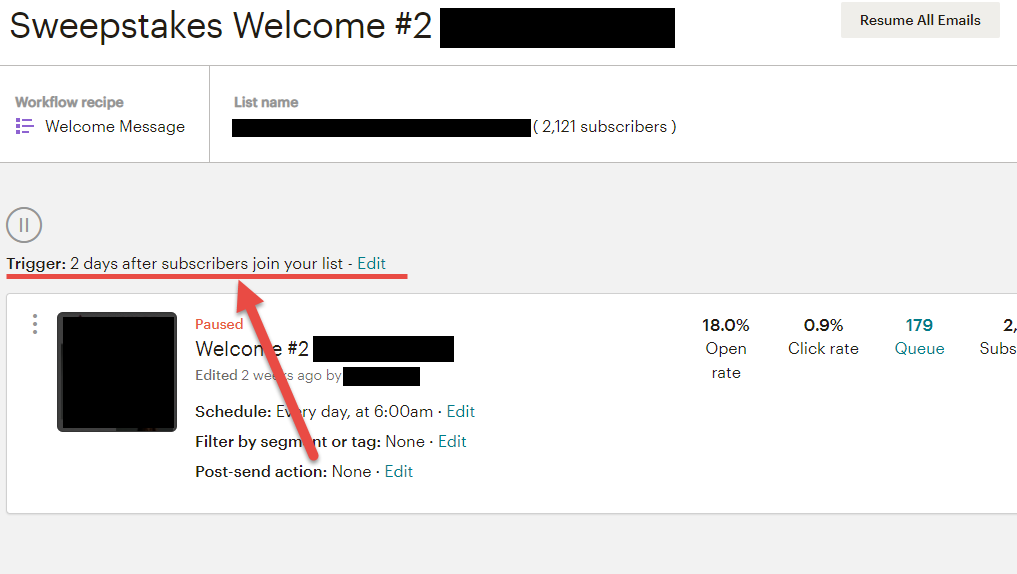 You might think they are interchangeable, but I would argue it is much easier to make a mistake without the visuals.
Also, it is easier to create on a visual diagram when you need to split your flow. See below: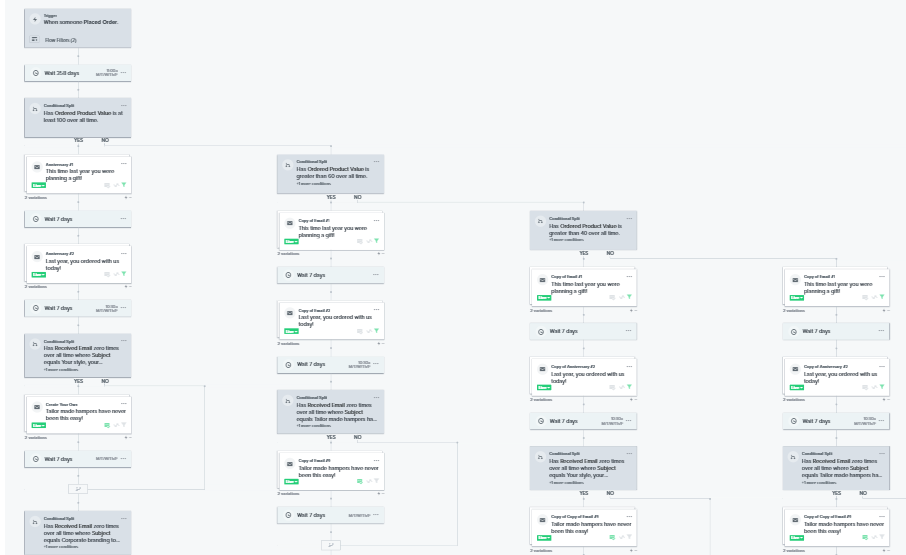 Klaviyo also has a "Browse Abandonment" trigger which is not available in Mailchimp. It is an email for those who viewed the product but did not buy it or add it to their cart.
After this trigger, the email goes to the subscriber and shows them which product they did not buy.

In other words, Klaviyo does not have automation limitations, you can create any kind of automation you want based on the data you have in Klaviyo.
6. Segments
Mailchimp segmentation is per list. In other words, if you want to create a segment where you say everybody who purchased X product, it will show you only people who were put on the list when you created the segment.
On the other hand, if you do the same in Klaviyo, it pulls from everybody in your account and it does not care what list that person is on.
Mailchimp segmentation is list-based. Klaviyo segmentation is global per account.
Klaviyo has more robust segmentation and your imagination is the only limit for creating the segment since you can create any kind of segment you want based on the information you have in Klaviyo.
7. Subscribers Profile
For this section, I will show you two snapshots to compare and provide the overview below:
Mailchimp Subscriber Profile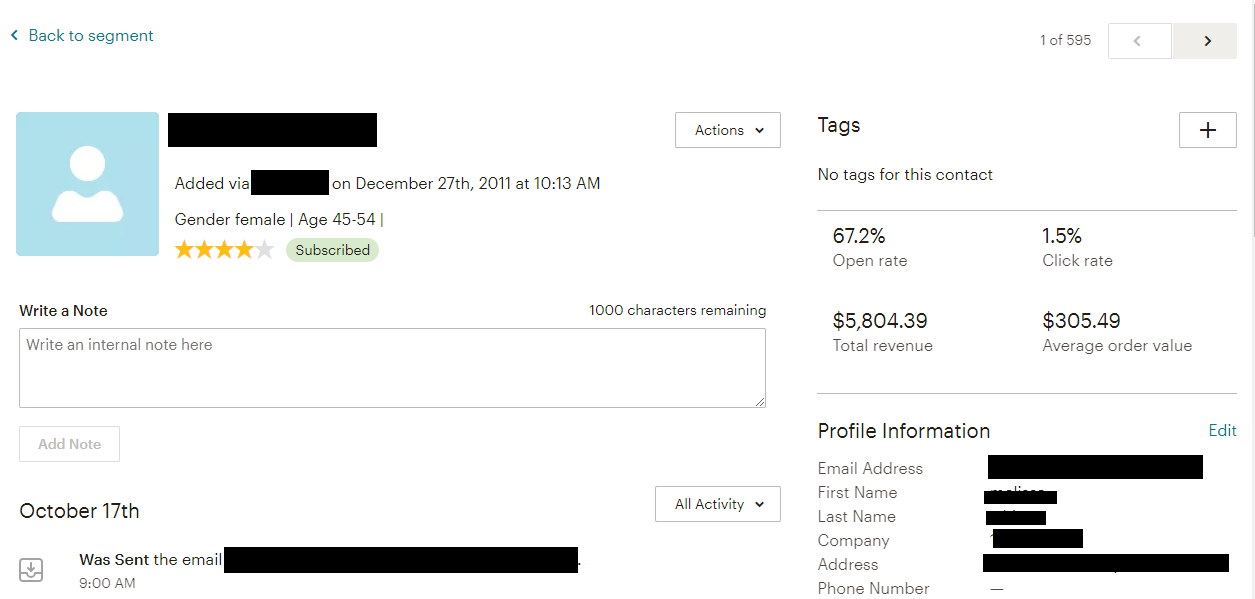 Klaviyo Subscriber Profile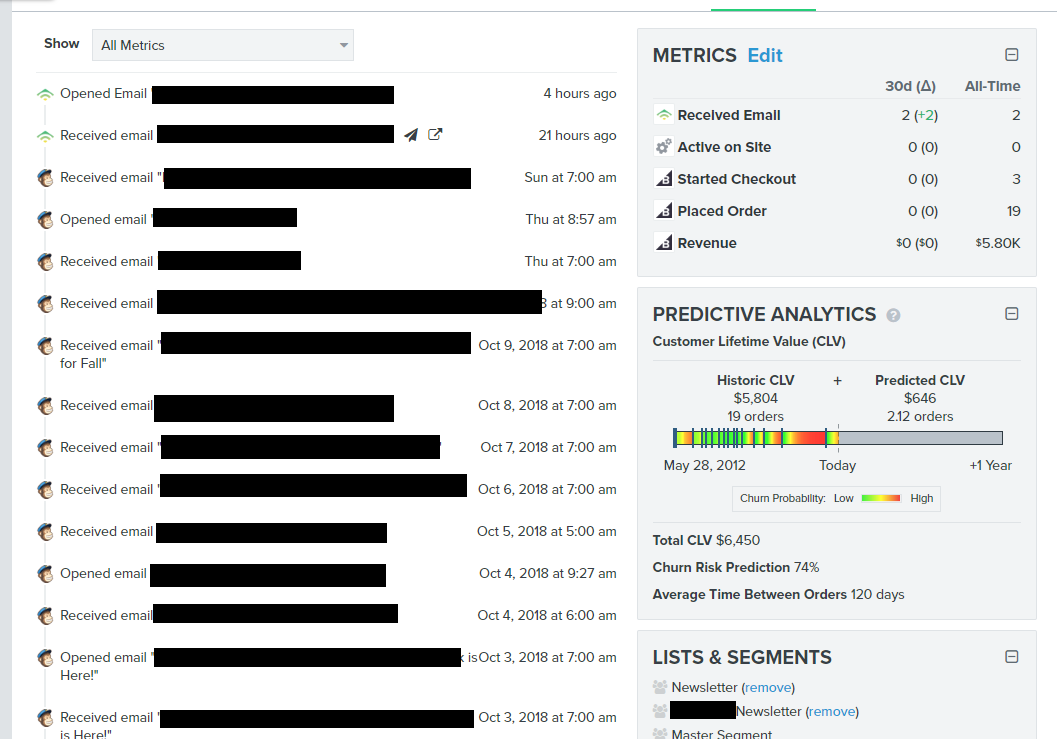 Those two snapshots are for the same subscriber. Since we recently moved this account to Klaviyo from Mailchimp, you still can see some emails which were sent using Mailchimp.
Both software have similar analytics.
However, you can customize the views in Klaviyo based on your preferences.
In addition, you have predictive analytics which are very powerful for projections.
In general, I would say we have a tie here.
8. Opt-In Forms
Mailchimp opt-in forms are based on the lists. If you want to create a new form, you need to create a new list.
Klaviyo opt-in forms are based on your desire. You can create as many forms as you want and point all to one list or one form per list or however you want/need.
Both software have drag and drop form builders.
9. Support
In the past, it took me a good 10-15 minutes to find Mailchimp support contact information. The support was helpful, but it was hard to find and required a Google search. They hide it, likely to reduce the number of requests.
Klaviyo support chat is:
Available from 9am to 5pm (EST). They are a Boston-based company
Very easy to find. It is in the top right corner under your account name
Quick and extremely helpful.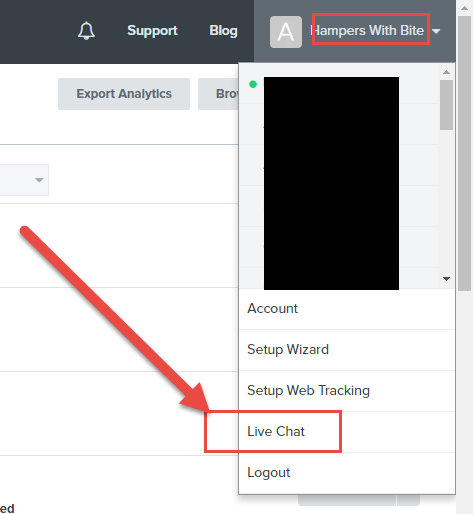 In addition, Mailchimp has three tiers of support based on the subscription plan you have. Klaviyo has one for all, even if you have a free Klaviyo account.
10. Other Features
Mailchimp has some features which do not exist in Klaviyo.
Those features are:
For the landing page, you have to pay extra if you plan to use a custom domain.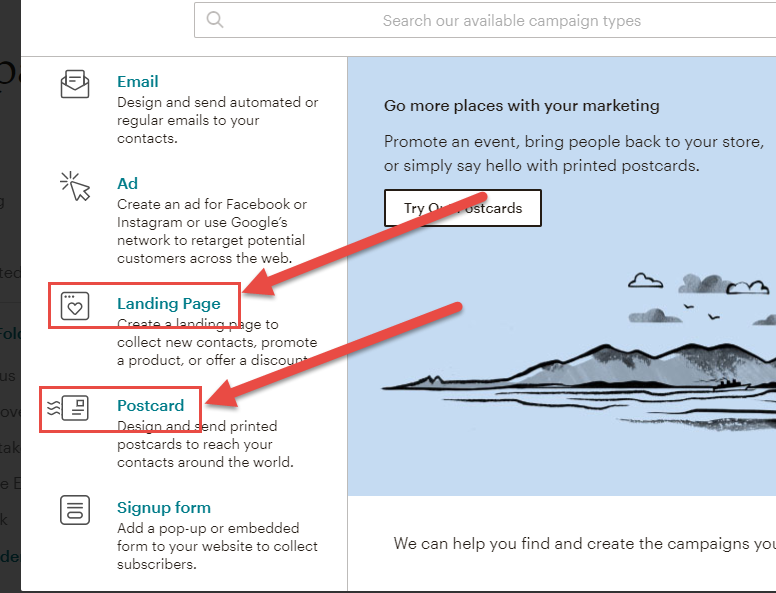 11. User Interface
I am sorry Mailchimp, but the Klaviyo team has a better understanding of user-friendliness.
I am an email marketing consultant and people hire me to do their email marketing for them. It is my profession, but even still, it is hard for me to follow Mailchimp's logic on how to set up automation, etc.
For some projects in the past, I had to be very creative to accomplish what I wanted in Mailchimp.
At first glance, I might think I had an easy project, but then with Mailchimp's limitations, I would have to create many extra steps to accomplish the goal.
12. Pricing
Before I show you the price per subscriber comparison, I want to clarify how Mailchimp and Klaviyo charge per subscriber.
| | |
| --- | --- |
| Klaviyo | Mailchimp |
| Subscriber-based | List-based |
| One plan for everybody, pricing depends on the number of active subscribers | Three different plans with different features  |
| Costs more | Cheaper |
Klaviyo is subscriber-based. It means you pay only for active subscribers.
Mailchimp is list-based. For example, if you have five different lists in Mailchimp, and one contact (let's say firstname@xyz.com) is on five different lists, you will pay five times for the same subscriber.
In Klaviyo, that same person (firstname@xyz.com) can be on five different lists, but you pay only once for this subscriber. Keep that in mind when you compare the pricing.
In addition, Klaviyo bases its pricing only on the number of subscribers and provides everybody the same set of features. Mailchimp has three different plans and some features are not available to other plans.
Klaviyo costs more, there is no argument, but every penny is worth it.
If you just need a platform to send emails, Mailchimp is the right software for you. However, if you plan to make money and see how each email performs, you need to pick Klaviyo.
Okay, so how much does Mailchimp cost compared to Klaviyo? Here's an overview.
→ If you want to see our full pricing article, click here.

Klaviyo VS Mailchimp Pricing
| # of Subscribers | Klaviyo | Mailchimp |
| --- | --- | --- |
| 0-500 | $25 | $0 |
| 501-2,500 | $50-$125 | $30.00 |
| 2,501-5,000 | $125-$200 | $50.00 |
| 5,000-10,000 | $200-$325 | $75.00 |
| 10,001-25,000 | $325-$450 | $150.00 |
Klaviyo vs Mailchimp: Final Thoughts
As I said before, I love Klaviyo and I've intentionally stopped doing projects on Mailchimp's platform.
Why? I am not able to provide the same kind of results for my clients by using Mailchimp vs. Klaviyo.
So for that reason, I stopped using it. If you have an eCommerce business or are starting one, I highly recommend investing in the best software even if your budget is tight at the moment.
I know Mailchimp offers free services up to 2000 subscribers, but sooner or later you will switch to Klaviyo and the migration will cost you more than you've saved.
I love this quote by Klaviyo:


→ If you want to try a Klaviyo account for free, click here to create a free account.
If you have any additional questions, please leave them below in the comments section and I will respond to them.
***Some links in this article are affiliated.
Migrate from Mailchimp to Klaviyo today
Frequently Asked Questions
What is the biggest difference between Klaviyo and Mailchimp?
Mailchimp is a great tool to send email campaigns. However, Klaviyo is conceived to help your eCommerce make money. The use of relevant data is at the core of the software, which helps you build highly personalized and targeted email campaigns.
Which email marketing software is less expensive: Mailchimp or Klaviyo?
Mailchimp functions with three pricing plans, and it's overall more affordable than Klaviyo's subscriber' based pricing. However, experts' opinion is that every penny is worth the investment in Klaviyo.
Which features Mailchimp has that Klaviyo doesn't?
Landing pages and postcards are two features that Klaviyo doesn't have. However, it is important to know that the landing pages feature is a paid one in Mailchimp.