Father's Day is a time to recognize and thank the outstanding fathers who have had a profound influence on our lives. This holiday offers businesses a fantastic chance to engage with their target market and develop campaigns that are memorable and popular with consumers.
The stunning $20 billion that Americans spent on Fathers' Day in 2022 demonstrates the enormous potential of holiday marketing. This makes it a perfect opportunity for businesses to create engaging Father's Day email marketing promotions that draw in customers and increase sales.
We've collected a ton of ideas and tips for your Father's Day email campaigns in one blog post. We've got you covered with the following:
So let's dive in and get started.
Father's Day email campaign and segmentation strategies
There are a bunch of ways to approach this holiday, from simply sending one email on Father's Day and saying 'Happy Father's Day' to implementing an extensive email marketing strategy with multiple emails, follow-ups, and advanced segmentation. We will outline just a few things you can do. You can choose a single strategy or mix and match approaches that best suit your brand.
Happy Father's Day
As I mentioned earlier, a simple email can be sent on Father's Day, which falls on the 3rd Sunday in June. You can infuse the holiday spirit by including Father-style jokes in your campaign to make it more enjoyable, or you can keep it official and extend your well wishes for the holiday.
When it comes to segmentation, it's beneficial to have knowledge about your recipients. If you use Klaviyo, they offer predictive gender segmentation, allowing you to personalize your campaign based on the recipients' genders.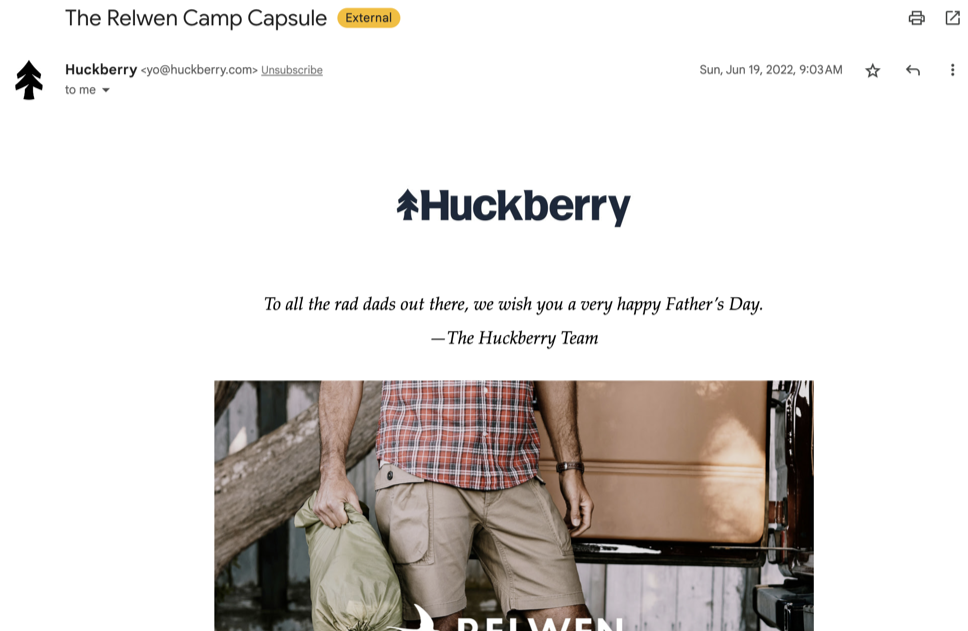 Offer to opt-out
Respect your customers' preferences by providing them with the option to opt out of Father's Day email campaigns. A thoughtful and straightforward opt-out strategy empowers customers to make their own choices. By implementing this approach, you demonstrate your commitment to delivering a positive customer experience and enables you to send more targeted messages.
Additionally, create a segment for those who have opted out and exclude them from any future Father's Day email communications. This ensures that their preferences are respected not only for this year but also in the years to come.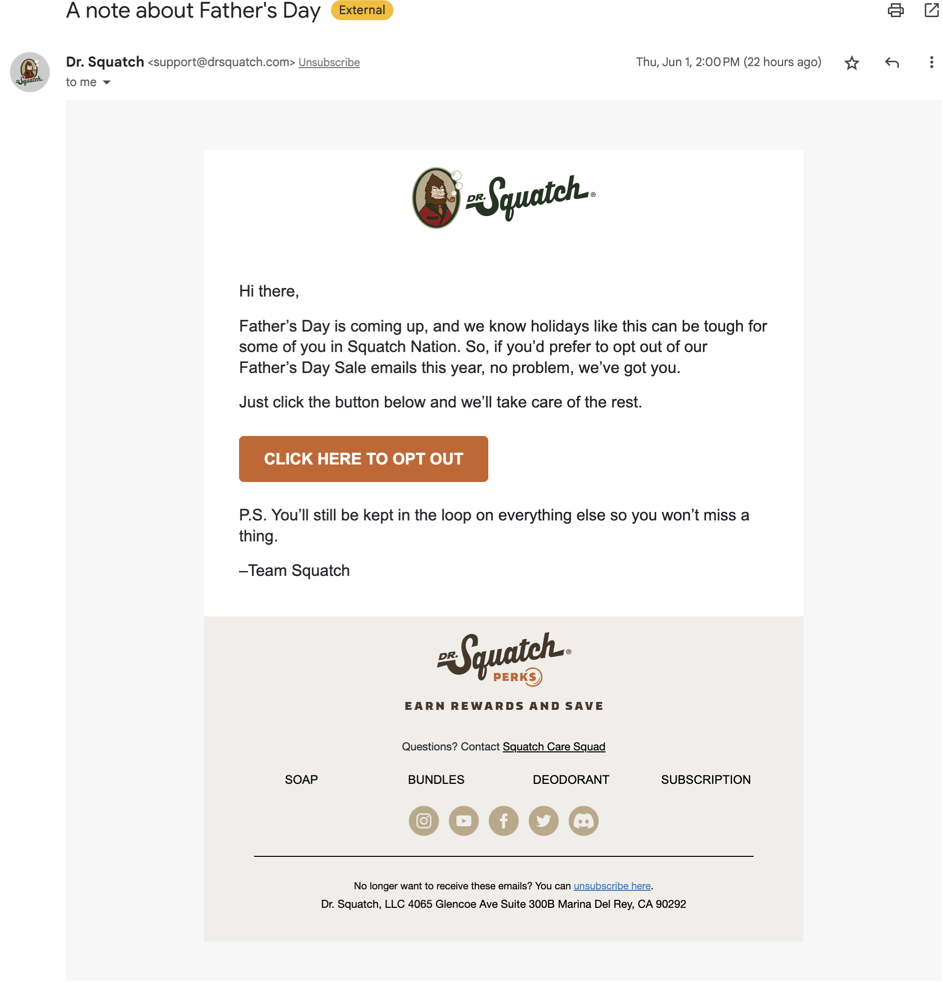 Gift guides
It is an incredibly valuable resource to send a gift guide to your audience 1-2 weeks before the holiday. The guide should not only feature your products but also other products you believe your audience would appreciate.
Why include other people's products? Your primary goal is to provide the best service to your customers, and selling your own product is secondary. I highly recommend taking inspiration from the Mall Santa in the movie "Miracle on 34th Street." He serves as a fantastic role model by keeping the customer's best interests in mind.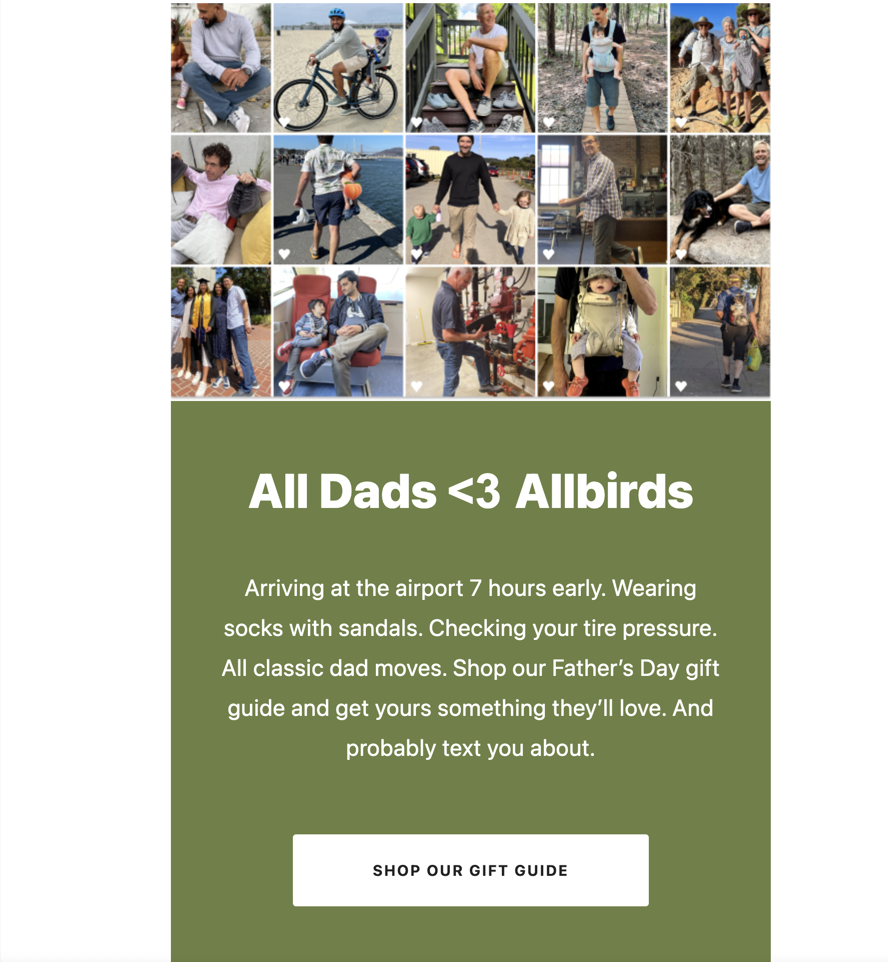 Last chance
As we do in December for Christmas, it's a great idea to send a campaign informing your subscribers that it's the last day to make a purchase to ensure timely delivery before the holiday. As someone who tends to be late with gift buying, these email reminders have saved me countless times.
As a customer, I truly appreciate it when the brands I like send such campaign reminders. If your subscribers have already made a purchase from previous campaigns, be sure to exclude them from this particular campaign.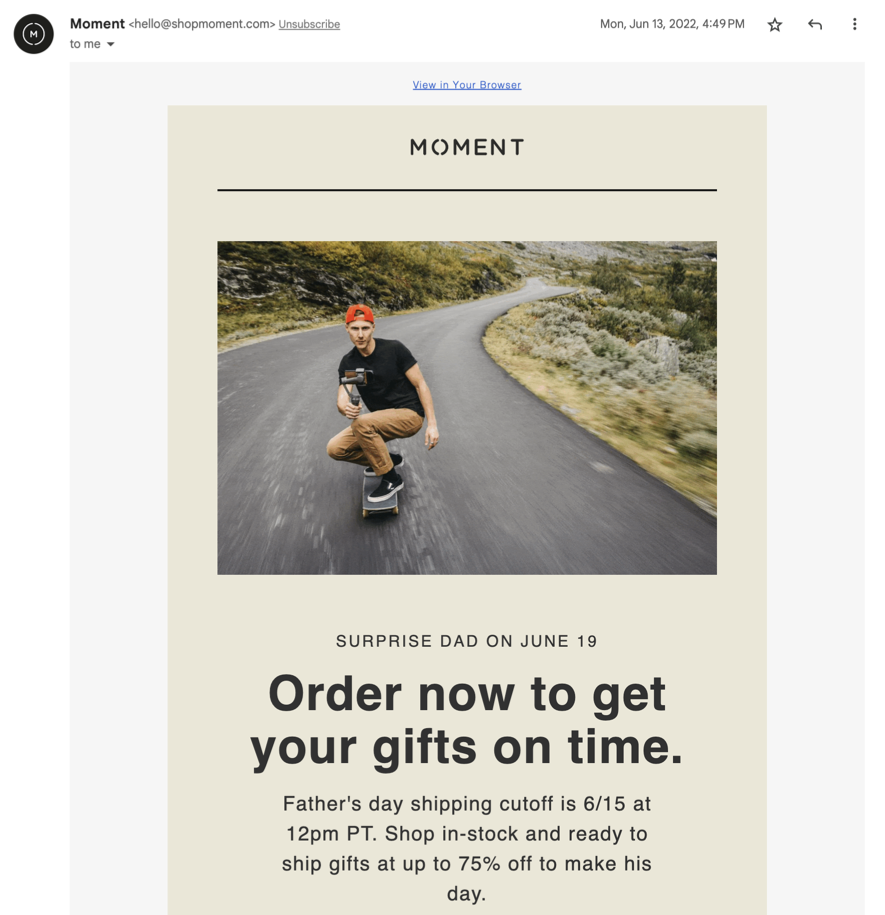 Too late
If it's too late for them to receive the physical product on time, consider sending a last-minute campaign suggesting the purchase of a gift card as a Father's Day gift.
However, be sure to exclude customers who have already made a purchase during the Father's Day promotional period.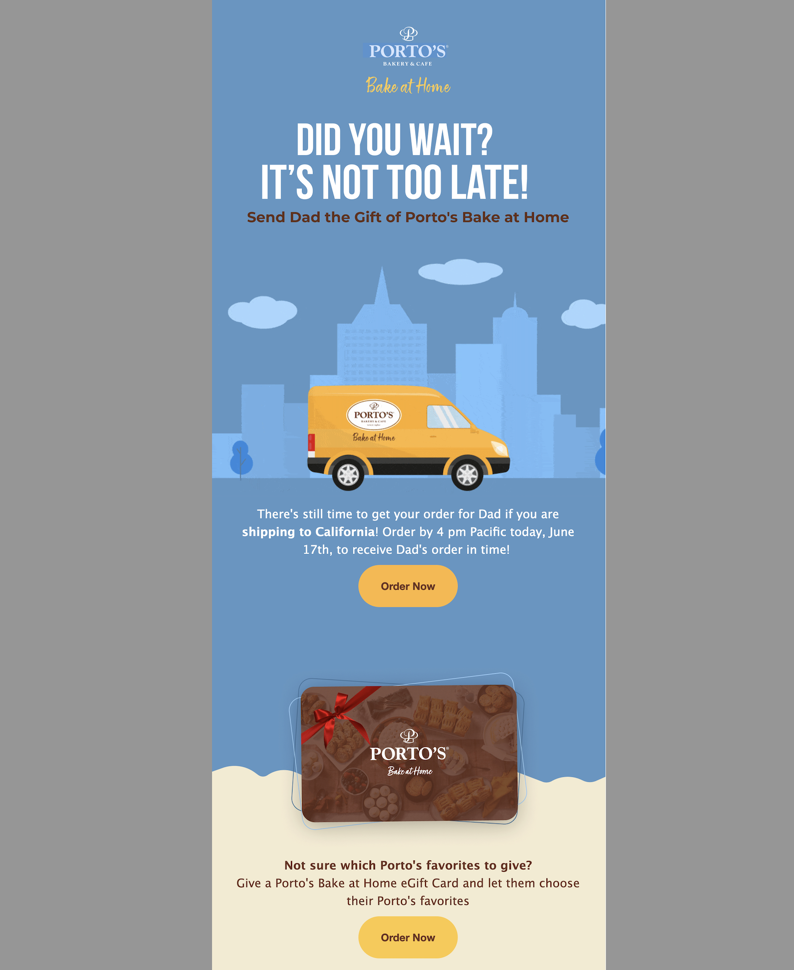 DYI campaign ideas
This campaign may not generate immediate sales, but it will provide your customers with ideas on what they can give to their fathers. Consider recommending activities such as writing a heartfelt letter, handcrafting a personalized card, or purchasing flowers. Your subscribers will appreciate these suggestions.
Remember to segment out those who have already made a purchase and exclude them from this campaign.
Father's Day email design examples
For ideas, we've put together a list of Father's Day emails that you can use as a starting point for your own email marketing campaign.
Rothys
I believe the Rotys brand has some of the most beautiful emails in the market. They have a well-balanced strategy between selling and providing nurturing content for their customers, and their Father's Day emails are no exception. Here are three examples of the emails they sent during their Father's Day campaign.

Dr. Squach

I discovered Dr. Squatch last year when they targeted a group of people like me. I opted in for their emails and instantly fell in love with their unique approach. Their emails not only have amazing designs, but also incorporate humor and an overall appealing style.

Moment
Moment is a brand that specializes in selling photography, film, and travel accessories. They put a strong emphasis on Father's Day promotions and send out beautifully designed emails before the holiday. Here are three examples of their Father's Day emails.

Pinterest Board
Our blog post features a limited selection of Father's Day email designs. However, you can find more examples on our regularly updated Pinterest board. Be sure to pin the board for a wider range of Father's Day email inspiration.
Father's Day email subject lines ideas
As you know, no matter how great your email copy or design may be, it won't matter unless your recipient actually opens the email. That's why having a catchy subject line is crucial, as it helps pique the curiosity of your subscribers and encourages them to open your email.
10 emotional subject lines ideas
Email subject lines for Father's Day that express love and respect for fathers are sure to get opened. Use cues like this one to catch your clients' attention.
"Celebrate the Hero in Your Life: Father's Day Gift Ideas Inside"

"For the Man Who Taught Us What Love Means: Father's Day Specials Await"

"Honor Dad with a Gift from the Heart this Father's Day"

"Say 'Thanks, Dad!' with the Perfect Father's Day Surprise"

"Make His Day Extra Special: Unique Gifts for Father's Day"

"Dad Deserves the Best: Unforgettable Father's Day Gifts Await"

"Capture His Heart: Father's Day Experiences to Cherish"

"Express Your Gratitude: Surprise Dad on Father's Day"

"Show Your Love: Thoughtful Gifts for Father's Day"

"Celebrate Fatherhood: Unleash the Emotion This Father's Day"
10 Father's Day Gift Ideas subject lines
The majority of people struggle to find the perfect gift for their fathers or loved ones. That's why there are numerous gift guides available on the internet with various Father's Day gift ideas. Including a hint about gift recommendations in your subject line will undoubtedly grab your subscribers' attention. Here are some ideas to consider:
"Shop Dad's Perfect Gift – Father's Day Gift Guide Inside"

"Gift Ideas for Dad – Make His Day Extra Special"

"Surprise Dad – Shop Father's Day Gifts Now"

"Unforgettable Father's Day Gifts – Shop Now"

"Celebrate Dad – Find the Perfect Father's Day Gift"

"Gifts for Every Dad – Father's Day Edition"

"Curated Father's Day Gifts – Shop Now"

"Spoil Dad – Shop Father's Day Gift Ideas"

"Give Dad Joy – Explore Father's Day Gift Recommendations"

"Shop Dad's Favorites – Father's Day Gift Selection"
10 Holiday Spirit Subject line ideas
Use holiday-themed subject lines to increase your email open rates. Here are some ideas to inspire you:
"Spread Cheer this Father's Day with Thoughtful Gifts"

"Warm Wishes for Dad – Find the Perfect Father's Day Gift"

"Father's Day Joy is in the Air – Shop Now!"

"Deck the Halls for Dad – Father's Day Gift Ideas"

"Jingle All the Way to Dad's Heart – Shop Father's Day Gifts"

"Ho Ho Dad! Unwrap the Perfect Father's Day Surprise"

"Tis the Season to Celebrate Dad – Discover Gift Ideas"

"Father's Day Magic – Find Gifts that Make Him Smile"

"Holiday Vibes for Dad – Shop Father's Day Delights"

"Festive Father's Day Finds – Spread the Holiday Spirit"
Help with Father's Day campaign?
If it is overwhelming or you simply don't have the bandwidth or experience to create a Father's Day campaign for your brand, let our team of email experts do it for you. Simply select the best day and time to schedule a call with us.