Abandoned carts are a common problem for online retailers. According to multiple studies, the average cart abandonment rate for eCommerce is 68.81%. 
The solution? Abandoned cart email sequences. 
Abandoned cart emails are perhaps the most successful way to recover sales that would have been lost otherwise. But in order for your abandoned cart email flow to work effectively, you need a well-thought-out strategy in place.
In this article, we'll cover everything you need to know about abandoned cart emails – from what they are and why they work to what makes them effective and how you can use them in your own eCommerce business.
Abandoned Cart Email: Definition
As a marketer, you've probably heard about abandoned cart emails many times before. In a nutshell, abandoned cart emails are automated messages sent to customers after they add items to their carts but don't make a purchase. 
Let's dive deeper into the definition of abandoned cart emails. 
What is an abandoned cart?
An abandoned cart is when a potential buyer adds at least one of your products to their cart but leaves the site without purchasing it.
There may be tons of reasons why the customer didn't end up buying your product, leaving an abandoned cart:
They ran into unexpected costs

Their favorite payment option wasn't available

They changed their mind

They're still wondering if it's the right choice

They're searching for a lower price somewhere else

They got distracted

They were window shopping
💡 Abandoned carts lead to loss of revenue for your eCommerce store, which means it's in your best interest to prevent them. 
The best way to recover an abandoned cart is by sending an abandoned cart email.
What is an abandoned cart email?
An abandoned cart email is a friendly reminder to customers that their shopping cart has some items they haven't purchased yet. 
Sending a cart abandonment email sequence is a good abandoned cart recovery strategy and usually consists of one or more emails sent after the customer leaves their cart. 
In other words, an abandoned cart email flow is a series of emails sent automatically to people who added items to their cart and started their checkout process but failed to complete it.
💡 Do abandoned cart emails work? According to Klaviyo's benchmark, the average open rate of abandoned cart emails is 41.18%, and the average click rate is 9.50%. According to MooSend, the conversion rate is 10.7%.
This type of marketing is effective because it allows you to target your customers when they're most likely to purchase.
Unlike other types of marketing strategies that promote your brand or product, abandoned cart emails focus on a specific product that's already been added to a customer's shopping cart and left there.
All you have to do is remind them about it and encourage them to complete the purchase.
The main goals of abandoned cart emails are to:
Remind your customer to return and buy your product

Recover lost sales and revenue

Reduce cart abandonment in the future

Build trust with your customers

Encourage repeat purchases.
The Most Optimal Abandoned Cart Email Strategy in 4 Emails
A customer visits your site and checks out specific product(s). They add those products to their cart and start the checkout process. And then, they disappear.
There is no doubt that this potential customer is a "hot lead."
Now, your job is to convert this lead into an existing customer. 
Here's our most optimal abandoned cart recovery strategy that consists of four emails:
Email #1 – Reminder

Email #2 – Objection

Email #3 – Discount with 48hr deadline

Email #4 – Last chance to get a discount.

Let's break down each email.
Email #1 – Reminder:
We send this email four hours after a customer abandoned the cart. The purpose of this email is to remind the customer of the item they were interested in.
In today's world, it's very easy to be distracted. You receive a text message or a Facebook notification, someone knocks on your door, or something else happens, and you forget what you were doing.
It happens to us all the time. Your customers get distracted – and your job is to remind them about the products they were going to purchase.
Email #2 – Objection
As a part of our abandoned cart strategy, we send the objection email within 24 hours after a visitor abandons their cart. The timing is essential!
We continue sending those emails and stop only after the customer makes the purchase.
The purpose of the object emails is to tell the customer why they should finish their purchase, why you're the right brand for them, and why your product is the best on the market.
Email #3 – Discount With a 48-Hour Deadline
No sooner than the third email do we offer clients a discount for the product they left in their cart.
The reason why we don't offer it sooner is that, up until the third email, we aren't sure yet if the customer abandoned their cart because they thought the price was too or if they just got distracted. 
We send this email within 24 hours after the last one, which is enough time for them to make a decision after receiving the previous emails.
If they don't make the purchase, it means that they aren't as motivated to buy as we want them to be. That's why we offer them a discount for the product they left in the cart. However, we add 48-hour urgency to this offer.
Many store owners make a mistake by offering a discount without any deadline. This doesn't motivate the customer to make the purchase as soon as possible, so they end up procrastinating.
Adding some sort of urgency can prevent this from happening and entice the customer to make the purchase. We usually give customers a discount window of 48 hours, but it can also be shorter if that's what's best for your store. 
Email #4 – Last Chance to Get a Discount
We send this email on the day the discount code expires.
We want to remind the customer about the discount we gave them and add urgency by reminding them that the offer expires in a few hours.
Strategic Tips to Recover Abandoned Carts with Emails
There's no doubt that abandoned carts are losing you tons of money. If you're experiencing a high cart abandonment rate, you may have a problem. But the good news is that it's not all doom and gloom! 
With the right strategy and tools, you can recover those sales before they get lost forever. Here are a few strategic tips for setting up effective abandoned cart emails. 
Set up a special abandoned cart email strategy for returning customers
You don't want to talk to your returning customers like you do to new customers. 
Personalize their copy:

You can personalize the content of your abandoned cart emails to returning customers. For example, you can say, "Thank you for returning to our store and checking out our XYZ product. Since you're an existing customer, and we value our relationship, we're offering you $10 towards the products you left in your cart".

Add a dynamic recommendation product block: If your email marketing service provider allows you to add dynamic product recommendations, take advantage of this feature. Since you've already collected some data about what the customer likes, the product recommendation block will show more products they might be interested in.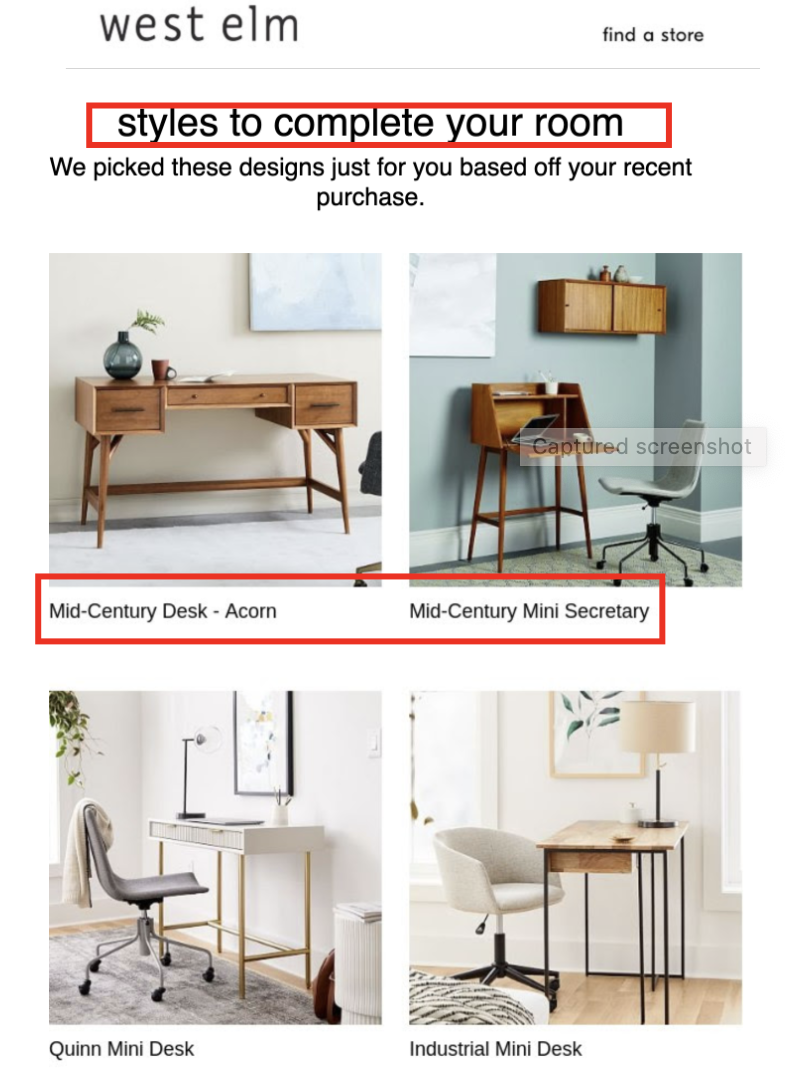 Invest more efforts in high-value abandoned carts
The high-value abandonment carts bring almost five times more revenue per recipient than the low-value ones. 
We did a test to prove it: 

Our advice? Make high-value automation more attractive and offer higher incentives to customers with high-value abandoned carts. They will spend 4-5 times more than the low-value cart customers.
Leverage loyalty programs when recovering abandoned carts
If you have a loyalty program, you should leverage it in your abandonment cart email sequence instead of giving the customer a monetary discount. This will help with customer retention in the long run. 
There are two strategies we recommend using around the loyalty program.
Incentivize with the points offer:

If your customer isn't a loyalty program member, then the 3rd and 4th email in your cart abandonment sequence should focus on your loyalty program. This will help you not only recover abandoned carts but also sign your customers up for loyalty membership, which means higher customer retention and more sales in the future. 

Leverage your VIP loyalty program:

You should have different tiers in your loyalty program (aka VIP program). Each tier offers the customers a different set of benefits. In the abandonment cart email sequence, you can tell them how many points they will get after they complete their purchase and how close they will become to reaching the next VIP level.
Set up a special abandoned cart strategy for wholesale
Developing an automated abandonment cart email strategy is also useful if you have a wholesale side of your business. 
Here's an example email flow you can set up: 
Email #1 – Reminder

Email #2 – Reasons to buy from you

Notification #1 – Add to CRM for manual follow-up

In the first email, simply remind your customers about the items they left in their cart. Don't forget to leave your contact information if they want to contact you with any questions. What's more, adding a link to your wholesaler FAQ page is also a good idea.
In the second email, overcome the possible objections your customers might have and tell them why they should buy from you.
If your customer didn't take action after these two automatic emails – aka, they didn't complete their purchase – it's time to start the manual follow-up.
At this stage, you want to add them to your sales CRM by automatically creating a deal in your software. Once the customer is added to the flow, follow up with them manually. You can do it via email, phone, text, or other means of communication.
How to Create an Abandoned Cart Email: Best Practices
Abandoned cart emails are a great way to recover revenue from customers who have left their shopping carts without completing their purchases. However, in order for them to work, you need to implement a few proven strategies.
Here are some of the best practices we've gathered for creating effective abandoned cart email sequences that will help you get more sales.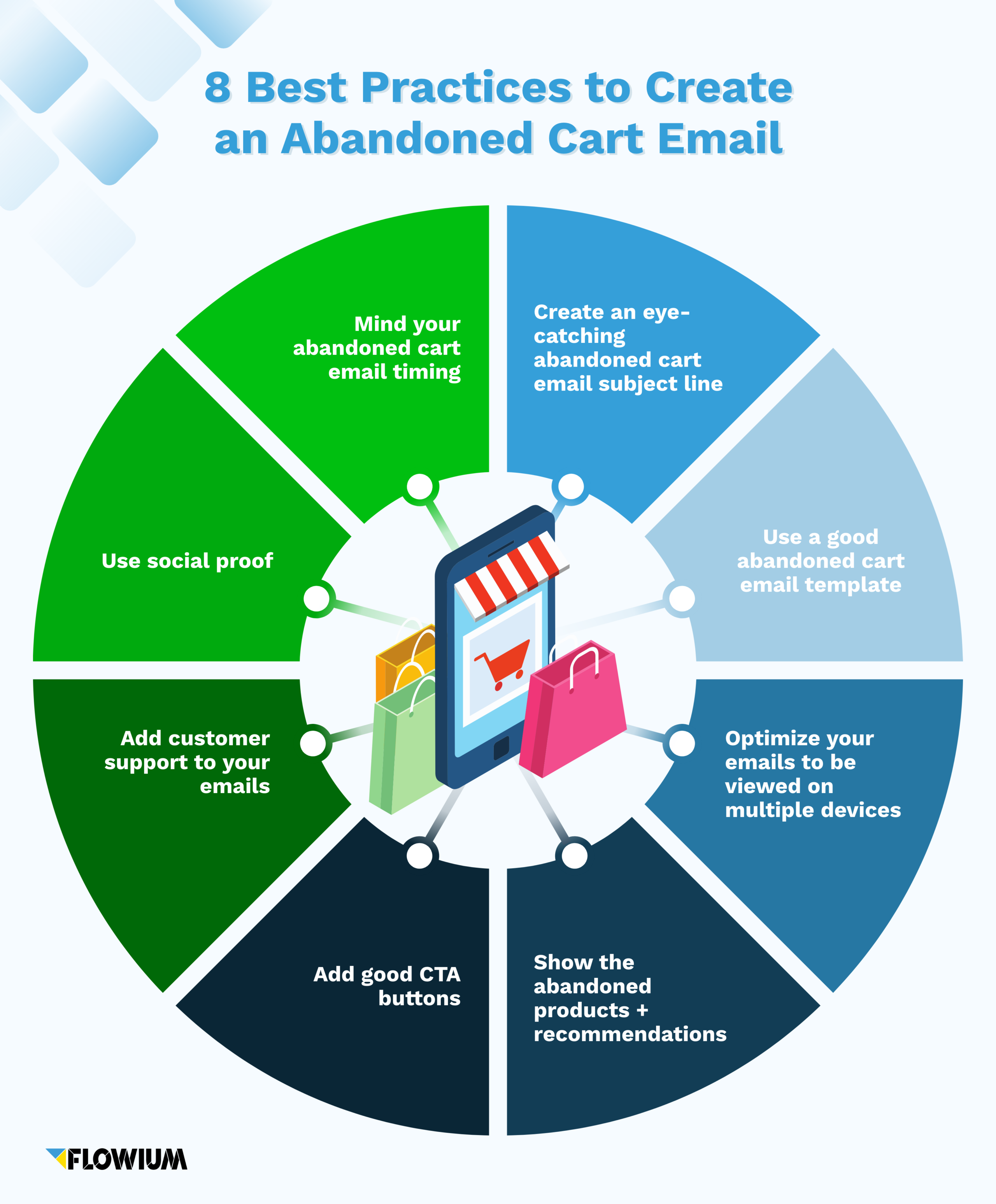 Create an eye-catching abandoned cart email subject line
Abandoned cart emails should always have catchy subject lines. The best subject lines are short and concise.
Some subject lines may even consist of two or three words. Here are some examples:
"Items Left in Your Cart"

"Are You Still Shopping"

"Get 15% Off"

And so on.
Here are a few more creative subject line ideas:
"Your items miss you :'("

"Don't let free shipping go to waste"

"We put your products aside for you"
Use a good abandoned cart email template
With the right email marketing software, sending abandoned cart email sequences is a breeze. Most email marketing tools allow you to automate your sequences and use pre-made quality templates. 
This will save you the hassle of creating your email from scratch.
📌 Tip: Keep your emails authentic by speaking in your brand voice. If you prefer a unique email design, seek the help of a professional design agency. 
Optimize your emails to be viewed on multiple devices
Sometimes, customers may not complete their purchase because your website isn't responsive, which means it's not compatible with different devices. The same goes for your emails. 
To increase the effectiveness of the abandoned cart email sequences, make sure that your emails look good and work well across all devices. 
Show the abandoned products + recommendations
To motivate your customer to purchase, you should remind them what they're missing out on. You can do that by including a picture of the items they left in their cart in your emails. 
However, don't limit your email only to abandoned items. Your cart abandonment sequence is an excellent opportunity to recommend other products or alternatives your customer might like.
This way, if the customer doesn't complete their abandoned purchase, they may decide to buy something else instead.
Add powerful CTA buttons
Your CTA (call-to-action) buttons should be:
Visually prominent,

Attention-grabbing,

Eye-catching.
Your CTA buttons should be placed strategically on your website, checkout page, and emails. Moreover, your CTA buttons should stand out visually from the rest of the page or email. 
This will ensure that your customers can easily find them on the page or email and click on them without wandering around.  
Add customer support to your emails
Good customer service demonstrates to your customers that they can rely on you. That's why including your contact information in your emails is essential. 
This way, if your customers want to contact you – for example, because they were unable to finish their checkout process due to a technical glitch – they will be able to do it quickly and easily. 
Make it easy and accessible for people to contact you. It's also crucial for you to quickly and efficiently respond to inquiries concerning shipment times, refunds, and the goods themselves. 
📌 Tip: You may also include a general FAQ section in your emails.
Use social proof 
If your eCommerce is new, your customers may hesitate to finish the checkout procedure. Few to no customer reviews may make potential customers skeptical of your company's credibility.
To prevent this, include as much social proof as possible on your site and emails. After each purchase, send your customers a feedback request and ask them for a genuine review. This will undeniably help you grow. 
Mind your abandoned cart email timing
When it comes to sending abandoned cart emails, time is crucial. If you wait too long before sending the first abandoned cart email, your customer may lose interest in completing their purchase. 
That's why the first email in your cart abandonment sequence should be sent as soon as one hour after a customer abandons their cart. The second email should be sent about 12 hours later, and the subsequent email 24 hours later. 
📌 Tip: Remember not to sound too pushy in the first few emails, as this may repel your customers past the point of no return. 
Best Abandoned Cart Email: Examples
To give you a better understanding of how to create your abandoned cart emails, we've curated a selection of the best abandoned cart emails we could find.
Columbia

This abandoned cart email example from Columbia has numerous great characteristics.
It starts with enticing words, "Great News!", offers a discount, and clearly shows the product left in the cart. It also suggests similar products for upsells or cross-sells.
This can be particularly helpful if the customer bought the product they looked at from another site, as they may still find something they like from you.
Showing other recommendations also appeals to customers who liked the product but didn't love it, as they may have missed one of your alternatives.
The email also highlights standout features, like free shipping on all details. It even entices with discounts thanks to the 50% off doorbusters.
Food52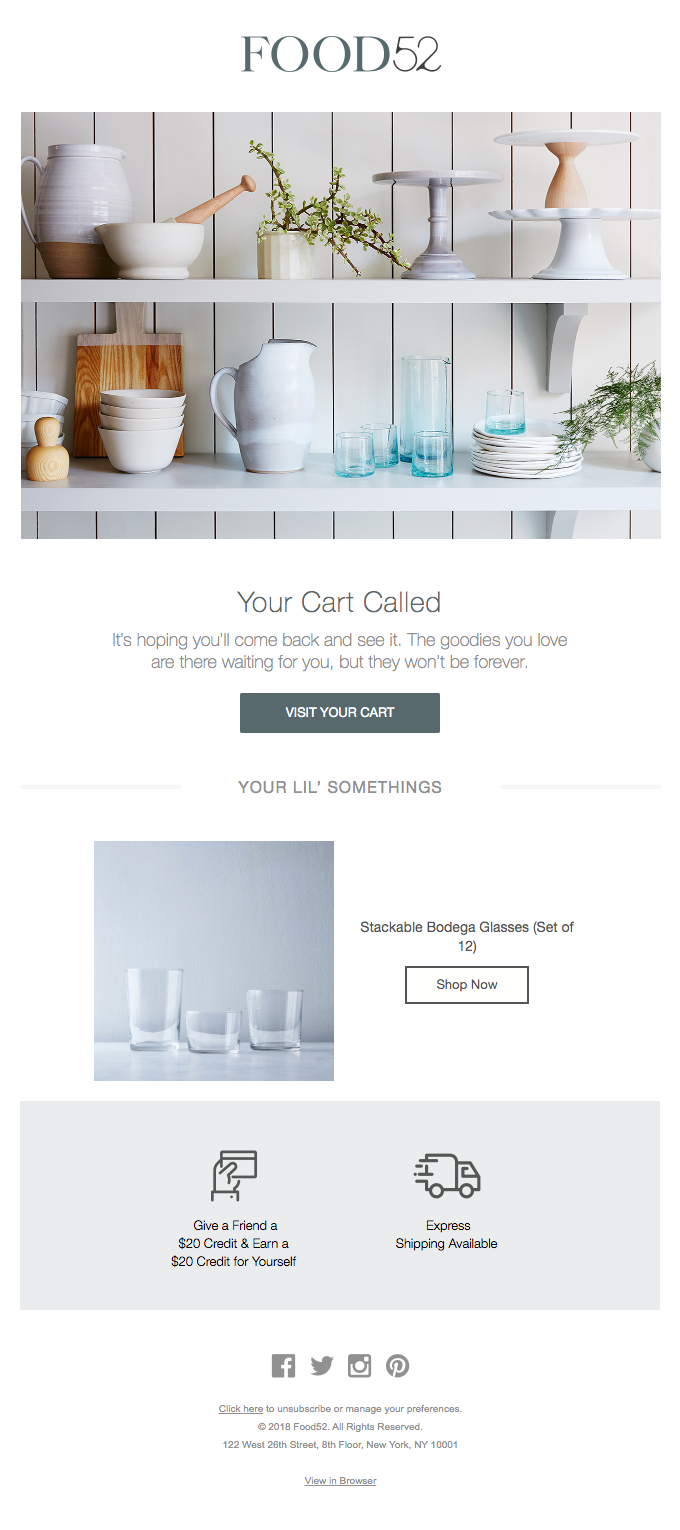 In this email from Food52, the subject line encourages recipients to open it by complimenting them and letting them know the product is reserved for them. This eliminates concerns about whether the product will still be available.
The content includes two calls to action, a product description and image, and a reminder about offers that set the brand apart, such as referral bonuses and express shipping.
Perigold

This email from Perigold is another example of an abandoned cart email that includes the items left in the cart and related products. This is a common strategy that leads to increased revenue. 
It also helps to convert customers who didn't complete the purchase because they realized the product wasn't what they were looking for. So, by including related items, they may see something else that catches their interest. 
This email also uses eye-catching text, referring to the product as "the perfect piece," which makes the customer think of it as the best product they can find. 
→ Shopify user? Discover all you need to know about Shopify abandoned carts.
Public Rec: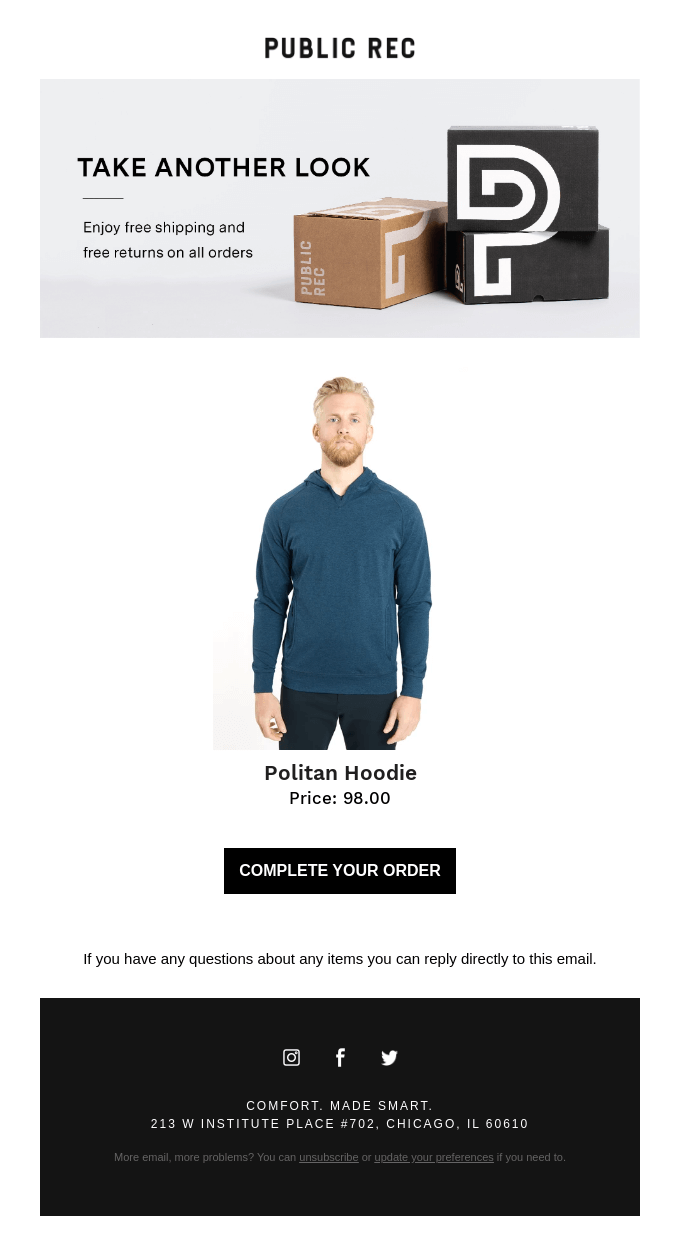 While this email doesn't offer a discount, it implements all the other best practices for abandoned cart emails.
For instance, it encourages the customer to "take another look" at the items they left in their cart and reminds them about free shipping and returns. It includes an image, description, and price of the product.
It also has contact information in the footer. What's unusual is that the email mentions that you can reply to it directly for easier contact, which is quite rare for marketing emails.
→ Tip: Track your cart abandonment with Google Analytics.
FAQs About Abandoned Cart Emails
Why are abandoned cart emails so important?
The customer already started the purchase funnel before abandoning its cart. It shows that he has an interest in your product. Maybe he had a problem during the checkout? Maybe he gave himself some time to reconsider the purchase? You don't know. So you should try to remind him about his interest. The abandoned cart email is a huge conversion opportunity.
When is the best time to send an abandoned cart email?
The first abandoned cart email should be sent one hour after the cart was abandoned. This is enough time to fix any checkout problems, and not enough time to forget about the product. The second and third abandoned cart emails should follow after one day, and then after 2-3 days.
How many emails should my abandoned cart series have?
It's all up to your preferences. The norm is between 1 and 4 emails. More than that would be considered spam. But only one email one hour after the cart was abandoned is also not always enough, as the customer may have not decided yet if he/she wants the item.