Part of creating a successful abandoned cart email is crafting the perfect subject line. You want something that sets your brand apart and shows your intentions.
Learn the best practices and tips for creating successful abandoned cart subject lines and then look at some great examples for inspiration.
Before Abandoned Cart Subject Lines: What Is an Abandoned Cart and Why Should You Send an Email?
An abandoned cart refers to when someone puts a product in their digital cart but then leaves your website without buying it.
Sending an email gives you a chance to reach out to the shoppers who abandon their cart. It essentially helps you reduce the risk of losing the sale.
To put the importance of abandoned cart emails in perspective, consider that 69.57 percent of carts get abandoned (across all industries). For mobile shoppers, the rate is even higher at 85.65%.
Then, consider that:
Abandoned cart emails have a 45% open rate
Once opened, they have a 20% click-through rate
Additionally, 50 to 60% of recipients who engage with the email will make a purchase.
The Importance of Abandoned Cart Subject Lines
We established how important the emails themselves are, but what about the abandoned cart subject lines?
As with any other email, think of the abandoned checkout email subject as your first impression. How well-crafted this email is will determine your open rate.
It will also influence the shoppers' moods as they open your email. Think of it as a significant factor in whether they even open the email.
Tips to Write a Abandoned Cart or Abandoned Checkout Subject line
So, what should you do to create the best abandoned cart subject lines?
The following tips and best practices should be at the top of your list:
Know which type of subject line is right for you
Keep it short and simple
Add personalization
Create compelling text
Create curiosity
Create urgency
Use A/B testing.
Now, take a closer look at some of those.
Choosing the Right Type of Abandoned Cart Subject Line
Email marketing experts classify abandoned cart subject lines into several categories based on the goal and structure of them.
The following are among the most popular types.
Assumptive or Suggestive: These assume something, specifically that the customer forgot the item.
Brand Personality: These focus on creating a relationship with the customer.
Bribes or Incentives: These are when you offer a discount, deal, or freebie in exchange for the purchase.
Curiosity: These are subject lines that are purposely vague so the recipient opens the email.
Customer Service: These subjects encourage the recipient to contact you so you can help the order go smoothly.
Flattery: This subject line compliments the customer, such as on their taste in products.
Friendly: Instead of pushing the sale in the subject, these start with a greeting.
Product Shout–Outs: These directly mention the abandoned product.
Up-Sells: These try to not only get the customer to return but also encourage them to increase their order value.
Urgency: These use psychology and the fear of missing out for attention.
Keep It Short and Simple
Simple subject lines tend to be much more compelling. This can frequently overlap with a sense of urgency, such as "get your ___ before they're gone."
Simplicity and conciseness also go hand-in-hand. Remember that on desktop, the subject will get cut off after about 60 characters.
On mobile, this is only 25 to 30 characters. Get as much of the subject line as you can within this limit. At the very least, include the most compelling and relevant part.
Add Personalization
As with every other aspect of email marketing, personalization will make your abandoned cart subject lines more effective.
For personalization in this type of email, add the recipient's name or the abandoned product in the subject.
Create Curiosity
Using a question or ellipsis in your abandoned cart subject lines is a great way to add curiosity. Think of it as a cliffhanger to get the recipient's attention.
For example, if you say "You left something behind…," they will want to see what and where.
Create Urgency
The idea of incorporating urgency into the subject line seems straightforward, but it is not as simple as it seems.
That is because vague urgency is less effective than not using urgency. So, avoid "last chance," "about to expire," and "limited time only." Instead, be more specific, such as "Only 24 hours left."
Examples of the Best Abandoned Cart Subject Lines
Here are some examples for inspiration for your abandoned checkout email subject.
Beardbrand
Beardbrand keeps the subject line simple and evokes curiosity by just saying, "Quick heads up…" At the same time, it conveys a friendly tone.
This also helps match the tone that the brand tries to create, matching its overall brand personality.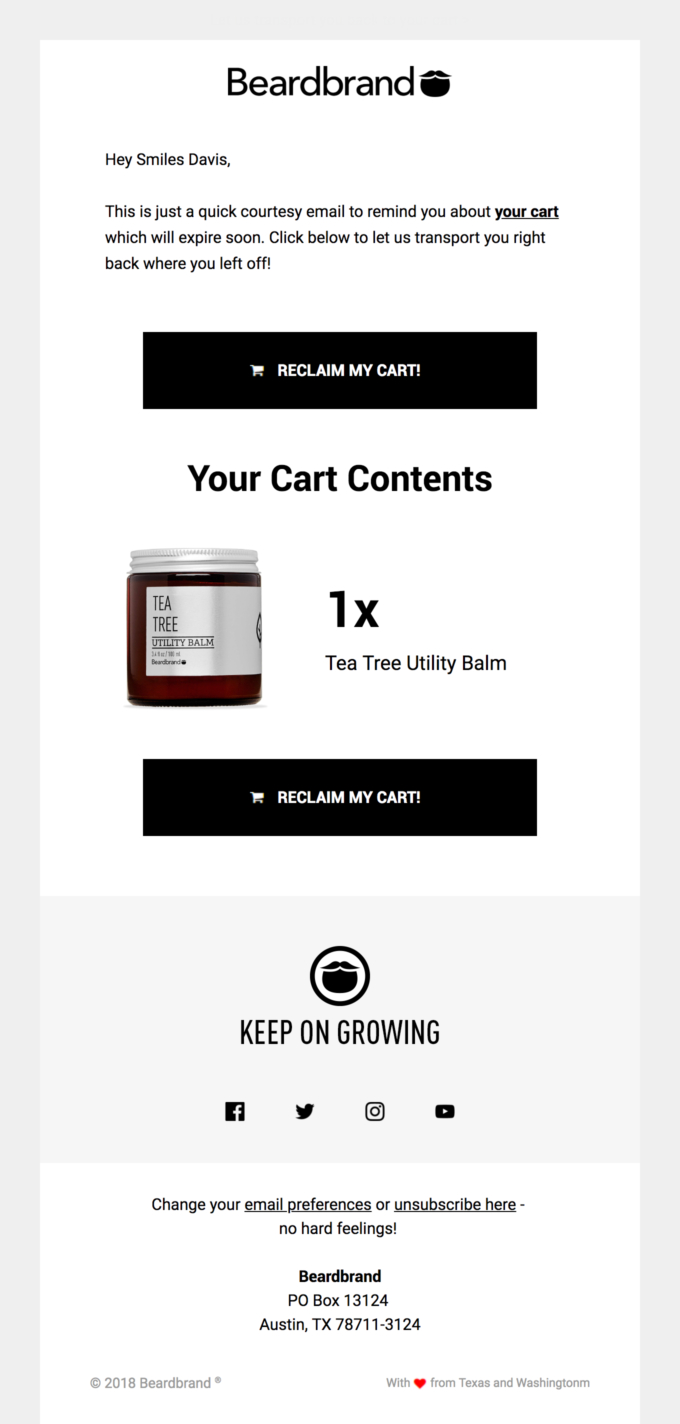 Lego
This Lego email's subject is "You've looked at some great LEGO sets!" It uses the strategy of opening with a compliment, a great attention-getter.
As mentioned, compliments not only get the attention of recipients, but they also start the interaction on a positive note.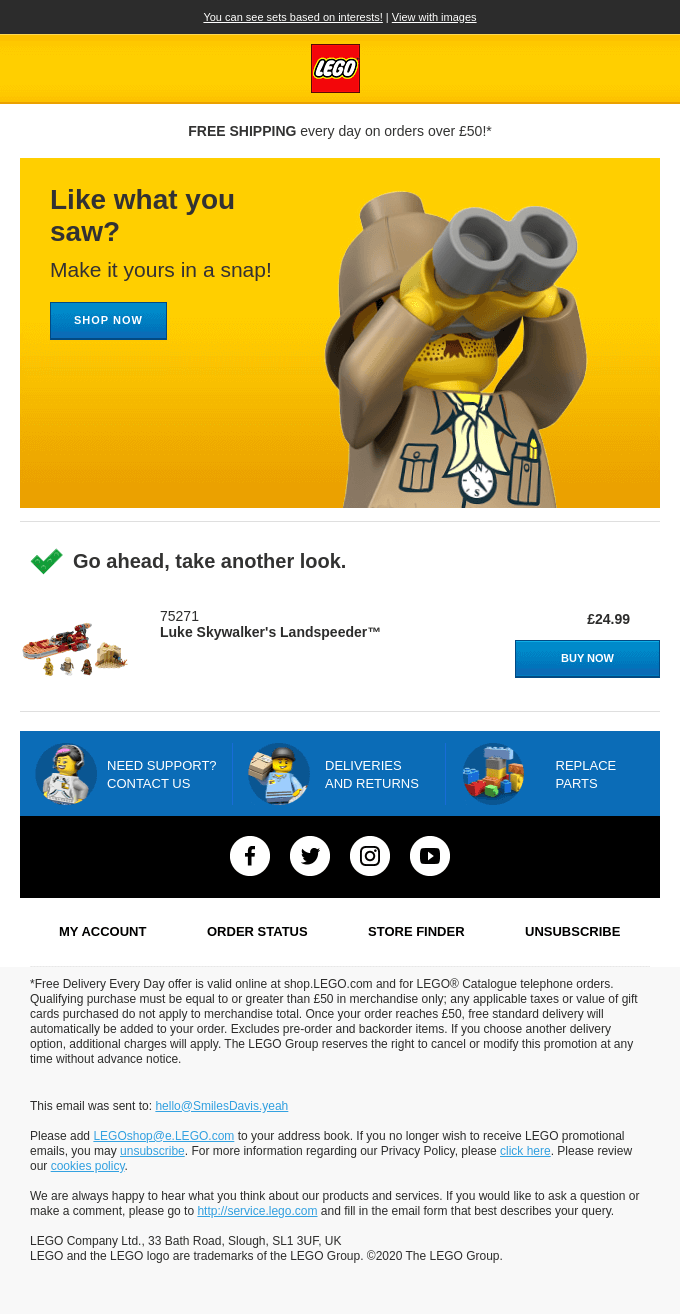 Perigold
This example from Perigold showcases how you can personalize the subject line by including the product.
It says "The Kitchen Canister is in your cart." This way, it serves as a reminder that you have something in your cart as well as specifying what it is.
The personalization also shows that Perigold cares about its customers, based on the fact that it is willing to put in extra effort for customization.


Public Rec
This example from Public Rec uses the subject line "You Forgot Something." That evokes curiosity, as recipients will want to see what it is they forgot.
At the same time, the way that it reminds recipients about items in their cart creates the impression that it is because the brand cares about customers, not for profit. This further helps develop trust and a good relationship.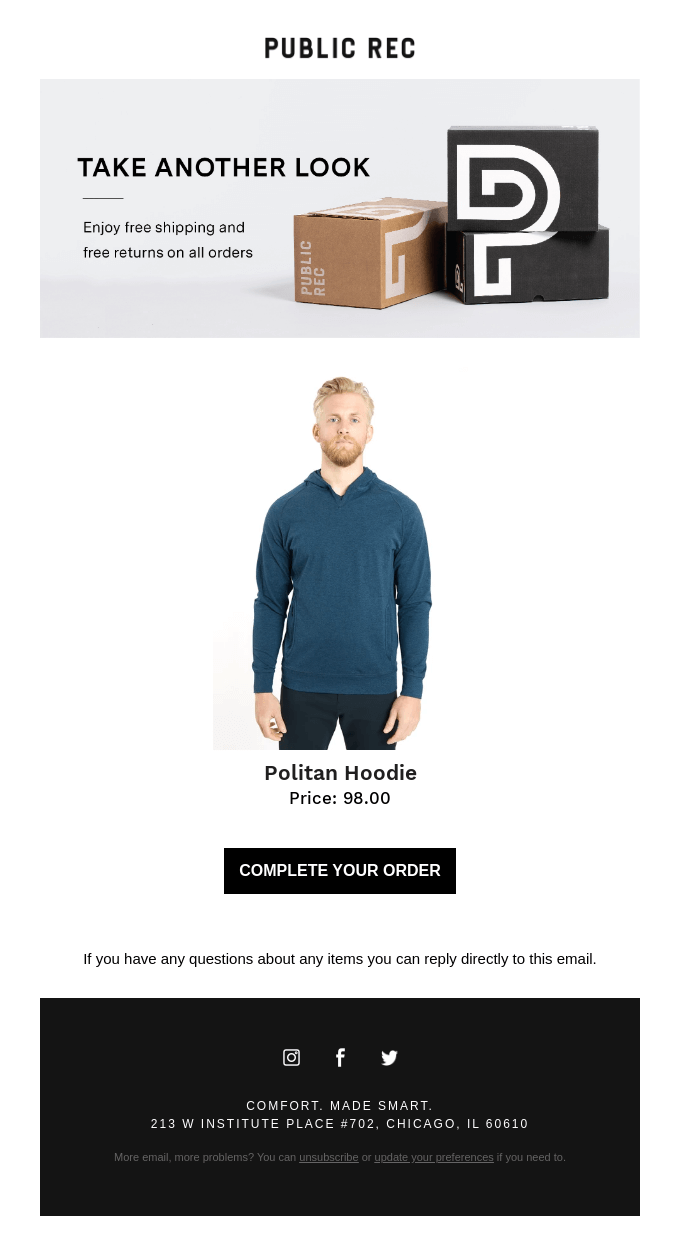 Rudy's
The subject line "Don't let free shipping go to waste" from Rudy's is not quite a promotion but it still gives a strong selling point while delivering urgency.
It essentially reminds you that the company offers free shipping, something that sets it apart from other brands.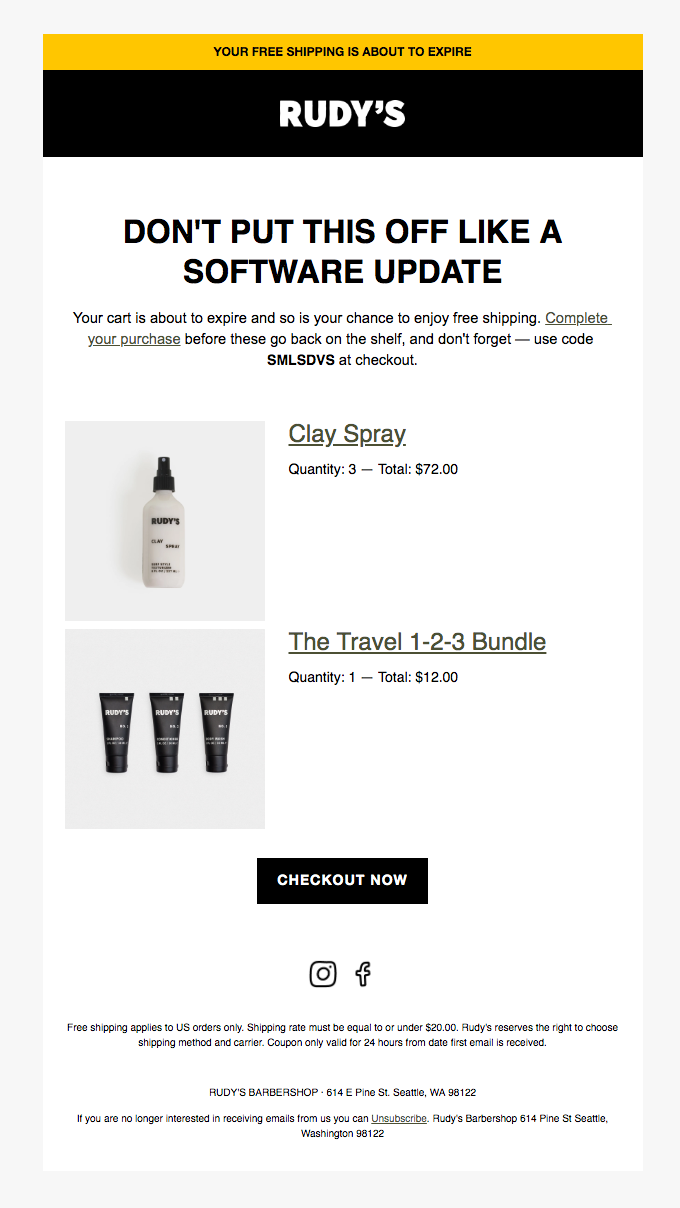 Use the above tips and examples to create the best abandoned cart subject lines and most effective abandoned cart email campaigns that lead to conversions!
Further Reading
Cart Abandonment Solutions That Can Really Improve Your Sales
Abandoned Cart Emails Under GDPR: What Changed
Recover an Abandoned Cart Without an Email Address