Collecting customers' emails can be a hard task. This is true especially for new customers who visit your e-commerce site.
Maybe buyers browse through goods and even add them to their cart but fail to check out, leading to cart abandonment.
Emailing customers is a great reminder to nudge them to complete their shopping. But if you don't have their email, not all hope is lost.
There are certain tactics that you can employ to reach out to customers without having their email addresses. You can still get your customers to come back to their abandoned cart without email.
How to Solve the Problem of an Abandoned Cart without Email?
The situation may arise when you don't have the customer's email, but you would like to push for sales.
Here are some ideas for a situation with an abandoned cart without email.
Advertising
Advertising requires effort, time, and patience for retrieving customers who have an abandoned cart without email. How advertising works is by using cookies on your e-commerce site.
Suppose a customer visits your e-commerce site and selects a product but abandons his cart. Then he goes to other sites that take part in the same advertising network that you use — your ads will appear on that site.
You can also customize ads according to:
How much time they spent on your site
How far they were into the buying process.
This means that those who almost completed their purchase might see a stronger advertisement.
Exit lightboxes
One of the best ways to remind customers that they still need to complete their purchase is through exit lightboxes.
The lightbox appears when the customer tries to:
Click the back button
Close the browser tab
Close the browser window.
This method is used by many top e-commerce companies, and it's a great way to get customers to respond.
A lightbox will appear with the selected product and a message appears on the lines of something like, "Did you forget something?"
Try providing a method where the shopping cart gets saved and a banner presents itself the next time the customer visits your site.
Social media engagement
Some e-commerce companies use social media as a tool for an abandoned cart without email.
With the help of software, you will be able to see your product being mentioned once someone has added it to their cart.
Place a widget in their shopping cart to allow buyers to announce the items in their cart. This allows them to get feedback from friends before going through with the purchase.
Ways to Get Customers Emails
Getting customers' emails can be a challenging task. Many buyers find it annoying to create an account and sign up.
But here are some easy ways you can obtain a customer's email address to prevent an abandoned cart without email.
Chatboxes
Chatboxes are a great way to convert abandoned carts to final sales when customers may ask questions about the product or other related information.
Through chatboxes, you can personalize information based on visitor queries and page content.
Design your site in a way that they are required to fill in their email at the beginning of the chat.
Pop-ups
Most customers and internet users find pop-ups very annoying.
However, if you personalize your pop-up and target a certain customer, it can be really effective in increasing your email subscribers.
But to achieve this goal, make sure that your pop-up is:
Non-intrusive
Relevant
As organized as possible.
Only this way your customer won't get annoyed by your pop-up and maybe even leave his email address!
Email them their shopping cart
Offering your customers to email their shopping cart list is a great way to convert an abandoned cart to boost sales.
Once you have their email, you can grow your relationship with them over time and potentially get more sales.
Use a discount coupon code as an incentive
Sometimes a customer just needs a nudge or a push in the right direction to complete their purchase.
Maybe a discount code is all that they need. Offer an incentive in exchange for their email address and you will surely gain much more than they do in the long run.
Why Emails are the Best Way to Recover Abandoned Carts
Though you can use tactics other than emails to nudge customers who have abandoned carts, emailing customers is one of the easiest and simplest ways of pushing sales.
Cart abandonment emails are used to re-engage with the customer and remind them to complete their sale.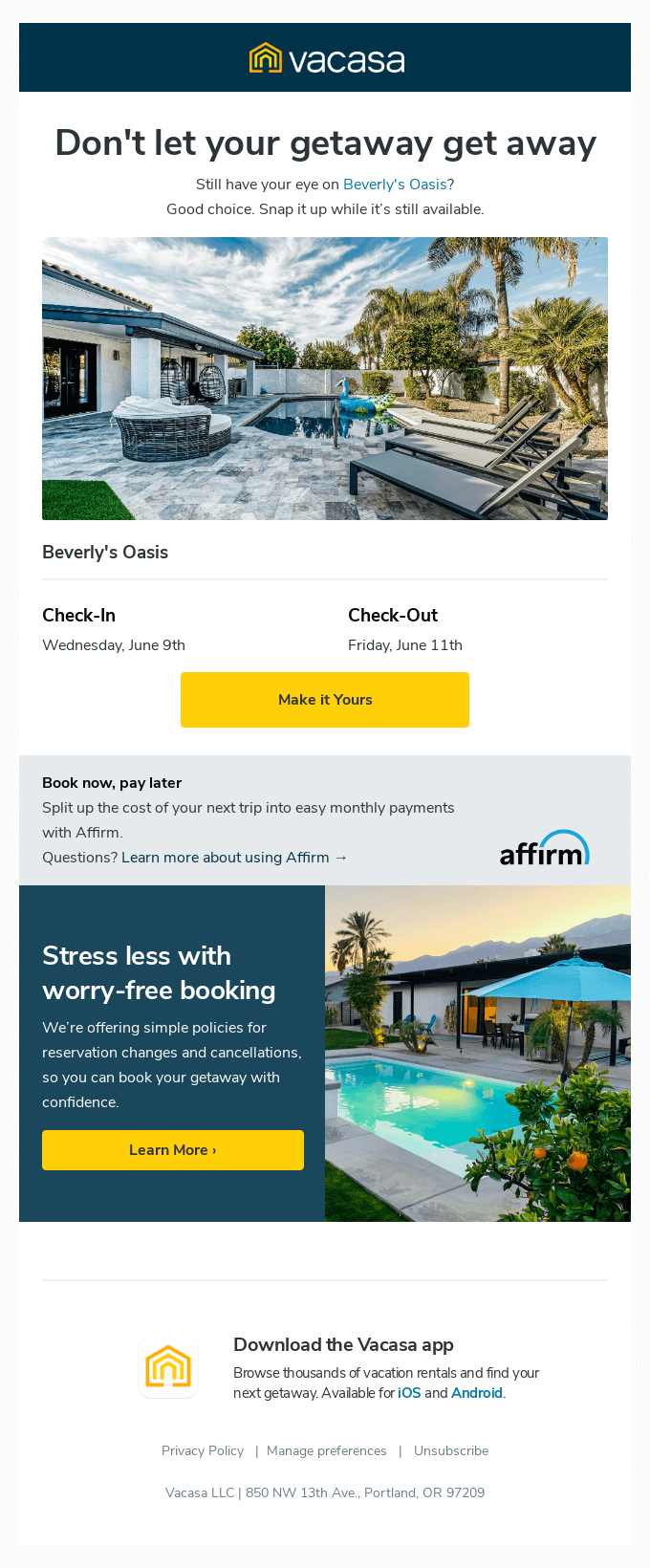 Research shows that the open rate for abandoned cart emails is 45%.
Though many will not go through with the purchase, almost half of the people who open their abandoned cart emails will go through with the final sale.
Crafting the Best Abandonment Cart Emails
Getting a customer's email is important but what is even more significant is attracting them and getting them to make a purchase.
This means you need to craft the best emails. Here are some tips and tricks to keep in mind:
Send the right number of emails to the customer. Of course, one email is better than none, but developing an email campaign series and understanding the buyer's psychology is important
Many shoppers browse products on their mobile phones so creating templates that look good on mobiles and tablets is important
Use a strong headline and subject line that immediately grabs your buyer's attention. In addition, the content should be concise
Personalizing emails and including the buyer's first name, offering benefits like discounts, or deals to get customers hooked go a long way in getting them to check out
Include a CTA (Call to Action) towards the end
Include alternative options within the email. For instance, mention, "You left this behind…Check out these other options" and display other products that you think the customer might be interested in.
If you don't have your customer's email, employ the tactics of advertising, social media engagement, and exit lightboxes to resolve the issues of an abandoned cart without email.
However, try to get your buyer's email address as soon as possible by offering incentives in exchange for their email, and offering coupons to new buyers. This helps to solve the problem of an abandoned cart without email.
Further Reading
Abandoned Cart Emails Under GDPR: What Changed
Abandoned Cart Email Benchmarks: What You Should Expect