In the eCommerce world, the term "abandonment" refers to when a person visits a website without completing their intended action.
For example, when a person visits a website to shop online, they may exit the website without ever purchasing their items. When items are added to a cart but never purchased, it is known as "cart abandonment".
In most cases, owners of websites want visitors to complete their purchases from start to finish on their first visit to the website. However, up to 75% of carts end up abandoned. This is where abandoned cart email software comes in handy.
Abandoned cart email software helps business owners convince previous visitors to return to a website and complete their purchases. This can potentially save the business owner lost sales.
Why Do You Need Abandoned Cart Email Software?
Abandoned cart email software consists of automation tools that send emails to customers who have previously entered their email addresses, reminding them to return and finish their shopping.
As an online business owner, you want the best shot at every possible purchase on your website. A great abandoned cart email software can give you that extra edge to maximize your online sales.
It is impossible to personally email every customer who abandons a cart on your website. With the right marketing software, you do not have to.
Automated abandoned cart emails include reminders and calls to action. For example:
"Do you need more time to decide?"
"Your cart is waiting for you"
"We're ready when you are"
They need not be aggressive or pushy, but the emails should let the potential customer know that their cart is still available and they have a chance to return and buy their items.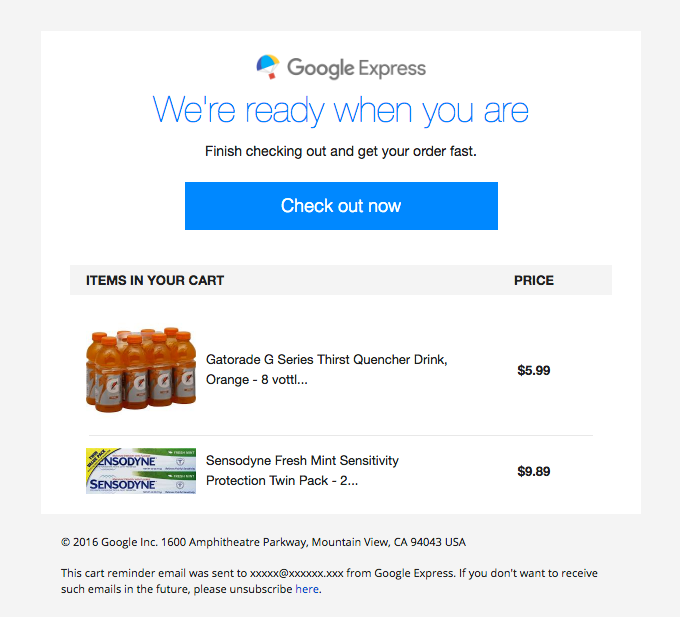 The Best Abandoned Cart Email Software
When choosing the best abandoned cart email software, there are a few key factors to keep in mind. One of these is budget.
You should not have to pay an arm and a leg for good cart abandonment software. Additional features to look for include:
Your abandoned cart email software should be effective. You can check success rates for different software, which are based on what percentage of abandoned carts are recovered
Your abandoned cart email software should integrate seamlessly with your chosen eCommerce platforms
Your abandoned cart email software should offer the customer a unique and customized experience. Emails should not be too generic.
Different abandoned cart email software options offer different services.
For example, some can run analytics for you and create a tailored marketing strategy based on your customers' activity on your website.
Klaviyo
Klaviyo is a great software for eCommerce. Klaviyo takes customer data and builds specific strategies to encourage your shoppers who have abandoned carts to return and complete their purchases.
Klaviyo's abandoned cart emails are fully customizable.
You can choose the images and links included in customer emails
Potential customers who have high-value items in their carts are targeted so your profit potential is at a maximum
Klaviyo saves preferred abandoned cart flows for easy access.
Klaviyo also integrates with all the major eCommerce platforms including Shopify, Woo Commerce, Magento, BigCommerce, and more.
Klaviyo is a widely used software and starts at $20 per month.
Omnisend
Omnisend tracks not only customer emails but also cookies from the customer browsing history.
According to the company's website, Omnisend's abandoned cart email strategy can boost your customer orders by 22 times over typical promotional emails.
Include direct links to your customers' carts in the emails they receive
Or include links directly to the checkout screen
Include discounts to encourage customers to return.
Omnisend's abandoned cart email flow can include a series of emails that changes depending on how the customer responds to each one. You can even include SMS options if customers are not responding to emails.
Omnisend can integrate with all of the same eCommerce platforms as Klaviyo.
Omnisend starts at $16 per month.
Keptify
Keptify prides itself on its ability to create a unique customer journey for every customer who visits your site.
The abandoned cart email strategy is personalized to each customer. The company is able to do this by using customer data.
Keptify keeps track of how much customers shop online
Keptify knows how much money customers spend
Keptify can offer different discounts based on whether your customers are new or returning.
Before your customer has a chance to abandon their cart, exit-intent pop-ups remind them to finish their purchase.
If your customer still leaves your sight, Keptify encourages them to return to their abandoned cart through unique emails that are tailored specifically to them.
Keptify can be integrated with all the eCommerce platforms mentioned above, but also with OpenCart, 3dcart, Volusion, Prestashop, and more.
Pricing for Keptify is interesting since you pay based on how many sales you are able to recover. For example, if Keptify recovers $500, you pay $20.
CartStack
CartStack is another popular choice for abandoned cart email software. CartStack uses perfect timing to strategically email customers who have abandoned their carts to remind them to return and complete purchases.
According to CartStack's website, the abandoned cart email campaigns can recover as many as 15 percent or more of your abandoned carts.
CartStack tracks customer behavioral data in real-time
According to CartStack, this captures five times more customer contact information than other software tools
CartStack can use that information to create the perfect strategy to recover abandoned carts and increase your profits.
CartStack uses customer data to filter your most promising customers and retain them. First-time customers are targeted with retention strategies, as well.
You can integrate CartStack with all kinds of eCommerce platforms. It integrates with all the ones mentioned above, plus Sap Hybris, Pinnacle Cart, osCommerce, X-Cart, Demandware, and Shopify Plus.
CartStack is the most versatile software on this list, but it is also the most expensive, starting at $29 per month.
Compose a Great Abandoned Cart Email
Now that you have a better idea of what great abandoned cart email software is available to you, it is time to craft a great email for your customers.
Your abandoned cart email should have the following elements:
An enticing and relevant subject line
A call to action to urge your customer to return
A reminder of their unpurchased product.
Other helpful items to include in your abandoned cart email are pictures of the products they planned to purchase. Even better are pictures of these items being used by models or customers.

If customers have not responded to your abandoned cart emails after the first or second instance, include discounts to encourage them to return to receive rewards. This tactic is more likely to convince shoppers to complete their purchases.
Luckily, you do not have to design your email on your own. There are experts available to create your abandoned cart email template for you using brilliant marketing strategies perfectly tailored to your customers' needs.
Abandoned cart email software does not begin and end with emails sent. The software on this list offer strategies for retaining your customers while they are on your site, using their data to increase their desire to purchase, and rewarding them upon return.
There are all kinds of reasons your customers might abandon their carts. From unexpected shipping costs to absentmindedness. Abandoned cart email software can help combat these lost profits and get shoppers back on your site to complete their purchases.
Further Reading