In the past, business-customer communication relied heavily on phone calls, letters, and email notifications. 
Today, with all of the technological progress, businesses are turning to new methods to interact with their customers. From websites to social media marketing, businesses everywhere are using one or more of these communication and advertising techniques.
And for a good reason: your customers are saturated with ads and content hitting them daily. It only makes sense to find more direct ways to reach them with your content. 
But the question remains: what's the most effective method to reach your customers and communicate with them? Say hello to SMS marketing. 
And in case you're new to it, in this article, we'll cover everything you need to know about SMS marketing. 
What Is SMS Marketing?
To reach your customers, you have to be proactive and go right where they are. This is where SMS marketing comes in.
It is a form of mass marketing where business owners can directly communicate with their audience using an online SMS Marketing platform.
You can send promotional or transactional messages, news, and business updates via text messages using SMS marketing platforms.
The best part?
You can control how your messages are sent, who they go to, and the kind of content you send!
Top Benefits of SMS Marketing
When done right, SMS marketing provides many benefits to business owners. Here are some of them: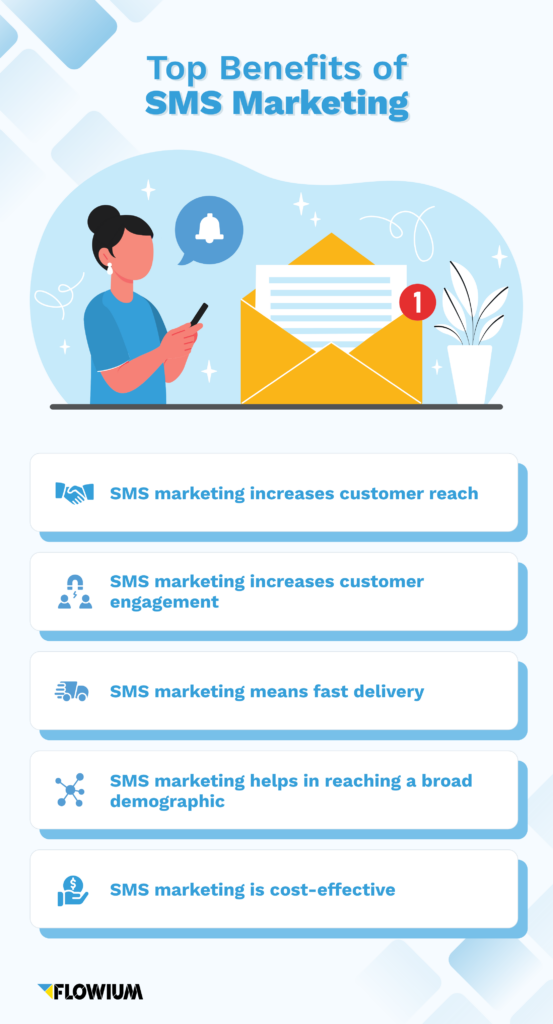 1. SMS marketing increases customer reach
With SMS marketing messages, you can engage with more and more customers directly, irrespective of their location.
You see, most people communicate via text messages rather than emails. So, you have a better chance of reaching more customers using SMS marketing messages.
2. SMS marketing increases customer engagement
Studies have found that the average open rate of text messages is 98% compared to 20% for email marketing.
Unlike emails that frequently get lost in spam, your customers will quickly see and read your text messages.
And by sending the right kind of messages, you can place your business right in front of your audience and get an increase in engagement rates.
3. SMS marketing means fast delivery
Press the send button, and your message is out and promptly delivered.
This can come in handy when you have time-sensitive information that you need your audience to see immediately.
With SMS marketing, you can be sure that there are no delays in delivering your message.
4. SMS marketing helps in reaching a broad demographic
This is one of the beauties of SMS marketing. So many people of all ages own a mobile device, so it is easier to reach different audiences using this mode of communication.
Think about it: anyone can get your message as long as they have a mobile phone that receives text messages.
5. SMS marketing is cost-effective
Want to save money while achieving more for less?
SMS marketing is a cost-effective way of reaching out to your audience compared to other advertising means like Facebook ads.
And the best part? You still get great returns on your campaigns!
SMS Marketing vs. Email Marketing
While SMS and email marketing are both effective forms of marketing, each channel has its unique advantages.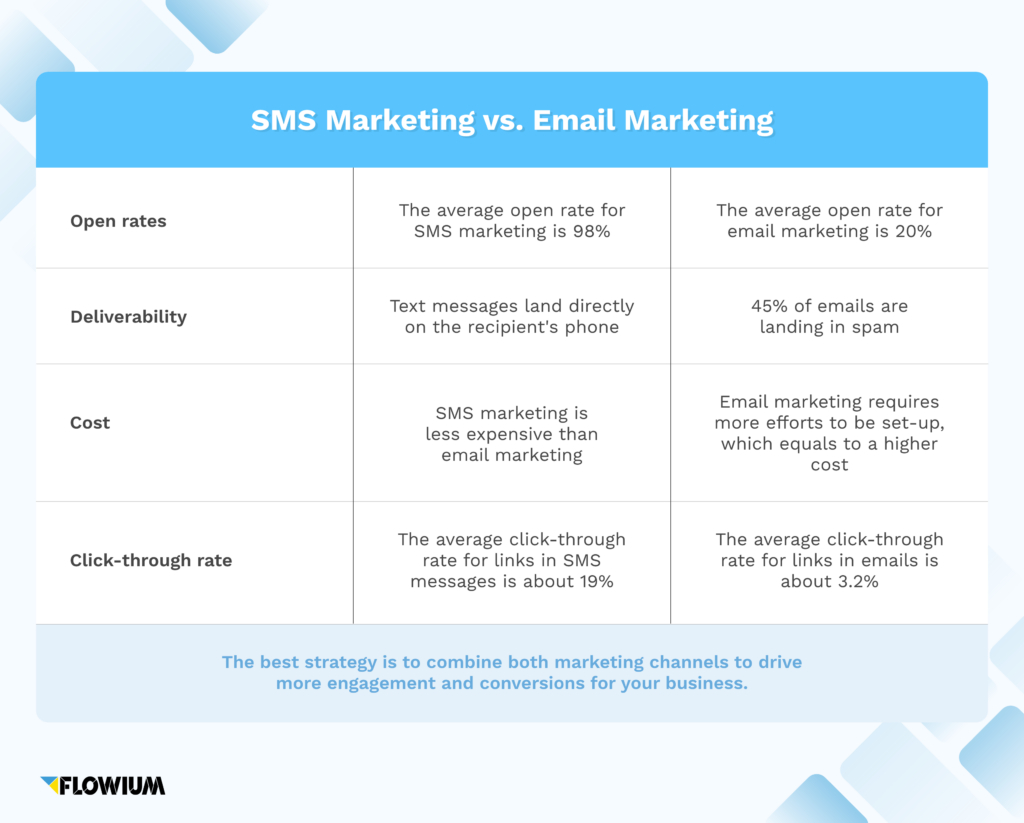 1. Open rates
Here, SMS marketing certainly comes out ahead.
The average open rate for SMS marketing is a whopping 98%, while that of email marketing is just 20%.
In other words, more people will open and read your text messages compared to your emails.
2. Deliverability
How often do you check your spam? Unless you are expecting a specific important email, probably not so much.
With approximately 45% of emails landing in spam, a significant percentage of your email recipients will likely not see your emails.
In comparison, text messages land directly on their phone and notify them immediately it comes in.
By combining both channels, you can maximize your reach, engagement, and conversion rates, all at a cost-effective rate.
3. Cost
While they are both cost-effective marketing channels, SMS marketing is less expensive when compared to email marketing.
Also, it doesn't require special formatting or design to set up.
Conversely, you can highlight your brand color and identity through your messages with email marketing.
4. Click-through rate
The average click-through rate for links in SMS messages is about 19%, while email marketing CTR peaks at around 3.2%.
This is usually because customers don't have the patience to read an email long enough to click the link at the end.
However, SMS messages are:
Shorter

To the point

And have a better chance of retaining the customer's attention.
Now, what does this mean for you?
If your goal is to send longer messages focusing on brand recognition, customer engagement, and interaction, email marketing can be a great choice.
On the flip side, you should focus on SMS marketing if you want to send shorter and more personalized messages.
All in all, the best strategy is to combine both marketing channels to drive more engagement and conversions for your business.
5 Best SMS Marketing Software
1. Klaviyo
Klaviyo is a powerful marketing automation solution that helps businesses send personalized emails, push notifications, and SMS messages to their customers at scale. As one of the best marketing automation tools, Klaviyo delivers the ability to create highly personalized and effective campaigns right out of the box.
Klaviyo's business SMS marketing technology combines advanced personalization efficiency with the immediacy of text messages. It offers ready-to-use SMS templates, SMS A/B testing, and other capabilities that can assist your owned marketing to drive sales with simple reporting and analytics.
2. Postscript
Thousands of growing Shopify & Shopify plus stores rely on Postscript to manage their SMS marketing.
Your team will be able to grow a TCPA-compliant subscriber list, use Shopify data to create targeted text marketing campaigns, have two-way interactions with customers, and open a completely new marketing channel that will produce big-time ROI for your business.
Postscript SMS instantly syncs your Shopify store data and activates basic text marketing automation like abandoned cart recovery, shipment notifications, welcome series, and loyalty incentives to boost your sales.
3. Attentive
By developing meaningful SMS experiences, Attentive is the most comprehensive text message marketing solution, driving 20.5 percent of total online revenue for organizations. 
Attentive allows businesses to send interesting text messages to each subscriber automatically using real-time behavioral data.
4.  SMSBumb
SMSBump is a text marketing and automation program that you can use to grow your business.
SMSBump offers 35 percent+ click-through rates and a 25x+ ROI and is fully TCPA and GDPR-compliant. You'll be able to do the following with SMSBump:
Create text automation campaigns that are triggered by activities in your store.

Create and track marketing campaigns in seconds.

Make last-minute modifications to campaigns and schedule them.

Catchy pop-ups and branded keywords will help you grow your list.
5. Avochato
Avochato is a sales, support, healthcare, and operations communication solution. 
We give teams a shared inbox and a phone number (or a group of phone numbers), so they can send text messages and engage with clients on their own terms.
SMS Marketing Pricing
SMS marketing pricing is not much different than any other kind of marketing. The cost of SMS marketing depends on the number of messages you send, the frequency of your campaigns, the number of keywords you use in your campaigns, and your SMS marketing provider's fees. But to give you an estimate, it usually ranges between $0.10 and $0.50 per text message.
What's more, most SMS marketing companies offer packages that cover a certain number of messages sent per month. The more messages you send, the lower your per-message price will be.
Apart from paying per the number of messages you want to send, you'll need to pay for the keywords. Have you ever seen a company asking you to text "READY," or some other word, to a specific number? In this case, "READY" is a keyword they're paying for. And if you want your SMS marketing campaigns to be effective, you'll have to do something similar. 
To sum up, when choosing your SMS marketing provider, there are three main cost factors you should consider: 
Cost per message (between $0.10 to $0.50 per message)

Cost per keyword (between $10 to $25 per keyword) 

Monthly fee & what's included in the price
How to Set Up SMS Marketing
Here's a quick breakdown of how to set up an SMS marketing campaign that works for your business.
Get your subscribers to opt-in
Like email marketing, you need your audience to consent to receive text messages from you.
Using an onsite form like a popup, you can request your audience's:
Phone numbers

Email addresses

And preferred communication channels.
A great strategy is to offer an incentive in your opt-in messages.
Once they agree to receive messages from your company, you can then follow up with a welcome message and a series of valuable and relevant text messages to build a relationship.
Set up your type of text messages
With SMS marketing, you can send different messages to your audience. The messages can include new product announcements, special offers, or other information relevant to your business.
You can send one-off SMS marketing campaigns with a specific goal or set up automated campaigns that get triggered whenever a contact meets certain conditions, such as abandoning a cart or buying something. 
Here are some ideas for SMS marketing campaigns you can send to your customers: 
Special offers and product or service promotions, such as a Black Friday sale. 

Discount coupons for first-time buyers, abandoned carts, etc.

Text-to-win competitions, where your customers can win a prize simply by replying to your text. 

Loyalty program details to encourage your customers to sign up. 

Updates about your business, such as new opening hours or special events. 

Personalized text messages based on each customer's interests and purchase history. 
Create your SMS marketing content
Unlike emails, SMS marketing messages are usually short and have few design elements.
This means you must effectively communicate your message and capture your audience's attention using just a few words.
A great strategy is to personalize and segment your SMS messages. This way, you can offer each contact a more relevant experience with your brand.
For example, you can offer discounts to people who are yet to make any purchase while announcing a new product to your regular customers.
SMS Marketing: Tips to Write the Best Texts
SMS marketing is a cost-effective way to reach customers and prospects. It's also an opportunity to connect with them on a personal level. 
But how do you write effective text messages that catch your customers' attention and encourage them to interact with you? 
Let's go over a few tips to write the best text messages and improve your SMS marketing campaigns.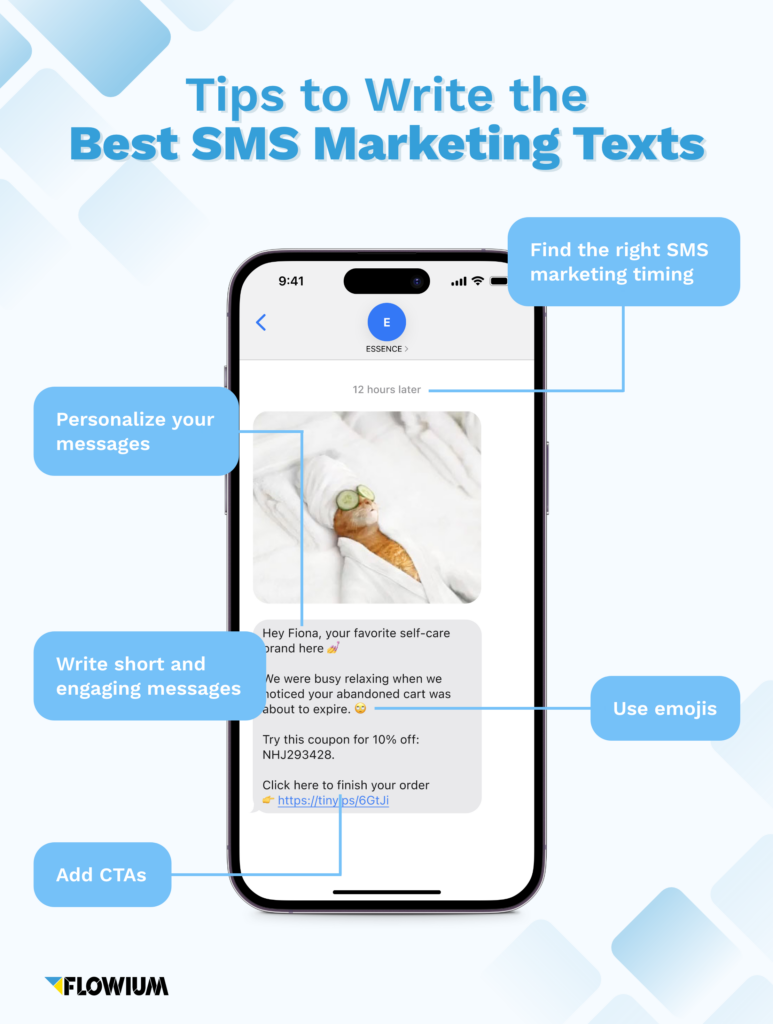 Write short and engaging messages
When it comes to text messages, the shorter and more direct they are, the better. The average attention span of a smartphone user is less than 10 seconds, so it's important to keep your messages short and sweet.
Moreover, your audience has limited time to read texts, so make sure your message gets across quickly and clearly without being too long or complicated. No one likes to read long blocks of text. 
Use emojis 
To make your text messages more engaging, use emojis in your message where required. Emojis can make your message look more appealing and attractive as they add emotions to your words and emphasize the message. 
With texting, it's easy to misinterpret someone's intention. Emojis can help your customers better understand the tone of your text message and help them interpret it correctly. 
With that said, be careful not to overuse emojis. Don't use an emoji if you believe there's no need for it. If you use an emoji after every two words, you'll end up cluttering your message and annoying your customers.  
Add CTAs
When it comes to SMS marketing, one of the biggest conversion killers is not adding a call to action (CTA) at the end of your message. How do you expect your customers to take action if you don't tell them what to do? 
Texts that contain a clear CTA are more likely to be read, clicked, and responded to. Adding a CTA makes it easy for customers to respond to your message, whether they want more information or want to buy something immediately.
Personalize your messages 
People want to feel as if they're being spoken to by an actual person and not just another business trying to sell its product or service. So, whenever you can, personalize your messages. Instead of sending a general text, try using their names or something unique about them and their purchase history with you to make them feel special. 
Another aspect of personalization is your brand voice. Don't try to sound overly corporate and professional. Let your brand personality shine! Brands that are authentic resonate better with customers. 
Find the right SMS marketing timing
The best time to send a text message is when your customer is most likely to open it. Research your audience and understand their habits. 
Analyze your customers' behavior to understand what times of day and how many times a day they open their text messages. According to Simple Texting, more than 50% of consumers check their text messages more than 11 times a day.
You can also use A/B testing and track your analytics to figure out which times work best for your customers. 
SMS Marketing Campaign and Message Examples
SMS marketing campaigns are one of the most effective ways to reach your customers. But it's not just about sending a message. It's about sending the right message at the right time.
Here are some examples of SMS marketing campaigns you can use in your SMS marketing strategy. 
The SMS promotional campaign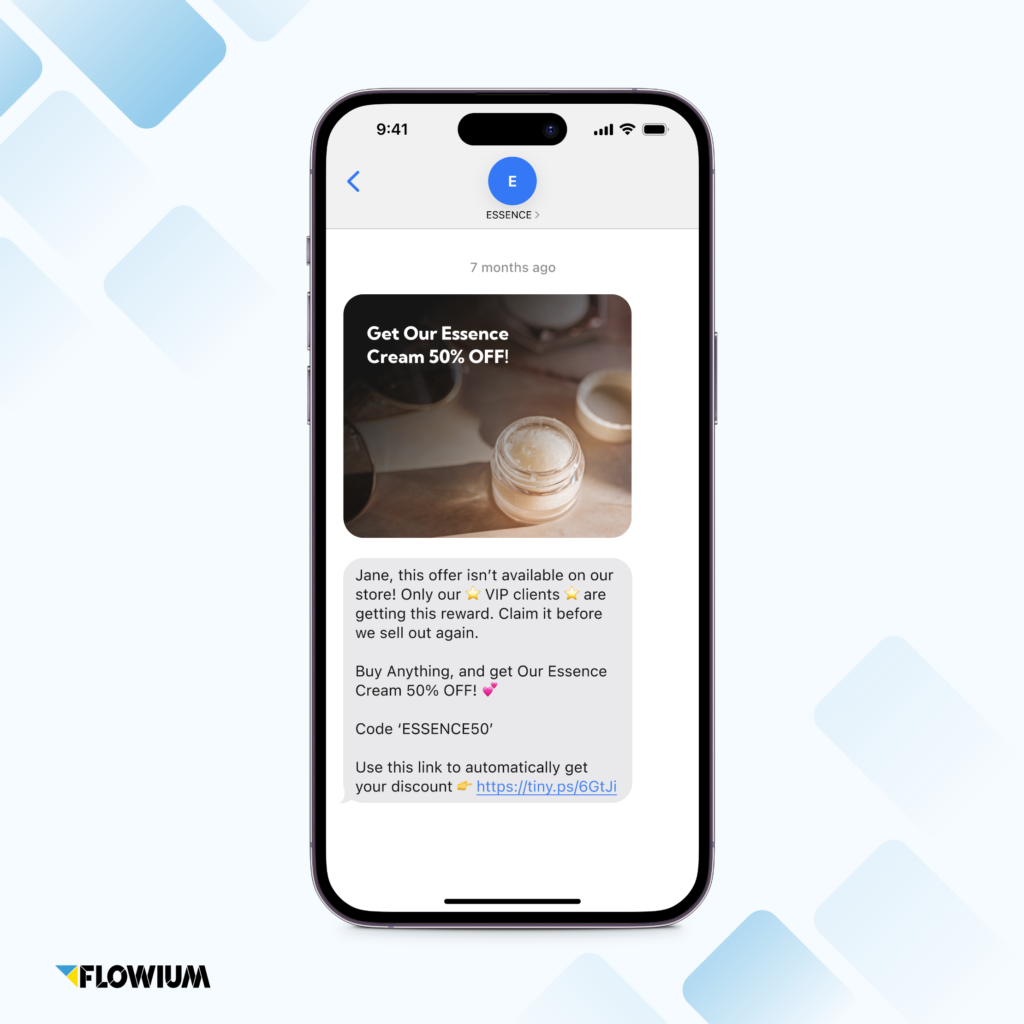 SMS promotional campaigns are a great way to get the message out about your product or service and increase your sales. 
These types of SMS marketing campaigns are designed to drive customers into making purchases. This means that the goal of these campaigns is to get people to respond to your advertising by making a purchase or taking some other action you want them to take.
Promotional campaigns can be sent out whenever there's a special event, such as a Black Friday sale or a particular customer's birthday. You can also send them when you want to promote a particular product in a flash sale, maybe because you want to sell all the remaining items or generate more interest. 
The welcome SMS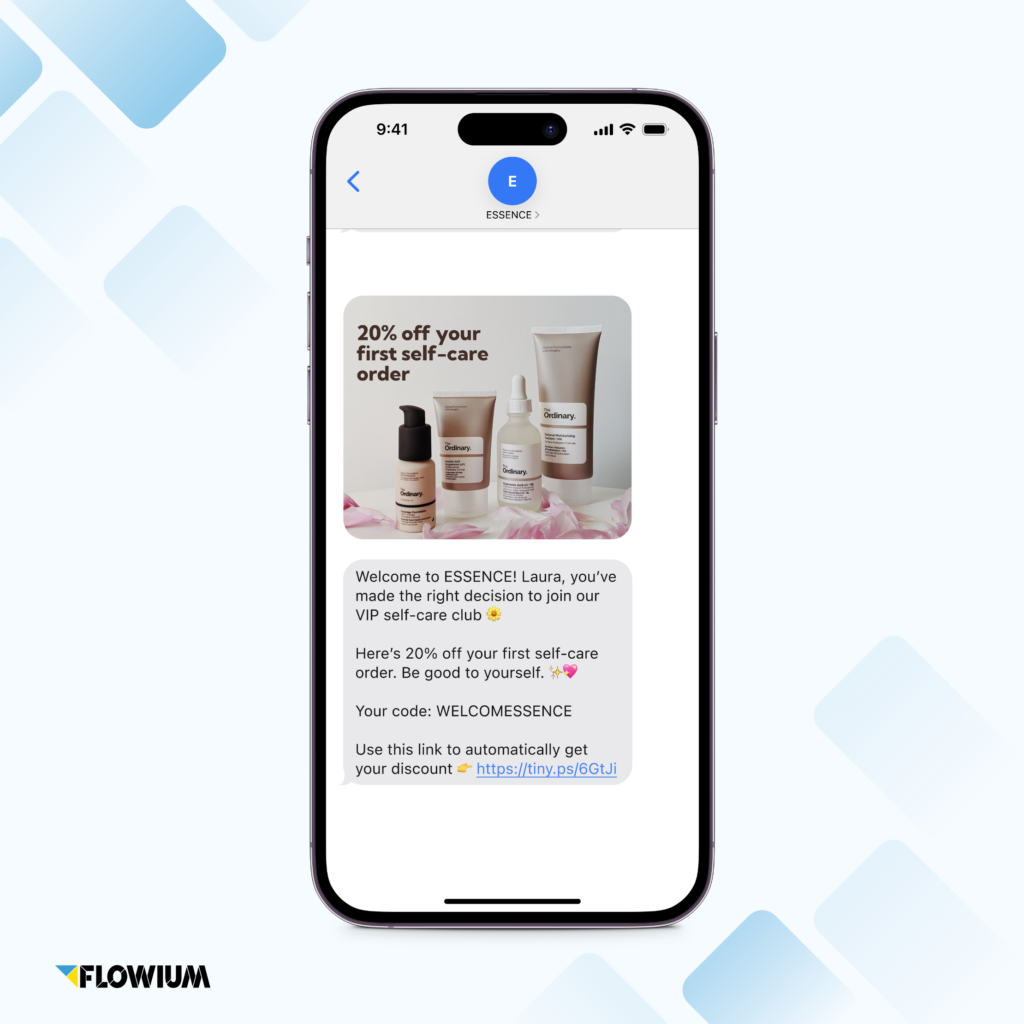 The welcome SMS is one of the most important SMS marketing campaigns. This message is sent to new subscribers to welcome them and thank them for becoming part of your brand community. 
This is an opportunity to set the tone for the relationship. You're greeting them and giving them a feel for what they can expect from your brand.
An effective welcome SMS campaign can contain a coupon or a discount code that can be applied to the first purchase. This is a great way of thanking them for subscribing to your list and expressing interest in your brand while encouraging them to make a purchase. 
The abandoned cart message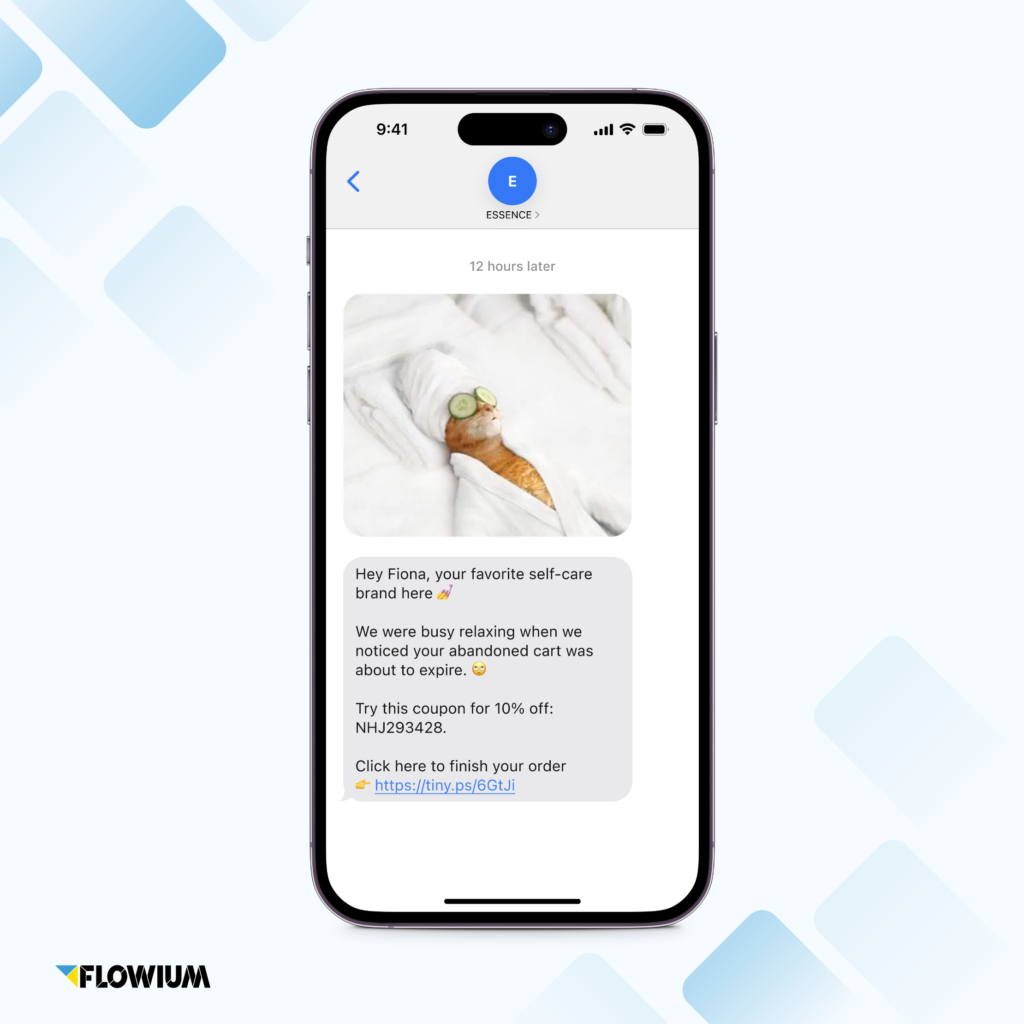 The abandoned cart text message is a great way to re-engage potential customers who have left their shopping carts without checking out. This is an especially effective method for eCommerce businesses that are able to send automated messages to their customers right after they leave the site.
According to Baymard Institute, the average shopping cart abandonment rate for all businesses is a whopping 69.99%. An abandoned cart SMS campaign is an extremely effective way to reduce it.
The SMS notification campaign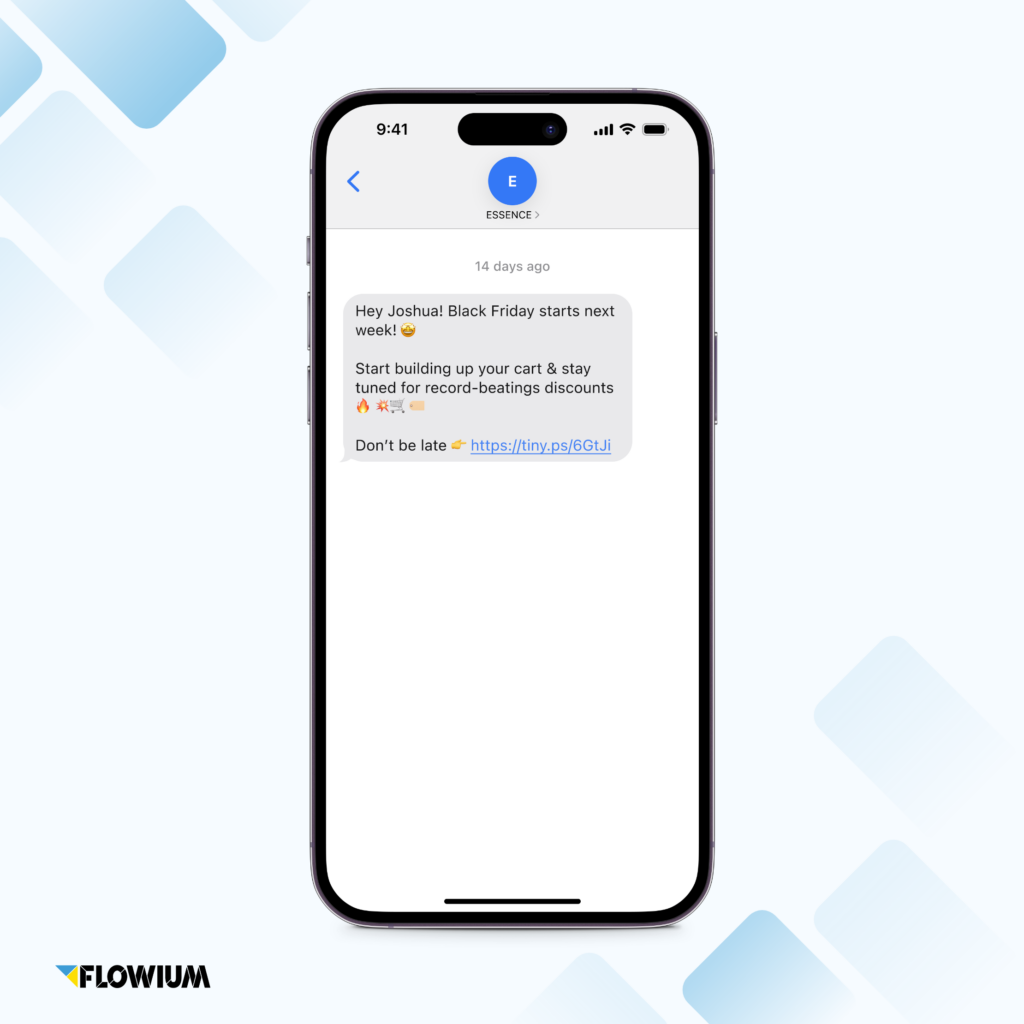 The SMS notification campaign is a great way to keep your customers informed about an upcoming event or a sale that ends soon. This is a great SMS marketing campaign to use if you have an event or a limited-time sale. 
SMS notifications are also good for announcing new products and services to your customers. You can send them an alert when new items are added to your eCommerce store or let them know that their favorite product is back in stock. 
FAQs about SMS Marketing
How much does SMS marketing cost?
The price of SMS marketing depends on three main factors: the number of texts you send, the frequency of your campaigns, additional features you may need, and your SMS marketing provider's fees. The average price is between $0.10 and $0.50 per text message.
How to collect phone numbers for SMS marketing?
You can collect phone numbers in several ways. The main one is offering users the option to subscribe when they sign up for your email list. You can include a checkbox asking them if they want to receive SMS messages from you. Another way is to ask users to opt-in with a pop-up on your blog article or website.
What is the best time to send SMS marketing?
The best time to send your SMS marketing campaigns will depend entirely on your audience and their habits. Study your audience's behavior as well as your SMS marketing campaign analytics.