Klaviyo recently released a new feature called multi-step opt-in forms, which will allow you to collect several pieces of your customer's contact information at once.
Recently Klaviyo released new feature called multi-step opt-in form.
So, basically what does it allow you to do, is to collect multiple pieces of information from the subscriber. Or do the two step. For example, on one page, it can be signed up for email list and a second page would be redirect them somewhere or on the first page, it would be email and a second page, SMS.
Attentive SMS marketing platform. They did it for very long and Klaviyo just introduced it to compete with them. And I have a video here is how to create opt-in form in Klaviyo, so you can check that out.
Setting up your Klaviyo account can be tricky. That's why we created a Klaviyo Setup Checklist – so you don't miss any important steps in the setup process.
Creating the Signup Form
So now I will show you from scratch how it's done and what are the benefits. So let's go to the Klaviyo login, go to signup forms, create signup form from scratch. They already have multi-step templates. You can use one of those. It would be much easier. But I want to do it from scratch. So let's just create from scratch. Let's do that, newsletter pop up.

Adding Steps
So the new feature, which was not available in the previous video and not available at all, is the add steps. So we get add step and they are asking what we want to do, want to add SMS opt-in up, profile information like collect some like birthdays or maybe something else like their last name or name of their kid or pet or so forth or blank step. And from this, you can do whatever you want. So let's do blank step.


Adding Contact Information
Okay. So here, first of all, you can do something like here, like let's connect, please follow up us on Instagram. And here you can add the link to your Instagram for them to sign up. Or if you want, you can add the block and let's say, collect phone number, for example, for SMS, if you want the SMS, or if you don't want to do the SMS, you can do, let's say text input, and maybe that input is property. Let's do birthday.
So on the next field, they will enter the birthday. However, they can leave there on the first step. They did the action that said email, but the second step is optional. Doesn't mean they have to do both for you to receive as a subscriber. They do the first step email or phone number that data populates to Klaviyo.
Okay. So this is two steps and that's it. And this is how it looks on the mobile, on the desktop. We strongly recommend for you to modify your opt-in forms, like to create one version for mobile and another version for a desktop, it would be much better, and your conversions would be much higher.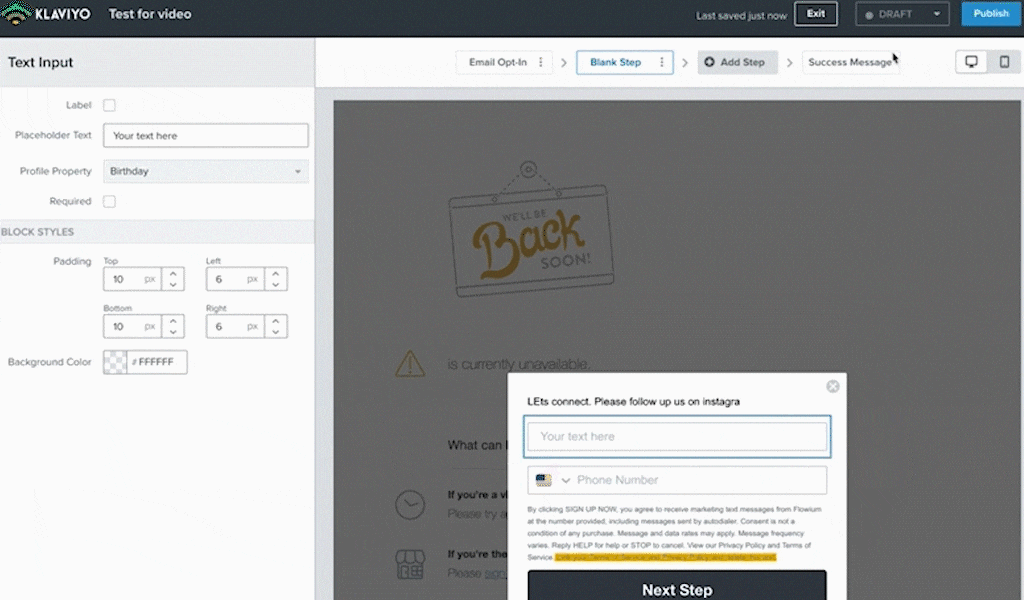 Again, if you have any additional questions, please let me know. And if you not subscribe to this channel, please subscribe and share it with your friends, marketeers, or maybe business owners or somebody who works for eCommerce, so they can learn and implement it for their brand. Thank you very much.