Whether you're planning to start SMS marketing with Attentive or are already using Attentive for SMS and Klaviyo for email, you might be wondering if it's beneficial to combine both channels on a single platform like Klaviyo. Shifting to a single platform could help you cut costs and achieve better marketing message synergy.
In this blog post, we'll cover the reasons I would choose one platform over another to ensure integrity and provide the best service to clients. 
If you're searching for a helping hand when it comes to choosing the right software and want access to free SMS marketing services, get in touch with our team of experts and let them know you read this blog post.
The Structure of Comparison: Attentive vs Klaviyo SMS
Since there are countless angles for comparison regarding these two platforms, let's start by outlining some assumptions.
Assumption #1 about comparing Attentive vs Klaviyo SMS
First of all, this comparison is most relevant for online merchants (think B2C, DTC, eCommerce business owners, etc.). While this article may be useful for other industries, those industries are not the main focus here.
Assumption #2 about comparing Attentive vs Klaviyo SMS
Second, let's assume you either use Klaviyo or are planning on using it as your email marketing channel.
Now that we've established these assumptions, let's get into what we'll be comparing: 
Pricing
Onboarding
Revenue Attributions
Segmentation
Services 
Features 
Cookies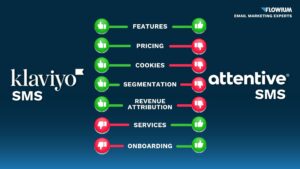 Comparison Attentive vs Klaviyo: 7 Key Factors to Consider
1. Pricing
Let's start with the elephant in the room: the price.
Now, I'm not sure about you, but no matter how deeply I desire a specific product or require a particular service, I tend to check the price first. That said, here's the pricing breakdown for each platform and the pros and cons you need to consider.
How much does Attentive cost?

Unfortunately, the price for Attentive is not easily accessible. It's difficult to cross-reference their website to determine how much you'd be paying to use the platform. However, we touched base with some of our clients and industry peers to get the best information we could with regard to rates. So, here's what you need to know:
Attentive provides a

free 30-day trial.

You can test the platform's functionality for 30 days free of charge. Rumor has it, Attentive may even provide

up to 3 months

of free service, but you need to be a decent size client in order to get the offer. 

Attentive costs $300 a month plus

clients pay $0.01 per SMS

, plus carrier fees (see below), which can add around $0

.0025-$0.0035 per SMS

.

Attentive defaults to

long-term contracts

with undisclosed carrier fees, platform fees, MMS charges, and additional services. Month-to-month options are available, but Attentive's pricing is variable and tailored to each customer. The platform often imposes 6 or 12-month contracts, along with charges for individual messages.

Attentive also has quarterly minimums (aka Attentive Minimum Quarterly Commit). Even if you don't send any SMS during a quarter, you still have to pay a minimum fee of around $2,000 – $3,000 per quarter.

SMS short code on Attentive will cost you

$500/month

.
How much does Klaviyo SMS cost?
The good news is you can start with Klaviyo SMS for free. The free plan includes

150 SMS per month,

and there's no limit on how long you can use this account. 

Klaviyo has a

transparent pricing model

where you can cross-check the cost on the website before you sign up. Once you're using the platform, it's easy to see how the rate would change if the number of SMS messages sent out increased or decreased.

The

lowest tier plans

start with

1250 SMS

messages and cost you $15; this brings the cost of 1 SMS to $0.012. However, the higher you move through the tiers, the cheaper your price per SMS will be. To put it into perspective, SMS cost goes as low as $0.006.

Klaviyo SMS pricing includes all carrier fees and platform fees, making it much clearer and easier to understand.

SMS short codes on Klaviyo can cost you

$650 per month

, which comes in at $150 more than Attentive. 
Conclusion About Attentive vs Klaviyo SMS Pricing 
Ultimately, both platforms have competitive prices. Due to the fact that they have different pricing models and a medley of variables, it's tricky to compare apples to apples. That being said, there certainly is a tie between the platforms when it comes to pricing.

Before we move on, I want to add my two cents about transparency. As a customer, I strongly dislike it when companies conceal their prices. Sure, it might be a special sales tactic, but we're not living in the early 2000s anymore—the customer and shopping experience is different now. 
Finally, I want to draw attention to arguably the most important thing about Attentive pricing. After speaking with 5 different clients and Attentive users (those who currently use or have used the platform in the past), we found out that there is a lack of consistency in the pricing. All their processes are custom and tailored to each contract and each client.
Take a look at some of the contracts for yourself. 
2. Onboarding
When it comes to getting started with the platform, it's essential to compare onboarding timelines. Let's review what makes Attentive onboarding different from Klaviyo SMS.
Attentive Onboarding
Attentive provides a remarkable experience when it comes to onboarding. Their white-glove onboarding stands out as one of the best in the tech industry. The Attentive team pays incredible attention to detail and demonstrates thoroughness throughout the process. From the moment you join the platform, they leave no stone unturned, meticulously addressing every aspect. Their exceptional onboarding sets them apart from others in the industry.
Klaviyo SMS Onboarding
Klaviyo has an easy-to-use platform with prompts geared toward making onboarding fairly intuitive. That being said, you have to set up Klaviyo SMS yourself or outsource the task to a professional, as Klaviyo does not provide any kind of setup service. I haven't heard of anybody having issues when beginning to use the platform. Still, with this in mind, it would be impossible to compare the automated onboarding process with the personalized onboarding that Attentive provides. 
Conclusions About the Attentive vs Klaviyo Onboarding Process

This one's clear—Attentive is the winner here.
3. Revenue Attribution
Revenue Attribution is a constant battle between software and agencies. Everybody wants to attribute each sale to their platform or marketing channel. The same logic applies to SMS platforms. So, let's compare what Attentive and Klaviyo offer in terms of revenue attribution.
Attentive Revenue Attribution
The default revenue attribution period for Attentive SMS is 30 days. Also, according to my knowledge, it's not something that can be easily changed.
Why is this Important?
Ideally, you want to attribute sales as accurately as possible to the marketing channel that played the crucial role in generating the sale. With 30-day attributions, this is nearly impossible to do. Why? Well, if you send an SMS today and somebody opens and clicks on that SMS and then, 30 days later, purchases from you, this sale will be attributed to the SMS and to Attentive—which is not the correct way to report this.
What's more, if you use Attentive for SMS and Klaviyo for emails, and one person receives an SMS and email from you and clicks on the links in both the SMS and email, the sale will be attributed to both SMS and Klaviyo. In other words, it will look like you made twice the sales with two times the revenue, which is 100% incorrect.
Klaviyo Revenue Attribution
The default attribution window for Klaviyo SMS is 24 hours. You have the flexibility to adjust the Klaviyo attribution window to your preferred value at any given moment.

The key benefit here is that the SMS marketing revenue attribution is more accurate, and you are in control of it. Plus, since SMS and email live under the Klaviyo roof, there's no way to attribute one sale to two different channels. Based on the last click, It will be attributed either to SMS or email.
Conclusion About Attentive vs Klaviyo Revenue Attribution 
When it comes to revenue attribution for SMS platforms, in my opinion, Klaviyo is the clear winner. It's crucial to avoid having one marketing platform take credit for sales generated by various other channels. 
If you still decide to use Attentive for SMS and Klaviyo for email, make sure to use a platform like Google Analytics or something similar to track your revenue per channel. 
4. 
Segmentation
Attentive's Segmentation

Attentive's segment builder only supports a handful of segment conditions. This limits your ability to reach the right people and increases the likelihood that you may send them the wrong message. In addition to limited segmentation ability, you aren't able to exclude a user who has engaged with your emails. Why is that important? You might end up double messaging your customers.
Klaviyo's Segmentation
Klaviyo's builder goes beyond the basics, so you can create targeted messages based on factors like specific purchase, discount code usage, and predicted customer value—all using data from your tech stack. All your segments update in real-time, so your messages stay relevant. Klaviyo's built-in customer database also gives you instant access to limitless, actionable data. More data equals better segmentation, which equals greater conversion.
Conclusions About Attentive vs Klaviyo Segmentation
Right from the start, Klaviyo was designed as a segmentation powerhouse, solidifying its position as the leading player in the market when it comes to segmentation. It's undeniable—they are the winner in this category.
 5. Services 
Attentive Services
In addition to their exceptional onboarding experience, Attentive also offers ongoing services that eliminate the need to hire an agency for SMS marketing management. They provide customized pop-up windows and forms to enhance campaigns. Moreover, they assign an onboarding consultant to guide you through the process and act as a customer service agent, ensuring prompt responses to questions from SMS recipients.
Parts of this journey are automated, but if a customer needs additional support, they are connected with a real person via SMS. One of the brands we work with, Shock Surplus, follows this strategy but ensures all their bases are covered by creating a customer service ticket if they have a client with a unique request. This allows the brand to follow up on the customer query through a more tailored approach.
Klaviyo SMS Services

In general, Klaviyo does not provide any additional SMS services. However, Klaviyo has a platform called Klaviyo One that provides supplementary solutions.
Conclusions About Attentive vs Klaviyo Services
In terms of service, Attentive wins. At this moment, Klaviyo does not provide any supplementary SMS services. If you want to run an SMS campaign but aren't looking to shell out more cash, Attentive's your go-to. 
6. Features
The features offered by both platforms are very similar in nature. Because they are so similar and are constantly innovating their feature list, I won't go into detail here. What I will do, though, is link their features list here so that you can take a look for yourself.
The only challenge I see with Attentive is that if you're looking to run a simple split test, you're unable to do so without help from the Attentive team. This reliance on the Attentive team may unnecessarily delay the process. 
7. Cookies 
Each platform has the ability to track what customers are doing on your website, which, in turn, helps with your marketing efforts. Cookies are a common feature with both of the tools we're discussing today. 
However, if you use Attentive for SMS and Klaviyo for email marketing, the cookies are not as easily passed along from one platform to another. This means that you're not able to track your customers' behavior if they opted in via an Attentive form. 
For some reason, while other SMS platforms like Post Riot and SMS Bump pass cookies to Klaviyo, Attentive does not.

Next steps
If you're still planning on using Attentive for SMS and Klaviyo for email marketing, you should do the following to get the most out of the two platforms:
Contact the Attentive support team and ask them to change your 30-day revenue attribution window to 1 day.

Next, ask the Attentive team to pass the website cookies to Klaviyo. This way, you can see your customers' actions on your website and schedule automations accordingly. 

Negotiate your prices. The bottom line is that you're probably paying more than you should be. That said, just reach out to your sales rep and renegotiate the plan. 
Frequently Asked Questions about Attentive vs Klaviyo
Is Klaviyo used for SMS?
Yes, you can and should use Klaviyo for SMS. It's one of the most powerful SMS marketing tools on the market. 
I use Klaviyo for email. Should I switch to Klaviyo SMS?
It is not required but highly recommended by our team of experts. Having two marketing channels under one platform will save you time, money and improve the overall customer experience since your channels will be better integrated.
What is the benefit of using Klaviyo SMS over other platforms?
The main benefit is that you'll be saving money. Since your revenue attribution for each channel will be more accurate, managing and coordinating two channels under one tool will be easier.