So, you are an entrepreneur looking to achieve big things with your email marketing, right? No need to surf the internet anymore. Whether you are looking for an email marketing service provider for the first time, or you're planning to switch to another one, we've got you covered. If Mailchimp caught your eye during the research we've prepared an overview of Mailchimp pricing, so you can get a clear picture of a plan that would be a perfect fit for your business.
Mailchimp Pricing Plans Overview
Below you will be able to check out the 4 pricing plans that Mailchimp offers. What will probably catch your eye, at first sight, would be their Free Package. Yes, they do offer a forever free package with a limit of 2,000 subscribers – BUT, if you wish to use autoresponders or other powerful features, you will probably need to upgrade to a paid package. Speaking about paid plans, their price begins at $10 a month and will reach $299 for 200,000+ contacts, it all depends on the number of your contacts. The longer your list is, the more you'll have to pay. Now let's go through all of the recommended Mailchimp pricing plans one by one: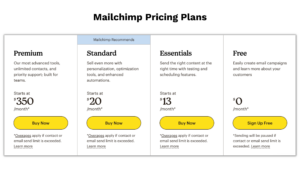 Mailchimp Free Package
If you're just starting your business and you're looking to grow your online audience, then this Free package would be ideal for you to start expanding your business at no cost, while you can still get plenty of nice features. It will allow you to start creating your first campaigns and get to learn more about your audience and their preferences.
Up to 2,000 contacts
1 audience included
An up-to-date audience and up to 2000 contacts are included in this free version. The audience's critical details, such as who has connected with your webshop and when they subscribed to your newsletters, are the backbone of smart advertising.
Opting for this package will provide you with versatile and adaptable tools to help you handle this knowledge and develop tailored campaigns for a large number of contacts, where one contact implies one email address. So that's a huge benefit.
Other features you get with the Free package:
Marketing CRM
Creative Assistant
Website Builder
Mailchimp Domain
Forms & Landing Pages
How to get started with the free version?
You might be wondering how to initiate your marketing game in case you don't have any contacts. Don't worry! The free version is equipped with the features of "forms and landing pages." Mailchimp employs a landing page to allow your users to sign up for your newsletter. Easy, right? But what if you have more subscribers on your list and want to step up your email marketing game? Well, Mailchimp will hold any test emails or upcoming campaigns until you decide to upgrade your account, or either limit your contact list to 2,000.
Another thing to mention is that while you're on the Free plan, you'll have a Mailchimp ad banner at the bottom of each campaign you send – and this is not the case with any of the paid plans.
So, do you think you might need to consider one of their paid plans? No worries, let's have a look at each of them to see which one would be the best fit for your business at the moment.
Essentials Pricing Plan
The Essentials package is perfect for small businesses and those who would like to send campaigns frequently. This plan includes everything as the Free package but now, the limit on emails, contacts, and audiences is increased! This Mailchimp pricing plan starts at $9.99/month for 500 contacts, and it can be gradually increased up to $270/month for 50,000 contacts.
Up to 50,000 contacts
3 audiences included
You'll get everything in the Free plan, plus: 
All Email Templates
Multi-Step Journeys
Custom Branding
A/B Testing
24/7 Email & Chat Support
Features of the Essentials Plan
Once you sign up for this tier, you will get access to all of the Mailchimp templates, how amazing is this? You'll be able to choose between 100 different molds for your upcoming campaigns and adjust them as you wish. What's more, this plan also allows you to place your own logo and branding throughout the emails, instead of having a Mailchimp ad banner in each campaign, as previously mentioned.
A/B Testing: Improve your business strategy.
Another amazing feature that you'll get by signing up for this tier is the powerful A/B testing. The option to split-test your emails will help you get a better understanding of your audience. You'll be able to split your segments into 2 groups and determine if they prefer to receive emails earlier in the morning, or maybe later in the day. If they prefer personalized Subject Lines in your emails, or rather not. Does image-heavy or copy-heavy content performs better, and so much more!
Also, you will be able to access Mailchimp's Customer Support. The Essentials feature will allow you to chat with the support 24/7 about any concerns, or questions you might have.
Standard Pricing Plan
If you're one of those businesses that want to make their audience grow exponentially then this plan is the perfect fit for you. Besides all of the features that you can have with both Free and Essentials plans, the Standard tier allows you to have 5 audiences – which allows you to create a lot of different customer groupings. This plan is the best for medium-sized businesses. Speaking about the Mailchimp pricing for this plan, it starts at $14.99/month and a maximum cost would be $540 if you want to increase your audience all the way up to 100,000 contacts.
Up to 100,000 contacts
5 audiences included
Besides the obvious benefit of this tier – the increased number of contacts and audiences – this package also focuses on behavioral targeting through the audience dashboard that provides you with actionable, at-a-glance data to help you understand more about your contacts and how to communicate with them.
The package incorporates everything in Essentials, plus: 
Customer Journey Builder + Branching Points
Send Time Optimization
Behavioral Targeting
Custom Templates
Dynamic Content
Features of the Standard Plan
The Standard package has all the necessary tools needed for your email marketing. Be it automation to increase consumer interactions based on who they are and how they engage with your business, or multichannel tools for promoting and growing your brand, as well as seeking new leads, all in one place.
Remember we mentioned that with the Essentials plan you have access to 100 Mailchimp templates? Great, but note that with their Standard plan you can even create your own templates.
Besides, you will get another amazing feature called 'Send Time Optimization'. This will analyze all of your contacts' behavior and help you send your emails at the times your potential customers are the most likely to open and engage with your offers.
Finally, there's a dynamic content option that will also be available within this plan – this will help you to alter your content based on user input. For example, showing them content similar to what they've already bought or viewed will increase the chances of enticing them to convert.
Premium Pricing Plan
Last, but most definitely not least is the Premium plan. As the name suggests, this package is for advanced marketers who need the most advanced innovation tools and premium phone service. This package is recommended for large businesses with advanced users. When it comes to the Mailchimp pricing of this plan, for $299 per month you will be able to have 10,000 contacts and send up to 3 million emails! Its most expensive plan will cost you up to $1190 for 200,000 contacts.
200,000+ contacts
Unlimited audiences
Unlimited audience? We think this is the best feature of this plan, and what actually makes it premium. Now you can manage unlimited audience information and use it to generate targeted campaigns. how cool is that?
This plan has everything in Standard, plus: 
Advanced Segmentation
Multivariate Testing
Comparative Reporting
Unlimited Seats & Role-Based Access
Phone Support
A unique feature: Prioritized Phone Support
If you decide to go with the premium package deal you'll get to contact Mailchimp's devoted team of highly recognized experts 24/7 via three different channels: email, live chat, and phone for any questions and concerns you might have.
Some Other Things to Think On
Here are some more features you should be aware of:
Customer Relationship Management (CRM)
Mailchimp helps you manage relationships with current and prospective clients using the CRM framework. It assists businesses in developing customer relationships and streamlining operations in order to maximize revenue, enhance customer experience, and improve productivity.
Marketing Campaign Segmentation
Mailchimp divides your large intended audience into smaller groups or subgroups with comparable desires, interests, tastes, and characteristics. This results in 23% higher open rates and 49% higher clicks.
Pay As You Go Plan

Did you know that Mailchimp also offers a plan called Pay As You Go which is ideal if you only plan to send a few campaigns over the year but you want access to more advanced features? All you need to do is to buy credits that expire every 12 months. So for example, if you're planning to send an email to 1000 customers it will cost you 1000 credits, and so on.
Final Verdict
Now that we covered all of the Mailchimp pricing plans, you will be able to determine the one that would be the best fit for your business, whether you're a small business owner just getting started, or if you're one of those large companies looking to step up their email marketing skills. Mailchimp is a versatile service that is useful for mass email delivery. You can easily arrange e-mail promotions. Furthermore, the company's free alternative is remarkably generous, making it difficult to compete. Paid users have access to many advanced marketing capabilities which is amazing, so if you decide to go with Mailchimp, you won't make a mistake.
But, if you're still unsure and need help with email marketing, our team of experts can help. Book a Free Consultation to get insights and advice on your strategy today.
FAQs About Mailchimp Pricing:
What are the limitations of the Mailchimp Free Plan?
Mailchimp includes up to 500 contacts and 2,500 sends/month. With this plan, your daily send limit is 500. It's important to note that all accounts created before August 29th, 2022 include up to 1,000 contacts and up to 10,000 sends/month. The daily limit for these accounts is 2.000.
Do I need to pay for the Unsubscribed profiles?
This is a good question! You won't be charged only for the following profiles: archived, deleted, pending, cleaned, and reconfirmed. So, if someone unsubscribes from your list, make sure to achieve them!
How does Mailchimp billing work?
The monthly charge is based on your plan, and your contact counts and it's billed once a month.