An abandoned cart refers to when someone visits your website and adds an item to their shopping cart but doesn't follow through with the purchase.
There are plenty of potential reasons for cart abandonment. They range from technical issues to prices to shipping policies.
Abandoned cart emails let you recover some of the lost sales. The process becomes even easier if you use tools and extensions like a Magento abandoned cart.
Before learning how to use Magento to make your abandoned cart emails, get a refresher on Magento itself and why you want to use this email marketing strategy.
Before Learning about Magento Abandoned Cart – What Is Magento?
Magento is one of the major platforms for eCommerce, with the goal of making it easy for retailers to innovate.
Magento is just one part of the Adobe Experience Cloud, a system that is well regarded across industries.
One of the unique things about Magento is that it works for both eCommerce and in-store shopping.
It includes some features that integrate the two with each other. This is particularly useful for retailers who have both physical and digital shops.
How Magento and Abandoned Cart Emails Can Impact Your Sales
When it comes to abandoned cart emails, whether or not you send them with Magento, you should think of them as a way to recover your abandoned carts.
Consider that if you have Magento cart abandonment, this means that someone is already familiar with your brand.
They had to visit your website, browse your products, and add something to their cart.
This shows that they are already far along on the sales funnel. It also indicates your past marketing efforts likely have already influenced them.
With that in mind, think of abandoned cart emails as the push they (hopefully) need to take the last step and buy your product or service.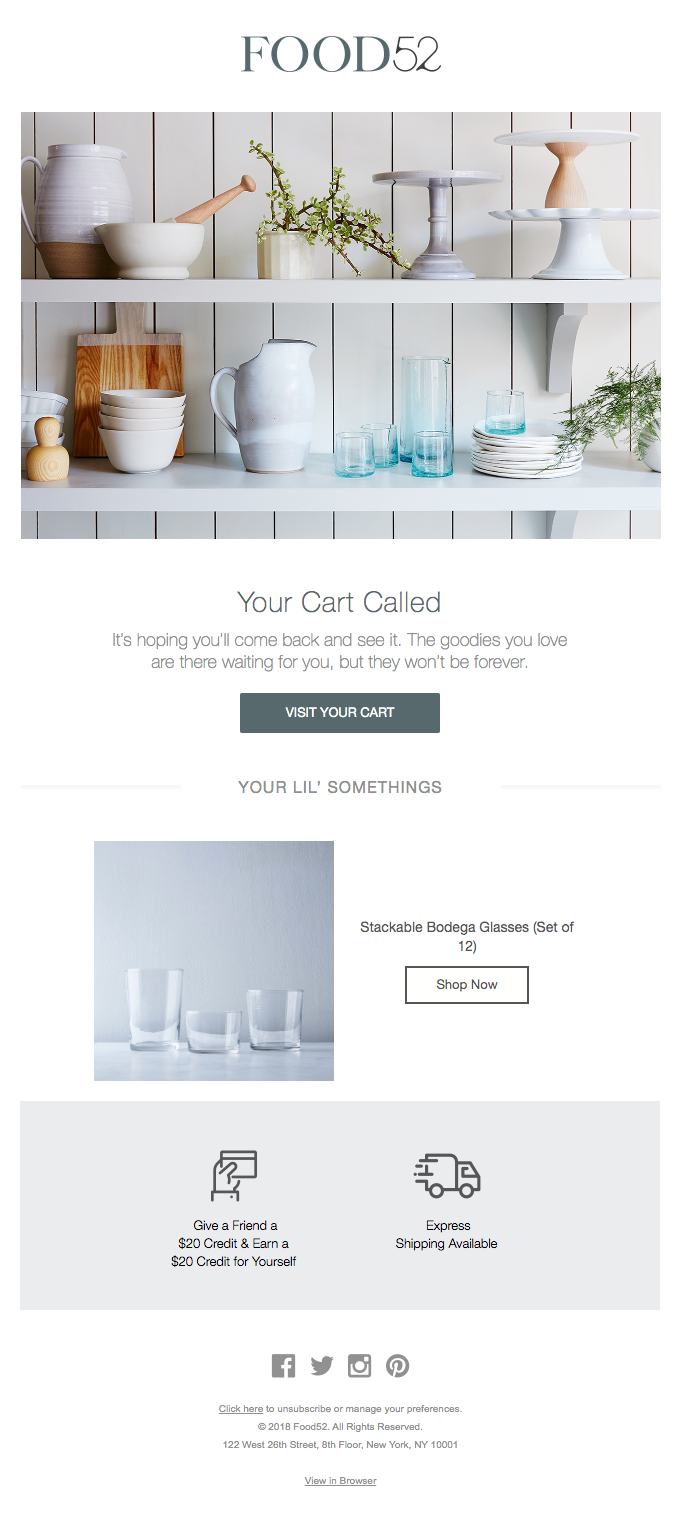 Converting these customers will be much more affordable than converting a brand-new customer. After all, they are already further along in the sales funnel and conversion process.
To give you an idea of how effective cart abandonment emails can be, consider that some experts estimate they have a 10% conversion rate.
Others report an open rate of 41.18% and a click rate of 9.50%.
Klaviyo, for example, reports that you can expect about $5.81 in revenue per recipient, on average.
Where Magento Comes In
Magento abandoned cart emails deliver the same benefits as any abandoned cart email.
They are simply one convenient and popular way of automating those emails.
This can save you a great deal of time. Of course, there are also other automated solutions available.
How to Set Up Abandoned Cart Emails in Magento
With a better understanding of why you want to use Magento abandoned cart recovery tools like email, how do you set them up?
Create Magento Abandoned Cart Emails via Triggered Campaigns
When you create Magento abandoned cart emails, you create a series of triggered campaigns.
As with any other triggered campaign, you can create this one by going to "Automation," then "Triggered Campaign Content" and "Add New."
This will take you to the creation wizard. As you go through the wizard, you will need to enter the following information:
    Choose a template
    Your campaign name
    Your campaign details.
From there, you can adjust the campaign with the EasyEditor. Because it is a drag-and-drop tool, this is fairly straightforward to do.
You will want to look for the abandoned cart block in the EasyEditor. Then, you can put it in the right spot. It will be several options down under tools in the Building Blocks sidebar.
Set Up Your Abandoned Cart Program
Once you have the campaign set up, you can work on the abandoned cart program. Creating the program lets you choose when you add contacts to the Magento abandoned cart campaign.
Start by setting up a decision node. You will want to use the node to eliminate customers who:
    Buy the items in their cart
    Remove the items from their cart.
You can then create programs via the Automation menu. Go to "Automation," then "My programs" and "New program."
As an example, setting up your automated email campaign may follow these steps:
Create a start node that is "No scheduled enrollment"
Create your decision node to ensure that only Magento abandoned carts receive the email
Complete your program. It may be as simple as a Start leading to a Decision. The Decision could lead to either an End or a Campaign followed by the End.
If you want to make the program more complicated, you can also add delay nodes. These would go after the Campaign node.
The delay node could lead to another Decision node, with an End node on one side and Campaign followed by End node on the other.
That type of setup lets you schedule a second cart abandonment email. You will likely want to add two delay nodes total.
That is because experts agree that the best abandoned cart emails feature a series of three emails.
Test Your Magento Abandoned Cart Process
Before you finalize your abandoned cart program, take a minute to test it.
There are two ways to do this. First, you can add exclusion rules under the "Marketing" tab. Set it up to exclude all of the visitors as you test.
The alternative is to add another Decision node, creating the node so it only proceeds with the program if the email address is your test address.
Enable the Program
Once you are done testing, you can enable the program. To do this, go to the following settings in order:
    Stores
    Configuration
    Engagement Cloud
    Abandoned Carts
    Abandoned Cart Program.
Once you are in the Abandoned Cart Program window, use the drop-down menu to select your abandoned cart program and choose when you want to send the email.
It has to be between 15 minutes and 12 hours.
Conclusion
Using Magento abandoned cart emails lets you automate the process.
With your abandoned cart emails in place, you should notice a boost in purchases and profits.
Further Reading
Abandoned Shopping Cart Email: Best Practices
Recover an Abandoned Cart Without an Email Address
Understand and Reduce B2B Cart Abandonment
Abandoned Cart Email Benchmarks: What You Should Expect
Cart Abandonment Solutions That Can Really Improve Your Sales