The eighteen months since the beginning of 2020 have seen a remarkable change in the way people do their retail therapy.
Prior to January 2020, people ventured out to do their shopping. Online retail was a secondary option for them.
The advent of the Covid-19 pandemic changed all that. These days, buying things online has become the new normal.
But the growth of online shopping also has its downsides.
People with time on their hands tend to browse more, fill up their online shopping carts with items that they would like to have, but then abandon their goodie-filled carts before they can complete the transaction.
An abandoned shopping cart, however, is not necessarily the end of the road for your customers' purchasing journey.
With a bit of skillful management, you can encourage those customers to return to your online business and complete their purchase.
So let's go over some reasons that can lead to an abandoned cart, and how to convert abandoned carts back into completed transactions.
How Abandoned Carts Impact Sales
With more people browsing digital storefronts, clicking on ads, and checking out products just to pass the time, abandoned cart rates have skyrocketed.
Research conducted by the Baymard Institute, a Denmark-based marketing research company, found that 69.57% of online shopping carts are abandoned.
This means that for every 100 customers you have, almost 70 of them will leave your online shop without purchasing a damn thing.
An estimated $18 billion dollars in sales revenue is lost by eCommerce stores each year due to cart abandonment.
Imagine how much your business's revenues would increase if you were capturing even a percentage of those lost sales, instead of watching them walk out your virtual door.
Reasons Why Your Customers Are Abandoning Their Carts
Let's face it, customers are fickle. They wander into your online shop (so to speak), drop a few items into a cart, then disappear.
Not that there's anything wrong with browsing. That's part of the fun of shopping, either online or in brick-and-mortar stores.
But there are often more concrete reasons for a customer to abandon their cart before they can complete the transaction and part with their hard-earned cash.
Common reasons customers abandon their carts include:
Unforeseen additional costs
Forced account creation
Website security concerns
Complicated checkout process
Slow website performance
Limited shipping options
Difficult cost calculation.
→ Tip: Discover cart abandonment benchmarks to have an idea of the numbers you should expect.
Time is Money
It takes a lot of time and effort to set up and run a successful business.
So when a customer wanders out of your store because a cute cat video just popped up on their social media, your valuable efforts and marketing budget have, to some extent, been in vain.
Furthermore, the goods they have left sitting in their abandoned cart now represent gaps in your inventory.
You need to act decisively to either complete the sale and order more stock, or return the items to your inventory ready to be sold to another customer.
It's time to do the math!
Check Your Cart Abandonment Email Conversion Rate
An extremely versatile tool for measuring how well your systems for recovering abandoned shopping carts are working is to measure your cart abandonment rates.
A key metric for this is your cart abandonment email conversion rate.
Studies have shown that cart recovery emails can produce a 20.3% conversion rate (CVR) if they are sent out within an hour of the cart being abandoned.
Calculate Your Average Conversion Rate
A simple calculation is all you need to make in order to figure this out.
Let's say you send out 100 abandoned cart emails to customers. Of those, 19 customers returned to complete their purchases.
So now you just have to divide the number of successful return customers by the number of emails you sent out, and multiply the result by 100.
19÷100=0.19
0.19*100=19%
A 19% conversion rate is pretty good. Most analysts say that anything above a 10% conversion rate means that your emails are hitting the correct marks.
If your conversion rate is under ten percent, however, you may need to look at such things as how you are wording your emails, how often you are sending them, and if you are personalizing them enough.
How You Can Convert Abandoned Carts
There are a number of ways in which you can convert abandoned carts into successfully completed transactions.
Some of them are old school and require a lot of effort and admin. Some are a little outdated, such as actually ringing someone up on the "telephone."
Still, others are cutting edge and can be highly successful.
Ways to convert abandoned carts include:
Retargeting customers through AdWords
Direct mail
Personal email
Email automation workflows
Building trust with testimonials
Person to person phone calls
Optimization of your checkout process.
Let's take a closer look at each of these methods.
Retargeting Customers Through AdWords
AdWords is a system that places mini advertisements containing text and images into a user's Google searches and onto various social media platforms.
Your customer has already visited your site and selected a few products that they desire.
So by showing them small adverts of the products they abandoned, or of similar items, you can gently remind them about those products and what was attractive about them.
Direct Mail
This method is really "old school." Actually writing a letter to someone, addressing it personally to them, then posting it in "the mail."  It sounds tedious and slow, doesn't it?
Yet for many consumers (around 70% according to research), getting a letter reminding them about the product that they almost bought is a powerful incentive for them to return to your online store and complete their purchase.
It's kind of neat, in a way, combining old technology with new technology to achieve a result that makes everyone happy!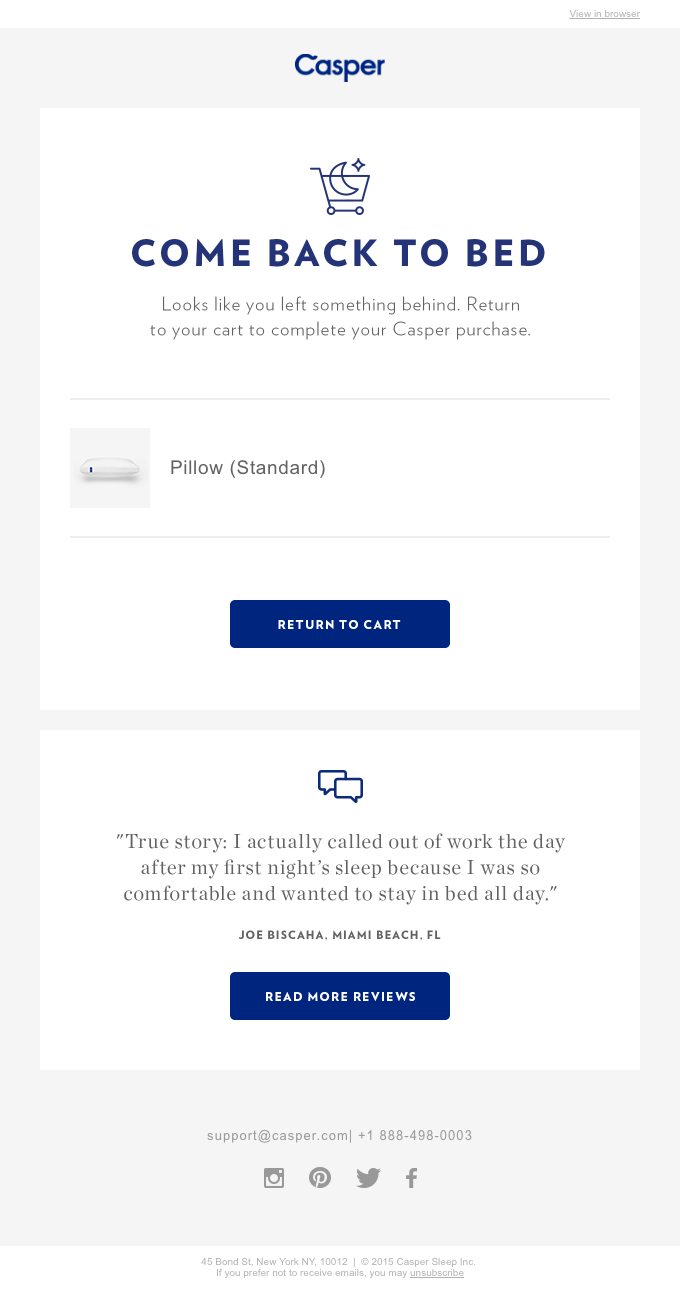 Personal Email
While it is true that people will usually ignore generic emails, by personalizing an email you can add enough appeal for them to open and read it.
A customer will feel a little special if they receive an email addressed to them…and from an actual person.
Even if your email doesn't succeed in getting them to complete their abandoned cart purchase on this occasion, you will have established a feeling of trust which will make them more likely to return to your online business at a later time.
→ Tip: You can personalize your emails by writing catchy and personalized subject lines!
Email Automation Workflow
An email workflow is a series of messages sent out to your customers based on metrics such as browsing behavior and product preferences.
By automating your abandoned cart emails you will free up time for more important business matters, such as lunch.
An efficient email automation flow will enable you to re-engage with customers who have abandoned their carts and encourage them to complete their purchase.
It will also:
Generate the metrics you need to monitor and analyze your marketing strategies
Drive traffic to your website
Welcome new clients
Encourage repeat business from existing ones.
Email automation takes the hard work out of long-term planning by pre-loading messages about purchase anniversaries, upcoming specials, and so forth, to be sent out at appropriate times and in ways that don't alienate or overwhelm your customers.
Building Trust With Testimonials
Reviews and testimonials from happy customers are absolute GOLD for online marketers. If clients can see that previous customers got good service, they will approach their own purchase with a feeling of trust.
You should encourage customers to leave comments and reviews about your products and services, then proudly display these for new customers to see.
Person to Person Phone Call
Although this requires a large investment of time, a personal call may be all the encouragement a customer needs to return to your shop and complete their purchase.
If the main reason that a person abandoned their cart is difficulty with the checkout, and studies have established that this is often the case, a little person-to-person help over the phone could be all you have to do to generate a satisfied customer and a happy business owner.
Optimization of Your Checkout Process
Nothing turns a customer off quicker than a complicated checkout. By making sure your checkout is fast, user-friendly, trustworthy and informative, you can lessen the number of shoppers who abandon their carts.
You should:
Offer multiple currency and payment options
Be upfront about shipping costs and charges
Avoid asking customers to fill in multiple forms or open an account.
Talk To An Expert
Your friendly, local email marketing specialist will be able to give you all sorts of advice about the best methods you can employ in order to convert your abandoned carts into completed sales.
The solution to your online store's abandoned cart woes could be just an email away. Or maybe even a phone call!
Learn More About How to Convert Abandoned Carts