Choosing a perfect email campaign template for your eCommerce brand is a top-rated factor that guarantees you quick access to the heart of your prospects and customers.
Would you prefer to struggle to convert prospects who have a choice to patronize hundreds of other brands that offer the same products or services as you? Or would you rather leverage an excellent email template for your email campaigns to get them on your side?
Why You Need A Customized Email Campaign Template for Your eCommerce Brand
The importance of a professional email template to an eCommerce brand cannot be overemphasized.
Email templates help you handle a lot of steps in organizing your emails before sending them out. Let's check out a couple of benefits you stand to gain by using email templates.
The best email marketing campaigns are personalized
It is essential to do all you can to display your eCommerce brand, name, logo, and other details before your prospects and customers at every slight opportunity.
It creates and retains the memory of your brand in your customers' minds.
One main reason your eCommerce brand needs an email template is the opportunity you have to personalize your company's emails before sending them out. With email templates, you can design different types of emails for various purposes.
You can design different emails for your retail and wholesale clients to differentiate between them. You can also create a separate email for your weekly blog posts to update your customers about any latest developments.
Edit your email sequence template with ease
Your ability to change a unique out-of-the-box professional email template to a personalized email template, specifically orchestrated for your brand, can turn your eCommerce business email marketing around for good.
Your unique email template comes flexible so that you can easily edit its contents and retain the outlook at any point in time. By this, it is possible to maintain consistency in all your emails over time.
This singular act can create a new perspective about your brand in your customers' minds. Most people love consistency because they already know what to expect from a specific brand.
You can brand your emails
Most successful brands globally have a unique pattern of creativity that lets them stand out among their competitors at all times.
Whether a customer is visiting the company's website, reading a weekly email, or looking through a direct marketing material (flyer, poster, or billboard), the customer can easily tell the brand with just a glance on any of the marketing media.
Email templates let you brand your emails with your personalized creativity.
By this, you can determine what you want and how you want your emails to look like, which in most cases will be consistent with your brand's website, social media pages, etc.
Tips on How to Choose the Perfect Email Sequence Template
Choosing a perfect email campaign template shouldn't be done in a hurry. Ensure to consider the following tips strategically designed to help you choose the perfect email template for your eCommerce brand.
Get a template that matches your content
Often, people pick their company's website design, email template, etc., randomly without first comparing the intended website or email template with their brand's industry and the product or services they stand to offer.
When choosing an email template, it is vital to start by screening through to get one that aligns with your brand's industry and the kinds of products or services you offer.
For instance, colors are not just idle objects for decoration; they convey specific messages at different points.
So, the structure, coloration, and organization of the intended email template must be adequately considered.
Get an email campaign template that looks like your other online media platforms
You don't want to confuse your prospects or customers about your brands, do you? Picking an email template that differs from your website design, creativity, structure, or form can confuse your customers about your brand.
Your brand's email template must align with your already existing:
Website
Social media pages
Any other marketing tool that your brand uses to communicate with prospects, customers, or the general public.
It makes your customers recognize your brand easily.
The email campaign templates must be customizable
Email templates should be customizable to allow you to easily restructure the template to exactly what and how you want it to be.
Flexibility is non-negotiable when choosing an email template because you need something you can tweak to align with your brand's website, social media pages or accounts, etc.
You would need an email template with adjustable:
Font size
Color
Font style
Any other elements that can be adjusted to fit your brand in all ramifications.
The email template must include interactive features
You would want your customers to be bored whenever they read your emails; hence, you would need to include some interactive features or elements to engage them as they go through the emails.
To get your customers' attention, the perfect email template must include:
Images
Videos
Moving texts to get your customers' attention as they read the content of the email.
Ensure to capture vital details with interactive features that your prospects or customers will most likely not ignore.
Add a CTA – Call to Action
Email marketing will most likely end up unproductive if there are no steps or invitations that prompt prospects and customers to take action about ordering for the product or service.
Ensure to include a Call-to-Action button when choosing an email template so that you can ask your prospects or customers to take action immediately after reading through the message you intend to convey about your products or services in the email.
A Call-to-Action button must feature a large button size with a bright color design, especially one that easily gets the reader's attention.
Note that an email sequence template features CTA buttons that can help you convert prospects to customers over time. So, ensure to include a CTA feature.
Email Campaign Examples

The color palette and font style are very important in email campaign templates. This is why you should always choose a customizable template, or design your own one with the help of experts.

The best email campaign templates include enough space for images and symbols. There should be a balance between the visual and written content.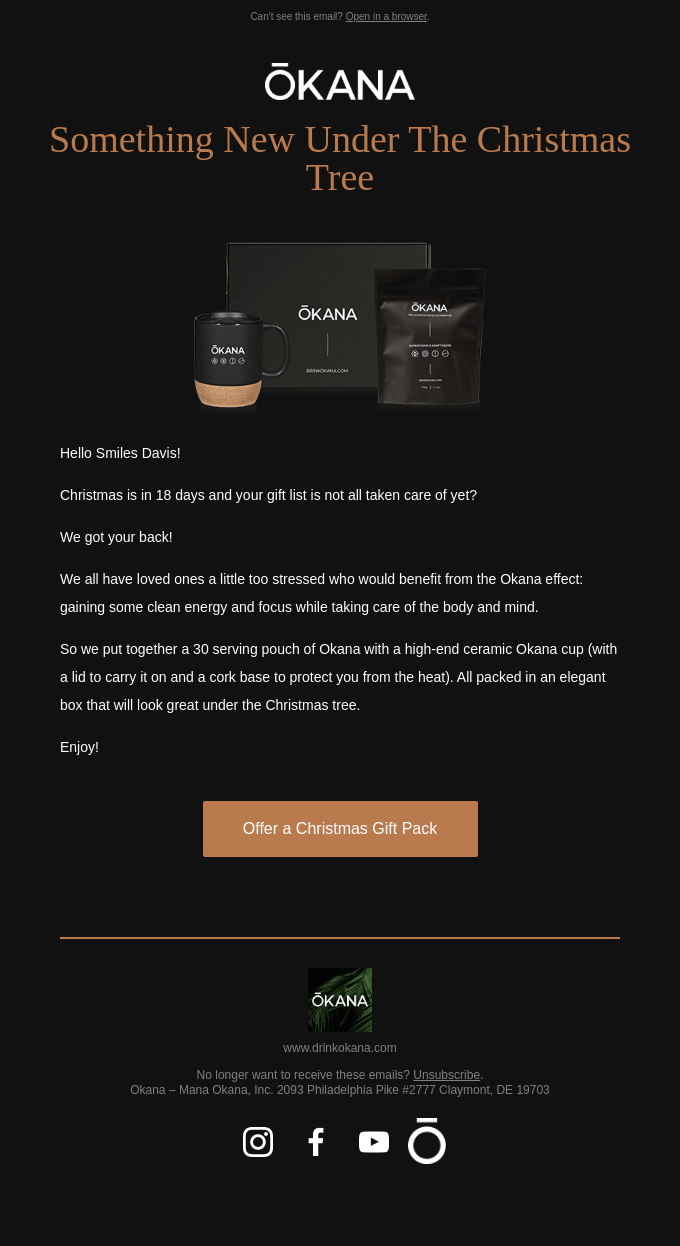 Never forget that an email sequence template should allow calls to action. In this email campaign template example, it's the button "Offer a Christmas Gift Pack".
Only with calls to action will a customer click on your email and complete the intended action.
Further Reading
Productive Email Campaign Management Strategy
Average Email Campaign Response Rates
The Best Email Campaigns for eCommerce: 5 Emails You Should Send