Cart abandonment happens when shoppers add items to their cart on your e-commerce site but fail to check out. This is quite a common phenomenon across different shopping websites.
Research shows that an alarming 75% to 80% of shoppers abandon their carts while shopping online. This is roughly 1 in every 4 shoppers.
This is when you need to work out an abandoned cart workflow to curb the problem. When you follow a good abandoned cart workflow, you will notice that customers are brought back to your site.
Abandoned cart emails work as a reminder and nudge shoppers in the right direction.
Keep in mind that not all customers who abandon your cart do it intentionally. While some are just browning or window shopping, others have the intention of returning later. In other words, they add items to their cart for future purchase.
If you are looking for the perfect abandoned cart workflow, here are some steps which you can follow to create an abandoned cart workflow.
Step 1: Find the perfect template for your emails
Templates for abandoned cart emails can be found on any email marketing tool platform.
To help in getting started, there are tools such as:
These are readymade templates where you are required to customize and change relevant information.
A readymade template offers only the basic layout. But other things such as images, the design and message will have to be customized.
Alternatively, you can hire a professional who knows exactly how the abandoned cart workflow works. Emailing experts have the required experience to create the best templates, suitable for your brand.
A customized and professional template will differ from a readymade template in the following ways:
It will be unique
The template will be personalized to your brand
It will stand out because it won't be generalized
It can be crafted to address specific problem areas.
Step 2: Set Up Automations
Creating an automated abandoned cart reminder email is a useful tool to ensure that all potential buyers who abandon their carts are reminded to re-engage and follow through.
Once you use automations, you won't have to worry about your abandoned cart emails not reaching your customer. Automations form an important aspect of cart abandonment workflow.
Besides, automating your abandoned cart series could be very useful in saving time when it comes to recovery efforts.
This in turn means that you could focus that saved time on designing, analyzing and improvising on the emails themselves instead of manually operating the recovery efforts.
Step 3: Design the Email
Designing an email is an essential part of the abandoned cart workflow. It is necessary to include the information in the customer's cart pulled from the store connected to it.
To do this, a cart content block is added by default to your email.
What Should Cart Abandonment Workflow Emails Contain?
Abandoned cart emails contain fairly simple messaging. The following is an outline of the general structure:
Eye-catching subject line
Introductory text
Items pending in the cart
Offers or discounts applicable
Call To Action/ Checkout button
Reviews
Closing line.
Step 4: Use a Drip Campaign for Your Abandoned Cart Workflow
Sending only one abandoned cart email may not be fruitful, so most companies consider a drip campaign. This is a series of emails that are automated.
Consider using the following structure:
First Email of a Drip Campaign
This is the first email of the drip campaign series. It acts as a cart reminder and is typically sent a few hours after the cart is abandoned.
It contains the product image
Email tone is friendly.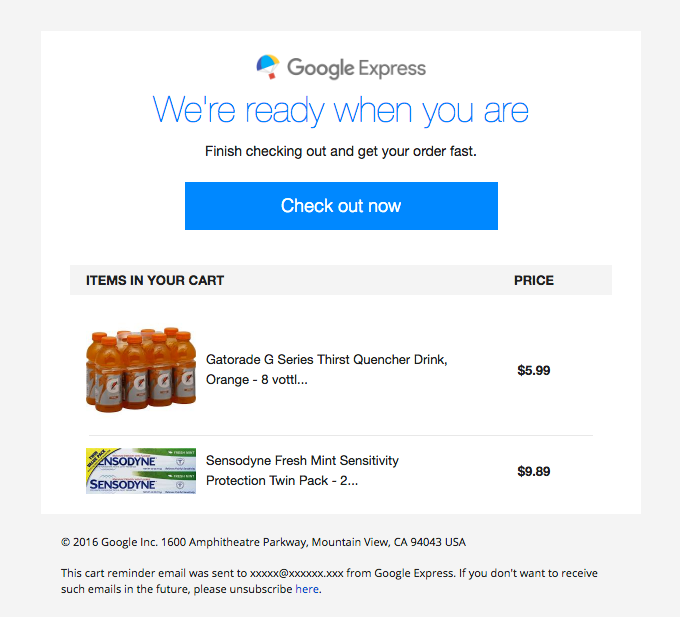 Second Email of Your Abandoned Cart Workflow
This is a follow up email sent a day or two after the first email.
It contains an message reminding of the purchase
Email tone should be urgent.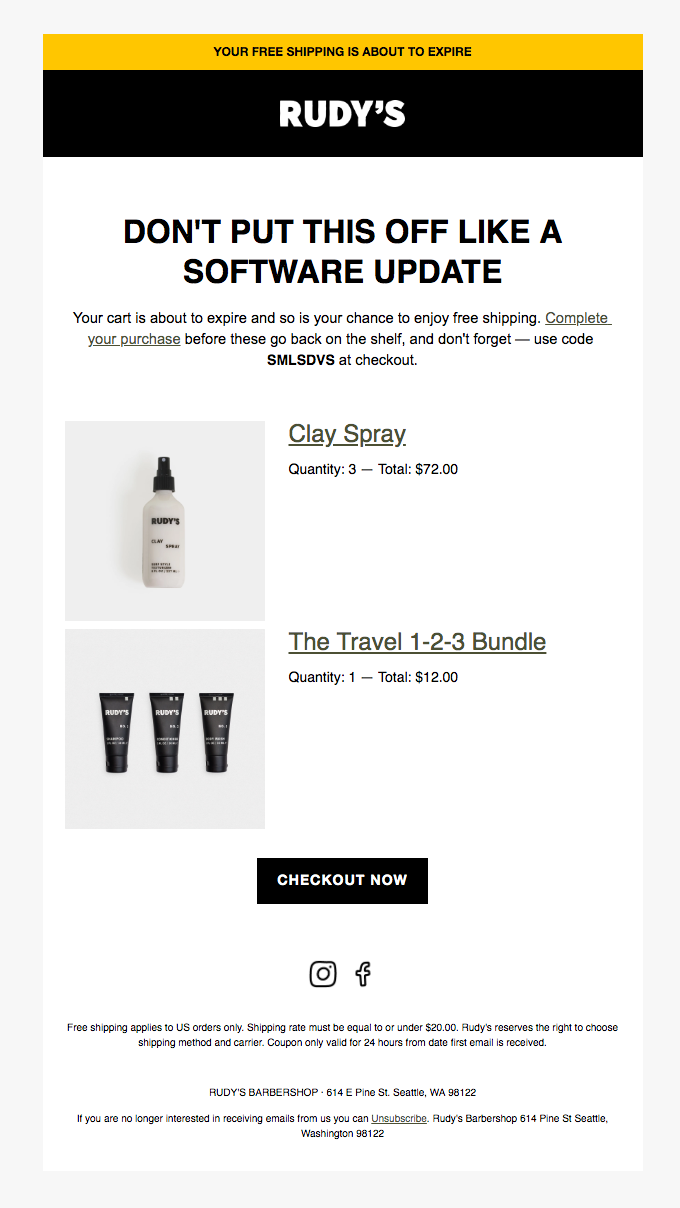 Third Cart Abandonment Email
This is a final email sent around three or four days after the abandoned cart, or two days after the second email.
It contains a final reminder message to complete the purchase
May sometimes contain a deal to lure the potential buyer
Email tone should speak on the lines of a final attempt.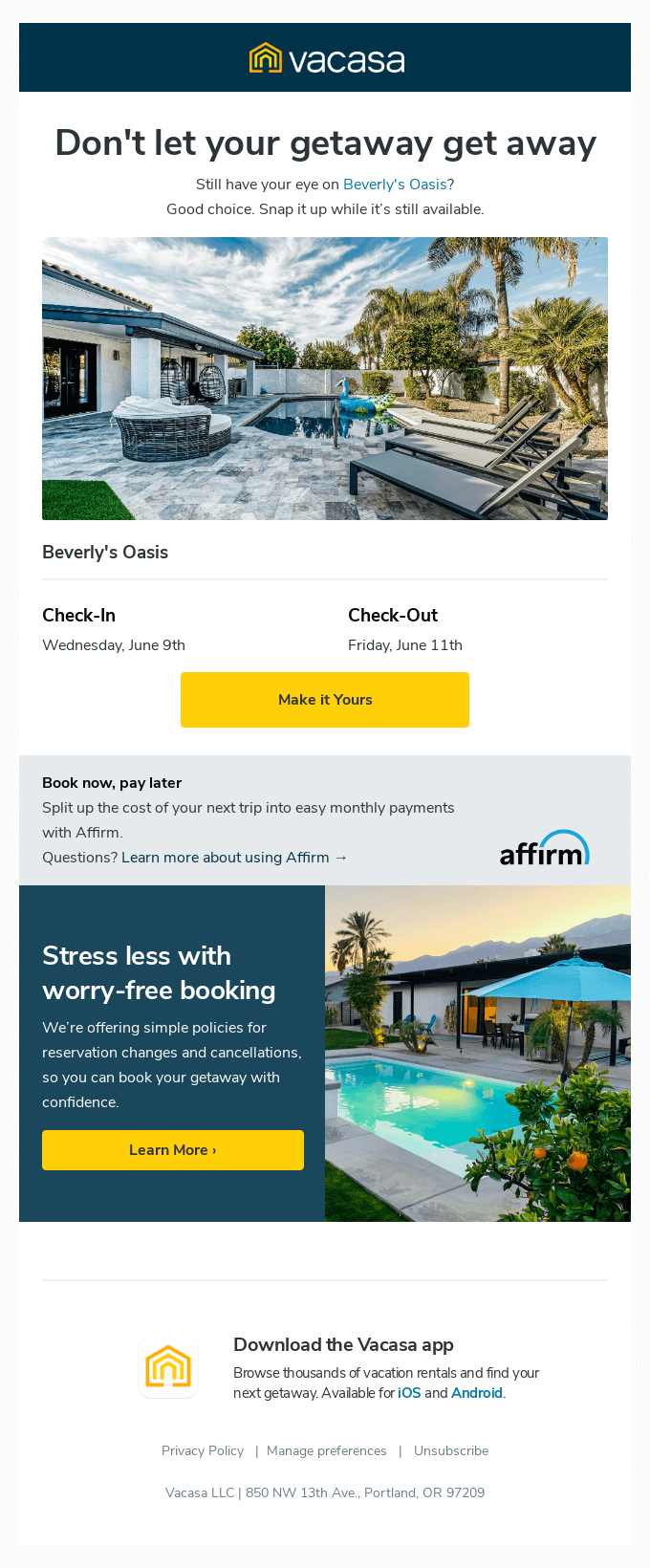 Step 5: Personalize the Abandoned Cart Email
Personalization of abandoned cart emails is important for the customer. This could be done by:
Mentioning items left in the cart
Addressing the customer by name.
Introduce a Call to Action at the end. The abandoned cart email must lure the customer into making their purchase.
Step 6: Set the Perfect Timing
Sending the email at the correct time is important to grab the attention of the potential buyer. If too much time lapses, the customer may be less inclined to complete the purchase or may buy the same item on a competitor's website.
The first abandonment cart email should be sent within 24 hours after the customer has abandoned the cart. It can be sent as early as 3 to 5 hours since abandonment.
Step 7: Use Social Proof
One of the issues why customers abandon their cart is due to trust issues. You need to show them that your brand is authentic.
Use testimonials, reviews, and ratings from other customers to create FOMO (Fear of Missing Out). Reviews can tempt some people to go ahead and purchase the item.
If you want customers to return to your site to reduce abandoned carts, keep in mind that you will have to create a strategic abandoned cart workflow. Hiring the services of a professional will guarantee the best results.
Further Reading