In this article, you'll learn how to use Klaviyo to create an abandoned cart flow and discover our best advice on how to create a Klaviyo abandoned cart flow.
The Klaviyo abandoned cart flow is one of the most popular requests from our clients, and it's the basics of your email marketing.
Abandoned Cart automation has proven to be the most profitable email series. When it comes to eCommerce, it's an absolute must for every business.
With these simple steps, you'll learn how to create an Abandoned Cart Flow in Klaviyo.
You can watch the video at the bottom of this page or simply check the How-to instructions below.
What is an Abandoned Cart Flow?
Cart abandonment happens when shoppers add items to their cart but fail to check out. It's not a rare phenomenon: research shows that around 75% of shoppers don't pursue their purchases and leave their cart abandoned.
To solve this problem, the best method is to set up an abandoned cart flow. And Klaviyo can help you with that.
Basically, you will program a series of emails to remind your subscribers that there are still items left in their cart. With the help of Klaviyo, you will automate them.
Klaviyo automated abandoned cart emails help you save time and increase sales. Emails are sent on time, to the right users, with personalizations included.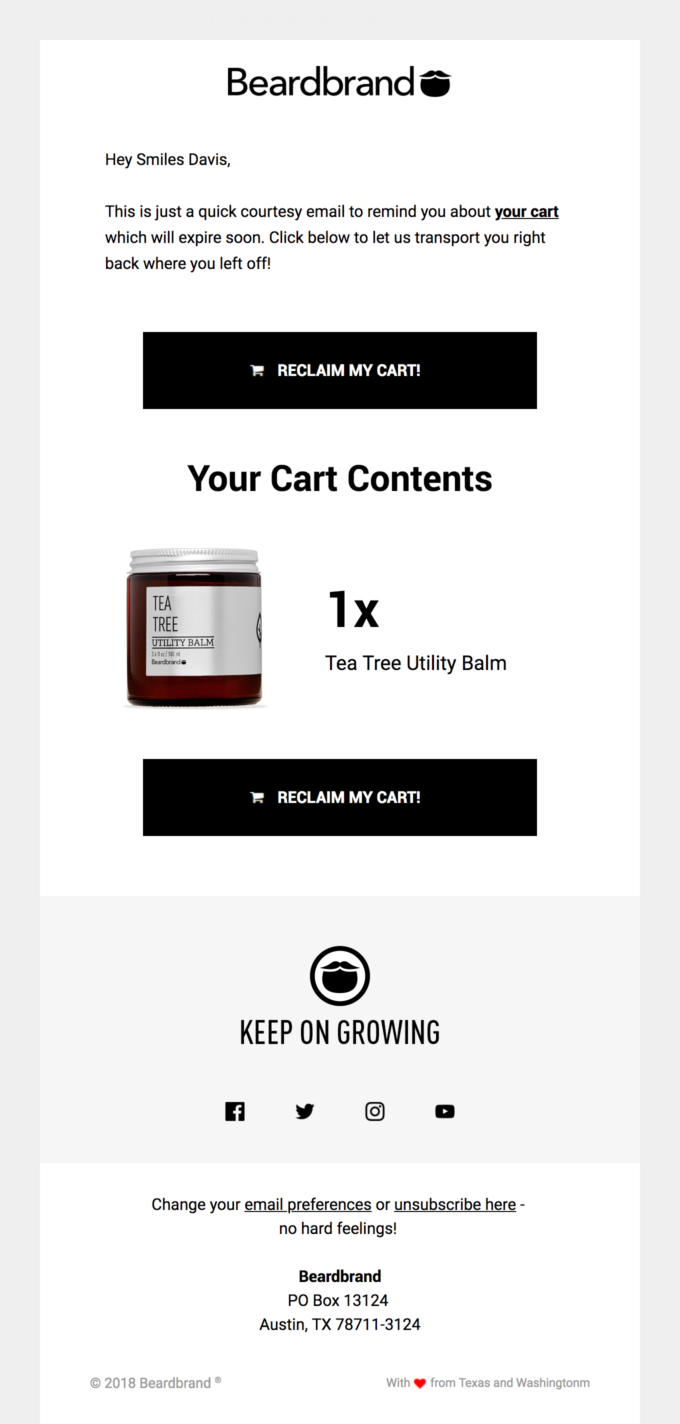 Before You Start to Create Your Abandoned Cart Email Flow
First of all, you will need to have your Shopify / Magento / Woocommerce, etc. integrated with Klaviyo. I prefer Shopify because it has the best integration with Klaviyo.

Create the Abandoned Cart Flow in Klaviyo
To create the abandoned cart email series, follow these steps:
Go to the Flows
Create the Flow called Abandonment Cart
Click on the Take Action button and choose Checkout Start


Then you go to Flow Filters and you need to Add – Ordered Product. Choose details like zero times, since starting this flow and click Save

Now Klaviyo will trigger this automation every time somebody starts the checkout, but it will continue only for those who not make any purchases
Add Time Delay to Your Abandoned Cart Emails in Klaviyo
Click on Time delay. I recommend putting a delay between 2 or 4 hours. Press Save.

Add and Edit the Abandoned Cart Email in Klaviyo
To send the first email, drug the email to your chain. Smart feature is not so smart. So cut it off
Edit email in the Configure Content
Put a subject line
Choose a template
To insert an image, click on Preview, where you can find all your information from Abandoned Cart, and copy the URL of your image. Then drug Image block to the place you want it in the email. Find Placeholder and put there your copied URL. Edit size and details and click Save. If you go to the Preview you'll find your image in the right place!
To insert text, do the same with each text block

This is how you can create Cart Abandonment Flow in Klaviyo.
You can also watch a video with the same information below:
Create a Klaviyo Abandoned Cart Flow: Best Practices
Now that you have learned how to create an abandoned cart flow in Klaviyo, you need to know the best practices concerning abandoned cart emails.
Write Catchy Subject Lines
The best way to make sure your subscriber remembers about his abandoned items is by making him click on your email in the first place.
For this, you'll need to think of an original, catchy subject line. Some examples:
"It seems you forgot something"
"Have you lost your connection?"
"You abandoned cart misses you!"
Those are examples that worked before. Up to you now to come up with the best subject line!
Personalize Your Abandoned Cart Emails
A good idea is to include your subscriber's name in the email. This makes your email more personal, and it increases the chances that your customer will feel concerned and maybe even finish his checkout process.
Also, obviously, you need to include the items the subscriber left in his cart. This will not only remind him what you are talking about but maybe even seduce him one more time. For better results, include pictures and links leading to the product.
Include Call to Actions
Now that your subscriber opened your email and is one more time considering buying your product, you can't miss the opportunity to help him finish his purchase.
With calls to action, the customer will know where to click and will quickly be brought back to his solitary cart.
Examples of call to actions:
Click here to finish your purchase
Go visit your abandoned cart
Finalize your purchase
Use Social Proof
If the visitor left his cart abandoned, maybe he didn't trust your brand enough?
Gain trust and legitimity by adding review, testimonials and ratings from previous customers to convince your subscriber that he has nothing to be afraid of, that your product is of quality.
Sometimes, customers just need a little of persuasion. After an abandoned cart email or two, they will be more than happy to go back to their checkout process and buy your products.
Frequently Asked Questions
Why do you need an abandoned cart email workflow?
Abandoned cart emails help you to convince your customers to go back to your eCommerce website to finish their purchase. However, one email is often not enough. With a well-conceived workflow, you can send emails just on time to remind your subscribers that there are still items left in their shopping cart, without even think about it.
How to write a good abandoned cart email?
First, your subscriber should feel interested enough to click on the email. For this reason, you need a convincing subject line. After this, you can keep its attention by personalizing the email, including calls-to-action, and social proof.
How many emails should I program for an abandoned cart workflow?
Some people only send one email, others send 4 of them. Our advice is not go further than that – you risk annoying your subscriber. The first email should be sent 2-4 hours after the cart is abandoned, and the last one in a week.