If you've been hearing about AMP emails but have no idea what they are, this article is for you.
Tune in to learn about the future of eCommerce email marketing that is happening right now. Learn about the technology that's already being used by millions of eCommerce brands to make the interactions with their customers more productive and reduce friction in the buying process.
Recently, Google, an email service provider, allowed us, email marketers, to start using technology that makes email interactive.
So what does it mean? It means that if you are, let's say, selling this kind of shirt. And this is what, Captain America. And you have this kind of shirt but with a Superman, Wonder Woman and so forth, you are able to insert that kind of shirts, on one shirt, but with different design and I can click and select what I want from the email, and even update my card from the email.
It's very interactive and I'll show you in a second. It's very cool. It's complicated to make, you need a developer, you need to start coding from scratch. There's no drag and drop editor yet. I expect they will become available soon. However, if you really, really want to do it, it's possible.
So let's check one email that I receive in my inbox. So this is the email I received from Google. It's a Nest Doorbell. We use some Nest technology in my house, and as you can see, they have a new doorbell.
So if I want to check the color, I don't need to leave my inbox, I don't need to go to their site, I can just click here and it will show me the correct color. It showed me the code and another, even cooler feature I can add as many, I mean, I can update my card. Actually, it's only allowing me for some reason to add only two.  Okay, as you see, I can update my card. And so when I click Proceed to checkout, you see.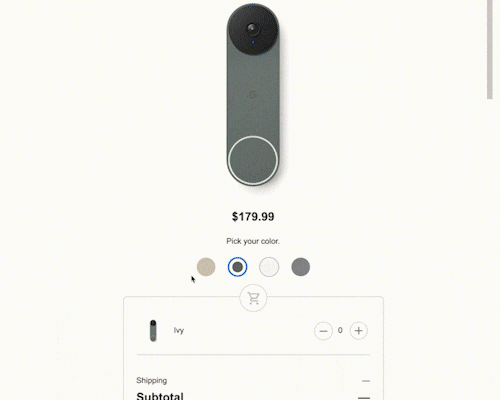 It's so easy. First of all, it's interactive. Second, it's easy. It's less friction for customers to make a purchase. Black Friday is coming soon, so this feature can be very helpful.
You can make up to 70% of your total revenue during the BFCM sales – that is if you do it right. We created a BFCM guide for eCommerce businesses to get ready for the busiest and most important days on every online store's calendar.
We didn't test new feature yet, but planning to test it in few split tests, what is the conversion rate on the simple email, saying like, "Hey, buy…" and showing the product versus this kind with the AMP technology built-in.
We already set up and send out few emails, but we did not split test regular one versus this one. But this technology is available for you to use. Anybody can use it. Not all subscribers will receive this kind of interactive email. There are some limitations on the Google side.
Things you need to set up. There's on your ESP set up, email marketing service provider, like ActiveCampaign, and so forth. However, it's available to the majority of your subscribers.
So test it out and let me know about your experience in the comments below. Or if you have any additional information, please share it in the comments below. I would like to learn as well.
Thank you very much. Bye.