In this article, we will have a look at the top 5 abandoned cart email examples from some amazing online stores.
Can you imagine putting $100 in your pocket to only find $25 after a few hours? This is the situation faced by e-commerce stores when customers abandon their carts. According to Barriliance, consumers abandon around 78.65% of their carts.
The good news is that  41.09%  (in 2021) of the consumers open the abandoned cart emails they receive (Barilliance). And 8% of them finish their checkout (Barilliance).
Abandoned cart emails are a tried and tested method to help increase conversions and engage the shopper again. 
What is an Abandoned Cart Email?
If you have ever abandoned your online shopping cart, you might have received an email to encourage you to finish your purchase. This is an abandoned cart email (like the one above).
Also, more often than not, abandoned cart emails come with a specific incentive like a coupon code or a special promotion so you are more motivated to complete your purchase.
Speaking about abandoned cart emails, let's have a look at our top picks. We will point out what we like specifically about each so you can apply it to your own abandoned cart emails. Let's get started.
The Top 5 Abandoned Cart Email Examples

Purple is a mattress company that has a near-perfect abandoned cart email set up.
Here are the best practices that we noticed and liked:
Their abandoned cart email contains their brand's logo, colors and is in their brand's tone of voice

They are passing multiple objections/restating benefits in the email. (0% interest financing, free delivery, free shipping, 100-night trial, etc.)

They have included downsells in the email.

The email has multiple CTAs (Calls-To-Action) in the opening line of the email copy and further in the body of the email as well. 
In short, everything in their email makes perfect sense given that they are selling a more expensive item.
The reader has already shown interest, so they just need to restate the satisfaction guarantee (free delivery, free shipping, 100-night trial) and answer the biggest possible objection (money).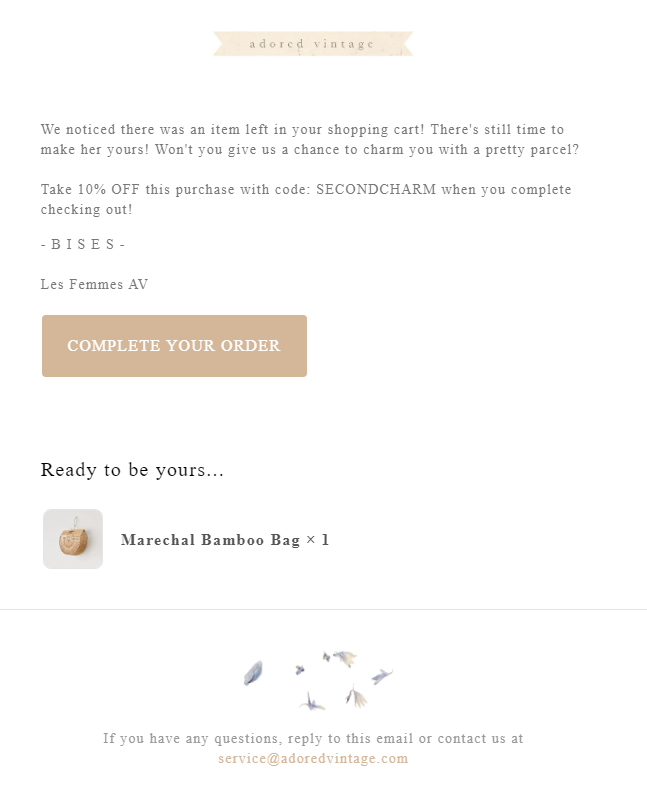 Adored Vintage is a women's online vintage clothing boutique. Here are the specific things we like about their abandoned cart email:
The tone of voice is friendly and conversational (you, we)

You are offered an

incentive

to complete your checkout (10% off)

Great email headline (Second Chance…) that is tied perfectly to the body of the email

A CTA (Calls-To-Action) button that stands out.

No more images than necessary.
Before we move on to the other abandoned cart email examples, we want to point out one thing. Having images in your email copy isn't bad, but it increases the chance of your email landing in the promotions tab. Especially if the images are too big and there are too many of them.
For example, Purple's email didn't land in my promotions tab, although their abandoned cart email was full of images.
Always test your emails beforehand, so they don't reach the promotions tab. This includes both your email copy and images.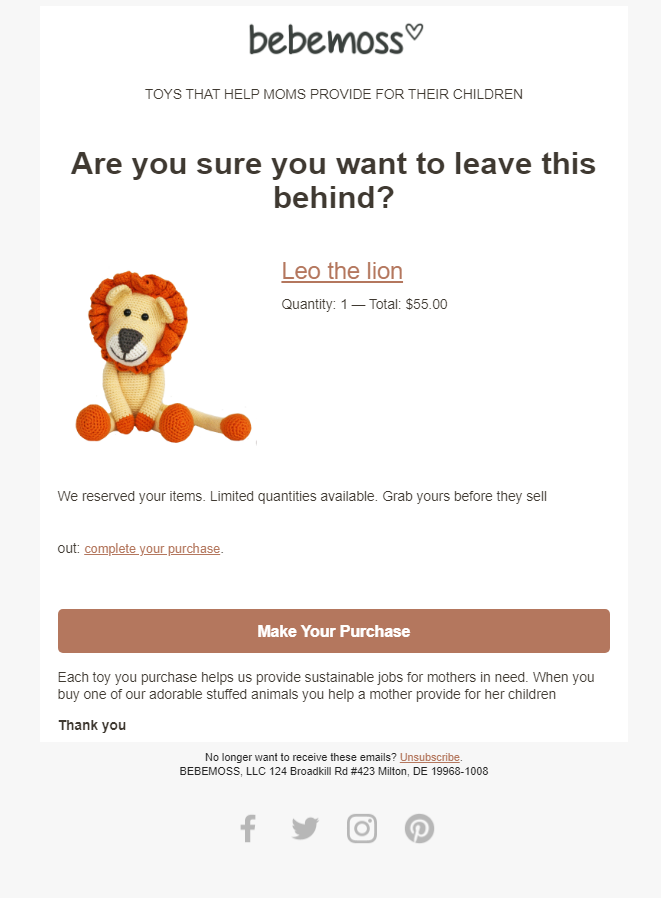 Bebemoss isn't your ordinary kids' shop. They are an online shop that employs more than 120 underprivileged mothers as a way to help them rebuild their lives.
And this brings us to what we like about their abandoned cart email:
They are stating their mission right below the brand name.

Their emails don't overcomplicate things

They have included scarcity in their abandoned cart email (limited quantities available)

Clear CTA on a big button with a contrasting color to draw you in.

BLK & Bold is a premium coffee roaster established in Des Moines. What sets BLK & Bold apart from their competitors is the fact that they invest 5% of their profits in bettering the lives of at-risk youth.
In terms of their abandoned cart emails, here is what we like:
Great curiosity provoking email headline that stands out in the inbox (Don't make us put it back on the shelf)

They keep things simple

They are mentioning their mission to help at-risk youth in the email.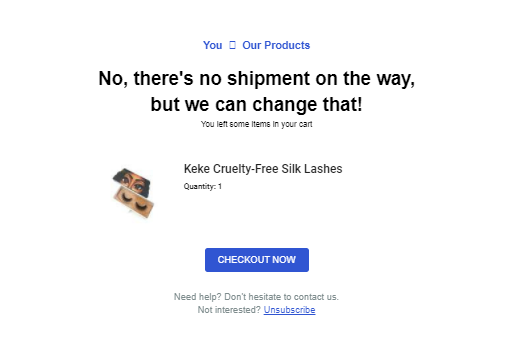 As you can probably guess, we are talking about an online cosmetics store. 
Judging by the email you see, you may think that it is "too simplistic". However, here is what we like about them and why we included them on our list.
They don't have too many images. Having too many images increases the chance of your email going to the promotions tab

Their abandoned cart email's headline is great ("Your shipment is on the way")

Their email subheadline points to the "checkout now" button (this is a very subtle copywriting tactic).
Conclusion: How To Write The Best Abandoned Cart Emails
So there you have it. These are our favorite 5 abandoned cart email examples. To make it more convenient, here are the biggest takeaways you can apply to your own abandoned cart emails:
Write a compelling headline that makes the reader curious enough to click and open the email

Transfer your brand's tone of voice and mission statement into the email

Keep things conversational (use "you" and "we") 

Structure the email in a way that guides the reader down to the "Complete Purchase" button

Include an incentive for the reader to finish their purchase  (10% off coupon, discounts, etc. )

Mention scarcity to propagate exclusivity and demand, eliminate objections, and state the benefits of your products

Make your CTA (Calls-To-Action) button stand out in the email

Include your CTA (Calls-To-Action) at least two times in your emails.
Now we hope you have a fair idea of what a winning abandoned cart email looks like. Implement according to your brand, engage your customers and boost your conversions.
Further Reading