You hopefully know that abandoned cart emails are a great way to convert hesitant shoppers. These emails target people who leave items in their cart without buying them.
To get the most from these emails, you need to follow some abandoned shopping cart email best practices.
Abandoned Shopping Cart Email Best Practices for Content
Create an Enticing Subject Line
Take time to craft the perfect subject line for the email. You want to evoke emotions and entice shoppers to open the email.
You can include incentives or play on the fear of missing out. You can also play on curiosity, but don't be deceptive.
This example from Lending Tree is a great example of an enticing subject line. "You left without saying goodbye" plays on emotions and makes it seem more personal.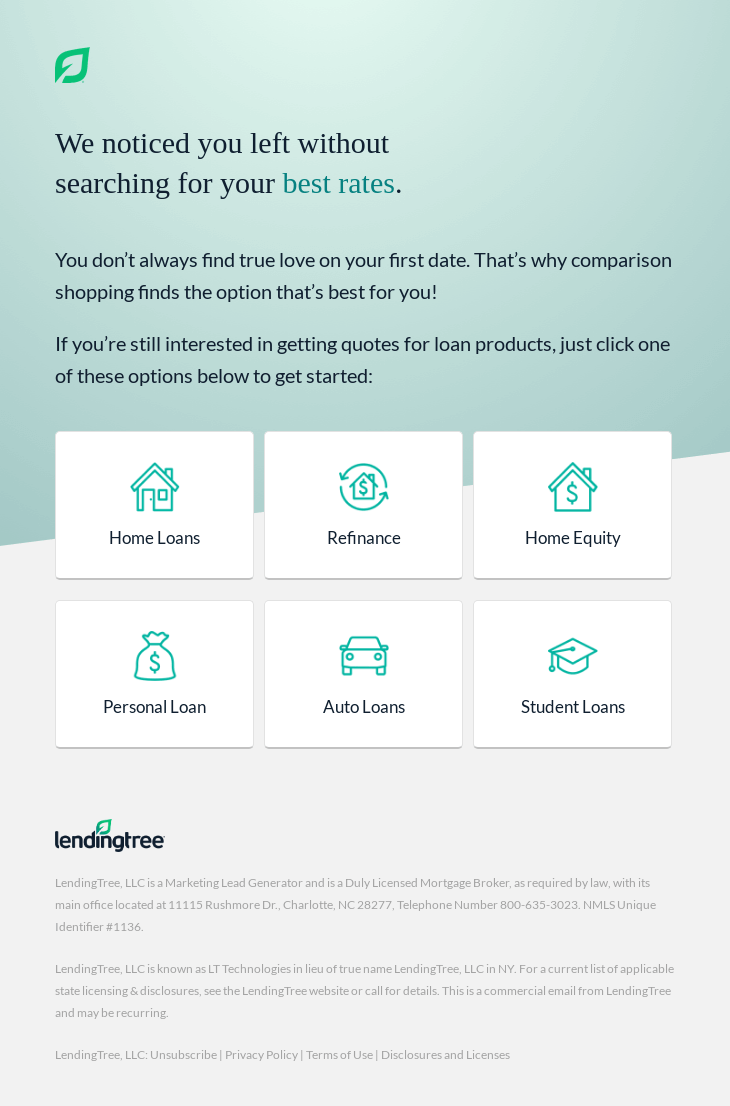 Remind Shoppers about the Product
All cart abandonment emails should include a mention and image of the product. Remember that the point is to get the recipient to return and buy it.
The best way to do this is with product images and details. Include a description of the item and, if relevant, information like size and color.
Create Urgency and Include a CTA
As you craft the email copy, you want to encourage action. The best way to do this is via a combination of a sense of urgency and a strong call-to-action.
Copy that encourages shoppers to take action will be friendly and make them feel connected to your brand or products.
It will give the impression that you care about them and their happiness, which is why you want them to buy the product.
This example from 23andMe emphasizes how the company cares about clients in the text. The text encourages people to know more about themselves via the service.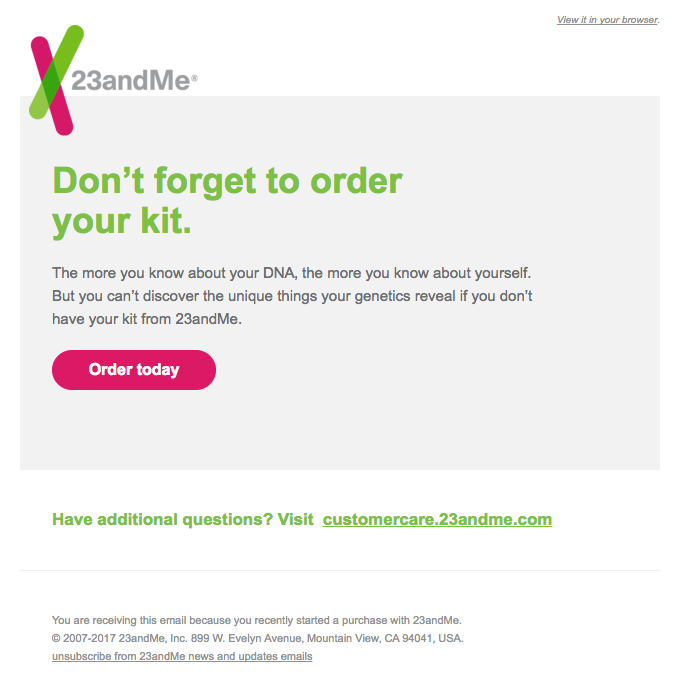 Personalize the Email and Subject
Adding even a small element of personalization to your cart abandonment emails can do wonders for the open and click-through rate. There are two main ways to easily personalize these emails.
To set it up to include the shopper's name in the subject line or address the email to them.
To include the product name in the subject. You are already hopefully including it in the content as well.
You can also personalize the email with other product recommendations based on the recipient's preferences and habits.
Incorporate Social Proof
Social proof is a great way to deliver urgency and trust for your brand. Trust is a common reason behind cart abandonment, especially because shoppers cannot physically touch or test a product online.
Social proof, such as reviews and testimonials, offers an alternative. This is a great way to convince shoppers that your product is great and that others love it.
Adidas has a great example of social proof. You get ratings and reviews from customers alongside images of (presumed) satisfied customers.

Add an Incentive
Another of the most effective abandoned shopping cart email best practices is to add an incentive of some sort, such as:
Free shipping
A free promotional item
Etc.
For the best results, include this in the third abandoned cart email. This will reduce your losses due to coupons or discounts.
The idea is that by that point, the recipient was unlikely to buy the item without extra encouragement. An incentive is your last chance to bring them in.
Just remember not to go overboard and offer too many incentives. This can lead to shoppers associating your brand with discounts or expecting them.
If that happens, people may not buy from you unless there is a special offer. This will obviously cut into your profit margins and the total value of sales.
Add Product Recommendations
Product recommendations work well as either cross-sells or upsells. You can boost your revenue per purchase or may offer shoppers an alternative they prefer.
This example from Jack Wills offers an excellent way to highlight both the products in the cart and other recommendations.

Abandoned Shopping Cart Email Best Practices for Layout
CTA Placement
Your call-to-action should be large and visible. Place the first CTA high up in the email; then add extra CTAs throughout.
Use Dynamic Content
When creating the layout for your email, include dynamic content. This helps ensure that you optimize the visuals and copy for later.
This includes using data to show live pricing and the images with the highest conversion rates. It also includes adjusting the layout and content based on device and location.
Include Images
Any email your company sends should include images. This makes better hold customers' attention.
Choose the images carefully so they are relevant to your brand. You should also consider file size and load time. Don't forget to ensure the image loads properly on all devices.
A/B Test
A/B testing lets you see how minor changes affect the results of your emails. A/B testing is particularly helpful for trying various formats, color schemes, or image placement.
Once you have enough data, stick with the version that did better. Then, you can A/B test for something else.
Include Customer Support in the Footer
You likely already have a footer that you typically use for emails. Use this footer, but first confirm that it includes customer support's contact information.
This is the best place to make it easy for customers to contact your team.
Abandoned Shopping Cart Email Best Practices for Quantity and Timing of Emails
Send Multiple Emails at the Right Times
One of the most important abandoned shopping cart email best practices is to send three emails.
The first email in the series should be sent an hour after the shopper abandons the item. It should just be a reminder
The second email should be sent about 24 hours later. Consider adding urgency here
The final email should be within a week of the abandoned cart. Include a discount if you didn't already do so in the second email.
Conclusion
With the above abandoned shopping cart email best practices, you will set yourself up for success and a high conversion rate. Get inspiration from the examples sprinkled throughout.
Further Reading