For any online business, an abandoned cart represents an uncompleted transaction and a loss of revenue. It also means that money spent on marketing has gone to waste, and that unsold goods are in a sort of shopping limbo: unsold and yet unable to be returned to inventory.
For many online shoppers, abandoning their cart may be the result of one or more aspects of the purchasing process. Perhaps they felt it was too complex; or that they were uncomfortable with some of the steps along the way.
Whatever the reasons that caused a customer to abandon their cart, with a little bit of encouragement it is possible to convince them to complete their purchase.
You need to be subtle. You need to be patient. And above all, you need to be friendly. Your cart abandonment solutions have to encourage the customer in ways that make them feel comfortable and ease them gently through those last few steps to a completed transaction.
That way, everybody wins. Your customer is happy that their shiny new goods are on the way; and you are happy because some of their hard-earned cash is now your business's hard-earned cash. Even your bank manager will be happy… and that's saying something!
So let's take a look at some shopping cart abandonment tools you can employ in order to create all of this fiscal happiness.
How Cart Abandonment Affects Your Sales
According to various studies that have been undertaken, cart abandonment accounts for up to $18 billion in lost sales revenue each year. Let's say that again… $18 BILLION!
That's an awful lot of cash that could be going into the bank accounts of online businesses. So what happens when a customer leaves your site without completing their purchase?
Recent research from the German market data organisation Statista, for instance, found that when shoppers in the United Kingdom abandon their carts, less than a third of them return to complete their purchase.
A more worrying statistic is that up to a quarter of them will go to a competitor's website and buy the same product from them.
Another survey, conducted by the Denmark-based marketing research organisation The Baymard Institute, went further and broke down the reasons for cart abandonment during checkout.
This research gives a very clear insight into the main reasons that customers abandoned their shopping carts. Let's crunch the numbers, which are based on 2,584 responses to a questionnaire:
Extra costs. 55% of respondents blamed high additional costs (such as shipping, taxes, etc) as the reason that they habitually abandon shopping carts.
Creating an account was required. 34% of responses said that having to input personal information was both unnecessary and time-consuming.
Complicated checkout process. A convoluted and confusing checkout process was the reason that caused 26% of the survey's participants to abandon their shopping carts.
Unclear or misleading pricing. 21% of respondents said that misleading pricing caused them to abandon carts.
Site security issues. Although only 17% of responses listed site security as a reason to abandon a cart, this nevertheless represents a sizeable proportion of lost revenue.
If you calculate 17% of 18 billion, for example, you get an amount of lost revenue at over three billion dollars! All that lost cash simply because people don't trust online businesses.
So now, let's consider the positive ways that online businesses can prevent cart abandonment.
Cart Abandonment Solutions That Really Work
There's an old saying that "prevention is better than cure." This is especially true when it comes to online business.
If you can prevent your customers from abandoning their shopping carts in the first place, it's much simpler than trying to encourage them to come back and complete their purchase at a later date.
Of course, among your set of shopping cart abandonment tools, you will also have a well set up cart abandonment email workflow system that you can employ once customers have abandoned their carts.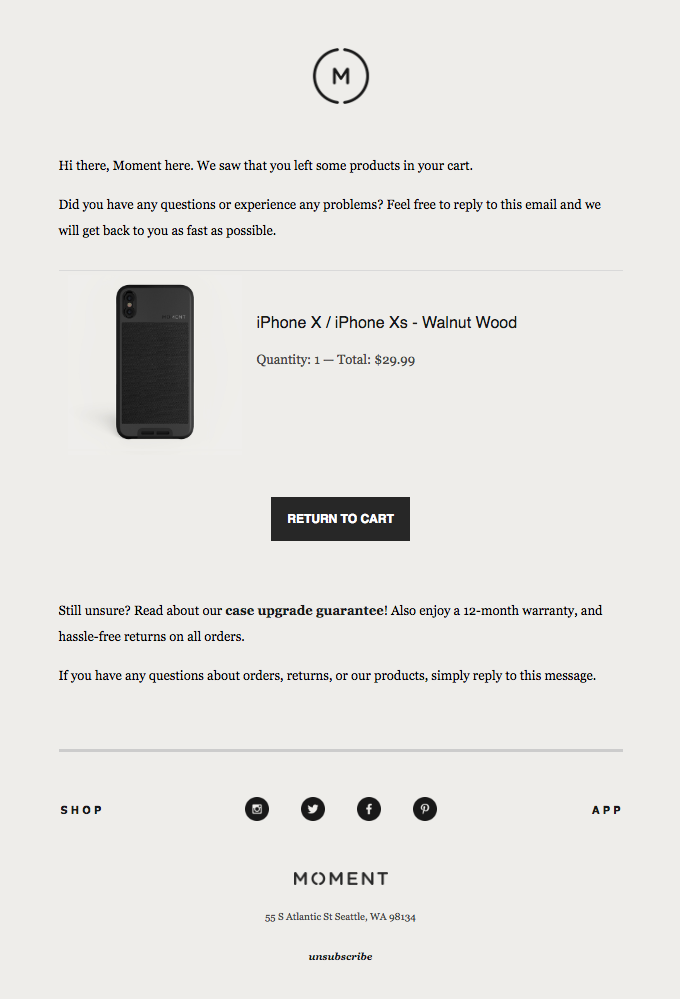 But let's take the line of least resistance and try and prevent them from abandoning their carts. After all, they really, really, REALLY want those goods. It's your job to make it simple for them to buy them.
Let's take a look at some options.
Streamline your checkout
Let's face it everyone's in a hurry these days. Therefore, when customers have to put extra time and effort into completing an online transaction, it can easily become a nuisance to them and make them quit in the middle of the process.
So it goes without saying that a simple and streamlined checkout process will drastically increase the chances of your customer completing their transaction.
Some ways in which you can do this include:
Using the minimum number of pages for your checkout process
Keeping the number of elements that the customer has to complete to a minimum
Having an edit button easily available so customers can alter the product choices that they've made without losing their place in the checkout process.
Strong and resilient branding
You want your products to be immediately recognised. You also want your customers to be telling other people about them.
By creating a strong brand identity, with a reputation for quality, reliability and great service, you will not only create a feeling of trust. People will begin talking about your products to their friends, either on social media, in real life over cafe coffees, or at long lunches.
So make sure you have a good presence on social media so that your customers are encouraged to "get one for the gram" when they have received their goods in the post.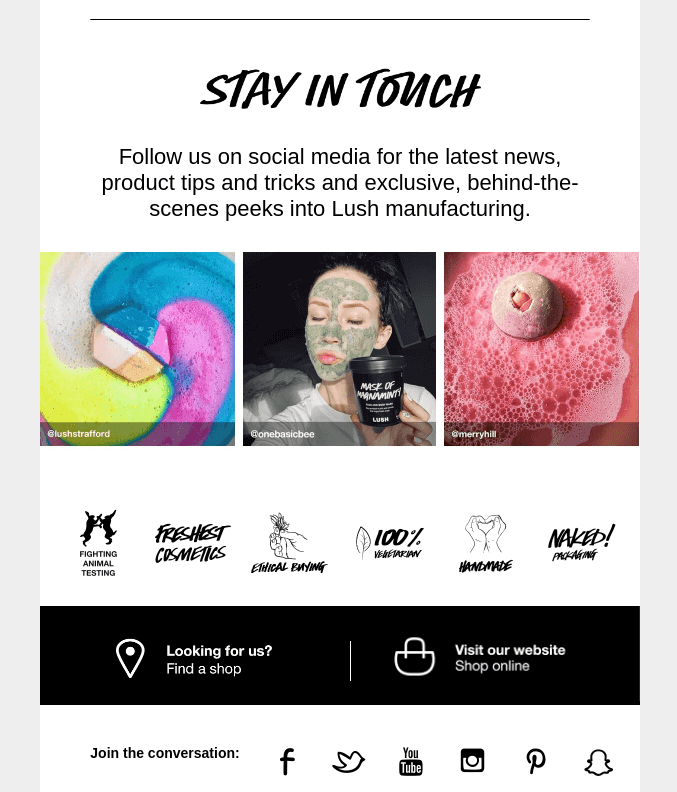 Those damn extra costs
Nothing is more frustrating than discovering that your purchase is going to cost a whole lot more once you add on a bunch of costs that weren't included in the original pricing, such as:
Extra shipping costs
Sundry sums for packaging
Increased fees for more rapid delivery
Having to buy additional items in order to make the original product complete
And other things that will cause your clients to abandon their cart.
Of course, nobody minds paying shipping costs: that's a part of buying things online. But if you can keep your shipping cost options to a minimum, and include all other costs in the stated price of the item, you will find that your customers will appreciate this.
You will also have the option of offering free shipping, for instance, if the customer does indeed abandon their card and you need to offer an incentive for them to come back and complete the transaction.
→ Tip: You can track your cart abandonment rates with Googles Analytics
Guarantee satisfaction… or your money back
Hesitation is a big driver in people abandoning their shopping carts.
So one of the best ways to overcome this hesitation is by offering a bulletproof, money-back guarantee and other assurances that the customer will be completely satisfied with both the product and the service.
When you think about it, there is actually a great deal of trust involved with online shopping. Your client cannot see or touch the items that they're buying: they can't walk around it, pick it up, smell it, squeeze it, or cradle it.
So in order to ensure that they have complete confidence in you and your products, you should offer some no-questions-asked, money-back guarantee, in order to reduce the anxiety that people might feel when buying something from you from your online store.
And don't hide your satisfaction guaranteed and returns policy deep in the small print of your online business's site. Display it proudly, front and centre, so that your customers know that they can trust you and that if things go wrong, they can rely on you to put them right.
Transparency
Although people are unlikely to forget what they have placed in their shopping carts, it's a great idea to have a progress indicator and thumbnails somewhere on the page where they can easily see it.
Once again, you have to remember that an online store shopping experience is not as tactile as a bricks and mortar shop.
Your customer can't see the physical items in the car they are pushing in front of them. They can't pick them, up turn them over, shake them, consider the quality, or weigh up to different options in their hand to decide which one is best.
But a progress indicator and a set of high definition thumbnails clearly visible burning shopping will help customers keep tabs on the items that they have placed in their carts.
This will keep the customer grounded, and remind them of the things that attract them about those products. It will also help to make sure that they are not distracted by something else – say a cute kitten – that suddenly popped up on their Twitter feed!
Options
The easier that you make it for your customers to move around your virtual store, and to navigate between store and cart, the more likely they are to stick with their virtual shopping and make it all the way to the checkout.
You should make it effortless for a customer to save and return to their in-progress carts, and make sure that your site has logical, intuitive navigation options between the product and check out pages.
Let's face it, customers are lazy (we all are) so the less work they have to do in navigating your site, the better they'll like it.
And while we are on the subject of multiple options, make sure that you include multiple payment options for your customers.
These days, customers have access to a large number of different payment methods and the more options you can offer them, the less hassle you will cause for them.
The Coupon Fallacy
Online shopping can be confusing and even a little scary, especially for first-time shoppers. So offering a discount coupon of some kind, while a seemingly sensible idea, can, in fact, add to the confusion of the shopper.
If a shopper has to wander off and search for a coupon code to apply at the checkout, they may just forget the whole deal, abandon their cart, and go to another site.
Research suggests that up to 8% of abandoned carts are the result of confusing coupon systems.
The answer, however, is very easy. Simply apply a discount automatically for new or returning customers. This will remove the distraction and confusion.
Is it safe?
Online shopping is still perceived by many shoppers as risky. To alleviate your customers' fears, you should include as many reassurances as possible to promote your website's credibility.
These include:
SSL certificates
Trust seals and logos
Reviews and testimonials
Live chats where customers can interact with a real person.
Account Setup
When you go to a convenience store to buy a can of soda, they don't ask for your birthday, gender, star sign or favourite TV show. So why would you need to know that stuff about your online customers?
By offering a guest checkout, where customers only need to input a minimum of data, you can speed up the checkout process and create less hassle for the customer.
Once they have completed their purchase, or if they return for another purchase at a later date, you can then ask them to create an account.
Friendly Reminders
Shoppers are fickle and easily distracted! Imagine if you are in a supermarket trying to decide which brand of laundry detergent to buy and suddenly you spot a squirrel jumping onto a nut feeder. It's so damn cute and funny…and now you've forgotten about the laundry detergent and your entire focus is on that little squirrel nutkin.
In the world of virtual shopping, these distractions are constant and ever-present. So you need to make sure that your customers stay focused on what it is they're doing as they are buying stuff off you.
During the shopping and checkout process, it is important to make your customers remember why they are there, and what it is that is attractive about the product they have in their cart.
You can do this by adding buttons such as:
"save for later"
"add to wishlist"
"heart"
These lists, along with the items in their cart, should be automatically saved for future reference by the customer.
Of course, you also need to be aware that too much encouragement can be annoying.
Think of those shop assistants in bricks and mortar stores, that hover around you saying "can I help you with anything?" They can be distracting, annoying, and may even result in you walking out of the store in search of a place that doesn't offer so much pressure.
So try and keep your friendly reminders to an acceptable level.
Make it high tech
Technical difficulties result in a large proportion of carts being abandoned. So make sure that your site is free from glitches, loads ultra-fast, and if errors do occur, get 'em fixed quickly.
Send Emails with Shopping Cart Abandonment Tools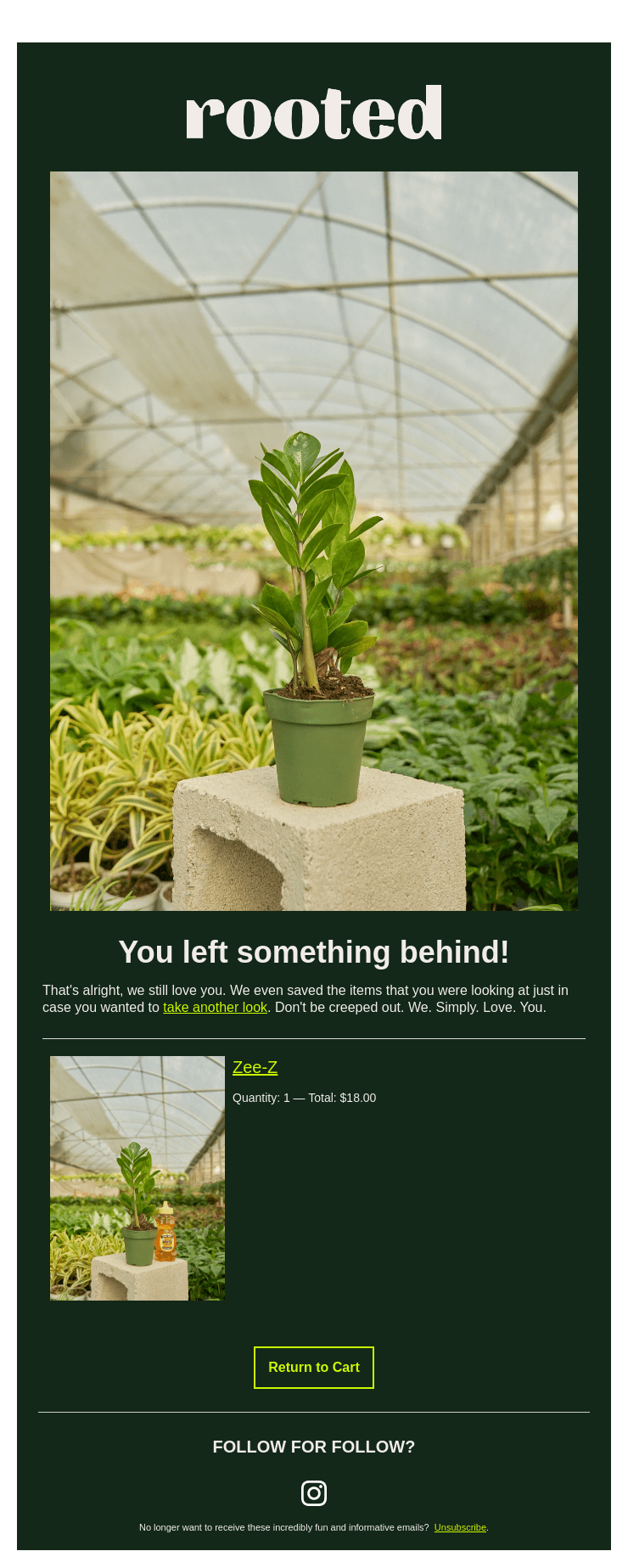 There's an awful lot of data involved with assessing your cart abandonment rates.
But even if, after all your efforts to streamline your checkout process, and to make it as user-friendly as possible, you will still have those pesky abandoned carts.
But all is not lost… you still have a whole lot of abandoned cart recovery options at your disposal.
A good plan is to accept that customers will inevitably abandon their shopping carts, and have processes in place ahead of time in order to:
Prevent them from abandoning their carts
Recover those lost carts in the most expeditious way.
For this, you can use shopping cart abandonment tools and software such as Magento, Klaviyo, Mailchimp or the integrated emailing tools in Shopify to send automated emails whenever a user leaves items in his cart.
Email marketing experts can help you design and write your perfect abandoned cart emails and set up a successful email workflow with shopping cart abandonment tools so that customers don't miss coming back for their products.
Further Reading
Understand and Reduce B2B Cart Abandonment
Recover an Abandoned Cart Without an Email Address
Abandoned Shopping Cart Email: Best Practices