If you run an eCommerce business, you're probably always looking for the best tools and resources to speed up your shipping process and avoid any issues that might be detrimental to your business.
Shipping is one of the most important parts of running an eCommerce store. If your customers are not happy about their shipping experience, they may leave negative reviews that impact your brand's reputation.
While you can use your CMS's shipping system to deliver your products to your customers, the right shipping software might often be a better option. This is because every eCommerce shipping software was created with only one purpose: to help you solve all your shipping-related issues and save you time, money, and headaches.
To help you choose the right software for your eCommerce business, we've analyzed the 12 best eCommerce shipping applications in this comprehensive guide.
What is a Shipping Software for eCommerce?
Shipping software is a program that helps eCommerce businesses manage the shipping and tracking of their products.
It's designed to help eCommerce business owners automate all aspects of the shipping process so that they don't have to spend hours manually entering data into multiple sites or apps.
It also helps simplify some of the more complicated tasks, like calculating shipping rates, staying compliant with international customs regulations, or printing shipping labels.
eCommerce Shipping Software Basic Features
There are many different eCommerce shipping applications to choose from, but they all have the same basic features.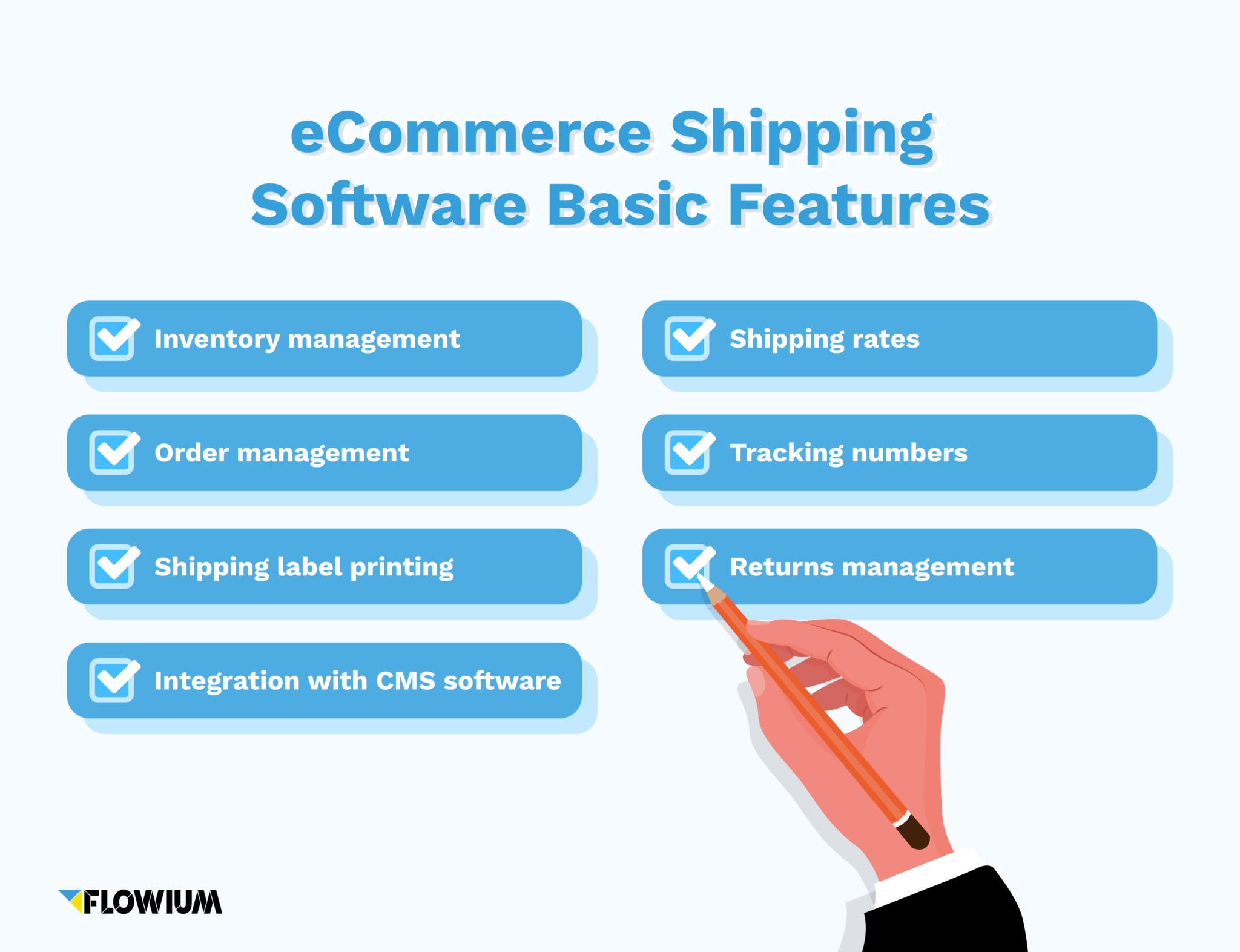 Inventory management
Inventory management is one of the most important features of eCommerce shipping software. It allows you to track your inventory and see what's going out of stock, which helps you always keep an updated list of products on your website.
If you have a large inventory, it's important for your eCommerce shipping software to be able to handle that many SKUs. If your inventory management is too limited, it can cause delays in shipping orders, which will lead to unhappy customers.
Order management
This feature lets you easily keep track of orders and shipments, so you know where each package is at any given time. You can also use it to create custom reports on how many packages have been shipped out each day or month so that you can spot any bottlenecks in your shipping system.
Shipping label printing
One of the most important features of an eCommerce shipping software is the ability to print out shipping labels. This means that once you've entered all your customer's addresses and delivery information, you can simply print out a sheet of shipping labels with postage already attached. This saves time and money, allowing you to print multiple labels simultaneously.
Some eCommerce shipping software also offers integration with other services like FedEx and UPS so that you can print out your labels directly from those companies' websites.
Integration with CMS software
If you use a content management system (CMS) like Shopify or Magento, then integration with this CMS is likely one of the most important features for you when choosing your shipping software for eCommerce.
The best eCommerce shipping software integrates seamlessly with the majority of CMS platforms easily without any programming knowledge required on your part.
Shipping rates
Shipping rates are an essential part of eCommerce shipping software because they help you decide which shipping provider is the most cost-effective for your business needs. This feature will allow you to easily set up shipping rates based on specific criteria, such as weight and size, and calculate them automatically.
Tracking numbers
With this feature, you can easily create individual tracking numbers for each order that comes into your store so that both you and your customers know exactly where their items are at all times throughout the delivery process.
Returns management
Returns can be a major issue in online shopping. Some customers may decide to return their items for various reasons and even request a refund. The best eCommerce shipping software will make it easy for you to manage these returns and refunds in one place so that you can avoid unnecessary issues.
The Pros & Cons of Using CMS Shipping vs. Shipping Software
Using your eCommerce site's built-in shipping options can be a great way to save time, effort, and money. However, it's not always the best choice, mainly due to its limitations, especially for a larger volume of shipping orders.
Here are some pros and cons of using your store's built-in shipping tools vs. a specialized shipping software for eCommerce.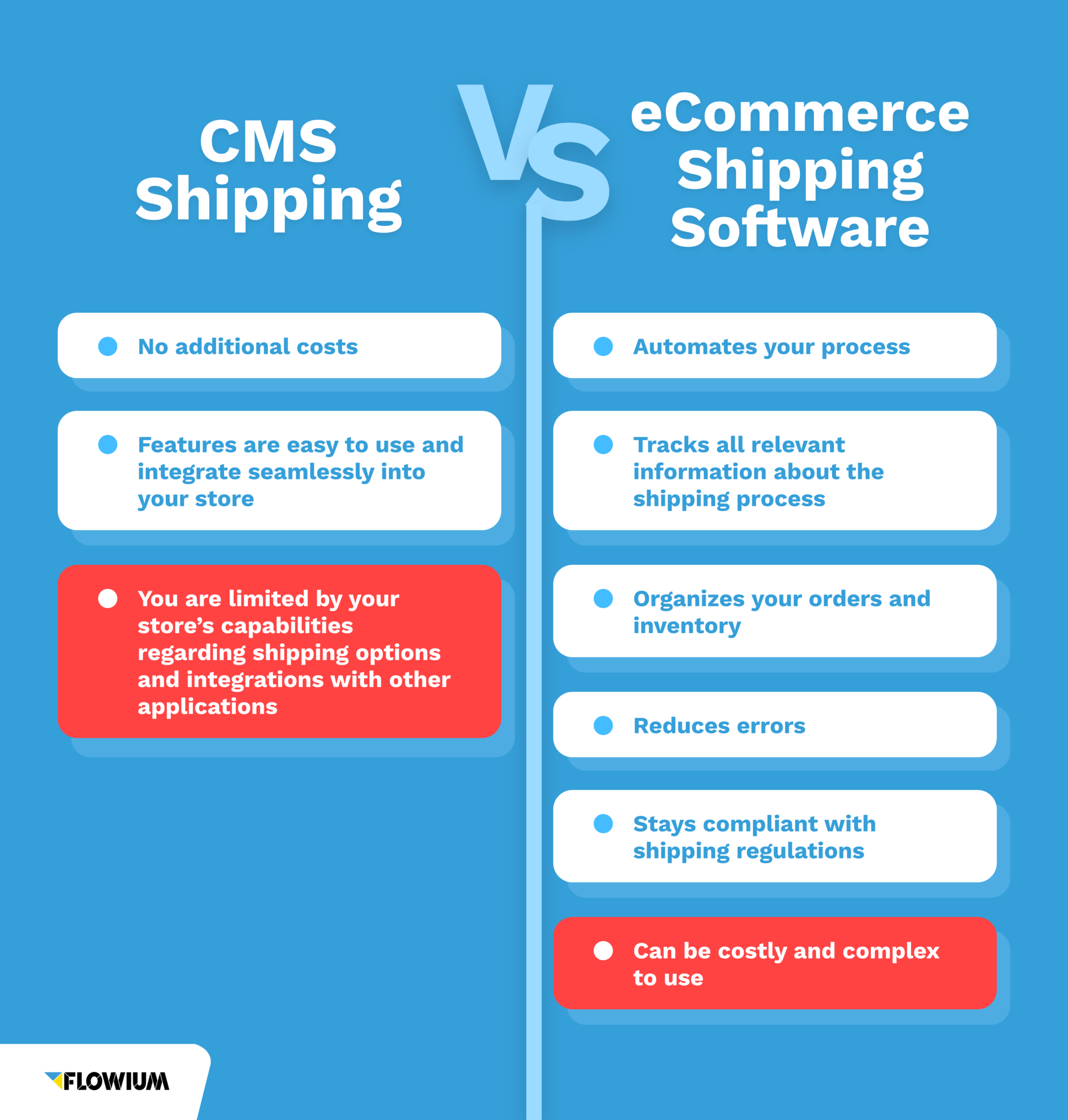 CMS Shipping: Pros & Cons
The main benefit of using your eCommerce platform's built-in shipping features is that they come at no additional costs, saving you money in the long run.
Another advantage is that these features are easy to use and integrate seamlessly into your store. This means that you don't have to worry about setting up and configuring another piece of software, which can be both time-consuming and expensive if you hire someone else to do it for you.
On the other hand, the main drawback of using your CMS shipping is that you're limited by your store's capabilities regarding shipping options and integrations with other applications.
eCommerce Shipping Software: Pros & Cons
There are numerous advantages of using a specialized shipping software for eCommerce.
It helps you
Automate your process and save time
Track all relevant information about the shipping process
Organize your orders and inventory
Reduce errors
Stay compliant with shipping regulations.
Overall, a good eCommerce shipping software can make managing your shipping processes much easier. However, it can also be costly and complex to use.
Unless you're looking for a complete solution that handles every aspect of your shipping process, from inventory management to calculating shipping rates, using an eCommerce shipping software may not be suitable for your business.
How to Choose the Best Shipping Software for eCommerce
Hundreds of thousands of big and small online merchants use a shipping software. If you're looking to grow your eCommerce business, investing in shipping software is necessary.
But not all shipping software is created equal. The best one will give you the ability to process orders quickly, accurately, and efficiently, making the whole shipping process much more manageable, no matter the size of your business.
If you're looking for the best eCommerce shipping software for your business, here are some things to consider.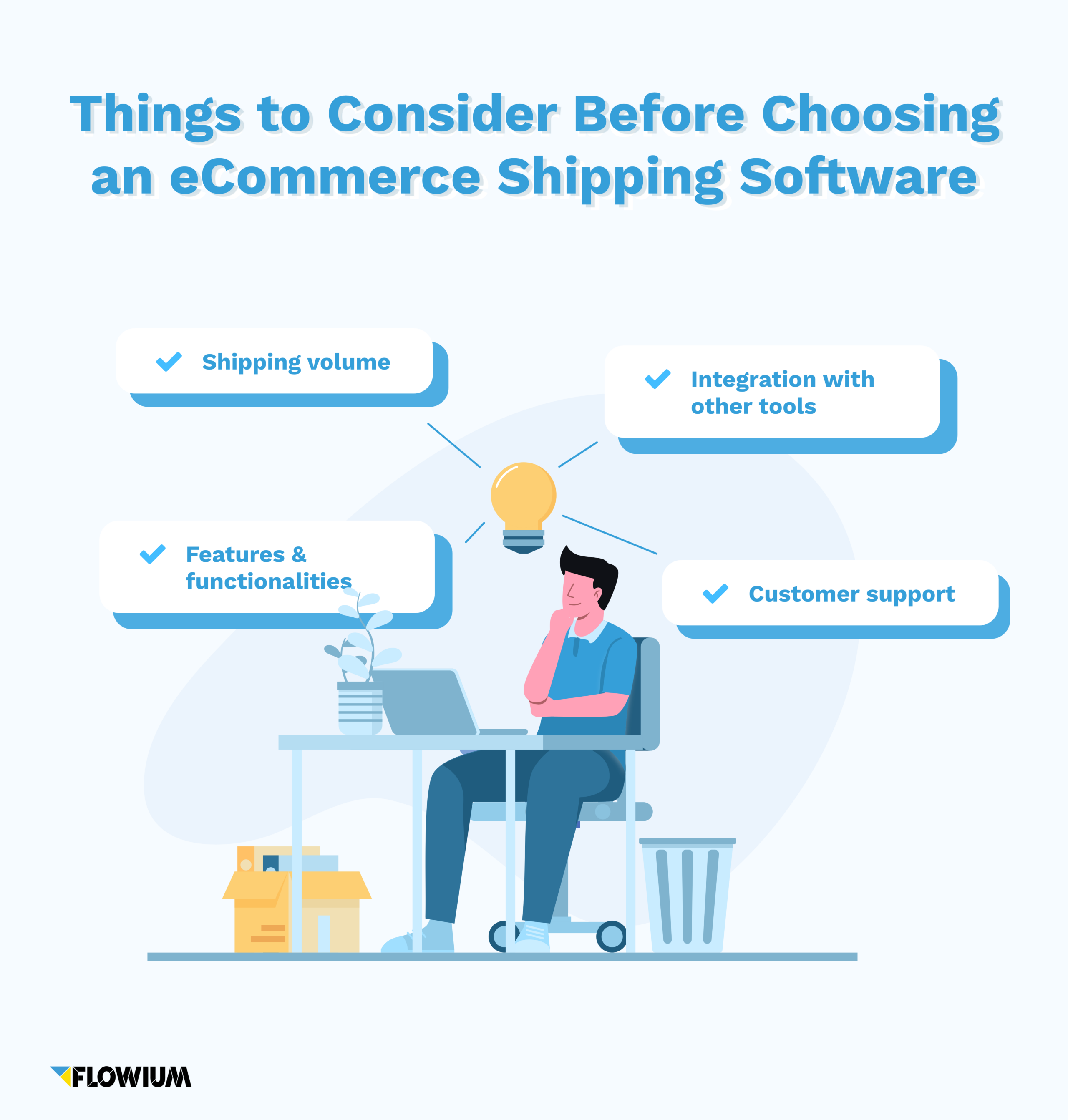 Shipping volume
If you're a small business or just getting started with eCommerce, you might be looking for something affordable, easy to use, and flexible. You'll want a solution that can grow with your business as you start reaching higher volumes of shipments.
However, if you've already got a significant order volume, it will make sense to pay more for a more comprehensive solution with advanced features and the capacity to handle as many shipping orders as you need.
Features & functionalities
A good eCommerce shipping software should offer a wide range of features tailored to your business needs.
For example, if you have multiple warehouses or fulfillment centers, you'd want a system that can handle multiple locations.
If you ship internationally, you might want to look at a system that allows you to stay compliant with international customs and shipping regulations and generates necessary documents automatically.
Integration with other tools
If you use an eCommerce CMS platform, such as Shopify or Magento, you want to make sure that your shipping software integrates with it seamlessly. Apart from that, you'd want it to offer shipping through all of the major shipping carriers.
Some software solutions also offer integrations with accounting systems, like QuickBooks and Xero, and other business tools. This is especially helpful if you have a large amount of data that needs to be sent through multiple tools.
Customer support
This is a critical part of any software decision and should be a primary concern. A good shipping platform will offer 24/7 customer support via phone, email, or live chat.
Make sure to choose a shipping software with a solid customer service team that can help you with any problems you run into in a timely manner. This will ensure a smooth shipping process for you and for your customers, as you'll be able to solve issues quickly and efficiently.
To help you find the right eCommerce shipping software for your business, we've created an overview of our top 12 picks.
1. ShipStation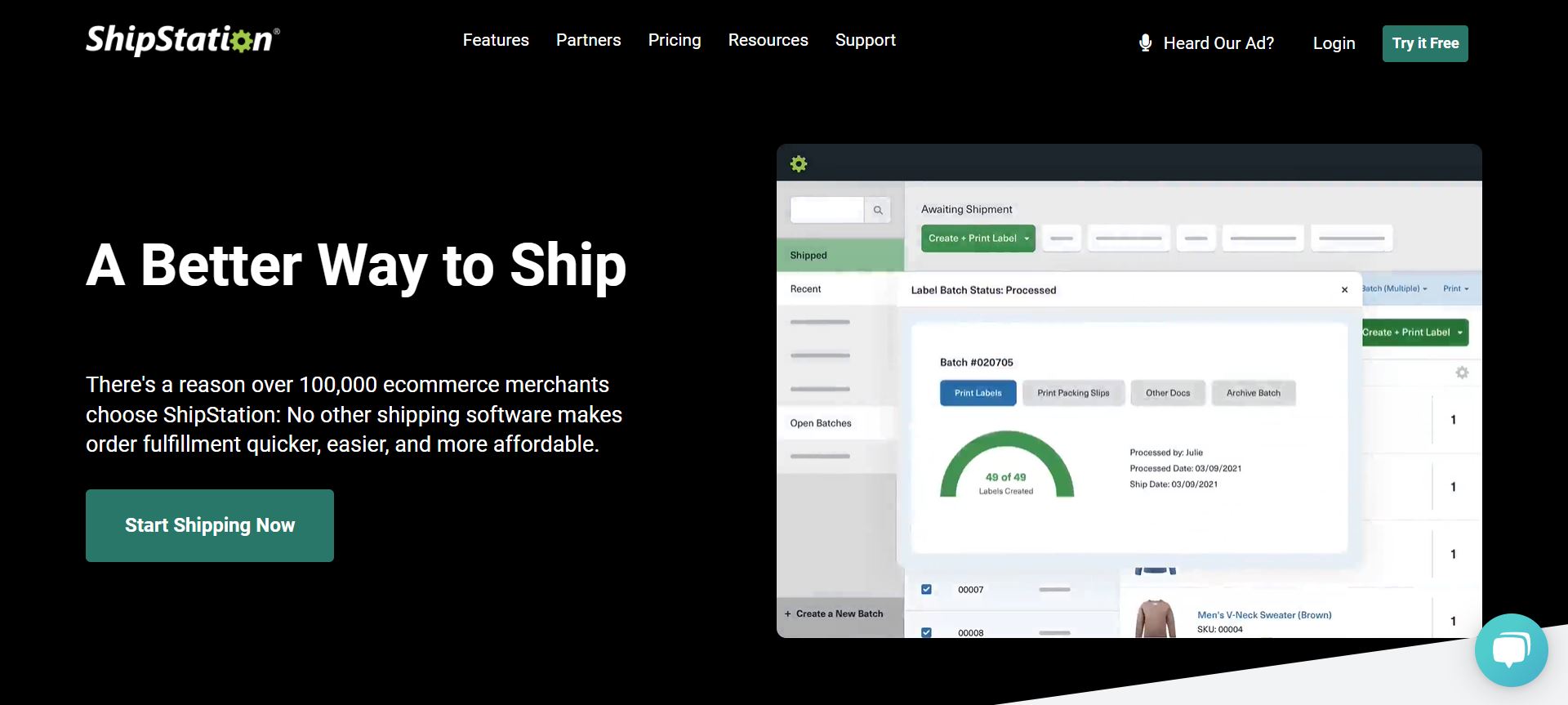 At the moment, ShipStation is one of the most popular shipping software for small and medium-sized businesses looking for an affordable and fully automated solution to cover all their shipping needs.
ShipStation is an all-in-one shipping solution that integrates directly with over 100 marketplaces and shipping carriers. It allows you to process orders from one place, manage your inventory in real-time, view tracking details from each carrier, and automate fulfillment with powerful workflows and automation rules.
Features:
Order management & tracking
Multi-package and split shipment support
Automated shipping
Scan-based workflows
Inventory management
Shipping documents generator
Shipping label bulk printing (can print labels in batches of up to 500)
Branded shipping
Pricing:
ShipStation offers six pricing plans, ranging from $9.99 per month for 50 monthly shipments to $159.99 per month for 10,000 monthly shipments. There's no free plan, but their pricing makes ShipStation a great shipping software for small business.
2. Shippo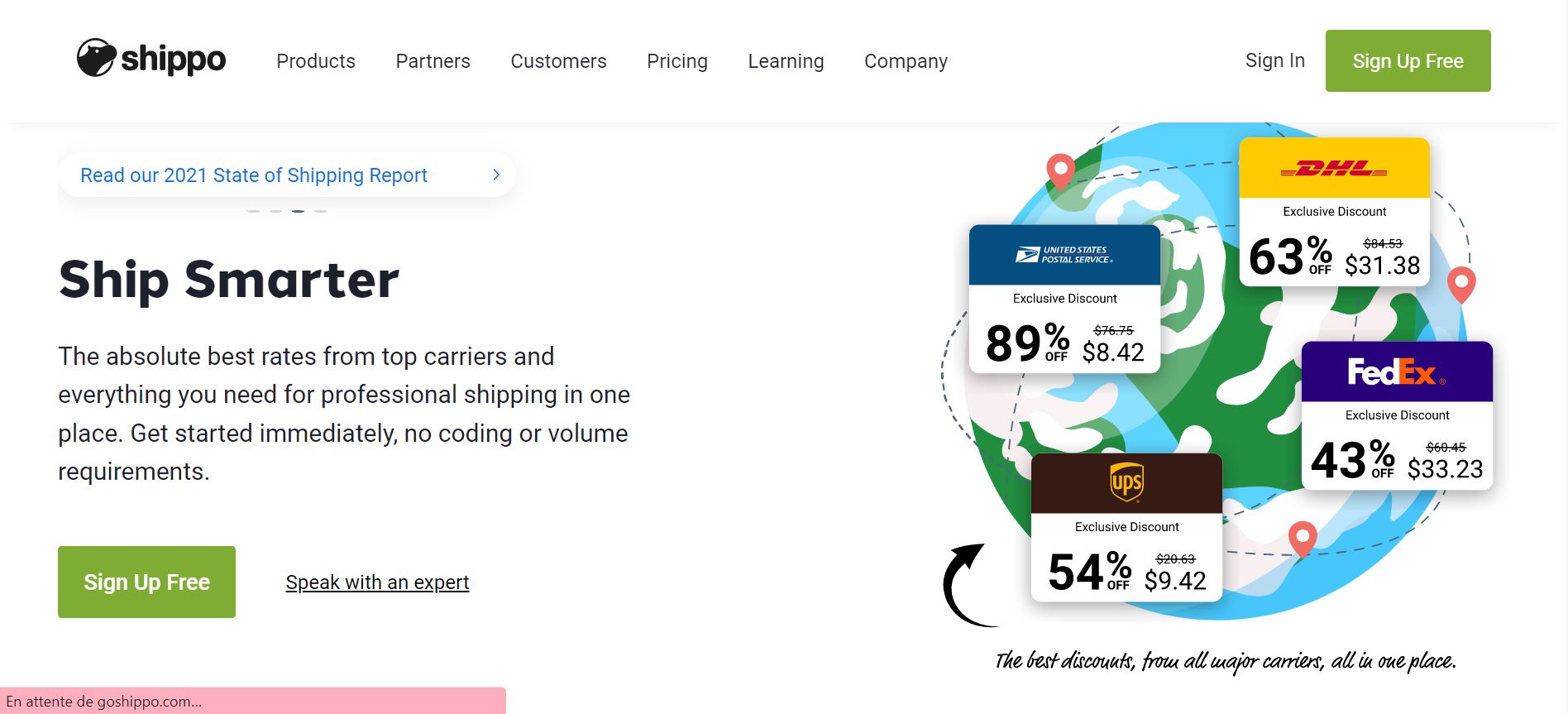 Shippo is a shipping software that focuses on matching its customers with the lowest-priced carriers. It gives merchants access to discounted rates from major carriers and makes it easy for them to offer their products for shipping anywhere in the world. This model helps Shippo stand out on the market.
Additionally, Shippo seamlessly integrates with over 85 global carriers and top eCommerce platforms, making it simple for eCommerce store owners to offer shipping on their platform.
Features:
Order management & tracking
Shipment tracking
Automated customer notifications
Shipping label creation with the lowest possible rates from top global carriers
Return labels generator
Batch and automated workflows
Pricing:
Shippo's pricing plans start at $10 per month. The price depends on your monthly label volume. Before committing to a paid plan, you can try out the platform for free for 30 days. Shippo also offers a free Starter Plan for those who need a quick and easy shipping solution with no commitment.
3. Shipworks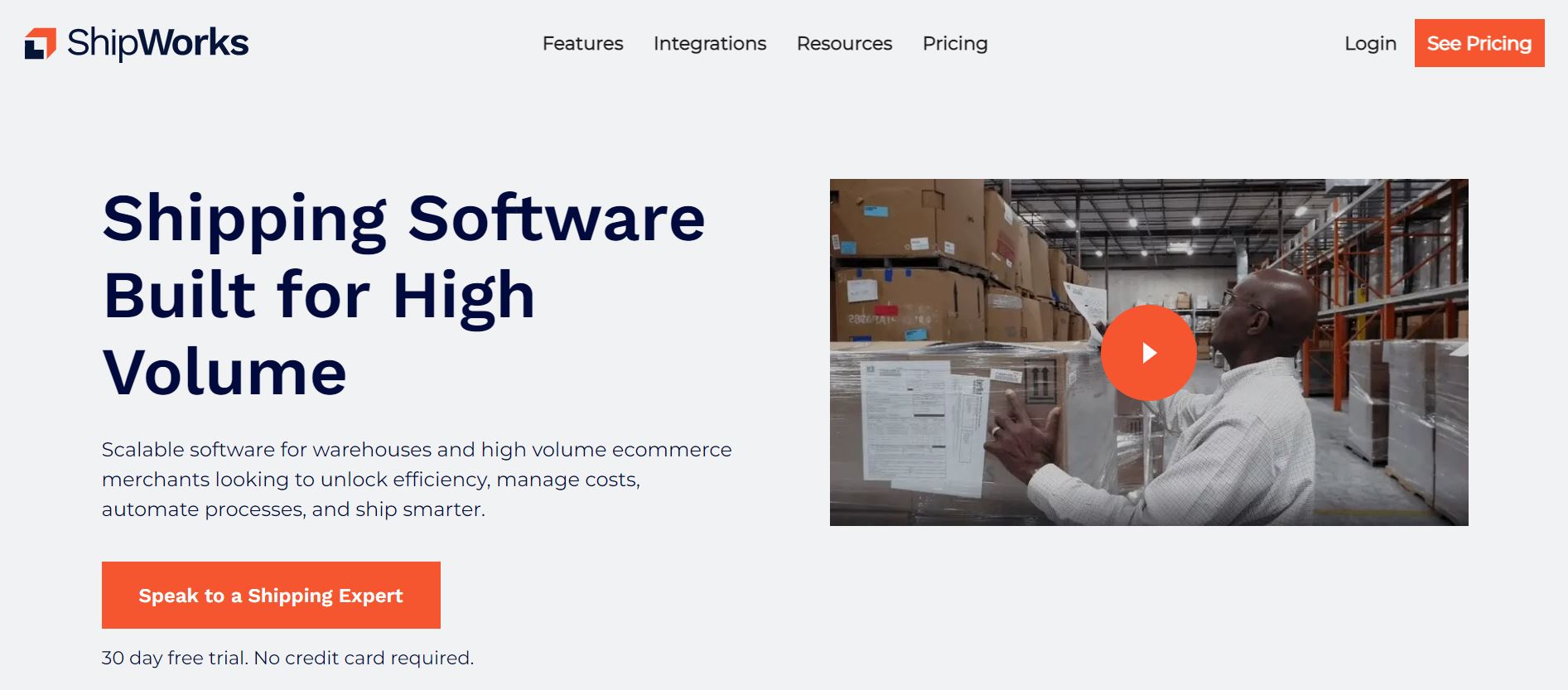 ShipWorks is an integrated cloud solution that helps businesses ship faster and more efficiently. By combining shipping, inventory, and customer service into one platform, ShipWorks simplifies the shipping process and reduces time spent managing orders.
ShipWorks offers a completely revamped user interface that provides a new level of control over a high volume of orders, including smooth inventory management and convenient shipping rates. In addition, the ShipWorks API allows users to integrate all aspects of the shipping process into their existing systems and workflow.
This shipping software is an excellent solution for high-volume eCommerce merchants and warehouses to increase efficiency and reduce costs.
Features:
Customizable automated workflows
Batch order management
Intelligent order routing to fulfill orders from multiple inventory locations
100+ built-in integrations
Pricing:
ShipWorks offers three pricing plans, ranging from $399 per month for up to 12,000 monthly shipments to $799 for up to 50,000 monthly shipments. They also provide a personalized plan for those merchants whose shipment volume exceeds 50,000 shipments per month.
If you'd like to test the platform before committing to a paid plan, ShipWorks offers a free 30-day trial.
4. EasyShip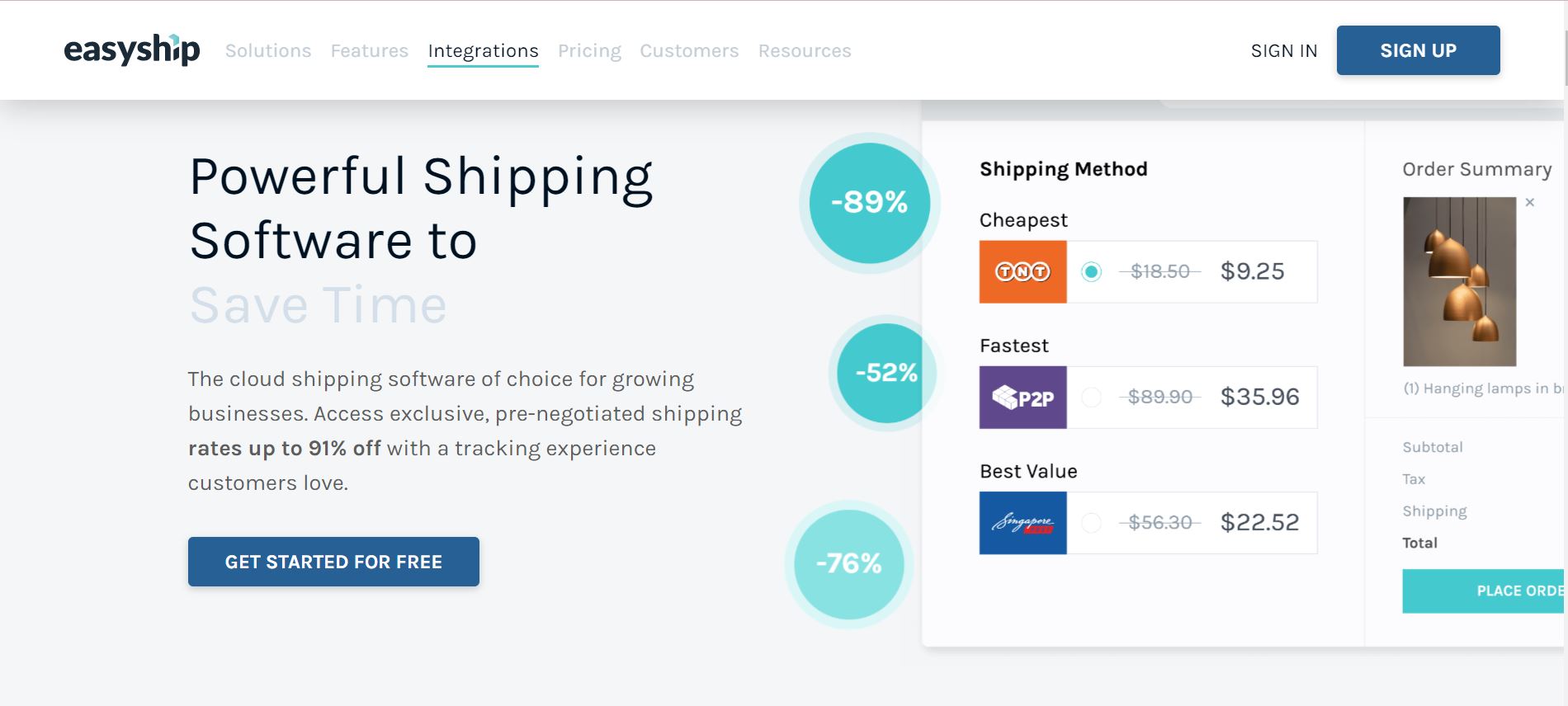 If you're an international business, EasyShip can help you save up to 91% on shipping rates and streamline your international needs into an all-in-one service. EasyShip automates all your shipping needs and eliminates the headaches of complicated international shipping.
eCommerce businesses love EasyShip's easy-to-use interface, but most importantly, they love its exclusive shipping discounts! Easyship integrates with UPS, DHL, FedEx, and other carriers so that international sellers can find the best rates without having to search for themselves.
Features:
Streamlined cloud-based shipping dashboard
Discounted shipping rates, up to 91% off
Duty and tax charges management for international orders
Global order fulfillment & batch shipping
Optimized store-checkout
Access to 250+ Shipping Services
Shipping labels, packing slips, and customs declarations generator
Pricing:
EasyShip offers two paid pricing plans:
Plus Plan at $23 per month if billed annually, including up to 500 shipments per month*
Premier Plan at $39 per month if billed annually, including up to 2,500 shipments per month
*These prices are for the US and may vary depending on your country of origin.
EasyShip also offers a free plan for businesses whose shipping volume doesn't exceed 100 shipments per month.
5. ShipBob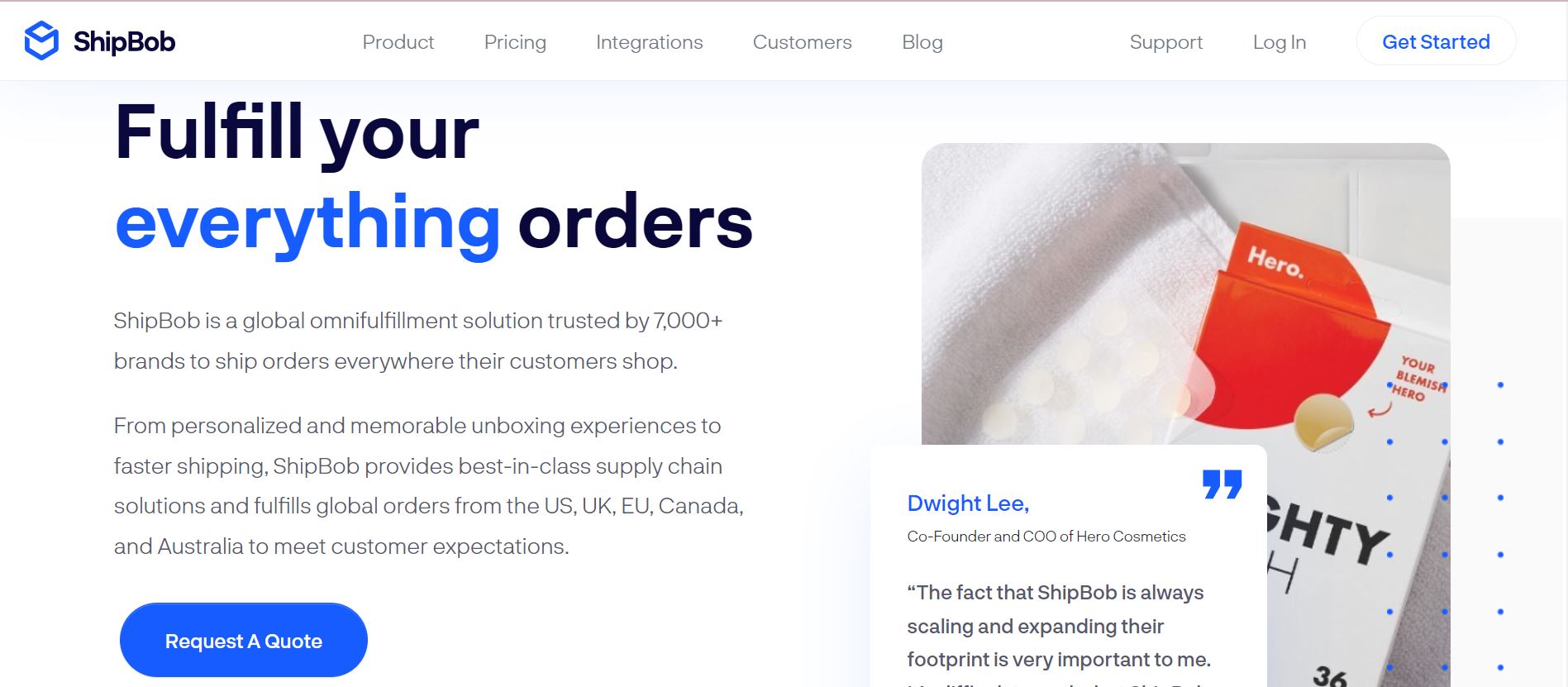 ShipBob is a global omnifulfillment solution that helps thousands of eCommerce businesses from the US, UK, EU, Canada, and Australia grow smarter by shipping orders faster and more reliably than they could on their own.
ShipBob is a powerful platform that supports all aspects of performance-focused inventory management, order processing, and shipping management. This shipping software makes it easy for stores to create consistent shopping experiences across multiple channels and grow efficiently through distribution into additional warehouses over time.
ShipBob is focused on providing a smooth and issue-less experience to its customers. With ShipBob's intuitive interface, you stay in control of everything to avoid any possible issues. And if any problems do arise, they provide live chat support that is always available and ready to help.
Features:
Seamless integrations with major eCommerce platforms and marketplaces, such as Shopify, BigCommerce, and Amazon.
Easy onboarding process & easy to set up
Strategic inventory distribution
2-day shipping standard
Order management
Inventory management
Reports & analytics
Clear order fulfillment pricing
Pricing:
ShipBob's pricing model is fully customized to each customer's needs, without hidden or unexpected fees. Visit their website to check how much it'll cost you to use ShipBob's services.
6. ShippingEasy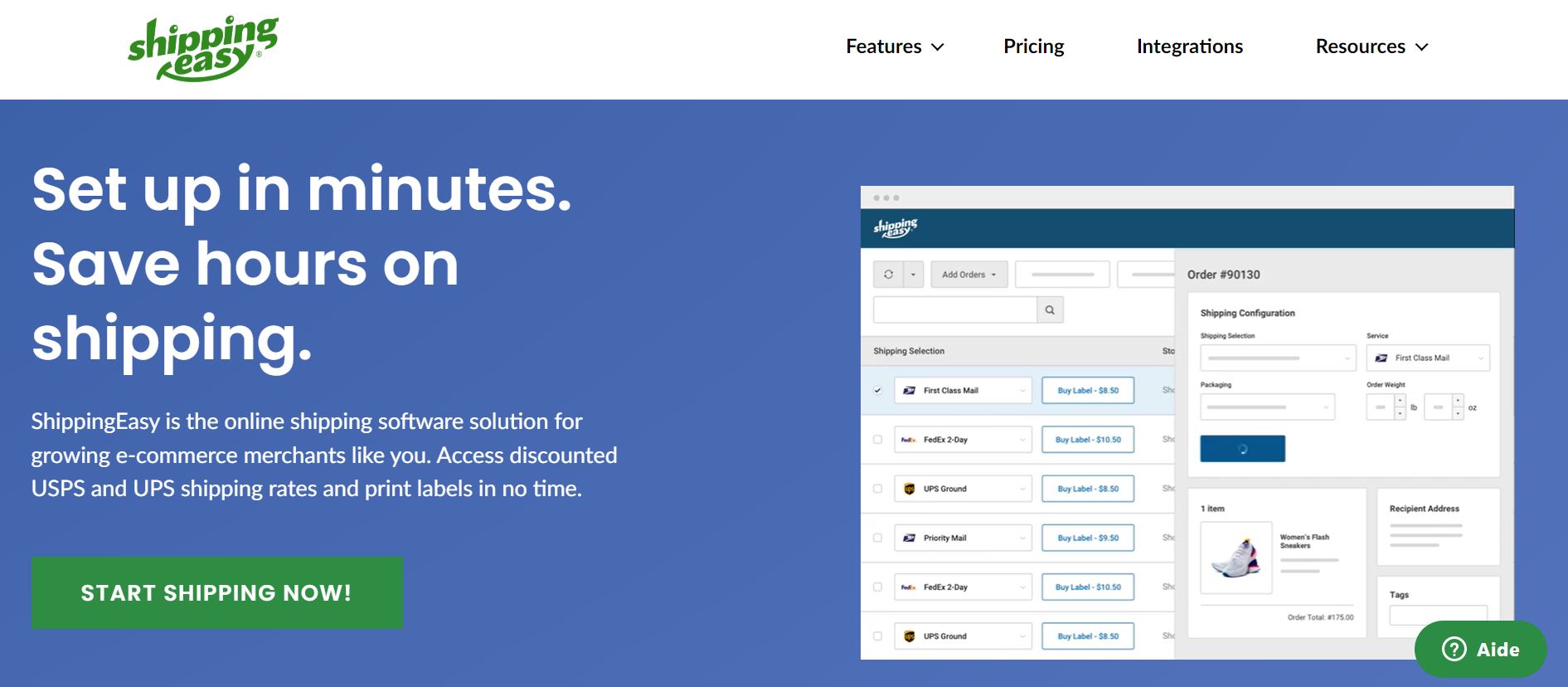 ShippingEasy is a shipping software that automates the most time-consuming aspects of the shipping process. From getting rate quotes to printing labels and mailing packages, this platform takes care of everything for you.
This shipping software is particularly useful for those eCommerce merchants who ship their orders with UPS or USPS. ShippingEasy focuses on simplifying shipping with UPS and USPS and offers discounted rates from these two global carriers.
Apart from shipping management, ShippingEasy also offers customer marketing services, such as email marketing and campaign management.
Features:
Discounted rates from UPS and USPS
Intuitive and easy-to-use interface
Seamless integration with major eCommerce platforms, such as Shopify, Amazon, and eBay
Integration with accounting and payment platforms, such as Quickbooks, Xero, PayPal, and Stripe
Automated shipping workflows
Order tracking & returns management
Pricing:
Shipping easy offers a wide range of pricing plans, starting from $29 per month for up to 500 monthly shipments. It also provides a free plan for new or low-volume merchants with less than 25 shipments per month.
Additionally, you can try out ShippingEasy with a 30-day free trial.
7. Veeqo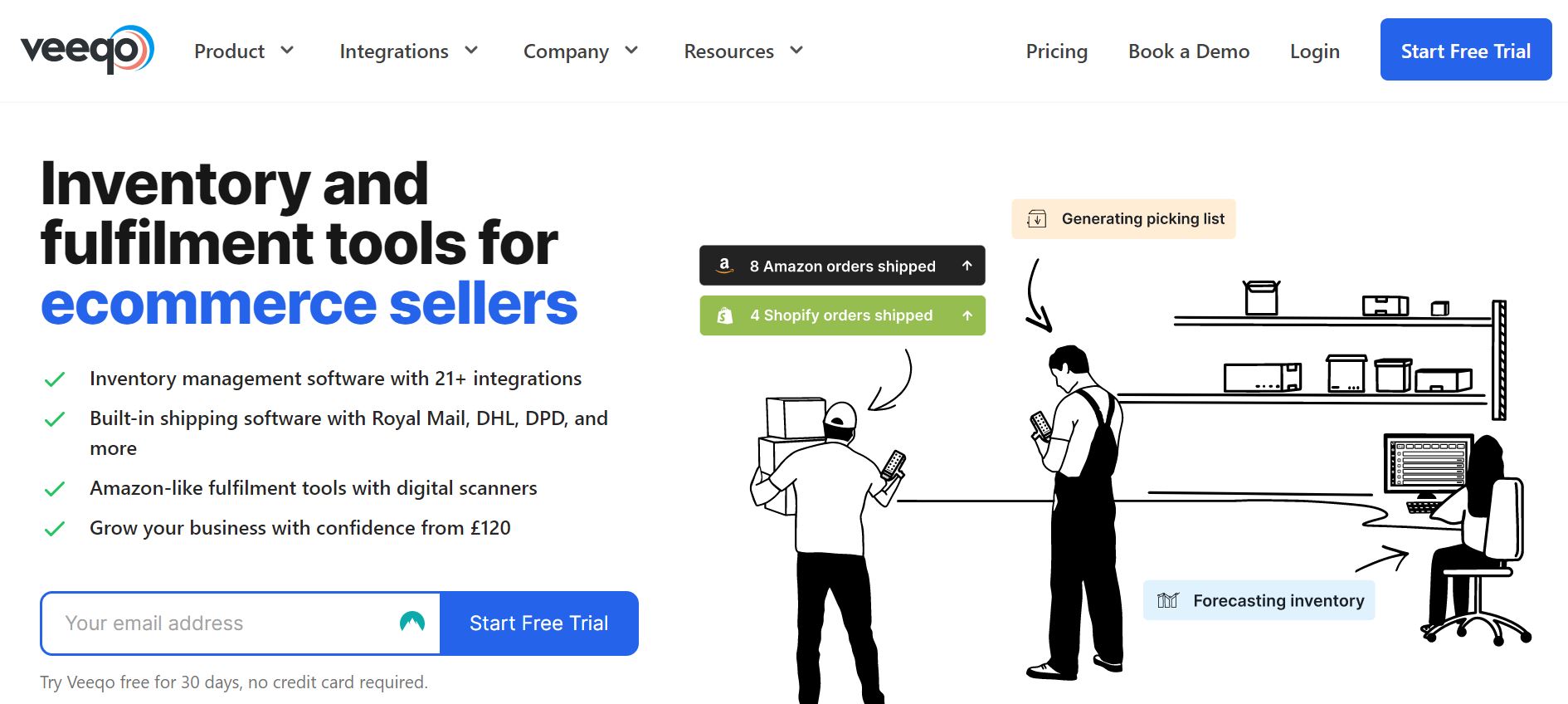 Veeqo is an online shipping software that lets you manage, fulfill, and ship orders from all your sales channels. Veeqo maximizes your shipping rates, gives you access to all major couriers (UPS, FedEx & DHL), and allows you to ship internationally without any headaches from one simple platform.
Veeqo's intuitive interface, built-in integrations, and simple drag-and-drop functionality can save you countless hours while increasing accuracy and efficiency at four pricing tiers tailored to your shipment volume.
This software has been built for eCommerce businesses by eCommerce experts and provides valuable insights into your business that help you reduce costs, grow sales, and automate your order lifecycle.
Features:
Inventory management software
21+ multichannel integrations
Built-in shipping software with Royal Mail, DHL, DPD, and more
Amazon-like fulfillment tools with digital scanners
Inventory management
Order management
Reporting and forecasting tools
Pricing:
Veeqo's pricing plans depend on the shipping volume you handle. The Accelerator plan starts at $156 per month for up to 500 monthly shipments.
8. OrderCup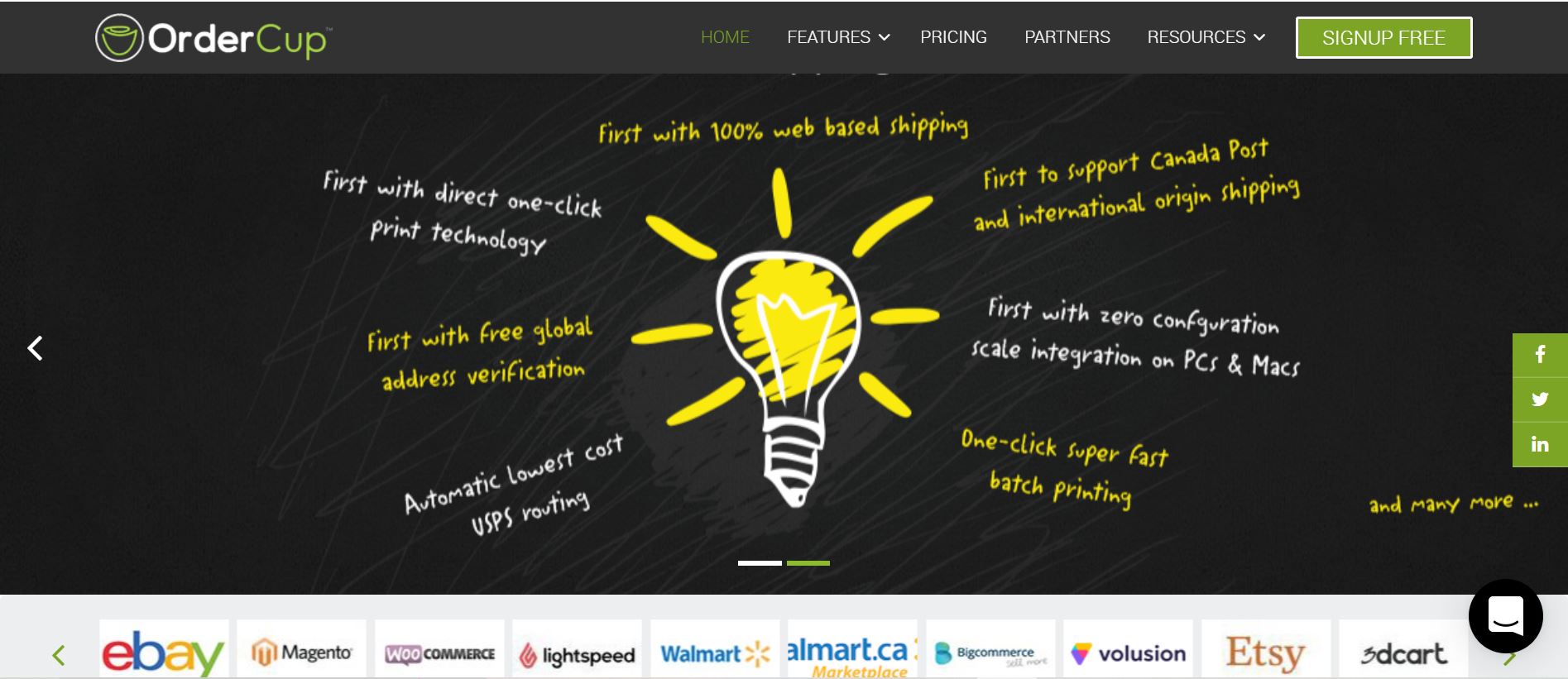 OrderCup is an online shipping software solution that helps businesses automate their global order fulfillment process. This includes calculating shipping costs, managing orders from end to end, and providing world-class customer support.
Orders placed through OrderCup can be seamlessly integrated into leading online channels and shipping carriers, making it easy for businesses to reach new customers globally.
Designed to save time and hassle when shipping globally, OrderCup can help you ship anywhere in the world at the best prices available.
Features:
Discounted shipping rates
Seamless integration with global shipping carriers and online channels
World-class customer support
Comprehensive shipping
Shipping automation
Key hardware support
Fully web-based
Pricing:
OrderCup offers five pricing plans starting from $25 per month for up to 500 monthly shipments. It also provides a free plan for those whose shipment volume doesn't exceed 50 orders per month.
All of OrderCup's plans provide unlimited sales channels and access to all shipment carriers.
9. Ordoro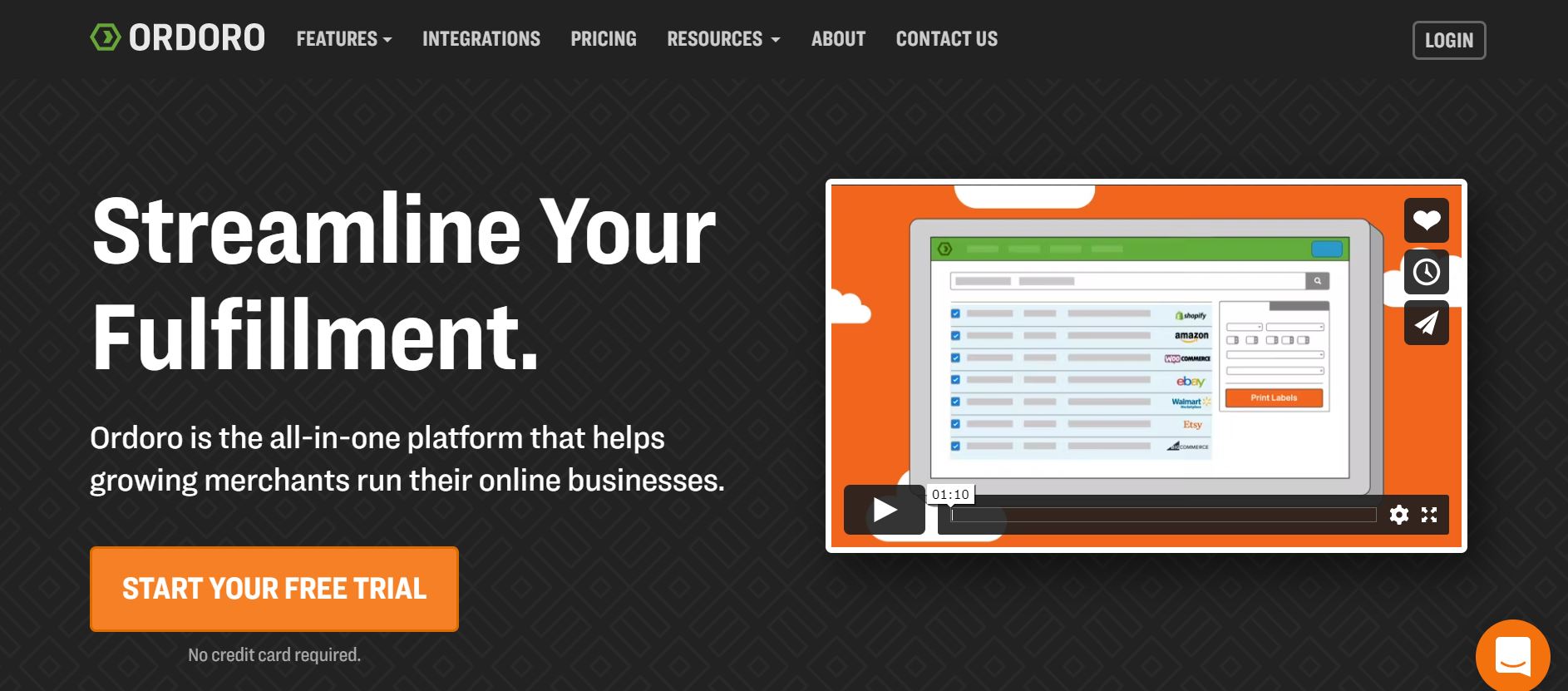 Ordoro is a shipping automation platform that helps you streamline your shipping process and inventory management by automatically calculating rates, collecting tracking numbers, and printing labels – all in one place. This way, you can ship faster and delight customers every step of the way.
In other words, it's an all-in-one eCommerce solution that brings together inventory management, order management, shipping, and customer service tools into one platform.
It lets you manage and automate everything from purchase orders to order notifications, shipping labels and tracking numbers, customer communication, inventory levels, and more!
Features:
Automated shipping workflows
Inventory management
Barcode scanning
Integration with all major carriers, such as USPS, UPS, FedEx, DHL International, and Canada Post
Dropshipping management and integration with the Amazon Seller Fulfilled Prime account
Cost-Effective Shipping Rates with discounts of up to 67% through USPS
An app to handle all of your shipping details on the go
Pricing:
Ordoro offers four paid pricing plans, starting at $20 per month for up to 1,200 monthly shipments.
It also offers customized pricing for big enterprises that handle more than 12,000 shipping orders per month, as well as a free plan for small businesses and startups whose shipment volume doesn't exceed 1,000 orders per month.
10. ShipEngine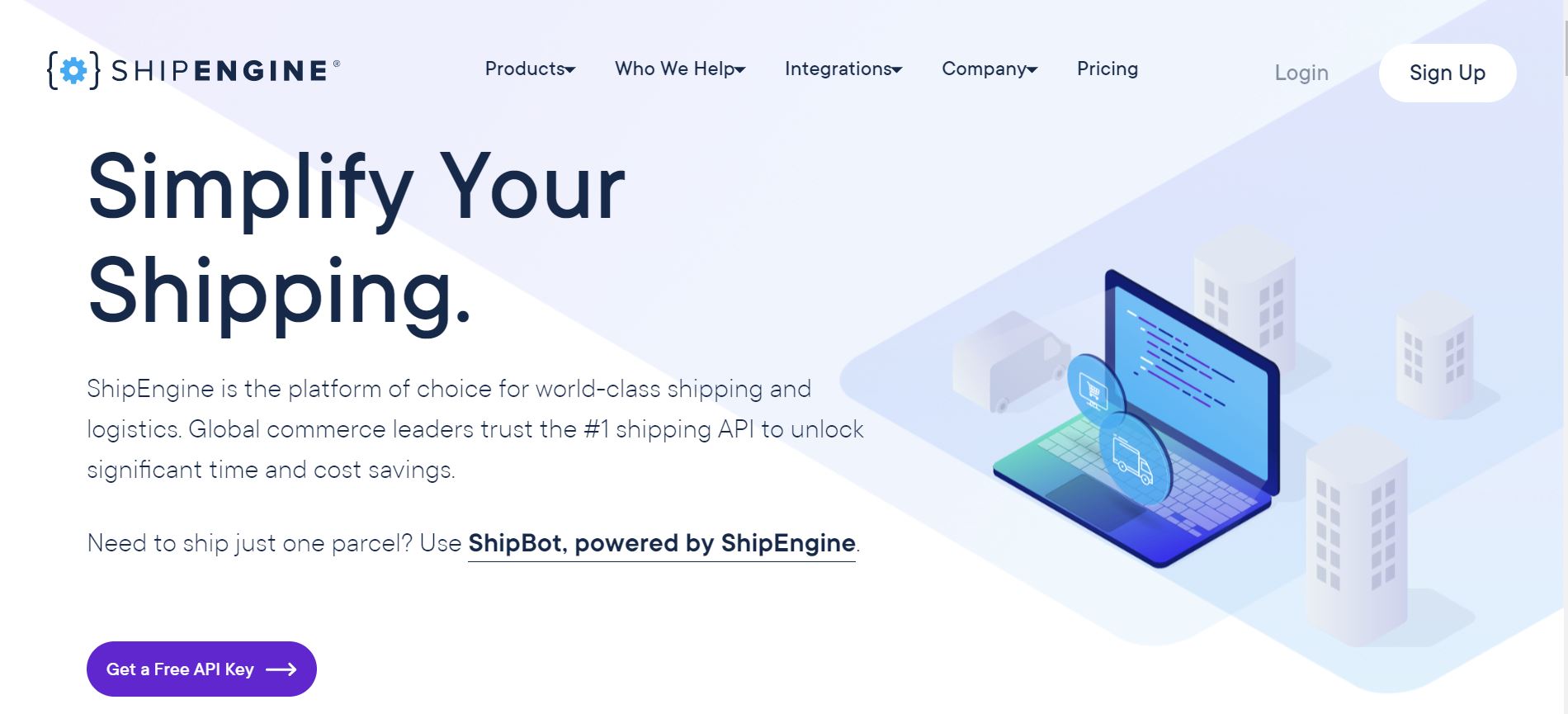 ShipEngine is an API-based shipping solution designed specifically for eCommerce platforms, 3PL providers, and others who have to deal with high volumes of orders. It integrates with third-party logistics providers, fulfillment companies, and carriers to automate the process of submitting and tracking shipments.
ShipEngine provides a simple solution that integrates easily into your existing technology stack, enabling you to streamline your order fulfillment process, reduce errors, and increase customer satisfaction.
When it comes to fast and efficient shipments of large volumes, ShipEngine is an excellent eCommerce logistics and shipping software solution.
Features:
International shipping API
Shipping API integration tools for FedEx, UPS, USPS & More
Order fulfillment and shipping management
Printing international shipping labels in real-time
Tracking orders & packages
Address validation
Pricing:
ShipEngine offers simple, usage-based pricing modeled with tiered discounts. There are three pricing plans available, but the monthly fee depends on your shipping volume.
ShipEngine's website lets you easily calculate your monthly price depending on the number of monthly shipments. This makes their pricing model very transparent, and there are no hidden fees or additional costs.
11. 2Ship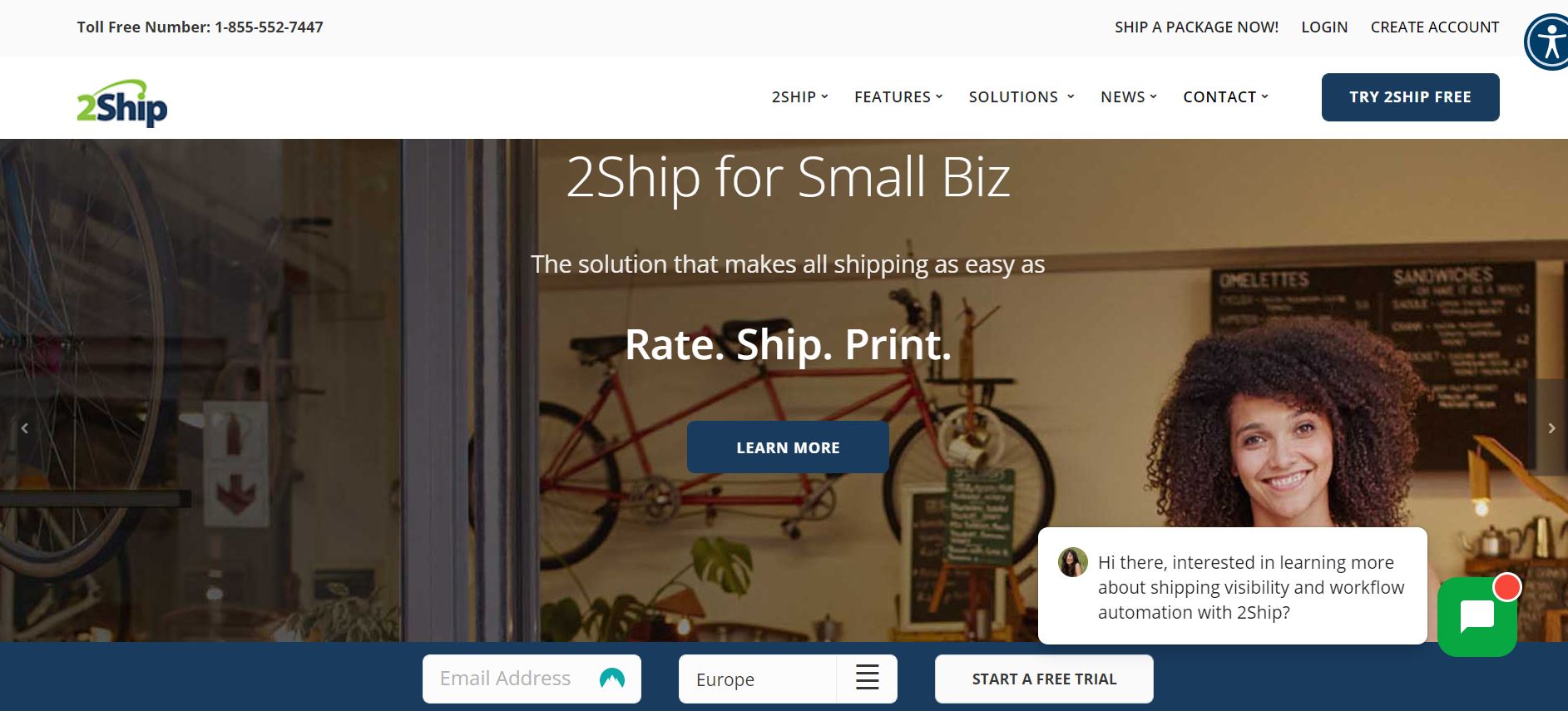 When sending packages, the last thing you want is uncertainty. How much will it cost? Will it get there on time? With 2Ship's innovative shipping software platform, you'll never worry about those things again.
2Ship is a real-time shipping platform that allows eCommerce businesses to ship their orders faster, more accurately, and with more visibility into the status of every order at any point in time.
Integrating your eCommerce with 2Ship will help you manage your shipping efficiently and provide your customers with detailed tracking information, reduce manual errors, streamline your operations, and increase revenue from every shipment.
In other words, 2Ship is an easy-to-use shipping service that brings transparency – at scale – to the shipping world.
Features:
Real-time shipping rates comparison
Single shipping screen
Real-time visibility of shipment information
Real-time tracking
Customized reports
One address book
Consolidation feature that allows you to mix modes for cross border consolidation or zone skipping
Pricing:
2Ship has multiple plan options for low volume and high volume businesses and different packages for ship requests, automated distribution, and multiplication shipping. Their plans range from as little as $10 all the way up to $849 per month.
12. Desktop Shipper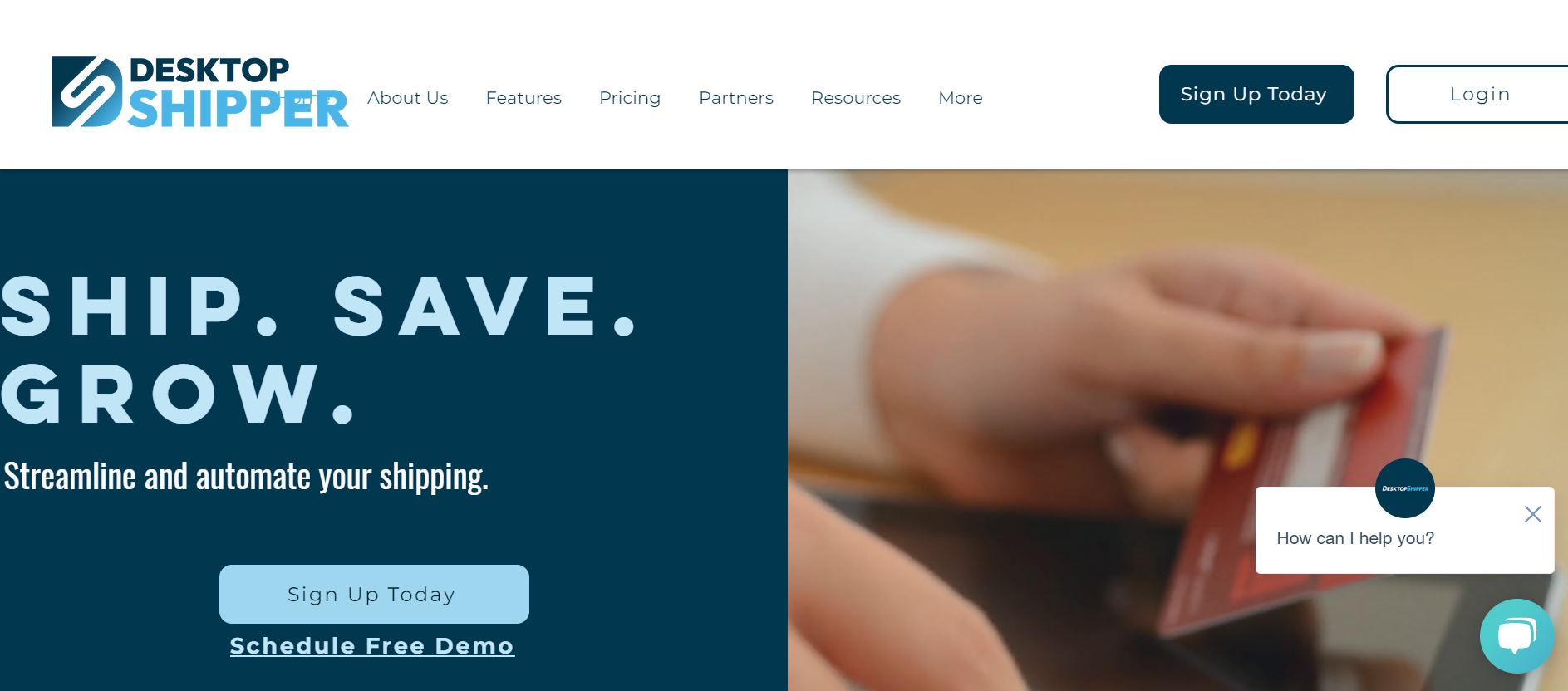 DesktopShipper is an all-in-one shipping solution that allows you to automatically ship orders from your desktop. It integrates seamlessly with your existing eCommerce platform and automates the shipping process by shipping items through multiple carriers, selecting the best deals for their customers.
This software allows you to ship your orders with just one click – even if they are coming from different marketplaces and locations.
With its real-time rate shopping feature, DesktopShipper automatically finds the cheapest shipping option available. It also has a powerful batching system that allows you to print labels and ship multiple orders at the same time.
Features:
Multi-channel order management
Address validation
Carrier mapping
Batch management
Packing slips
Barcode scanning
Automated customs forms
Pricing:
DesktopShipper offers several plans tailored to each business's needs. They currently offer three plans for small businesses ranging from $25 to $150 per month, three plans for medium to large businesses ranging from $250 to $500 per month, and a customized enterprise plan.
Best eCommerce Shipping Software: Pricing Comparison
Best eCommerce Shipping Software Pricing Comparison
Shipping Software
Pricing Structure
Price Range
Trial
ShipStation
6 pricing plans
From $9.99 per month for 50 monthly shipments to $159.99 per month for 10,000 monthly shipments
N/A
Shippo
Price depends on monthly label volume
Starts at $10 per month
Free 30-day trial
ShipWorks
3 pricing plans
From $399 per month for up to 12,000 monthly shipments to $799 for up to 50,000 monthly shipments
Free 30-day trial
EasyShip
2 paid pricing plans

+ 1 free plan

$23 per month: up to 500 shipments per month

$39 per month: up to 2,500 shipments per month

Free Plan: less than 100 shipments per month

N/A
ShipBob
Fully customized pricing
Depends on client's needs
N/A
ShippingEasy
Pricing plans
From $29 per month: up to 500 monthly shipments.

Free plan: less than 25 shipments per month.

Free 30-day trial
Veeqo
Pricing plans depending on the shipping volume
From $156 per month for up to 500 monthly shipments
N/A
OrderCup
5 pricing plans
From $25 per month for up to 500 monthly shipments

Free plan: less than 50 orders per month.

N/A
Ordoro
4 paid pricing plans

+ Customized pricing+ Free plan

From $20 per month: up to 1,200 monthly shipments

Customized prices: up to 12,000 shipping orders per month

Free plan: less than  1,000 orders per month

N/A
ShipEngine
3 pricing plans, with rates based on shipping volume
Price calculated based on the number of monthly shipments
N/A
2Ship
Pricing plans and packages
From $10 to $849 per month
N/A
DesktopShipper
6 plans based on business size

+ Customized plan

Small businesses: 3 plans, ranging from $25 to $150 per month

Medium to large businesses: 3 plans ranging from $250 to $500 per month

+ Customized enterprise plan.

N/A
eCommerce Shipping Software FAQs
What is eCommerce shipping?
eCommerce shipping software helps online merchants to manage their shipping-related tasks. Both large and small companies use it to improve their shipping processes. eCommerce shipping software can help you with inventory management, order fulfillment, label printing, and more.
What are the advantages of using eCommerce shipping software?
eCommerce shipping software allows you to automate your order fulfillment and shipping processes. You can integrate the software with your inventory management system to automatically update your inventory levels and shipping rates. You can also integrate it with your payment gateway to automatically process orders when they are placed in your store.
What is the best eCommerce shipping solution?
There's no way to determine what is the best eCommerce shipping solution. There are several excellent shipping platforms, and which one is the best for you will depend on your specific business needs and user preferences. We hope that this detailed guide to the 12 best shipping software for eCommerce will help you make the right choice.