Whether you've just opened your first eCommerce store or been selling online for a while, you've likely read about order fulfillment strategies, shipping methods, and the like.
While a user-friendly and visually appealing storefront is crucial to selling your products, fulfilling your customers' orders is the key to ensuring your business's success and growth.
When it comes to eCommerce order fulfillment, there are a variety of strategies you can use. Some of these strategies may work better than others for you, so it's important to explore them and choose the ones that best fit your business model.
This guide will cover everything you need to know about eCommerce order fulfillment and explore the best fulfillment strategies.
What is eCommerce Order Fulfillment?
Before diving into the best strategies, let's get more clarity on what is fulfillment in eCommerce.
If you're an eCommerce business owner, your work doesn't end with putting your products for sale in your online store. While getting the sale is the primary goal of every eCommerce seller, there are still a lot of things that happen after the customer places their order in your store. And even though that's the invisible part of the process, it's crucial to your store's success.
That's exactly what eCommerce order fulfillment is: the part that happens after the sale is complete. In short, it's the process of picking, packing, and shipping the order from your warehouse to your customer's door. 
💡 The purpose of order fulfillment is to provide your customers with a seamless shopping experience and make sure they receive their products in good quality and in a timely manner.
Prioritizing Fulfillment in Your eCommerce Strategy
Now that you know what fulfillment in eCommerce means, you might wonder why it's so important to prioritize it in your eCommerce store strategy.
Well, first of all, it's because getting your customer's order to their door is non-negotiable. If you don't, they'll place a complaint and, worse, a bad review that can damage your brand's reputation.
When your customers place an order, they expect it to be processed quickly and accurately so they can get the product they bought as soon as possible, or at least within the date range you promised.
If there are any issues with this process, like shipping delays or damaged products being sent out, it will negatively impact your relationship with your customers and drive them away from your business.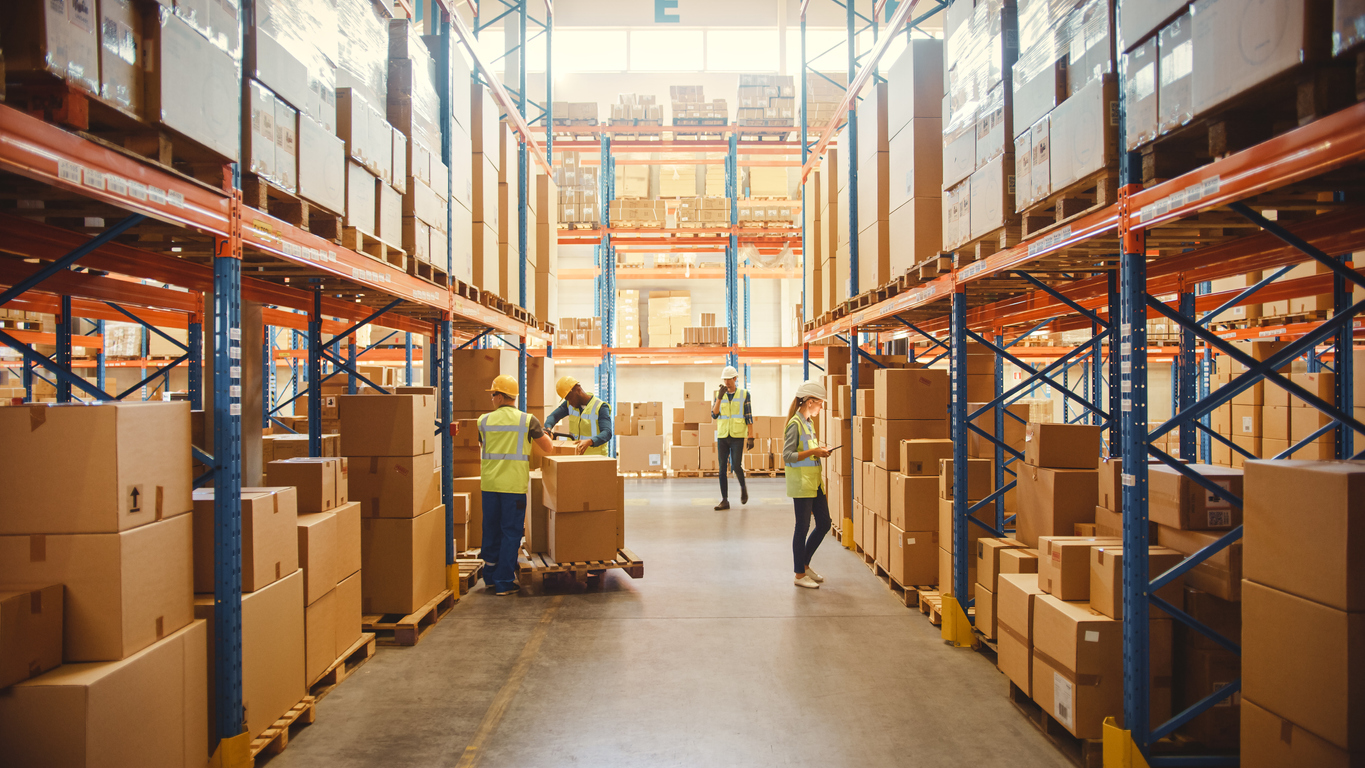 Another reason why order fulfillment is essential is that it allows you to scale your business effectively. 
If you don't have systems in place for managing your inventory levels and processing orders efficiently, then you won't be able to handle seasonal spikes in demand or unexpected increases in traffic without causing delays in delivery or other fulfillment issues.
How eCommerce Fulfillment Affects Front-End Strategy
The front end of your eCommerce website is the first experience your customers have with your brand. And it's the part of your site that needs to be as seamless and streamlined as possible so shoppers don't get turned off and instead feel confident in their purchase decision.
How your website looks, how easy it is to navigate, and how fast it loads can affect whether someone decides to start shopping.
But other factors can also influence how visitors respond to your eCommerce store, and one of those factors is your order fulfillment strategy.
Fulfillment is crucial to your eCommerce site's success. It's the final stage of the online sales process, where you'll make or break your bottom line. If you're not fulfilling orders accurately and efficiently, you're wasting time and money.
That's why it's essential to have a solid fulfillment strategy in place before you begin selling on your eCommerce site. There are two ways that fulfillment affects front-end strategy:
Fulfillment standards, such as the speed of delivery or where you ship
Shipping costs
Fulfillment Strategy at Checkout
The order fulfillment strategy at the checkout stage is critical for your eCommerce business. It is the moment when customers make the final decision to buy or not to buy.
A report by Drip reveals that 63% of online shoppers abandon their orders because the shipping costs are too high and 36% because the shipping time is too long.
Therefore, we can confidently claim that shoppers who aren't satisfied with the order fulfillment experience at the checkout stage are highly likely to abandon their carts.
So, how can you improve your order fulfillment strategy at checkout? Here are some tips:
Offer different shipping options so that customers can choose what best suits their needs
Make it easy for customers to change their shipping address if needed
Show estimated arrival dates in the shopping cart and checkout process
Offer free shipping on orders over a certain amount
Ensure that your inventory is accurate and up-to-date at all times
Make sure you have as few steps as possible during checkout.
The Post Checkout Experience
Your eCommerce order fulfillment strategy post-checkout is essential to your overall success as an online retailer. It's the last step in the customer journey, so it's important to ensure that you leave your customers with a positive experience.
If a customer has a bad experience with shipping, they will most likely tell their friends and family about their experience, which can lead to lost sales and negative reviews.
It's also important to note that there are many different types of order fulfillment strategies post-checkout. They include:
Using a seamlessly integrated order management system to evaluate, track, and control each customer order
Providing an easy way for customers to track their order status
Offering multiple shipping options, including same-day delivery and free shipping options
Delivering products on time and in good condition
Creating a personalized delivery experience (such as including personalized thank you notes in the package).
💡 The main thing is that whatever strategy you choose should be consistent across all channels and stores so that customers know what to expect when shopping from your brand online.
The Main eCommerce Fulfillment Challenges
Apart from the general shopping experience, eCommerce order fulfillment is a core part of any eCommerce operation. But unfortunately, it's also one of the most complex processes that every eCommerce store owner has to handle.
So, let's take a closer look at the main eCommerce fulfillment challenges you might face.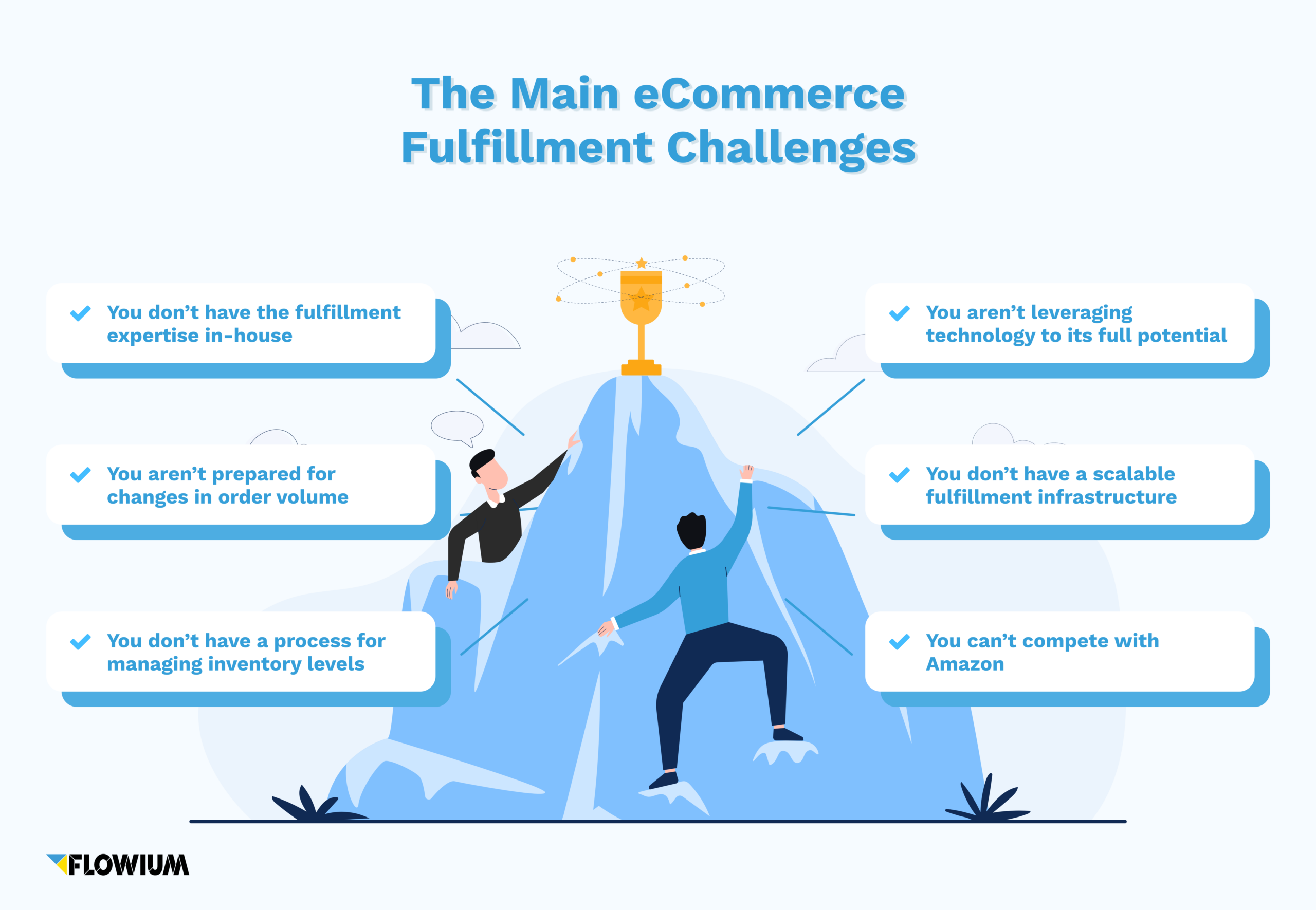 You don't have the fulfillment expertise in-house
If you're a small eCommerce business, you may not have the necessary tools and resources to handle order fulfillment and shipping on your own.
What's more, order fulfillment is not a simple process. In fact, it can be quite complex and overwhelming, even for seasoned eCommerce sellers.
If you don't have any experience with shipping and handling goods, it will be difficult for you to set up a reliable system that can deliver your customers' orders in a timely manner and without breaking the bank while offering excellent customer service.
You aren't prepared for changes in order volume
Experiencing sudden spikes in order volume is one of the biggest challenges for eCommerce sellers.
Even if you can predict those spikes, for example, during the holiday season or because you launched a promotion, you might not be prepared to handle fulfillment and shipping for a bigger number of orders than you usually do.
These sudden spikes in order volume may cause delays in shipping and other fulfillment issues, such as sending out the wrong product to the wrong address.
These problems can be detrimental to your business, as they can disappoint your customers and hurt your brand reputation.
You don't have a process for managing inventory levels
If you don't have a plan for managing inventory levels, you could end up with too much stock on hand and not enough space in your warehouse. This can lead to unnecessary costs, such as keeping extra inventory on hand or paying more for storage space.
What's more, you may unexpectedly run out of products in stock and end up with orders you cannot fulfill. This will likely lead to customer complaints and poor reviews of your store.
You aren't leveraging technology to its full potential
If you aren't leveraging the tools to help you automate your order fulfillment processes, you may run into many issues.
If you don't have the right technology to handle order fulfillment, you're likely still fulfilling orders manually, which can be time-consuming, expensive, and error-prone.
💡 When you automate your operations, you can reduce costs and errors while increasing efficiency and customer satisfaction.
You don't have a scalable fulfillment infrastructure
One of the most common problems with order fulfillment is that many eCommerce businesses don't have a scalable fulfillment infrastructure.
This means that when sales increase, you can't keep up with demand because your warehouse isn't big enough — or isn't efficient enough — to handle the extra volume.
💡 If your business is growing fast and you don't have a scalable order fulfillment solution, you will face a significant roadblock on your way to growth.
You can't compete with Amazon
Whether you're a small eCommerce store or a bigger one, we know this thought crossed your mind too many times.
But to be honest – no one can compete with Amazon! At the moment, Amazon is the biggest eCommerce seller in the world. So, don't even think about it twice!
However, if you're selling on Amazon, you can take advantage of their expertise in the eCommerce world.
Fulfillment by Amazon (FBA) is Amazon's fulfillment service, which allows sellers to store their products in Amazon's fulfillment centers. Plus, Amazon will also pick, pack and ship your orders.
6 Stages of the Order Fulfillment Process
eCommerce order fulfillment is the process of preparing orders and shipping products from the warehouse to customers. It typically also includes packaging, inventory management, and tracking orders.
The exact steps involved in this process will depend on how you choose to operate your business and what fulfillment type you choose. However, there are six must-have stages in every successful eCommerce order fulfillment process.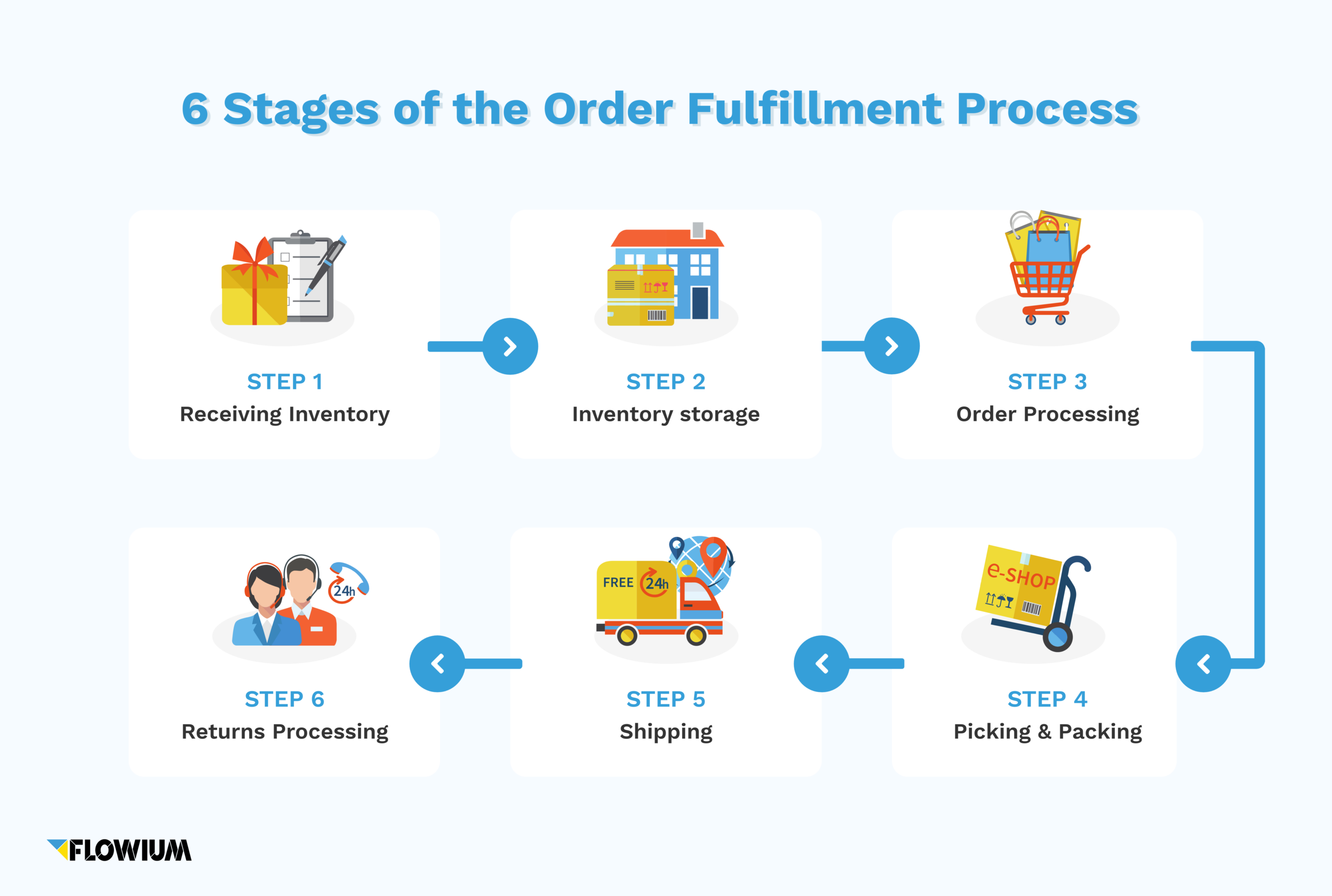 Receiving Inventory
Receiving is the first of the six order fulfillment process steps. This is where all goods are received from the manufacturer or the supplier.
Once the goods are received, they must be checked for quality and quantity against the specifications. Any discrepancies are noted on a discrepancy report and sent back to the vendor for correction.
If everything checks out okay, the goods are stored in inventory and ready for use.
Inventory storage
Inventory storage is the second stage in order fulfillment processing. This is where the received goods are inventoried, inspected, and placed in storage until they are needed for the next step in the order fulfillment process.
Inventory storage can be done in-house or outsourced to a third party specializing in this task, such as a fulfillment center or logistics provider.
The main goal of inventory storage is to make sure that your company has enough stock on hand to meet customer requirements.
Order Processing
This stage includes all the steps involved in taking an order from the customer, from picking the right products to inspecting them and ensuring they are damage free.
Essentially, order processing is the initial stage of order fulfillment in which an order is received, processed, and assigned to a shipping department for fulfillment.
Picking & Packing
Once you have verified that there are enough products available, you can begin picking them out and packing them up for shipment as specified by the customer's instructions (size, quantity, etc.). That's the picking and packing stage.
Picking is the process of selecting items from inventory and placing them into a box or other container. Once you've picked all your items, you'll want to ensure they're adequately packed for shipment, so they arrive safely at their destination.
The packaging also needs to meet specific regulatory standards.
Shipping
The shipping and delivery stage is where you send out your products from your warehouse to your customer's door.
This can be done by using your own company's resources and a shipping software, or outsourcing to a third-party logistics company.
The shipping service takes care of all aspects of shipping, including choosing the best shipping carrier depending on the size and weight of your products, packaging, and order tracking.
Returns Processing
If you have a return policy or have to make refunds for faulty products, returns processing is an essential part of the order fulfillment process.
The returns processing stage includes:
Handling returned merchandise
Refunding customers
Restocking inventory.
For example, if you sold a product online and it got damaged in transit, you might need to issue a refund or replacement to the customer.
eCommerce Order Fulfillment Types
Choosing the right eCommerce order fulfillment type for your business is essential when it comes to creating a reliable and efficient fulfillment process.
While there are a number of different ways to fulfill orders, there are four main eCommerce order fulfillment types that you should consider for your business.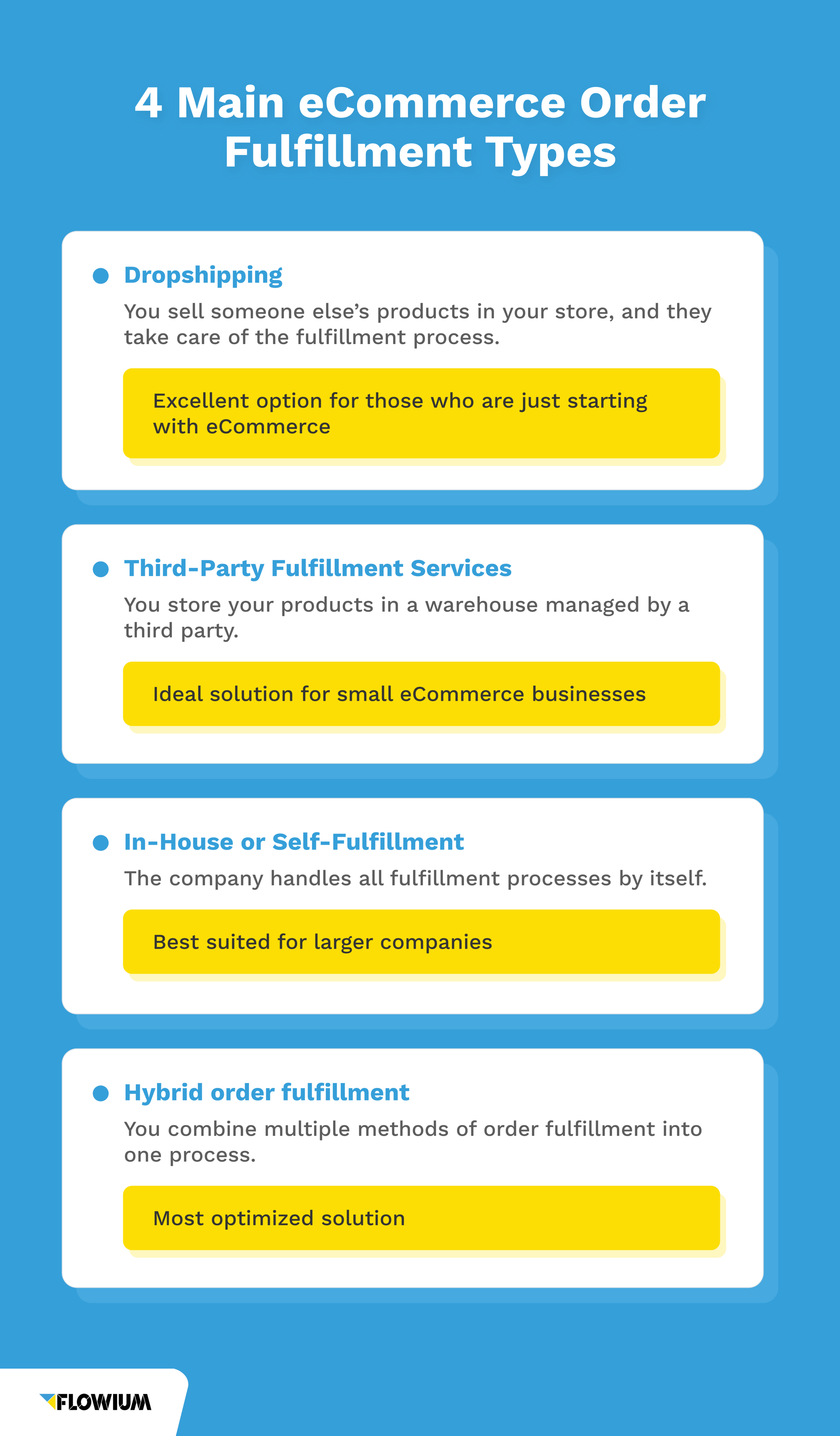 Dropshipping
Dropshipping is a fulfillment method where you don't own the products you sell in your eCommerce store. Instead, you sell someone else's products in your store, and they take care of the fulfillment process.
In other words, the product manufacturer or wholesaler ships directly to your customer, while you only sell their product in your online store.
So, what's the benefit? You can sell products that have been manufactured by another company at a higher price point and earn the difference.
This allows you to make money without dealing with inventory management issues or high initial investment costs. Due to these benefits, dropshipping has become a popular business model in recent years.
Dropshipping is an excellent option for those who are just starting with eCommerce and those who don't want to handle inventory or ship products themselves.
Pros:
Simplest way to get started with eCommerce
No upfront costs for inventory
No storage needed for inventory
No warehousing costs
Low operating costs
High profit margins
Cheaper than other order fulfillment methods
Easy scalability.
Cons: 
May not be reliable if your supplier doesn't ship on time or at all
You must rely on third parties for shipping and returns
No control over your product's brand image or customer experience.
Third-Party Fulfillment Services
This is perhaps the most common type of fulfillment used by eCommerce sellers because it offers many benefits over managing everything yourself.
This type of fulfillment service allows you to store your products in a warehouse managed by a third party, which means that you don't have to worry about holding onto inventory or maintaining storage space yourself.
You simply send in your products when needed, and the third-party fulfillment company takes care of the picking, packing, and shipping processes for you.
This is an ideal solution for small eCommerce businesses that are just starting out and don't have enough resources to manage their order fulfillment processes in-house.
Pros: 
Saves time and money
Competitive shipping rates, usually discounted
No need to invest in expensive equipment or software
No need to hire any extra staff members
Your products are stored in a secure facility
Your orders are fulfilled by professionals
Great solution for new merchants.
Cons: 
You can't control how your products are handled
You're reliant on another company to get your orders to customers on time
May require extra costs for storing inventory that isn't selling well
High service fees.
In-House or Self-Fulfillment
In-house fulfillment, or self-fulfillment, is when the company handles all fulfillment processes by itself. This could include picking, packing, and shipping orders from your warehouse or office.
This is the most expensive way to fulfill orders but also the most reliable. You have complete control over all aspects of the process, and you can ensure that all orders are handled quickly and professionally, with no mistakes allowed.
This type of service is best suited for larger companies that have a lot of orders coming in every day and need a reliable way to handle them all as quickly as possible without making mistakes or compromising quality.
Pros:
Complete control over the process
Possibility to maximize profit by controlling costs
Faster delivery times (no need to wait for an external company to ship your products).
Cons:
Significant capital investment
High warehouse maintenance costs
Need to hire extra staff members
Limited scalability.
Hybrid
Hybrid order fulfillment is when you combine multiple methods of order fulfillment into one process. This can include picking and packing by hand, shipping with a 3PL vendor, or using your warehouse space for storage and shipping.
The primary benefit of hybrid order fulfillment is that it gives you more control over the process. You can use both human labor and automation to create an optimal workflow for each type of product you sell.
This can help you run leaner operations, save money on staffing costs and provide better customer service by making sure every package gets picked up, packed, and shipped correctly.
Pros:
More control over the process
Better optimized fulfillment process depending on product type
No need to purchase inventory upfront or store it in your own warehouse
Can use less expensive shipping options
Improved customer experience.
Cons:
Requires more time and effort than third-party fulfillment services
Need to hire extra staff
Higher costs for storing inventory, if you decide to use your own warehouse
Increased complexity of managing multiple warehouses and shipping carriers.
4 Factors to Consider to Choose the Best eCommerce Fulfillment Strategy
A proper order fulfillment strategy is the backbone of any eCommerce business. It's the process of receiving, storing, and shipping your products to customers.
If you're just starting out, one of the biggest challenges is figuring out how to get your products into customers' hands.
The good news is that there's no single correct answer for every business — different types of companies have different needs in terms of storage, shipping, and customer service.
Some common questions to ask yourself when coming up with a practical eCommerce fulfillment strategy are:
Where will my warehouse be located?
How will I store my inventory?
How will I ship orders?
What types of customer support options do I need?
However, there are more things you need to think about when choosing the best eCommerce order fulfillment strategy for your store.
Here are four essential factors to consider.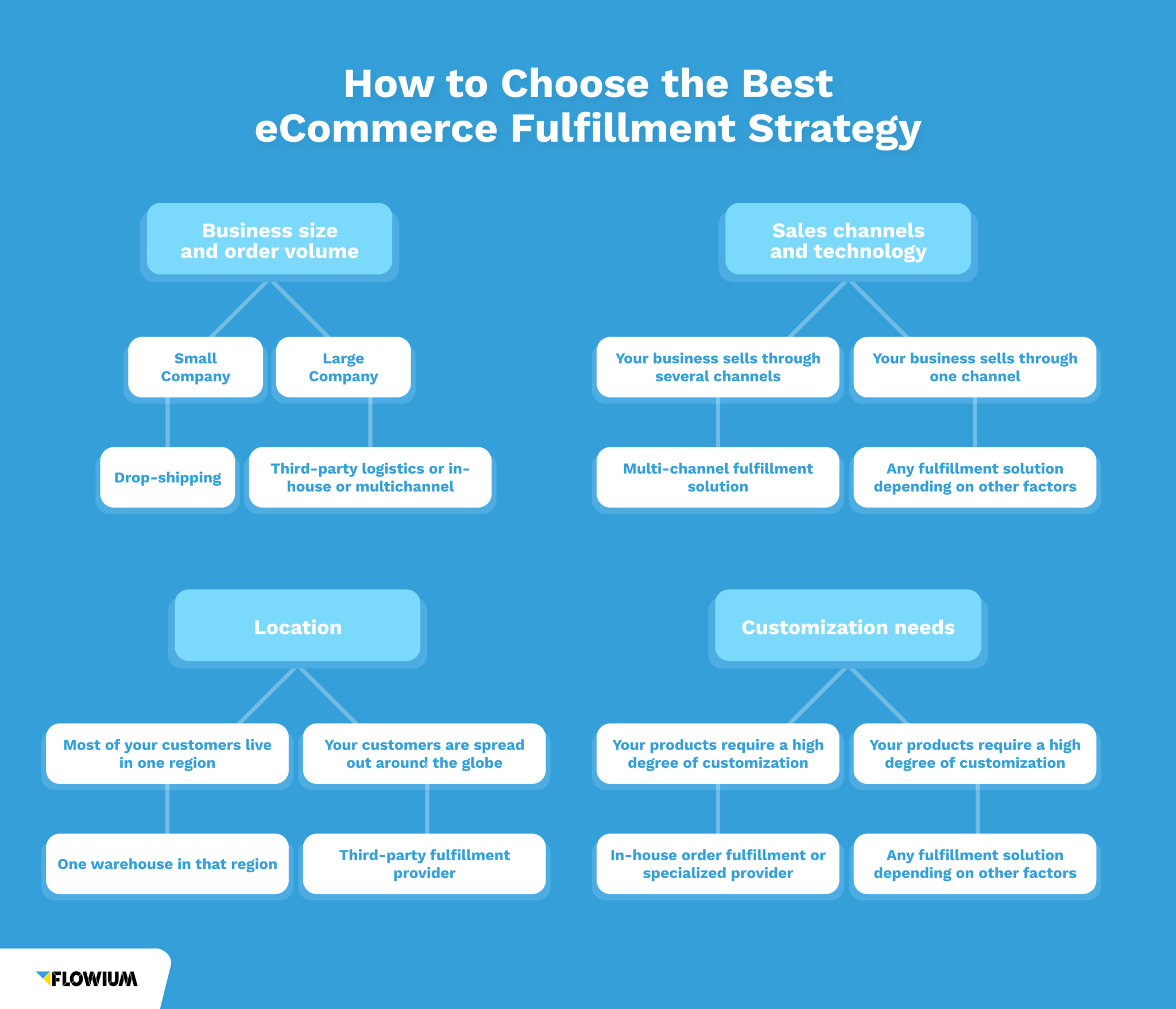 Business size and order volume
The size of your business and how many orders you receive will dictate which type of fulfillment service works best for you.
For example, if you're starting an online store with very little inventory and only one or two employees, then dropshipping may be the right option since there's no need for warehouse space or staff members to manage inventory.
On the other hand, if your company is large enough to handle multiple warehouses across different locations or if you have thousands of products that need to be shipped out each day, then a third-party logistics (3PL) company might be better suited for your needs.
Sales channels and technology
Your choice of sales channels will determine how you fulfill orders and what's the best order fulfillment strategy for your eCommerce store.
If your business sells through several channels, such as Amazon and eBay, you'll need a multi-channel fulfillment solution that can support online, wholesale, and retail sales from one platform.
You may also want to consider using a third-party logistics provider (3PL) or your own warehouse if you have one in another location or region.
Location, location, location
One of the most important things you need to consider when choosing an eCommerce fulfillment strategy is where your warehouse, or warehouses, will be located.
This will help you determine the best shipping method for each location your customers are coming from. It's important to know where are your biggest "customer hubs" and, if possible, choose a warehouse that's close by.
For example, if most of your customers live in one region of the US, having a warehouse in that region would be ideal so that shipping costs can be kept at a minimum while ensuring quick delivery times.
If your customers are spread out around the globe, pinpoint the most strategic locations to optimize the shipping times and costs for international shipping.
Warehouses placed strategically around the globe are the best strategy to go about that. To do this, you may need to hire a third-party fulfillment provider.
Customization needs
Another factor to consider when choosing the best eCommerce fulfillment strategy for your store are your customization needs. You need to determine whether your products require a high or low degree of customization.
If you have custom products or require special handling or shipping options, then most third-party eCommerce fulfillment providers might not be suitable for you.
In that case, the best option for you is to find a provider that can handle those special needs effectively, or fulfill your orders in-house.
How to Improve Order Fulfillment Process (In-House)
There are many benefits of in-house fulfillment. It allows you to retain control over your inventory, shipping, and fulfillment processes.
However, it can be challenging to manage everything on your own, and mistakes happen even if you have the best intentions.
Here are 5 simple ways to improve your eCommerce fulfillment process in-house.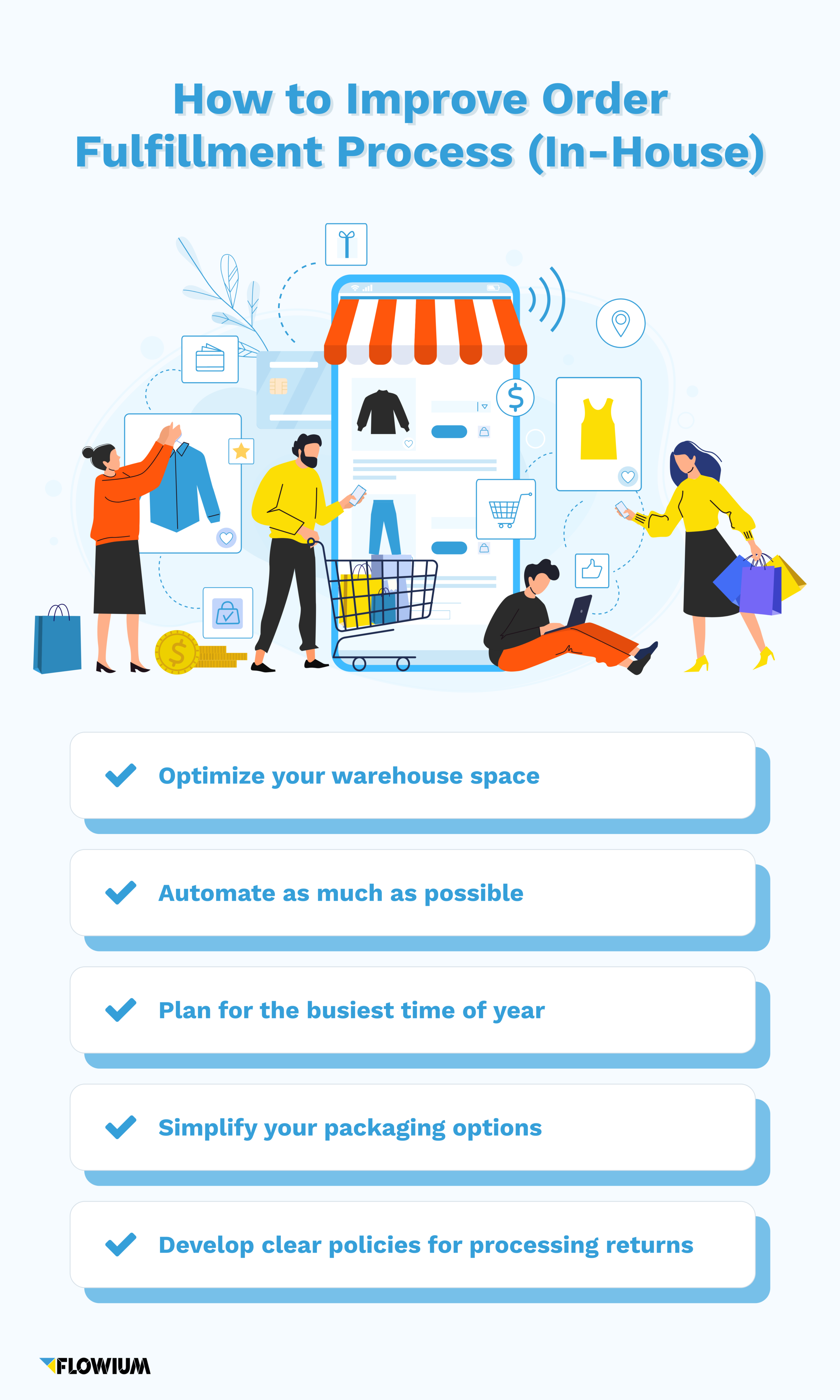 Optimize your warehouse space
A messy warehouse will cause a lot of problems for you when checking inventory or fulfilling orders.
Therefore, make sure that your warehouse is organized properly and runs efficiently. This means having enough space for inventory and having everything in its place so that orders are fulfilled quickly without mistakes or delays.
This also includes implementing proper labeling systems for each product type, so employees can find things easily when fulfilling orders. It'll also help them keep track of inventory levels, so they know which products are in stock and which have sold out.
Automate as much as possible
Using software to automate certain parts of your order fulfillment is a great way to save time and money. With automation, you can reduce errors and save on labor costs by eliminating manual work steps like printing labels or checking inventory levels.
The less manual work you have to do, the more efficient and cost-effective your operation will be. Automation also helps ensure that orders are fulfilled correctly, which is critical for customer satisfaction.
💡 Implementing an OMS (order management system) will enable you to manage your inventory, shipping, and fulfillment more efficiently without adding more staff members or managing multiple systems.
Plan for the busiest time of year
If you're handling all of your own orders, be sure to plan ahead for the busiest times of the year. Holidays, such as Christmas or Black Friday, are an opportunity to make more sales, so make sure you're prepared to handle an influx of orders coming in!
Planning ahead for those occasions by ensuring you've got extra storage space and packing supplies in your warehouse can help you avoid shipping delays in busy times.
💡 If you don't want to pay for additional staff members or space at this time of year, consider outsourcing part of your order fulfillment process to a third-party logistics provider instead. Many offer pick-and-pack services, which can help relieve some pressure off your internal resources during peak periods like Christmas.
Simplify your packaging options
Many companies choose custom packaging because they think it's more visually appealing or unique. And yes, customization is a great option if you can allow yourself to do it!
But, the problem is that custom packaging can also be more expensive, which means higher shipping costs for customers.
So, if you're already doing all of your own shipping and fulfillment, consider if there's a need to spend extra money on custom boxes and bags.
💡 Maybe, it's best to simplify your packaging options as much as possible to reduce packaging costs and make the order fulfillment process much smoother? Make sure to choose the option that best fits your business.
Develop clear policies for processing returns
You need an efficient system in place for processing returns so that customers receive their refunds quickly and efficiently.
Make sure that your return policy is easy to find on your website so customers know what to expect before making a purchase.
💡 If possible, offer free return shipping for certain items, like clothing or shoes, so it's easier for customers to send back items that don't fit or have been damaged in shipping.
5 Best eCommerce Fulfillment Services
While there are a lot of excellent eCommerce order fulfillment companies out there, only a few can meet the needs of your business.
As an eCommerce business owner, you'll want to choose an eCommerce fulfillment service that will allow your store to grow and scale.
To help you choose the right company for your store, here's a list of the five best eCommerce fulfillment services.
1. Fulfillment by Amazon (FBA)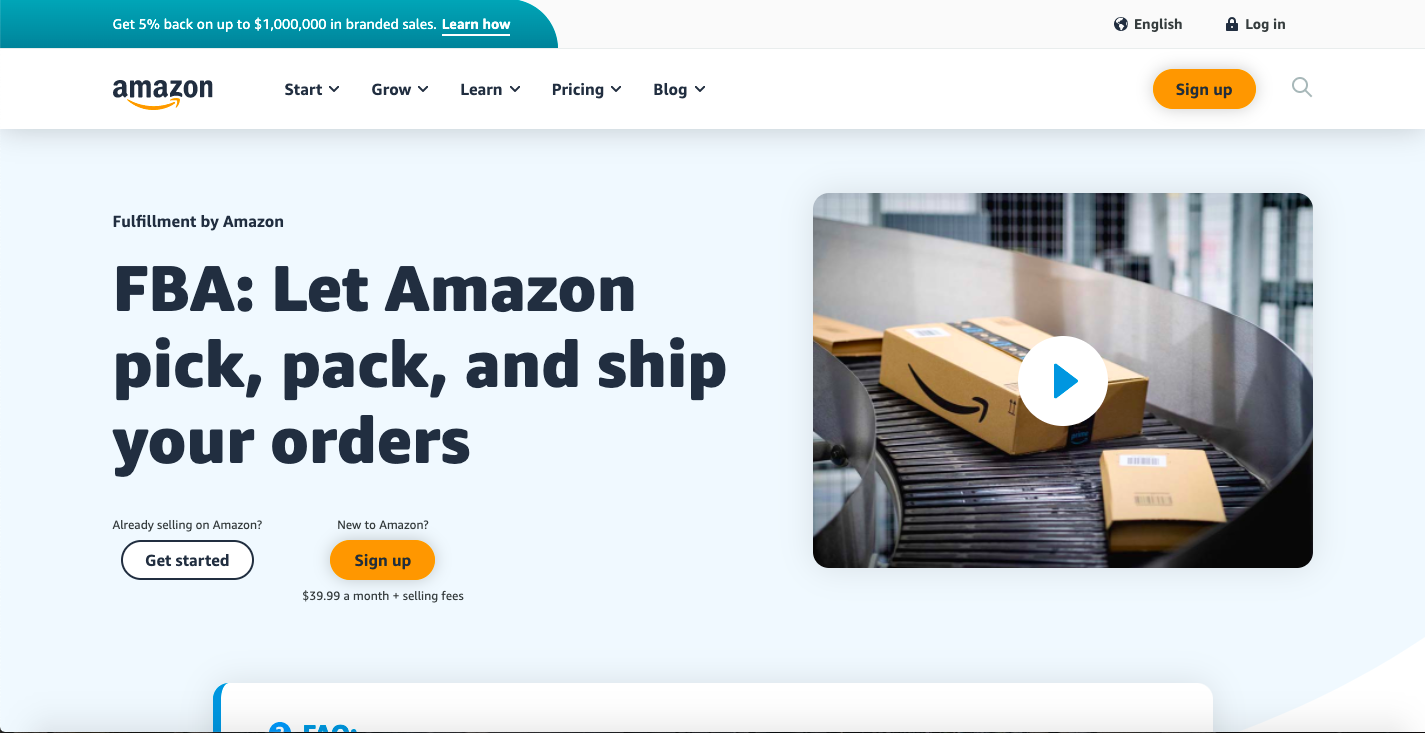 Fulfillment by Amazon (FBA) offers a way for sellers to store and ship their products through Amazon's warehouses.
The service allows sellers to send their inventory to an Amazon warehouse and ship orders from there. Sellers can also enable customers to return items directly to the Amazon warehouse instead of back to the seller.
FBA can be an attractive option for sellers who want to scale their business because it allows them to focus on marketing and customer service. At the same time, Amazon handles the packing, shipping, and customer service issues.
2. Shopify Shipping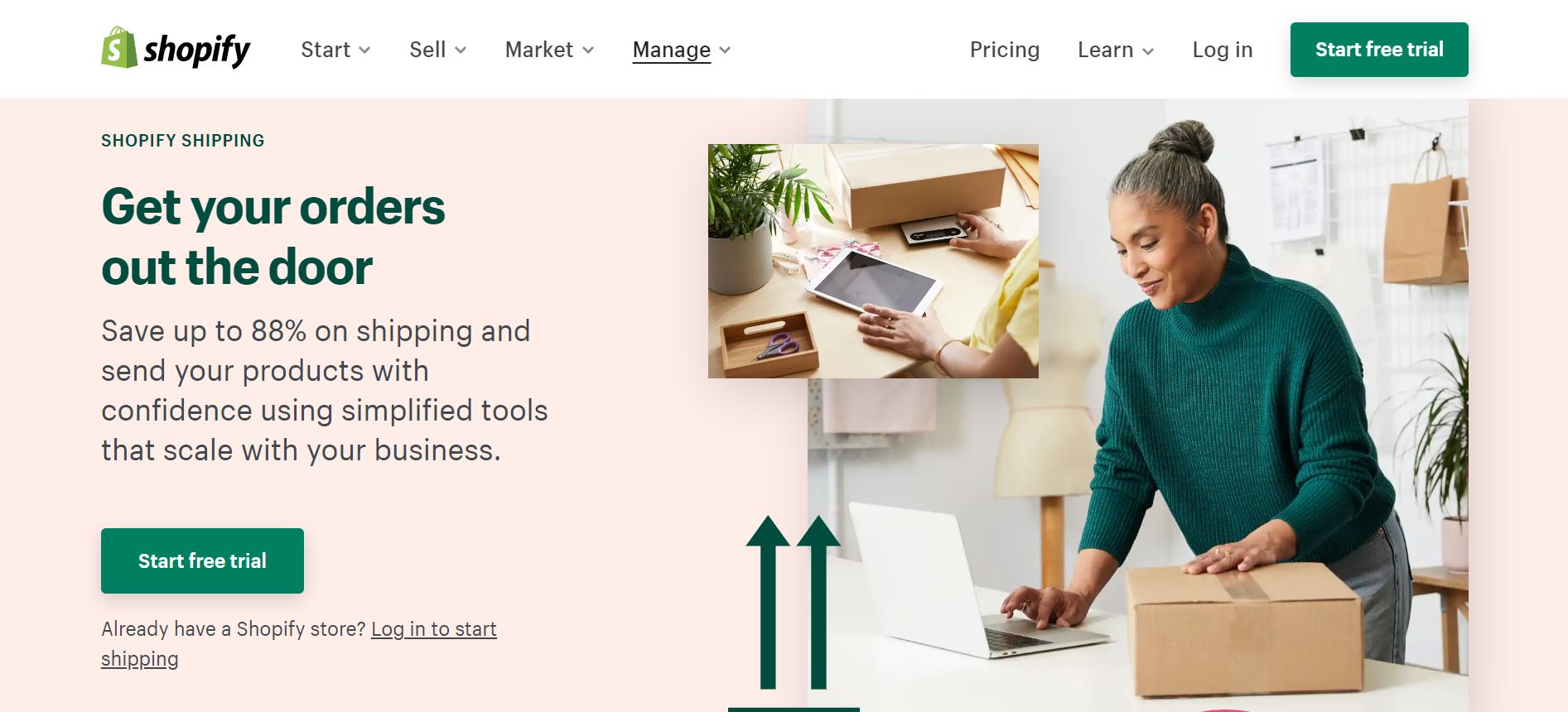 If you host your eCommerce store on Shopify, using the Shopify Shipping service might be the best option for you. Shopify Shipping is a shipping service integrated into your Shopify dashboard, that allows Shopify merchants to manage shipping directly from their online store.
It's an easy-to-use service that lets you create shipping labels, print postage, and track your shipments from any device with an internet connection.
It also allows you to optimize your shipping options at checkout, so your customers can have a better shopping experience at your store.
3. ShipMonk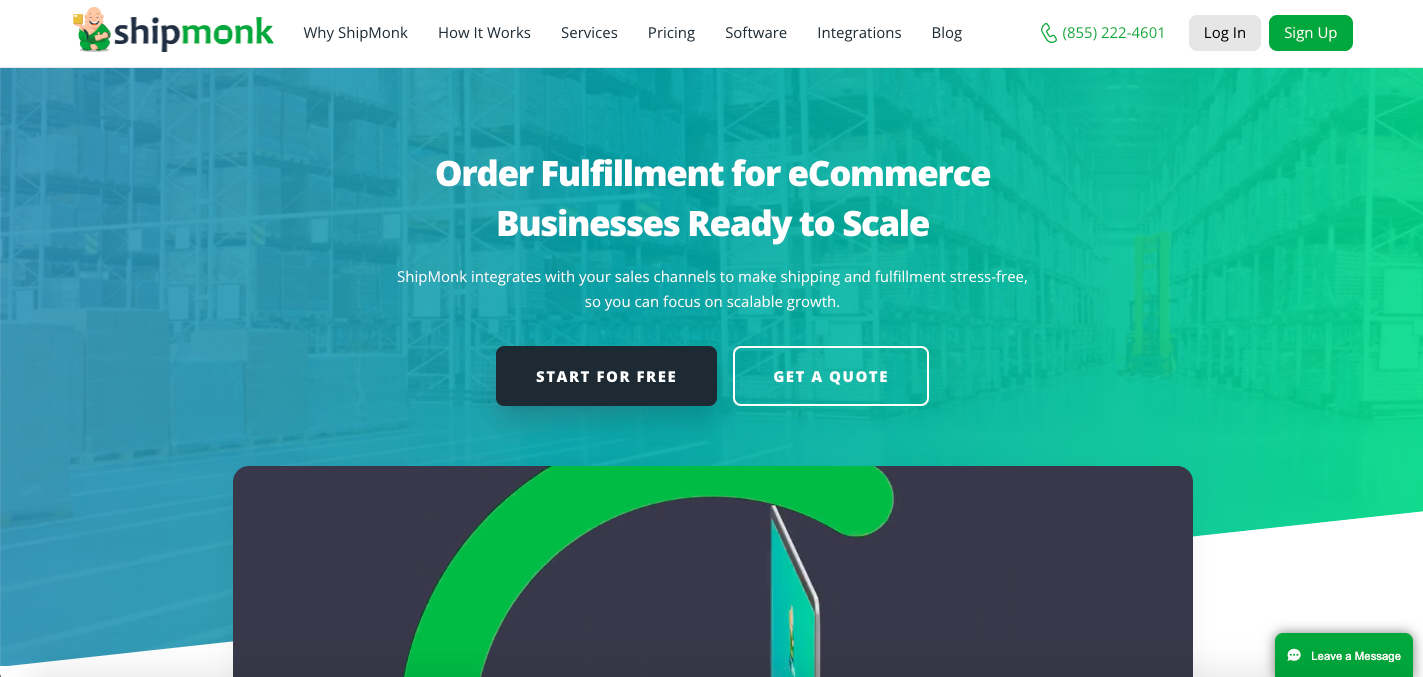 ShipMonk is another eCommerce order fulfillment service that placed itself on this list. It empowers eCommerce sellers to make shipping and fulfillment stress-free.
With just a few clicks, ShipMonk connects to your sales channels and automates all facets of order management.
With ShipMonk, you can easily plan, execute, and track orders across all channels. You can also leverage their 4-in-1 order management portal to improve customer service, manage returns, and more.
4. Rakuten Super Logistics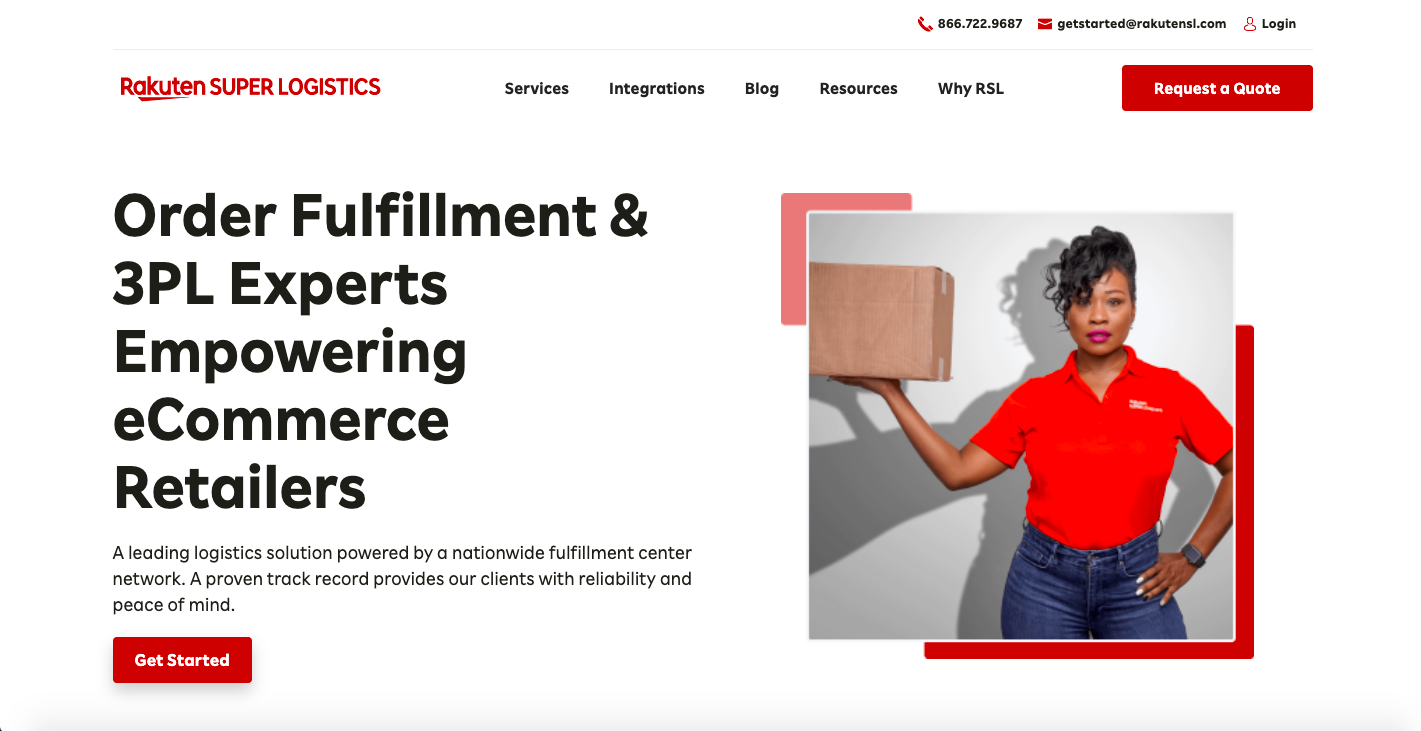 Rakuten Super Logistics is an excellent eCommerce fulfillment service for seasoned eCommerce retailers. When it comes to professional order fulfillment and returns handling, Rakuten has got your back.
Rakuten Super Logistics might be the best choice for you if you need fast delivery and more advanced fulfillment features, such as temperature-controlled storage or product kitting.
5. ShipBob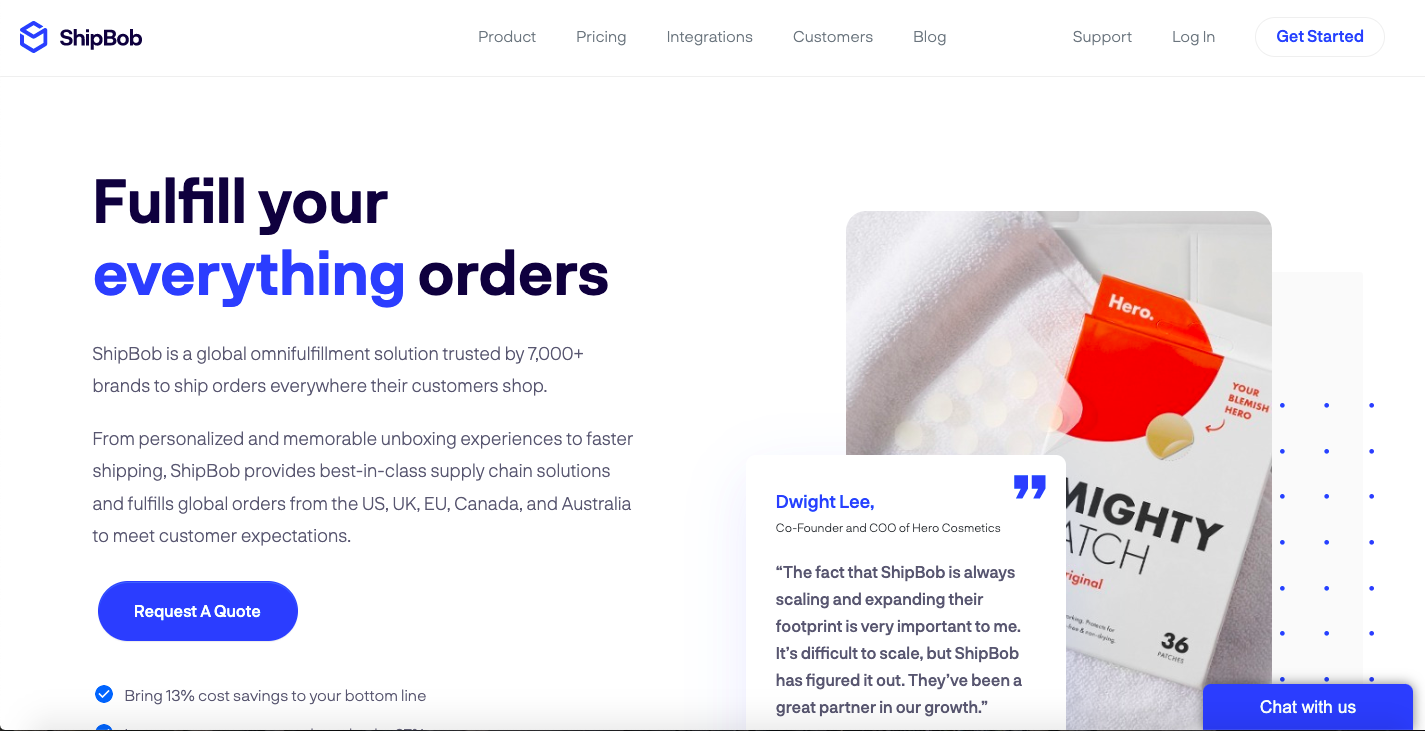 ShipBob provides small and medium-sized eCommerce businesses with the technology and expertise needed to fulfill orders quickly, accurately, and safely.
If you want to reach new markets around the world by shipping products overseas, ShipBob might be an excellent fulfillment service for you.
ShipBob can also help you process returns effectively, as well as manage international tax obligations and handle customs if you're shipping globally.
eCommerce Fulfillment Statistics
Getting familiar with eCommerce fulfillment statistics is a great way to understand the market and how you can improve your order fulfillment process.
They help you discover trends that you can use to your advantage and they give you insight into what's working and what isn't.
Here are some of the most interesting eCommerce order fulfillment statistics.
eCommerce Order Fulfillment FAQs
What is the fulfillment process in eCommerce?
Order fulfillment refers to the process of preparing the packages and shipping them from their point of origin to their final destination. In eCommerce, the order fulfillment process involves taking an order from a customer, processing it, and shipping it. A good fulfillment service ensures that each customer receives their order as quickly as possible, without any hiccups along the way.
What is a fulfillment strategy?
Fulfillment strategies are the decisions you make about how to fulfill your orders. Fulfillment means delivering your products and services to customers' doorsteps. Strategies include choosing where you'll store inventory, how you'll ship products, and how you'll handle returns.
How do companies fulfill orders?
The answer depends on the size of the company, the type of products they sell, and its average daily order volume. Some companies will handle the shipping and fulfillment of their products in-house. However, other companies outsource the process to third-party logistics (3PL) providers. In that case, the dedicated eCommerce fulfillment service takes care of everything for them, from packing the customers' orders to shipping them directly to the customers' doors.