Order fulfillment is one of the key parts of any eCommerce business. Shipping orders quickly and accurately is critical to keeping your customers happy and building your online reputation.
While fulfilling orders in-house might be the best solution for you at the beginning, you'll need to find ways to make operations more efficient as your business grows. And your supply chain logistics is something you simply cannot afford to be sloppy with.
As you start getting more and more orders, a third-party logistics provider (3PL) can make your life a whole lot easier. This guide will walk you through the importance of 3PL for eCommerce business owners and teach you everything you need to know about 3PL so that you're ready to outsource your supply chain logistics.
What Is 3PL?
As an eCommerce store owner, you may have come across the mysterious term "3PL". 3PL stands for "third-party logistics." It's a relatively new term, but it's gaining popularity as more and more eCommerce stores recognize the benefits of outsourcing their inbound and outbound logistics operations.
But what does third-party logistics mean? Let's explain it in more detail.
What Does 3PL Mean?
Third-party logistics (3PL) refers to a broad category of services that allows eCommerce businesses to outsource their inbound and outbound logistics operations to an external provider, also known as a third-party logistics provider (3PL).
In eCommerce, inbound logistics refers to the process of receiving goods from suppliers and preparing them for distribution.
On the other hand, outbound logistics refers to the process of shipping goods from a warehouse or distribution center. A 3PL takes care of all of these processes for you.
More specifically, 3PL offers inventory management, warehousing, and order fulfillment services at a national or international level on behalf of its clients.
The main advantage of using 3PLs is that they can provide you with a more efficient and consistent order fulfillment process than you could achieve on your own.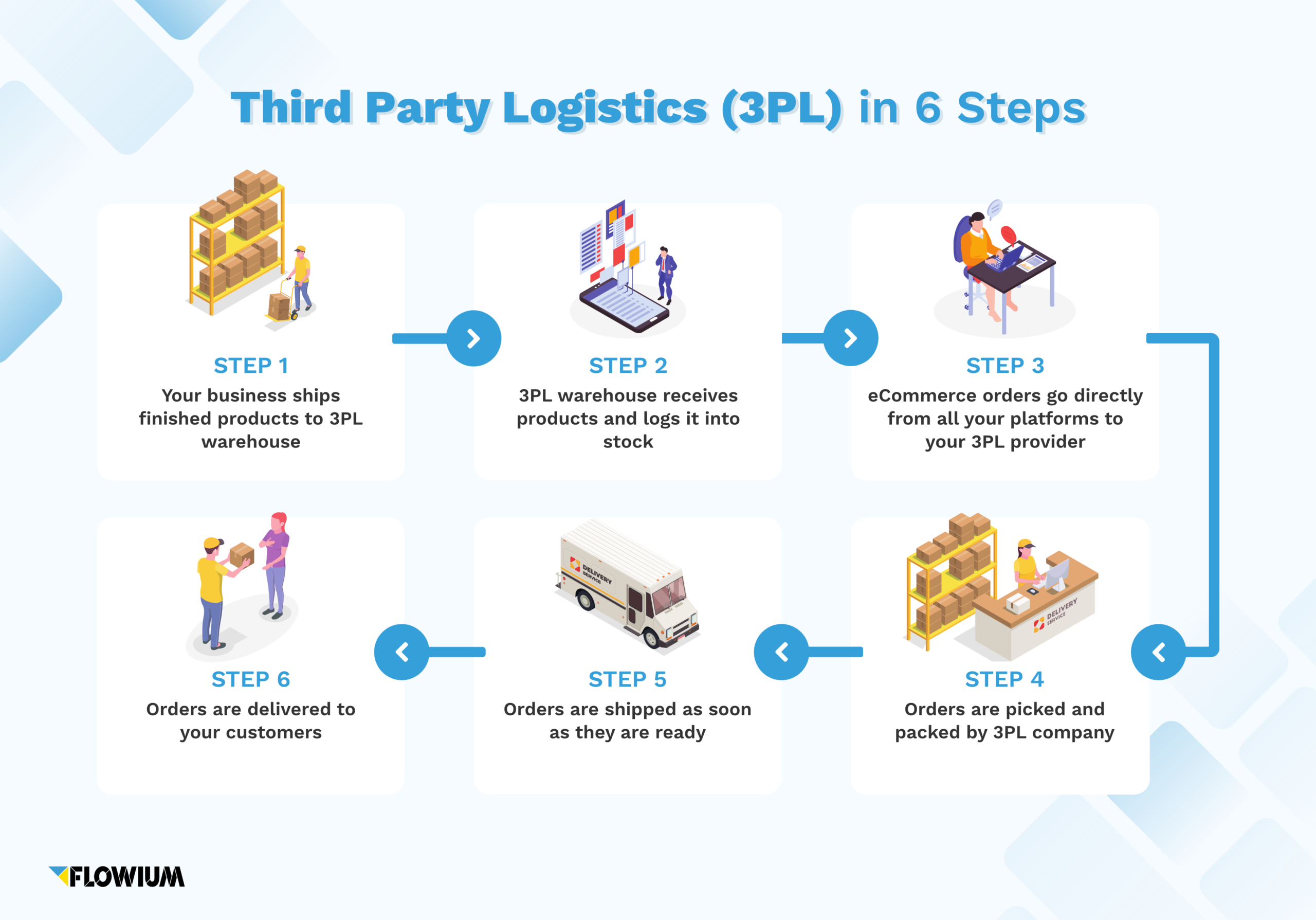 The Difference Between Third-Party Logistics and Order Fulfillment
Third-party logistics companies are often confused with order fulfillment companies. However, they're not the same. So, how do they differ?
Order fulfillment refers to a company that handles the order fulfillment process from beginning to end, including packaging and shipping items to customers.
The main goal of an order fulfillment company is to make sure that products are delivered to the end customer in good condition and on time.
On the other hand, the role of a third-party logistics (3PL) company is to handle the entire supply chain of their client's business.
These companies are often hired by retailers who want help with their supply chain needs, from inventory management and warehousing to shipping.
When you use a third-party logistics provider to handle your supply chain logistics, you no longer have to operate your own warehouses or deal with shipping directly from your suppliers to your customers.
Instead, you send your orders to the 3PL, who takes care of everything else — including picking items off shelves, packaging them up, and sending them along their way.
💡 The critical difference between a third-party provider and an order fulfillment company is that 3PLs handle the entire supply chain process. In contrast, order fulfillment companies only handle the fulfillment part.
How Does Third-Party Logistics Work?
Are you wondering what goes on behind the scenes in a 3PL company? They work in 4 main stages:
Receiving
Picking
Packing
Shipping
Let's take a closer look at what happens at each stage.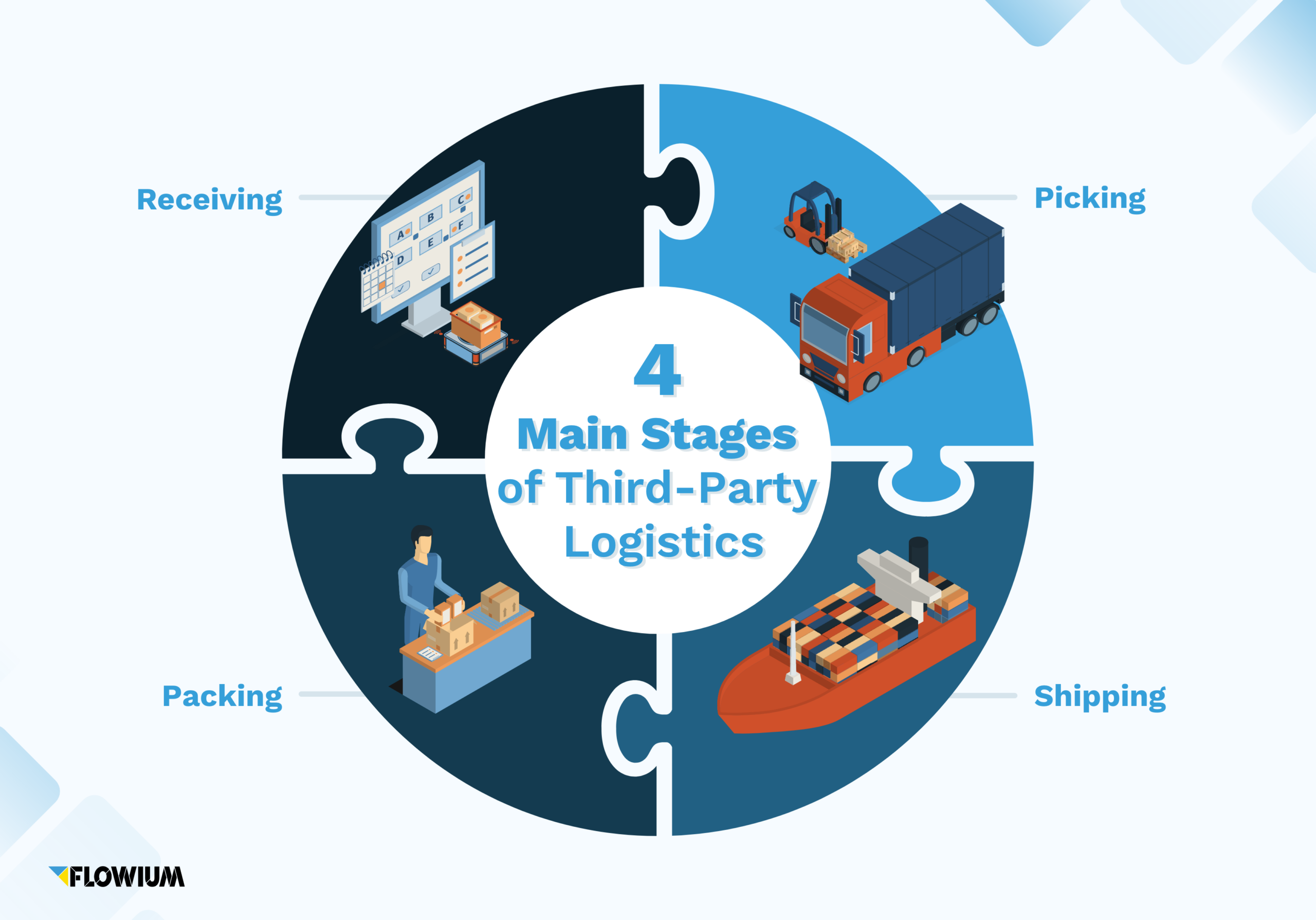 Receiving
Receiving is probably the most important step of the 3PL fulfillment process. That's because a 3PL wouldn't be able to deliver your items to your customers unless they receive your inventory first!
And that's exactly what happens at this stage of the process: a 3PL receives your incoming inventory in their fulfillment center and then stores it in their dedicated warehouse locations.
Picking
At the picking stage, your 3PL receives your customers' order – usually via 3PL software – and has a dedicated staff member retrieve the items from their respective warehouse locations.
Packing
Once your items have been picked to be sent to the client, it's time to pack them. Your 3PL's dedicated staff members will choose the adequate packing options for your items, depending on their weight and dimensions.
You don't need to worry about choosing your packaging materials, as your 3PL will take care of it for you.
The packing materials usually include boxes, bubble mailers, bubble wrap, poly bags, and more. Some 3PLs will also allow you to have your items packed in branded boxes.
Shipping
The last stage of the 3PL fulfillment process is shipping. Once again, you don't need to worry about getting your products from the warehouse to your customer's door. Your 3PL will take care of everything, including shipping labels and choosing the best shipping carrier for you.
Some 3PLs work with their preferred carriers, while others simply select the most affordable shipping carrier for you.
After your order is shipped, you'll receive an order tracking number that you can share with your customer.
The Difference Between 1PL, 2PL, 3PL, and 4PL Logistics
Third-party logistics (3PL) is a fast-growing segment of the logistics industry that's been steadily gaining attention from small, medium, and large eCommerce businesses over the last few years.
However, while many eCommerce business owners have heard the term 3PL, most don't know that there are multiple levels of logistics services, such as 1PL, 2PL, 3PL, and 4PL.
The difference between 1st party logistics (1PL), 2nd party logistics (2PL), 3rd party logistics (3PL), and 4th party logistics (4PL) can be confusing even for experienced eCommerce retailers.
But it's essential to understand the difference between these terms, since each refers to a different type of service provider with its own set of responsibilities.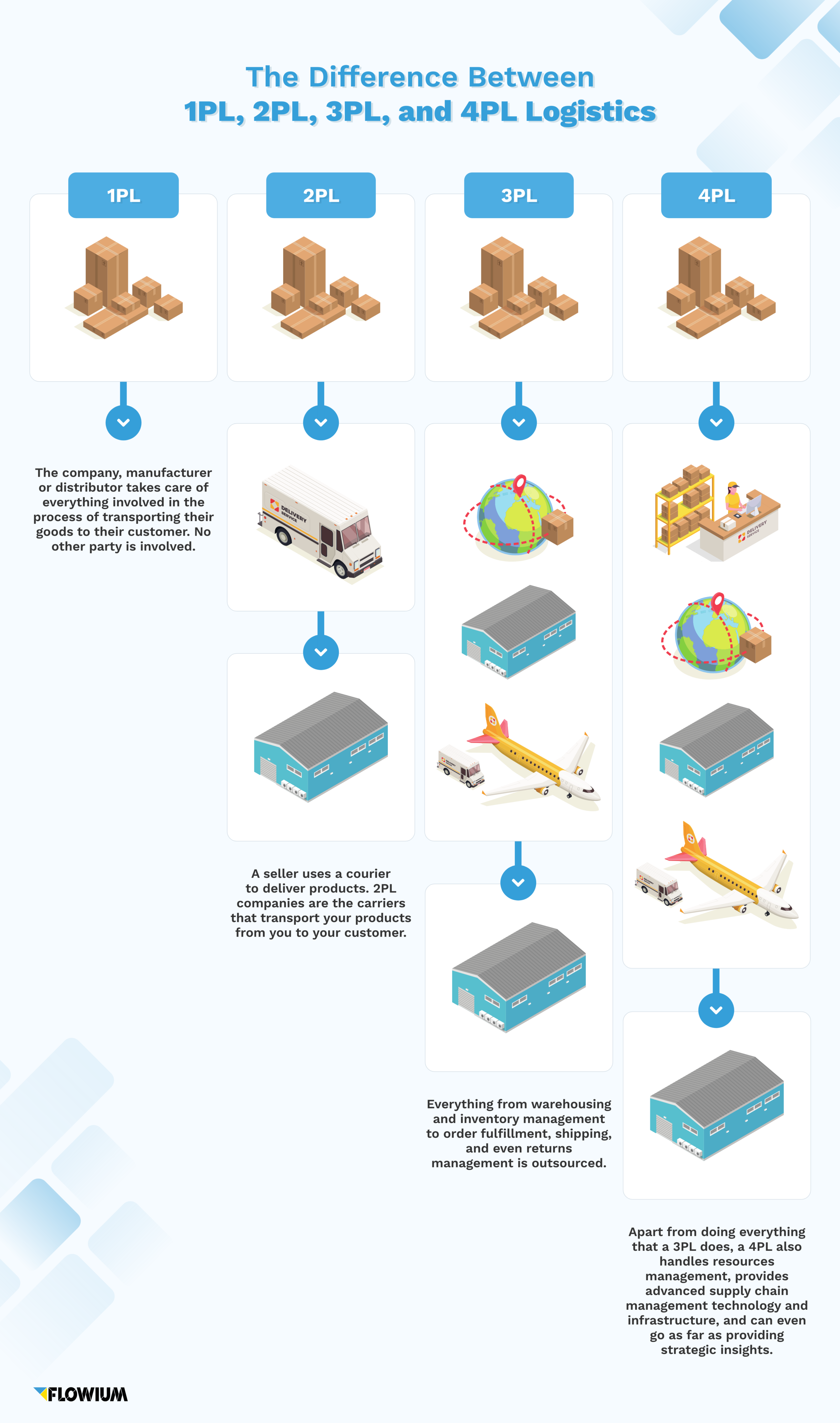 1PL – First-Party Logistics
1PL stands for "first-party logistics." It's a term used to describe the shipping service that companies offer internally. They're responsible for managing all aspects of their own shipments from start to finish.
In simple words, with 1PL, only two parties are involved: the company that needs to have their goods transported and the customer who will receive those goods.
This means that the company – the manufacturer or the distributor – takes care of everything involved in the process of transporting their goods to their customer.
2PL – Second-Party Logistics
2PL stands for second-party logistics, the second tier of supply chain logistics. It offers a slightly more complex solution than 1PL because it allows you to outsource one of the most important parts of the shipping process: transportation.
💡 In a nutshell, 2PL companies are the carriers that transport your products from you to your customer. This includes shipping lines, airlines, or hauling companies.
3PL – Third-Party Logistics
3PL stands for third-party logistics. As we have explained above, a 3PL partner helps eCommerce businesses manage the bigger part of their supply chain operations.
This means that when you hire a 3PL, they will take care of everything from warehousing and inventory management to order fulfillment, shipping, and even returns management.
💡 The main benefit of hiring a 3PL is that they'll take the most important parts of your supply chain operations off your hands so that you can focus on other aspects of your business.
4PL – Fourth-Party Logistics
4PL stands for fourth-party logistics, and it's widely similar to a 3PL but goes one step further. Like a 3PL, a 4PL is a service that helps eCommerce businesses manage their supply chain operations.
However, the main difference between a 3PL and a 4PL partner is that, unlike a 3PL who only manages part of the supply chain operations, a 4PL manages all of it. This means that a 4PL simply provides a more technologically advanced service.
Apart from doing everything that a 3PL does, a 4PL also handles resources management, provides advanced supply chain management technology and infrastructure, and can even go as far as providing strategic insights.
💡 A 4PL is a middleman between you – the eCommerce business – and the 3PL who takes care of the inventory management, warehousing, order fulfillment, and shipping.
Who Should Consider Outsourcing Fulfillment Logistics to a 3PL?
The reason why 3PL is important to you may vary. But it's worth considering outsourcing third-party logistics if you find yourself in one of the following scenarios:
Rapid Growth
If you've been receiving so many orders that you can barely handle fulfilling them on time, hiring a 3PL will certainly be a great solution for you.
Since a 3PL has warehouse facilities and dedicated staff to take care of your entire supply chain operations, you'll have a huge load taken off your hands.
This way, you'll be able to focus on providing an excellent quality service to your customers while scaling your business without worrying that you won't be able to handle the growth.
Lack of Supply Chain Expertise
Another solid reason to outsource order fulfillment to a 3PL is the lack of supply chain expertise.
Order fulfillment, shipping, and overall distribution are a game of technicalities and advanced logistics. And while you may get away with a lack of distribution knowledge in the beginning stages of your eCommerce business, there will come a time when it'll hold you back from expanding.
That's why entrusting your supply chain operations to a professional 3PL provider is a wise choice, especially if you want to keep scaling your eCommerce business.
Lack of Warehousing Space or Qualified Staff
The main issue many eCommerce businesses run into as they grow past their current plateau is the lack of warehousing space or qualified staff.
In some cases, hiring a 3PL may be more cost-effective in the long term than renting a bigger warehouse and hiring (and training) more staff.
With a 3PL, you simply won't have to go through the hassle of doing that. Plus, you'll end up with more time to focus on other business activities, as you won't have to worry about your fulfillment anymore.
Benefits of 3PLs
There are many advantages to third-party logistics providers.
For many eCommerce businesses, working with a 3PL has been the magic pill to grow and scale their business – which they wouldn't have been able to do otherwise due to limited warehousing space, insufficient picking and packing staff, or other issues with their supply chain operations.
So, what are the benefits of companies using a 3PL? Let's analyze a few of them.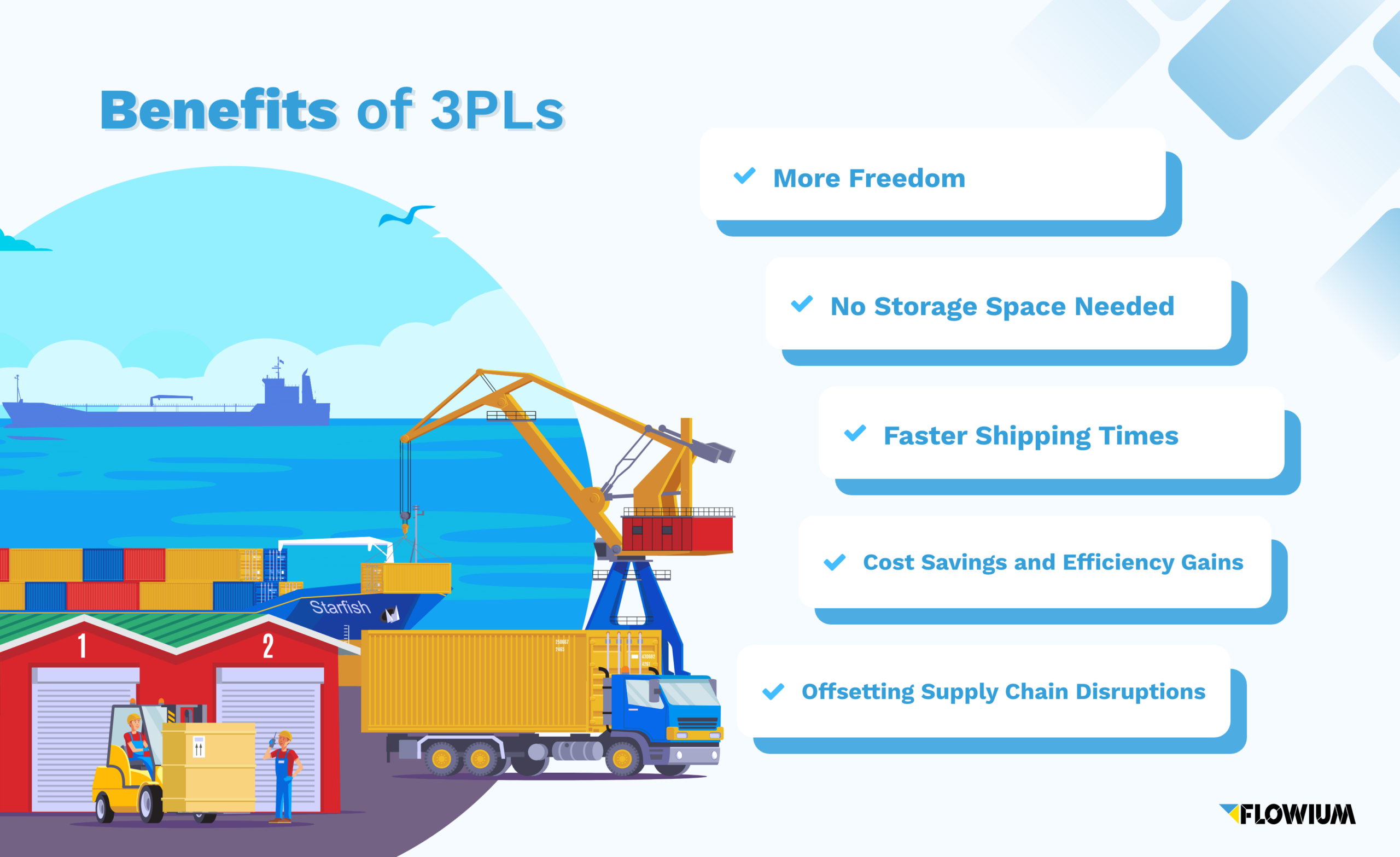 More Freedom
The most apparent benefit of using a third-party logistics (3PL) provider is that it frees up your time and resources.
Warehousing, picking, packing, shipping… All of these activities are time-consuming and require your undivided attention. By partnering with a 3PL provider, you can easily outsource that part of your business to an expert.
Without this load on your shoulders, you can focus on marketing, sales, customer service, and other vital aspects of running your business while your chosen 3PL handles the order fulfillment and shipping side of things.
No Storage Space Needed
Another huge issue for most eCommerce businesses is storage space. The 3PL takes care of warehousing, so you don't need to have your own. This means no more paying for extra space in a warehouse or paying for extra staff to manage inventory.
You also won't have to worry about outgrowing your current warehousing space because the 3PL will be responsible for handling that for you.
Faster Shipping Times
The 3PL takes responsibility for your product's entire journey from its point of origin to its destination.
To make this process as seamless as possible, they have access to both small and large carriers and can ship your products using the most efficient method possible.
This will often result in faster shipping times than if you were shipping directly from your own facilities.
Cost Savings and Efficiency Gains
Because 3PLs are experts in their field, they can help save time and money on operating costs while also boosting efficiency levels within your business.
This means that you'll be able to use those savings however you like — whether it be on hiring more staff members or expanding into new markets across the globe.
💡 If your business grows quickly or starts taking off unexpectedly (which is very common with eCommerce businesses), then a 3PL can scale up with you without any adverse effects on operations. This means no financial losses or having to freeze operations while you find a bigger warehousing space or hire new employees.
Offsetting Supply Chain Disruptions
Managing an eCommerce business is challenging enough without having to deal with disruptions in the supply chain.
Suppose an accident on the highway or inclement weather forces trains to stop running. In that case, it can throw off all sorts of things in your business — including shipping schedules and customer service inquiries.
A good 3PL will be able to handle these types of issues so that they don't affect your customers' experiences with your company.
3PL Services
A good 3PL should offer a variety of services to help you get your items from your factory to your customer's door. Here are the most important 3PL services.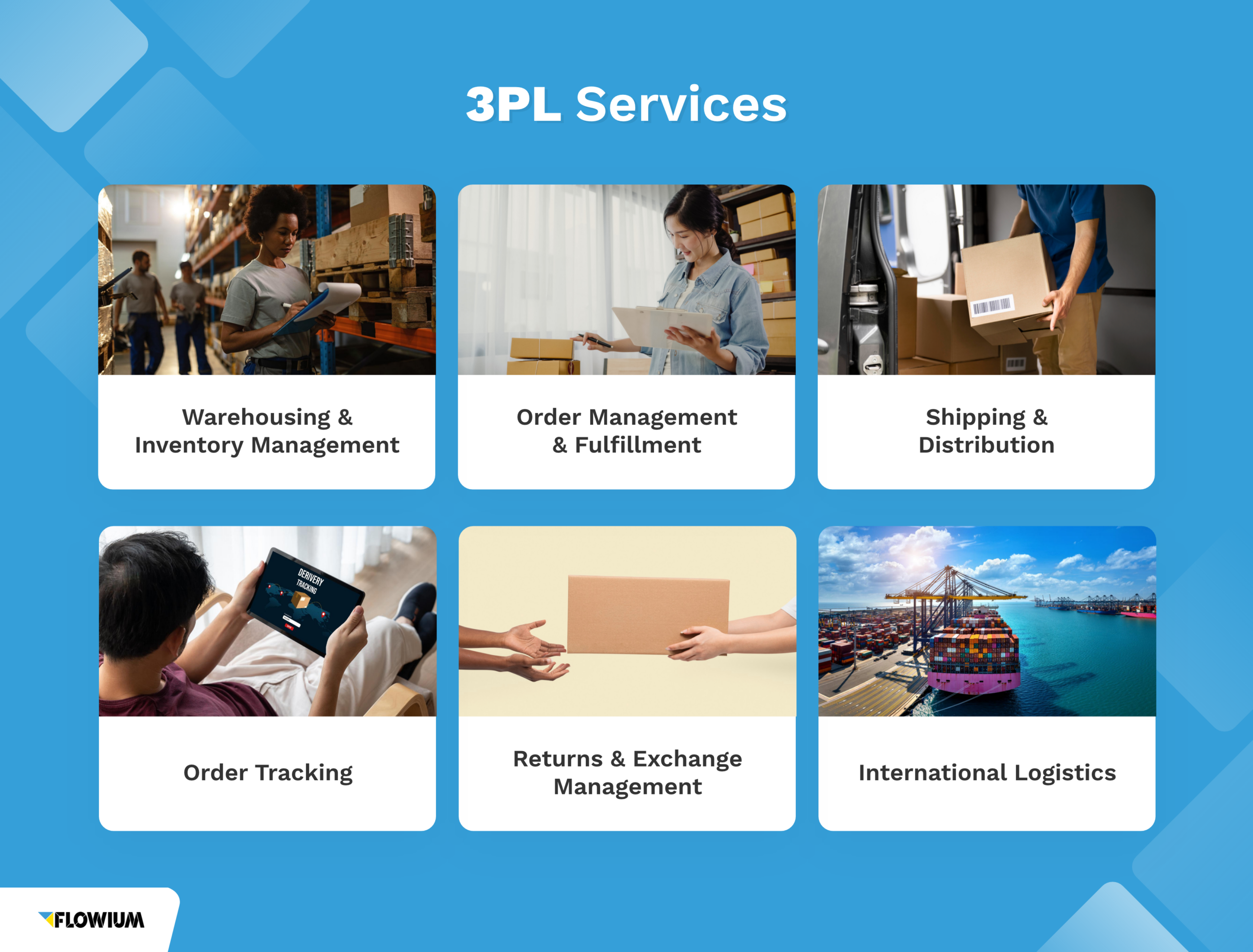 Warehousing & Inventory Management
Third-party logistics companies are experts at handling your inventory and storing goods. They have warehouses where they store the items you sell, usually strategically located across the globe.
If you ship internationally, a 3PL will store your items in a warehouse closest to your customer, which will help you cut shipping costs and times.
What's more, a 3PL will also help you with inventory management. 3PL companies have the knowledge and experience to handle all parts of the inventory management process and usually include inventory management software.
This can be especially helpful if you don't have enough room in your own warehouse or if you don't have enough employees to oversee inventory management tasks.
Order Management & Fulfillment
When you work with a 3PL provider, they will manage all your order processing and fulfillment needs. A 3PL will receive orders from customers, pick and pack your items, and ship them to your customer.
3PLs usually come with an advanced order management system (OMS), which includes analyzing sales trends, managing stock levels, managing inventory quantities based on seasonality, managing order quantities based on demand forecasts, managing lead times, and more.
Shipping & Distribution
Shipping refers to delivering goods ordered by customers to their desired location. The 3PL provider will use their network of carriers and facilities to deliver products to their final destination so that they arrive as quickly and safely as possible.
Logistics providers have access to warehouses nationwide where they can store products until they are needed for shipping, which can reduce transit times significantly compared with local warehousing options.
Order Tracking
Order tracking is a critical service for any eCommerce business. It allows you to keep track of your shipments and make sure that they arrive on time. It also lets you know where your shipment is, so if there are any problems, you can address them immediately.
Order tracking is available from most 3PL companies, and most offer it at no additional cost to customers. The only thing that could add to your cost of doing business would be if you decided to use an order tracking system that wasn't offered by your 3PL company.
Returns & Exchange Management
The fulfillment process doesn't end with shipping your products to your customer's door. That's why most 3PLs will also offer returns and exchange management.
If your customer isn't satisfied with the product and wants to return or exchange it, your 3PL will take care of everything from handing the reverse logistics to refunds.
International Logistics
If you're shipping internationally, a 3PL can help you handle all aspects of international logistics.
3PLs can help companies manage distribution across multiple locations by providing warehousing space across the globe or managing inventory levels at each location based on current sales forecasts.
This increases efficiency by minimizing inventory levels while ensuring that products are available when needed.
Types of 3PL
Now that you fully understand how 3PLs work and the services they provide, let's dive deeper into the different types of 3PLs.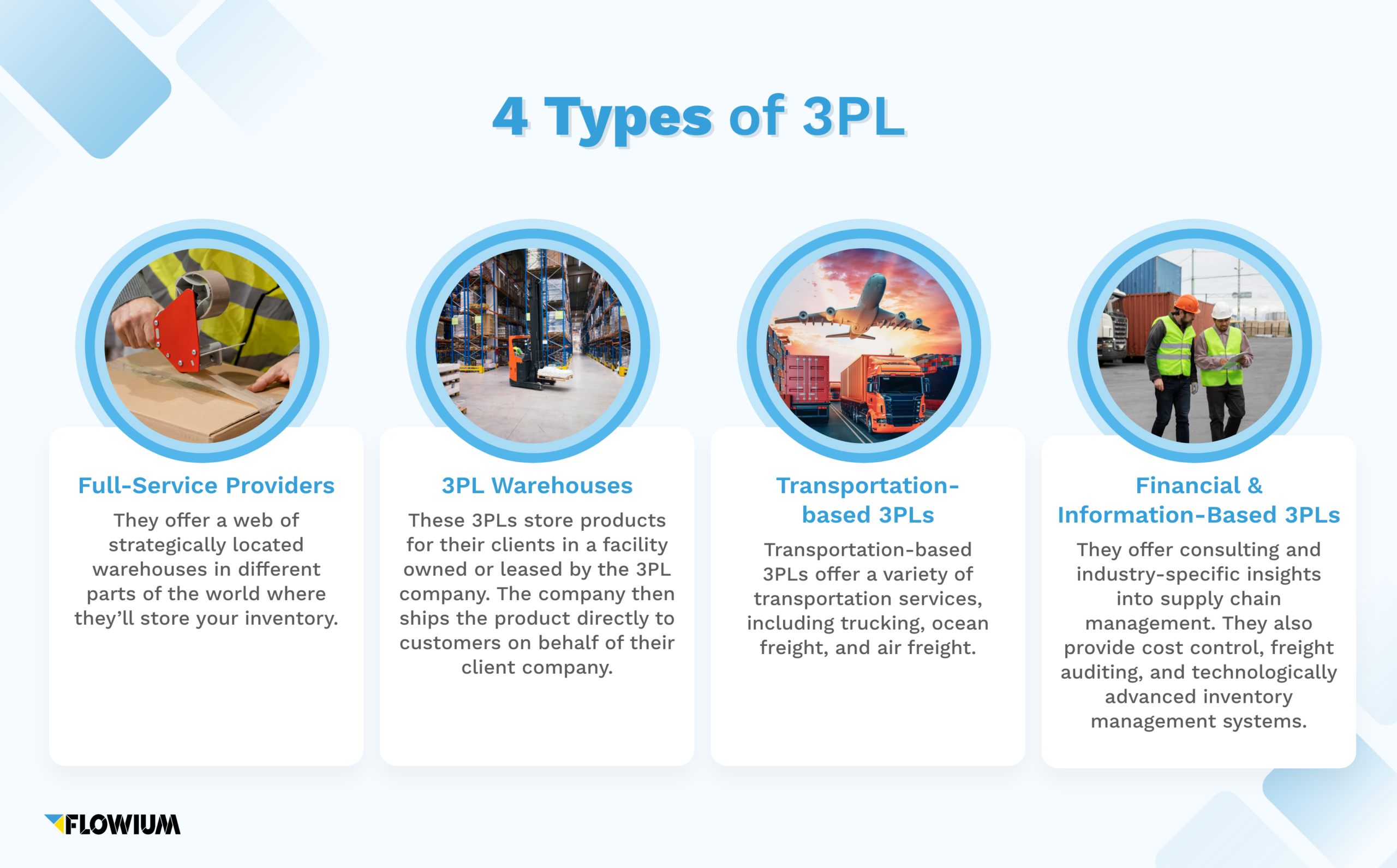 Full-Service Providers
If you're an eCommerce store that sells internationally with only a few warehouses located in your country of origin, your international shipping costs will be incredibly high.
Suppose you need to deliver your packages to customers on other continents. In that case, you will require multiple warehouses strategically spread out across the globe – so that you can ship your products from the warehouse closest to your customer.
This way, you'll be able to cut down on shipping costs and deliver the package to your customer's door much fast.
That's exactly what full-service 3PLs help you with. They offer a web of strategically located warehouses where they'll store your inventory.
3PL Warehouses
3PL warehouses are the most common type of 3PL. These 3PLs store products for their clients in a facility owned or leased by the 3PL company. The company then ships the product directly to customers on behalf of their client company.
Warehouses are usually located near major shipping hubs, so they can rapidly ship orders to customers anywhere in the world. They usually offer fast delivery services, like one-day or two-day shipping. This can significantly reduce shipping costs as well as delivery times.
Transportation-based 3PLs
Another type of 3PLs is transportation-based 3PLs. These 3PLs transport your items between your factory and your warehouses.
Transportation-based 3PLs offer a variety of transportation services, including trucking, ocean freight, and air freight.
Financial- & Information-Based 3PLs
As you grow your eCommerce business to over eight figures in revenue, your supply chain operations will become much more complex. That's when you'll need to consider hiring a financial- and information-based 3PL.
This is the most advanced 3PL. These third-party logistics providers offer something beyond what regular 3PL fulfillment providers do: they offer consulting and industry-specific insights into supply chain management so that you can handle even the most complex logistics.
They also provide cost control, freight auditing, and technologically advanced inventory management systems.
How to Choose a 3PL Provider
Choosing a 3PL provider can be daunting. There are so many options out there, and making the right choice requires an in-depth understanding of your business needs and expectations.
By choosing a 3PL provider, you trust an external party to deliver your products to your customer's door. And unless you have complete confidence that this process will be seamless and issue-free, you'll be on edge when hiring a 3PL.
That's why it's important to find a 3PL partner who can meet your specific requirements. Consider the following points to help you evaluate your potential partners' capabilities:
Shipping Volume
The amount of freight you send through a 3PL plays a major role in determining which type of partner is best suited for your business.
If you're shipping small quantities each week, then there's no need to invest in an expensive enterprise solution with dedicated account managers and other resources designed for high-volume shippers.
But if you ship thousands of packages weekly, it makes sense to work with a more advanced 3PL with experience dealing with businesses like yours.
Services
If you're looking for a full-service 3PL provider that can handle everything from inventory management to picking, packing, and labeling orders, then it might make sense for your company to go with an experienced outsourcer that offers those kinds of services.
If you only need packaging services or storage space at a distribution center (DC), then it could be more economical for you to go with a smaller 3PL provider that specializes in those areas alone.
Delivery Locations & Times
Delivery requirements are another factor that affects which type of provider is right for your business. Do you need next-day delivery within one city or region? Or do you require nationwide or global shipping?
A 3PL may be able to handle both types of shipping, but if they specialize in one area, they may be better suited for your needs.
Costs
Hiring a 3PL is a considerable investment, but one that's certainly worth it in the long run.
By outsourcing your logistics needs, you can eliminate some expenses — such as equipment maintenance and staff salaries — while reducing others, such as storage costs and fuel consumption.
The result? A leaner operation with more time and money for other business priorities.
However, when choosing your 3PL provider, make sure that you're taking into account all the add-ons that can increase your monthly costs.
It's important to choose a provider that fits your budget while also providing a good quality service – which often comes down to choosing the one that's most closely aligned with your business needs.
3PL Options to Look For
When it comes to third-party logistics (3PL) providers, there's a lot to consider. Apart from regular services such as inventory management, warehousing, and shipping, 3PLs offer a variety of additional services to help eCommerce businesses streamline their supply chain operations.
But with so many options, it can be difficult to determine which provider is right for you.
To help make the process easier, here are some additional services to look for in a 3PL provider.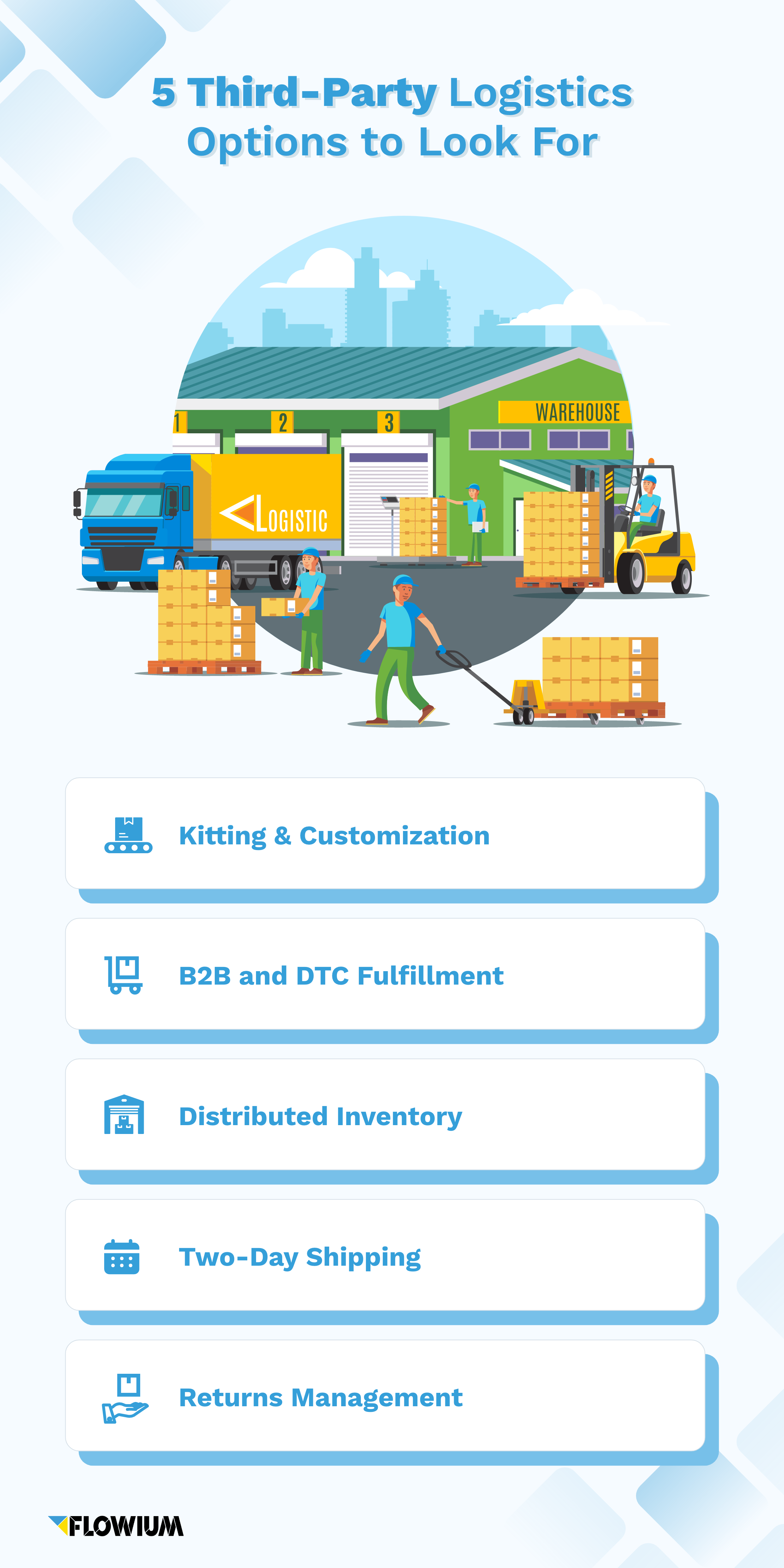 Kitting & Customization
Many 3PLs offer kitting and customization options that can help your company save time and money by packaging products for shipment or modifying packaging to meet specific requirements.
You may also want to look for a provider with custom labels, which allow you to brand your products and streamline your processes.
B2B and DTC Fulfillment
Business-to-business (B2B) fulfillment services are ideal if you sell products wholesale or through direct-to-consumer (DTC) channels like Amazon Prime or Walmart Marketplace.
These providers offer bulk shipping rates that can be cheaper than shipping directly from your facility, especially if you have multiple locations and need access to multiple carriers in multiple locations.
Distributed Inventory
If your business ships nationwide or internationally, you'll want to look at a distributed inventory model.
This means that your inventory will be stored at multiple locations across the country or even around the world so that your items can be shipped to your customer from the most optimal location.
3PLs that offer distributed inventory services provide advanced algorithms that determine where each item should be sent to optimize delivery times and costs.
One benefit of this is that it reduces shipping costs because less time is spent traveling from one location to another.
💡 A 3PL company with a network of warehouses across the country can help you avoid out-of-stock situations. This option is especially important for eCommerce businesses, which rely on fast delivery times to attract repeat customers.
Two-Day Shipping
Some 3PLs offer two-day shipping as part of their service offerings, which can be extremely useful if your business has customers who demand speed and efficiency from their suppliers or vendors.
With that said, most big eCommerce stores offer two-day shipping, or even next-day shipping, to their customers for a reason: they know that one of the biggest reasons why people abandon their carts at checkout is long delivery times.
So, if your business needs to guarantee fast delivery, look for a 3PL partner who offers this service. It's worth noting that not all 3PLs offer two-day delivery, and some may be able to offer it only at a higher cost than others.
Returns Management
While managing returns is an important part of the order fulfillment process, not all 3PLs offer it within their regular services. So, it's important to carefully pick a provider that does.
A good 3PL will provide a returns management service that allows you to quickly and efficiently process customer returns and refunds.
3PL Costs
The cost of using a 3PL provider will depend on your shipping volume and the type of service you need. Some providers will charge by weight, while others charge per pallet or container.
3PL Pricing Models
There are two main 3PL pricing models: the fixed pricing model (also called the flat rate model) and the variable pricing model. Let's explain them below.
Fixed Pricing Model 
This is the most common pricing model among 3PLs, and it typically includes an annual fee that covers all the services you need to run your supply chain.
Companies usually prefer this model because the price remains the same over time and is easily predictable.
However, the price includes all costs associated with using the 3PL provider's services – even if you use all of their services or just a few, you're paying for everything.
Variable Pricing Model 
The variable pricing model is a variation of the fixed pricing model, in which you only pay for the services you use. This model allows you to change your monthly usage levels based on the actual volume of goods shipped through the 3PL provider's services.
This is why smaller companies with low volumes often prefer the variable pricing model to don't want to pay a high fixed monthly fee. It also works best for companies with a highly variable demand that cannot be predicted far enough in advance.
3PL Cost Calculation
Are you wondering how much a 3PL costs? If you know your 3PL's fee for warehousing, picking, and packing, as well as your 3PL's cost per pallet, you can easily calculate your 3PL costs.
Let's assume that your 3PL charges the following fees:
Storage fee per pallet: $2.50 per week
Pick & pack fee: $0.40 per unit capped at $1.20 per order
Receiving fee per unit: $0.25
And you've got the following numbers:
Number of pallets: 10 
Number of orders per month: 500 
Number of units per month: 1,500 
Therefore, your total 3PL costs will be as follows:
Total storage fee = Number of pallets x storage fee per pallet 
Total storage fee = 10 x $2.50 x 4 = $100 
Total pick & pack fee = (number of orders per month x pick & pack fee per order) + (number of units per month x pick & pack fee per unit)
Total pick & pack fee = (500 x $1.20) + (1,500 x $0.40) = $600 + $600 = $1,200 
Total receiving fee = number of units received every month x receiving fee per unit
Total receiving fee = 1,500 x $0.25 = $375 
Total monthly fee = total storage fee + total pick & pack fee  + total receiving fee
Total monthly fee =  $100 + $1,200 + $375 = $1,675
TOTAL FEE PER ORDER = Total Monthly Fee ÷ Number of Orders Per Month
Total fee per order = $1,675 $50 = $33.5
In this example (and assuming that you chose the fixed pricing model), you'd pay $1,675 in 3PL costs each month.
Average 3PL Costs
To give you an idea of how much a 3PL costs, here are the average 3PL fees:
3PL warehouses storage costs:

Per pallet: Between $5 to $15
Per cubic foot: Between $0.30 to $0.50
Per storage bin for smaller items: Between $1 to $2.50

3PL cost per pallet:

Storage: Between $5 to $15 per month
Receiving: Between $5 to $15 per month

3PL picking & packing costs: Typically, less than $3 for B2C customers and an average of $3.75 for B2B customers
3PL receiving costs:

Per hour: Between $20 to $50
Per pallet: Between $5 to $15
Per unit: $0.25

3PL shipping costs may vary, because they're typically calculated depending on the weight and size of your packages
3PL label printing costs: $0.10 per shipment
3PL return costs: Between $1 and $3.50 per package
Top 3PL Companies
3PLs are companies that provide a variety of logistics services, including transportation, distribution, and storage. The top 3PLs are considered the leaders in their industry, offering high-quality service and innovative solutions to their clients.
The following are some of the top 3PL companies, in no particular order:
DHL Supply Chain and Global Forwarding
Kuehne + Nagel
DB Schenker
Shopify Fulfillment Network
FedEx Supply Chain
C.H. Robinson
UPS Supply Chain Solutions
XPO Logistics
ShipBob
 Rakuten Logistics
Third-Party Logistics Software
3PL software is an important tool in the supply chain logistics process. It allows companies to manage their supply chain and perform tasks like inventory management, shipping and tracking, and customer service.
This means that you'll be able to keep up with orders as they come in and make sure they're delivered on time.
The best 3PL software will also allow you to manage your business more effectively by giving you access to all the data in one place.
Here are some of the best 3PL software:
Enterprise WMS/Interchange EDI Software
Da Vince Supply Chain Business Suite
ShipHero
CartonCloud
Latitude WMS
NetSuite
Shipedge
SnapFulfill WMS
Cadence WMS
TPSynergy
FAQs
What does 3PL mean in shipping?
3PLs are third-party logistics providers that manage the operations of an entire supply chain. A 3PL specializes in transporting goods from place to place, managing inventory and warehousing, and providing other services related to moving goods from one location to another.
How to find a 3PL warehouse?
The first step in finding a 3PL is to determine your needs. You need to ask yourself what the business needs regarding warehousing and distribution capabilities, how much space you want to rent, and at what cost. The second step is researching your options and finding the best fit for your business.
What companies use a 3PL?
3PL are used by small and medium-sized eCommerce stores as well as huge eCommerce businesses. In fact, research by Armstrong and Associates found that 90% of Fortune 500 companies use a 3PL.