In the fast-paced and ever-changing eCommerce industry, you need to be one step ahead of your competition at all times.
In order to succeed with your eCommerce business, it's not enough to sell amazing products and have an intuitive, user-friendly store interface that invites your potential customers to shop with you.
Apart from that, the key to standing out from competitors lies in seemingly unimportant details, such as your packaging and shipping.
In fact, the first impression your potential customers have of your brand is through the quality of its shipping. And that's where fulfillment services come in.
eCommerce fulfillment is the process of picking, packing, and shipping your customers' orders. It's a vital part of running an online store. When done well, it can save you a lot of money on shipping costs and increase customer satisfaction by ensuring that their orders arrive quickly and efficiently.
However, when it comes to eCommerce order fulfillment services, it can be tough to choose the best service for your business. This guide will help you explore the 9 best eCommerce fulfillment services to help you grow your eCommerce business.
What is an eCommerce Fulfillment Center?
Many small eCommerce store owners use a shipping service but choose to pick and pack their customers' orders themselves.
As long as you're not drowning in orders and like to provide that extra personal touch, it can work for you to do it on your own. However, as the number of orders you receive grows, you'll eventually need to outsource that part of the process.
That's where eCommerce order fulfillment services come into play. An eCommerce fulfillment center is a warehouse where goods are stored, packed, and shipped. 
A fulfillment center might be owned by the company selling the products, or it could be a rented space in a warehouse owned by a third party.
Especially for bigger eCommerce businesses, optimizing the fulfillment process is extremely important to stay on top of all the orders.
Allowing a dedicated fulfillment center to take care of picking, packing, and shipping your orders can help you take the load off your shoulders.
And most of all, it can help you avoid potential mistakes and delays due to a high number of orders that you simply cannot handle!
What Does a Fulfillment Company Do?
When a business sells products online, it needs to ensure that the orders are fulfilled quickly, accurately, and with a high level of customer service. The fulfillment service is the link between your eCommerce storefront and your customers.
The third-party fulfillment company receives the order, packages the product, and ships it to the customer. It also handles returns and issues refunds if necessary.
The company may also be responsible for warehousing inventory, which means storing products until they are ready to be shipped out. Some companies offer additional services such as drop shipping or product assembly for oversized items such as furniture or appliances.
💡 In other words, an eCommerce fulfillment company is a type of warehouse that stores the inventory, sorts it, prepares the orders, and ships them out to customers.
5 Benefits of Using an eCommerce Fulfillment Service
The benefits of using eCommerce order fulfillment services are numerous. The best thing about using this type of service is that it allows companies to focus on what matters most: selling their products.
It takes away all of the stress and hassle associated with having to deal with packaging, inventory management, and shipping issues, allowing them to focus on what really matters – improving sales and increasing profits!
Let's take a look at the main benefits of using an eCommerce fulfillment service to take care of picking, packing, and shipping your orders.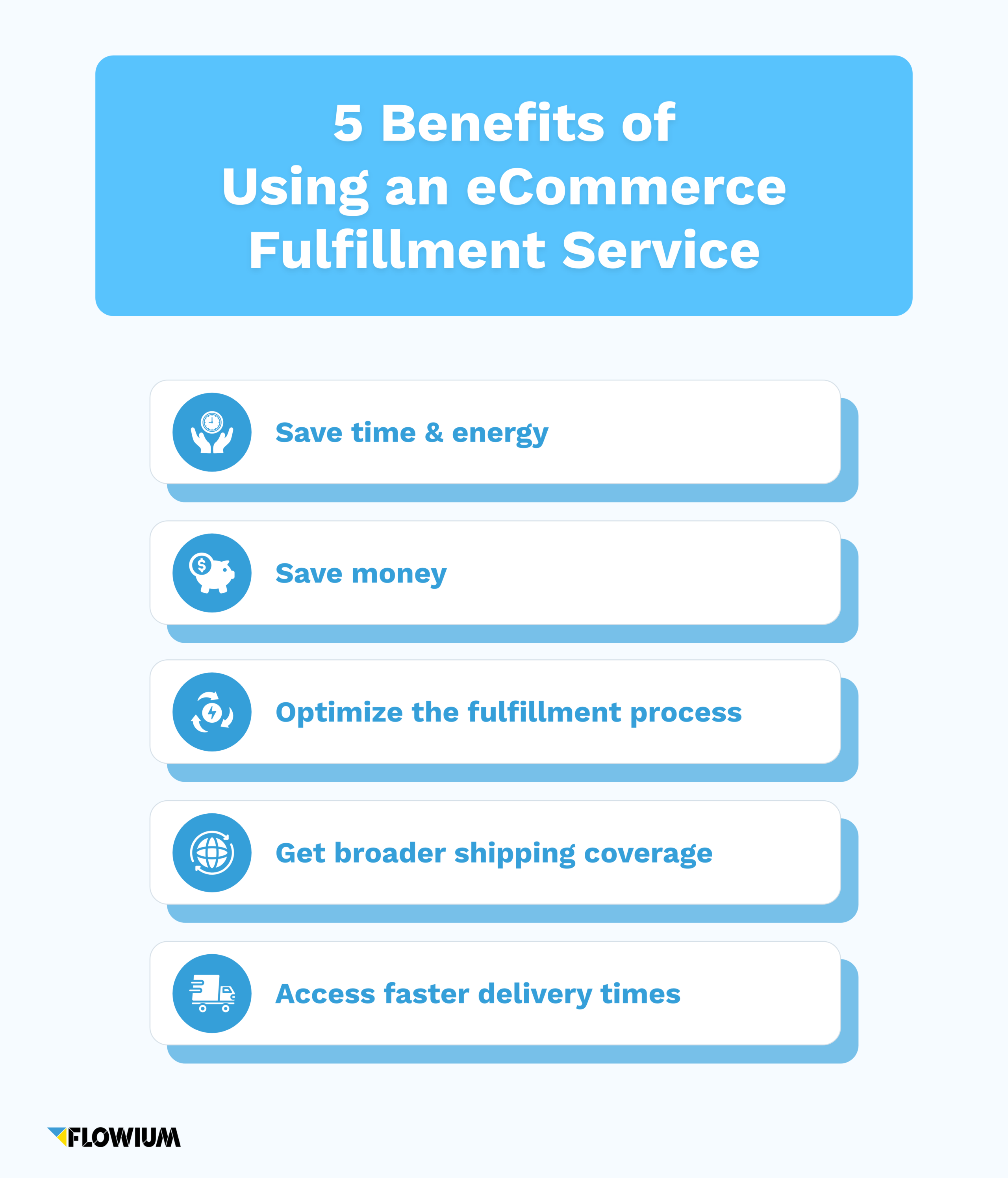 Save time & energy
If you're running an eCommerce business, you know how much time it takes to manage inventory, process orders, and prepare them for shipping.
You also know how difficult it is to grow your business when you constantly spend time on these tasks instead of focusing on marketing and customer service.
The best way to save time as an eCommerce store owner is by outsourcing some of these responsibilities.
💡 eCommerce fulfillment companies offer a range of services that allow you to spend less time on these tasks, freeing up your time so you can focus on expanding your business and performing core business operations, such as marketing your products.
Save money
Another big benefit of using an eCommerce fulfillment service is that it can help you save money. The best eCommerce fulfillment companies will help reduce your costs in several ways.
Most eCommerce fulfillment services offer affordable rates, allowing you to free your time and outsource the fulfillment process without breaking the bank. They also provide discounted rates for bulk shipments or large volumes of orders.
Optimize the fulfillment process
Preparing a large volume of orders and shipping a lot of packages can be exhausting — especially if you're doing it yourself.
A good eCommerce fulfillment company will ensure that your packages are prepared and shipped efficiently and professionally, saving you from having to worry about logistics every day.
They'll also help you save energy and optimize the fulfillment process by taking care of packing orders or managing inventory levels for multiple warehouses.
eCommerce fulfillment companies have the experience, technology, and network to get your products out the door quickly, efficiently, and cost-effectively.
These companies know which carriers are best for each order based on location, weight, and other factors. They also have their own warehouses or use third-party warehouses designed specifically to handle eCommerce orders.
💡 Having a professional service take care of your fulfillment processes can help you avoid potential issues and have someone solve them quickly and efficiently if they ever arise.
Get broader shipping coverage
If you have a small eCommerce business and are just starting out, you may not have the infrastructure and resources yet to offer delivery services to every corner of the country or internationally. An eCommerce fulfillment company can provide this for you at affordable rates.
With a dedicated eCommerce fulfillment service, however, you can expand your global reach by offering shipping to many different locations.
This will help you reach more customers and go international instead of focusing on your local market because you don't have the resources to expand.
Access faster delivery times
The primary benefit of using an eCommerce fulfillment service is that it allows you to ship orders faster than you could if you were shipping them yourself.
When you use an eCommerce fulfillment service, they will handle all aspects of your order processing, including warehousing and shipping. Plus, they often offer same-day or next-day delivery at more affordable rates.
This means that your customers can choose to get their orders faster. Not only will this increase customer satisfaction, but it will also help build brand loyalty.
Best eCommerce Fulfillment Services
As an eCommerce seller, you know that fulfillment is the key to your business. You need a reliable and trustworthy provider that can handle your product orders and ship them out in a timely manner.
There are many companies that offer eCommerce fulfillment services. Here's a list of the best eCommerce fulfillment services.
1. Fulfillment by Amazon (FBA)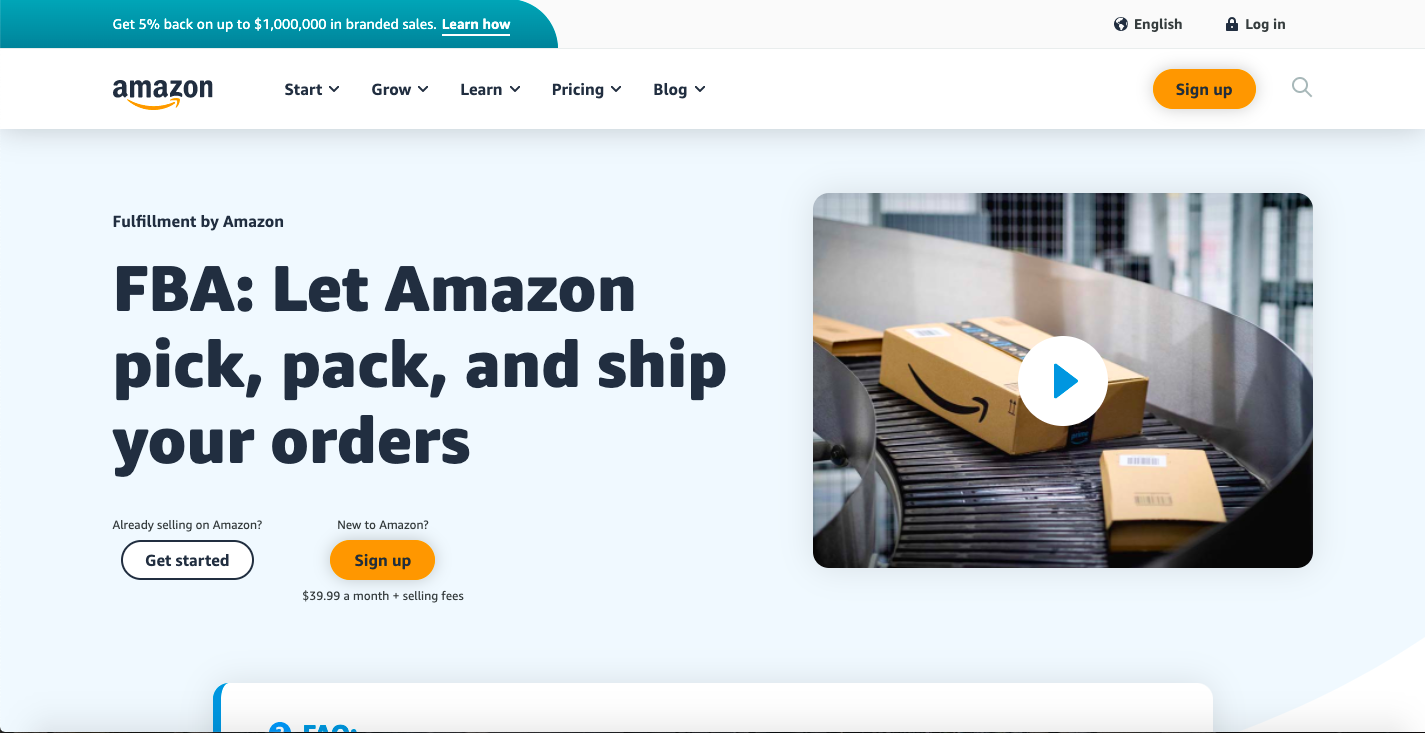 Fulfillment by Amazon (FBA) is a service of Amazon that allows third-party sellers to store their products in Amazon fulfillment centers and manage their orders from those locations.
Through an FBA seller account on the Amazon website, sellers can send inventory to one or more Amazon fulfillment centers and then use those locations to fulfill customer orders they've received through Amazon or a third-party marketplace, such as Shopify, Magento, or WooCommerce.
This fulfillment service is ideal for businesses that sell smaller items, as its fees are determined by size and weight. It may also be for you if you sell across multiple channels.
Features: 
Order processing and fulfillment
Inventory management
Returns management
Pros: 
Strong brand reputation
Product protection
Multichannel options
Amazon's New Seller incentives
Products eligible for Amazon Prime 2-Day Shipping
Cost-effective
Cons:
Branding limitations
Increased returns
Lack of control when it comes to inventory organization
2. ShipBob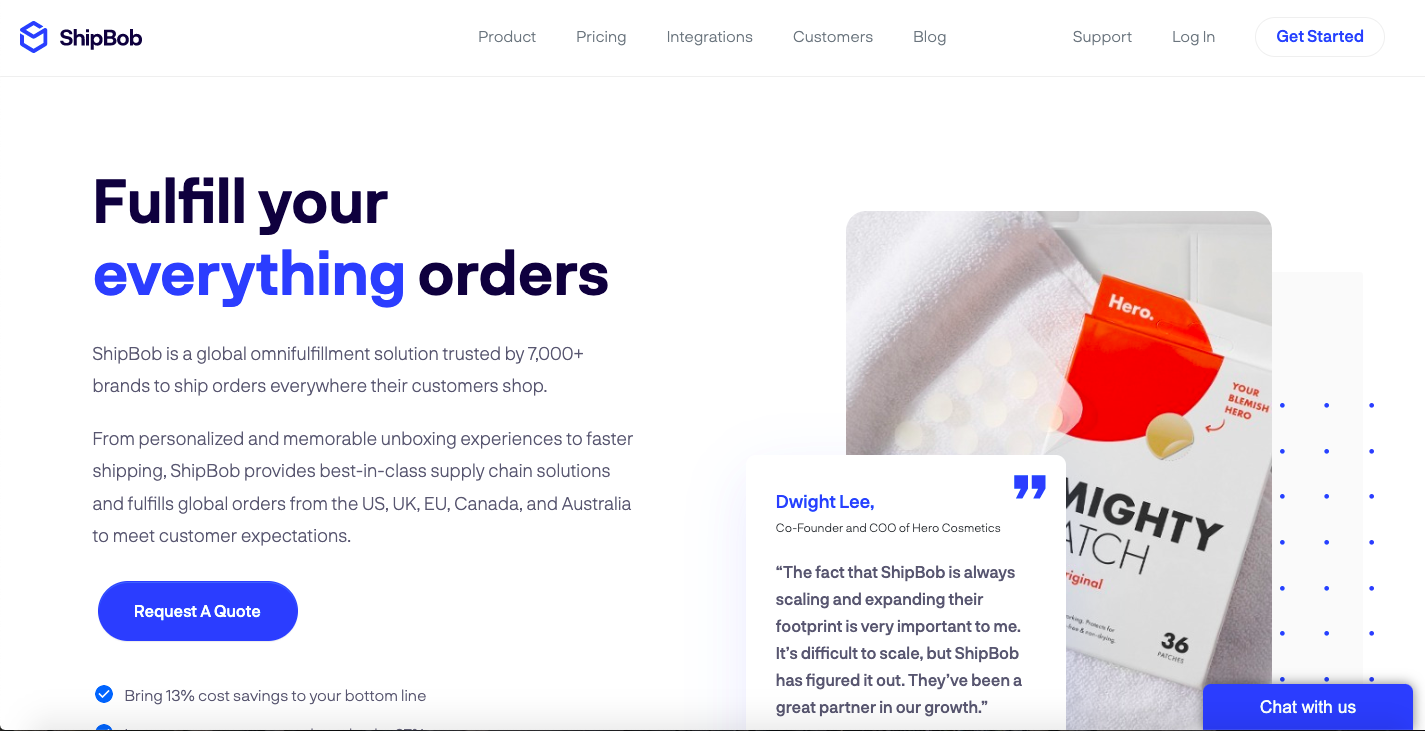 ShipBob is one of the most popular fulfillment services for eCommerce companies and is an excellent option for eCommerce sellers looking to save money on fulfillment.
ShipBob also provides key features, such as order management, inventory management, and returns management, allowing eCommerce merchants to focus on growing their business instead of handling inventory and shipping.
Features:
Order management and fulfillment
Fulfillment platform
B2B fulfillment
Inventory management
Reporting and analytics
Pros:
Good shipping rates adjusted to your business needs
Provides a variety of key features that will save you time and effort
Provides excellent customer service support
Easy to use for eCommerce sellers of all levels
Integrates with major eCommerce platforms
Global reach
Cons:
Only handles order fulfillment from the US, UK, Europe, and Australia
3. Fulfillment.com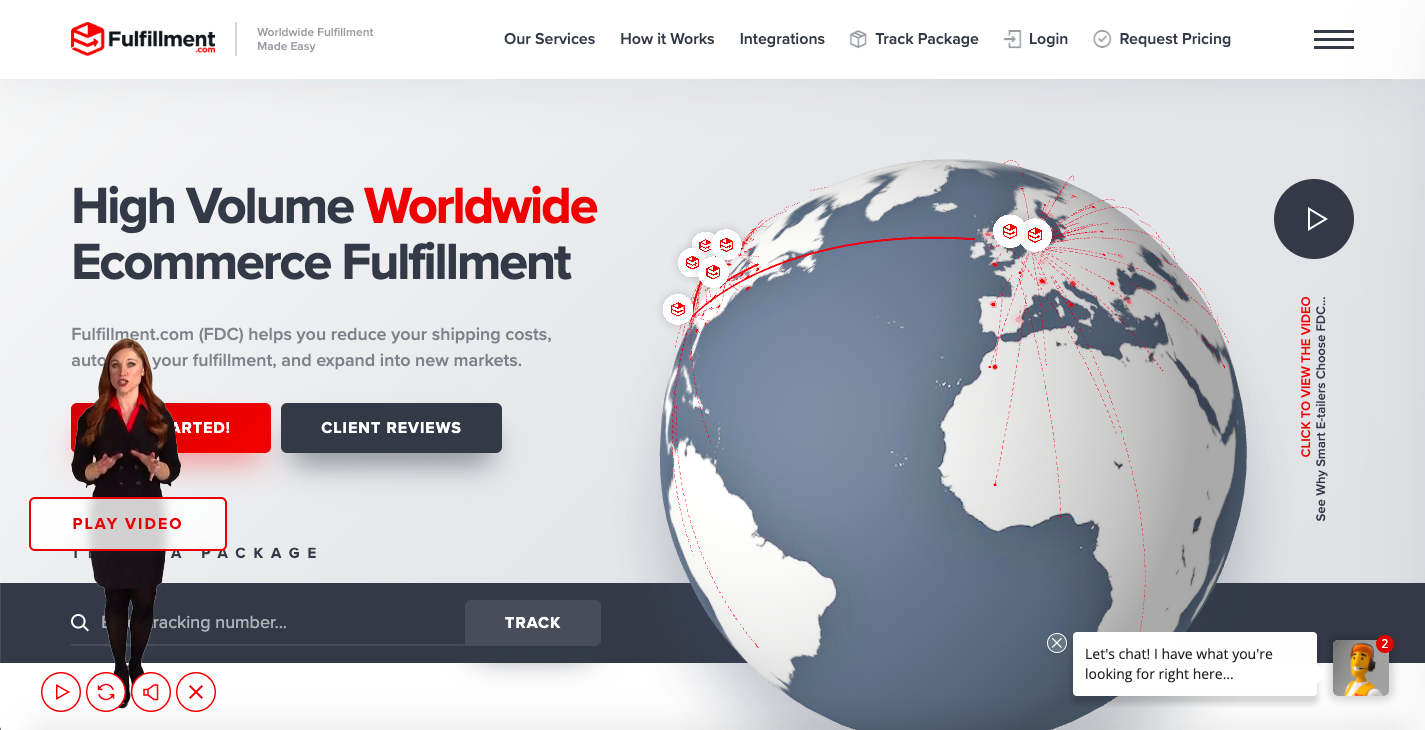 Fulfillment.com is a cloud-based fulfillment platform that helps business from all around the world fulfills their orders.
It provides all the features you need to optimize your order fulfillment processes and ship your order without worrying about logistics every single time.
Fulfillment.com is a highly effective fulfillment service designed for seasoned eCommerce sellers.
If you're new to eCommerce, it may not be for you. However, if you're looking for a professional and elaborate eCommerce fulfillment service to handle considerable amounts of orders, this platform might be the right one for you.
Features: 
Order management and fulfillment
Order tracking
Returns management
Inventory management
Product manufacturing
Pros:
Worldwide fulfillment with warehouses places strategically around the globe
Cloud-based order management platform
Single dashboard to manage multiple inventories
Offer Product On Demand (POD) options
Fully integrates with all major eCommerce platforms
Affordable pricing plans
Cons
Not suitable for new eCommerce sellers
4. WhiteBox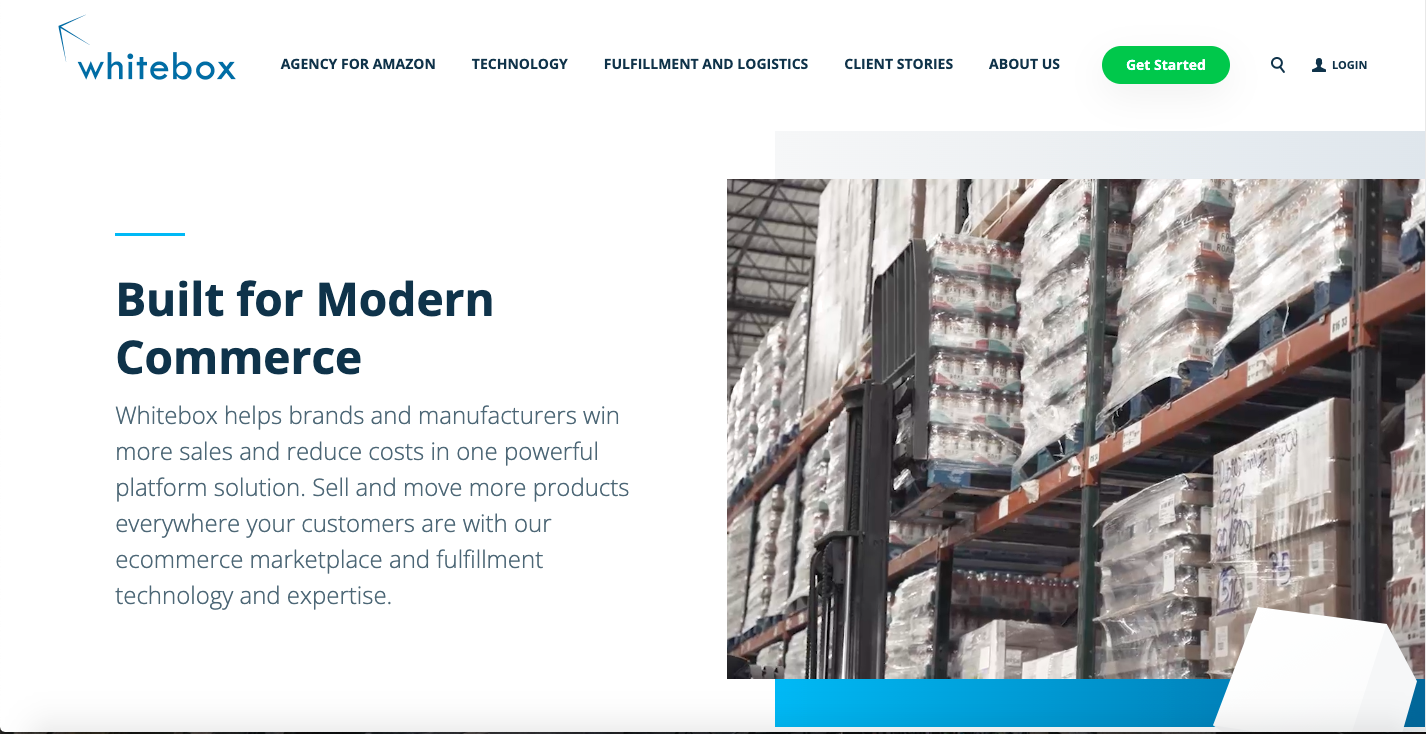 Whitebox is a unique eCommerce fulfillment platform that helps brands sell more products online. Whitebox gives eCommerce sellers the necessary tools for managing their products across all channels, including marketplaces like Amazon and eBay.
It also lets eCommerce store owners take advantage of white-label logistics with a national fulfillment network and reduce costs using their optimization engine.
This eCommerce fulfillment service is ideal for new eCommerce sellers and those looking to scale their eCommerce business.
Features: 
Order management
Marketplace management
Listings optimization
Warehousing and fulfillment
Insights and analytics
Returns management
Pros:
An all-in-one platform that combines fulfillment and shipping solutions
Omnichannel fulfillment services
Quality control system
Upfront, affordable costs, and no hidden fees
Strategically places warehouses
Great customer support
Cons
Doesn't cater to big eCommerce businesses
Doesn't cater to B2B businesses
5. ShipMonk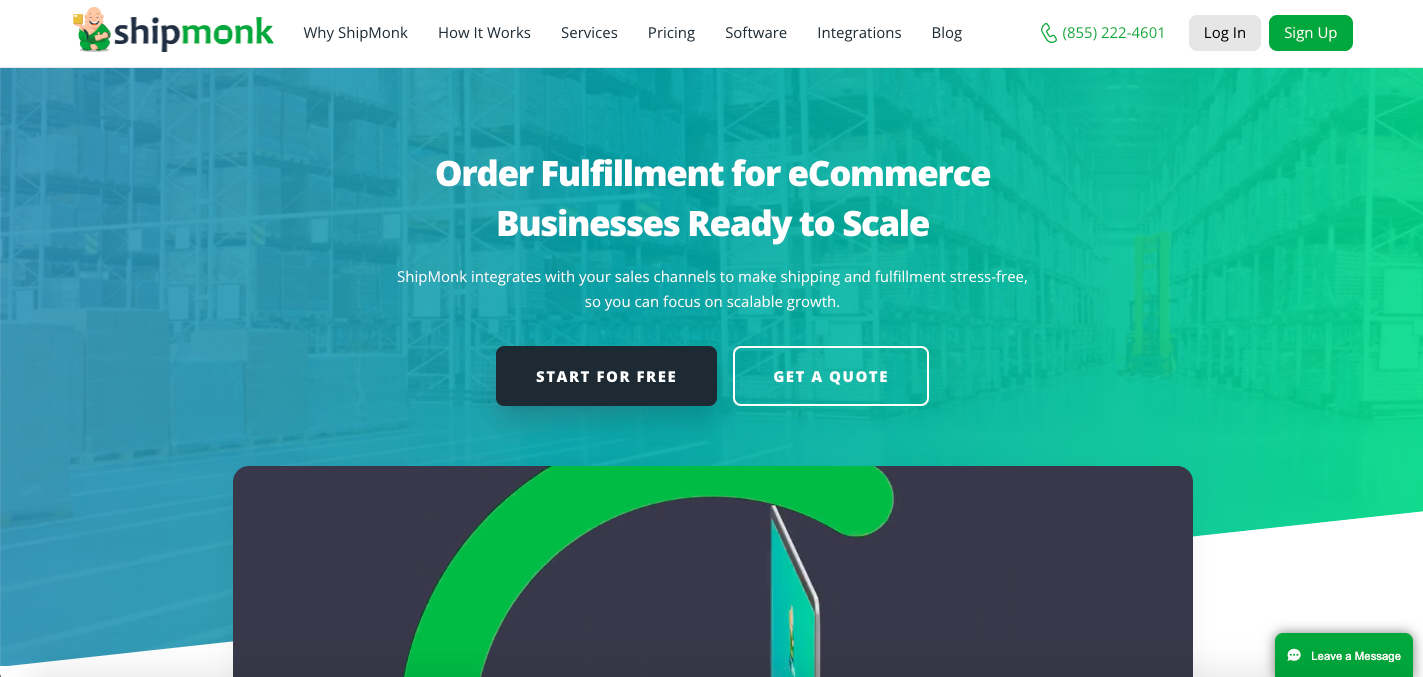 ShipMonk is another position on this list of fulfillment companies for eCommerce. It's a cloud-based order management software that integrates with all of the major eCommerce platforms.
ShipMonk aims to make shipping and fulfillment stress-free for new and seasoned eCommerce sellers.
One of the major benefits of ShipMonk is its intuitive order management platform that offers a hands-on experience. Built for scale, ShipMonk works seamlessly with major eCommerce platforms – including Amazon!
Features: 
Order management
Inventory management
Shipping management
Warehouse management
Multichannel 3PL fulfillment
Retail fulfillment
Subscription box fulfillment
Crowdfunding fulfillment
FBA prep services
Pros:
Integrates with major eCommerce platforms
Integrates with Fulfillment by Amazon (FBA) and allows you to take advantage of your Amazon Prime seller status
Omnichannel solution that streamlines your fulfillment operations
4-in-1 cloud-based solutions
Strategically located warehouses
Excellent customer support
No setup fees
No order minimum
Cons
Complex to use for beginners
No warehouses in Europe (yet)
6. Fulfillify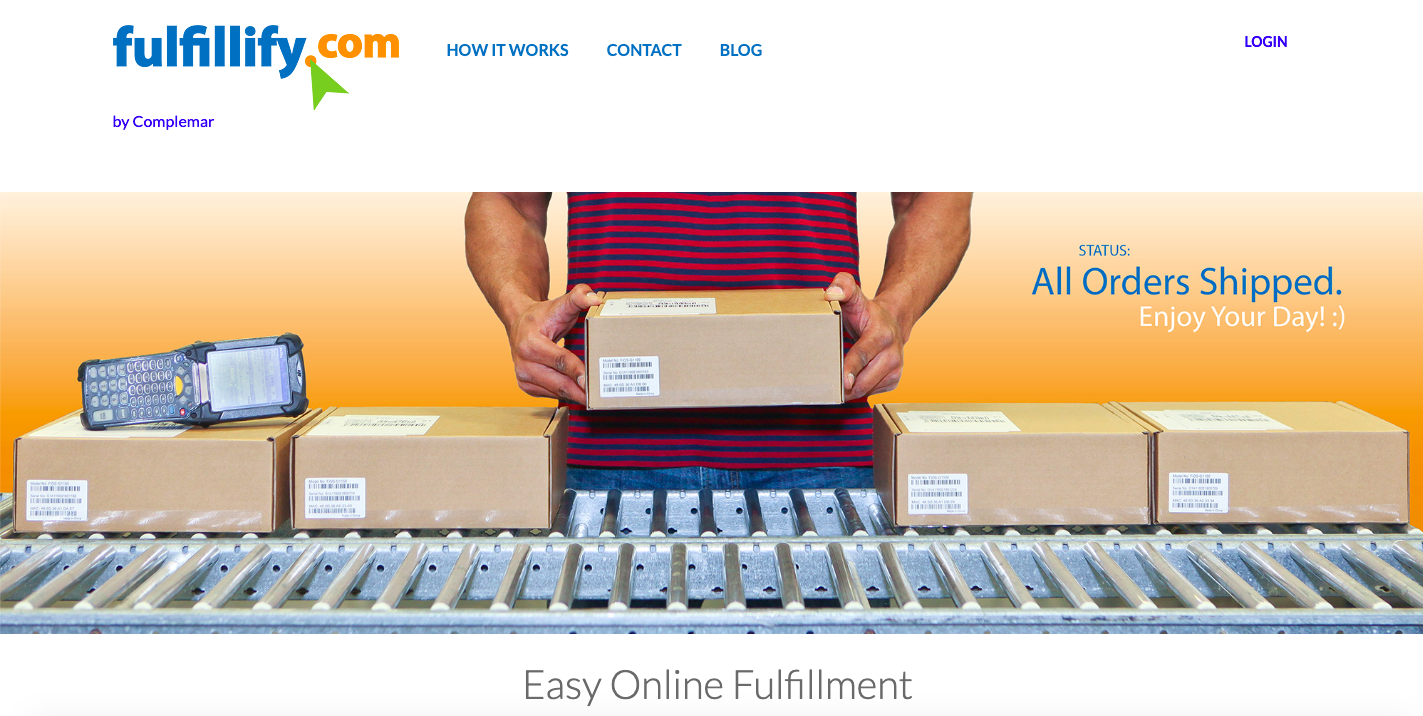 Fulfillify is a company that specializes in shipping products for eCommerce businesses of all sizes. They offer a simple yet powerful software that is easy to use and provides real-time inventory and product information.
When it comes to shipping, Fulfillify offers same-day pick, pack, and ship service and works with major shipping carriers, such as UPS, FedEx, and USPS.
Features: 
Order processing and fulfillment
Cart integration
Inventory management
Reporting and insights
Web-based platform
Pros:
Simple, easy-to-use software
Real-time view of inventory, products, and orders from any device
Cooperates with major shipping carriers
Integrates will all major eCommerce platforms
Nationwide shipping (USA)
Cons
Doesn't provide global shipping
Not suitable for big eCommerce businesses
7. Rakuten Super Logistics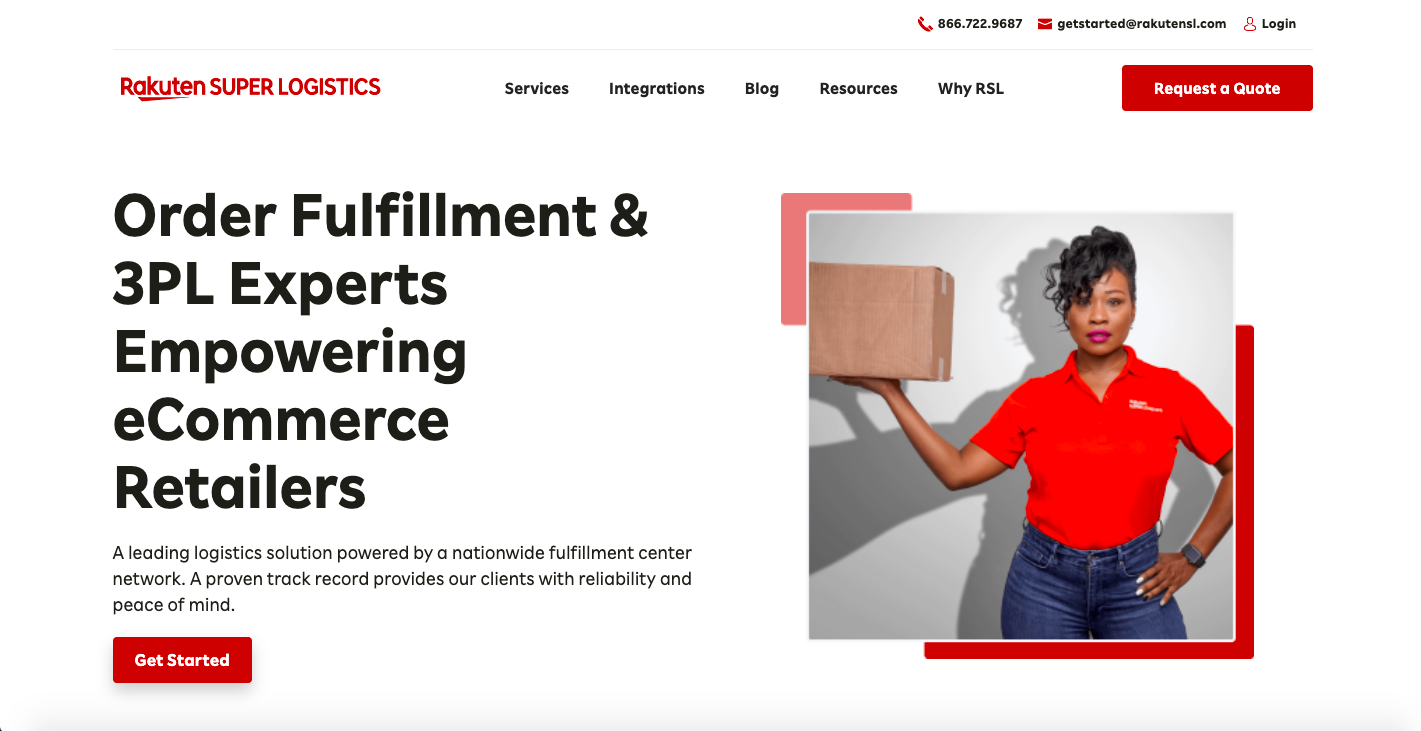 Rakuten Super Logistics is the leading provider of eCommerce fulfillment and logistics services for online retailers across the US. As an end-to-end solution, they offer order fulfillment, returns processing, and many more advanced features to help eCommerce retailers grow their businesses.
This fulfillment company caters mainly to big enterprises and handles everything from picking, packing, and shipping to marketing.
If you're a small eCommerce business, Rakuten might not be for you, but it's undoubtedly an excellent solution for those who are handling big numbers of orders every day.
Features: 
Order fulfillment
Xparcel
Product kitting
Returns management
Subscription boxes
Freight
Lot tracking
Temperature control
Pros:
Works with the major shipping carriers, such as DHL, USPS, and UPS
Integrates with all major eCommerce platforms, such as Shopify, Amazon, eBay, and BigCommerce
A network of strategically located warehouses around the US
Committed to providing sustainable solutions
Cons
No pricing information on the website
8. ShipHero Fulfillment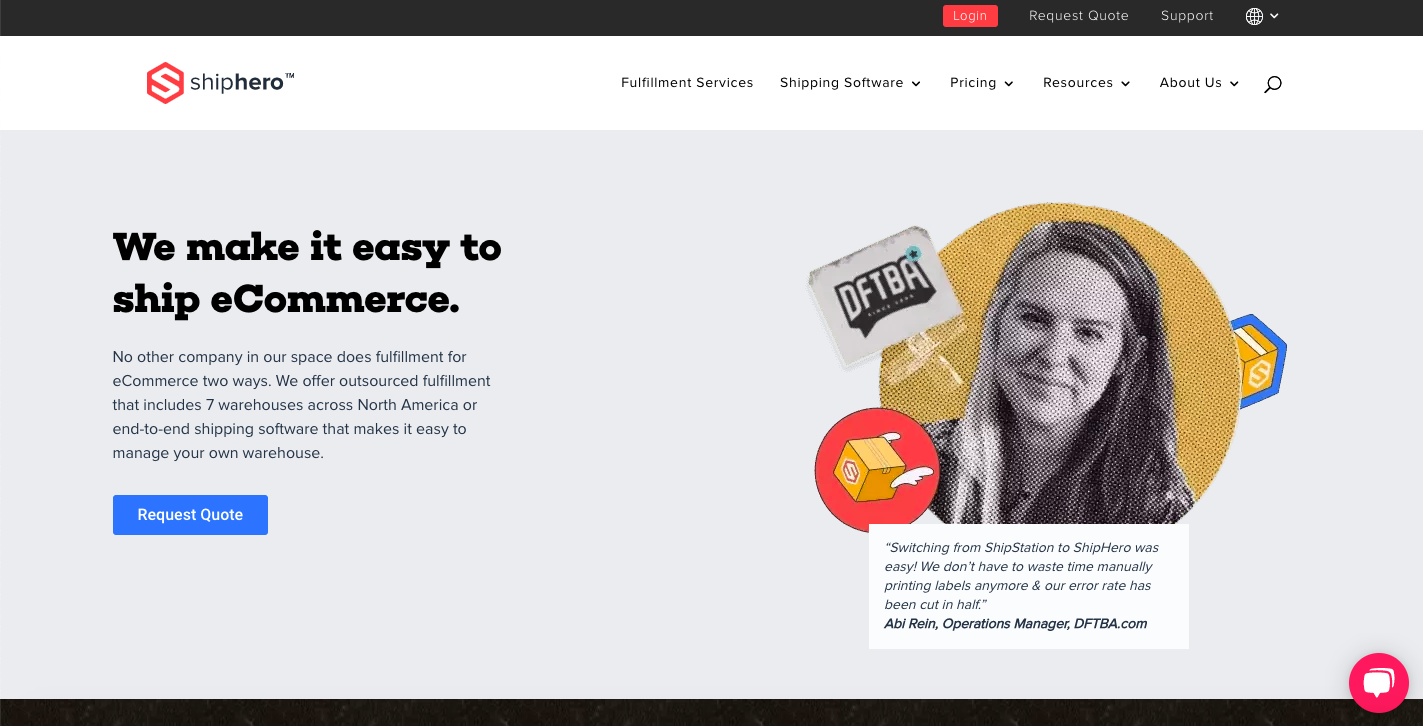 ShipHero is a full-service eCommerce fulfillment solution with 7 warehouses strategically placed across North America.
This fulfillment company caters mainly to small and medium-sized eCommerce businesses and provides order fulfillment services at competitive rates designed to help eCommerce retailers grow their businesses.
Apart from the outsourced fulfillment services, what makes ShipHero different from other fulfillment companies is its end-to-end shipping software that provides everything you need to ship orders faster, including inventory management and shipping rates shopping.
Features: 
Order fulfillment
Inventory management
Returns management
Shipping rates shopping
Reporting
End-to-end shipping software
Order tracking thanks to integration with PostHero
In-package snapshots
Live chat support
Pros:
7 warehouses placed strategically in North America
Easy to use shipping software
Integrates with major eCommerce platforms, such as Shopify, WooCommerce, and Amazon
Cons
Having to switch between two dashboards
Dashboard can be confusing
9. Red Stag Fulfillment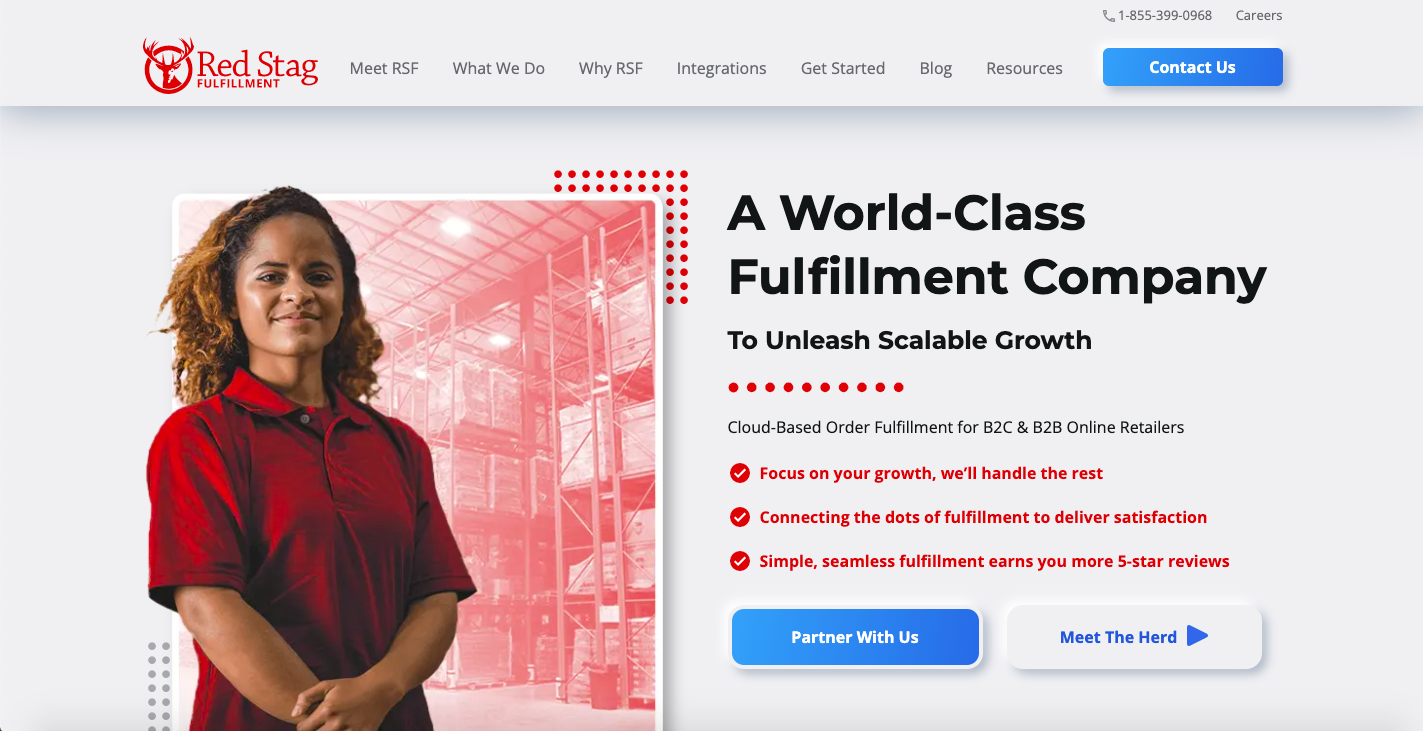 Red Stag Fulfillment is one of the industry's leading providers of order fulfillment services for small and midsized eCommerce businesses. They offer a same-day fulfillment guarantee and 100% order accuracy, providing eCommerce businesses with excellent shipping speed and flexibility.
What makes Red Stag different from other fulfillment services is that they focus on providing fulfillment services for items requiring special handling.
So, if your eCommerce store sells oversized, heavy, fragile, or high-value products that are particularly demanding when it comes to the fulfillment process, then Red Stag is probably the best choice for you.
Features: 
Order fulfillment
Omnichannel fulfillment
Inventory management
Warehouse management
Kitting and assembly
Returns management
Pick and pack fulfillment
Pros:
Proven 100% inventory accuracy
Proven 100% order accuracy
Same-day fulfillment
Integrations with major eCommerce platforms, such as Shopify, WooCommerce, and Magento
Voted Top 3PL Provider of 2022 (five years in a row)
Voted Best Fulfillment Service of 2022 (seven years in a row)
Cons
Only two warehouses in the US
No international fulfillment centers
Dashboard is not user-friendly and can be confusing
Is an eCommerce Fulfillment Service Right For You? Things to Consider
It can be challenging to choose the right eCommerce fulfillment company. There are many options out there, and they all offer different types of services at various price points.
So, before you start looking for the best eCommerce fulfillment company for your business, you first need to know what you're looking for.
Here are some important factors you should consider to help you make the most informed choice.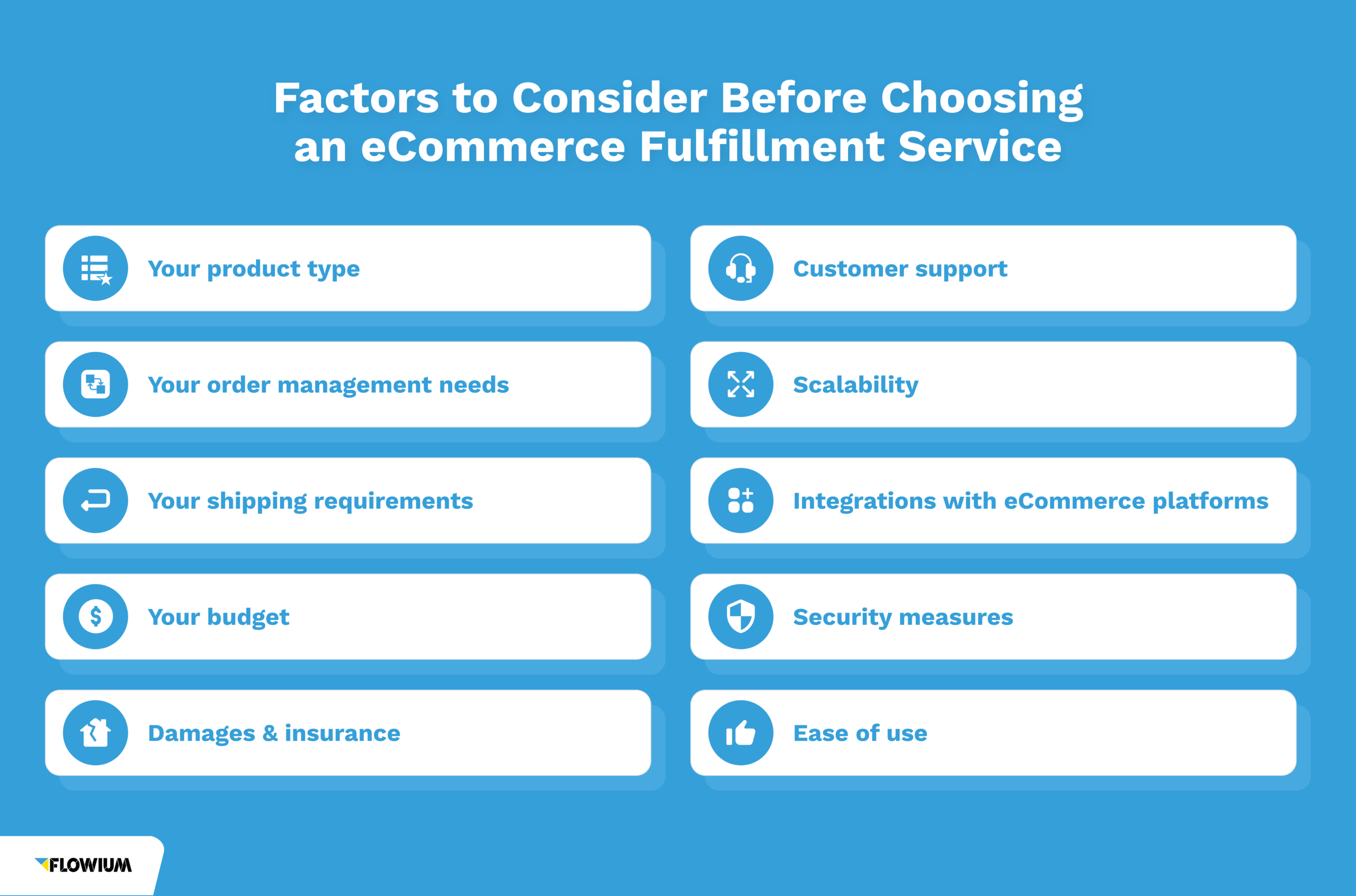 Your product type
The type of products you sell is an important consideration in choosing an eCommerce fulfillment service.
Some services specialize in certain types of products, such as apparel or electronics, while others are more general.
Pricing can vary significantly depending on the product category, so it's important to know what's available before making a decision.
Your order management needs
The right eCommerce fulfillment service can provide order management features that help you keep track of everything that needs to happen before your customer receives their order.
These features might include automated order processing, tracking, and inventory management.
Your shipping requirements
Some eCommerce fulfillment services offer different levels of shipping support based on your needs.
If you're looking for a simple shipping solution without many bells and whistles, consider one that offers basic shipping options rather than an all-inclusive service.
However, if you need more elaborate shipping options to fulfill your customers' orders, for example, due to the nature of the products you sell or because you're shipping all around the globe, go with an eCommerce fulfillment center that can cover those needs.
The cost vs. your budget
The investment is one of the most obvious factors in determining whether an eCommerce fulfillment service is right for your business. The cost of using an eCommerce fulfillment company will vary based on the kind of services you need and how many orders you need to process per month.
It's vital that you know how much it will cost to ensure your budget will allow you to use the service.
Damages & insurance
Another thing to consider when choosing the right order fulfillment service for your eCommerce business is insurance.
That's because when you hire an eCommerce fulfillment service, they will be responsible for preparing and shipping the packages to your customers.
Even if the fulfillment center you choose offers excellent quality, sometimes your products might get damaged or lost in the process.
If your fulfillment center offers insurance, they will be the ones paying out of pocket for the damage or loss instead of you as the business owner.
So before signing the contract with an eCommerce fulfillment service, verify whether it offers insurance. If so, how much coverage do they provide? What type of coverage? Is it just general liability, or do they provide full inventory and product damage coverage?
💡 Knowing that you'll be covered financially in case of any damage or loss can give you peace of mind when outsourcing fulfillment to a third party.
Customer support
This is one of the most important factors when looking for a fulfillment center. You want to ensure that your customers have someone they can contact if they encounter any problems with their order or delivery.
A good company won't just offer email support — they should also provide phone and live chat options. This way, if there is ever an issue with an order, you can be sure that it will be resolved quickly and effectively.
However, excellent customer support is not just relevant to your customers. It's also important for you as the eCommerce store owner. After all, you're trusting an external company to pick, pack, and ship your products to your customers!
💡 The fulfillment center you choose should be able to assist you if you run into any problems and provide guidance on all aspects of the fulfillment process, from establishing your account to shipping out your orders.
Scalability
If you plan on growing your business over time, it's vital that you choose a partner who can grow with you. Many eCommerce stores start small, but they need more space, labor, and resources as they grow.
Make sure that your fulfillment center can scale up as your business does. The right eCommerce fulfillment service for your business should be able to handle your current and future needs.
💡 Ensuring scalability from the start will save you a lot of hassle in the future as you won't need to change the fulfillment center when your business grows beyond its capabilities.
Integrations with eCommerce platforms
When choosing an eCommerce fulfillment center, it's important to find one that integrates with your preferred eCommerce platform.
The best fulfillment centers will be able to help you manage all aspects of your order from start to finish. They should also offer tools that help customers track their orders, troubleshoot issues, and manage returns.
If you sell on Shopify, WooCommerce, or Amazon, you might want to look for a fulfillment center that has integrations with these platforms already built in to make everything easier for you.
If one of your goals is to streamline processes between your online store and its shipping providers, this will make things much less complicated than if you were trying to integrate two different applications and keep track of everything manually.
Security measures
It's important that any eCommerce fulfillment center you work with has strong security measures in place to protect your data and your customers' personal information.
You don't want anyone else accessing your client data or personal information, so make sure the company has strict security measures in place before working with them.
You also want to ensure that your products will be safe while in transit and stored at the warehouse.
The best way to ensure this is by choosing a provider who has implemented security measures like cameras, alarms, and guards on duty 24/7. This ensures that the facility is secure at all times and protects your merchandise from theft or damage during transit.
Ease of use
Another important factor you want to consider when choosing an eCommerce fulfillment center is how easy it is to use.
You don't want to spend a lot of time trying to figure it all out, especially if you're a seasoned eCommerce store owner with lots of orders to process.
You want a service that makes it easy for you to ship your products and get them into customers' hands as quickly as possible.
If it's too complicated, you might not be able to do that and end up disappointing your customers as a result. The more intuitive a fulfillment service is for you, the better off you'll be in the long run.
💡 It's important to make sure that the order fulfillment service can handle everything well and send out shipments quickly without any problems.
What to Ask Before Selecting Your Order Fulfillment Company
When it comes to eCommerce fulfillment services, there are so many options available.
From dropshipping to warehousing, you can find companies that specialize in different aspects of the fulfillment process, as well as those that offer a combination of them.
As an eCommerce store owner, it's essential for you to consider your options carefully and analyze how they will impact your bottom line.
Here are some questions you should ask the order fulfillment company you're planning to work with before signing up for their services.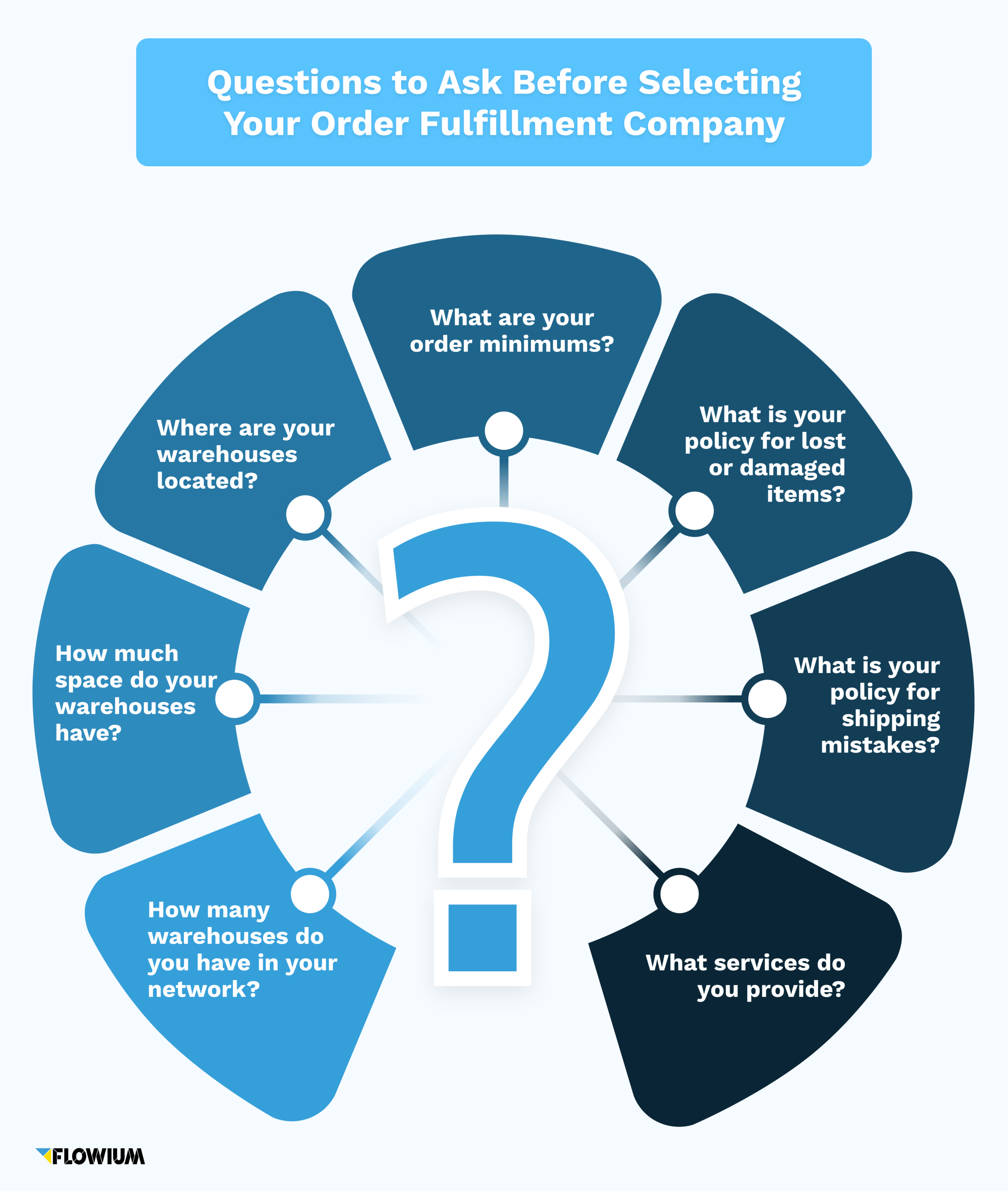 How many warehouses do you have in your network?
A good order fulfillment company will have multiple warehouses spread out across the country. This is important because it allows them to offer more affordable rates to their customers.
For example, if you're located in California and need your products fulfilled in New York City, the fulfillment company could send your products to one of their warehouses in New Jersey and ship them at a less expensive freight rate.
And if you're shipping globally, you'll want to make sure that the fulfillment center of your choice has multiple warehouses spread out in the locations you want to ship to.
How much space do your warehouses have?
The number of warehouses isn't the only thing that matters. You also need to ask how much space the warehouses have and how much of your inventory they can fit in at each location.
This will help ensure that there won't be any delays in shipping your products if there is a sudden spike in demand because there's not enough space to store more inventory.
Where are your warehouses located?
This is one of the most important questions to ask when shopping around for an order fulfillment service. If a warehouse is located too far away from your customers, there will be delays in shipping time.
The good news is that most fulfillment companies have multiple warehouses. Ideally, you'd want your fulfillment center to have warehouses strategically located around the country or the globe if you're shipping internationally.
What are your order minimums?
Order minimums are the number of orders your fulfillment center must fulfill before they begin shipping them out.
This is important because some fulfillment centers have higher minimums than others, so you may need to adjust your inventory depending on their requirements or find another fulfillment center with lower minimums if necessary.
What is your policy for lost or damaged items?
Problems can arise even with the best eCommerce fulfillment services.
Hence, it's essential to know what are the policies and procedures that the fulfillment center of your choice has in case your products get damaged or lost in transit.
Whether you're selling products of low or high value, having them damaged or lost can heavily impact your business and brand reputation.
Therefore, before signing up with a fulfillment center, you'll want to know what kind of compensation you'll receive if any of your inventory is damaged or lost during transit.
What is your policy for shipping mistakes?
Knowing how your new fulfillment center will handle shipping mistakes should be another important factor in your decision-making process.
You want to know that if there's a mistake with an order — like sending out the wrong product or wrong quantity — there will be no penalty or fee you'll need to pay them to fix it. Or, if there is one, you'll want to know how much.
It may be best to work with a company that offers free returns on all orders so that neither you nor your customers are charged if something goes wrong during the return process.
What services do you provide?
Of course, it goes without saying that before choosing the right fulfillment center for your business, you'll want to know what services they provide.
There are many options out there, so you'll need to make sure that the fulfillment center of your choice offers all the services and features you might need now or in the future.
Who Shouldn't Work With a Third-Party Logistics Company?
Third-party logistics (3PL) providers are businesses that specialize in, you guessed it, third-party logistics.
This can include the shipping and delivery of products and materials between different companies. It also provides warehousing, packaging, and material handling services.
As an eCommerce business owner, you might be wondering who should work with a 3PL provider. There are many reasons why you should use their services.
💡 3rd party logistics companies, such as eCommerce fulfillment centers, are for businesses that need help with their supply chain and logistics operations. If you don't have the necessary resources to handle this aspect of your business, it might be time to find a third-party logistics provider (3PL).
However, there are some businesses that cannot benefit from working with a third-party logistics company.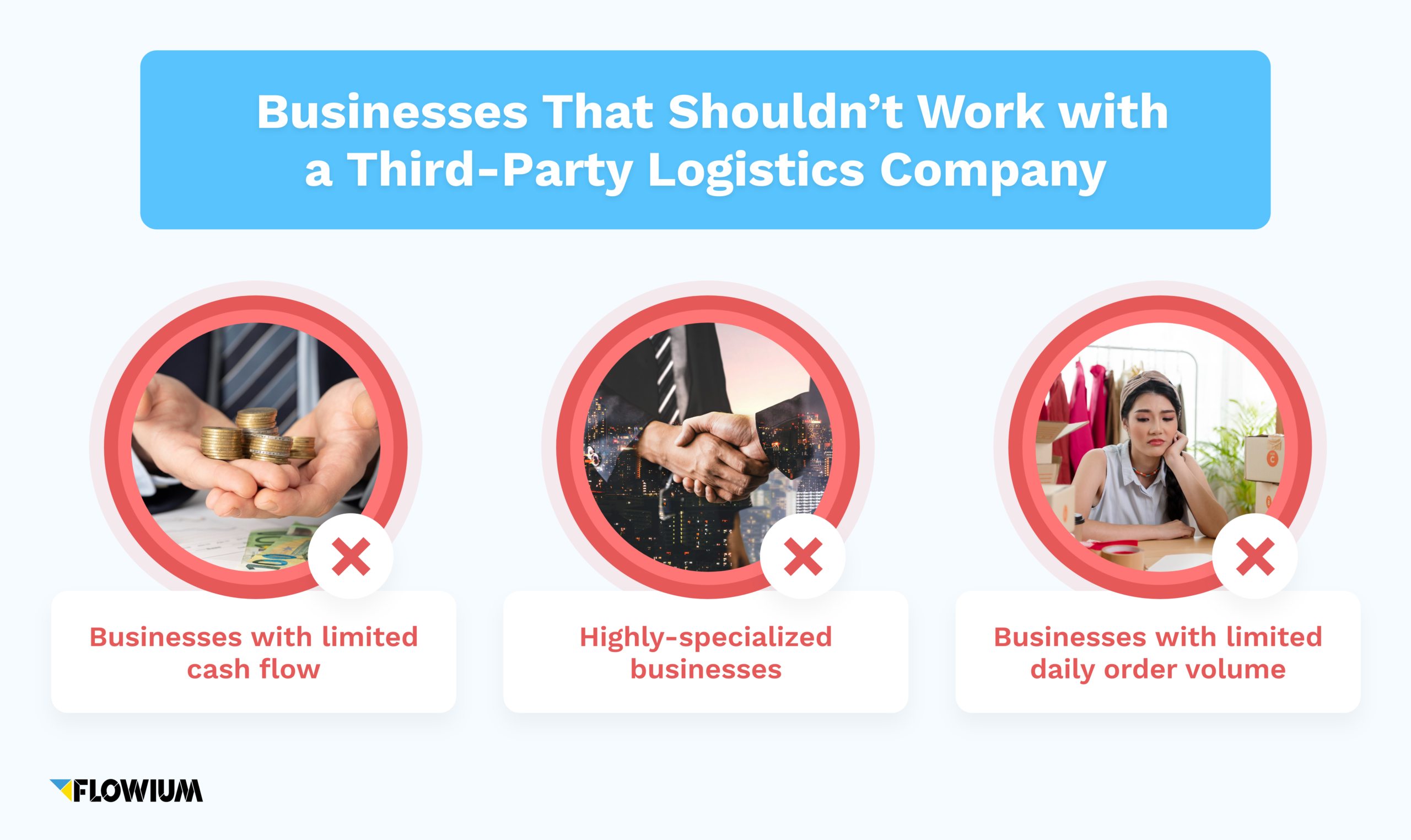 Businesses with limited cash flow
There's no doubt that hiring a 3rd party fulfillment center to manage and ship your order can be expensive.
If you're a small business that is just starting out, you may not have the cash flow to afford the fees associated with using a third-party logistics company.
It's also important to note that if you run out of money and cannot pay your third-party logistics company, they can choose to withhold your inventory.
Highly-specialized businesses
If your company is highly specialized in providing only one type of product or service, then working with a 3rd party fulfillment center may not be suitable for you.
Some businesses are so specialized that they need their own fulfillment centers. These include:
Medical device manufacturers,
Food products,
Perishable goods (e.g., flowers).
If you sell products like medical equipment or specialty electronics, it's unlikely that any 3PL would have the expertise to store and ship them correctly.
If this is the case, then it may make more sense for you to handle your own order processing and fulfillment to ensure that your products are properly stored and shipped.
Businesses with limited daily order volume
If you don't have enough orders coming in each day to justify having an entire staff dedicated to shipping and packing, outsourcing order fulfillment won't make much sense for you.
Third-party logistics companies can handle high volumes of orders quickly and efficiently, but they often have a daily minimum of orders they require from you to fulfill them. If you cannot meet those requirements, you're better off handling order processing and fulfillment on your own.
eCommerce Fulfillment Services FAQs
What is a fulfillment center?
An eCommerce fulfillment center is a third-party logistics company that handles all aspects of warehousing, packing, and shipping your products to your customers. With an eCommerce fulfillment center, you don't have to worry about managing warehouses, hiring employees who can pack and ship orders for you, or keeping track of inventory levels.
Does Shopify have fulfillment centers?
Yes. If you host your eCommerce store on Shopify, you can take advantage of the Shopify Shipping services. Shopify has its own network of fulfillment centers – Shopify Fulfillment Network (SFN) – an excellent option for small businesses already using Shopify as their preferred eCommerce platform.
What are the three options for order fulfillment?
The three options for order fulfillment for eCommerce businesses are in-house fulfillment, outsourced fulfillment, and dropshipping. When it comes to in-house fulfillment, it simply means that you handle shipping and fulfillment on your own. Outsourced fulfillment means the seller contracts with a third-party company specializing in order fulfillment services. And finally, dropshipping allows you to sell products without ever handling them. You simply find someone who already has them in stock and pay them to ship directly to your customer on your behalf.