Klaviyo is one of many email marketing platforms on the market. But what separates them from other ESPs is their emphasis on the eCommerce (online real) industry.
So, if you're planning to use Klaviyo for some other purposes, it might not be the right tool for you.
However, in case you want to use it for your or your client's online store, it is the most powerful email marketing software on the market.
Klaviyo for Email Marketing
Klaviyo are relatively new in comparison to other platforms like Infusionsoft, Aweber, and Mailchimp, but they are the leading ESP for eCommerce.
Over the past few years, we've recorded 150+ YouTube videos and written a few dozen articles on Klaviyo tips, tricks, and strategies.
However, we still get a lot of questions about Klaviyo's pricing, so I decided to break it down in this article and compare some part of it to other services.
→ You can watch our Full Klaviyo Review video here.
When it comes to email marketing software, we strongly recommend Klaviyo. As an ESP specifically designed for online stores, Klaviyo offers robust features to help you sell, not just send emails.
In case you're also looking to connect with your customers through SMS, Klaviyo provides an SMS platform that works in sync with your emails, for even better results.
→ Also, you can try Klaviyo for free today here.
Klaviyo Pricing: a Free Start
Klaviyo has a low barrier of entry.
And by "low" we mean that you can start setting up the system fully without paying them a single dollar.
They don't hide or lock any of their features for free account users. You can connect your eCommerce store to Klaviyo and integrate all other software you may use.
Your Klaviyo account will start to collect and store information for free while you create email automation (aka "flows" in Klaviyo).
And that's really important.
The other ESPs don't provide this kind of service. You need to upgrade your account to the paid one to get those kinds of benefits.
From my personal experience, it takes between 3-6 weeks, or 1-2 months, to set up an email automation.
That means that on other platforms you'll need to pay for the software for 1 to 2 months before you even start using it.
In Klaviyo, on the other hand, you can take your time and set it up without any risk of losing money.
How Much Is Klaviyo per Month?
To summarize, the price for Klaviyo services per month depends on the size of your email list and the number of emails you need to send every month.
Here is a tab explaining the evolution of the price based on the number of contacts.
| | | | | | |
| --- | --- | --- | --- | --- | --- |
| Number of contacts | Up to 250  | Up to 500  | Up to 1000  | Up to 5000 | Up to 25000 |
| Price per month | Free | $20 | $30 | $100 | $400 |
| Number of email sends | Up to 500 | Unlimited | Unlimited | Unlimited | Unlimited |
As you can see, there are two types of plans:
The free plan
The paid plan
The Free Plan
The free plan includes:
Up to 250 contacts
Up to 500 email sends
Email Support

What does 'Up To 500 email sends' mean?
It means you're able to send only 500 emails in total per month.
If, say, you have 250 contacts, that will amount to only 2 campaigns.
If your list is smaller and you have only 100 contacts, you'll be able to send 5 campaigns to 100 contacts.
If you have 300 contacts and want to send them one campaign, the system won't work. This is when you'll need to upgrade to a 500 contacts plan (the paid one).
The Paid Plan
The paid plan starts from 251 contacts and allows unlimited emails.
The fact that you can send an unlimited number of emails is a huge benefit because you can plan your campaigns in a way that suits you, not the way the software allows you to.
In addition to that, on the paid plan you're getting additional support via live chat which you can find in the top right corner of your Klaviyo account.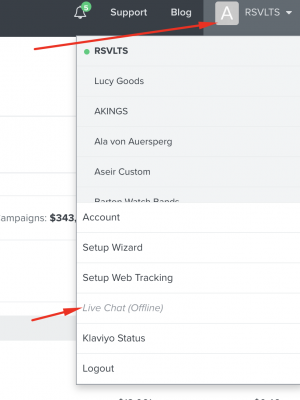 To know exactly the price for your email list, you can use the Klaviyo online calculator.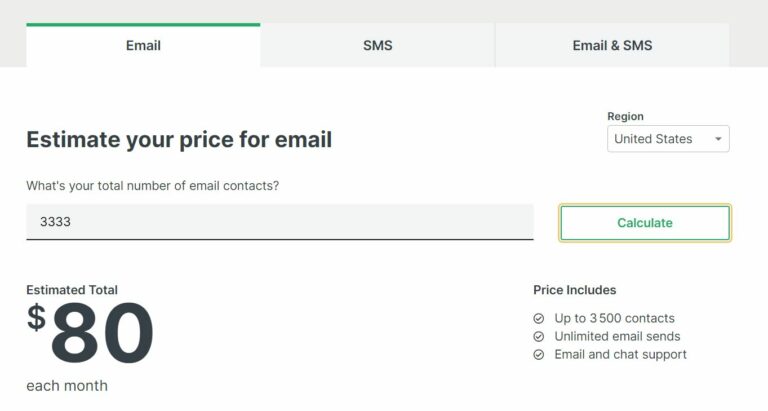 Write the number of contacts you have
Click on 'Calculate'
You now have your Klaviyo pricing.
What Is Considered to Be a Contact in Klaviyo?
It's worthwhile to note the definition of the contact you are paying for.
There are two types of contacts (aka Profiles in Klaviyo)
In the example below, the account has a total of 504,821 contacts, or profiles.
Out of those 500K+ profiles, only 207,092 of them are active and 297,729 are suppressed.
As Klaviyo charges you only for Active Profiles, the company in this example only pays for 207,092 contacts.

Pros and Cons of Klaviyo Pricing
Here are a few other things you need to consider when it comes to Klaviyo pricing.
Klaviyo Pricing vs. Their Competitors
To give you a better idea of the pros and cons of the Klaviyo pricing, I decided to compare it with a few of their competitors.
To start off, I'll first compare the price per contact.
For the purposes of this little experiment and to not try and compare apples and oranges, I reviewed the pricing plans that are most similar to those of Klaviyo.
| Name | Up to 1,000 contacts | Up to 5,000 contacts | Up to 25,000 contacts |
| --- | --- | --- | --- |
| Klaviyo | $30 | $100 | $400 |
| Mailchimp | $52 | $79 | $230 |
| ActiveCampaign | $49 | $135 | $319 |
| Omnisend | $20 | $60 | $240 |
| Drip | $29 | $89 | $369 |
| Convertkit | $29 | $79 | $199 |
As you can see from price comparison per contact, Klaviyo is the most expensive.
Transparency
How do you like the companies where you click on pricing, and it says "schedule a demo" instead of providing you the info you need? I personally hate it.
It may be better for the company since they can learn more about you and your company, which would make it easier for them to sell you the service, but in my view, that's just a poor user experience.
Klaviyo, in contrast to many other ESPs, has very transparent and simple pricing.
Simplicity
Klaviyo pricing doesn't have different plans. It's only one plan with all the features. The prices only vary based on the number of contacts you have.
For comparison, here is the Hubspot pricing page.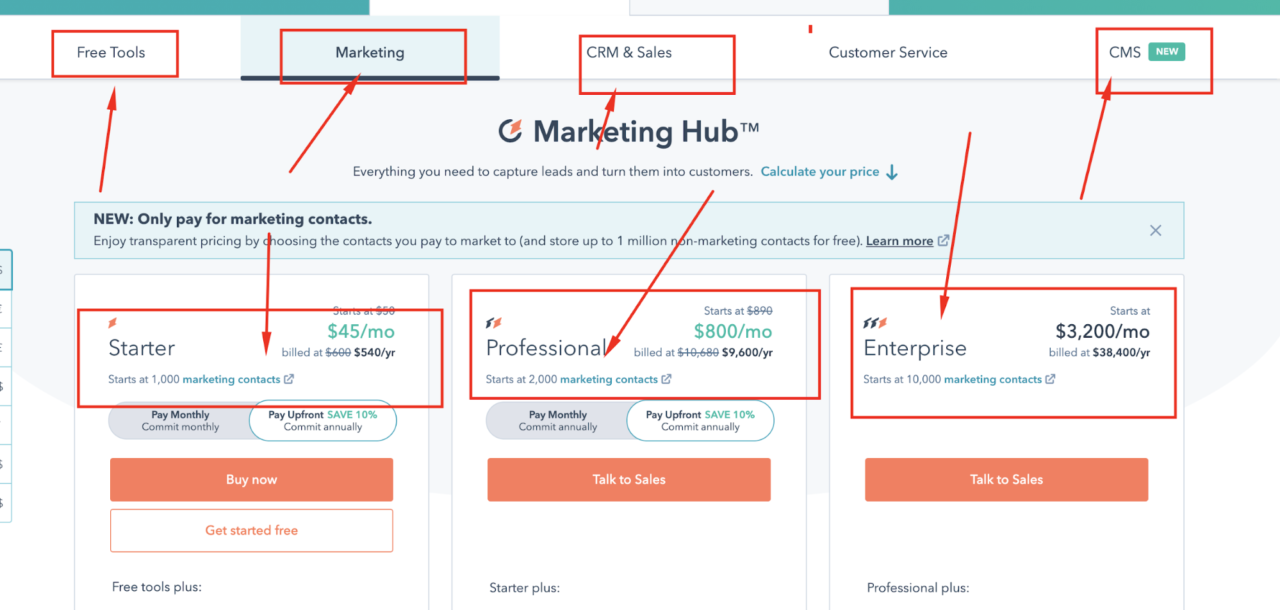 I do marketing for a living. But even I don't understand their pricing structure without spending a while on their pricing page and reading through all the benefits and features.
No setup cost
It's very rare nowadays that SaaS would charge for the setup.
However, there are some old-school SaaS companies that, in addition to the monthly fee, also charge a one-time non-refundable setup fee.
Klaviyo doesn't have any setup fee. More so, the setup is intuitive and doesn't take too much time.
All features included
The majority of email marketing software has a lot of features.
In general, they're all very similar from company to company, but here's a catch.
Many companies have a free or a low cost account which limits the number of features you get. Here's just an example of ActiveCampaign plans comparison.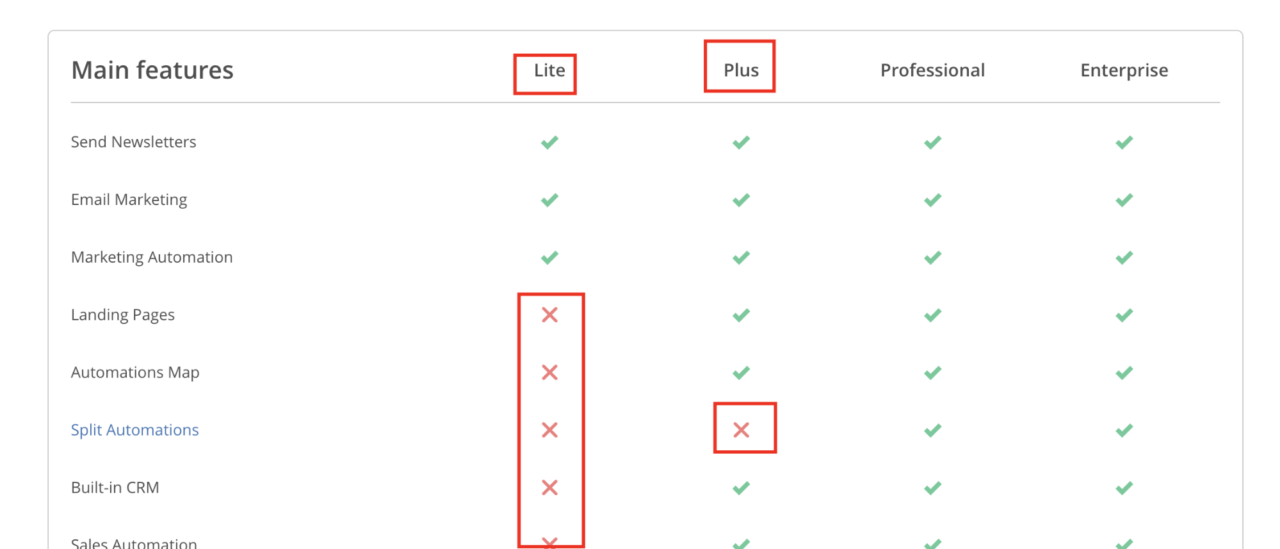 By the way, if you're deciding between ActiveCampaign and Klaviyo, read the full comparison of their features in this article ActiveCampain vs Klaviyo.
In Klaviyo you get all the features even on the free account, they don't divide them by plans. When they release a new feature, everybody gets access to it.
No charge per users
When you start doing email marketing for your online store, you're probably not going to do it by yourself. That said, you most likely need to give access to more than one person in your ESP.
Some email service providers limit the number of users in free and low cost accounts, but in Klaviyo there is no limitation to the users. You can add as many users as you want at no extra cost.
No charge per user level access
We might take it for granted with Klaviyo, but they have a 6 user access level and they don't charge extra for it.
There are many other companies that charge for this like feature, including ActiveCampaign.
In the example below, if you want to give limited access to another user, you need to upgrade your plan to the next one which costs 80% more than the regular one.

Migration
Klaviyo doesn't offer any migration services or at least it doesn't advertise it publicly.
ConvertKit does a good job with the migration services. You just need to be on a paid plan for at least $29, and they will migrate the account for you.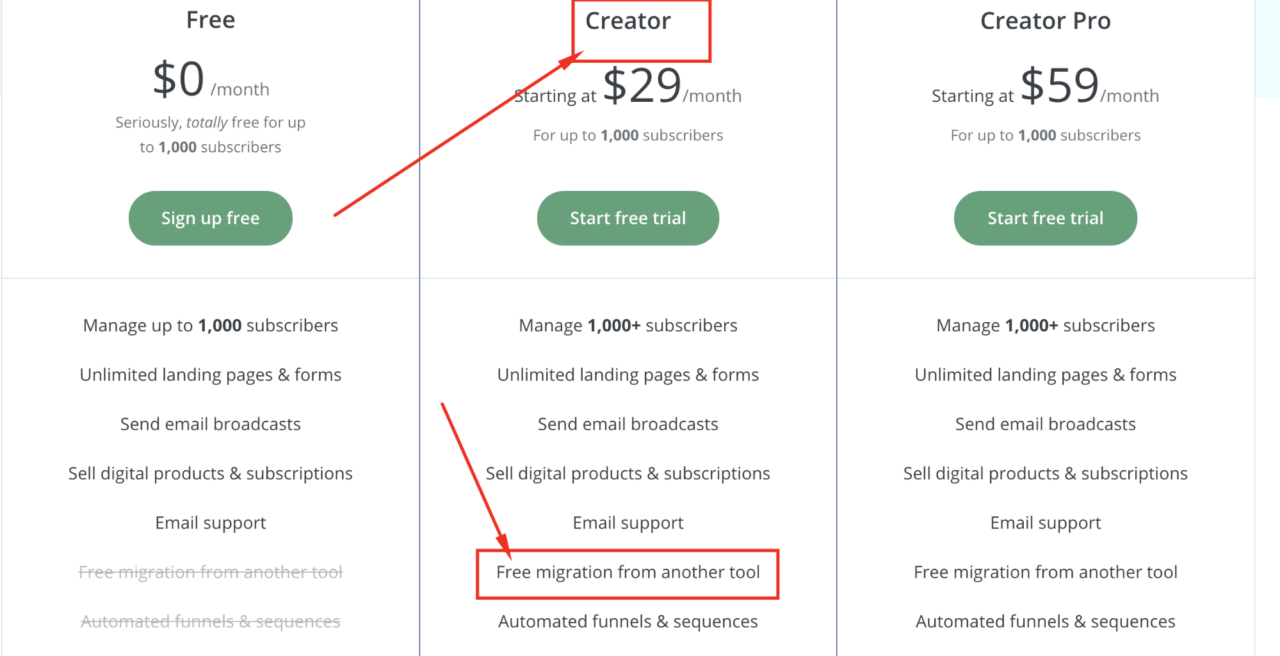 But if you have a lot of subscribers and Klaviyo wants your business among their customers, there might be a possibility for you to get a deal.
We're one of the few Klaviyo partners who offer a 50% off discount for the migration service if you are a Shopify Plus user looking to migrate to Klaviyo.
Typically our migration cost is $1,500 but only for Shopify Plus users our services will be discounted thanks to The agreement we have with Klaviyo.
Klaviyo pricing influenced Flowium pricing
We found Klaviyo's pricing so well-positioned that after studying it more closely, we changed how we price our service as well.
In the past we did a unique pricing for each customer. We were estimating the price based on a number of different criteria.
That didn't work for us because it was time consuming and we couldn't provide a clear answer about the service cost before we did our estimate.
That's why we decided to create plans. Each plan's pricing varies only on one variable – the number of campaigns per month.

Positioning our price this way made it clear both for us and the customer how much we charge and how the cost will change if they want to send fewer or more campaigns.
Bottom line
To sum up, Klaviyo pricing is the most transparent on the market according to our research.
And I personally believe the other companies should model their pricing according to Klaviyo and it will help them gain a competitive edge.
Frequently Asked Questions
When does Klaviyo stop being free?
Klaviyo's free plan is for email lists up to 250 contacts. As soon as you start sending email campaigns to more than 250 people, you need to pay. The price grows exponentially with your email list.
What is the advantage of Klaviyo's pricing system?
The main advantage of the "pay per subscriber" system is that all Klaviyo's features are available for everybody, not depending on the price you are paying per month.
How can I know exactly how much I would have to pay for Klaviyo's service?
Klaviyo's pricing system is very transparent. You can easily calculate your costs online, on Klaviyo's website. You just need to enter the number of contacts your email list contains, and you will see the exact price of your subscription appear.