Omnisend, a platform that focuses on email marketing for eCommerce, has quickly become one of the most effective email marketing solutions for Shopify. With its low costs and innovative features, we were curious to learn more about Omnisend pricing and see what all the hype was about. So, if you'd like to get started with your email marketing in 2023, or you're planning to switch to another email marketing platform, we've gathered all information about Omnisend pricing plans. Now let's see if it would be a perfect fit for your business, shall we?
Omnisend Pricing Basics:
You probably know that we are huge Klaviyo fans, and would always recommend this software for your eCommerce store. However, we must admit that it's difficult to find fault with Omnisend's eCommerce marketing automation software, too. Below we'll list some of the benefits of this platform.
They provide automation through seven distinct channels.

 

Paid bundles begin at just $16 per month.

 

Their clients appear to enjoy it! They have excellent internet reviews as well.

 
Combine it with a substantial free trial offer that incorporates all features up to the Pro level. Also, a forever free service tier, plus monthly email send limits that outperform competitors like Klaviyo. You have to hunt hard to discover someone who has a negative opinion of Omnisend in 2023.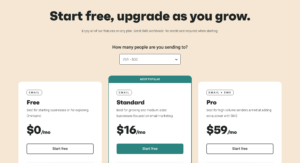 Since every business has different needs at each stage of its growth,  Omnisend offers 3 different plans (as shown above):

In general, these 3 plans allow you to use the same set of features. But, what differentiates them is the amount of SMS and email messages you get to send per month and to how many people.
Free Trial vs Free Tier
We should point out right away that there is a distinction between the FREE TRIAL Omnisend provides and the FREE TIER of the service.
The former is valid for 14 days and grants you access to everything up to and including the Pro level.

 

The latter is not time-limited, but you can only utilize a limited number of functions.

 
The free edition of Omnisend is quite effective as a basic email marketing package, and it is definitely worth your attention if you have no funds. 
You can send up to 15,000 SMS each month.

 

You receive basic segmentation capabilities as well as a month's worth of website data tracking.

 

Using Omnisend's straightforward drag-and-drop capabilities, you can create sign-up forms, pop-up advertisements, and landing pages.

 

You receive a functional reporting dashboard.

 

You may use Zapier to connect it to other tools.

 
However, you do not get the following important features: 
There are no automated workflow possibilities.

 

There is no customer service.

 

There are no channels other than email.

 

It does not come with SMS/MMS messaging.

 
Wondering if their free plan would work for your business or not? Well, this free plan might work for your eCommerce business if you are just starting out. As mentioned previously, all features are included in all of Omnisend's plans, (including custom workflows,  unlimited landing pages, and segmentation). The fact it comes with unlimited contacts is especially appealing, but to be realistic, you'll probably outgrow the sending limit in a short period of time.
Omnisend's Paid Pricing Plans:
Omnisend is an all-in-one marketing automation software designed specifically for online businesses. It enables you to automate your marketing operations with the aim of growth in mind. 
Because organizations' demands change at each level, Omnisend has four price options.  Firstly, their free plan (discussed above), standard, pro, and enterprise. Each tier has its own set of accessible channels (such as SMS, Facebook, and so on), support, as well as email credits.  
STANDARD
The Standard Package is Omnisend's entry-level paid offering to automate your emails & start SMS marketing. 
Package price: You'll pay $16 a month for the Standard Package at the lowest level. This drops to $13 if you pay annually. 
No. of emails: 15,000 per month 
The main distinctions between the Standard and the Free Package are as follows:  
The overwhelming majority of Omnisend's automation capabilities are available to you. This includes the template workflows for Browse Abandonment, Abandoned Cart, Birthday Messages, Order Confirmations, and the option to build and report on your own sequences.

 

You can save additional segments, more email builder capabilities are available, and you may deploy gamified sign-up forms.

 

A large range of off-the-shelf integrations are available (e.g., Facebook, Smile.io, ShipStation, etc.)

 

You have access to email and live chat assistance.

 

You can include SMS texts in your campaigns.

 
PRO
The Pro package unlocks the true power of omnichannel marketing with free SMS and more channels. 
Pricing: $99/month 
No. of emails: 15,000 emails/month 
The Difference Between the Standard and Pro Plans:
The Pro plan includes everything that the Standard plan does, plus more. Above all, this tier has possibilities for Web push notifications at $99/month (compared to Standard's $16/month). This allows you to re-engage your consumer. And, you will receive free SMS credits (the equivalent of the price you pay each month for your plan).
Besides, their PRO plan also provides extra consumer targeting options, including Google Customer Match and Facebook Custom Audiences. Google Customer Match enables you to engage with consumers across Google Products by combining online and offline data (search, Gmail, and Shopping). Facebook Custom Audiences allows you to create a custom list or profile based on users that have visited your website, which allows you to target specific users. 
Lastly, the pro plan lets you incorporate a bespoke SPF/DKIM signature. This part is critical for increasing your email deliverability. 
ENTERPRISE
Using this plan, you may benefit from enterprise-grade customization! 
Custom Omnisend Pricing:
Omnisend's website does not include a price for the Enterprise Package. Instead, it just states "custom pricing."

 

Third-party review sites such as FinancesOnline and Omnisend partners such as Shopify claim that it costs $2,000 each month.

 

Pricing is straightforward at the Enterprise level because you receive limitless subscribers and emails (subject to fair use).

 

Also, you'll have to pay for SMS texts just like everyone else, but you won't have to pay for Facebook Messenger.

 
Unique feature:  Additionally, the Omnisend Enterprise plan includes Unlimited emails every month. 
If you decide to go with their custom plan you will get everything as in the PRO plan, plus: 
Email Account Migration

 

Customer Success Manager

 

Deliverability Support

 

Custom IP Address

 
Now that we listed all of the Omnisend pricing plans, we'd like to conclude that their paid options can work very well for your business in terms of personalizing your email marketing campaigns and targeting your audience with the products that would interest them.
If you're a small business owner, and just getting started with your marketing efforts, these paid plans may not be the best option for you from the very beginning.
Pricing for SMS and MMS
When it comes to the SMS/MMS, whit Omnisend the number of messages you can send is determined by the country to which you are transmitting. For example, in the United States, a single SMS message costs $0.15, and a single MMS message costs $0.45. (as of 2021). 
Each store you connect to has its own SMS/MMS message budget. Also, some plans include credits in the cost of the plan.
| | Free | Standard  | Pro | Enterprise  |
| --- | --- | --- | --- | --- |
| SMS Credits | Not included | Charged at 0.15 | Included in cost of plan | Included in cost of plan |
| MMS Credits | Not included | Charged at $0.45 | Included in cost of plan | Included in cost of plan |
Omnisend Pricing – Final Words
In summary, while there are many email automation services available today, Omnisend is most definitely one of the best-designed platforms for eCommerce businesses. No word. It's an excellent alternative for individuals looking to build their eCommerce company because of its simple platform, extensive features, and adjustable price levels. 
Overall, their paid solutions are excellent for customizing campaigns and targeting clients with items that they are interested in. So, if you're not ready for a premium alternative, its free plan is quite generous. So, there's absolutely nothing to lose by checking it out. We hope that this overview of the Omnised pricing was helpful to you. Also, we hope that you'll be able to determine which tier is a perfect fit for your business size and needs.
So, you're still not sure if this platform would be the right choice, and you're struggling with your email marketing? Then we invite you to Book a Free Consultation with our team of experts and see how we can help you step up your email marketing game in 2023.
Frequently Asked Questions
Is Omnisend easy to use? Omnisend is a user-friendly platform. It will take you only a few minutes to sign up, and getting started is made simple with sophisticated onboarding. The interface design is straightforward, clean, and intuitive so that even if you're a complete beginner, you can quickly understand how to use the software.
What is the best email marketing software? In our opinion, the best email marketing software out there is Klaviyo. As Elite Master Partners we're proud to say that we've got over 100+ satisfied customers that are utilizing Klaviyo in their email marketing strategy with the help of our email marketing experts.
Is the Omnisend Pro Plan Better Than The Standard Plan? Their pro plan offers more features than the standard plan, however, it's more expensive. This pro plan comes with advanced customer analytics, reporting, and segmentation. It's important to mention that these features are not available on the other plans. With a pro plan, you also get an unlimited number of contacts and emails.