Post purchase email campaigns can be powerful things. With the potential to help you boost your brand's engagement and raise revenue, keeping up communication with customers after they've placed an order is crucial.
To reap as many benefits as possible from your post purchase email campaigns, there are rules you'll have to follow and approaches you'll need to get right when writing your post purchase emails and setting up your compaign.
With top tips, invaluable advice, and useful templates, this guide has everything you need to craft the very best post purchase email campaigns.
What Should Good Post Purchase Email Campaigns Look Like?
There is no one perfect way for a post purchase follow-up email to look, regardless of whether it's an order confirmation email or a cross-selling email.
The most important thing is for it to be totally in line with your brand's image and to offer all of the necessary information without overloading the consumer. Ideally, it should include:
Your brand's color scheme
Your brand's logo
Any branded graphics
A clear and concise format
Appealing visuals
An easy-to-follow structure.
Some additional general guidance for post purchase email campaigns include:
Avoid making them too text-heavy. It's far better if your audience can get what they need from your email with a quick scan
Make sure there's a good ratio of words to pictures
Include calls to action with well-signposted links
Watch your tone. Win-back emails and review requests will, for example, have to be more urgent than thank you emails.
The Golden Rules of Post Purchase Email Campaigns
As well as the guidelines outlined above, there are three golden rules to follow if you want to create post purchase email campaigns that keep customers engaged and drive future sales.
Well-Timed
Timing is everything in email marketing, and particularly for post purchase email campaigns.
Miss sending out a delivery dispatch notice after a sale on your Shopify store or e-commerce website, and your customers will feel out of the loop. Or, let them know when a past purchase is back in stock too late and they might lose their chance to buy it again.
So, set up automated flows to ensure that your emails are sent to consumers at the perfect time, every time.
Relevant
Your post purchase email campaigns have to be relevant, too. There's no point sending out recommendations for products a consumer has no interest in or alerts that simply repeat information they've already been given.
At the end of the day, post purchase emails are all about improving the customer journey, and not the number of emails you send.

Personalized
From personalizing your post purchase email subject lines to sending curated product selections to past purchasers, you can use your campaigns to speak directly to consumers.
According to recent research, 80% of consumers are more likely to buy from a brand when they offer a more personalized service.
Post Purchase Email Template
As mentioned earlier, the exact layout of a post purchase email campaign will depend on several things, including:
The type of email being sent
The customer receiving it
Your brand's image.
However, to give you an idea of the sort of approach you can take to one of the most popular types of post purchase email, here's a basic order confirmation email template that you can customize to fit the aims of your business.
Hi [name],
We've received your order!
We're getting it ready to ship for you now and you'll receive a shipping confirmation and tracking number once it's on its way to you. It should be at your door within 3 to 5 business days, but if you're waiting any longer you can always reach out to our customer service team.
Thank you for shopping with us! We hope you love your products as much as we do.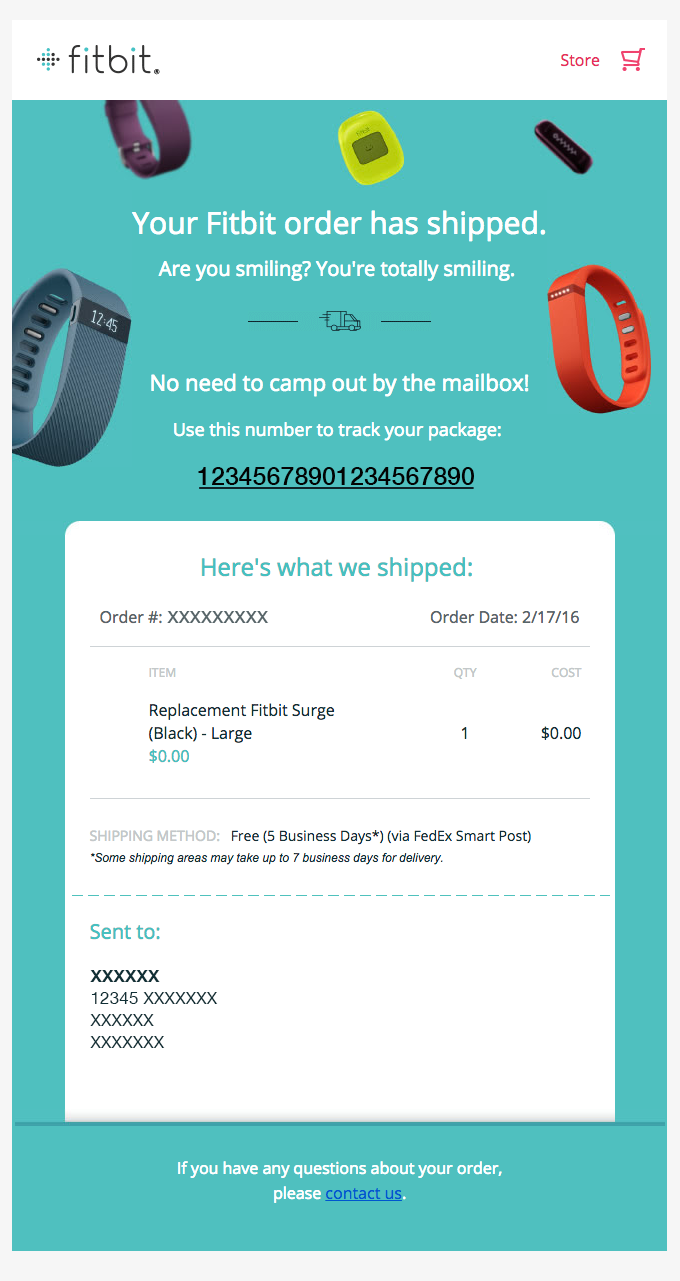 The Benefits of Post Purchase Email Campaigns
Post purchase email campaigns are great for keeping your customers informed and showing them that they're valued.
This has the potential to encourage shoppers to keep coming to your online store to make future purchases.
Given that a 5% increase in customer retention can lead to an unbelievable 75% increase in profitability, the best post purchase email campaigns can bring with them massive benefits.