If post purchase email doesn't play a key role in your eCommerce email marketing strategy, it should.
While any email marketing is likely to win you impressive results, the best post purchase email campaigns have the potential to supercharge your engagement and sales.
But, what exactly is a post purchase email, and how can they be used to drive everything from engagement and sales to repeat custom? Here are all of your questions answered. 
What Is a Post Purchase Email?
Post purchase email isn't just one thing. The term refers to a broader category of email types, such as follow-up emails, all sent out by eCommerce companies following a customer's purchase.
The reason is that consumers are far more likely to be engaged with a business when they've just made a purchase.
Excitement about their new products will be at its peak

They will likely be on the lookout for information on the status of their order

They will be open to updates on similar products

They will be interested in discounts for future purchases.
The best way to approach post purchase emails is to set up automated flows. These will ensure that the right emails are sent out at the exact right times, ensuring maximum effect. Different kinds of software and apps can set up automated post purchase upsell emails for your Shopify store or your e-commerce website for you.
For one thing, your shoppers will expect to be kept in the loop, so it's important not to keep them waiting. For another, well-timed emails tend to have much higher open rates.
Catch your buyers when you know they'll be at their most engaged and you'll be onto a winner.
Just make sure to choose the perfect types of email and combine them into a coordinated strategy, and your automated post purchase emails will perform like a well-oiled machine.
Can Post Purchase Emails Really Impact Sales?
When it comes to post purchase email, the stats speak for themselves. According to Klaviyo, a good post purchase email can:
Earn you a 217% higher open rate than the industry average

Translate directly into increased income, with a 90% boost to revenue per recipient up for grabs.
There are several reasons for this, and the timing of a well-crafted post purchase email is just one of them. In addition, it is five times cheaper to retain a customer than it is to acquire a new one.
So, by keeping your business on a buyer's radar and offering excellent service through automated post purchase flows, you make it much more likely that they'll shop with you again.
The Best Post Purchase Emails
There are several different types of post purchase email, each of which will work better at different points in a shopper's customer journey.
It's a good idea to include a selection (if not all) of the following types of post purchase email in your email marketing strategy. Plus, it's easy to do with simple-to-set-up automated flows. 
The following are four of the most effective types of post purchase email for your eCommerce company to consider. Check them out and take note of the best practices for each.
Confirmation Emails
All shoppers want the peace of mind that comes with a confirmation email. Send it to your customers as soon as possible after they've made their purchase. Chances are that they'll be checking their inbox for your correspondence, so don't let them down.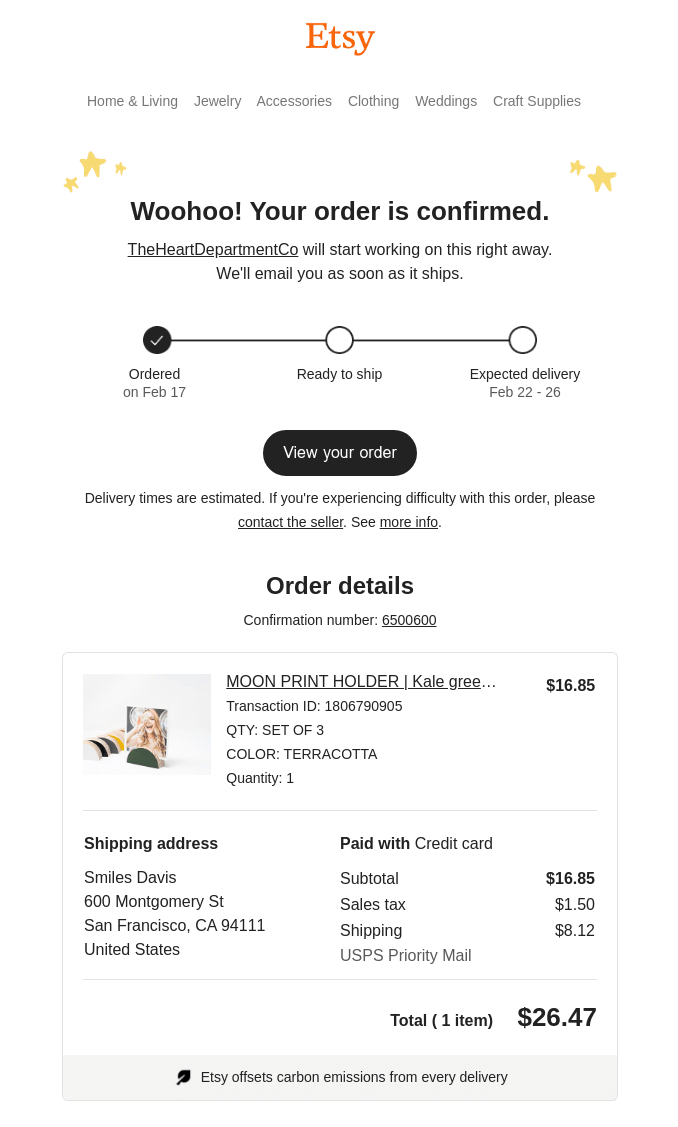 You should also consider sending out delivery or dispatch confirmation emails. It's a great way to offer excellent customer service without too much hassle for your marketing or communications department.
And, given that an immense 93% of consumers are more likely to shop again with brands that offer quality customer service, you're missing out if you don't.
Review Requests
Once your customer has received their product, make the most of their engagement by sending them a post purchase email that asks them for a review. This could be on your website or Google reviews.
This will help to show that your company cares about the customer's experience

You can

improve your online search rankings b

y encouraging more people to positively review your business

This makes it all the more likely you'll reach the top spot on relevant search engine results pages.
Recommended Products
The best post purchase emails take advantage of the data they have on a person's purchase and use it to cross-sell related products. This works well in a standalone email.
But, if you'd rather limit the number of emails you send out, consider incorporating product recommendations into confirmation emails or similar routine post purchase emails.
Just be sure not to be too in-your-face about it. Push the hard sell and you could switch your customers straight off.  
Win-Back Emails
While happy customers are more likely to shop with you again, there's no guarantee they'll come back to make another purchase in the future. However, you can make that all the more likely by sending out win-back emails.
Set up automated flows so that win-back emails send after a specified time of inactivity.
You'll more than likely see a big jump in engagement, as 45% of previously inactive consumers who received win-back emails were found to engage with a brand's subsequent messages.
Post Purchase Email Subject Lines
Choosing the right types of post purchase email is just one piece of the puzzle. But, did you know that 33% of consumers decide what emails to open based on the subject line alone? Clearly, then, it's important that your post purchase email subject lines are as strong as possible.
When crafting the subject lines for your post purchase email, you have to ensure that the copy is short and snappy. Any more than 60 characters and it could be cut off. Other than that, top tips for post purchase email subject lines include:
Making it clear what the email is all about

Creating a sense of urgency while piquing curiosity

Employing personalization so that the reader knows the email is directly relevant to them

Making it unique, witty, funny, or eye-catching in some other way. Remember that your subject line will be competing with countless others in people's inboxes.
Writing the Perfect Post Purchase Email
Your post purchase email strategy has the potential to improve your sales and encourage lucrative consumer loyalty.
Given the fact that it's such a cost-effective, easy-to-implement approach to email marketing, eCommerce businesses that fail to implement one are at risk of losing out to the competition.
With so much to gain and so many ways to approach post purchase email marketing, it's the ideal way for all companies in the sector to keep competitive.