As email marketing specialists with years of expertise in the industry, and as Master Elite Klaviyo Partners, we must admit that Klaviyo is the number one analytics tool for eCommerce email marketing. But why do we think it works best for e-commerce businesses that are selling a physical product? You'll get to learn that in the full Klaviyo review below:
Why We Like Using Klaviyo
There are several reasons why we love using Klaviyo:
It is extremely user-friendly and easy to navigate
It is a single place to store all of your customer data
Easy to understand metrics and statistics
It offers advanced segmentation to target specific customer types
It offers tools to create personalized customer experiences in real-time
They help you improve experiences using data science and machine learning
And most important, it is free to get started :). To learn more about all of the Klaviyo pricing plans, head over to the blog post where we explain each tier from A – Z.
Test Klaviyo software yourself here for free!
The Klaviyo Dashboard
When you open up Klaviyo, the first thing you see is the dashboard. The dashboard gives you options to view statistics for today, the last 7 days, the last 30 days, the last 90 days, and the last year. You can also view statistics for a particular month. The main reason why we believe that this Klaviyo overview of your analytics is great for e-commerce business owners is that you will be able to compare results between months and quarters which will help you determine whether you're on the right track or not. 

The Klaviyo Dashboard imports information from your e-commerce store and allows you to track multiple actions that your customers take. For example, you can see how many people viewed your product after opening the email campaign or how many people purchased the product after your email campaign.
Not only does the dashboard allow you to see how many sales you made from emails, but Klaviyo will also display this as a percentage of your total sales. This allows you to analyze how effective your email campaigns are compared to other sources of marketing.
Klaviyo Flows – Are You Doing It The Right Way?
The next section under the Klaviyo Dashboard is flows. An email flow is a sequence of emails that are triggered by a specific customer action. When done right, email marketing automation can bring you the biggest amount of revenue alone. So, this section of Klaviyo will show you how effective each of your email flows is. You can analyze which ones are resulting in product sales and which ones are not.

For example, you can see if your email signup flow is effective or if your abandoned cart flow is performing as it should. This provides valuable feedback that will allow you to tweak your flows and analyze the changes in order to increase your monthly revenue from Klaviyo.
You can see if offering a small discount to people who plan to navigate away from your store is effective or not.
Klaviyo Campaigns – Do Your Campaigns Work
The next section in our full Klaviyo review is dedicated to email marketing campaigns. Klaviyo campaigns are the offers or sales that are designed to get your email subscribers to take an action. The action could be purchasing a product; it could be viewing a link or anything you want/anything that works for your business the best. But assuming that you're an eCommerce business owner, you might be interested in total revenue the most.
Klaviyo allows you to quickly analyze the effectiveness of your email campaigns using the following metrics:
Open rate – This allows you to see if your subject lines are enticing enough to get people to open your emails
Click rate – How many people are clicking on links in your email (your call to action)
Orders placed – How much money has each email generated through placed orders
You can create, edit, and delete email campaigns all from Klaviyo. All the information is pulled from your website to make creating an email campaign really easy!
In this video, our COO, Amara Ricord explains step by step the difference between flows and campaigns and gives practical examples of the types of flows and campaigns you can send.
How Do I Know If My Email Marketing Is Performing Well?
Every business owner will have their own set of metrics that they aim for. If a business focuses most of its marketing on email marketing, then it will want its statistics to be very high.
However, a good starting point for the majority of businesses should be the following: 
Email Revenue 30% – Your email marketing is bringing in at least 30% of your total business revenue
Flows 15% – Your email flows are resulting in 15% conversion to a sale
Campaigns 15% – Your email marketing campaigns for new products or sales are converting at 15% to a sale
These are the numbers that we aim for when we offer our email marketing services. If we ever see these numbers below that benchmark, we will tweak any of the future campaigns and flows until they are back up to at least 15% each. Another great thing about Klaviyo is that you can analyze the performance of every single email in a flow or campaign. So, it should be easy to identify what isn't performing well. How can you do that? Take a closer look at each of the segments that you're sending to. Are they really interested in receiving your emails? What is your best-performing link per email? Is it your special offer of the month, or maybe your Preference Page and Unsubscribe link? You won't know until you take a closer look at all of the amazing campaign/flow analytics that Klaviyo offers. What's also amazing to mention is that they always care so much about the user experience and feedback. This results in constant updates they bring in to improve analytics overview for their users.


Pinpoint The Underperforming Email
The ability to identify which email in the flow or campaign is not performing is key to improving your email marketing. Klaviyo allows you to see the conversion for each email in a sequence and the following metrics:
Open rate
Click rate (on a call to action)
The percentage that placed an order from that email
Unsubscribe rate
Revenue from that email
Where on the email people are clicking (internal links, call to action, company logo)
Which of your website pages they view after clicking a link
Once you view your statistics, you can make changes to the email flow or campaign using the drag-and-drop functions. You can put a longer delay between emails or add and remove emails to the email sequence. Make sure you play around with different A/B tests at the very beginning of your email marketing journey and determine what your audience prefers. 
Klaviyo Profiles – See How Your Customers Interact With You
This one is by far one of our favorite features. Klaviyo allows you to drill down into each individual customer to see which emails they interact with and if they have purchased your products or not. Klaviyo will analyze their purchasing behavior and predict if they will order again and when they are likely to order again. From this information, they also predict the lifetime value of that customer. This is an extremely helpful and important feature. You see now why we highlighted at the very beginning of this Klaviyo review that this platform is the best for all of the eCommerce businesses out there. 
Klaviyo Lists and Segments
A key USP that sets Klaviyo apart from other email marketing services is its advanced segmentation. We don't think there are any other services that allow you to really group and manage your email lists as much as this.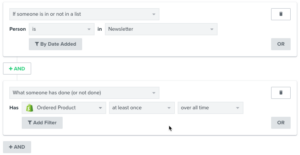 Why is Segmentation so important? Well, it allows you to really maximize the effectiveness of your email marketing campaigns by tailoring them to your customer types.
For example, you can target loyal customers to send them little thank-you gifts. You could also target customers who have been on your list and read your emails but have not yet made a purchase and send them discount codes. For those that haven't opened your email in a while, you can send a few special offers and entice them to start engaging with your emails again and eventually convert! These are just a few of the basic examples. And you can only imagine what your eCommerce business can achieve with the help of email marketing experts.

Klaviyo Lists and Segments feature is extremely powerful for your business as it allows you to use solid data about your customers' actions to ensure you are targeting each one in the best way. You can segment your customers in almost any way you can imagine.
The sky is the limit!
Klaviyo Review – Final Thoughts 
We've been using Klaviyo to grow our clients' businesses for a number of years now and really can't recommend it enough! The features and flexibility that it allows e-commerce business owners are amazing. No matter the size of your business or email list, Klaviyo will help you to leverage your email signups in the most effective way.
Frequently Asked Questions:
Why is Klaviyo so popular?  Besides the fact it's really easy to navigate and offers amazing analytics and numerous integrations, one of its most powerful features is most definitely the automation features it offers. You can create anything from Cart Abandonment flows, to Birthday Wishes, Thank you Emails, Surveys, Reminders, and so much more. 

Is Klaviyo worth the price? Even though it offers really good features on a FREE plan to the small business, or people who are just getting started with email marketing, they announced a few pricing updates in 2022 so it might not be the most sustainable option for the larger brands anymore.
Why Klaviyo is the best for Shopify? Klaviyo claims to have even more access to Shopify Data than even Shopify Email. Yes, you heard that right. With its one-click Shopify connection, Klaviyo is able to assist Shopify merchants to increase sales through hyper-targeted, highly relevant email, and Instagram/Facebook marketing.