AWeber email marketing software provides much more than just email templates. This tool has a collection of over 150 highly customizable email templates. Also, it has many supporting tools to change them, and the ability to send emails whenever, however, and wherever the user wants. This is the distinguishable feature of AWeber that makes it stand out from the rest. Today we're here to share our Aweber review so that you can get a better understanding of their services and pricing.
Features by AWeber
AWeber provides a plethora of features that one can use to get the best out of email marketing. 
Smart designer
Smart designer by AWeber provides the ability to create aesthetic designs of emails, landing pages, and web notifications in a user-friendly GUI. And there is no coding involved, which is amazing. The smart designer is AI-powered means it will generate design ideas and suggestions for better views and higher clicks-per-view.
There are drag-and-drop options for the creation of landing pages, email templates, and newsletters.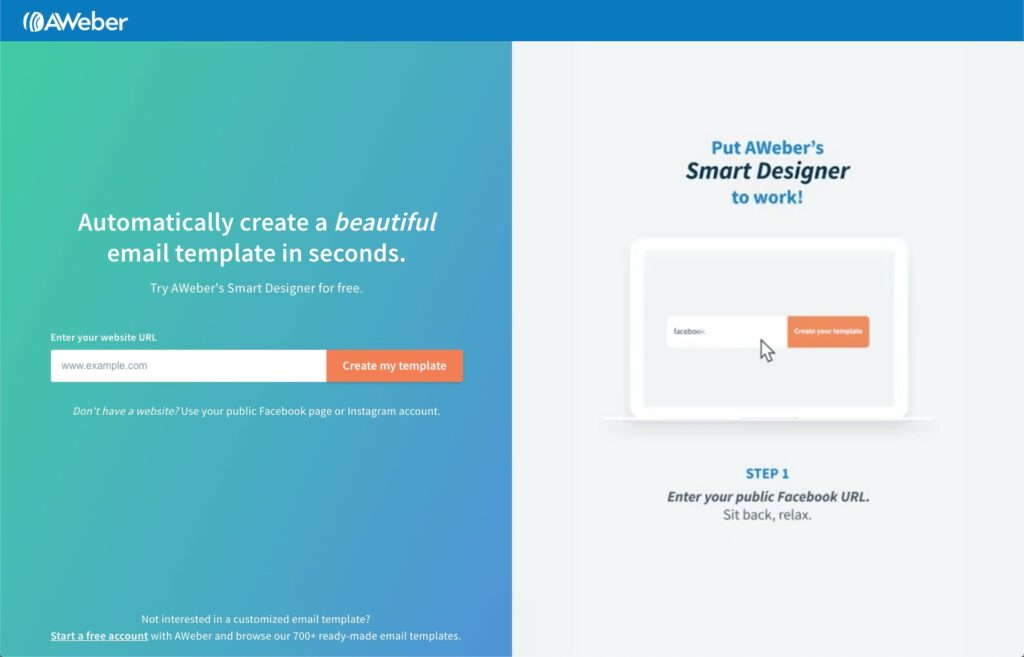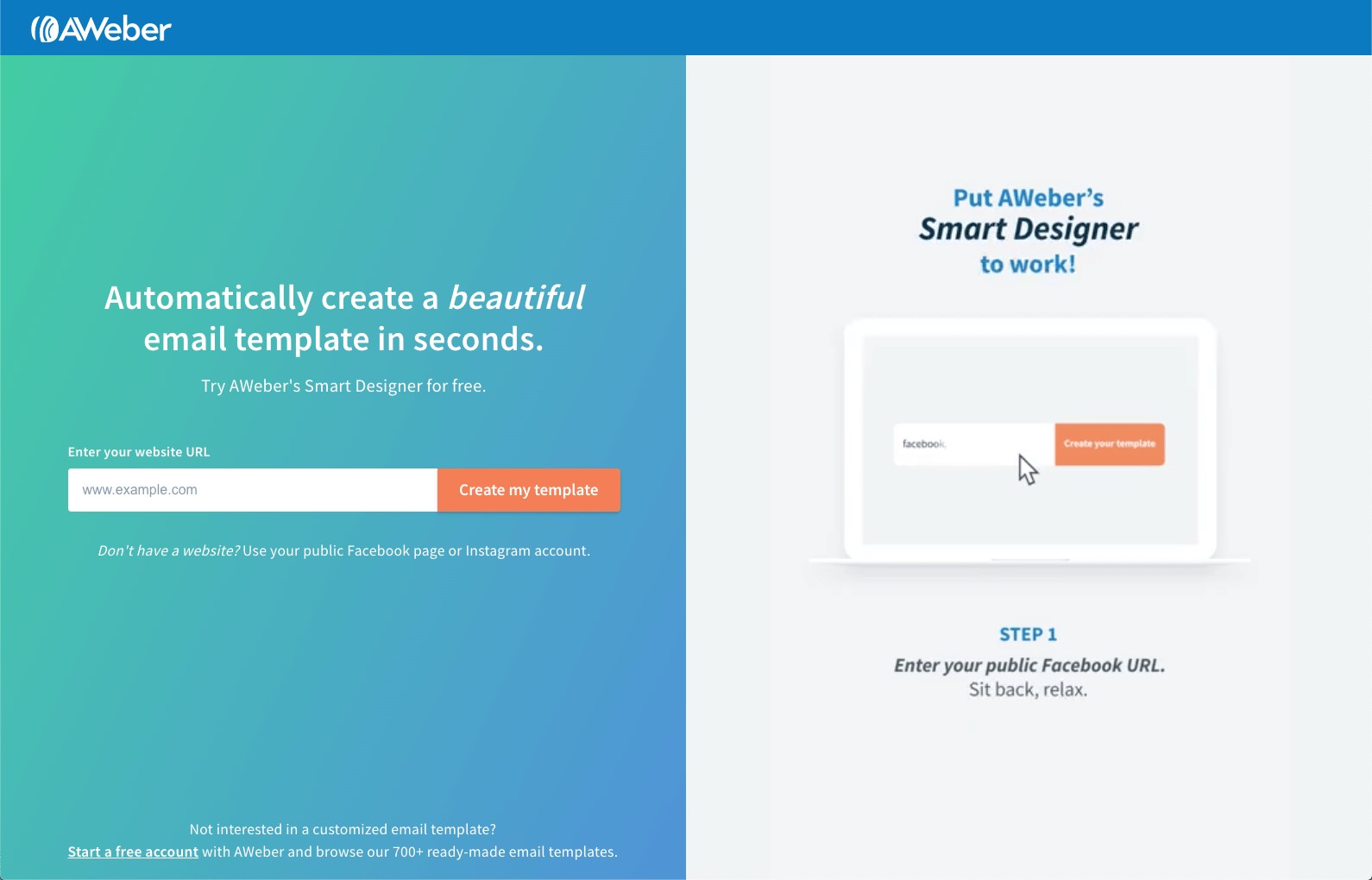 Designer in AWeber
Free Library
There is also an enormous library of tons of pre-built templates that will streamline your workflow. Their library gives you the freedom to choose from a design made for higher click rates. These designs are free to use under the pro plan.
Automation
Did you know that there is also an option for the automation of emails and newsletters that will allow you to manage and schedule your email-sending process. So, the automation feature helps in emailing the subscribers at times when they are most actively checking their inboxes. The automation also provides the option to automate the tagging of certain groups of people. This means that your email hits the right inbox every time you press 'send'.
Analytics and Reporting
The next thing on our AWeber review list is the analytics that they offer. The analytics provide the users to gain insights into views by opening and clicked stats. Using these stats, users can get to know which type of content users like the most. AWeber provides a simple yet powerful dashboard and reports that only provide useful stats and performance of the campaign. Key Performance Indicators are also provided so everyone can understand the stats with no previous knowledge.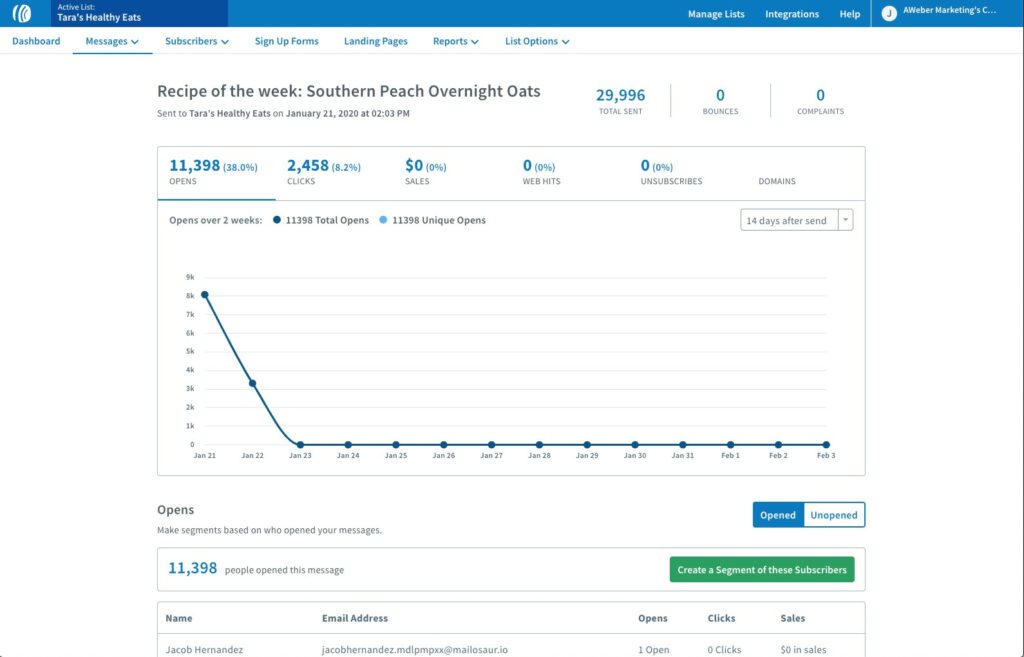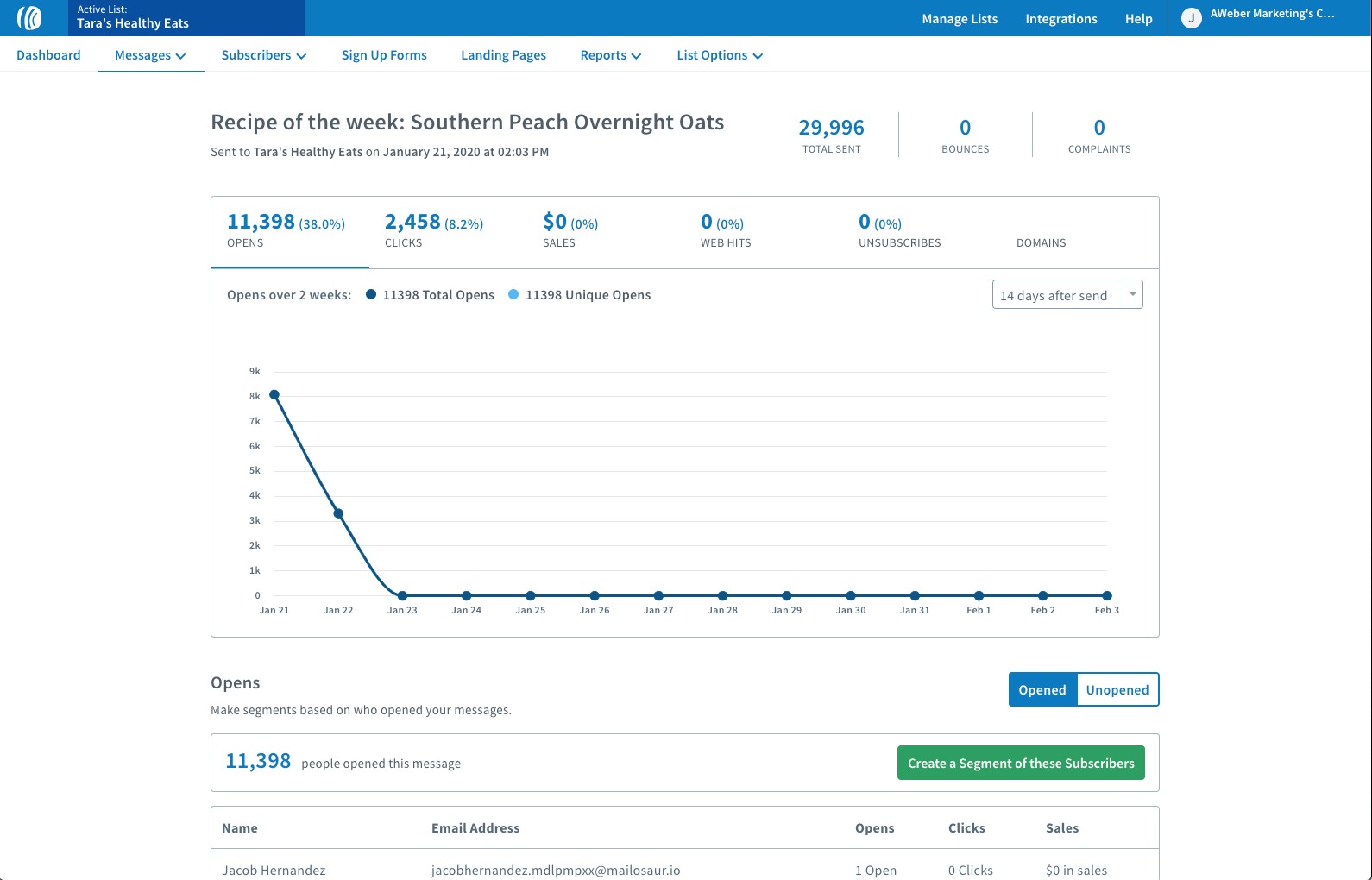 User Interface of AWeber Analytics
Integration with Different Platforms
AWeber provides easy integration with several social media platforms like Facebook and different eCommerce platforms including Shopify, WordPress, WooCommerce, and Etsy.
AWeber Mobile Apps
Also, AWeber provides an app, AWeber Atom, that can be used to perform and manage email marketing campaigns on the go.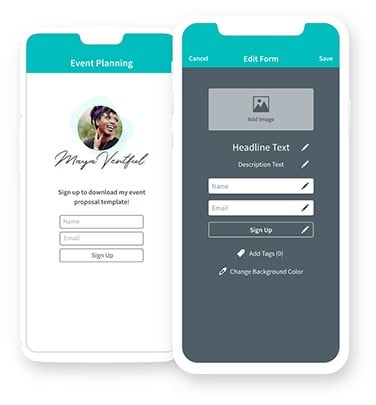 App Design of AWeber Atom
The features of the AWeber Atom includes:
Setting up sign-up forms
Curating new designs for blogs and website using templates
Analyzing the Statistics
AWeber Pricing – Overview
AWeber provides the option to try out their services before you join the company and avail their services. It limits this free trial to 500 email subscribers. It is the best bet for the novice blogger who is entering the email marketing domain and wants to try out different options but has a limited budget. The trial version, however, allows you to send unlimited emails to the email subscribers.
There is also a non-commitment plan that allows the user to subscribe to the services only when they need them. There are no contracts, and you can cancel anytime
AWeber Plans
The next thing that we'll analyze in our thorough AWeber review is its pricing plans. AWeber offers prepaid plans for email listing up to 500 subscribers. AWeber bases these plans on paying period.
The monthly plan starts at US$19
The quarterly plan starts at US$49 for three months
Annually plan starts at US$193.8 for 12 months
The above-mentioned prices are only for 500 subscribers. When the number of subscribers increases, the plan begins to charge more. Users can select the relevant package based on their number of subscribers from the list from their pricing page.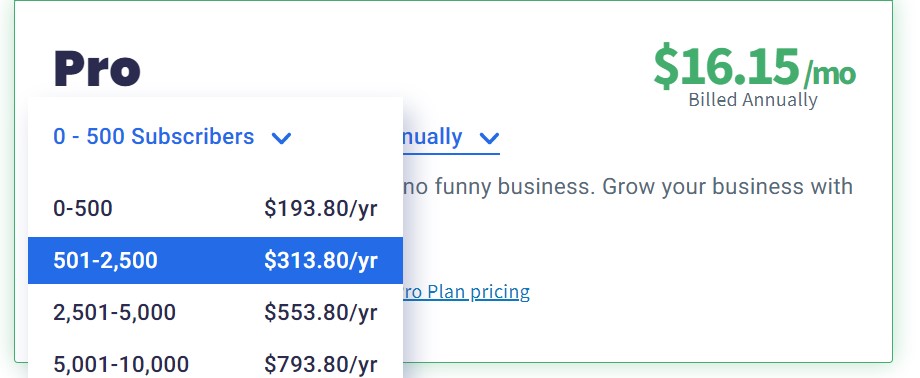 Different Price Plans Based on Number of Subscribers
We tabulate the detailed pricing below: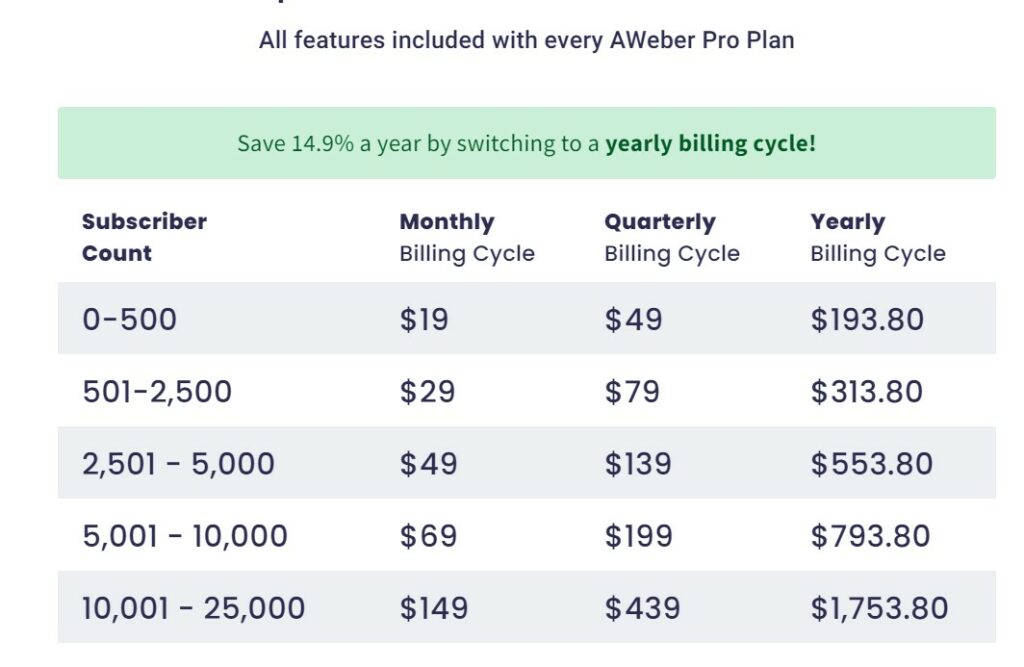 Price Plans with Subscriber Counts
AWeber Plans Comparison
AWeber has only two plans: free and pro. What's interesting is that it provides almost all the features in both plans. The email sending limit is set to 3000 per month for free while it is unlimited for the pro version. Further differences are also detailed in the table below: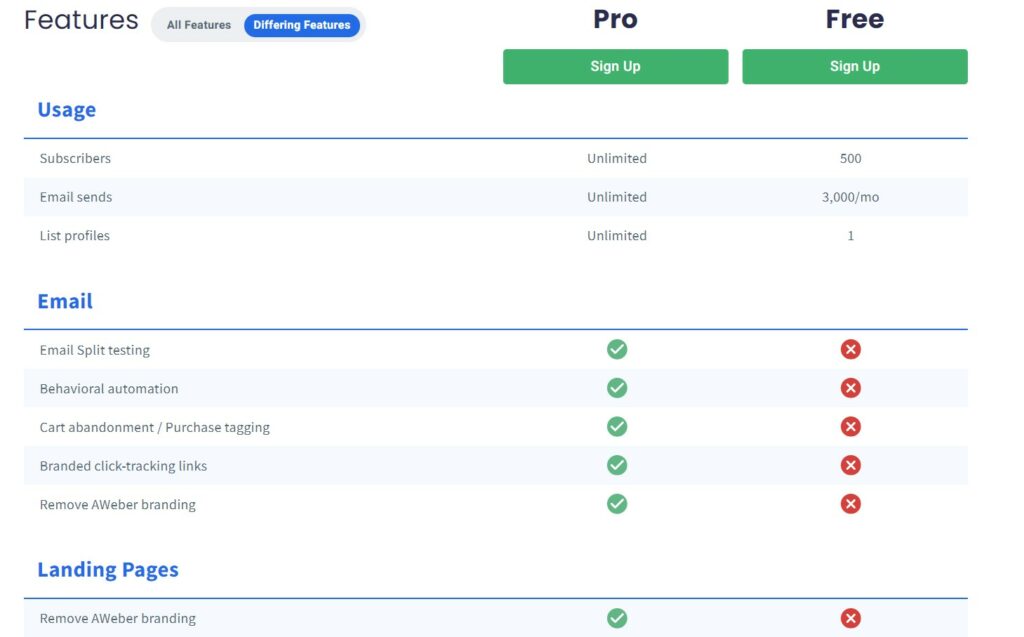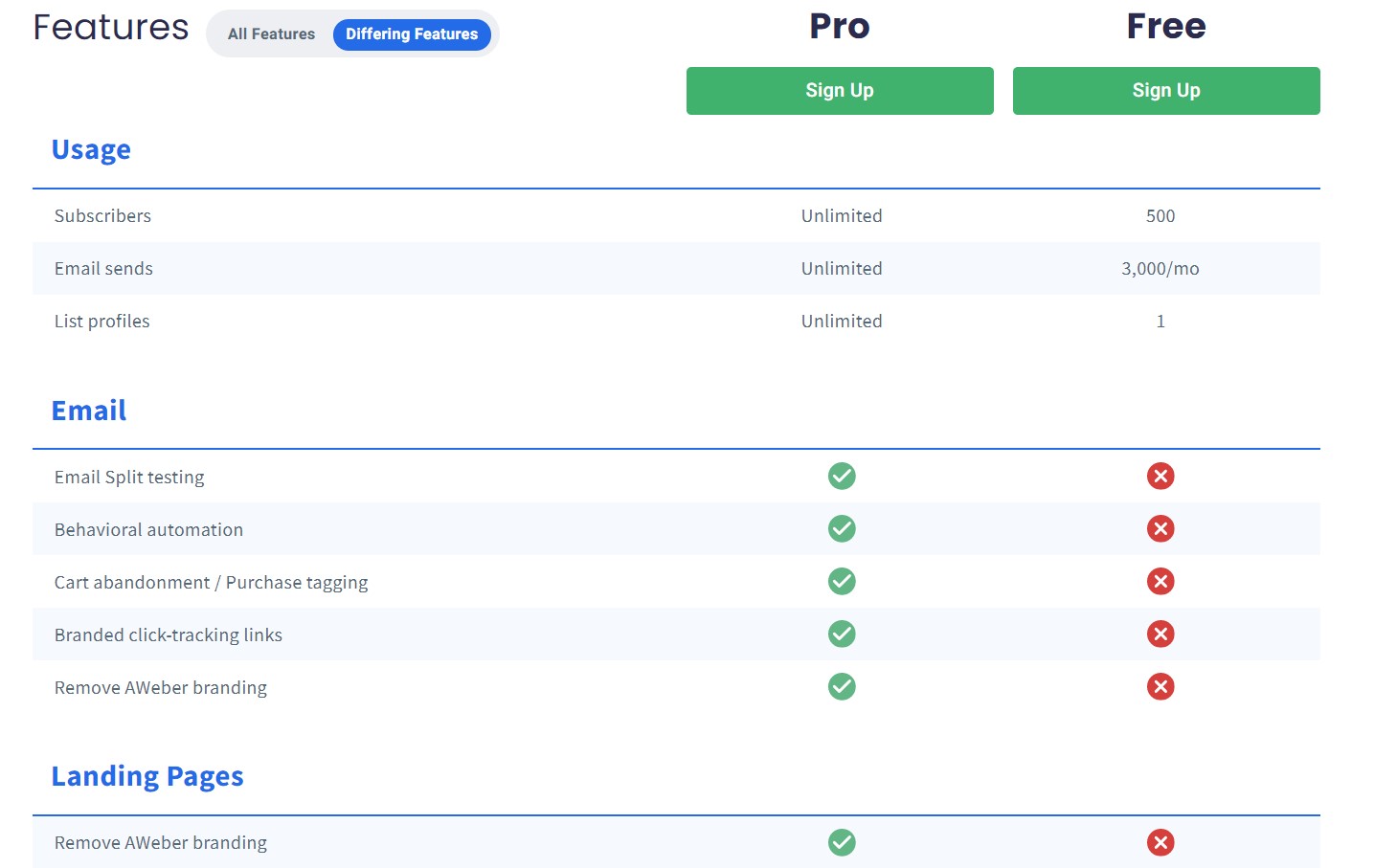 AWeber Support and Help
AWeber is known for providing quality through representatives which are available 24/7 via email. And users can avail themselves of Live Chat Services from Monday to Friday from 8 a.m. to 8 p.m. EST on Saturdays and Sundays, Live chat services are available from 9 a.m. to 5 p.m. EST.
There are also blog posts and forums on social media platforms where you can find a solution to any problems that you may have.
AWeber Review – Final Words by Flowium
AWeber provides everything that is required for a successful email marketing campaign. Also, there are tons of design templates to choose from to make visually appealing designs and automation of the process streamlines the process.
The pricing of the plans is market competitive, and quality is top-notched. That said, you can rest assured that AWeber will make sure that your messages will be delivered to the right inboxes.
AWeber provides services for everyone, from beginners to experts. Through easily manageable email campaign automation and design options, AWeber can also be used as a sole service tool.
We hope that our AWeber review was helpful to you! Try it for free from this link and let us know what you think.
Frequently Asked Questions:
1. Is AWeber Reliable? An AWeber email marketing tool is completely reliable. It will safely store all your customer data. Besides, it offers a secure way to manage your subscribers.
2. Which one is better – AWeber or Mailchimp? So, AWeber is offering very simple dashboards, while on the other hand, Mailchimp's higher plans have advanced options that can be useful for some teams.
3. Do I need a domain for AWeber? We're glad you asked! You'll have to purchase your own domain name to be able to use this option – in case you don't have one already. Once you've purchased it, you will be able to create an email address for that domain.