As one of the most powerful CRM platforms on the market, you've surely heard of Hubspot. It offers a comprehensive suite of tools to help businesses streamline their inbound marketing, sales, and customer service processes. 
According to Backlinko, HubSpot has nearly 114,000 customers spanning 120+ countries. The company's revenue has been growing exponentially since its founders – Brian Halligan and Dharmesh Shah – launched it in 2006. 
If you landed on this article, it's because you're wondering whether Hubspot is the right platform to use for email marketing. 
Many people choose Hubspot as their email marketing platform because it enables users to design stunning email campaigns that drive conversions without design expertise or the need to hire a designer. 
But is it the right email marketing platform for you? This Hubspot for email marketing review will help you decide. 
What is Hubspot?
Hubspot is an inbound sales and marketing platform companies can use to:
Attract visitors to their online marketplace,
Convert leads and inquiries into completed purchases,
Help customers re-engage with incomplete transactions.
The platform includes tools that allow its users to:
Host their business websites and landing pages,
Create blogs,
Manage interactions with their customers,
Set up email automation workflows.
The Hubspot platform is divided into separate groups of tools – or "hubs," hence the name – which can be purchased separately according to the individual needs of the business.
When all these tools are combined, they work together in perfect synergy to handle a company's marketing, sales, and support programs as a cohesive ecosystem. 
In other words, HubSpot offers a comprehensive suite of tools that can efficiently manage the company's marketing, sales, and customer service processes. 
Is Hubspot Good for Email Marketing? Pros & Cons
Email marketing is a big part of Hubspot's CRM software. Thanks to a variety of email marketing features, businesses can create beautifully-designed, conversion-optimized, and highly personalized email campaigns. 
They even have a bunch of e-books and courses about email marketing in their library of resources, teaching you how to use Hubspot to create stunning email campaigns. 
Let's dive into the pros and cons of using Hubspot for email marketing.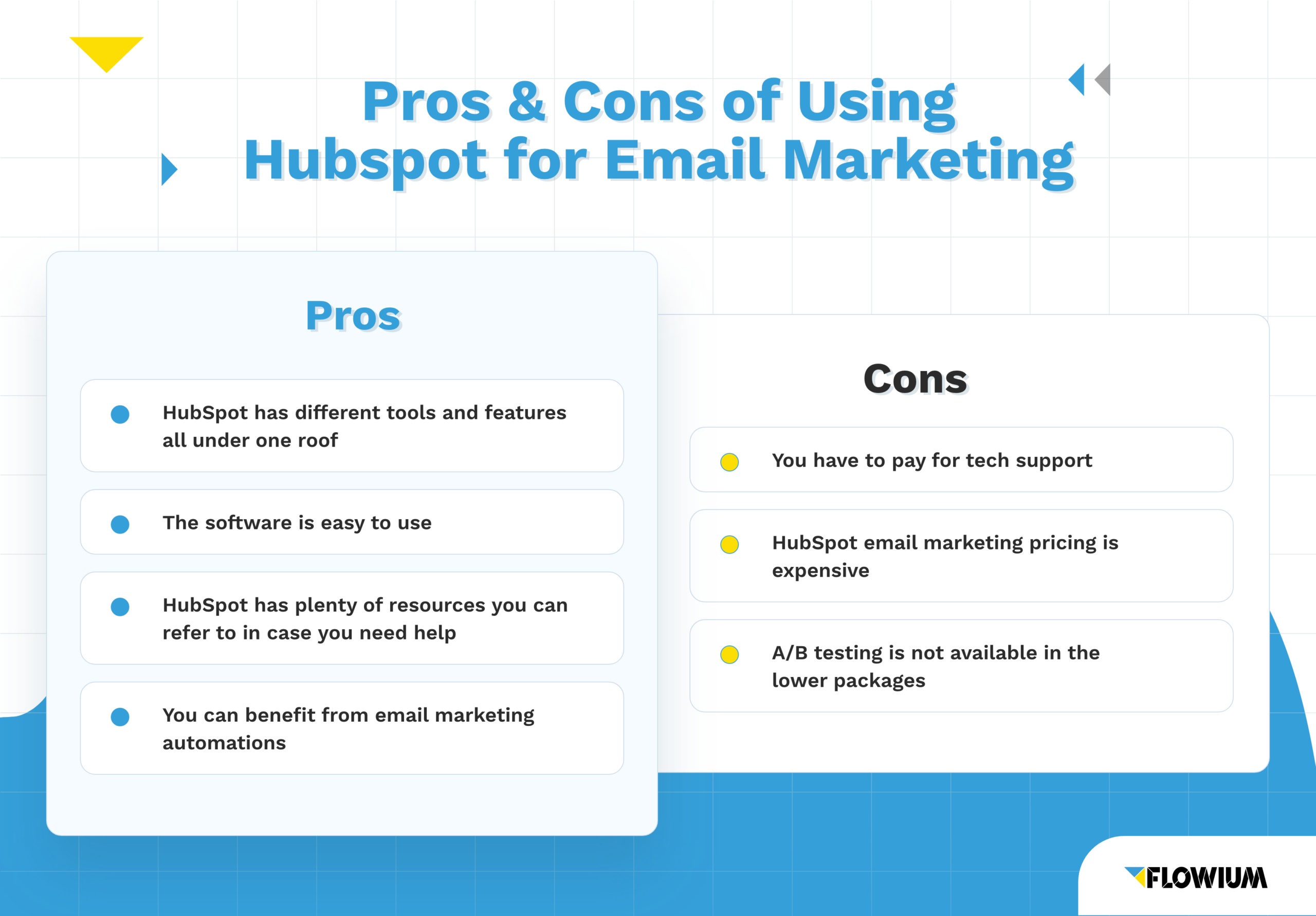 Pros of using Hubspot for email marketing
There are plenty of benefits to using Hubspot for email marketing. From being an all-in-one CRM platform to its user-friendly interface and easily customizable email design templates, Hubspot offers a range of pros to help businesses step up their email marketing game. 
Here are the main ones.
Everything under one roof
The biggest benefit of using Hubspot for your email marketing is that it offers everything you might need under one roof. It's a centralized platform where you can manage your entire email marketing strategy. You can create, send, and track your email campaigns without the need for separate tools or software.
What's more, when everything is in one place, it's easier to manage and analyze data across different marketing and sales strategies. Hubspot's email tools can work with other features like CRM, marketing automation, and customer service. 
This means you can get important insights into how your audience behaves across different touchpoints and ensure your email marketing fits your overall marketing plan.
No matter the size of your eCommerce brand, you will have no trouble using Hubspot's email marketing platform. It is user-friendly and intuitive to use, and it eliminates the need for coding knowledge by providing simplified campaign design options. 
HubSpot has plenty of materials you can refer to in case you need help. The Hubspot Academy is a free library of resources you can use not only to learn how to use Hubspot's features but also to learn how to improve your marketing, sales, and customer service efforts.
It offers free courses and certifications on everything from how to use WhatsApp for your business to how to do SEO and create automated email campaigns. It covers everything you need to know to use the platform successfully. 
Email marketing automation
If you've ever attempted to do email marketing, you know that email automation is a must. Many people choose Hubspot as their go-to email marketing platform precisely because of its advanced email automation capabilities. 
Hubspot allows you to create automated email flows based on the customer's browsing behavior, past purchase history, and demographics. 
This way, you can make sure that the right email campaigns reach the right people at the right time, increasing the overall effectiveness of your email marketing strategy.
Cons of using Hubspot for email marketing
While Hubspot has many advantages, it may not be the best option for everyone. From being costly to having limited features and tech support on the lower-end packages, Hubspot has a few significant disadvantages.
Let's look at some cons of using Hubpost for email marketing to help you decide whether it's the right platform for your needs. 
Tech support isn't available on the free plan
The customer support level you can access with Hubspot depends on your plan. If you're using the free plan, you'll have access to the knowledge base and community forum, but you won't be able to contact Hubspot via email or phone. 
While Hubspot's knowledge base is quite extensive and can help you troubleshoot minor issues effectively, the limited access to customer support on the free plan might become a major obstacle if something goes wrong.  
The majority of Hubspot's tools come with a high price tag. And while some basic services can be used for free, they often won't be enough, especially if you're a big eCommerce business needing a full suite of CRM services.
The issue is that many of the features that Hubspot offers for such a high price can be found cheaper on other platforms. 
However, it's important to take into account that with Hubspot, you're not only paying for the features but rather for the seamless integration between them. 
Hubspot email marketing pricing is expensive
While email marketing is part of Hubspot's free plan, it only includes the fundamental features, which will cease to be enough very quickly for a growing business. 
The most affordable plan after the free plan is The Starter plan, which starts at $50 per month and allows you to have up to 1000 contacts. 
If you need more features and capacity, there's the Professional package, but it starts at a minimum of $800 and lets you add another 1000 contacts.
For those with larger contact lists, the next package is available starting at $3200, and it allows a maximum of 10,000 contacts. After that, the more contacts you have, the higher the price jumps.
A/B testing is not available in the lower packages
A/B testing is a crucial feature for email marketing, especially for those who are still testing different strategies and trying to find the one that works best for them. 
However, with Hubspot, this highly fundamental email marketing feature isn't available on the free plan or the Starter plan. To access this feature, you would need to subscribe to the $800 package or higher.
This is a big hurdle because A/B testing is simply a must to optimize your email marketing strategy for the best possible results. 
👉 Even though HubSpot has many significant disadvantages, it's still one of the best marketing platforms available.
The right email marketing platform for you will be determined by your business needs and goals. If you feel that HubSpot checks most of the boxes on your must-have list, it might be the right platform for you. 
If you'd like to explore other options, you can read our complete guide on email marketing software. 
Get Started: How to Create an Automated Marketing Email on Hubspot 
Once you have signed up for the Hubspot package that best suits your business, you'll find that Hubspot's extensive tutorial library (called the Knowledge Base) offers plenty of information and advice about how to use the platform effectively.
You can choose the Standard Email Editor or the more customizable Drag and Drop Editor. The platform also has a Workflow Editor function that allows you to create simple, automated marketing emails.
Regular Editor for Hubspot Email Automation
In your Hubspot account, navigate to "Marketing," then "Email":
Click on the dialogue box and then select "Template."
Enter an email name and click "Create Email."
After you've composed and set up the email, click the Recipient's tab and ensure that "Saved for Automation" is selected.
Once done, click "Next" and review your email settings.
Finally, click "Save for Automation" again to publish the automated email.
Hubspot Email Automation with Drag and Drop Editor
To create an automated email in this editor, follow these steps:
First, navigate to "Marketing" and then "Email." From the upper right panel, click "Create Email," then select "Automated" from the dialogue box.
Click on "Drag and Drop" and select a template, then compose your email and ensure that the email is set to "Automated" in the "Send" dialogue box.
To publish the email, click "Review and Save" then "Save for Automation."
The Automated Editor
The emails created using this option feature a basic design, but you can customize them further in the email editor.
Here's how to create an automated email in the workflow tool:
Navigate to "Automation" and then "Workflows."
Choose an existing workflow or create a new one. Then, click the plus icon (+) to add a workflow action.
Select the "Send Email" option and then the "Create New Email" option.
Enter the details of your email, then click the "Email Tool" button at the top of the panel to allow you to customize your email further.
Once you've composed your email, select "Save Email." This email is now stored for use in any workflow you need.
FAQs about Hubspot Email Marketing
Does Hubspot do email marketing?
Yes, you can use Hubspot for email marketing. Being a comprehensive CRM platform, Hubspot provides email marketing as part of its CRM software.
How to use Hubspot for email marketing?
With Hubspot's email marketing software, you can easily design professional-looking emails, create personalized email campaigns, and optimize them with analytics and A/B tests.
Is Hubspot email marketing free?
Yes, Hubspot's email marketing tool is part of its free plan that includes all the fundamental tools for small businesses. You can get started for free, but you might need to switch to a premium plan if you need more advanced email marketing features.