The follow-up email in eCommerce is likely one of the most important emails a company can send to a consumer and is an important part of eCommerce email marketing.
When a customer or a prospective customer has communicated with you or performed a certain action on your website, a follow-up email should be delivered.
What is a Follow-up Email for eCommerce?
Follow-up emails in eCommerce are critical for client engagement, retention, and repeat customers.
It's important to send excellent follow-up messages after consumers take significant actions since it indicates you're paying attention and responding to their requirements.
Why is it Important For eCommerce?
The importance of follow-up emails cannot be underestimated.
Because you're continuing a discussion that they started, follow-up emails are generally more relevant to customers than other forms of digital contact. When you reach out to customers in a personal and real way, they feel appreciated.
Follow-up emails can be sent for:
Abandoned shopping carts
Customer reviews
Complaints and feedback, and
Transactions.
It is important to keep your customers engaged and show them that you care by initiating a two-way conversation.
Types of Follow-up Emails
Welcome Email Post Sign-up
Research shows that nearly 75% of consumers anticipate a confirmation and welcome email after subscribing to your website or newsletter.
According to studies, people who receive a welcome email are more inclined to connect with your eCommerce company on a long-term basis.
One or more of the following goals should be met by a good post-newsletter sign-up email:
Greetings to the client
Introduce your company
Confirm and reassure the recent transaction's success
Provide information regarding future communications
Encourage people to connect on social media
Offer a promotional gift, voucher, or digital material as a reward.
Email Follow-Up After Purchase
Sending a follow-up email after a purchase is a great time to remind customers about why your company is so great.
Customers want to see that you verified the purchase and gave shipping information, therefore these emails have a high open-rate.
It's also a great time to thank customers, ask for a product review, and entice them back to your store by providing a discount on their next purchase. You may utilize this email to promote specific cross-selling goods.
Email Follow-Up on a Brand Mention
If you keep track of your social media mentions when someone supports your business on social media platforms, they'll love it if you notice and respond.
But instead of relying on the social media channel, if you send a follow-up email, it will create a better dynamic.
Follow-up Email for Product Reviews
Soliciting client feedback after a purchase is an excellent method to keep in touch with the customer.
This may be accomplished by submitting a review request for a recently acquired product. Even after a bad experience, customer feedback is useful.
Responding to reviews can promote future purchases. More than half of consumers anticipate a response from a company when they leave a review.
Follow-up Email to Inactive Customers
There's a potential for revenue when a client hasn't bought from you in a while. Also known as a "win back" email, it may significantly increase eCommerce purchases.
Remind customers of the previous purchase, urge them to make another, and entice them with information on similar goods or new services.
Try adding a coupon with an expiration date, to get them to make a purchase.
Post-Submission Email for Support Tickets
When it comes to eCommerce, customer service is crucial, and providing email follow-up after a chat or call may help build brand loyalty.
Because support requests are about something that went wrong or a mistake, the first thing you should do is apologize.
Let the client know you've fixed the problem and are working to prevent it from happening again. Inquire about the customer service encounter as well.
This email is an opportunity to re-establish goodwill, so give an incentive for returning to your firm once you've made things right.
Follow-up Email after Promotions
Many email marketing systems overlook sending a follow-up email after a promotion despite the fact that it is one of the most profitable messages.
Research shows that a 5% improvement in retention may boost earnings by 25-95 percent, so while you're running a deal, take advantage of the chance to transform a one-time consumer into a loyal recurrent customer.
When you have a terrific promotion going on, let your consumers know about it, then remind them before it ends.
When is the Best Time to Send a Follow-up Email
When sending a follow-up email, the timing is crucial. You don't want to send the email right after your consumer makes a purchase.
Instead, allow them time to acquire the item. But don't wait too long, because your email will become irrelevant.
The majority of follow-up emails should be sent within 1-3 weeks following the first transaction, however, there is no perfect timing.
It's a good idea to test a few different scenarios and then analyze the results to see what works best for your eCommerce business.
Examples of Follow-up Emails
Example of product return follow-up email from Huckberry

This follow-up email from Huckberry shows that the items returned by the customer have been processed.
The email is personalized as it addresses the customer by name.
After a short paragraph, and a few details, the great thing about this email is that it shows the products that have been returned, along with the prices.
Below that, there are suggestions showing other options that the customer would like.
Example of a feedback follow-up email from Uber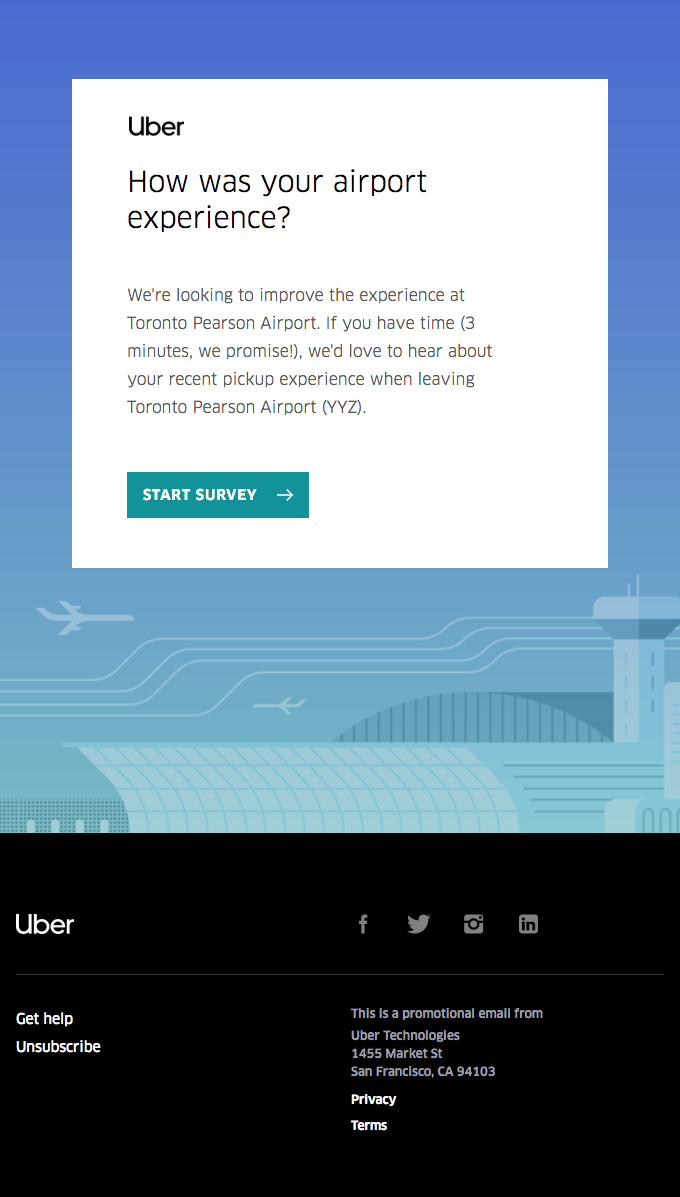 The logo of the brand "Uber" is mentioned right on top of the template to catch the eye of the customers.
This email has a direct headline and asks the customer about their experience.
It uses personalization as it mentions where the person was and has an honest tone.
Urging the customer is a request to take a survey so that Uber can improve their services.
Example of a Follow-up Promotional Email from Forever 21

This email starts out with catchy headings and subheadings. It urges the customer to buy new products.
After a few recommendations, the email shows items that have specifically been picked out for the consumer based on their choices and preferences.
The last section of the email advertises clothing items and accessories for all.
Persistence and attention to detail are required for good email marketing. You must know when and what to send, as well as how to maximize every chance.
The success of email marketing is ultimately determined by how well it is followed up on. Whether you use a template or hire an expert to help you create the best follow-up emails, make sure that they are well-attuned to your brand voice and resonate with your customers.
Further Reading
eCommerce: The Best Email Marketing Software
How to Choose the Best Email Marketing Tools for eCommerce
Email Marketing Strategies For eCommerce: 8 Crucial Elements